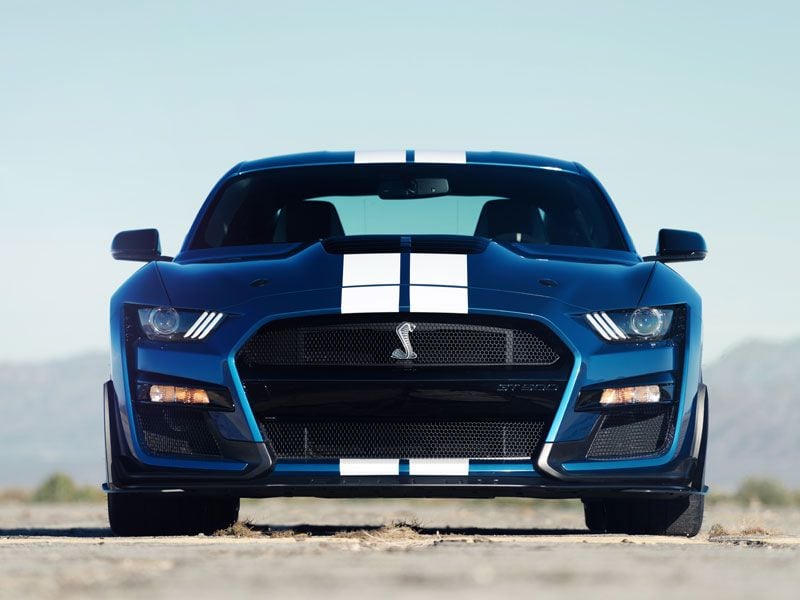 2020 Ford Mustang Shelby GT500 exterior front grille ・ Photo by Ford
"When you pass this apex cone, get hard on the throttle and aim for that exit cone," instructs Billy Johnson, a professional driver with the Ford Chip Ganassi Racing Team, from behind the steering wheel of a nondescript Ford Transit passenger van. Johnson knows his stuff, having won or placed in the top 10 at Daytona, Sebring, Silverstone, Spa, and in the 24 Hours of Le Mans.
Yet I question his direction. After all, I'm about to strap into a 2020 Ford Mustang Shelby GT500, the most powerful street-legal car the company has ever built, with a starting price of $70,300. Last time I checked, putting 760 horsepower and 625 lb-ft of torque to any car's rear wheels in the middle of a corner was a bad idea. Johnson glances at me in the van's rearview mirror, sunglasses hiding his possible disdain. "The car can do it," he assures me. "As long as the stability control is on, you'll be fine. And I was.
Shelby GT500 Horsepower, Torque, Performance Specs
The star of the Shelby GT500 show is a 2.65-liter, roots-type supercharger bolted to the recently overhauled 5.2-liter V8 engine Ford uses in the Shelby GT350. The supercharger is nestled into the valley between the V8's cylinder banks to keep the GT500's center of gravity as low as is possible. It's is fed by an air-to-liquid intercooler and a redesigned front end that maximizes the amount of atmosphere making its way into the engine bay.
Power is prodigious, amounting to 760 horsepower at 7,300 rpm and 625 lb-ft of torque at 5,000 rpm. The engine's redline is a lofty 7,500 rpm. That's 234 more horses and 196 lb-ft more torque than the Shelby GT350 makes. Ford says the new Mustang Shelby GT500 accelerates to 60 mph in 3.3 seconds, runs the quarter-mile in 10.7 seconds, and is governed to a top speed of 180 mph.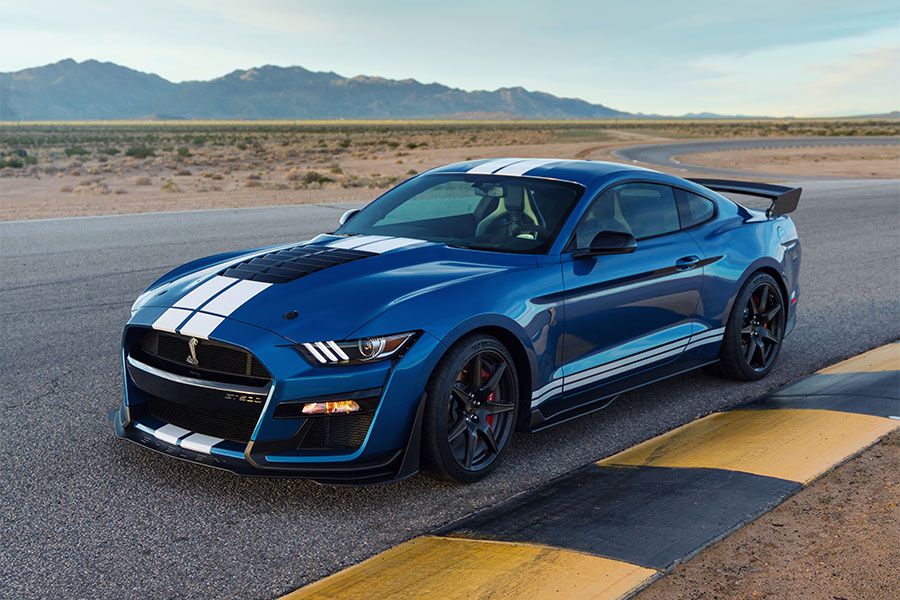 Photo by Ford
How the Shelby GT500 Gets Power to the Pavement
Putting all that power to the ground, the seven-speed dual-clutch automated manual gearbox executes shifts in as little as 80 milliseconds. Your select Drive using a rotary dial on the center console, and then choose to drive the car in fully automatic, semi-automatic, or fully manual modes. Robust paddle shifters handle manual shifting duties.
Ford's Line Lock tire warming system is standard, as is rpm-selectable launch control. The former lets you perform spectacular burnouts, while the latter makes you a drag-strip hero. Several driving modes are available: Normal, Sport, Drag, Track, Slippery, and Weather. Separately, you can calibrate the GT500's new electronic steering unit and the standard active MagneRide adaptive damping suspension to Comfort or Sport settings. An active stainless-steel exhaust system is standard, too, breathing through 5-inch polished tips. Normal, Sport, Track, and Quiet modes adjust the system's volume, the latter allowing you to exit your neighborhood without waking everyone up.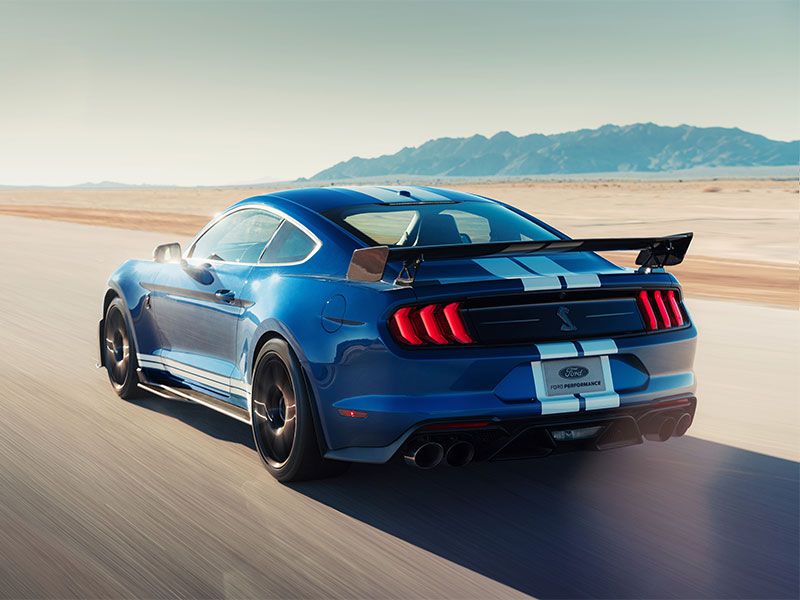 Photo by Ford
Fast Going Straight, Fast Through Corners
Ford wanted the new Mustang Shelby GT500 to be fast in a straight line, of course, but also wanted the car to excel in twists and turns. To that end, Ford reworked the Shelby GT500's suspension, steering, brakes, and wheel/tire combinations.
In addition to standard active adaptive damping, the GT500 boasts lighter weight suspension components and a new magnesium strut tower brace that Ford says contains rare earth metals in order to retain its strength and effectiveness under high-heat operating conditions. With the optional Handling Pack ($1,500), owners can also manually dial in more negative camber to ensure maximum high-speed cornering capabilities. Another change for road course driving is the GT500's exclusive structural oil pan. It holds 11 quarts of the stuff, and baffles within the pan ensure proper lubrication and oiling no matter how hard you're driving the car.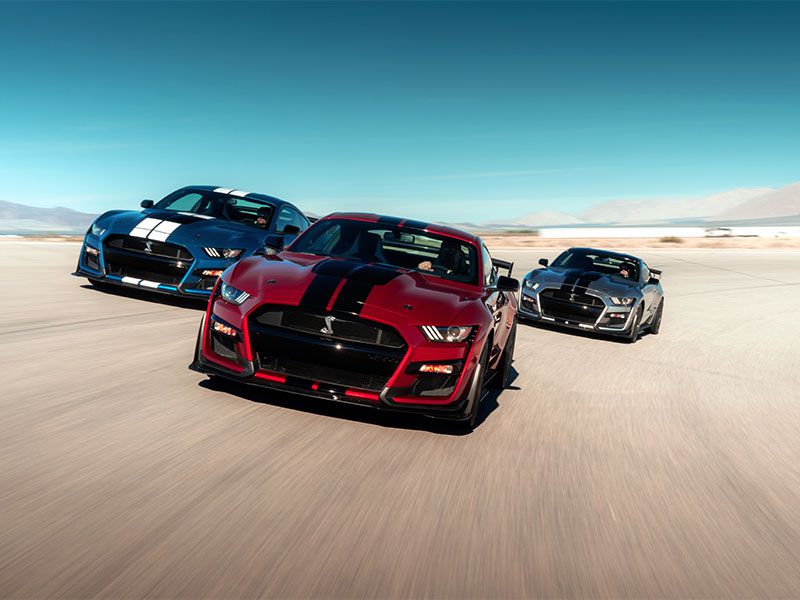 Photo by Ford
Grip and Grin
Given the ease with which the Shelby GT500 accelerates well into triple-digit territory, robust braking components are a must. Up front, Ford uses 16.5-inch, SHW two-piece rotors clamped by Brembo six-piston fixed calipers. In back, the company uses 14.6-inch SHW two-piece rotors and another set of Brembo calipers.
In terms of measurable results, Ford says the GT500 boasts a 25% improvement in thermal energy absorption at each front corner in comparison to the GT350, and that it can acceleration from rest to 100 mph and back to a full stop in 10.6 seconds. Staggered-width, 20-inch aluminum wheels are standard, wrapped in 305/30 front and 315/30 rear Michelin Pilot Sport 4S tires. Get the optional Carbon Fiber Track Pack ($18,500), and the GT500 rolls on exposed carbon fiber wheels and Michelin Pilot Sport Cup 2 rubber. Regardless of your selection, the tread pattern and tire compounds are specific to the Shelby GT500, and the car's components are tuned specifically for the Michelins.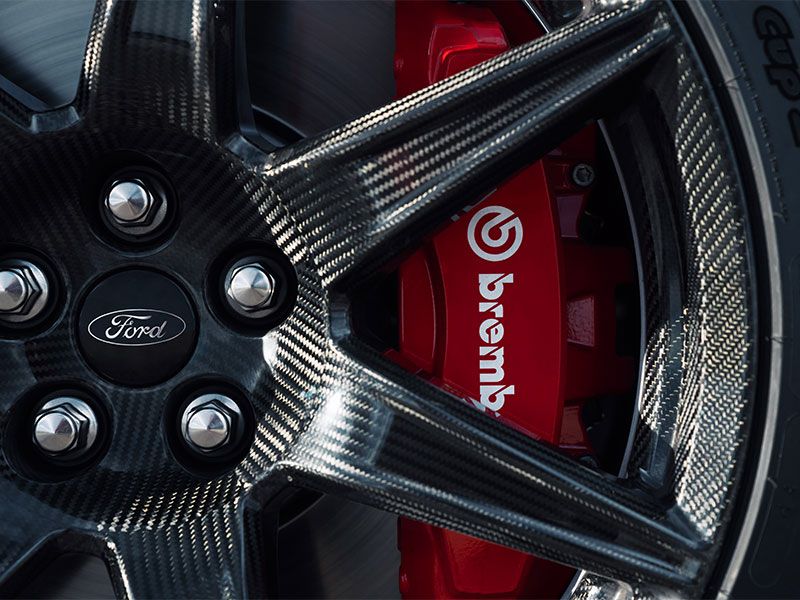 Photo by Ford
Aerodynamic Adjustments
To maximize component cooling and aerodynamic downforce, Ford had to tweak the GT500's exterior styling. The end result is a 50% improvement in cooling capability compared to a Shelby GT350 and 550 pounds of maximum downforce at speed.
Especially in front, each crease, spat, splitter, dam, and vent serves this purpose. The huge vent punched into the car's hood measures 6 square feet and ensures proper engine-bay ventilation while contributing to the car's added downforce. A removable rain pan helps to prevent water from leaking into the engine compartment. Around back, meanwhile, a performance-type spoiler is standard equipment, while the Handling Pack installs a swing-type spoiler with a Gurney flap. The Carbon Fiber Track Pack adds the adjustable carbon-fiber rear wing used on the Mustang GT4 racing car.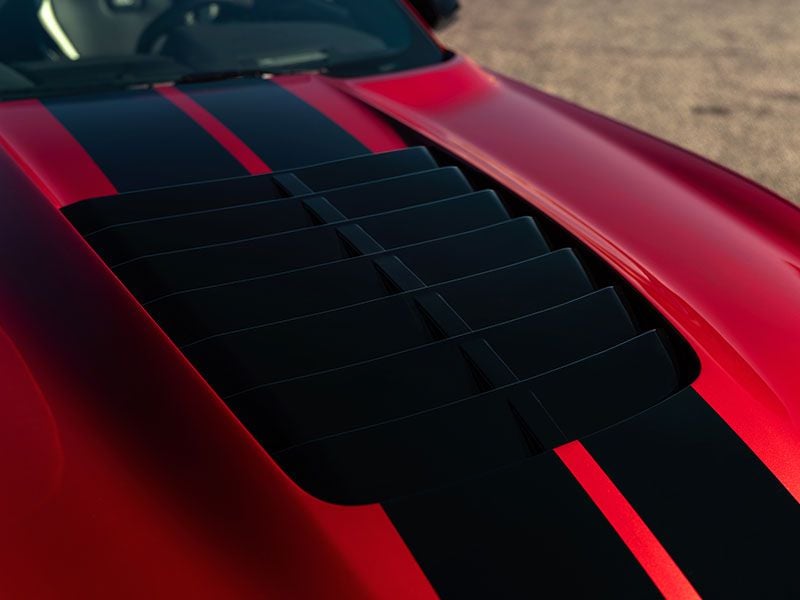 Photo by Ford
The Inside Story
Aside from a numbered GT500 plate on the dashboard and the rotary transmission dial on the center console, this Shelby's cabin is standard-issue Mustang GT. Power-adjustable, leather-upholstered, heated, and ventilated seats are standard, complete with simulated suede inserts. Recaro sport seats are an option and include five-point racing harness pass-throughs. Unless you're actually planning to go to the track, though, I recommend sticking with the standard seats for their greater comfort levels.
Additional upgrades include exposed carbon fiber dashboard trim and a Technology Package that equips the car with a 12-speaker Bang & Olufsen premium sound system, navigation, a blind-spot monitoring system with a rear cross-traffic alert, and more. Note that when you get the optional Carbon Fiber Track Pack, Ford figures you're seeking maximum weight savings and kicks the Shelby GT500's back seat to the curb.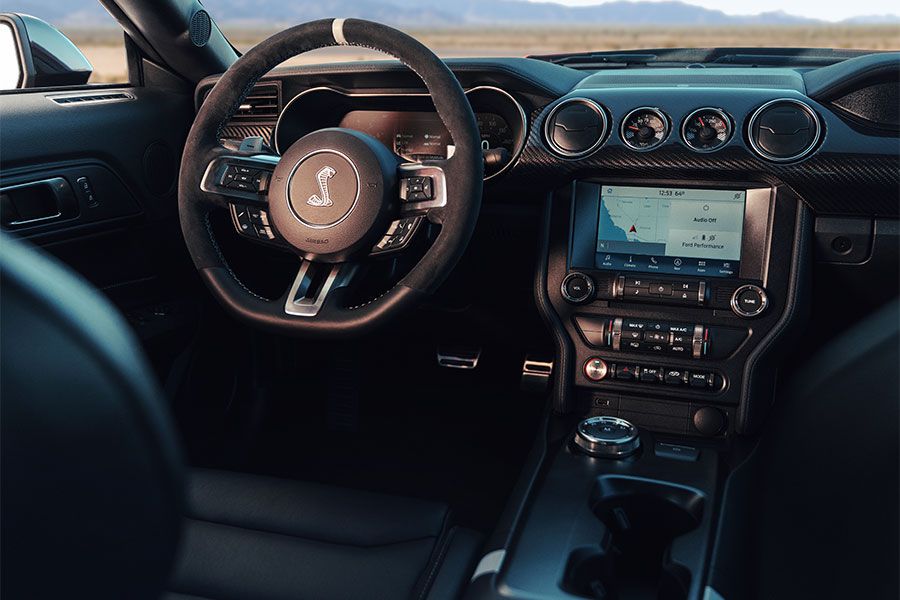 Photo by Ford
How fast is a Shelby GT500 at a drag strip?
At Las Vegas Motor Speedway, I drive the Shelby GT500 through some water onto the dragstrip. After setting Line Lock, I press the accelerator pedal to the floor and, for 15 glorious seconds, spin the Shelby GT500's expensive Michelins into smoke.
With the tires warm, the next task is to activate "the Christmas tree" — the set of lights that tells me when to floor it — and to try to beat Ford's claimed quarter-mile time of 10.7 seconds. With the car's Launch Control set at 1,600 rpm, and while holding the brake pedal, I floor the accelerator again. On green, I release the brake and keep my foot down hard on the gas. On my third run, I post a time of 11.189 seconds at 130.23 mph. Not bad for a 260-pound novice who'd never driven on a drag strip before. But then, the Shelby GT500 makes its driver look and feel like a hero no matter where you drive it.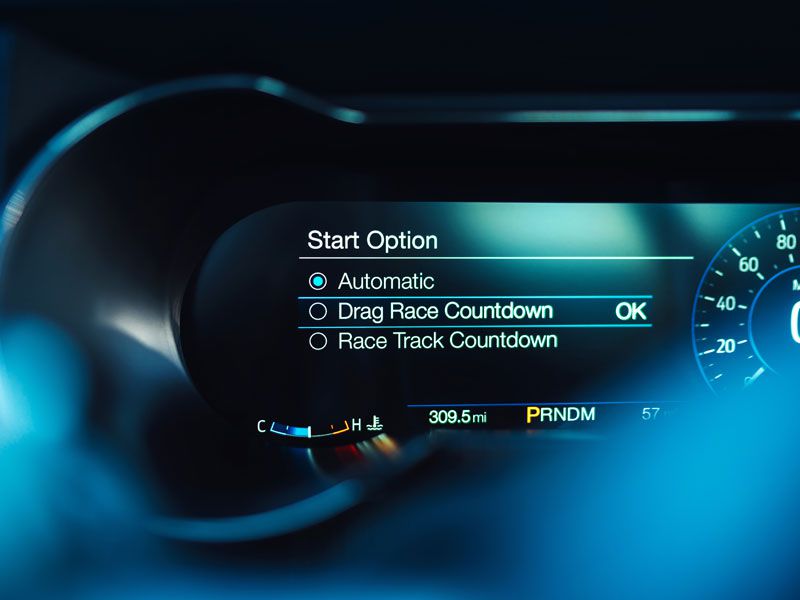 Photo by Ford
Driving the Shelby GT500 on a Track
Next up, I get on the road course with all vehicle settings dialed to Sport or Track, depending on the system. The traction and stability control also stand ready to save my butt when I follow Billy Johnson's advice to floor it just past the apexes of the corners.
After four glorious laps, it is abundantly clear that the new Shelby GT500 is just as capable in corners as it is going in a straight line. As I discovered on the drag strip, the car's massive thrust pins you to the Recaro seat as the active exhaust malevolently bellows and the DCT executes tachyonic shifts. At triple-digit speeds on the front and back straights, the track surface seemingly sucks the Shelby GT500 to its surface like a black hole does to light. Then I go deep into the brakes and pitch the car into corner after corner, where in spite of carrying too much speed, in spite of the track's occasional decreasing-radius design, and in spite of summoning maximum acceleration upon exit, the car grips harder than Gorilla Glue.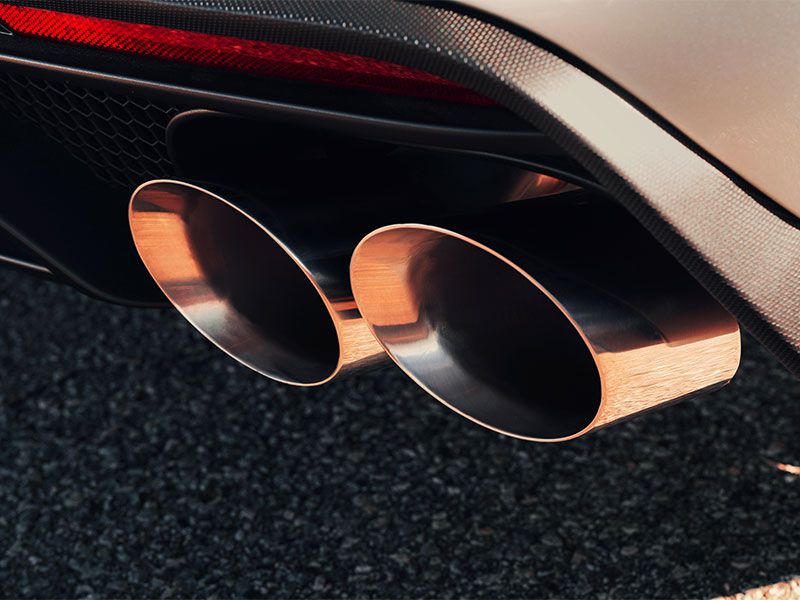 Photo by Ford
Can you drive a Shelby GT500 every day?
Based on my experience, the new 2020 Ford Mustang Shelby GT500 is a brilliant car on the drag strip and the track. But what about in the real world, where you're most likely to spend your time driving it?
Depending on what settings you're using, the GT500 is as docile and easy to drive as a Mustang GT, or as rough and raucous as a racecar repurposed for the street. No matter what, though, it's deafeningly loud on the freeway (in rear-seat-delete format, anyway), and the Recaros get uncomfortable if — like me — you're a little larger than the average person. Refinement isn't the Shelby GT500's goal. Speed is, both in a straight line and when the road ahead gets kinky. In this regard, the car excels. And when you add nearly 60 years of Shelby history, it's easier to justify the premium you'll pay over a Chevrolet Camaro ZL1 or Dodge Challenger SRT Hellcat. 
Photo by Ford