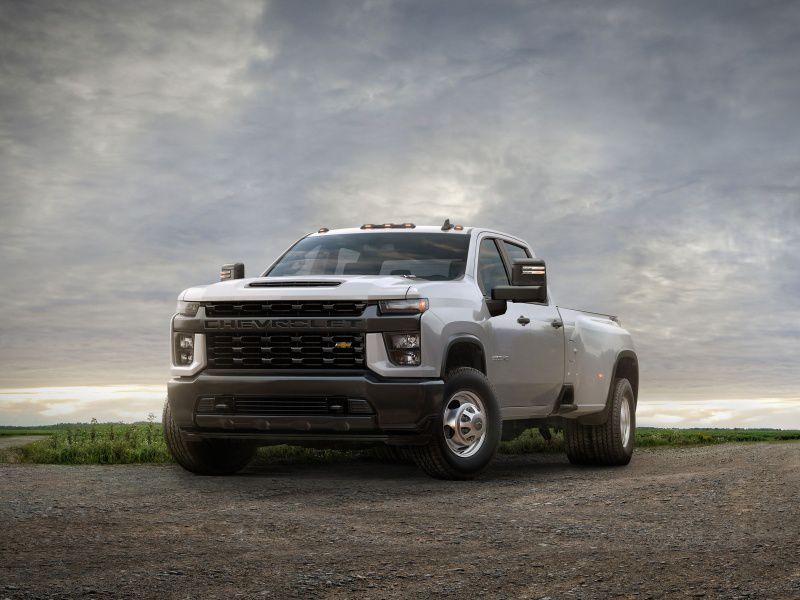 2020 Chevrolet Silverado 3500HD ・ Photo by General Motors
American car companies build the largest, most powerful and most capable pickup trucks in the world. And here are two of them, the 2020 Ford F-350 Super Duty and the 2020 Chevrolet Silverado 3500 Heavy Duty. Fierce rivals, each is about the size of a house and has the power to tow a 3,500-square-foot split-level from sea to shining sea.   
This year, the Chevy Silverado HD is all-new and Ford has made a long list of improvements to its popular F-350 Super Duty, adding power and safety technology. Both are available with a big gas-burning V8 or a turbodiesel, and both are offered in a range of body styles and configurations —including duallys with four back tires and reinforced rear suspensions for ultimate load-carrying. But which is best? Let's examine the 2020 Ford F-350 Super Duty and the 2020 Chevrolet Silverado 3500HD in key areas and decide.
Styling and Design
Built in Flint, Michigan, the newly redesigned 2020 Silverado HD is longer, wider and taller than before. Like the smaller Silverado 1500, it has an aggressive futuristic front-end design that includes a massive grille and angular headlights. It's much more rounded than the boxy Ford, and we like its hood scoop. Overall, Chevy's Heavy Duty line wears the look better than the brand's smaller light-duty trucks. 
Ford's Super Duty is built in Kentucky, and it's styled a lot like its smaller F-150. But there's a long list of reasons why Ford sells more full-size pickups than Chevy, and exterior design is one of them. The F-350 looks tough and intimidating but its face doesn't have the cartoon qualities of the Chevy's. It doesn't feel over-styled and the design is more sophisticated, so it'll probably age better as the years click off. 
Ford F-350 Super Duty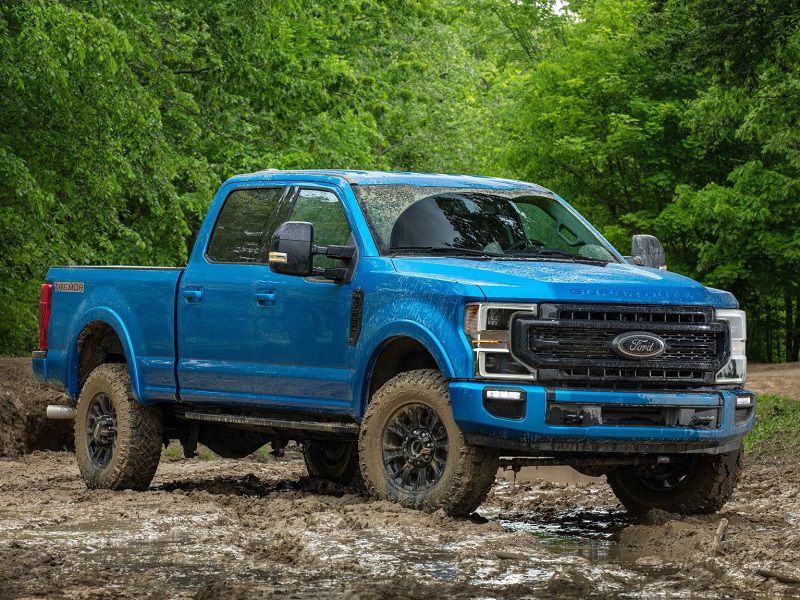 Photo by Ford
Comfort and Cargo
Both trucks are extremely comfortable, especially on long hauls, and offer a list of optional features that rivals many luxury sedans. Our Ford F-350 test truck even had massaging seats. This year, Chevy has stretched the wheelbase of crew cab model's by 5.2 inches, increasing its rear legroom considerably and matching the Ford's. Both trucks offer more cabin space than most dorm rooms as well as a ton of storage. However, we prefer the interior design of the Ford, which is just a bit cleaner and less busy. The Ford's seats are well-shaped, but we like the Chevy's a little better. 
Both trucks are offered in a wide range of body styles and bed sizes, while Chevrolet's innovative Bedsteps make loading and unloading easier. But their maximum payload ratings are about the same: 6,894 lbs for the Chevy and 6,960 lbs for the Ford. The Ford can tow a heavier conventional trailer, however. The F-350 is rated to tow a maximum of 21,400 lbs, while the Chevy is rated for 20,000 lbs. Add a fifth wheel/gooseneck and the Chevy can tow 31,400 lbs while the Ford is rated to pull a maximum of 35,400 lbs.
Ford F-350 Super Duty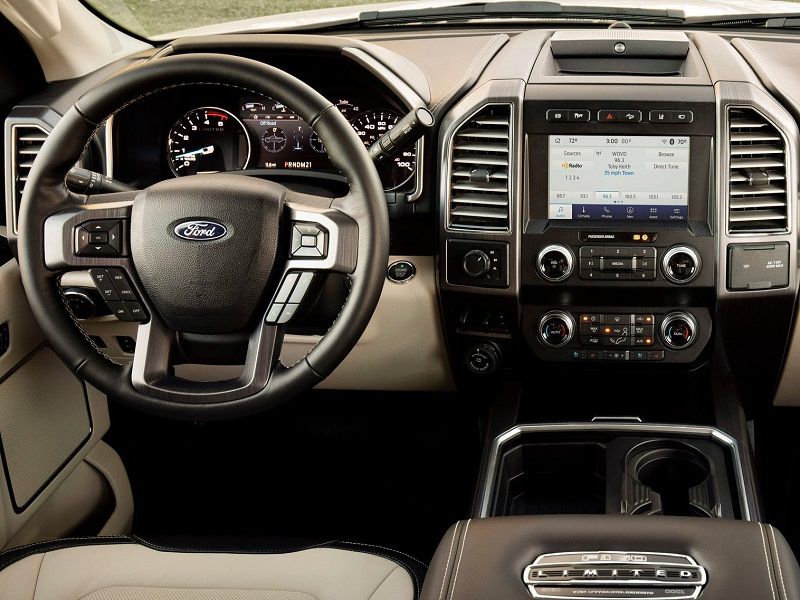 Photo by Ford
Infotainment System
Chevy equips the base Silverado 3500 WT model with a 7-inch touchscreen, while the other trim levels get an 8-inch unit. Navigation is available, and the trucks with the larger screen feature a 4G Wi-Fi hotspot, Android Auto, and Apple CarPlay. Wireless charging is standard on the top trim level, the High Country.
Ford's base trim level, the XL, gets a 4.2-inch screen, while all the other trim levels have an 8-inch touchscreen. Every version has a 4G Wi-Fi hotspot, while trucks with the larger screen feature Android Auto, Apple CarPlay, and navigation with pinch-and-zoom. The two systems offer similar graphics quality and features and both are quick to respond and very intuitive to use, but the Chevy's larger standard screen on the lowest trim level gives it the edge. 
Chevrolet Silverado 3500 Heavy Duty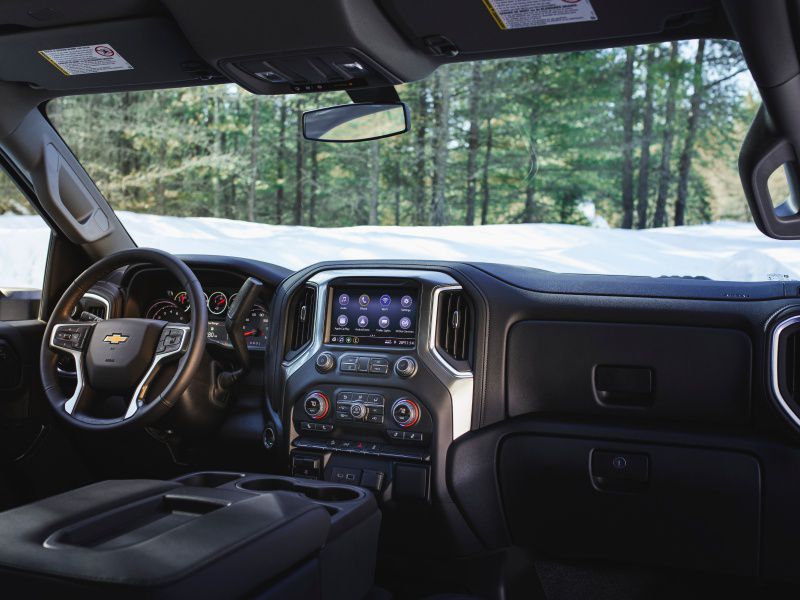 Photo by General Motors
Safety and Technology
Neither of these trucks has been crash-tested or assigned safety ratings by the National Highway Traffic Safety Administration or the Insurance Institute for Highway Safety. 
Both, however, bring a very long list of high-tech accident-avoidance technology to the party. Chevy offers an optional Safety Package on all trim levels, which includes front and rear parking sensors, blind-spot monitoring, and a rear cross-traffic alert. On the LTZ and High Country models, it also adds a forward-collision alert, lane-departure warning, automatic emergency braking, a following-distance indicator, and a Safety Alert Seat. Ford's list is similar. Depending on the trim level, you can get adaptive cruise control, blind-spot monitoring with a cross-traffic alert, lane-keeping alert, and automatic emergency braking.
Tie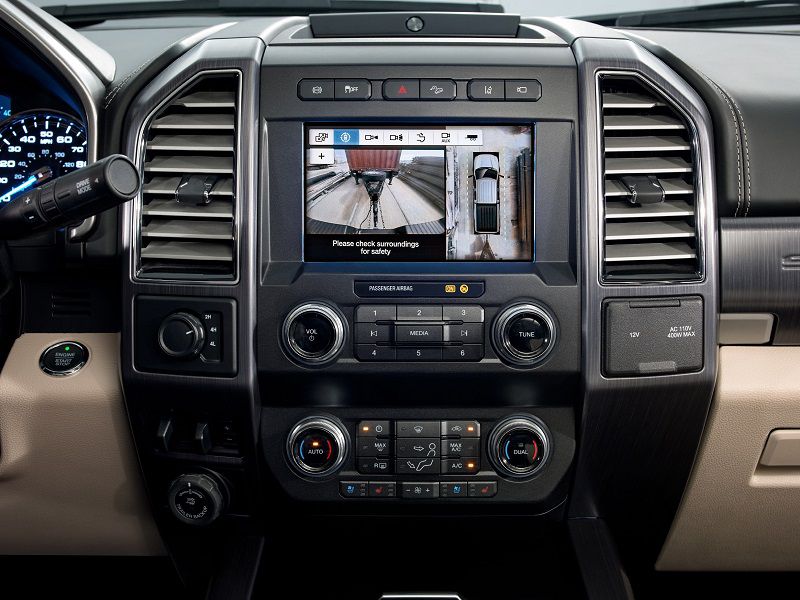 Photo by Ford
Power and Performance
When it comes to horsepower and torque, the Ford has bragging rights on its rival. The Chevrolet is available with two excellent engines that make a ton of power, but they just don't match the Ford's output. Under the hood of the base Silverado 3500HD is either a 6.6-liter V8 gas engine, rated at 401 horsepower and 464 lb-ft of torque. That's an 11 percent increase in horsepower and a 22 percent increase in peak torque over last year's 6.0-liter. It is matched with a six-speed automatic transmission. Chevy also offers a Duramax 6.6-liter V8 turbodiesel making 445 hp and 910 lb-ft of torque, coupled to a 10-speed automatic. 
Ford offers three engines in the F-350. Its two gas engines are a 6.2-liter V8 making 385 hp and 430 lb-ft of torque and a new 7.3-liter gas V8 that makes 430 hp and 475 lb-ft. of torque. This year, Ford has also pumped up its 6.7-liter Power Stroke diesel V8 to deliver 475 horsepower and 1,050 ft-lbs of torque. Both numbers are best-in-class. All three engines are paired with 10-speed automatic. 
Ford F-350 Super Duty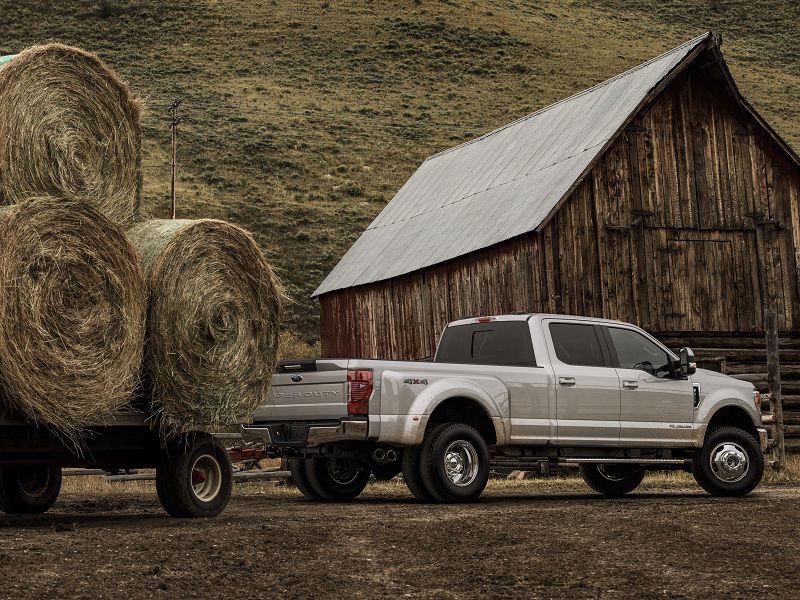 Photo by Ford
Fuel Economy
Big heavy-duty trucks like these aren't assigned fuel economy estimates from the Environmental Protection Agency like cars, SUVs, and ordinary pickups. What we can tell you is that we averaged 13.9 mpg in the Ford F-350 dually with the 6.7-liter Power Stroke diesel V8 in mixed driving that didn't include hauling cargo or towing. In a Chevy 3500 dually with the 6.6-liter V8 diesel, we averaged 14 mpg, also without towing or hauling. 
We can also tell you that the biggest Chevy has a 36-gallon fuel tank, while the biggest Ford gets a 48-gallon tank. It'll cost more to fill up, but that bigger tank gives the F-350 more theoretical fuel range. 
Tie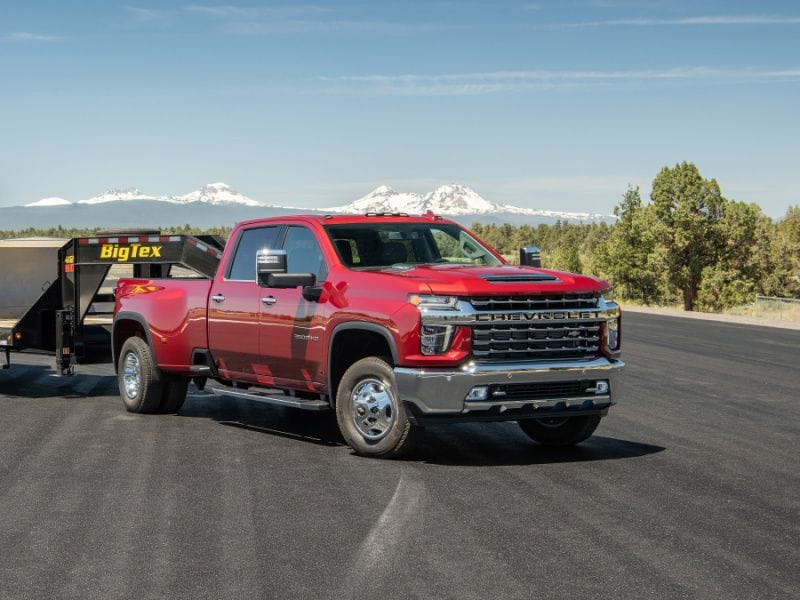 Photo by General Motors
Driving Dynamics
Considering their extreme size and weight, it's amazing how easy these trucks are to drive. Even in the city, they're both easily maneuvered through tight spaces, and they have the power to leave traffic far behind. On the highway, they're both easily kept between the lines. Don't misunderstand — they're both quite trucky, just not as much as you may expect. 
When it comes to ride quality and the response of its steering and brakes, however, the Ford has the edge. It rides just a bit smoother than the Chevrolet when their beds are empty, and its controls are a bit more carlike, though some may not like the heavy brake pedal of the Ford. It requires some leg.
Ford F-350 Super Duty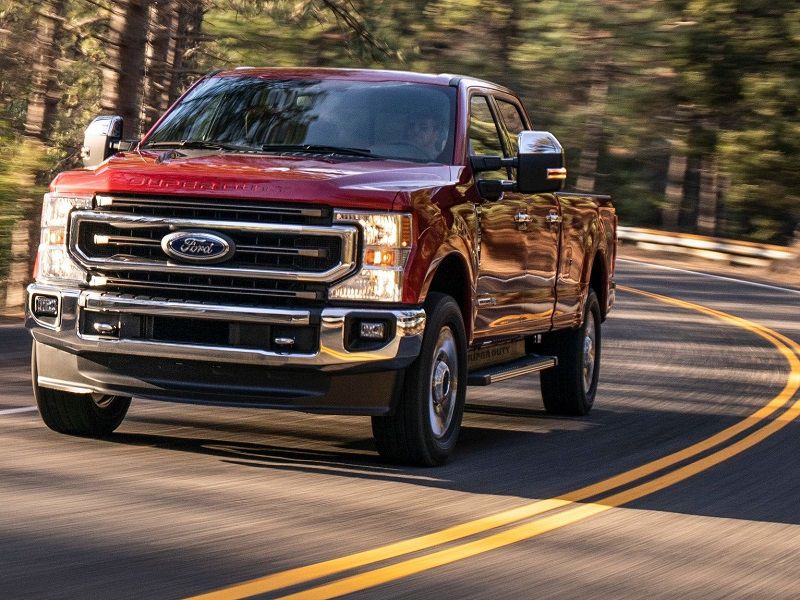 Photo by Ford
Value
With a standard cab and long bed, Ford offers the F-350 with the 6.2-liter engine and two-wheel drive for a little over $37,000. In that configuration, the Silverado costs the same, but it comes with the larger and more powerful 6.6-liter V8. At Chevy, popular crew cab models start at $41,595, while the Ford is about $1,000 cheaper. 
Let's jump to the big-dog diesel duallys like our test trucks. The Ford in base XL trim, with the diesel that costs an extra $10,495, has a base price of just under $55,000. The Chevy's turbodiesel adds $10,155 to its bottom line, which is $53,160. Leap up to the Ford's top Limited trim level, and the F-350 diesel dually with 2WD costs nearly $89,000. A 2WD diesel dually Chevy in the top trim level starts at $75,545. With its better base engine and generally overall lower pricing, the Chevy gets the call for value. 
Chevrolet Silverado 3500 Heavy Duty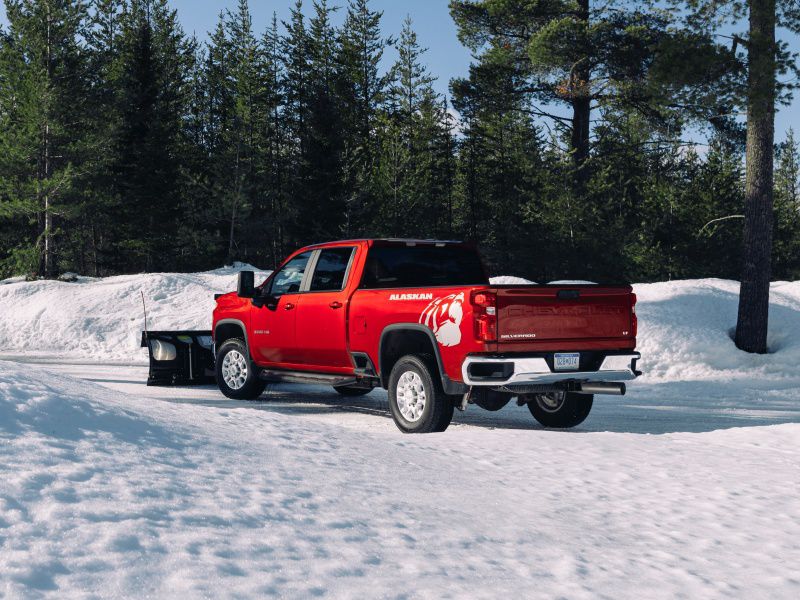 Photo by General Motors
Verdict
Chevy's redo of its largest pickup is an impressive piece of work. The 2020 Chevrolet Silverado 3500HD is larger than before, more spacious, more comfortable, more powerful, and more capable. It also looks better. We also applaud the Chevy for its spectacular new standard engine, its improved diesel, and its aggressive pricing. 
But the Ford F-350 Super Duty still takes the win. It won four of nine categories and tied the Chevrolet in two others. That's a decisive victory. The improvements Ford has made to its largest pickup are significant. It's a much better truck than before, offering the most torque in its class, more payload and towing capacity than the Silverado, a smoother ride, and superior driving dynamics. Ford consistently sells more heavy-duty pickups than Chevy, we don't see that changing any time soon. 
Ford F-350 Super Duty
Photo by Ford