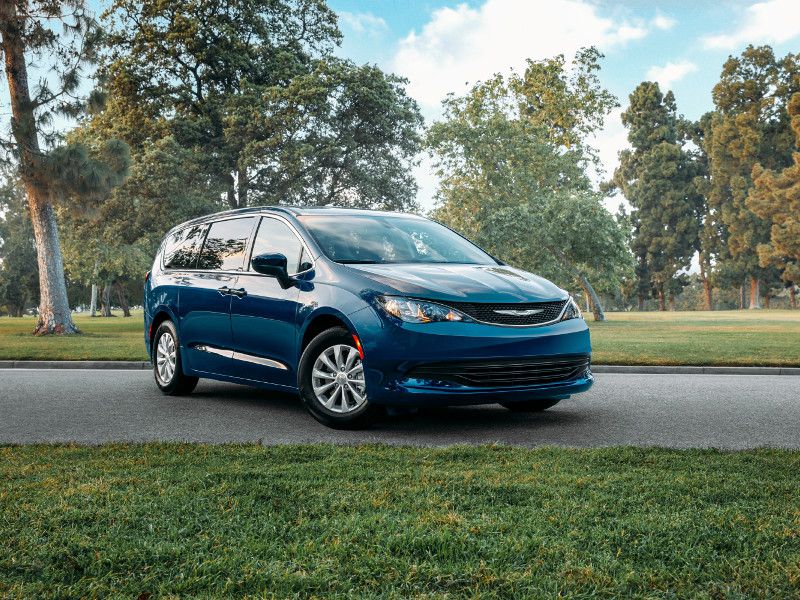 2020 Chrysler Voyager ・ Photo by Chrysler
Bargain minivan shoppers, your ship has come in. The brand-new 2020 Chrysler Voyager minivan is designed to offer larger families with smaller budgets the opportunity to partake of many of the niceties of the highly heralded Chrysler Pacifica minivan without mortgaging one of the children. Its base price — $26,985 plus a $1,495 destination charge — is a welcome respite from the $40,000-plus minivans that are all over so many dealers lots these days.
Included in that base price are seven-passenger seating and Apple CarPlay and Android Auto smartphone integration. Now, if you want a heavily equipped minivan that will do circus tricks for your family, Chrysler dealers are happy to sell you a Chrysler Pacifica in various levels of luxe. But if you are strictly looking for a family transporter that can slide into your tight budget — or if you'd like to buy a small fleet of people-haulers for ride-share duty or rental use — the Chrysler Voyager should be right on the money for you. 
Contemporary Minivan Exterior
If you think the Chrysler Voyager looks a lot like the Chrysler Pacifica — or most any other minivan for that matter — you are not wrong. In the 2019 model year, what is now the Voyager was the lowest trim on the Pacifica totem pole. So in buying the Voyager, you are buying much of the more expensive model's visual panache. That's a win right there. The only exterior change worthy of notice is the Voyager badge on the liftgate, and that gives you some degree of distinction over all those folks who drive Pacificas. If you want, you can tell them you're driving the "lightweighted" sport model.
The lowest trim level, L, provides all-season tires on 17-inch steel wheels, but the LX and LXi offer 17-inch alloy wheels, a bit of an unexpected bonus. A "Stow 'n Place" roof rack is available as an option. Yes, the Voyager does look like a minivan, but it's not so plain that you'll mistake it for a FedEx delivery truck. Sure, there are things that you don't get, like power-operated liftgate or panoramic roof, but why dwell on the negatives when you are getting so much hauling capacity for your dollar?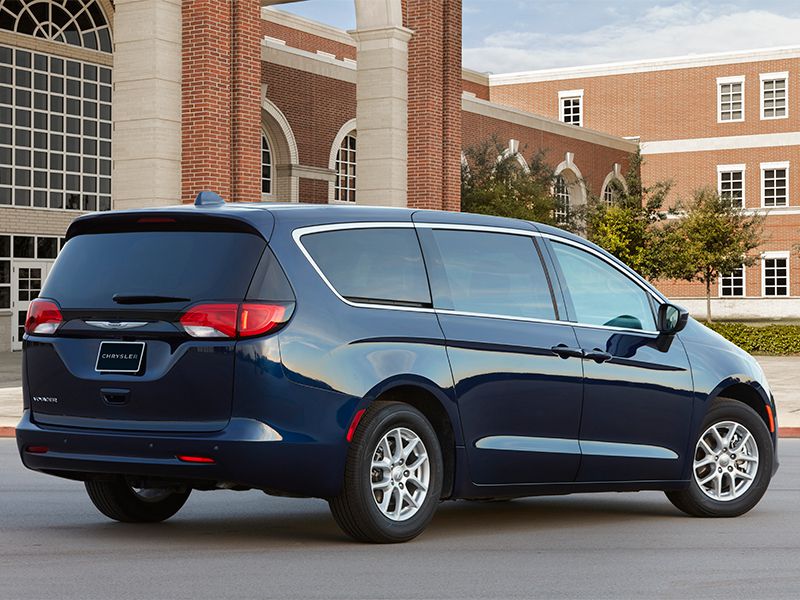 Photo by Chrysler
Comfortable Interior
We recently wrote that the interior of the Chrysler Pacifica mimics the interior of a luxury sedan. Well, in terms of materials, the same cannot be said about the Chrysler Voyager. Still, its overall interior is a welcoming place to be with a lot of built-in comfort and convenience items. The overall design is as functional as the more expensive Pacifica. But it does lack the woodgrain and leather accents that give the Pacifica such a highly regarded interior.
Three-zone manual temperature control is available on the lowest level trim and is standard on the LX and LXi models. The steering wheel offers integral audio controls, there is a 12-volt outlet on the dash, and the vanity mirror is illuminated. The L trim version has a second-row bench seat and a third-row bench. The LX has individual second-row seats ("quad seats") with in-floor storage bins underneath, and the LXi for fleet customers offers the Stow 'n Go captain's chairs that hide in the in-floor storage bins when not in deployed. Seat coverings in the L and LX models are cloth, while leatherette covers the seats of the fleet LXi. An eight-way power-operated driver's seat is standard in the LX and LXi models. In total, the Voyager will provide you and your family a cozy, comfortable place to be.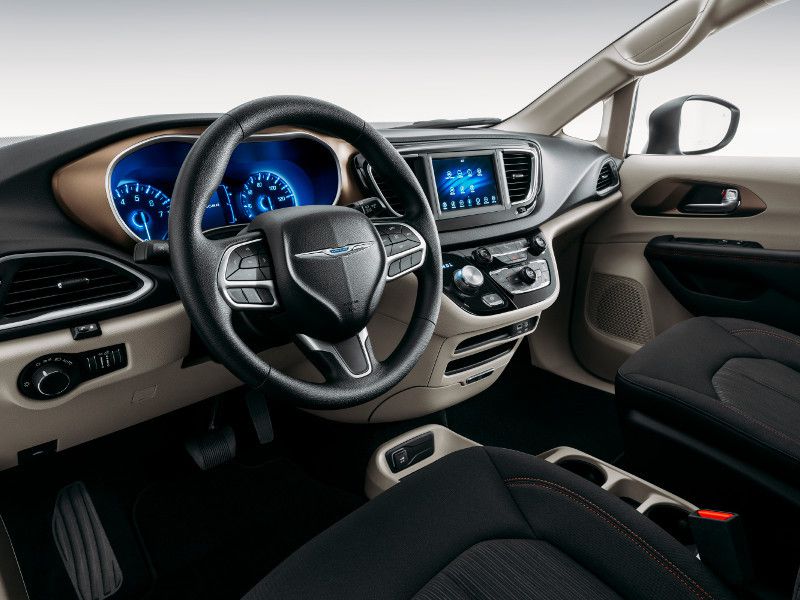 Photo by Chrysler
Infotainment
The infotainment system is one area in which you will notice a significant difference between the Chrysler Pacifica minivan and the new Voyager model. The Pacific offers a very large touchscreen and an elaborate optional sound system. At the same time, the Voyager gives you more than you might expect on the infotainment front.
All three versions of the Voyager feature a standard 3.5-inch digital information display and the well-regarded and easy-to-use Uconnect 4 system with a 7-inch touchscreen. Apple CarPlay and Android Auto are both standard, enabling the use of navigation, messaging, search, and music. Those with Apple devices can use Siri voice control to use several functions, while many of the Android Auto Google-based functions can be accessed using controls on the steering wheel. The standard audio system has six speakers and adds active noise cancellation. In short, the low-priced Voyager provides more on the infotainment front than you might expect.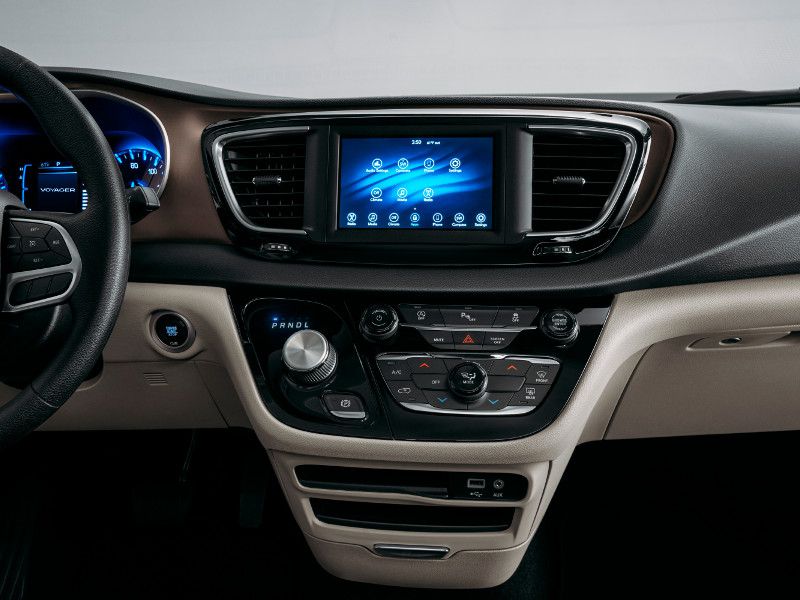 Photo by Chrysler
Solid Engine Choice
The Pacifica offers the choice between a V6 gasoline engine and a very sophisticated plug-in hybrid system, the first of its kind for a minivan. In keeping with its value-first mission, only the former is available in the Voyager — a 3.6-liter V6 with 287 horsepower and 262 pound-feet of torque. Recent upgrades to this long-running Pentastar engine include two-step variable-valve lift, cooled exhaust-gas recirculation, and weight reduction.
To aid fuel economy, engine stop-start technology is standard across all three Voyager trim levels. While many auto stop-start systems seem more irritating than they are worth, the Voyager's system is so unobtrusive you might not even notice it's there. The Voyager's EPA ratings are 19 mpg city/28 mpg highway/22 mpg combined. The 2020 Honda Odyssey delivers those identical numbers, while the Toyota Sienna manages 19 mpg city/26 mpg highway/21 mpg combined. On a per-person-transported basis, all of the minivans are very fuel-efficient.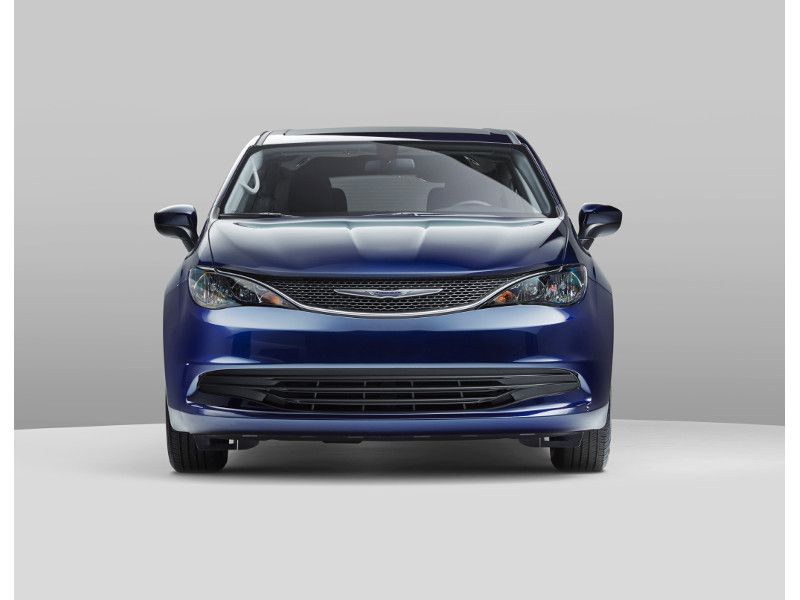 Photo by Chrysler
Cargo and Towing
Like its fancier twin, the Chrysler Pacifica, the Voyager has a handy footprint, yet it will hold a raft of people and cargo. That is one of the special beauties of the front-drive minivan architecture. Add up all the interior space, and it is a whopping 197.3 cubic feet. With both rear rows folded, it offers a mammoth 140.5 cubic feet of cargo volume, nearly double space in the mid-size Kia Sorento crossover SUV. With the second-row seating in use, the Voyager offers 87.5 cubic feet of cargo space. And even with all three rows full of passengers, the Voyager has 32.3 cubic feet of luggage volume.
The Voyager's interior volume is perhaps the biggest reason that it is such a useful vehicle, and it is also the reason we think the LXi version will be so popular in fleet service. Most wouldn't suspect a front-wheel drive vehicle like the Voyager would have much towing capacity, but with the 3.6-liter V6 leading the way, towing capacity is 3,600 pounds.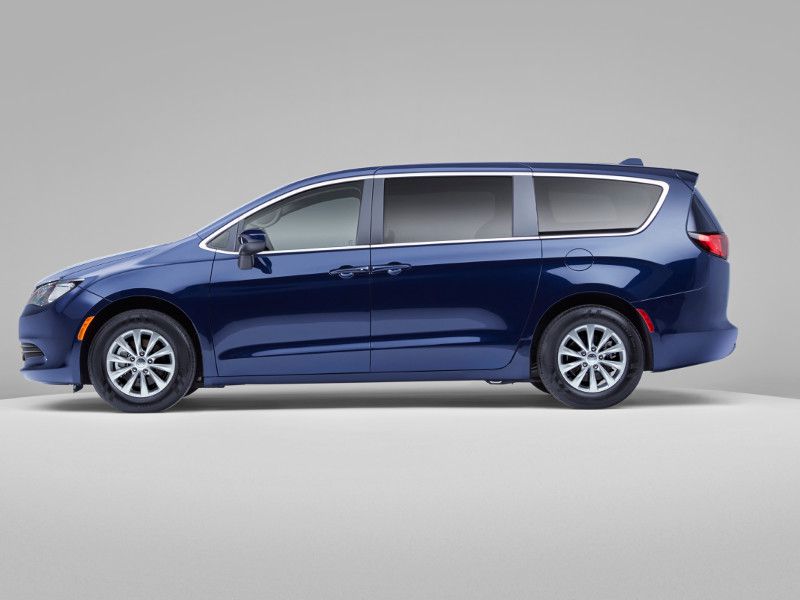 Photo by Chrysler
Safety and Driver Aids
Family safety is paramount in a minivan, and even at its low price point, the 2020 Chrysler Voyager is equipped with an impressive array of standard and available safety technology. First off, the Voyager is stuffed with airbags — advanced multistage driver and front passenger airbags, driver and front passenger-side inflatable knee blockers, front seat-mounted side airbags, and side-curtain airbags for outboard passengers in all three rows.
Also standard is the LATCH child-seat anchor system, an electric parking brake with "safe hold," and a backup camera. Electronic stability control and a tire-pressure monitoring system are standard too. Voyager's available SafetyTec Group available as an optional package includes ParkSense rear park assist with stop, blind-spot monitoring, and rear cross-path detection.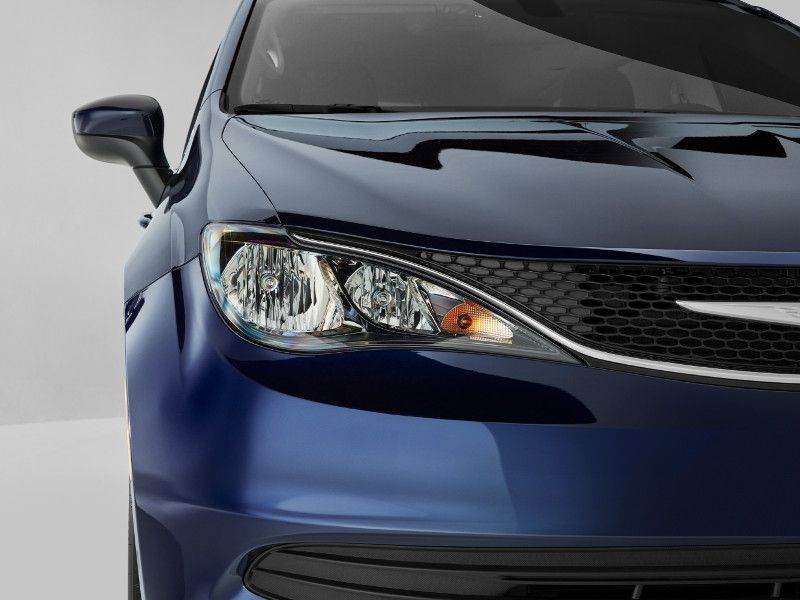 Photo by Chrysler
Driving Impressions
From behind the wheel, the new 2020 Chrysler Voyager feels just like the highly praised Chrysler Pacifica that it so closely resembles. That's no surprise, is it?
What drivers who turn up their noses at minivans might be surprised about is how well the Voyager rides and handles. Certainly, it wouldn't be the first car we'd take through a 700-foot slalom, but the Voyager does remarkably well there — and it also was more than creditable on the handling course at Fiat-Chrysler's Chelsea, Michigan, proving grounds. The people who drive minivans don't seek to shoot down canyon roads at tire-screeching speeds. They want to complete their many day-to-day tasks as painlessly and pleasurably as possible. Acceleration from the 287-horsepower Pentastar V6 engine is more than adequate, and the nine-speed automatic transmission handles the engine's power and torque flawlessly. Ride motions are comfortable even for the third-row passengers who often find other minivans a bit challenging.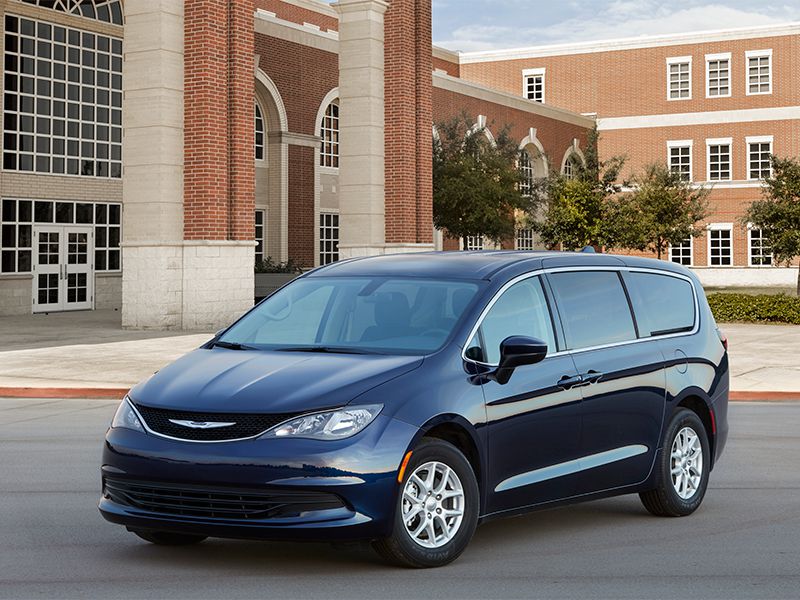 Photo by Chrysler
Three Trim Levels
As you might have gathered by now, the 2020 Chrysler Voyager is available in three trim levels — L, LX, and LXi. Again, the vehicles that now make up the Voyager line were the lower-trim versions of the Pacifica last year, albeit with a few tweaks. The Voyager L is the price-leader with steel wheels and a second-row bench seat lacking the Stow 'n Go feature. By going to the LX version you get several added benefits including the "quad" second-row seating and alloy wheels, and the ability to add optional safety gear and a rear entertainment system. 
Perhaps the most utilitarian model is the LXi version designed for fleet sales only. It has leatherette-covered Stow 'n Go second-row seats and a few other add-ons that, to us, increase value. Perhaps you can persuade your Chrysler dealer you're buying a fleet of one.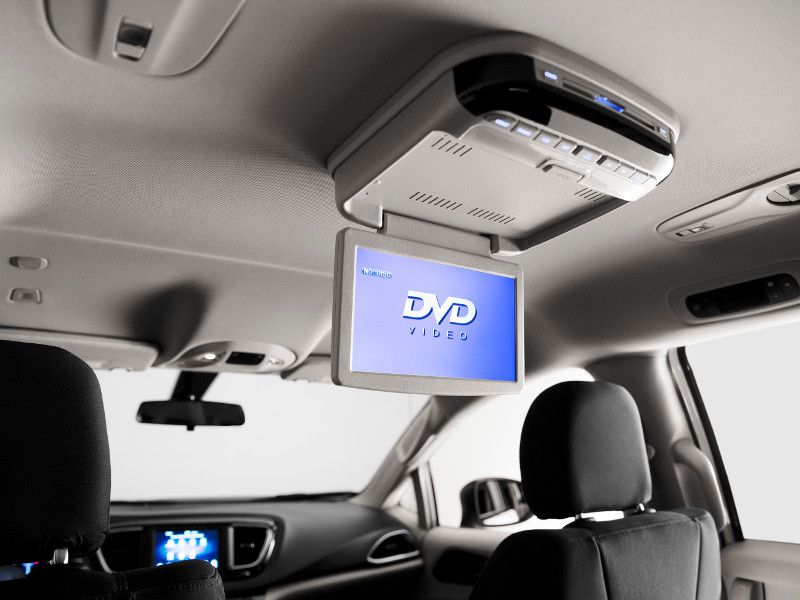 Photo by Chrysler
Pricing & Value
The Chrysler Voyager is designed to serve price-conscious minivan buyers, and the MSRPs reflect that. The price-leading L trim level has a manufacturer's suggested retail price of $28,480, including a $1,495 destination charge. The LXi aimed at the fleet market has an MSRP of $34,490 including destination. That extra coin buys things like alloy wheels and leatherette upholstery on handy Stow 'n Go seats. In between, the LX starts at $31,290 including the $1,495 destination charge.
We have always been impressed by the Chrysler Pacifica minivans, so it follows that we are also impressed by the very similar value-oriented Voyagers. They could well be the biggest values in the minivan market this year.
Photo by Chrysler