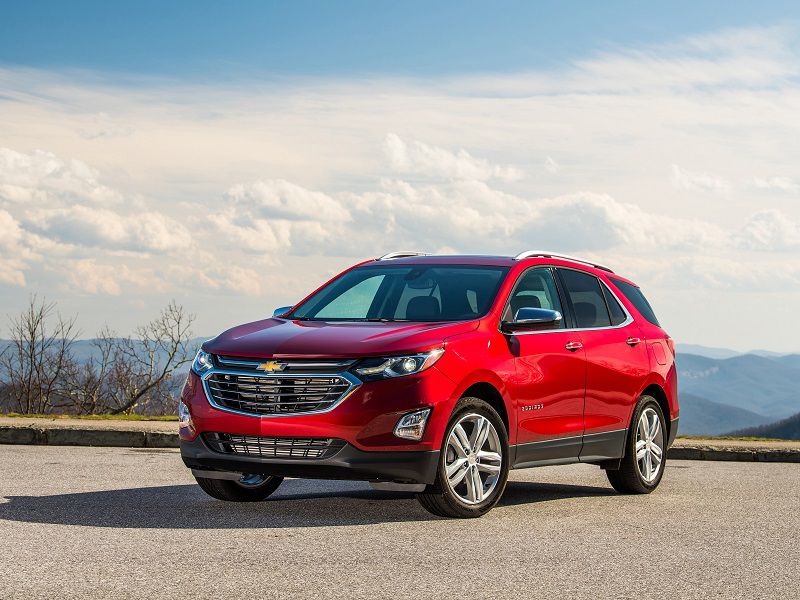 2020 Chevrolet Equinox ・ Photo by Chevrolet
An unsung hero among compact SUVs, the Chevrolet Equinox has, over the course of 16 years and through two complete redesigns, delivered utility and comfort at an affordable price. What's always been missing is good power from the standard engine, quality that matches the standard bearers in the class, and competitive cargo space measurements. With the 2020 Chevrolet Equinox, they remain absent.
You can solve the first of those problems easily enough. Just get the optional turbocharged 2.0-liter engine. You'll need LT trim at a minimum, and the engine option is $1,500, bringing your cash outlay to $31,195 before adding any options. But at least this version of the Equinox offers decent acceleration, even if it sacrifices maximum fuel efficiency. You might also want to wait for the 2021 Equinox to go on sale. It gets wider availability of safety technologies, a sporty RS trim level, and a visual nip-and-tuck that gives the SUV's somewhat soft styling more of an edge. Otherwise, it's the same as what's on sale right now.
Equinox Configurations Ranging From Basic to Bountiful
Between now and when the 2021 Equinox goes on sale, you'll be able to get a good deal on the 2020 model. As this review is written, Chevy is offering 0% financing for 72 months plus a $1,000 rebate, or a $4,250 rebate if you're using your own financing, or a heavily subsidized lease deal.
These bargains do not include the Equinox L ($24,995, including the $1,195 destination charge.) To take advantage of them, you need the LS trim ($27,495) at a minimum. The Equinox LT ($28,695) is mighty popular, while the Equinox Premier ($32,595) is the top-of-the-line model. They come standard with front-wheel drive and a turbocharged 1.5-liter four-cylinder engine. All-wheel drive and a turbocharged 2.0-liter are options. My test vehicle was an AWD Premier model with the more powerful engine. Equipped with the Confidence & Convenience II package and a panoramic sunroof, the grand total came to $40,040.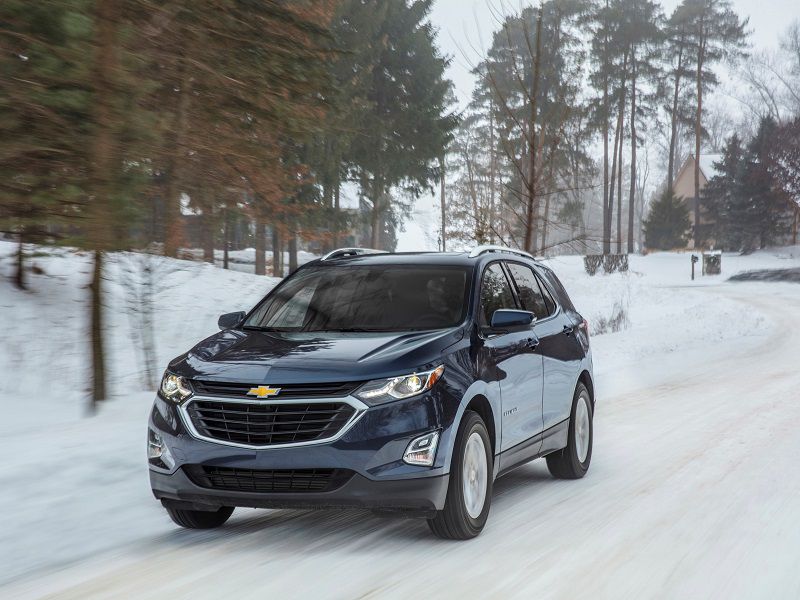 Photo by Chevrolet
Attractively Styled, Inside and Out
Painted Midnight Blue, equipped with 19-inch silver aluminum wheels, and featuring a high-contrast Brandy over Jet Black leather interior, my test vehicle looked just about as nice as an Equinox can. Balanced and cohesive, the design has the requisite SUV gray plastic cladding running around the lower perimeter but fortunately doesn't wear simulated front and rear skid plates. Chrome detailing gives this trim level a more upscale look, while the wraparound rear glass and dual rectangular exhaust outlets lend the SUV a sporty appearance.
Inside, the two-tone cabin with its polished metallic accents looks upscale, but it doesn't take long before you realize it doesn't feel that way. Hard plastic is a dominant material here, and while it's not glossy, it certainly is hard to justify in a small SUV with a sticker price north of 40 grand. Controls are intuitively laid out, and the infotainment system is quite simple to use. Nothing about the Equinox's dashboard functionality should cause anyone familiar with a smartphone an ounce of consternation.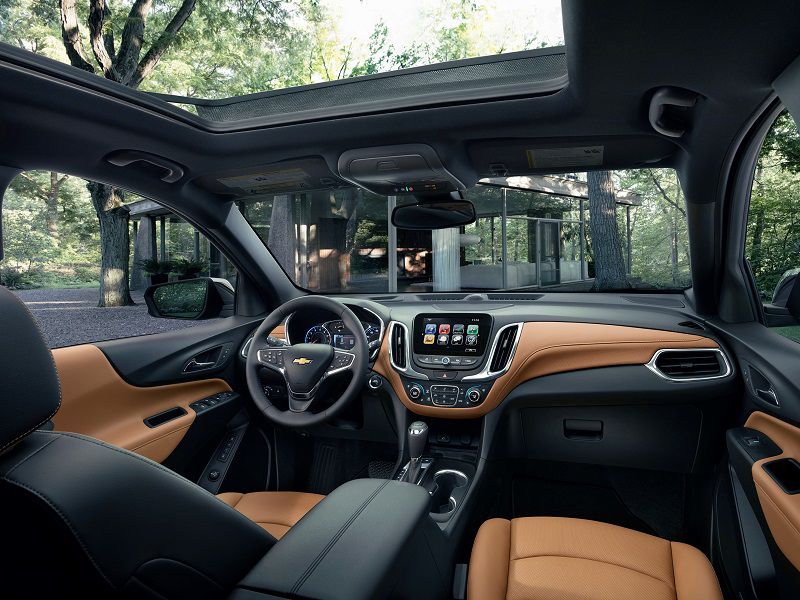 Photo by Chevrolet
Easy to Live With for a Family of Four
Like other small suvs, the Equinox feels narrow, in part because you can raise the Premier's eight-way power-adjustable front seats so high in relationship to the windows and dashboard. I like sitting up high for better support and visibility, so the Equinox suits me. And I certainly appreciated the heated steering wheel, heated and ventilated front seats, and heated rear seats.
As it always has, the 2020 Equinox supplies a roomy back seat. It does not, however, slide forward to make more room for cargo. Behind the rear seat, luggage volume measures 29.9 cubic feet. Fold it down, and this SUV can swallow 63.9 cubic feet of cargo. Those numbers pale in comparison to the front runners in the segment: the Honda CR-V, Nissan Rogue, and Toyota RAV4. Back in the front-seat area, at least, storage space is good. The center storage console, the tray forward of the transmission shifter, the door panels, and the glove box all offered decent space for everyday items. My Premier test vehicle even had a wireless smartphone-charging pad.
Photo by Chevrolet
Terrific Infotainment User Experience
I am a fan of the Chevrolet Infotainment 3 technology that Chevy is using in its latest cars, trucks, and SUVs. Featuring crisp graphics, a rewarding user experience, and a long list of standard features including Apple CarPlay, Android Auto, and OnStar connected services including a 4G LTE Wi-Fi hotspot, this setup provides everything you need and nothing you don't.
Better yet, the controls are super simple. Below the screen, you'll find a volume and mute knob flanked by tuning buttons. This means if you're like me, you'll have no trouble at all quickly adjusting the volume or moving a few stations up or down the band without needing access to stored favorites. Navigation is an option, paired with a larger 8-inch display and HD radio. You can also get SiriusXM satellite radio and a Bose premium sound system, but the standard six-speaker setup sounds better than you might expect.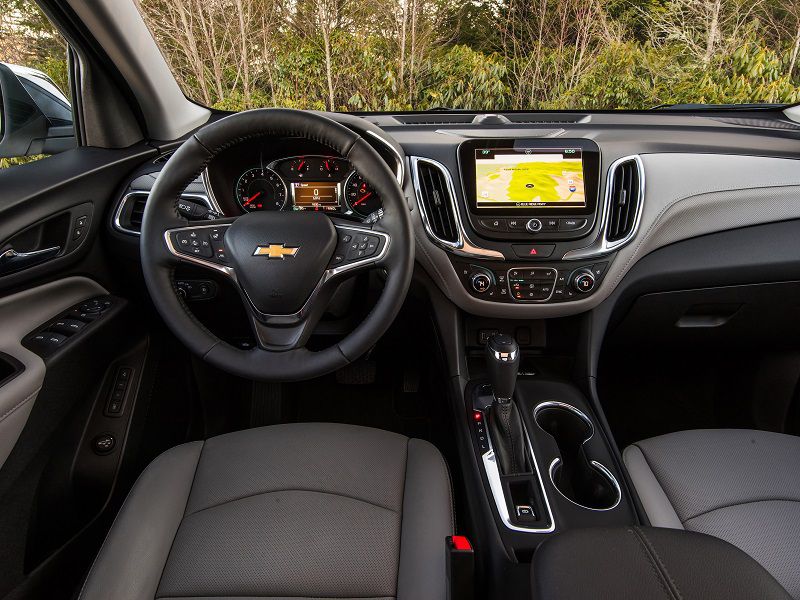 Photo by Chevrolet
Safety Comes Standard, Plus Great Crash-Test Ratings
Standard advanced driving assistance systems include a backup camera, a forward collision warning, pedestrian detection, automatic emergency braking, a lane-departure warning, and lane-keeping assist. The Equinox also comes with a rear-seat reminder system designed to prevent parents from accidentally leaving children inside the SUV, and Teen Driver report card technology for parents of young drivers. Automatic high-beam headlights are standard.
That's a long list of safety tech, but there's more. Upgrade to LT or Premier trim and the Equinox offers blind-spot monitoring, a rear cross-traffic warning, and a lane change alert system. The Premier trim is the only one available with adaptive cruise control and a surround vision camera system. An active OnStar subscription also provides automatic collision notification and SOS emergency calling, among other features. During testing, I found the driver-assist systems to work smoothly and accurately. And if it couldn't prevent a collision, the SUV's excellent crash-test ratings put my mind at ease, especially when my family was along for the ride.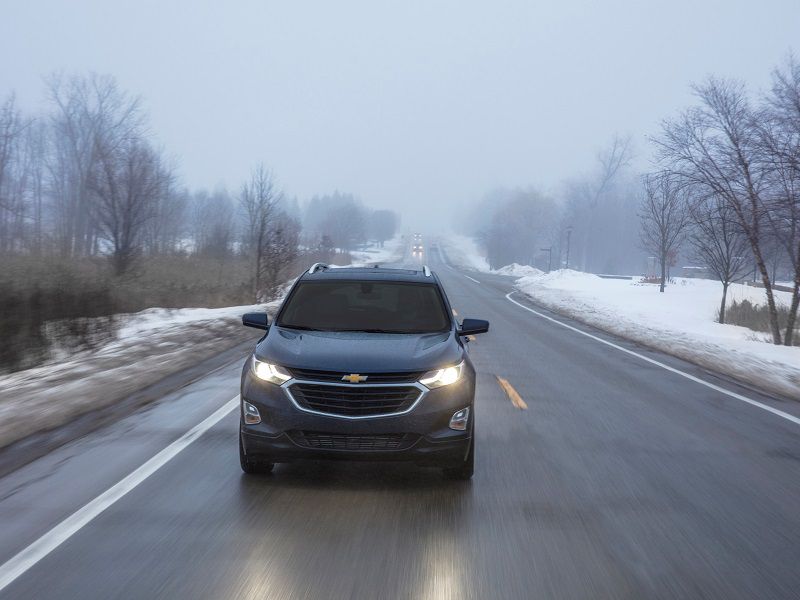 Photo by Chevrolet
Two Engine Choices, Neither One Hitting EPA Numbers
Adequate is the best word to describe the Equinox's standard turbocharged 1.5-liter four-cylinder engine. It makes 170 horsepower and 203 lb-ft of torque, and a six-speed automatic sends power to the front or all four wheels. I rented one of these last fall and it was fine. Which is to say, unremarkable. And with LS trim and AWD, it averaged no better than 24.9 mpg in spite of lots of highway miles, missing its EPA-rated 27 mpg in combined driving.
The optional turbocharged 2.0-liter engine is far more satisfying in terms of acceleration and passing power. It generates 252 hp and 260 lb-ft of torque, and it uses a nine-speed automatic. My Premier AWD test vehicle returned 22.1 mpg on my testing loop, coming up short against its 24-mpg EPA rating in combined driving. Clearly, the more powerful engine costs more in terms of the purchase price and your fuel bill. Only you can determine if the added 82 hp and 57 lb-ft are worth it. Just don't expect to hit official fuel economy estimates with either one.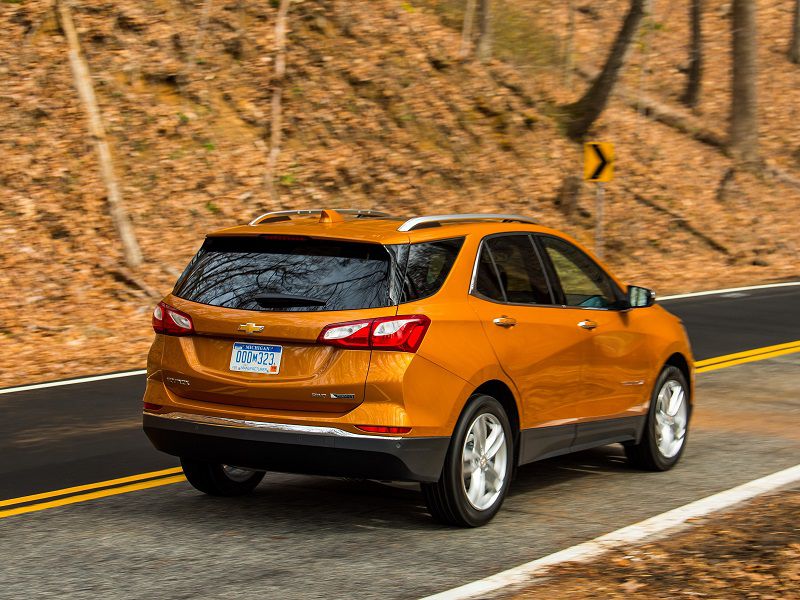 Photo by Chevrolet
Deftly Balanced Ride and Handling Qualities
Like other modern vehicles from General Motors, the Equinox displays deftly balanced ride and handling capabilities. The steering feels good in your hands, except for the occasional bout of torque steer with the turbo 2.0-liter before the AWD wakes up and sends power to the back wheels. The brake pedal feels natural underfoot. And while the ride is firm and connected, it is rarely harsh. Depending on the road surface, this SUV is quiet, too. On my testing loop, though, patched pavement brought out a few buzzes and rattles.
Both this fully loaded Premier and the rented LS were pleasing to drive on the highway and nimble in cities. The Premier also tackled local mountains with more enthusiasm than I expected, demonstrating impressive roll and body control while offering decent grip.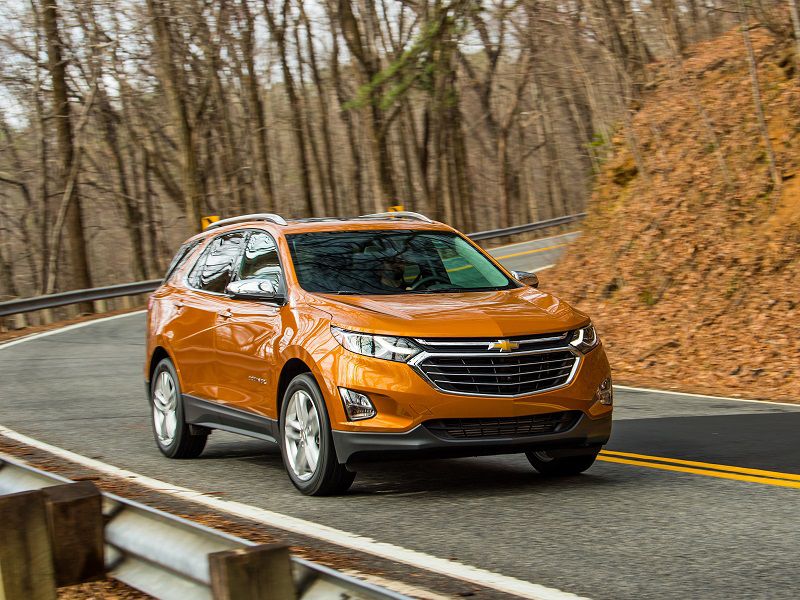 Photo by Chevrolet
Equinox Faces Increasingly Stiff Competition
Reportedly, the compact SUV segment is the second-largest one in America after full-size pickup trucks. Within it, the Chevrolet Equinox was the fourth best-seller after the Toyota RAV4, Honda CR-V, and Nissan Rogue, in that order. In fact, the Chevy outsold the fifth-ranked model, the Ford Escape, by more than 100,000 units.
Chevy has new competition, though. The Escape is redesigned for 2020, available in gas, hybrid, and plug-in hybrid formats. The RAV4 has offered gas and hybrid choices for years, and in 2021 is bringing out a new plug-in version. The 2020 Honda CR-V is freshened up this year, and a new hybrid model is on sale. And the Rogue is soon due for a complete redesign. In the face of these changes, the Equinox gets a mid-life refresh for 2021. A full redesign is unlikely before 2024 or 2025. And that means you're going to be able to get discounted deals on this SUV for the foreseeable future.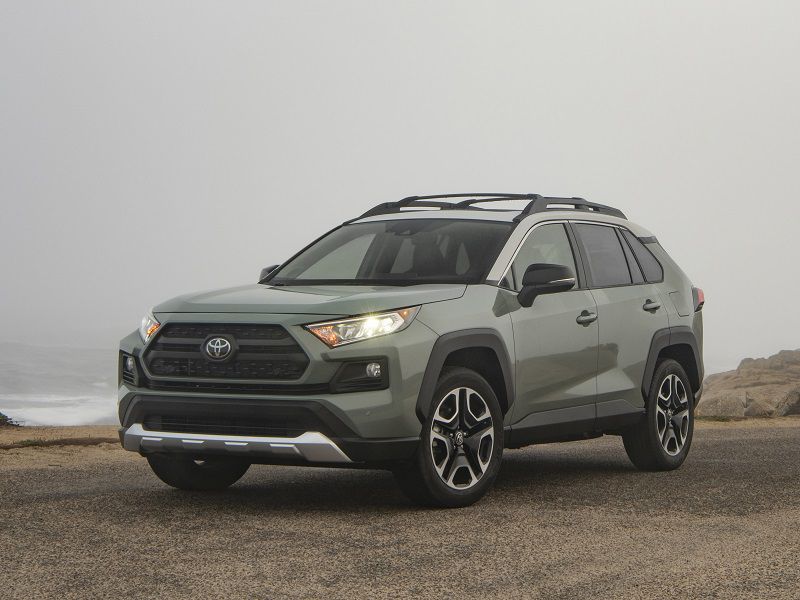 Photo by Toyota
Not Faultless, But Quite Likable
Stylish, speedy (with the optional engine), and safe, the 2020 Chevrolet Equinox is roomy for people, comfortable for passengers, and comparatively tight for cargo. Quality, from the amount of hard plastic in the cabin to the iffy build quality on the Premier test vehicle, isn't an Equinox hallmark. And "Buy American" types might balk at the Equinox's origin, given that it rolls off of a Mexican assembly line.
Nevertheless, the 2020 Equinox is quite likable, especially at the discounted prices available today. Easy to understand and use, and enjoyable to drive no matter the situation, this SUV promises to be a good deal in the years to come. Just make sure you test-drive both engines before choosing the less powerful one.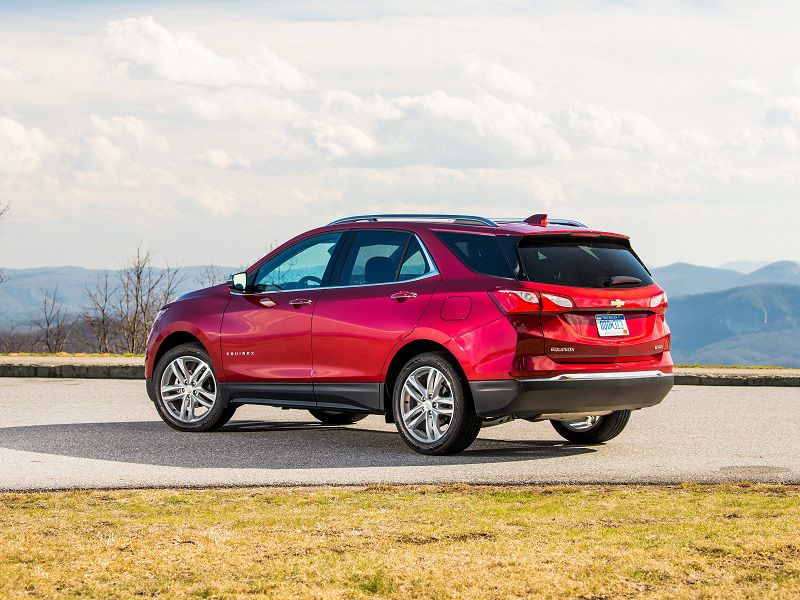 Photo by Chevrolet