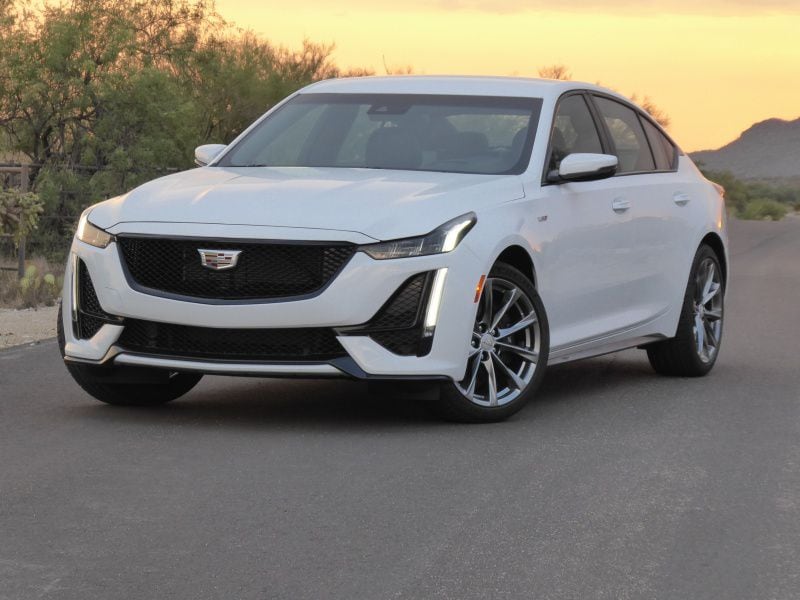 2020 Cadillac CT5-V ・ Photo by Ron Sessions
Spoiler alert: The 2020 Cadillac CT5-V is not the same supercharged V8-powered ground pounder the 2019 CTS-V was. Cadillac has rejiggered its sedan lineup for 2020, and with a few key changes, the mid-size CTS has become the CT5. The new CT5 gets a longer wheelbase and much-needed boost in rear legroom, a new base four-cylinder turbo engine, a coupe-like fastback roofline, and a grille and headlamp design from the Cadillac XT6 crossover, plus key updates to its infotainment and safety systems. You can read about the changes to the base 2020 CT5 here.
Think of the 2020 CT5-V as an everyday performance luxury sedan not unlike last year's twin-turbo V6-powered CTS V-Sport — except it's about $20,000 less expensive than the 2019 V-Sport. With a base price of $48,690 including the $995 destination charge, the new CT5-V, powered by a 3.0-liter twin-turbo V6, is a relative bargain. It can be configured with rear- or optional all-wheel drive. Major competitors include performance variants of the Audi A4 and A5, BMW 3 Series, Genesis G70, Kia Stinger, and Mercedes-Benz C-Class.
Twin-Turbo V6
As the clock ticks closer to Cadillac's all-electric future a few years down the road, the brand still has some tasty fossil-fueled sports-luxury sedans to tantalize car buffs. One is the 2020 CT5-V, packing 360 horsepower and 405 lb-ft of torque from a 3.0-liter twin-turbo V6. While enthusiasts longing for the lusty V8 rumble and 600-plus horsepower rage of last year's CTS-V will have to wait for the 2021 CT5-V Blackwing, the 2020 CT5-V has ample power to exercise the sedan's excellent chassis dynamics.
In many ways, the CT5-V's twin-turbo V6 delivers on the promise of smooth power, effortless torque delivery, and melodious sounds lacking in the base CT5's 2.0-liter four-cylinder — attributes expected in a mid-size performance luxury sedan. The CT5-V can scoot from rest to 60 mph in well under 5 seconds and barely works up a sweat keeping ahead of traffic. Electronic sound enhancement via the audio system and delicious but discreet crackle from the CT5-V's talkative quad-tipped exhaust add an enticing soundtrack. A new 10-speed automatic transmission with paddle shifters reels off quick, seamless shifts. EPA fuel-economy estimates are 18 mpg city/26 mpg highway/21 mpg combined for rear-drive models and 1 mpg less for AWD versions.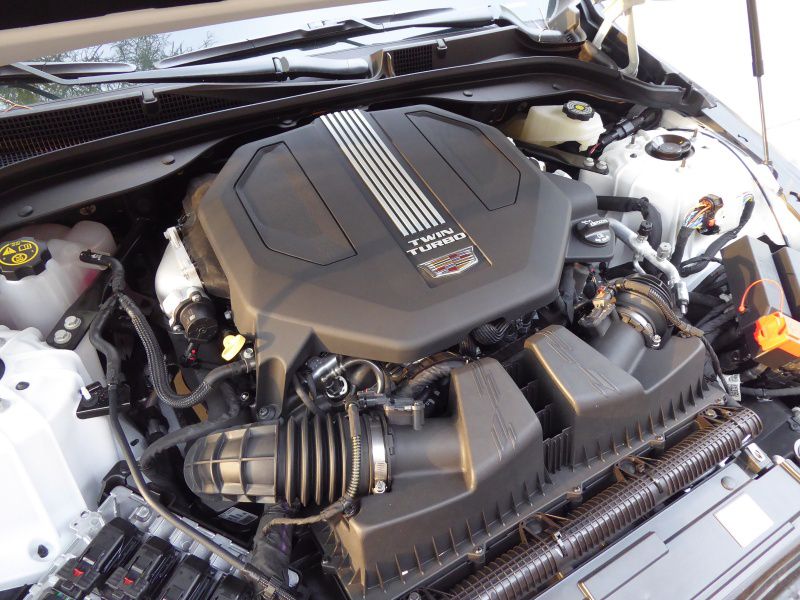 Photo by Ron Sessions
Comfortable Cabin
While it's not quite as lavishly appointed as some of its (more expensive) European competitors, the CT5-V's cabin is nonetheless a pleasant place to spend some time. Cadillac has simplified many of the controls, adding tastefully arrayed hard buttons for the standard dual-zone automatic climate control, front-seat heating and ventilation, and other functions. Call it a happy middle ground between button overkill and endless menus in the Cadillac User Experience (CUE).
Materials are mostly luxury-brand-worthy. There are many soft-touch surfaces on anything the cabin's occupants will interact with. Armrests on the doors and console are nicely padded as are the sides of the console, appreciated to comfort bony knees on twisty roads. The CT5-V comes with standard leatherette seat coverings, power sport bolstered front seats with adjustable lumbar and driver-seat memory, rain-sensing wipers, pushbutton start, a 15-watt wireless phone charger, a phone holder, alloy pedals, carbon-fiber décor on the doors, console and dash, a thicker-rimmed steering wheel with V-mode, and magnesium paddle shifters. Among the options are creamy-soft aniline leather seat coverings, a dual-pane sunroof, suede-wrapped shifter and steering wheel, power tilt and telescope steering column heated, a head-up display, massaging seats, and a heated steering wheel.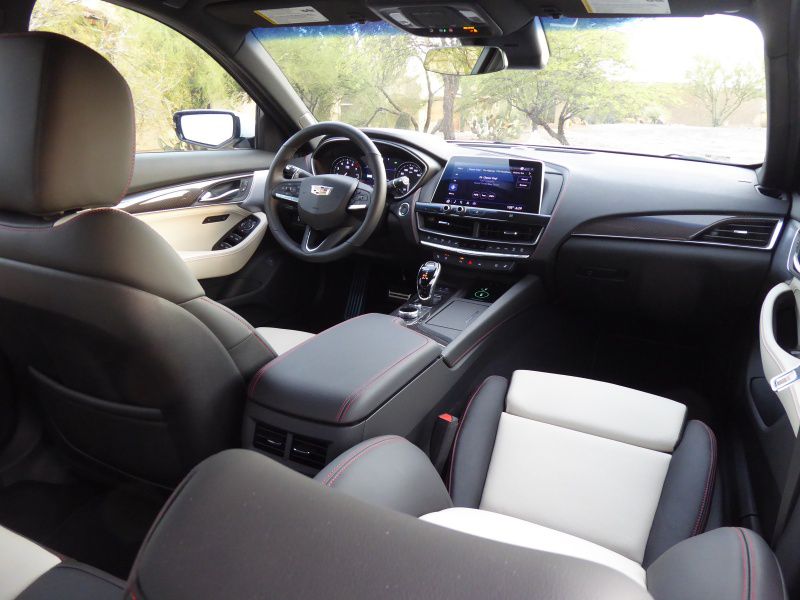 Photo by Ron Sessions
Bigger 10-inch Infotainment Screen
With the 2020 CT5, Cadillac upgrades to a third-generation Cadillac User Experience system featuring a larger, landscape-format 10-inch high-resolution 1080dp touchscreen.
The system features one-touch NFC device pairing. A nine-speaker AM/FM stereo with SiriusXM and HD radio is standard with an embedded navigation system and an immersive 15-speaker Bose premium audio system optionally available. Apple CarPlay and Android Auto cellphone mirroring via USB cable for familiar apps are included. A pair of USB ports are hidden in the console bin under the armrest. Volume and tuning functions are simplified with a pair of analog rotary knobs under the screen.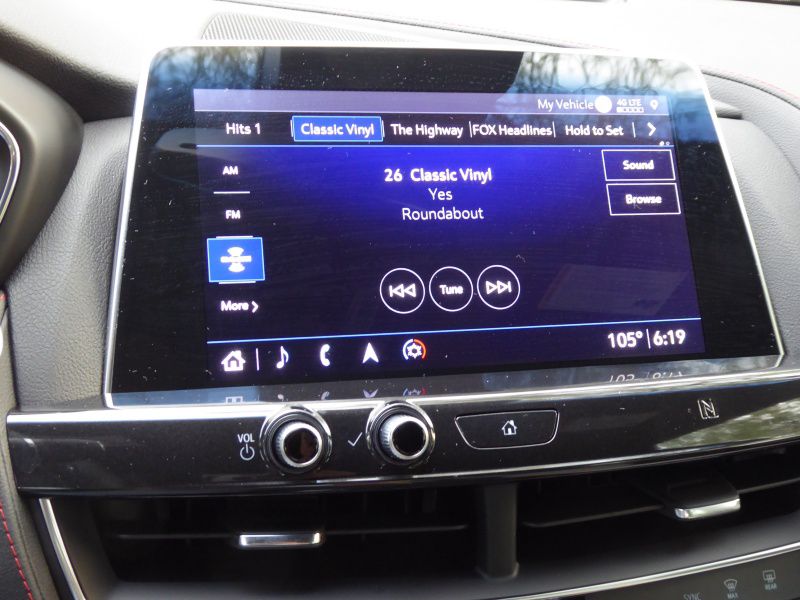 Photo by Ron Sessions
Remote Infotainment Controls
CUE 3.0 now has a simplified console-mounted rotary knob which you rotate to scan and highlight menu items and depress to select that function. There are no toggle functions as in BMW's iDrive system.
The rotary knob is surrounded by hard shortcut buttons for audio source, navigation menu, phone menu, home and back functions, plus seek/scan buttons and a second power/volume knob (complementing the volume and tuning knobs on the dash just below the infotainment screen). Infotainment content is also accessible via voice or steering wheel controls as well as the touchscreen itself. Some touchscreen tiles are turned off when the CT5-V is moving.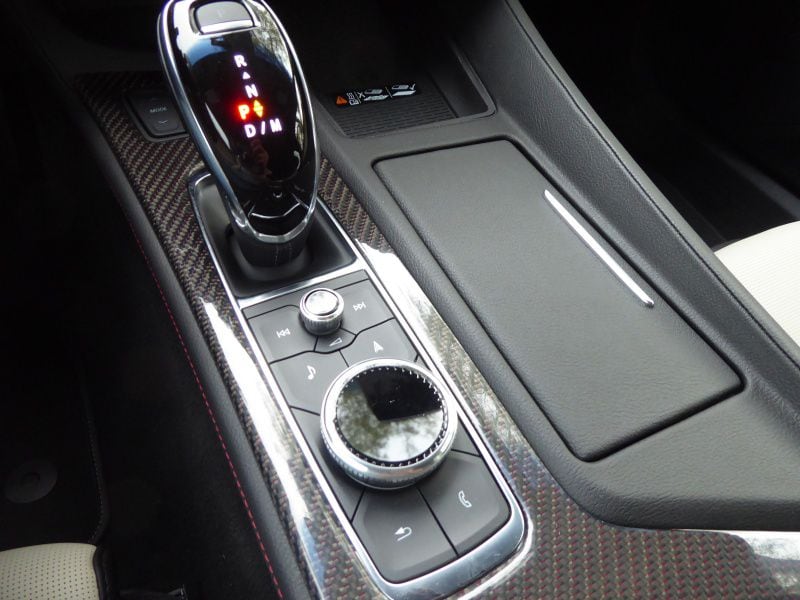 Photo by Ron Sessions
Adult-Worthy Back Seat
The CT5's 60/40 split-folding seatbacks give pass-through functionality for longer cargo items in the smallish 11.9-cubic-foot trunk.
The additional wheelbase dimension gained in the transition from CTS to CT5 adds a not insignificant 2.5 inches more rear seat legroom, making the CT5's rear perches adult-approved. Despite the coupelike sloping roof, rear headroom is acceptable. Compared to the previous CTS, the longer rear doors of the CT5 aid rear-seat ingress and egress and larger rear door glass aids outward visibility.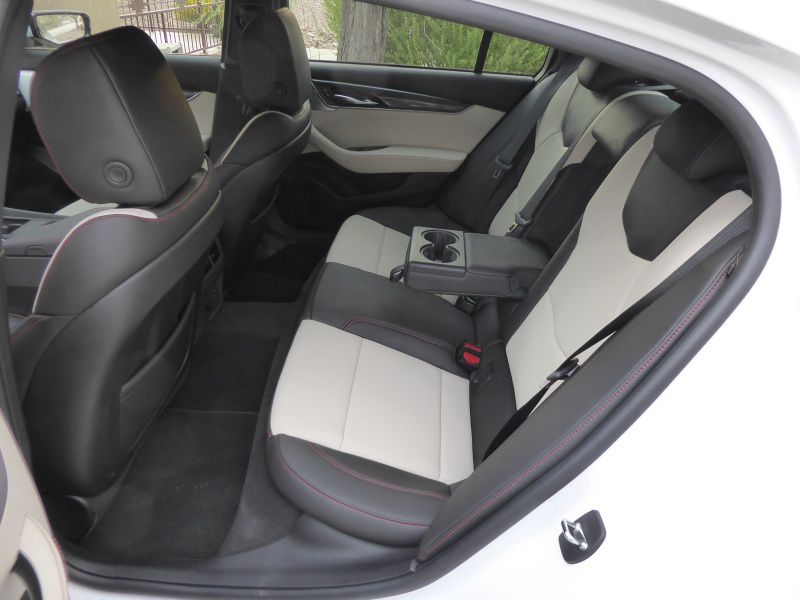 Photo by Ron Sessions
Drive Modes
Tucked under the dash ahead of the shifter and next to the traction control, engine stop/start and brake hold switches is the drive mode control button. The default mode is Tour, which is what you'll likely want for the daily commute.
Toggling to the Snow/Ice mode reduces engine torque at low engine speeds. In Sport mode, the Tour mode throttle progression is maintained, but the transmission executes quicker shifts and stays in the lower gears longer. Also, steering effort and engine sound increase, brake pedal response is quicker, and damping rates of the Magnetic Ride Control system firm up. Track mode is for maximum performance; throttle response, engine sound, transmission shifts, steering effort, and shock damping are set to maximum performance. Track mode also enables Performance Traction Management, which allows the driver to manage engine power, traction control, and stability control in a track setting according to five levels of driving ability. The drive mode personalization continues with My Mode and V-Mode (the latter via a steering wheel switch). My Mode allows adjustments to engine sound, suspension firmness, steering, and brake response for everyday driving. V-Mode enables further customization for performance driving.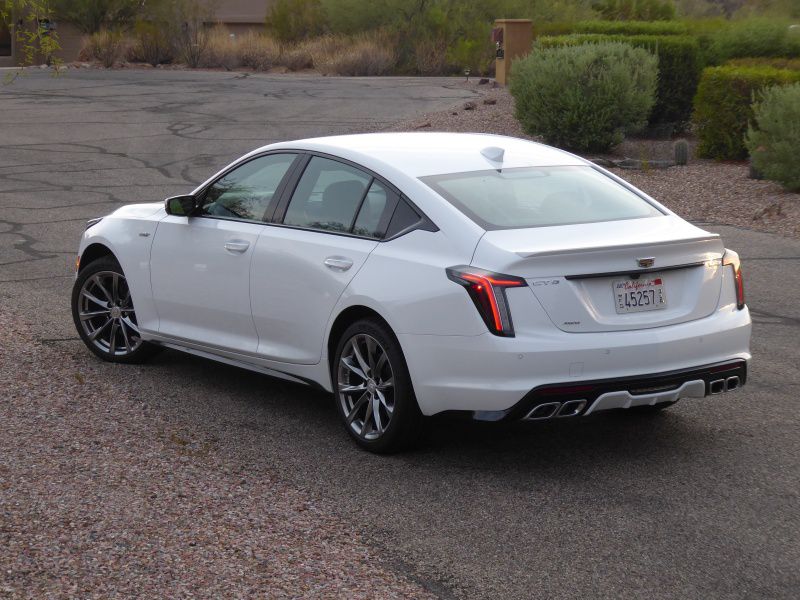 Photo by Ron Sessions
V-Series Dynamics
Although the twin-turbo-V6-powered 2020 CT5-V won't outsprint competitors such as the Mercedes-AMG C43 or BMW M340i to 60 mph, it is more fun to drive. Compliment the excellent Alpha platform, which also underpins the Chevrolet Camaro and Cadillac CT4, with its robustly stiff body, firm but never harsh fourth-generation magnetorheological shocks, and, in the CT5-V's case, larger front rotors and Brembo front calipers.
The electric-boosted, variable-effort rack-and-pinion steering delivers pinpoint control with satisfying road feedback. Yet ride comfort is excellent over a wide variety of road surfaces. Even with the standard 245/40R-19 run-flat tires, Magnetic Ride Control takes the edge off potholes and other road disturbances. The CT5-V doesn't lose its luxury focus despite the sharp performance thanks to extensive soundproofing. The sedan comes standard with extra-thick acoustic glass for the windshield and front-door windows, helping to quell air rush noise and road sizzle. The CT5-V is also available with all-wheel drive, a feature not offered previously in the CTS-V or CTS V-Sport and a boon to North Country drivers. Do note for U-turns, though, that AWD increases the CT5-V's turning circle to 40.7 feet, greater than that of the full-size Chevrolet Tahoe SUV.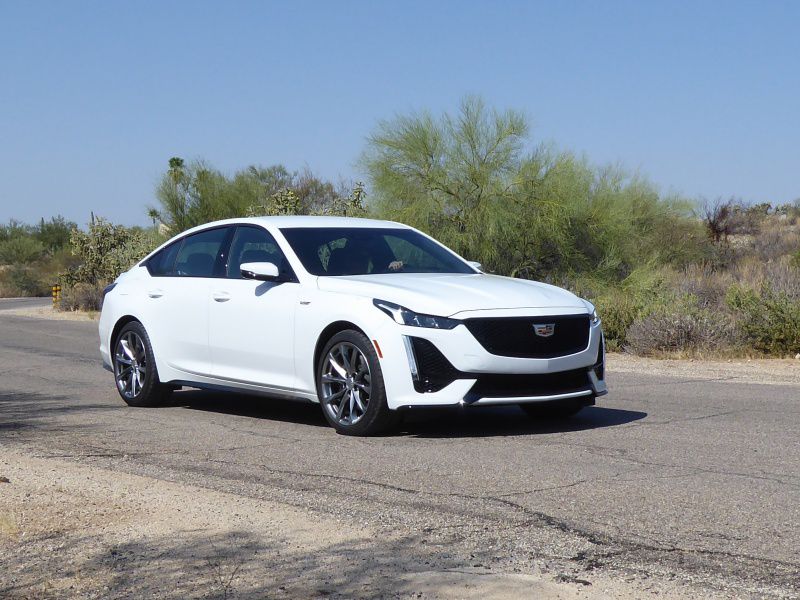 Photo by Ron Sessions
Safety and Driver-Assistance Tech
Standard safety and driver-assist tech includes a backup camera, adaptive cruise control, automatic emergency braking, a forward-collision alert, a rear cross-traffic alert, blind-spot monitoring, sonar rear park assist, and teen driver management. A Safety Alert Seat features haptic vibrations that can warn the driver of an approaching hazard by vibrating the directionally matching portion of the driver's bottom seat cushion. There is also a standard rear-seat reminder that instructs the driver to check the back seat for children or pets if it detects a rear door was opened since the last key cycle.
An optional Driver Awareness Plus package adds automatic high beams, a following distance indicator, a head-up display, and lane-keep assist with a lane-departure warning. The Insurance Institute for Highway Safety has not yet tested the 2020 Cadillac CT5. However, testing from the National Highway Traffic Safety Administration gives both the rear- and all-wheel-drive versions of the base 2020 Cadillac CT5 a perfect five out of five stars rating overall, with five stars each for frontal and side impacts as well as rollover resistance. The CT5-V also received five stars for side impacts and rollover resistance but did not get a front-impact or overall rating.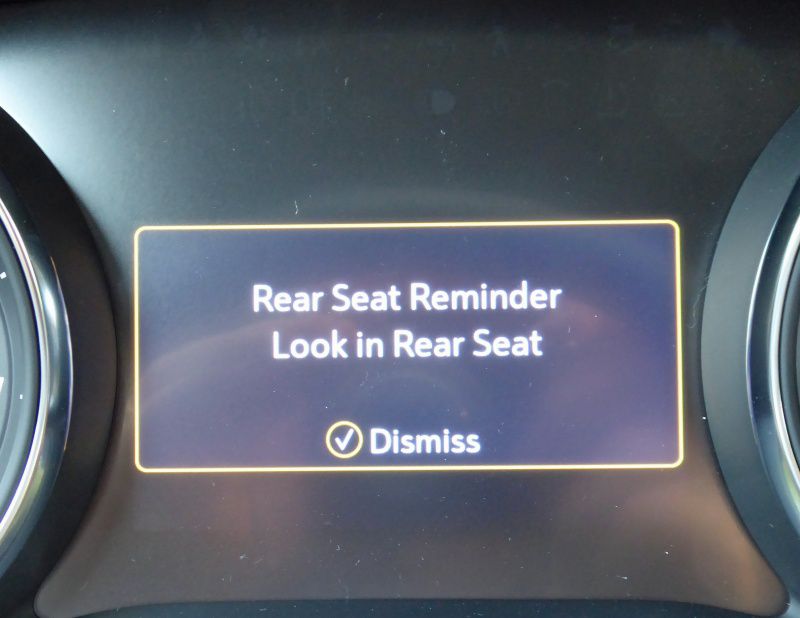 Photo by Ron Sessions
Performance/Luxury Sedan Bargain
Making a convincing case for value-priced luxury, the biturbo V6-powered CT5-V works its charms at a price that's about $20,000 less expensive than last year's twin-turbo V6 CTS V-Sport and a whopping $40,000 less dear than the V8-powered 2019 CTS-V or the expected $85,000 to $90,000 cost of the upcoming 2021 CT5 Blackwing. The new Blackwing will be powered by the same supercharged 6.2-liter small-block V8 that's under the hood of the Chevy Camaro ZL1.
If you are waiting for Cadillac's level-2 Super Cruise autonomous-driving wizardry that can accelerate, steer, and brake the CT5 hands-free over a wide network of U.S. limited-access roads, that feature is due later this year on 2021 models. In the meantime, however, you might want to try driving the rather satisfying and capable CT5-V yourself.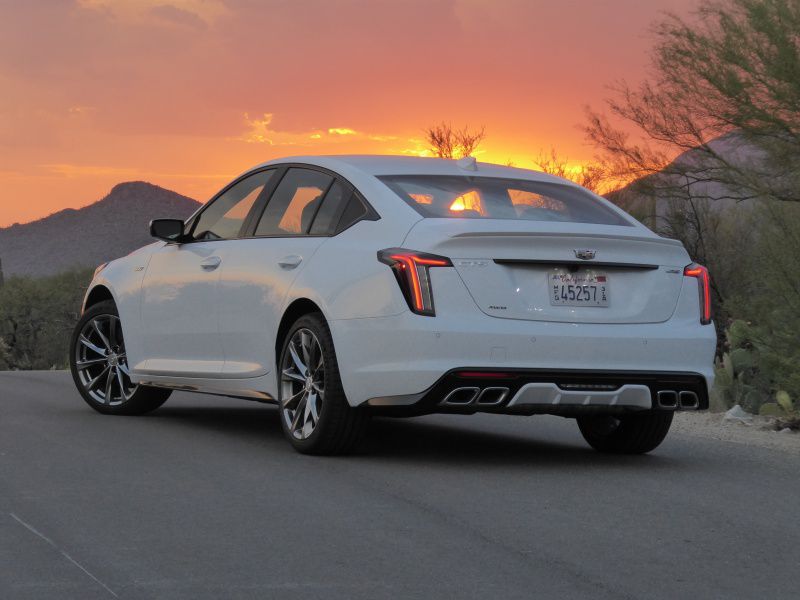 Photo by Ron Sessions