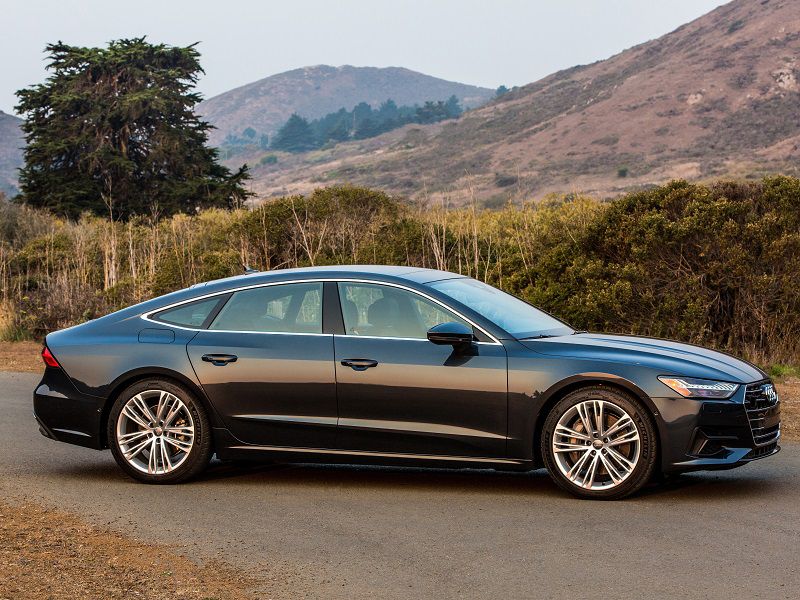 2019 Audi A7 Gray Side Profile ・ Photo by Audi
Six years after the Mercedes-Benz CLS started the four-door coupe trend in 2004, Audi's first-generation A7 raised the bar. Rivals like the Porsche Panamera and BMW 6 Series Gran Coupe would later put their own spin on slant-roofed sedans, but Audi's entrant was too striking to be unsettled. Small updates over several years kept the A7 relevant, but in the face of stiffer competition, Audi needed a new generation.
Last year, the A7 got its second wind in the form of a complete redesign. Now, with a cutting-edge cabin and smoother, more progressive exterior, the A7 is once again contending for segment leadership.
What's New For 2020
Still fresh from its 2019 redesign, the 2020 Audi A7 is largely a carryover. However, 2020 marks the return of the hotter S7 and RS7 variants. Instead of a V8 like its predecessor, the new S7 uses a twin-turbo 2.9-liter V6 paired with a 48-volt hybrid system. This combination produces 444 horsepower and 443 pound-feet of torque.
The RS7, now with a "Sportback" addendum, goes several steps further. Using a 4.0-liter twin-turbo V8, the latest RS7 produces 591 hp and 590 lb-ft of torque. Both the S7 and RS7 Sportback mirror the A7's shape, but they wear distinct front and rear fasciae, 21- or 22-inch wheels, and unique interior materials.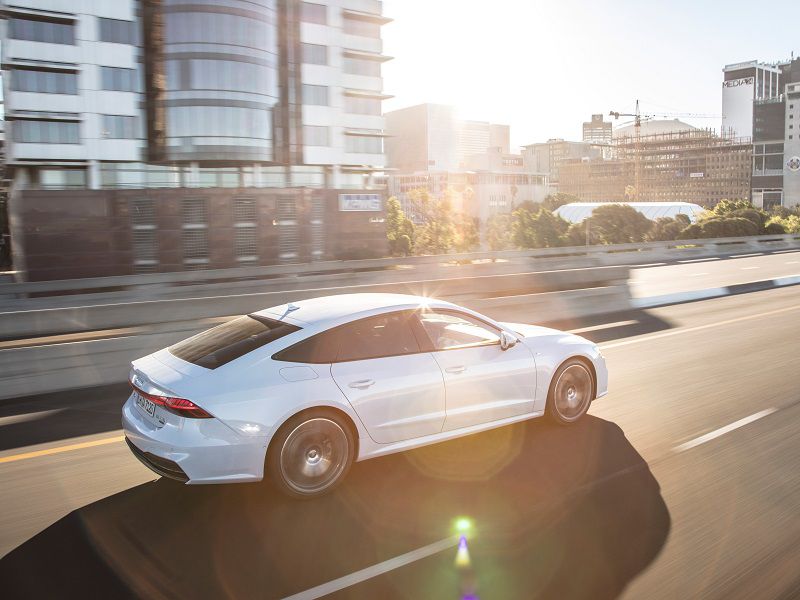 Photo by Audi
Exterior Styling
With its blend of flash and refinement, the first-generation Audi A7 was a blow to traditional sedans that now seemed boring by comparison. And unlike existing four-door coupes, the Audi A7 didn't compromise either style (like the arguably awkward Panamera) or practicality (like the less spacious CLS).
The A7's successor isn't quite the market disruptor its predecessor was, but its handsome design falls in line with contemporary Audis. Up front, a creased, sloping hood extends from a wide hexagonal grille. Matrix LED headlights join blade-style daytime running lights to leave a lasting impression in rearview mirrors. Optional 20-inch wheels fill out their housings with a modern look that matches the overall aesthetic. A gently tapering roofline comes to a point at trunk-width LED taillights with their own blade signatures. Locking and unlocking the A7 initiates the LED beams in a few seconds of choreographed dance, bringing a sense of occasion to a prosaic activity. Almost every element of the updated A7's design is an improvement on its predecessor, but the new, rounded rear lacks the visual punch of earlier iterations.
Photo by Audi
Interior Comfort
Step inside the A7's cabin, let the soft-close doors quietly latch in place, and enjoy the cross-section of advanced tech and classic luxury. Brushed metal borders open-pore wood and piano black surfacing across the dash, console, and door panels. Plush leather seats can be adjusted to any body shape and, depending on trim level, feature heating, ventilation, and several massage selections.
Rear passengers acquiesce some headroom for the A7's sloped roofline, but in exchange, they're treated to generous legroom, available heated seats, individual climate control, and dual USB charging ports. Dual-pane acoustic glass and integrated rear sunshades ensure tranquility at any speed and a perfect environment to sample the Bang & Olufsen 3D sound system.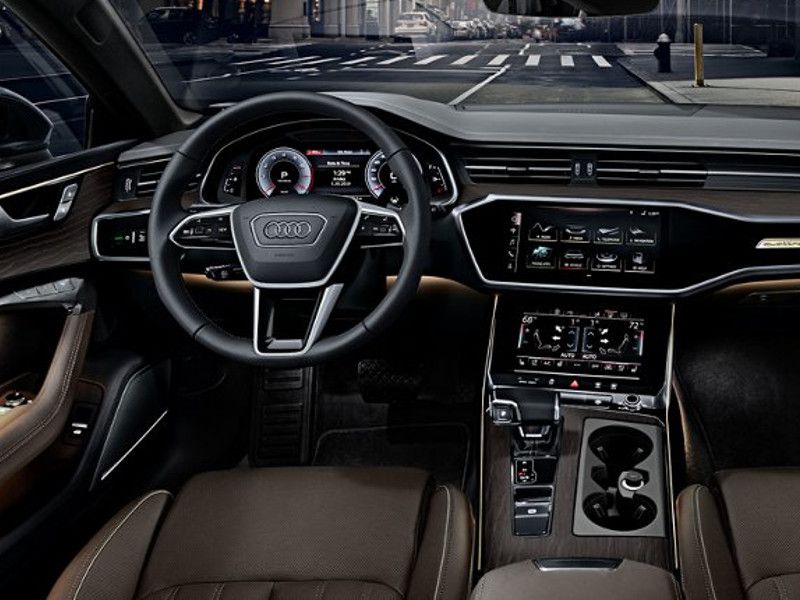 Photo by Audi
Convenience and Safety Technologies
Just as the A7's light signatures put on a show, tabbing the start/stop button brings to life three vivid screens — a digital driver display and stacked center monitors. The second generation of Audi's Virtual Cockpit display is faster and boasts better resolution on a 12.3-inch display. Between the front passengers, a new version of Audi MMI infotainment powers a 10.1-inch infotainment screen and 8.6-inch climate control/shortcut display.
Other improvements include improved voice commands, wireless Apple CarPlay and Android Auto, and HERE-powered maps that learn your drive routes. Haptic touch controls mimic the assured input of a physical button in the sleek packaging of a smartphone display. The ability to reorganize the position of drive mode, climate control, navigation, and other settings within both displays makes the A7 more personalized and familiar. In addition to standard safety features like blind-spot monitoring, auto emergency braking, and adaptive cruise control, the A7 is available with lane changing assist, front and rear cross-traffic alerts, blind-spot monitoring, lane-keeping assist, automatic high beams, collision avoidance assist, and parking assist. In action, these systems work to gently yet confident correct errant driving behavior and prevent accidents.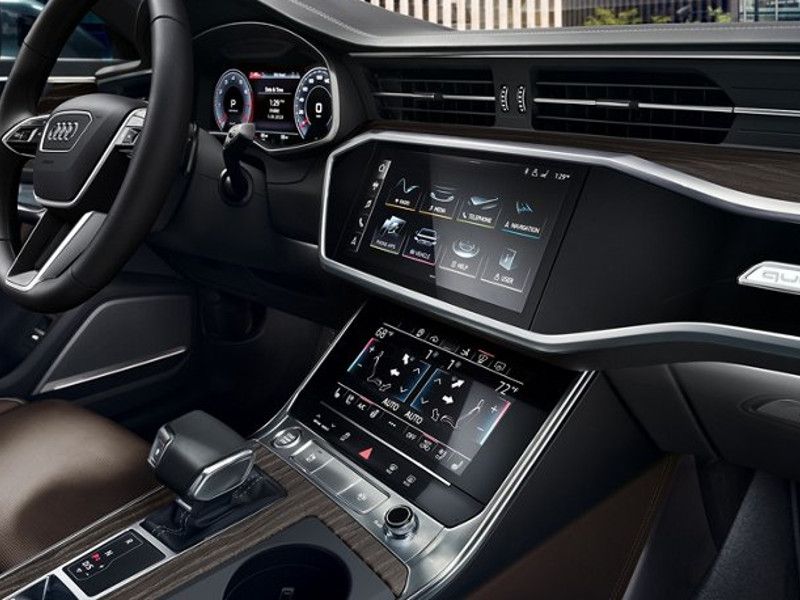 Photo by Audi
Powertrain
The 2020 Audi A7 features a 3.0-liter turbocharged V6 connected to a seven-speed dual-clutch automatic transmission for a total of 335 hp and 369 lb-ft of torque. Also on board is a belt-alternator-starter that powers a 48-volt electrical system for mild hybrid assistance. Developed for efficiency and smoothness, the electrical aid doesn't impact the A7's combined output.
All-wheel drive is a standard touch that comes at a premium for most competitors, and with four tires clawing for grip, the A7 hits 60 mph in just 5.2 seconds. Fuel economy is rated at 22 mpg in the city, 29 mpg on the highway, and 25 mpg combined.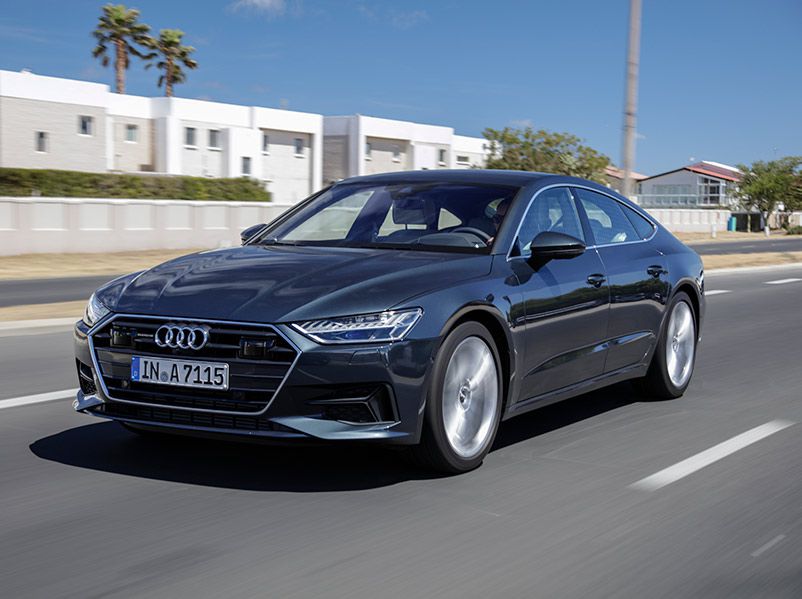 Photo by Audi
Driving Dynamics
That sloping roofline can't all be for show, but luxury details come with a weight penalty. To bring out the best of a 4,000-pound five-door, Audi tuned its engine to develop peak torque earlier and its transmission to work briskly through the gears. The result is rapid performance without hesitation or abruptness. Momentum builds as the A7 quietly coddles its occupants — and when it's time to kill inertia, the A7's brakes bite immediately and confidently. Once stopped, the engine powers down to save fuel, but it wakes immediately when you release the brake or the front-facing camera detects the vehicle in front moving. This stop-start activity is almost indiscernible thanks to the A7's hybrid infrastructure.
Audi offers its 2020 A7 with steel springs or optional adaptive air suspension. Our test vehicle, featuring the standard setup, was composed and nimble, permitting few disruptions to passenger comfort. For an even cushier experience, Audi's predictive suspension scans the road ahead to plot any imperfections. When it detects uneven terrain, the suspension rises up to 2 inches to absorb the impact before extending to ease the transition. The result is plush cruising over just about any surface.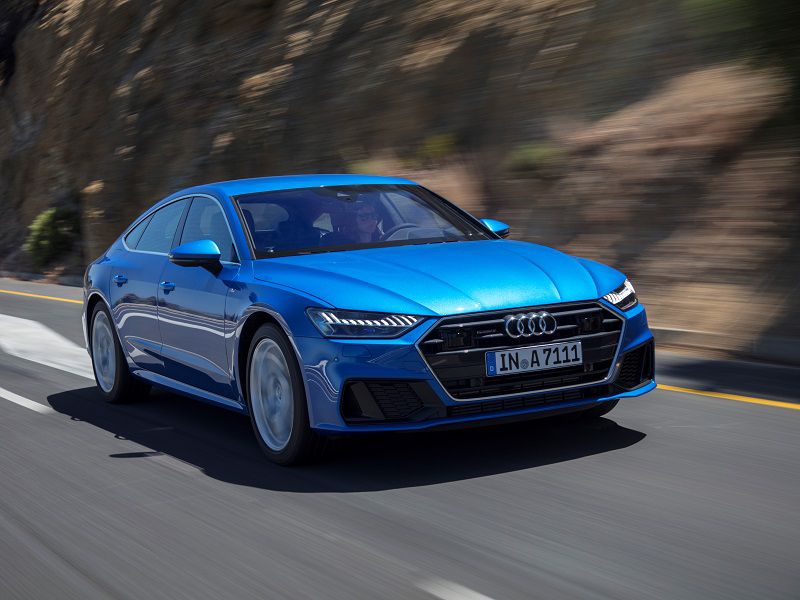 Photo by Audi
Pricing and Packages
The 2020 Audi A7 is available in three trim levels: Premium, Premium Plus, and Prestige. The entry-level Premium grade ($68,995) comes well equipped with all-wheel drive, a panoramic sunroof, LED headlights, 19-inch wheels, three-zone climate control, an 8.8-inch MMI infotainment, auto-dimming mirrors, leather seats, heated front seats, active safety features, and a power tailgate. Upgrading to Premium Plus ($73,395) brings a Bang & Olufsen 3D sound system, Virtual Cockpit, a 360-degree camera system, 20-inch wheels, LED taillights, Matrix headlights, a secondary touchscreen below the infotainment, and wireless phone charging. Atop the range is Prestige ($77,295), which adds ventilated 12-way power front seats, additional active safety features, a head-up display, soft-close doors, four-zone climate control, heated rear seats, dual-pane acoustic glass, and a rear sunshade.
Beyond these trim tiers, you can customize the A7 with a black optics package ($1,550) that adds black exterior details and titanium finish 20-inch wheels, an S-line package ($1,250) that applies sportier bodywork and a 20-mm lower suspension, adaptive suspension and dynamic steering ($2,500), and the luxury package ($3,000) with Valcona leather massaging seats, and extended leather interior trim.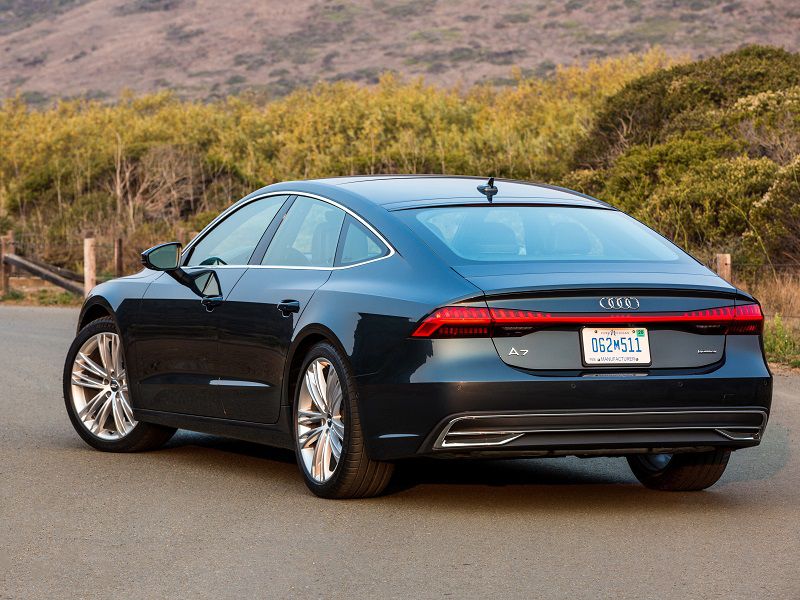 Photo by Audi
Highs and Lows
Highs: - Sophisticated, intuitive convenience tech - Near-silent cabin at cruising speeds - Supple ride quality enhanced by comfortable, extensively adjustable seats - Class-leading safety tech
Lows: - Not as strong a design statement as the first generation - Six-footers will be short on headroom in the rear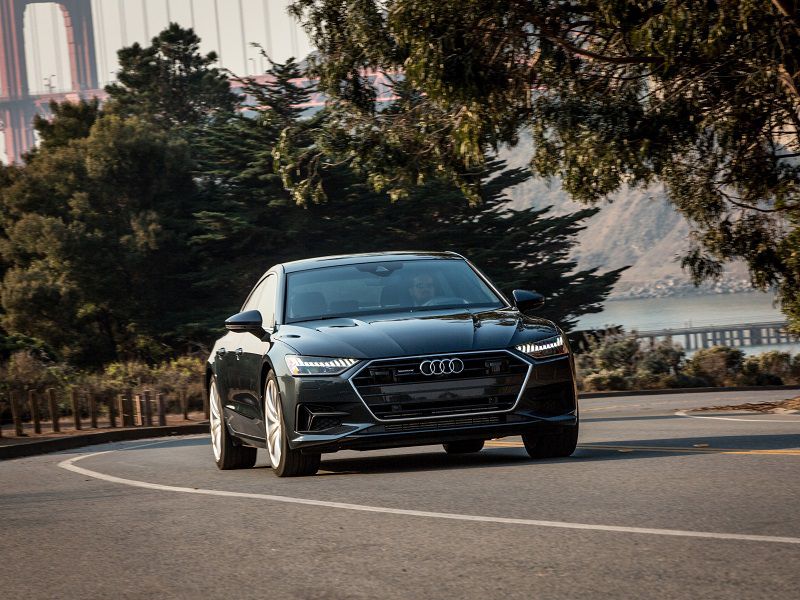 Photo by Audi
Competition
Mercedes-Benz was first to the four-door coupe game and it's still playing. The latest CLS is more refined and luxurious than its predecessors and packs a new mild hybrid turbocharged six-cylinder that produces 362 hp and 368 lb-ft of torque. At 26 mpg in mixed driving, the CLS450 4Matic ($70,975) boasts the best fuel economy of its segment. Cargo capacity continues to be the CLS's weak point — it can only store 11.9 cubic feet of goodies behind its second row.
Newest on the scene is BMW's 8 Series Gran Coupe. Replacing the 6 Series Gran Coupe, the 840i xDrive ($88,895) uses a turbocharged inline-six engine to make 335 hp and 368 lb-ft of torque. Its 0-60 run is a segment-best 4.6 seconds while fuel economy lags at 23 mpg. Last of the slant-roofed four-doors is Porsche's Panamera 4 ($92,895). The most expensive of the bunch, the Panamera cranks out the least power at 330 hp and 330 lb-ft of torque. Its 0-60 time is a respectable 5.2 seconds, but fuel economy is below average at 22 mpg. The Porsche's 17.6 cubic feet of cargo capacity falls short of the A7 but leads its other rivals.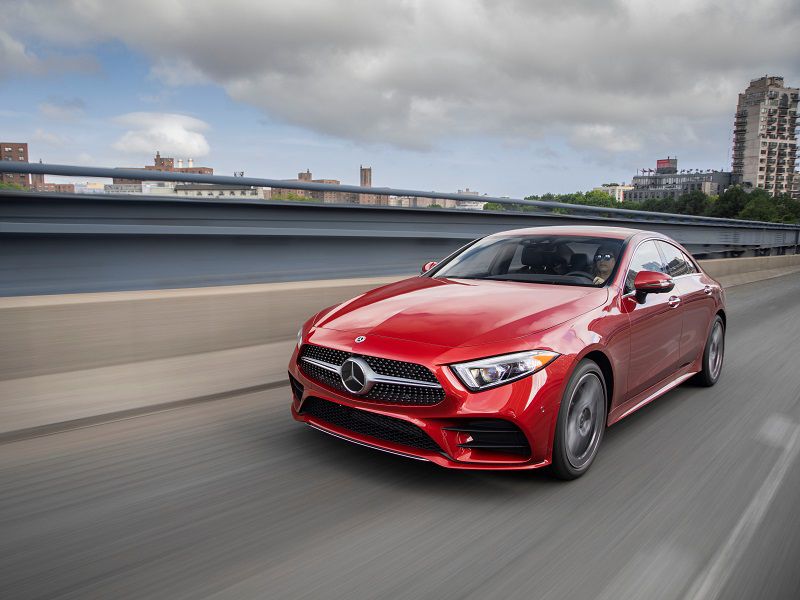 Photo by Mercedes-Benz
Our Take
Whether or not you prefer the aesthetic of its predecessor, the second-generation A7 is an unquestionable upgrade by all other measures.
With cutting-edge technology and safety features; plush, serene cabin for up to five passengers; composed road manners; and agility unbefitting its curb weight, the 2020 Audi A7 yields no contest to its segment foes.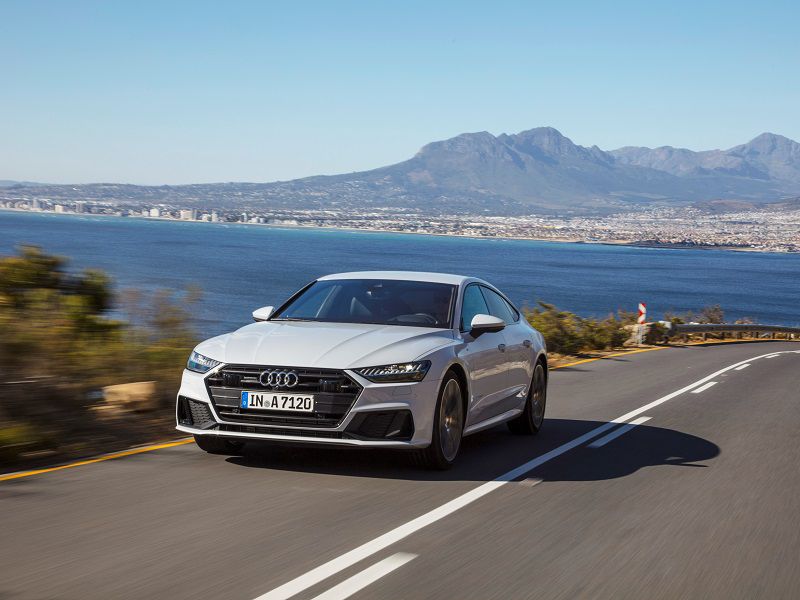 Photo by Audi