2019 Acura MDX hero ・ Photo by Ron Sessions
The 2020 Acura MDX is a luxury SUV with room for up to seven passengers. This is the best-selling three-row luxury SUV ever for good reason. It offers a wide range of features, even in the base trim, with available packages that add luxury and style. This includes the sporty A-Spec with looks that defy the notion that SUVs are boring.
There's a choice of front-wheel drive or all-wheel drive across most of the lineup, and there's even a hybrid version of the MDX for those who put the priority on fuel economy. The interior is roomy with easy access to the third row, and there's plenty of space for cargo. It can also tow up to 5,000 pounds when you have larger items or a car full of passengers. Let's take a closer look at the 2020 Acura MDX to see if this the luxury SUV that's right for you.
A Choice of Packages That Add Luxury and Style
The Acura MDX offers three trim packages with standard front-wheel drive on all but the A-Spec, which is available only with all-wheel drive. All-wheel drive can be added for $2,000 to all other trims. The MDX starts at $44,400 with leather-trimmed sport seats featuring 12-way power adjustability, a second-row bench seat, tri-zone automatic climate control, and an eight-speaker audio system. Adding the Technology Package raises the price to $49,400, bringing an ELS Studio premium audio system with 10 speakers, HD radio, and navigation with 3D view.
The A-Spec focuses on sporty styling, with unique seats featuring perforated Milano leather, Alcantara interior trims with contrast stitching, metallic and wood accents, and unique exterior body elements for $54,900. Sitting at the top of the range is the Advance Package at $56,150 with its own unique exterior features including body-color body trim and roof rails along with heated second-row captain's chairs.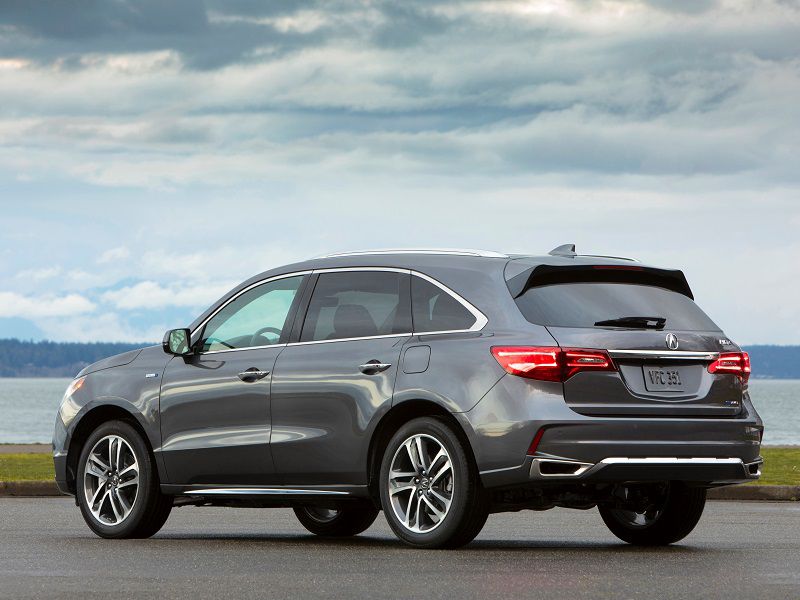 Photo by Acura
Solid Fuel Economy With a Responsive Powertrain
Power for most 2020 Acura MDX models comes from a 3.5-liter V6 engine with 290 horsepower and 267 lb-ft of torque paired to a nine-speed automatic transmission. This is a large vehicle, but the engine easily moves the MDX without hesitation. It never feels heavy or cumbersome, and quickly accelerates up to highway speeds. Press the accelerator for a little extra power to pass slower vehicles, and the MDX is quick to respond.
With front-wheel drive, it achieves an EPA-estimated 20 mpg in the city, 27 mpg on the highway, and 23 mpg combined. Most all-wheel drive models drop to 19 mpg in the city, 26 mpg on the highway, and 22 mpg combined, while the A-Spec drops by an additional 1 mpg in city and combined driving. The Acura MDX strikes a good balance providing solid performance combined with good fuel economy.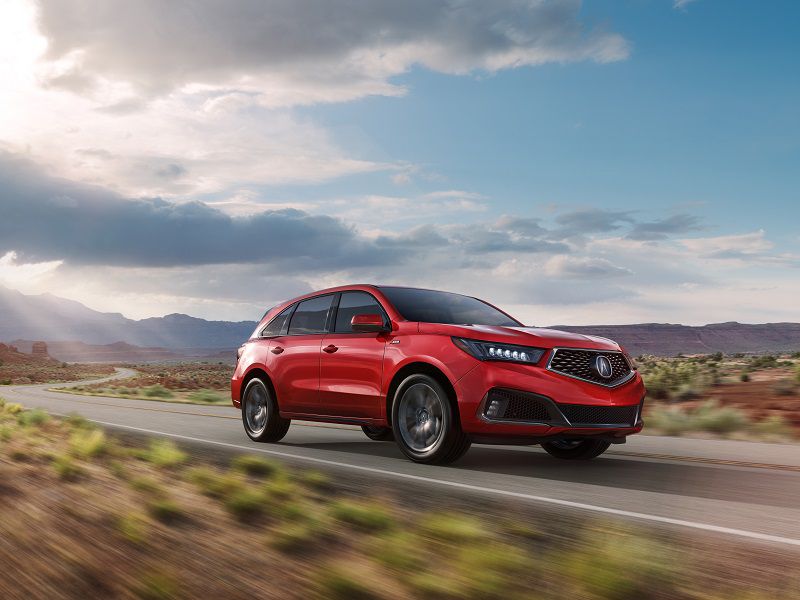 Photo by Acura
There's also a hybrid MDX.
Those who focus on fuel economy and want to reduce emissions have the option of the MDX Sport Hybrid. It comes standard with all-wheel drive and is available with either the Technology Package for $52,900 or the Advance Package for $59,650. Both are powered by a 3.6-liter V6 with two electric motors for a combined 321 horsepower and 289 lb-ft of torque.
EPA-estimated fuel economy for the MDX hybrid is 26 mpg in the city, 27 mpg on the highway, and 27 mpg combined. That's nearly the same as the highway rating for the gas powertrain, but a 6-mpg increase in city driving. The hybrid costs $1,500 more than its gas-only counterpart — but depending on where you drive, that could make a big difference in your fuel costs for only a small increase in the cost of the vehicle.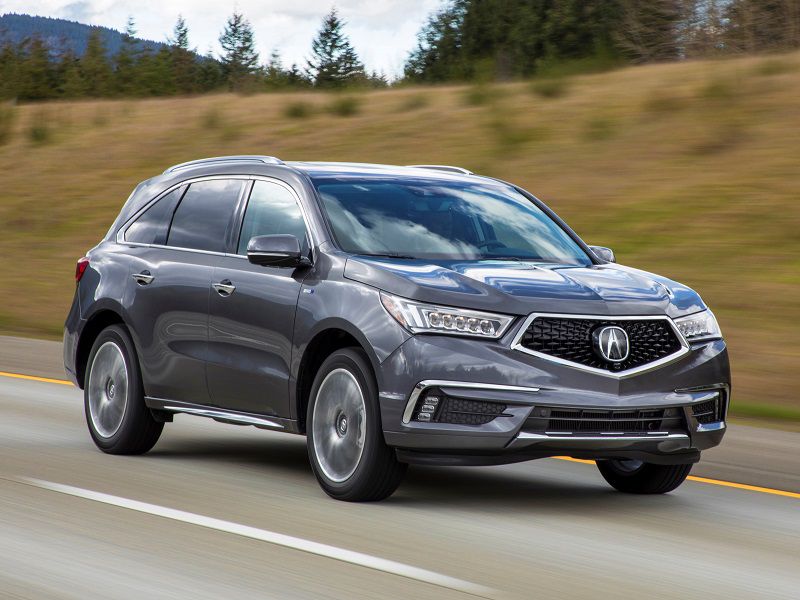 Photo by Acura
Crisp Handling and a Smooth Ride
While SUVs aren't exactly known for their driving dynamics, the Acura MDX is surprisingly easy to handle. There's no top-heavy feel with very little body roll, even in high-speed cornering. Quick highway maneuvers are easy, and even high winds and rain weren't enough to rattle the MDX. Our A-Spec test vehicle, which features standard all-wheel drive, was easy to manage in poor weather conditions, instilling a sense of confidence. The MDX keeps its composure and makes driving easy and more enjoyable.
Adding to the overall drive experience is a suspension that smooths out rough pavement and the occasional unseen pothole. When you do hit that pothole, steering stays tight and controlled, and passengers won't feel jarred in their seats. It's a relaxing ride for passengers and for the driver, so long road trips won't be quite so tiring.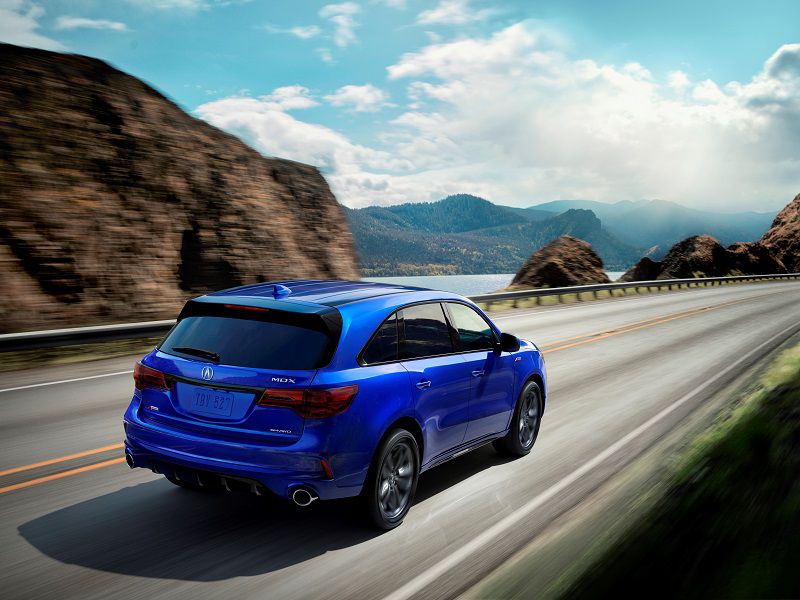 Photo by Acura
A Comfortable Interior With Easy Access to All Three Rows
The Acura MDX seats seven passengers in a roomy and comfortable interior. Even the base trim comes with luxury features including leather-trimmed sport seats that are heated and 12-way adjustable for front passengers. These may be sport seats, but they're not confining or tight — making them ideal for longer drives. The second row is also comfortable with ample room for three adults. The Advanced Package includes standard second-row captain's chairs that take seating down to only six but offer more comfort and space.
The third row fits only two adults and, as is typical of three-row SUVs, is the least comfortable row of seating. Taller adults will find it a tight fit but will be OK on all but the longest drives. Getting into that third row is made easier with second-row seats that fold and slide forward at the touch of a button.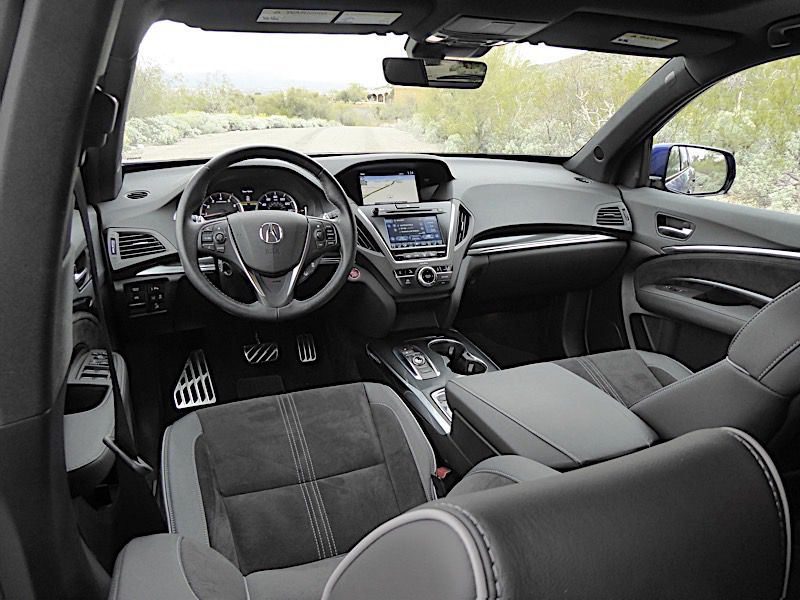 Photo by Ron Sessions
An Infotainment System With Exceptional Audio
While the base infotainment system in the Acura MDX includes only eight speakers, the rest of the MDX lineup includes a 10-speaker ELS Studio audio system. It was designed with the help of Grammy-winner Elliot Scheiner and it creates a sound experience that audiophiles will thoroughly enjoy. SiriusXM, Apple CarPlay, and Android Auto are standard on every MDX, along with multiple USB ports. This includes two USB ports standard for the second row and two additional USB ports in the third row with the Advance Package only.
Navigation is standard on all but the base MDX and includes an 8-inch display screen mounted higher on the dashboard for easy viewing. Its 3D map display makes navigating through cities easier, and there's also real-time traffic to help avoid unexpected delays. Select trims also offer a rear entertainment system for the kids.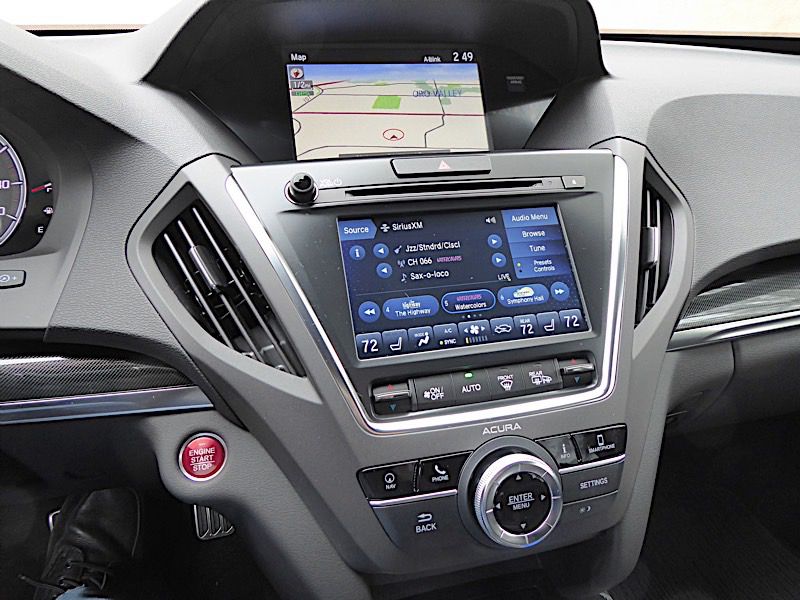 Photo by Ron Sessions
High Marks for Safety
Safety is a priority, especially in a large SUV, which often carries lots of kids. The MDX has no shortage of safety features, with standard collision-mitigation braking, road-departure mitigation, lane-keeping assist, a forward collision warning, a lane-departure warning, and adaptive cruise control with low-speed-following capability. Available safety features include front and rear parking sensors, a surround-view camera, blind-spot monitoring, and a rear cross-traffic alert. Although not all features are available on all trims, the MDX makes key safety features standard across the lineup.
The 2020 Acura MDX also scores high marks in crash tests. It received an overall five-star rating from the National Highway Traffic Safety Administration and a top rating of Good in all crash tests from the Insurance Institute of Highway Safety. The MDX offers the safety features you want with crash-test scores to set your mind at ease.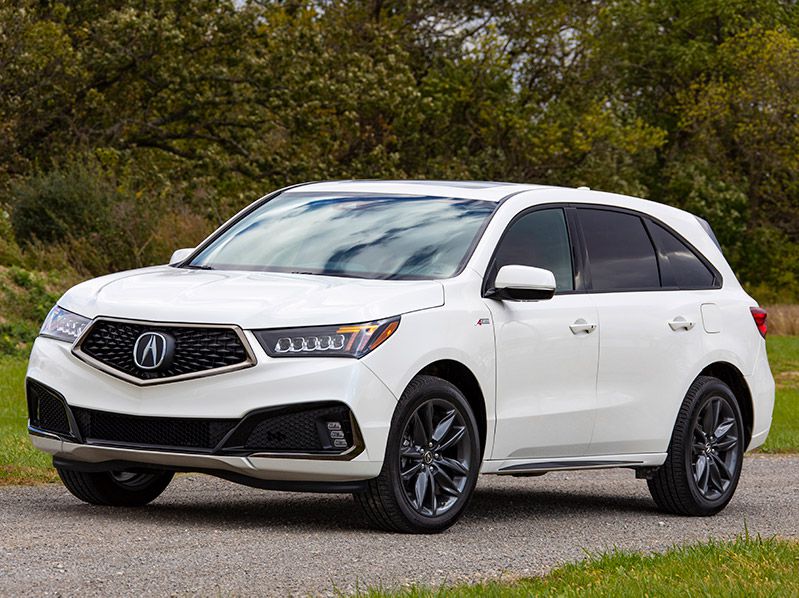 Photo by Acura
The Flexibility to Carry Cargo
It's not always people piling into an SUV. Sometimes the focus is on cargo or a combination of the two, and the Acura MDX is up to the challenge. There's 15.8 cubic feet behind the third row, 43.4 cubic feet behind the second row, and 90.9 cubic feet behind the front seats. Even with all three rows used for passengers, there's still room for your stuff. Adding to the vehicle's versatility is a 50/50 split-folding third-row and 60/40 split-folding second-row so you can still load longer items and keep seating open.
There are recessed cubbies on the side of the cargo area that are perfect for stowing groceries and a sub-floor that makes a great spot for stowing precious cargo you want to keep out of sight. Finally, the MDX can tow up to 5,000 pounds of additional cargo if you have large or bulky items.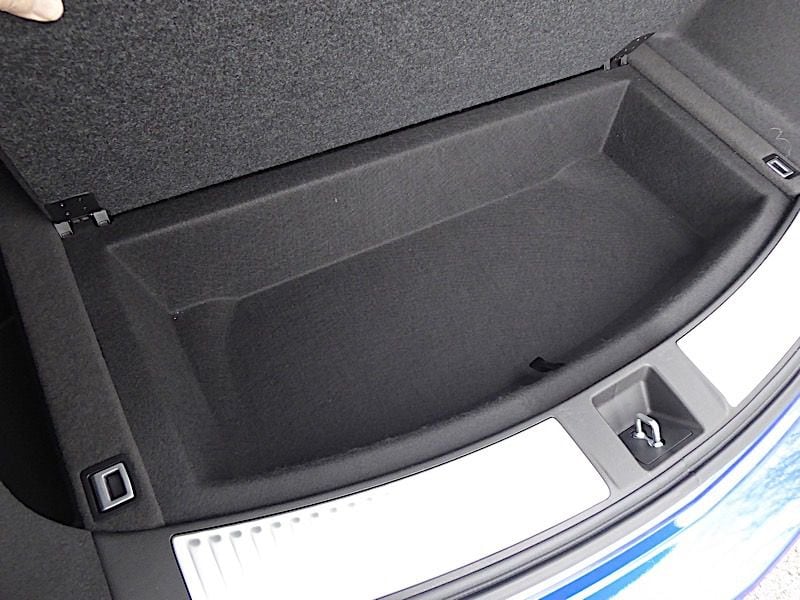 Photo by Ron Sessions
Final Thoughts
The 2020 Acura MDX continues to offer plenty of appeal for those in the market for a three-row luxury SUV. It has sleek styling with a well-equipped interior that includes luxury touches to coddle passengers. Seating is comfortable and spacious with easy access to that tricky third row. It also offers the flexibility you need to carry passengers, cargo, or a combination of the two.
The range of trim packages, along with the availability of front-wheel or all-wheel drive, ensures there's a configuration of the MDX that works for your needs and your budget. There are even two hybrid trims for those focused on fuel economy. The 2020 Acura MDX is a stylish and appealing option in an increasingly crowded segment.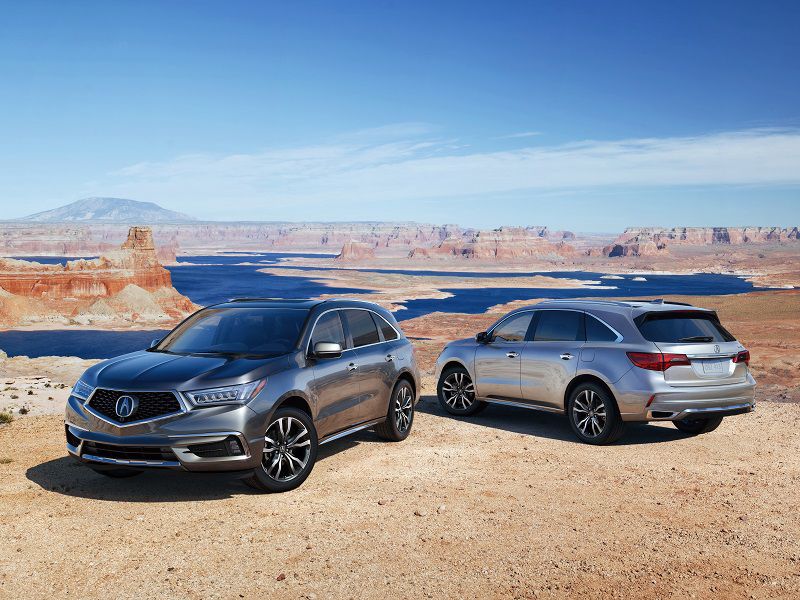 Photo by Acura