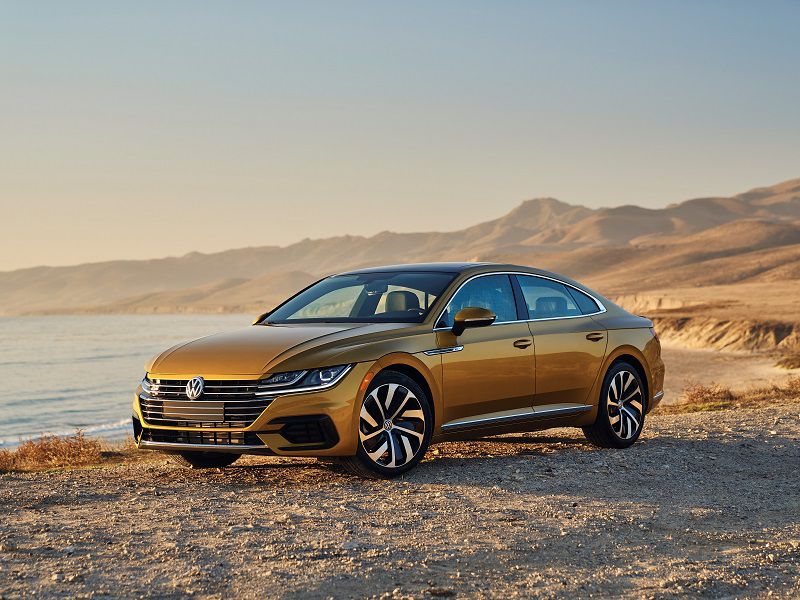 2019 Volkswagen Arteon Gold Front Three Quarter ・ Photo by Volkswagen
Volkswagen has an all-new flagship, and it's a good one. It's the impressive new 2019 Volkswagen Arteon, and it's one the German automaker's most lavish and most expensive sedans ever.
Actually, calling the stylish Arteon a sedan is inaccurate. It's a hatchback, or if you prefer, a four-door coupe, much like the Porsche Panamera, Audi A7 and Tesla Model S. It's also the spiritual successor to the Volkswagen CC, which ceased production back in 2017. Constructed at VW's massive assembly plant in Emden, Germany, the 2019 Arteon is slightly shorter than the Volkswagen Passat, though its wheelbase is longer. The Arteon is also considerably sexier and more expensive than the Passat, although the two do share engines and other components. Unlike the Passat, which competes with mainstream sedans like the Honda Accord and Toyota Camry, the Arteon is aimed upmarket at more discerning buyers, taking on the Kia Stinger, Volvo S60, Acura TLX, and even the Audi A5 Sportback.
Most models are all-wheel drive.
Volkswagen calls the 2019 Arteon a premium sport sedan and offers the model in four trim levels: SE, SEL, SE R-Line, and SEL R-Line Premium. Most models come standard with the brand's 4Motion all-wheel drive system, while the base SE is front-wheel drive. It costs $36,840 including a $995 destination charge. The Arteon SE with 4Motion starts at $38,640, while our SEL 4Motion test vehicle cost $42,785. Loaded, an Arteon will cost just short of $50,000.
VW doesn't offer the Arteon as a hybrid or with an electric powertrain. All models are powered by a 2.0-liter turbocharged four-cylinder engine mated to an eight-speed automatic transmission. This is a familiar combination used by VW in many models including the Passat sedan and its Tiguan and Atlas SUVs. In the Arteon, the engine is rated at 268 horsepower, which is 68 hp more than you got in the CC and 20 hp more than the Audi A5 Sportback. Its 258 lb-ft of torque is a big jump from the old CC but a little less than the A5.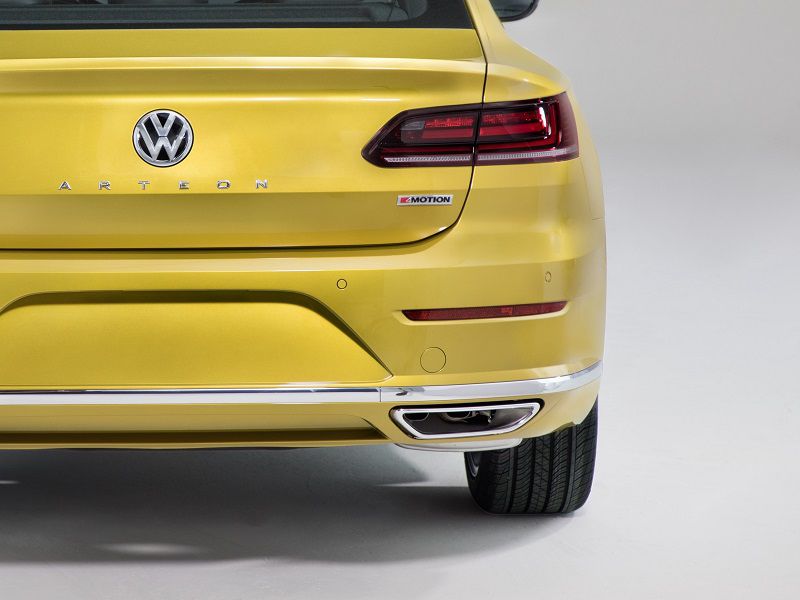 Photo by Volkswagen
Handsome, Upscale Design
These days, far too many sedans look the same. It's hard to tell one from another. But there are a few standouts, a few cars that look special and have a presence that grabs your attention and piques your curiosity. The 2019 VW Arteon is one of those machines.
People notice the Arteon, though unlike some other cars in this class, it doesn't scream for attention with a grille the size of Texas and unnecessary decoration. Instead, the Arteon is handsomely understated. It looks sophisticated and upscale, and it wears just the right amount of chrome. It looks sporty and athletic, with low, long, and wide proportions; fastback roofline; and broad shoulders that accentuate its width. Cool details include its low hood line reminiscent of the Audi A5 Sportback, dual exhaust tips integrated into its rear bumper, and our test car's extremely attractive 18-inch wheels.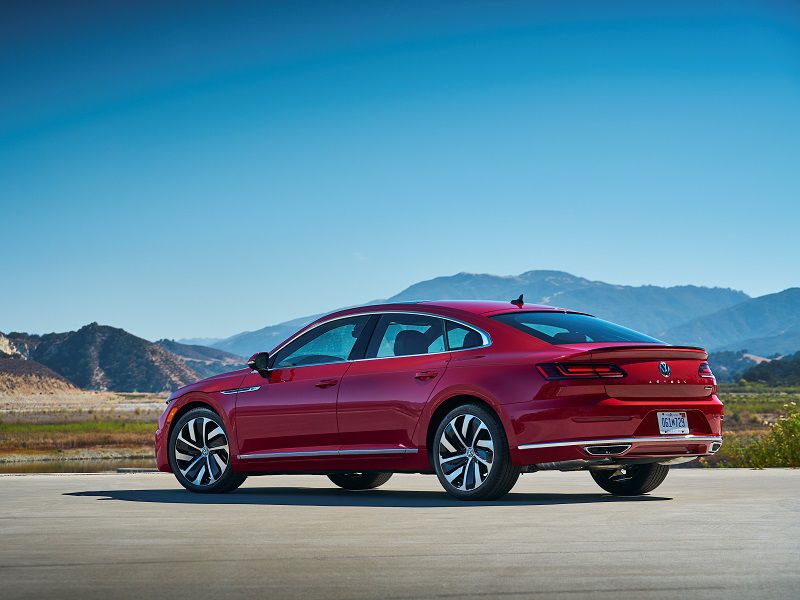 Photo by Volkswagen
Strong Acceleration
This isn't a hardcore sports sedan. With 268 hp and a curb weight of nearly 3,900 lbs, the 2019 Volkswagen Arteon isn't going to outrun any Mustangs or BMW M3s. However, this sedan is quick enough for most buyers, and its acceleration is strong enough to be thrilling. The VW hits 60 mph in about 6.0 seconds, which is on par with the performance of a four-cylinder Kia Stinger, but it's a bit slower than the Audi A5 Sportback and BMW 430i Gran Coupe.
The VW's turbocharged engine is smooth and packs strong torque at low rpm so there's a satisfying charge off the line. Power delivery is so linear it almost feels like a naturally aspirated large-displacement V6. And we appreciate this four-cylinder's throaty exhaust growl. The Arteon's eight-speed automatic transmission is also impressive, offering sharp gear changes at the engine's 6,000-rpm redline and quick downshifts. A Sport mode offers increased responsiveness, and you can shift the gearbox manually with the shifter or steering-wheel-mounted paddles.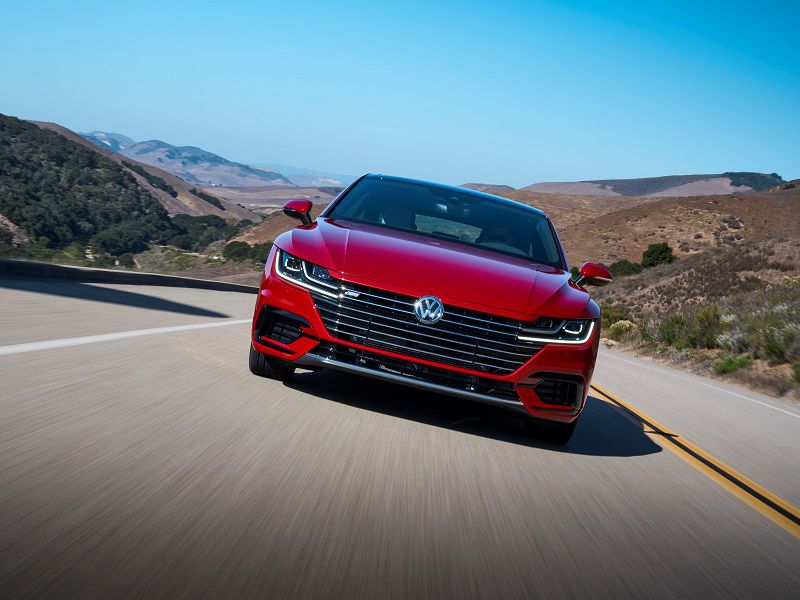 Photo by Volkswagen
Smooth Ride and Responsive Handling
Overall the Arteon's driving experience is as entertaining as it is comfortable, with impressive refinement and admirable dynamics. It isn't quite as smooth, quiet, or refined as an Audi A5, but it's pretty close and there's just enough road feel through the Volkswagen's chassis and the steering to keep things interesting. Although the Arteon's steering is a bit too light in Comfort mode, it tightens up just enough in Normal mode, which is perfect for highway driving. When you're in the mood for additional performance, Sport mode adds even more effort and it gives the Arteon a solid, locked-in feel.
Our test car's 18-inch tires and all-wheel drive offered impressive road-holding, and the Arteon's suspension provides a smooth ride without feeling floaty or wallowy. Body control is excellent, even over rough roads, and from behind the wheel, the big sedan is just sporty enough to feel smaller and lighter than it really is.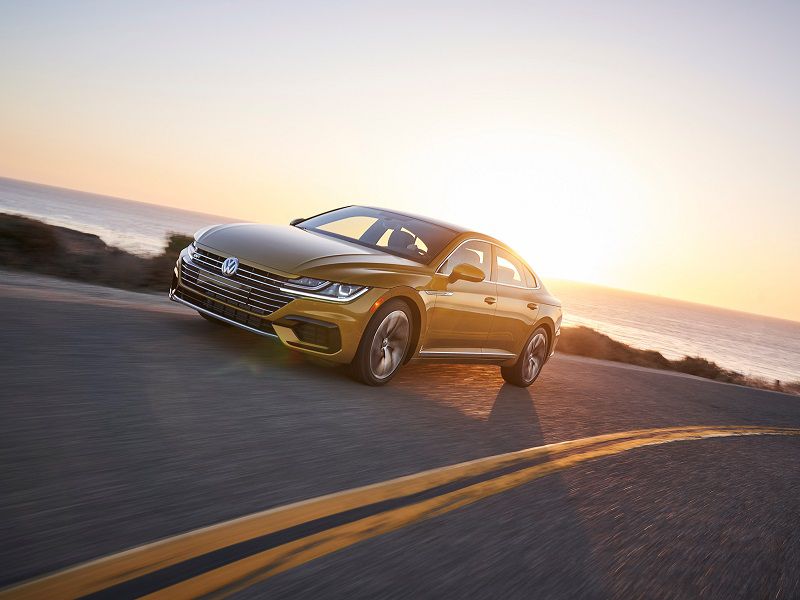 Photo by Volkswagen
Good Fuel Economy
Even with its powerful turbocharged engine, the 2019 Volkswagen Arteon delivers excellent fuel economy. With front-wheel drive, the Arteon is rated at 22 mpg in the city and an awesome 31 mpg on the highway. With all-wheel drive, those numbers dip to 20 mpg city and 27 mpg highway. Our all-wheel drive test car averaged 23 mpg in mixed driving and its start/stop feature, which shuts of the engine at idle to save fuel, is one of the smoothest we've tried. 
Those are competitive fuel efficiency numbers for this class. With all-wheel drive, the Kia Stinger is rated at 21 mpg city and 29 mpg highway. However, the Audi and the BMW do better. The Audi A5 Sportback is rated at 24 mpg city and 34 mpg highway and the BMW 430i xDrive Gran Sport is rated at 23 mpg city and 33 mpg highway. Unfortunately, like the competition, the Arteon's turbocharged engine requires more expensive premium fuel.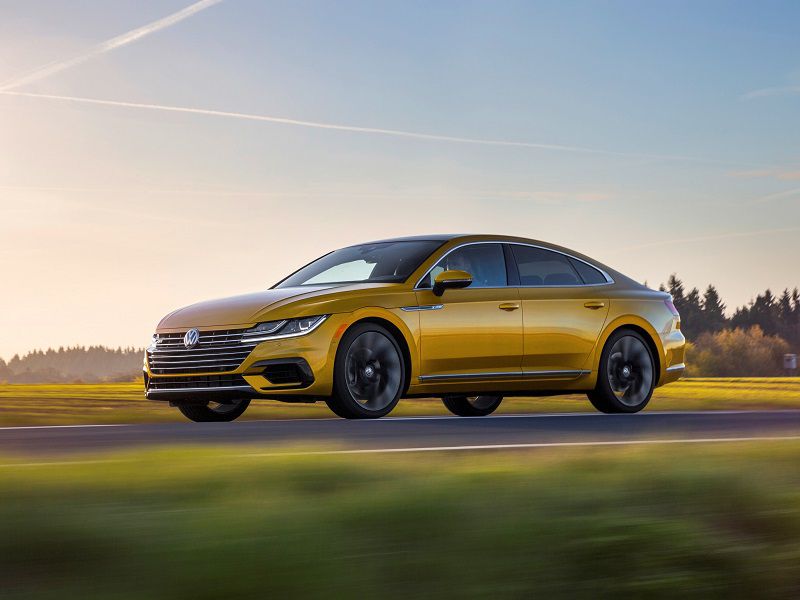 Photo by Volkswagen
Comfortable, Sophisticated Interior
We've come to expect high build quality from Volkswagen's interiors, and the Arteon's cabin doesn't disappoint. The design is sophisticated and sporty with materials that feel expensive. Visibility is excellent thanks to its thin pillars, and its firm seats are well-shaped and height-adjustable. There's a ton of headroom and the cabin feels wide. The Arteon will seat five, but the hump in the center of its rear floor is sizable.
Ergonomics are simple. Everything is well placed, the large white-on-black gauges are classically attractive, and the analog clock in the center of the dash is a cool touch. Our test car's 8-inch touchscreen is easily reachable and the infotainment system is simple to operate with quick responses and uncomplicated menus and prompts. The system does offer Apple CarPlay and Android Auto, though isn't wireless, and onboard Wi-Fi is not available. We were also surprised our test car didn't have a sunroof.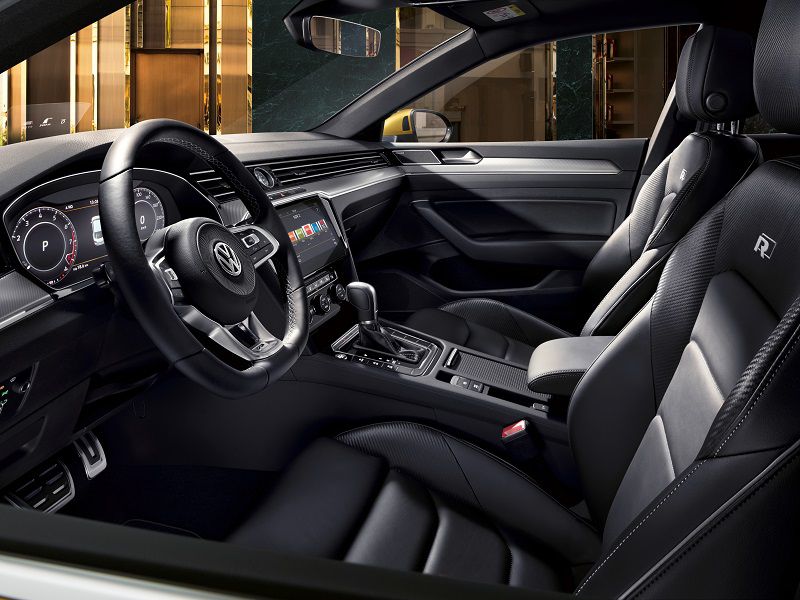 Photo by Volkswagen
Generous Cargo Space
Storage inside the Arteon's interior is also generous and well thought out. The center console bin isn't as large as we would like, but it's deep enough to be useful. There's also a small bin ahead of the shifter, and a big felt-lined cubby to the left of the steering wheel. Its sizable door pockets have slots for water bottles. The Arteon's two front-seat cupholders are large and well-placed so tall drinks don't interfere with any of the switchgear. The two rear cupholders are part of a pull-down center armrest.
Remember, this is a hatchback, and there's 27.2 cubic feet of cargo space behind the VW's rear seat. That's a ton. To expand that space even further, the rear seat is split 40/20/40 and folds flat easily. With it down, there's 55 cubic feet of trunk space. The Kia, Aud, and BMW all have considerably less cargo space than the Arteon. Although a hands-free power decklid is standard on the top trim level, it isn't offered on the Arteon's other models. This is unfortunate, as the VW's rear hatch is large and heavy.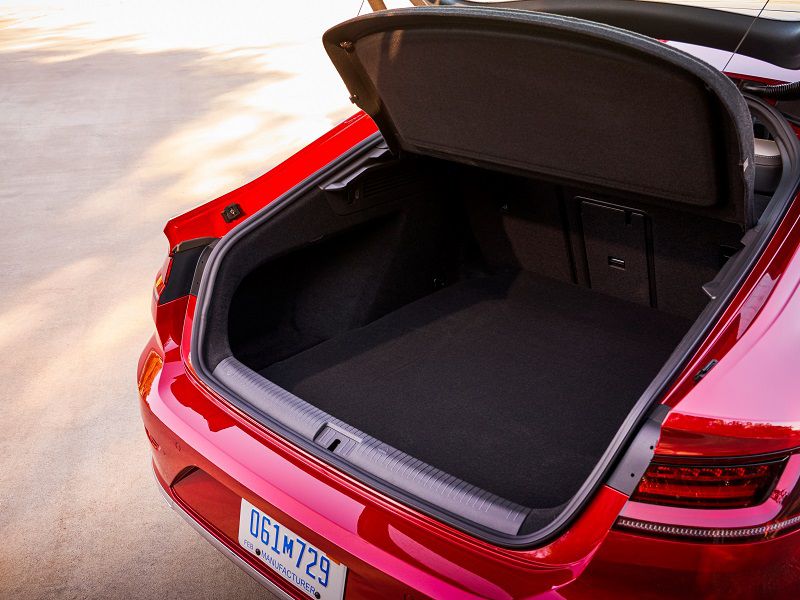 Photo by Volkswagen
Long List of High-Tech Safety Systems
VW also offers a long list of valuable active safety systems on the 2019 Arteon, although many are only available on the upper trim levels. All models come with blind-spot monitoring, side assist, a rear cross-traffic alert, a forward collision warning, and automatic emergency braking with pedestrian monitoring. SEL models and up get adaptive cruise control with stop and go, while the top SEL Premium also gets active side assist; lane assist; park assist, which will steer the sedan into a space; front and rear parking sensors; and a 360-degree birds-eye-view parking camera.
Because the Arteon is such a new model, it has not yet received crash test scores from the Insurance Institute for Highway Safety or the National Highway Traffic Safety Administration.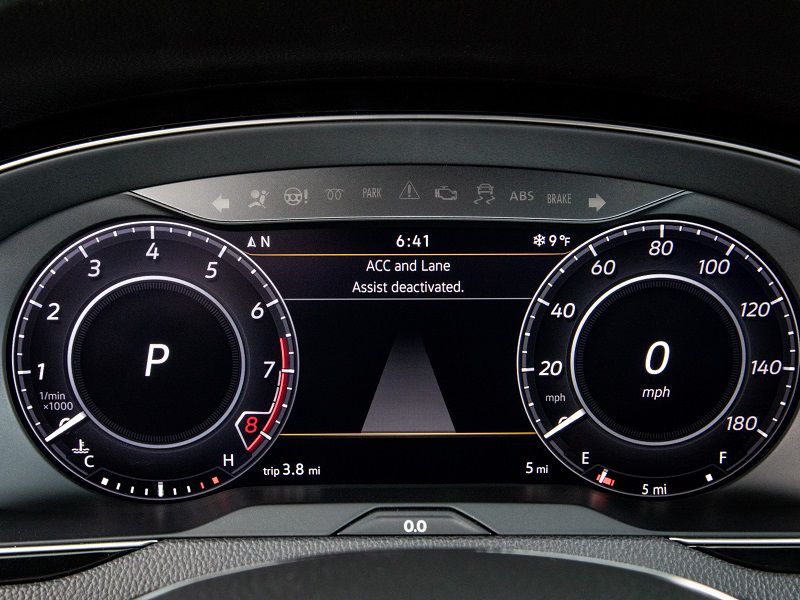 Photo by Volkswagen
Final Thoughts
As sales of traditional sedans continue to slow, these hatchback mutations are gaining popularity, and the timing of the 2019 VW Arteon is right on. So is its packaging. It's larger than the Audi A5 Sportback, and it costs about $30,000 less than the similarly sized Audi A7. This is no accident, as Audi is owned by Volkswagen.
No, the Arteon can't perform like an A7, and it isn't quite as refined, but it is very comfortable, exceedingly attractive, and fun-to-drive. And its performance is more than strong enough to satisfy most buyers, especially when it's equipped with all-wheel drive. Upscale hatchback sedans have become the hot ticket, and the new 2019 Volkswagen Arteon is one of our favorites.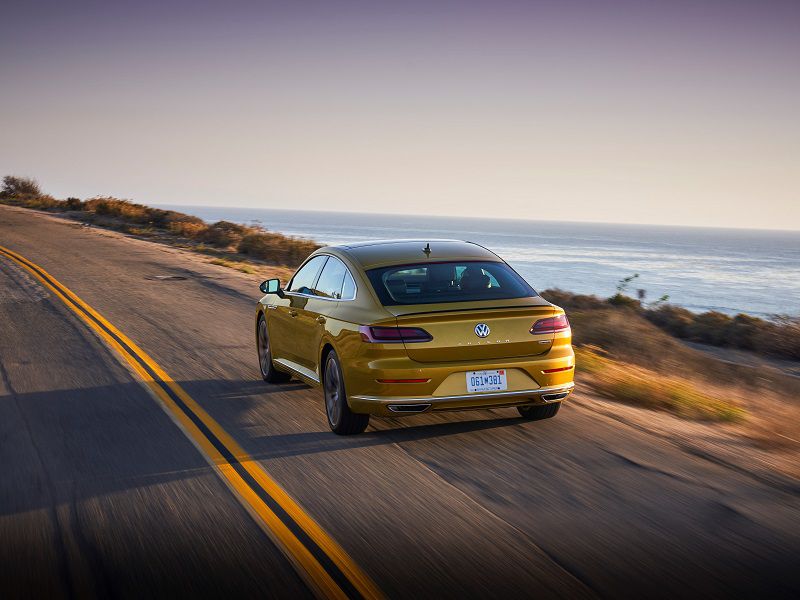 Photo by Volkswagen