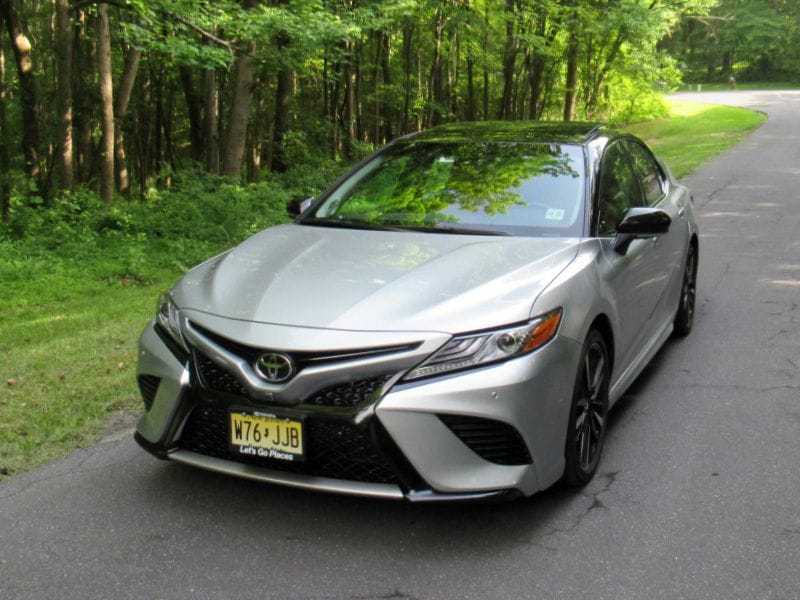 2019 Toyota Camry ・ Photo by Brady Holt
One might think the 2019 Toyota Camry needs little introduction. It's the ubiquitous mid-size sedan, America's best-selling passenger car for two decades. It's widely known for its spacious interior, quiet cabin, and generally fuss-free operation — the sort of car that you buy when you don't want to think about your car.
But if you think that's all the Camry is, you're probably remembering an older model. Toyota has worked hard to bring the latest Camry beyond that sort of purely sensible rationality, without sacrificing the car's longtime appeal. The current generation, which debuted as a 2018 model, introduced a higher degree of driving composure, more powerful engines, and a more luxurious design, along with improved safety and fuel economy. If you're interested in a mid-size sedan — even if past Camrys weren't for you — keep reading to learn more about this excellent option.
Wide Range of Models
The 2019 Toyota Camry comes in a wide selection of trim levels, starting with the value-focused L model at $23,945. Buyers focused on comfort and quietness can move up the ladder to the LE ($24,450) and XLE ($29,025), while those seeking a sportier vibe should opt instead for the SE ($25,650) or XSE ($29,575). All models come standard with a four-cylinder engine, while a V6 costs about $5,000 extra on the XLE and XSE. There's also a gas-electric Camry Hybrid at a premium of about $4,000 over the four-cylinder LE, SE, and XLE.
Our pick of the lineup is the Camry SE, whose standard features include a power driver's seat, partial synthetic-leather upholstery, and automatic climate control. It's also available with a wide range of further luxury and convenience options. But it's easy to find a Camry that's well-suited to your needs, and all models include a host of advanced safety features, plus two years or 25,000 miles of free scheduled maintenance.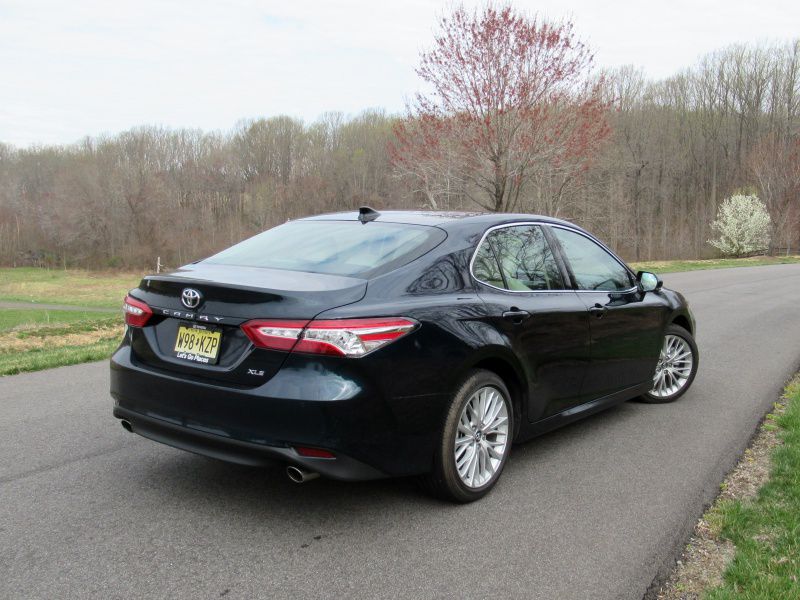 Photo by Brady Holt
Classy Styling
When the Camry was redesigned for 2018, Toyota highlighted the aggressive front end of the SE and XSE models. They feature a dramatic hourglass-shaped grille with the Toyota logo standing proudly front and center. But the rest of the car — and the rest of the Camry lineup — is more subdued than "in-your-face" aggressive. If the latest Honda Accord is too sporty for your tastes, the Camry's gentler curves and simpler details might be just the thing. It's attractive without being dull.
An even more dramatic improvement to the current Camry was its interior design and decor. While the previous generation was rather plain, Toyota made the new model more stylish and upscale. The instrument panel arcs down from the dashboard to swoop artfully around behind the gear selector, and the cabin materials look and feel richer than before. A few competitors are fancier still, as Toyota keeps some lower-grade plastics on places like the roof pillars, lower dashboard, and center console. But the Camry's overall ambiance is hard to fault.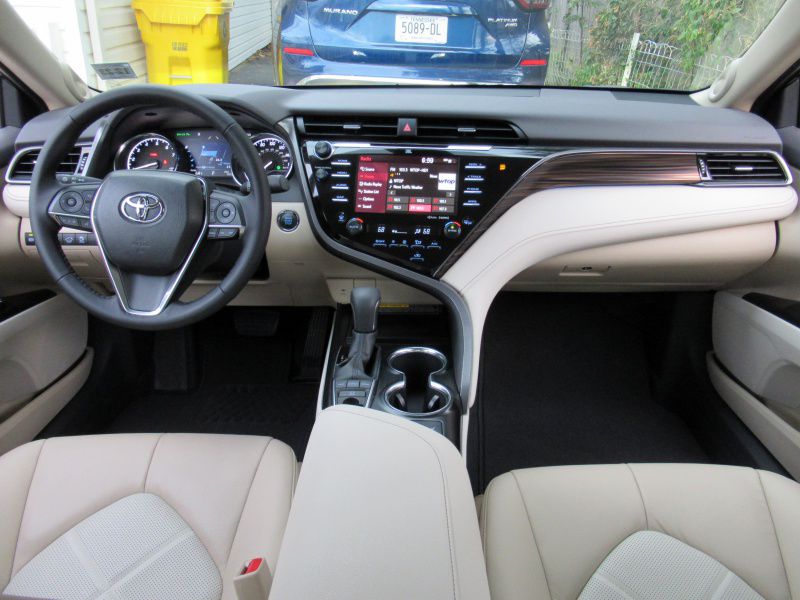 Photo by Brady Holt
Infotainment Upgrades
Toyota overhauled the Camry's infotainment system as part of the car's full redesign last year. Available with 7-inch or 8-inch touchscreens, the system boasts crisper graphics, faster responses, and additional functionality. For 2019, Toyota improved the system again — this time adding Apple CarPlay as standard equipment on all trim levels. However, the Camry still doesn't support Android Auto, the equivalent system for Google-based phones.
The Camry's dashboard controls are user-friendly. Physical buttons flank the touchscreen, making it easy to tap them without too much concentration, and the stereo's volume and tuning are handled through simple knobs. There are also large, clear gauges with a customizable color display between them to present a variety of information to the driver. With the interior of the 2019 Camry, Toyota strikes an enviable balance between style and functionality.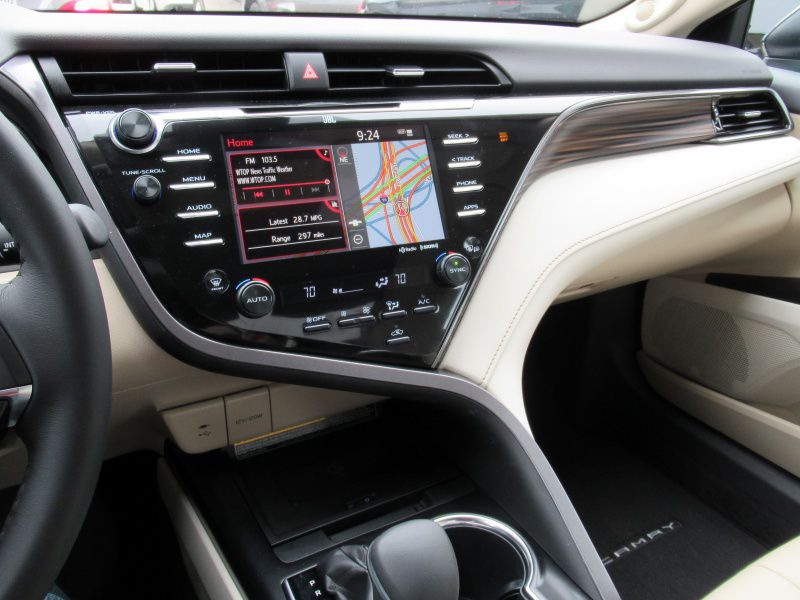 Photo by Brady Holt
Spacious Cabin
The Toyota Camry has long boasted a spacious interior, and the 2019 model continues that tradition. The front seats are wide and supportive, and cushier than the sports-sedan-firm chairs you'll find in a Honda Accord. The Camry's large windows provide excellent visibility to both the driver and the passengers.
In the back, the Camry is wide enough for three adults on a well-padded seat. There's decent legroom, too, though the Accord and the redesigned 2019 Nissan Altima have even more. Trunk volume is acceptable for the class, if not outstanding, at 15 cubic feet; the rear seat folds down in a 60-40 split to accommodate longer items on all Camry models but the base L.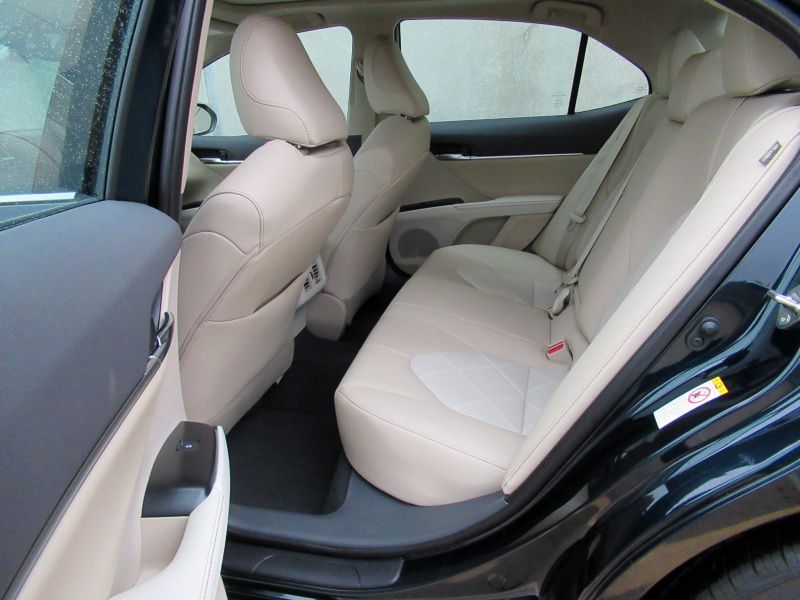 Photo by Brady Holt
Excellent Ride and Handling
A smooth, comfortable ride is nothing new for the Camry, but today's model is the best yet. Toyota gives the Camry the solid, buttoned-down feel of a good luxury sedan — in contrast with the previous model, which floated lightly along the road. At the same time, the 2019 Camry absorbs bumps with graceful aplomb, and the cabin remains quiet.
Even more impressively, Toyota improved the Camry's handling at the same time as the ride quality. The XSE trim's available red leather upholstery is a clear signal of the car's sporty theme, and it's not just an act. While the Camry doesn't corner with the precision of a Honda Accord or Mazda6, it feels natural, responsive, and composed, with nicely weighted steering. The SE and XSE have revised suspension tuning for slightly sportier handling, but all models are both comfortable and agile.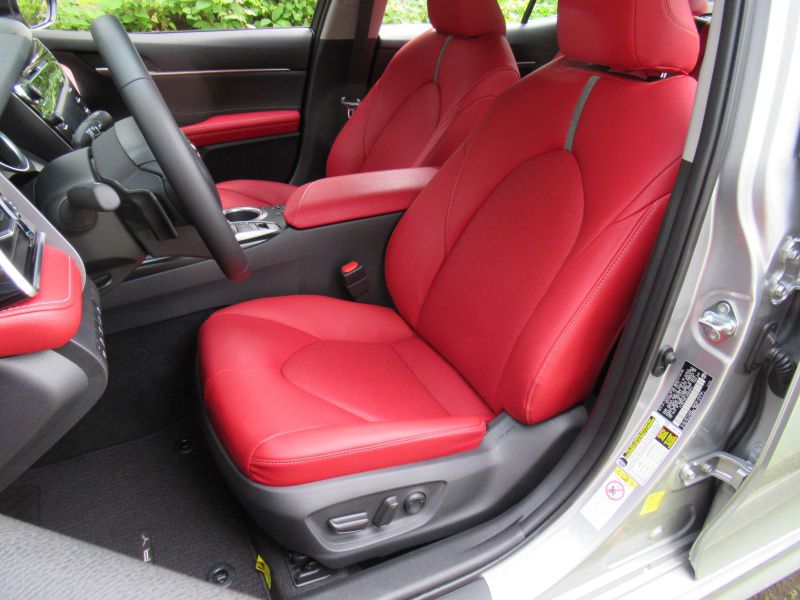 Photo by Brady Holt
Powerful Yet Fuel-Efficient
While most competing mid-size sedans have adopted small-displacement turbocharged engines — a bid to improve fuel economy without sacrificing power — Toyota has achieved similar success with a more traditional formula. Most Camry models have a big 2.5-liter four-cylinder engine and an eight-speed automatic transmission. This engine makes a hearty 203 horsepower, more than competitors' base engines, while still achieving phenomenal EPA ratings: 28 mpg in the city, 39 mpg on the highway, and 32 mpg overall on most models.
The Camry's available V6 also stands apart from competitors, which typically offer 2.0-liter turbocharged four-cylinders as their higher-performance engine option. Toyota's 3.5-liter makes a sports-car-like 301 horsepower, and it sounds smoother and richer than competing four-cylinders. Gas mileage remains competitive, too, at 22 mpg city, 33 mpg highway, and 26 mpg combined. That's better than even the four-cylinder Camry could manage as recently as 2011. The hybrid, meanwhile, achieves up to 52 mpg in mixed driving.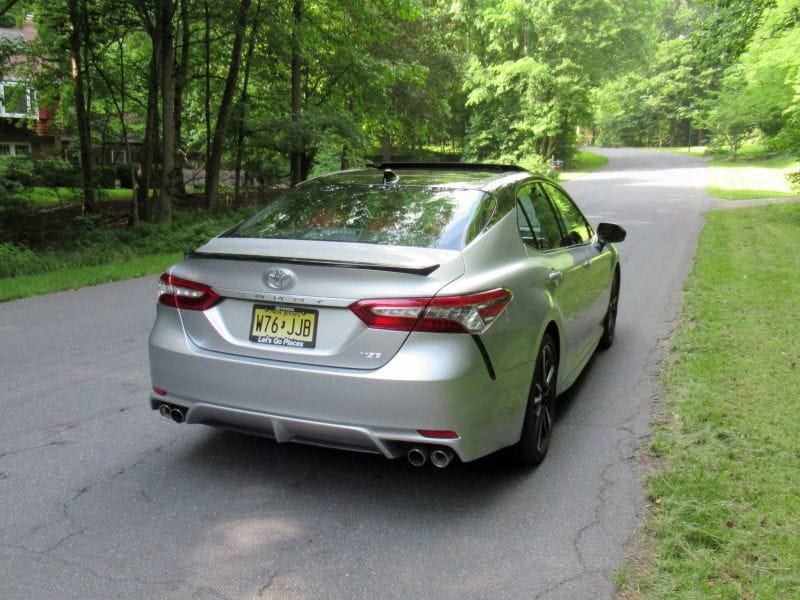 Photo by Brady Holt
Stellar Safety
Toyota has made safety a brand priority, and nearly all Toyota vehicles, including the 2019 Camry, now come standard with a suite of advanced driver-assistance features — even on their base models. These features include a forward-collision warning with automatic forward emergency braking; a lane-departure warning with automatic lane-keeping steering assistance; adaptive cruise control; and automatic high beams. Extra-cost safety features include a blind-spot monitoring system with a rear cross-traffic alert, a 360-degree bird's-eye-view parking camera, and rear automatic braking.
The 2019 Camry earned IIHS Top Safety Pick+ status from the Insurance Institute for Highway Safety, reflecting perfect scores in crash tests and crash-avoidance evaluations. It also earned the maximum five out of five stars in the National Highway Traffic Safety Administration's crash testing — not merely an overall five-star score, but also five stars in each individual evaluation.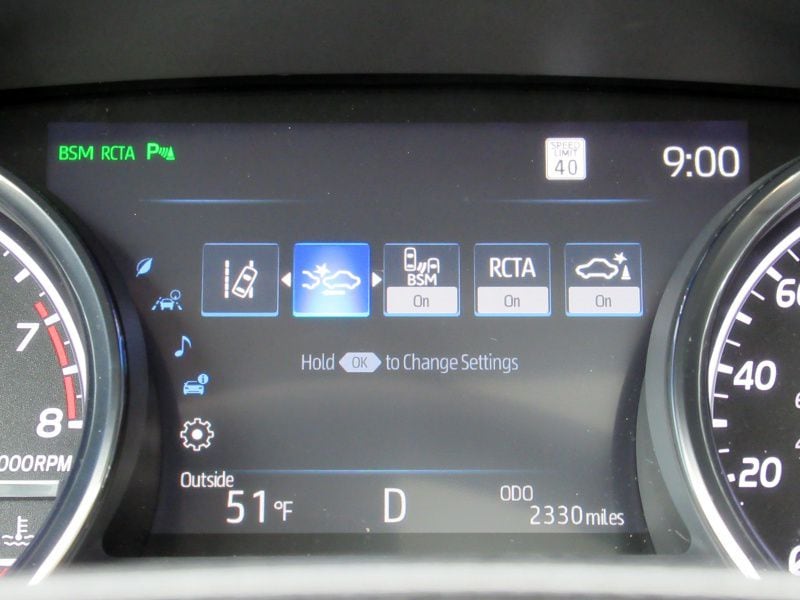 Photo by Brady Holt
Strong Competition
The 2019 Toyota Camry faces many strong competitors in the mid-size family sedan class. The Honda Accord, the No. 2 best-seller behind the Camry, is its historical archrival. It has a sportier edge than the Camry — both in how it looks and how it drives — which some folks will love and others won't.
The redesigned 2019 Nissan Altima (America's No. 3 favorite mid-size sedan) is closer to the Camry flavor, though it replaced last year's V6 engine with a more fuel-efficient turbocharged four-cylinder. The Altima and Camry both drive well and have spacious interiors, though the Camry feels a little fancier while the Altima boasts superbly comfortable seats. The 2019 Hyundai Sonata and 2019 Kia Optima, meanwhile, offer family-friendly virtues and bargain prices, though with a less luxurious feel than the latest Camry. Meanwhile, if you're looking at a high-end V6 Camry, there's another Toyota to consider: the full-size Avalon. It offers more space for about the same price as a fully loaded Camry.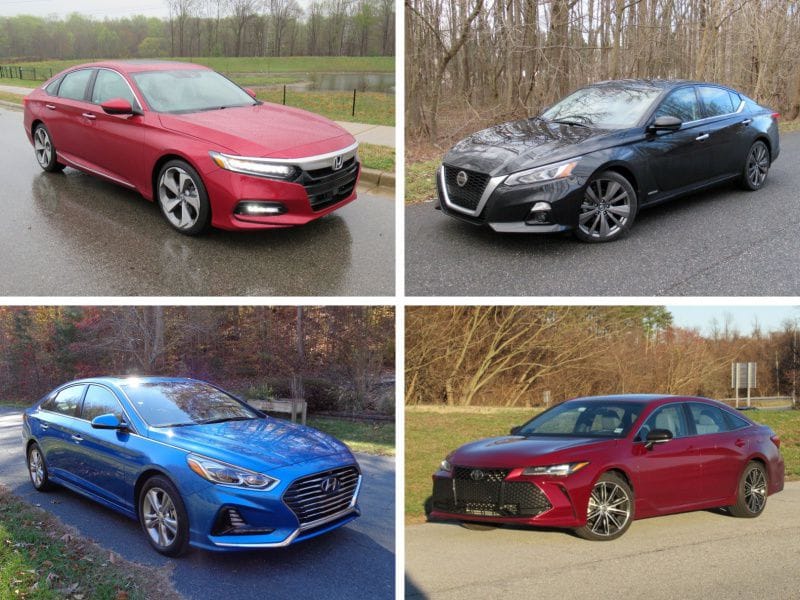 Photo by Brady Holt
Best-Selling Formula
Toyota has mastered the formula for America's best-selling car. The latest Camry offers the peaceful and user-friendly experience that longtime loyalists expect, while also improving its driving dynamics, in-cabin technology, and overall sense of luxury. Clearly, Toyota isn't resting on its laurels — it continues to successfully invest in making the Camry more desirable than ever.
Some buyers might prefer another flavor of mid-size sedan, or maybe find something that they especially like about a specific competitor. But the 2019 Toyota Camry is a well-rounded package that avoids glaring faults. It's safe, comfortable, and fuel-efficient, and increasingly fun and fancy, too. Don't miss it.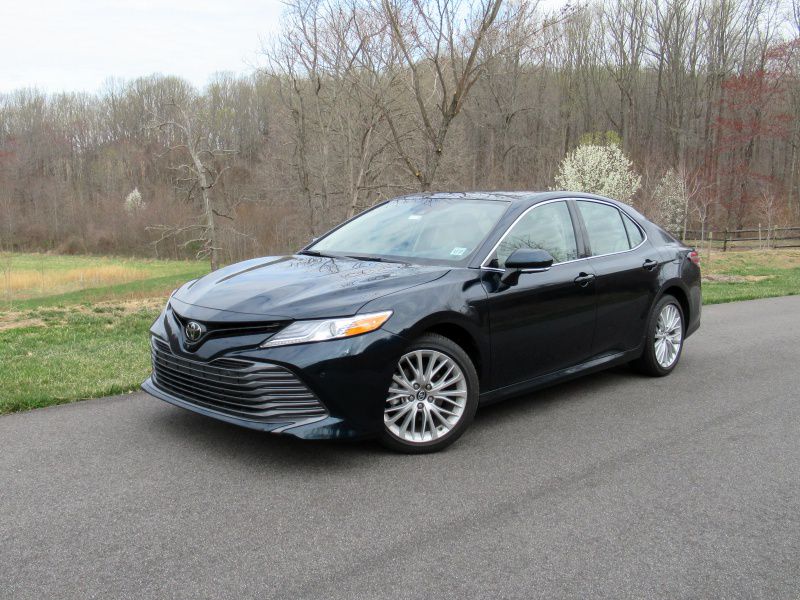 Photo by Brady Holt