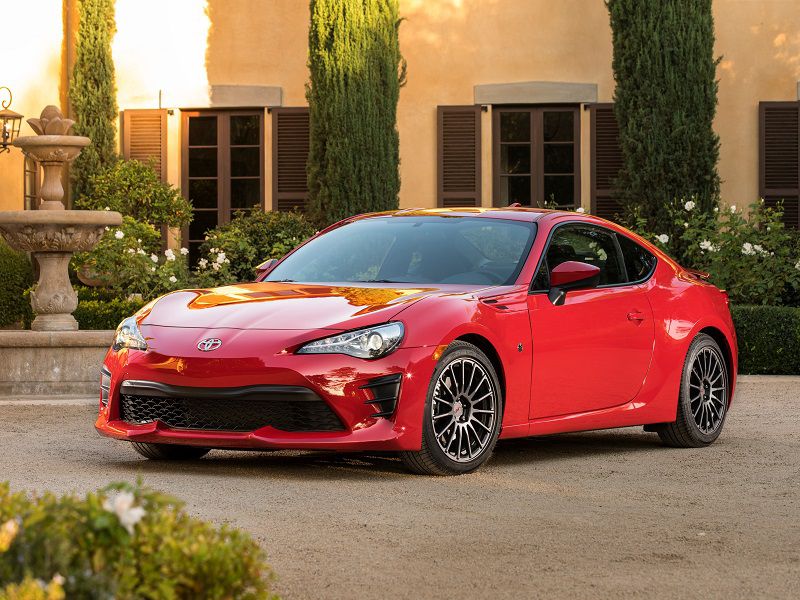 2019 Toyota 86 Red Parked Front Quarter ・ Photo by Toyota
Toyota is best known for its reliable sedans and SUVs, but Japan's largest automaker has always known how to build great sports cars. From the 1967 2000GT to the turbocharged mid-engine MR2 of the 1990s and of course the legendary Supra, sports cars are an important part of Toyota's past, present, and future.
Today, the 2019 Toyota 86 keeps that flame burning. Engineered in partnership with Subaru and built in Japan, the 86 is an affordable, lightweight, rear-wheel drive 2+2 coupe. It's also presently Toyota's only sports car, although the all-new Supra, which is being developed in partnership with BMW, is just around the corner. First introduced in 2012 as the Scion FR-S, it became the Toyota 86 in 2017 after Toyota discontinued its Scion brand. This year, it gets a new top trim level to better compete with its rivals, which include the Subaru BRZ, Mazda Miata, Fiat 124 Spider, and Nissan 370Z.
Rear-Wheel Drive Chassis
The 2019 Toyota 86 comes in three trim levels: 86, GT, and the new TRD Special Edition. All three are rear-wheel drive and powered by a high-revving 2.0-liter horizontally opposed four-cylinder engine backed by a six-speed manual transmission or, as in our test vehicle, a six-speed automatic. The engine is rated at 205 horsepower with the manual transmission and 200 hp with the automatic. Despite years of teasing a convertible version of its sports car, Toyota only offers the 86 in a closed coupe body style. If you're looking for a rear-wheel drive convertible in this class, shop the Mazda MX-5 Miata, FIAT 124 Spider, and Nissan 370Z.
The base price for the standard 86 is $27,350, including an $895 destination fee. Standard equipment includes four-wheel disc brakes, 17-inch wheels, Bluetooth, a Sport button for additional responsiveness, and a tilting and telescopic steering wheel. The GT model, which costs about $2,000 more, adds a rear spoiler, heated leather seats, push-button start, and dual-zone automatic climate control.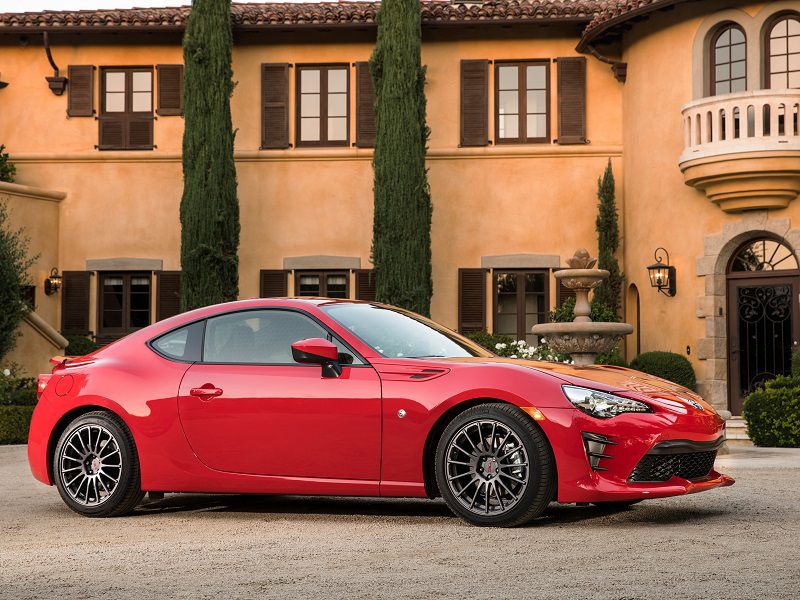 Photo by Toyota
New TRD Special Edition
TRD stands for Toyota Racing Development, the brand's in-house hot-rod shop. TRD is best known for its off-road suspension packages on the Toyota Tacoma pickup and 4Runner SUV, but it soups up cars too. Accordingly, the new TRD Speical Edition is the hottest, highest performance version of the Toyota 86 ever. The engine is left untouched, but it gets improved handling with special SACHS shocks, larger 12.8-inch front and 12.4-inch rear Brembo brakes, and larger 18-inch wheels wrapped in Michelin Pilot Sport 4 sticky summer tires sized 215/40R18.    Only 1,418 will be built. All will be black with a TRD tricolor graphic and TRD body kit, which covers the front bumper, side sills, rear bumper/diffuser, and spoiler. A TRD exhaust with brushed stainless steel tips is also standard. Inside, the steering wheel and seats get red and black upholstery, and fake suede covers the top of the gauge cluster. There's also red stitching throughout and red seatbelts. The price is $33,315, and the six-speed manual is the only transmission offered.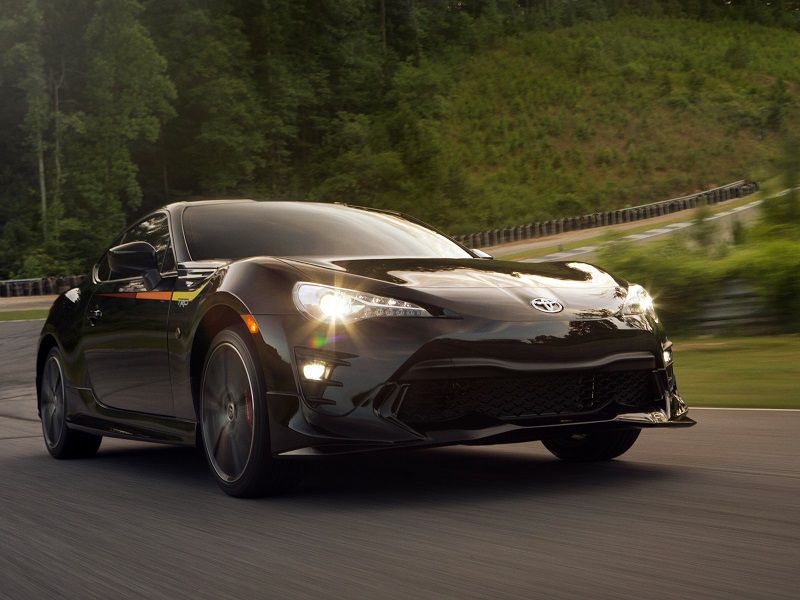 Photo by Toyota
Quick Enough
For the 2019 model year, every 86 continues to be powered by a naturally aspirated horizontally opposed four-cylinder developed by Subaru. The double-overhead-cam 2.0-liter revs out to 7,500 rpm, provides ample low-end torque off the line, and is smooth enough for a car in this class. It's also considerably more powerful than the engines in the 181-hp Mazda Miata and the 160-hp Fiat 124 Spider. The V6-powered Nissan 370Z is the horsepower king of this class with 300 hp.
Considering the Toyota only weighs about 2,800 lbs, which makes it one of the lightest cars available, the engine's 200 hp is more than enough. The 86 gets to 60 mph in just 6.2 seconds when it's equipped with the manual transmission. It's not quite as quick with the automatic, however, needing 7.7 seconds to accelerate to 60 mph. With either transmission, the 86 is more than quick enough to be fun.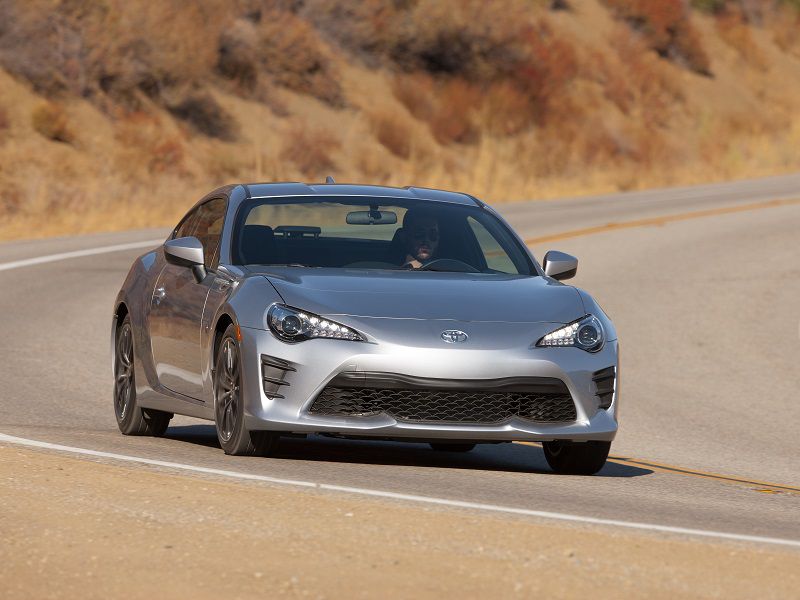 Photo by Toyota
Surprising Fuel Economy
Although few people buy a sports car for its fuel economy, the 2019 Toyota 86 is extremely fuel efficient. And its economy numbers are good for its class. With the six-speed manual, the 86 is rated by the EPA at 21 mpg in the city and 28 mpg on the highway. With the available automatic, those numbers jump to 27 mpg city and 32 mpg highway. For comparison, the Mazda MX-5 Miata is rated 26 mpg city and 34 mpg highway with a manual transmission and 26 mpg city and 35 mpg highway with the automatic.
During our week in our automatic-equipped 86 test vehicle, we averaged 26 mpg in mixed driving. Unfortunately, its engine requires more expensive premium fuel.
Photo by Toyota
Light and Athletic Handling
From behind its three-spoke steering wheel, the 2019 Toyota 86 feels small, light, and responsive. It feels like a sports car. If you want to smile, drive an 86 through the mountains on a bright sunny day. It's one of the best-handling cars available, with perfect balance, rapid response and just the right amount of visceral feedback. This is an easy car to drive at its limits, although it would be far faster through the hills on a wider set of sticky summer tires. Overall grip is limited by the Toyota's narrow all-season Bridgestone rubber. Although we prefer this car with the six-speed manual transmission, don't fear the available six-speed automatic. It's geared well and it comes with paddle shifters for manual operation.
As we expected, the 86's ride can get a little choppy on the highway, and quite a bit of road noise enters the interior. The surprise is how comfortable and reasonably quiet this sports car is around town.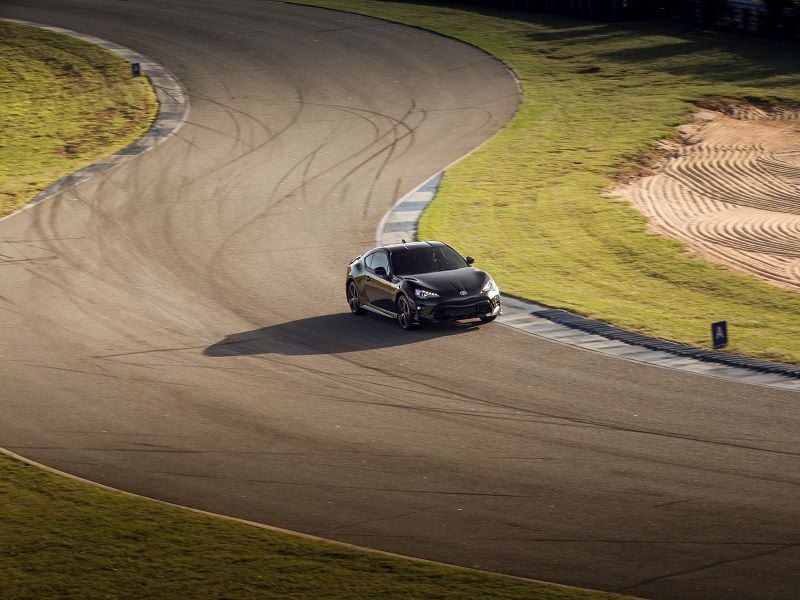 Photo by Toyota
Proper Sports Car Interior
You sit down low in the 2019 Toyota 86 and look out over the expanse of its hood and voluptuous sweep of its front fenders. Given the car's mission and slight dimensions, there's a surprising amount of room for the driver and front passenger. The rear seat is tiny, but I did manage to squeeze a high school volleyball player back there. The front seats are firm and aggressively bolstered, but they're comfortable for the commute.
And everything else is proper sports car stuff, including its perfectly placed shifter and thick small-diameter leather-wrapped steering wheel. Toyota has also located the tachometer in the center of the gauge cluster just as Porsche does on the 911 — a very cool touch. Overall build quality is high, and the materials used are in line with the Toyota's modest price point. Our only frustration with the 86's interior is the interface and function of its infotainment system. The standard 7-inch touchscreen is large enough, but it's just not very intuitive to use.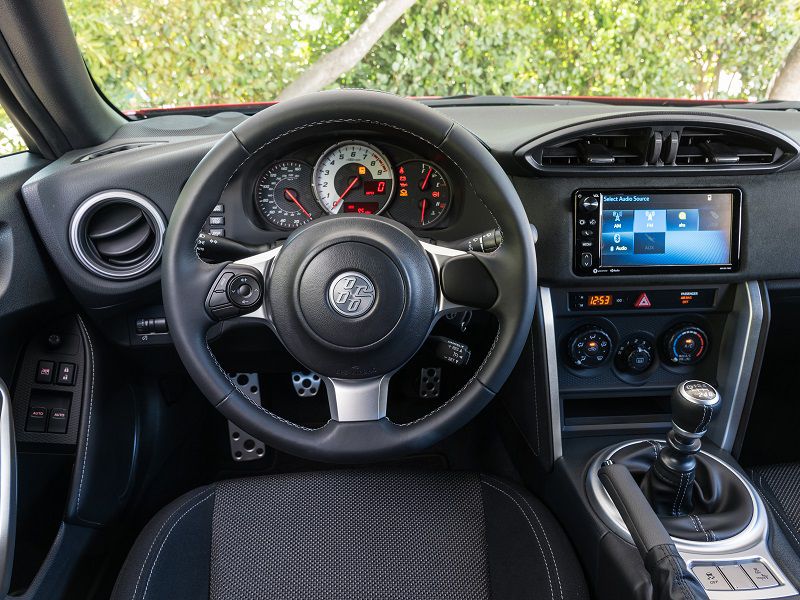 Photo by Toyota
Ample Cargo and Cupholders
The Toyota's interior storage is livable, but limited. There's isn't a traditional center console bin between the front seats and there are no door pockets. There is a water bottle slot in each door and two cupholders behind the shifter, but the use of space could be better.
The 86's trunk, however, is large enough to be useful with 6.9-cubic feet of space. That's quite a bit more than you get in a Miata. And the Toyota's rear seatback folds flat easily, opening a sizable pass-through, which expands the space considerably. There's no need to pack lightly for that weeklong road trip for two.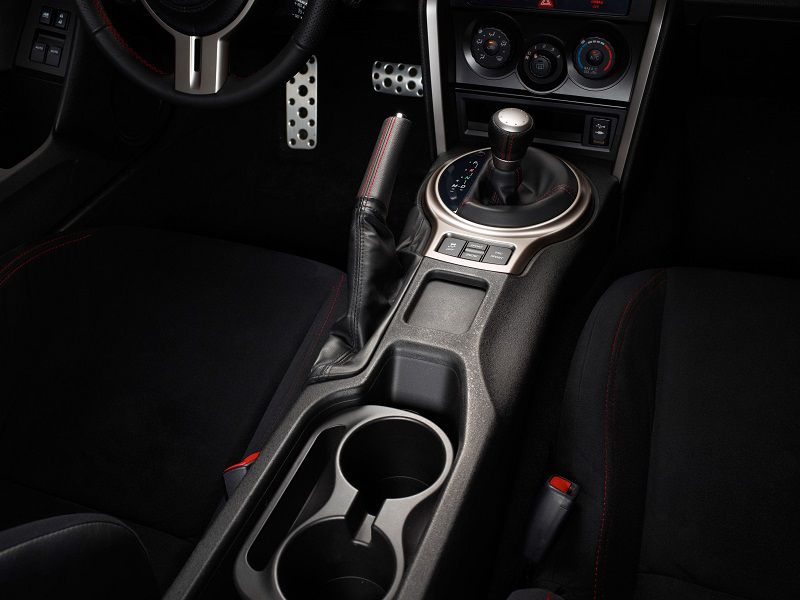 Photo by Toyota
Same as a Subaru BRZ
Before you run down to your Toyota dealer and buy a 2019 86, you should know that Subaru dealer down the street offers essentially the same car. The Toyota 86 and the Subaru BRZ are twins, essentially the same, outside, inside, and underneath. The two cars look the same and use the same chassis, suspensions, steering, brakes, transmissions, differentials, and interiors. In fact, the Subaru is even built in Japan on the same assembly line as the 86.
Differentiators between the two are limited to suspension tuning, and each manufacturer sets up its trim levels and standard and optional equipment a little differently. Subaru, for instance, only offers the automatic transmission on one trim level while Toyota offers it on two. Pricing is also slightly different, as the Subaru's base price undercuts the Toyota's by about $1,600, while the Toyota's top trim is a grand cheaper than the comparably equipped BRZ.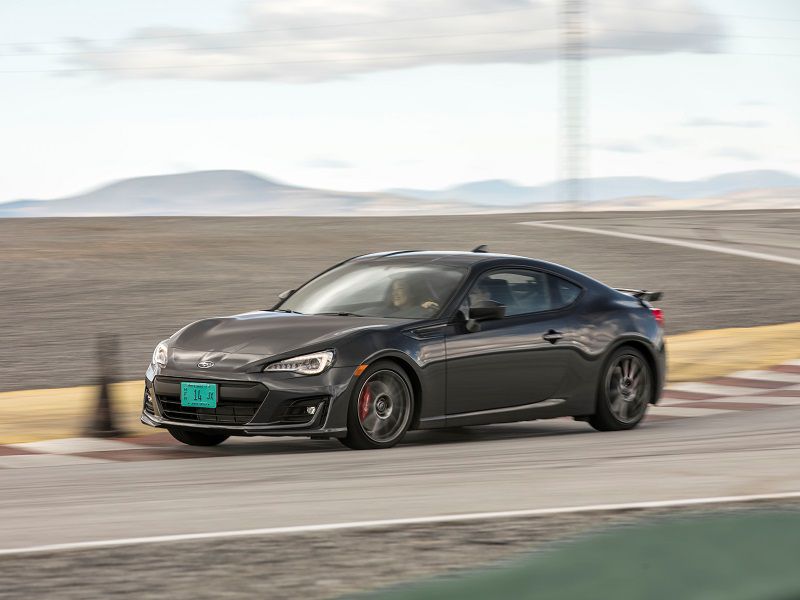 Photo by Subaru
Final Thoughts
Since this car debuted seven years ago, it's been consistently praised by the enthusiast automotive press for its overall performance and style, but it has also been said that it could use more horsepower. There have been rumors of a more powerful turbocharged model over the years, but like the convertible, it hasn't reached production.
More power would be nice, but it's not necessary — the 86 is a blast to drive just the way it is. And it's a hot-looking little thing, especially dressed in Ablaze Red like our test vehicle. Everyone knows this car is something special, and they notice it when you drive by. Especially young men dressed in baggy jeans and baseball caps. Although its interior storage and infotainment system are disappointments, this sports car is comfortable enough to be driven every day, and it's one of the coolest and best-performing vehicles you can buy for less than $30,000. If you're in the market for a sexy performance coupe, the 2019 Toyota 86 is a very desirable overall choice.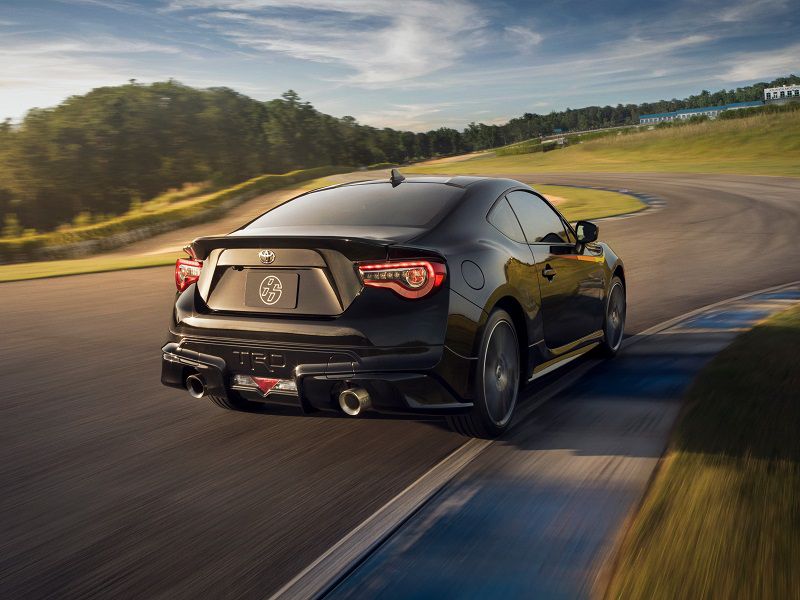 Photo by Toyota