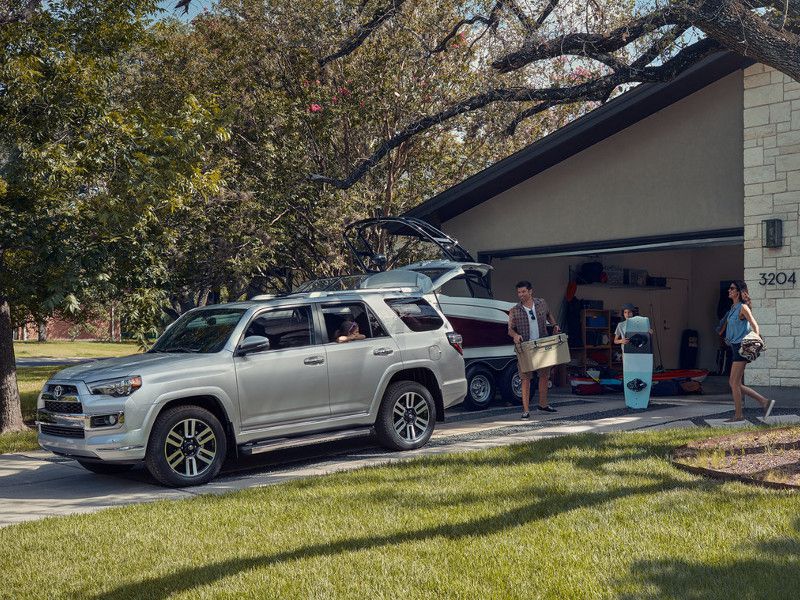 2019 Toyota 4Runner Limited silver family1 ・ Photo by Toyota
Toyota offers an extensive lineup of SUVs and crossovers that includes six different models and two hybrids. The 2019 Toyota 4Runner is the life of that party. It's one of the fun ones. In fact, it's among the most rugged and off-road capable SUVs you can buy. Now in its fifth generation, the 4Runner has always delivered a unique mix of comfort and off-road capability. Think of it as the SUV version of Toyota's indestructible Tacoma pickup, with some characteristics of the family-friendly Toyota Highlander sprinkled in as well.
First introduced in 1984, the 4Runner has always been popular with families looking for a little weekend adventure, as well as serious off-roaders and extreme athletes like mountain bikers, hikers, and snowboarders. On the weekends, the trailheads north of Los Angeles are full of 4Runners, both new and old. The 2019 4Runner competes with the Jeep Wrangler Unlimited, Jeep Grand Cherokee, and Land Rover Discovery.
Available in Seven Trim Levels
Built in Japan, the 2019 Toyota 4Runner is offered in seven trim levels, including two with parts and engineering from Toyota Racing Development (best known by its initials, TRD). Base prices start at $36,155, including a $1,045 destination charge, for a base rear-wheel drive 4Runner SR5 and top out at $46,210 for the Nightshade Special Edition.
The less expensive SR5 and SR5 Premium models have rear-wheel drive standard, with the optional part-time four-wheel drive system, which has a low range for serious off-roading, costing $1,875 extra. At the other end of the range, the 4Runner Limited and Nightshade Special Edition also have standard rear-wheel drive, but they also offer a full-time all-wheel drive system with a low range is optional for $1,640. The two TRD models in the middle get the part-time four-wheel drive system standard, and our 4Runner TRD Off-Road test vehicle lives in the heart of the range with a base price of $39,330.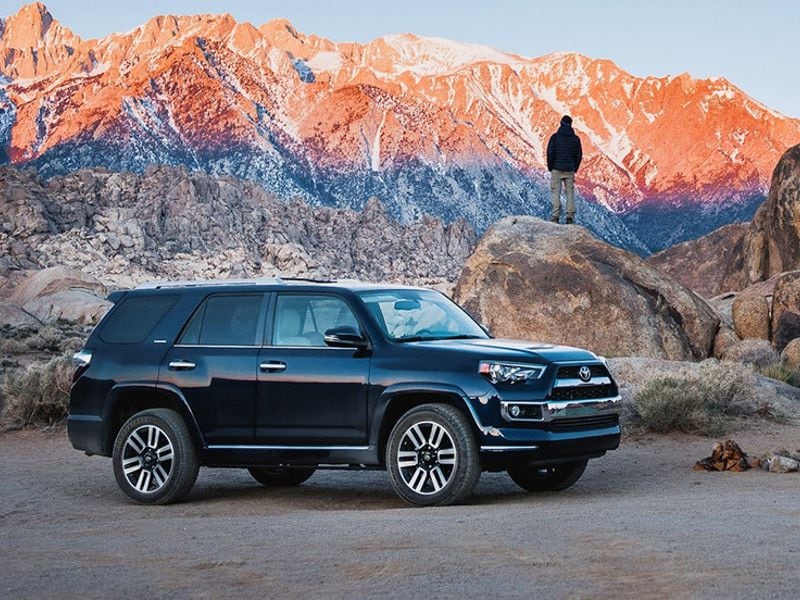 Photo by Toyota
Plenty of Power
There are no turbodiesel or hybrid 4Runner models available. All new 4Runners instead use a 270-horsepower 4.0-liter V6. And there's plenty of power. With 276 lb-ft of torque, the 4Runner is quick off the line and pleasingly responsive. Floor the throttle from a dead stop and the SUV hits 60 mph in about 7.5 seconds.
Every 4Runner also uses an automatic transmission with just five speeds. These days, eight-speed, nine-speed, and 10-speed automatics are common, and the 4Runner's gearbox is far from state-of-the-art. Although it's a bit lazy when you want a downshift for a burst of additional passing power, this transmission otherwise gets the job done without any issues. Plus, it has a Sport setting, which allows it to hold gears longer for more performance, and you can shift it manually. Unfortunately, the engine does not match revs when you ask for a downshift.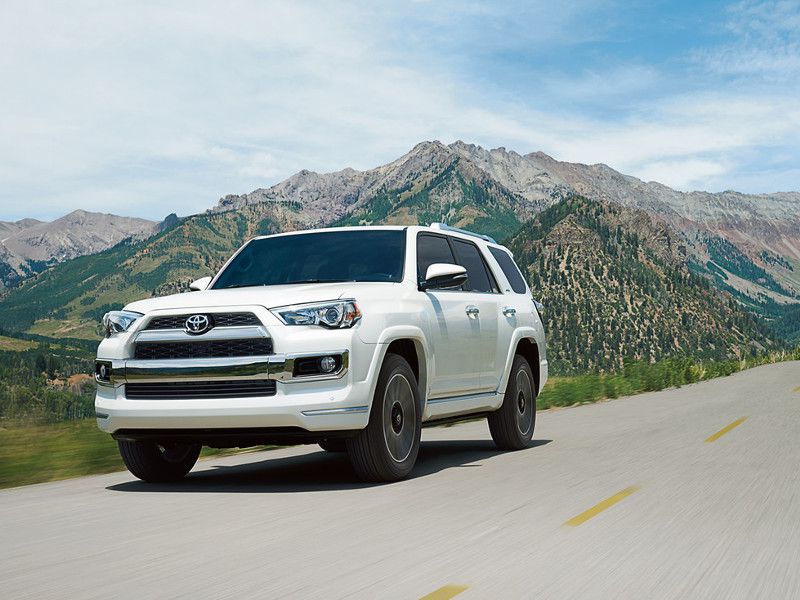 Photo by Toyota
Low Fuel Economy for the Class
With its big powerful V6 engine, antiquated transmission, and a curb weight well over 4,000 lbs, it's no surprise that the 2019 Toyota 4Runner isn't a fuel economy leader. With four-wheel drive, the 4Runner's fuel economy ratings are 17 mpg in the city and 20 mpg on the highway. Lighter two-wheel drive models are rated at 21 mpg on the highway. For comparison, a V6-powered Jeep Wrangler Unlimited is rated at 17 mpg city and 23 mpg highway.
Unlike many other Toyota models, the 4Runner does not have start/stop, a feature that shuts off the engine at idle to save fuel. The good news is that the Toyota's V6 runs on 87-octane regular-grade gas, which keeps its operating costs down. We averaged 16.5 mpg during a week of mixed driving.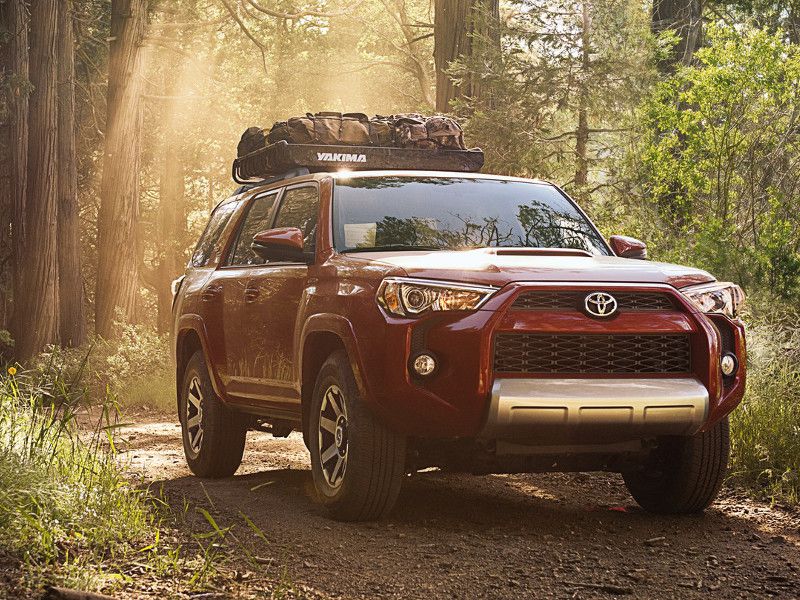 Photo by Toyota
Enthusiasts Know and Respect TRD
For off-road enthusiasts, TRD has become synonymous with performance. Not necessarily engine performance, but suspension tuning and a vehicle's off-road capability. Toyota Racing Development isn't just a made-up name; these are the same men and women responsible for the automaker's motorsports, including its efforts in NASCAR, NHRA Drag Racing, road racing, and off-road competitions, including the Baja 1000.
TRD has been tuning the suspension of the Toyota Tacoma since 1997, and it has been tweaking the 4Runner for improved off-road performance since 2015. Our TRD Off-Road test vehicle was also equipped with Toyota's Kinetic Dynamic Suspension System (KDSS), which costs an extra $1,750. Toyota says it increases the 4Runner's wheel travel at slow speeds for greater off-road capability and on-road control. But the most capable 4Runner is the TRD Pro, which costs $48,000. This year the model gets even better with larger diameter 2.5-inch Fox Racing High-Performance shocks. The rear shocks even have external reservoirs. This model also gets TRD-tuned coil springs and extra knobby 17-inch Nitto tires. The 4Runner TRD Pro is one of the most capable off-road SUVs you can buy.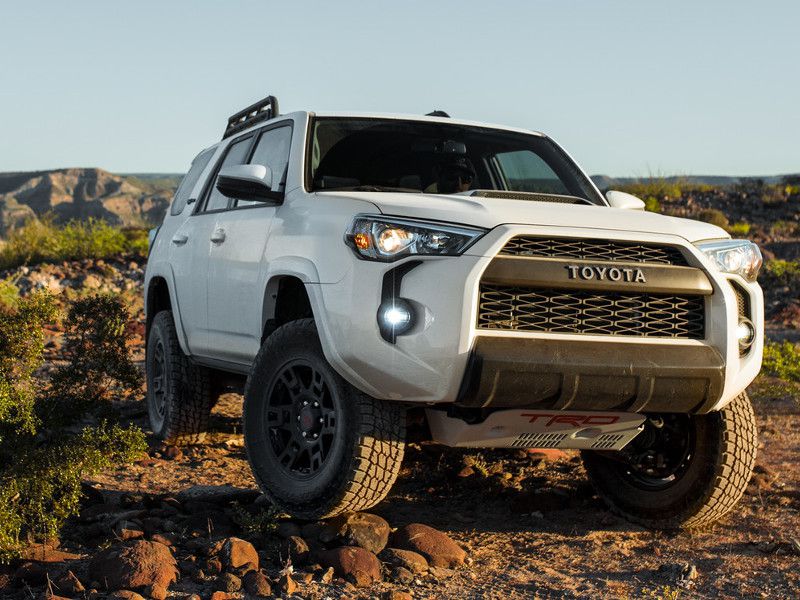 Photo by Toyota
Awesome Off-Road Performance
Although the new Toyota 4Runner is easy to pilot around town and it's generally comfortable, the SUV's steering is slow, and it's heavier than you may expect. Its turning circle is also large, which can make parking a bit of a challenge. The 4Runner's suspension does soak up larger impacts nicely, but its ride is a bit busy compared to car-based crossovers like a Toyota Highlander. There's also considerable body roll when cornering and brake dive when you're coming to a stop.
Buyers have to remember that the 4Runner is tuned for the trail, and its long-travel suspension, 9.6 inches of ground clearance, and steep approach and departure angles make it easy to drive off road. All TRD models also get a locking rear differential and Toyota's Multi-Terrain Select system, which allows you to tune the SUV's four-wheel drive system for the terrain and conditions. TRD models also get Toyota's Crawl Control, which is like off-road cruise control. It helps maintain a constant speed in slow-speed off-road situations, even when driving up, over, or down obstacles.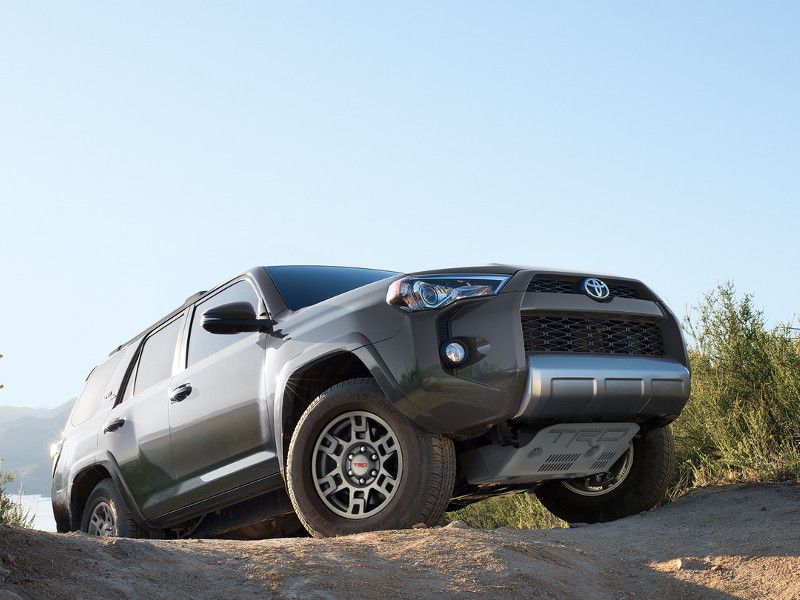 Photo by Toyota
Family-Friendly Space
The 2019 Toyota 4Runner has a generous 109.8-inch wheelbase, which provides plenty of interior space while still keeping the SUV nimble on narrow off-road trails. The 4Runner seats five comfortably. There's more rear seat space than you'll find in some of its competitors, including the Jeep Wrangler. A small third row is available on the SR5 and Limited grades, which increases the Toyota's seating capacity to seven.
Young parents will appreciate the Toyota's easy-to-reach LATCH connectors in the outboard seats and easily accessed upper tether anchors on the seatbacks. However, many will be disappointed to learn that the 4Runner is not available with Toyota Safety Sense, which is standard on many other Toyota models. Safety Sense adds systems like a pre-collision system with pedestrian detection, a lane-departure alert, and radar cruise control.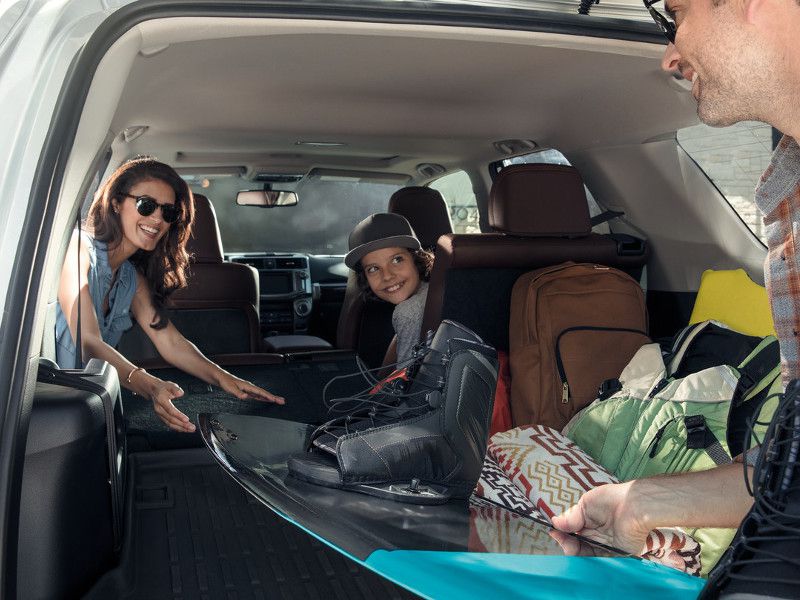 Photo by Toyota
Well-Built and Comfortable
Much like its exterior, the 4Runner's interior is simple, well constructed, and functional. All the surfaces are soft to the touch, and all the knobs and switches are large and function with precision. Nothing feels cheap or flimsy, and the thick, leather-wrapped steering wheel feels good in your hands. The driver's seat feels spongy at first, but it's actually very supportive. 
Some of the 4Runner's appointments feel dated, however. There's no push-button start, for instance, and the optional Entune Premium Audio and navigation system only features a small 6.1-inch screen. There's also no Apple CarPlay or Android Auto smartphone integration, and our test truck, which cost $40,820, didn't have a sunroof, heated seats, or a power liftgate. Perhaps the 4Runner's coolest and most unique interior feature is its retractable rear windshield, which rolls up and down with a button on the console. My dog loved it.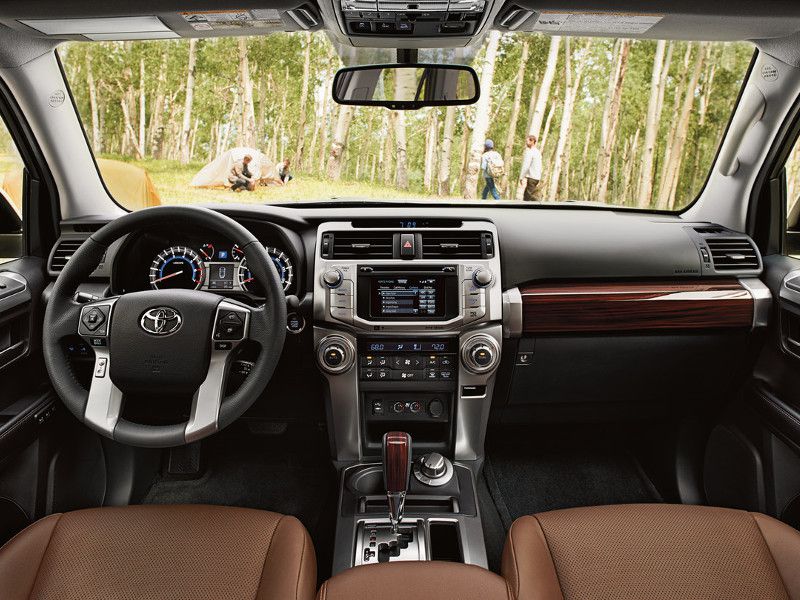 Photo by Toyota
Big Cargo Volume
Storage inside the Toyota's interior is plentiful. The center console bin is deep, and there are large bins on each door. The well-placed front seat cupholders are also deep enough for that morning coffee while the rear cupholders are in a fold-down armrest that occupies the middle seat when in use.
Space behind the optional third-row seat is tight at just 9 cubic feet, but with the 50/50 split third row folded flat, cargo space behind the 4Runner's second row is extremely generous. The Toyota offers 47.2 cubic feet of cargo space back there. That's considerably more than you get in a Jeep Wrangler Unlimited. The Toyota's second row is split 40/20/40, and it easily folds flat opening up an impressive 89.7 cubic feet of space, which is even more than you get in a Toyota Highlander.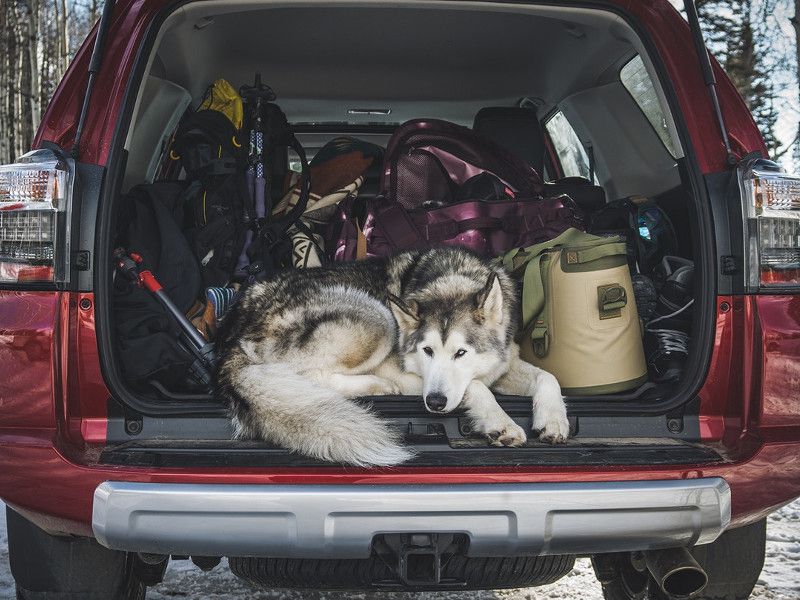 Photo by Toyota
Final Thoughts
These days, most SUVs at this size and price point are car-based crossovers with smooth-riding suspensions that don't work very well off-road. The 4Runner is different, however. Like a pickup truck or the Jeep Wrangler Unlimited, the Toyota uses a full frame, which sacrifices some on-road comfort and refinement in exchange for increased off-road capability and ground clearance.
That's just fine with us. There's more than enough homogenated soccer mom mobiles to go around. The4Runner is a different breed. It's a roomy and family-friendly SUV ready for the team carpool, but it's also a rugged off-roader ready for those muddy weekend getaways. If you're looking for an off-road capable mid-size SUV, the 2019 Toyota 4Runner is a solid overall choice.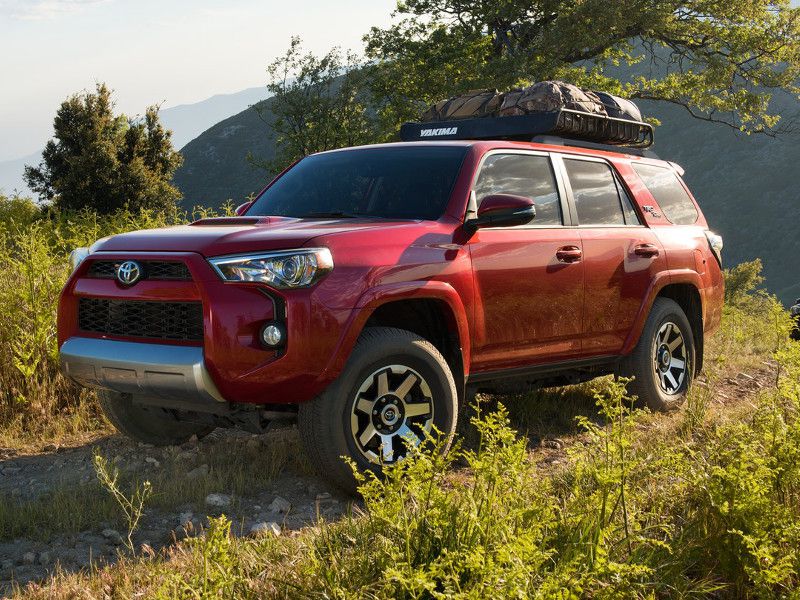 Photo by Toyota