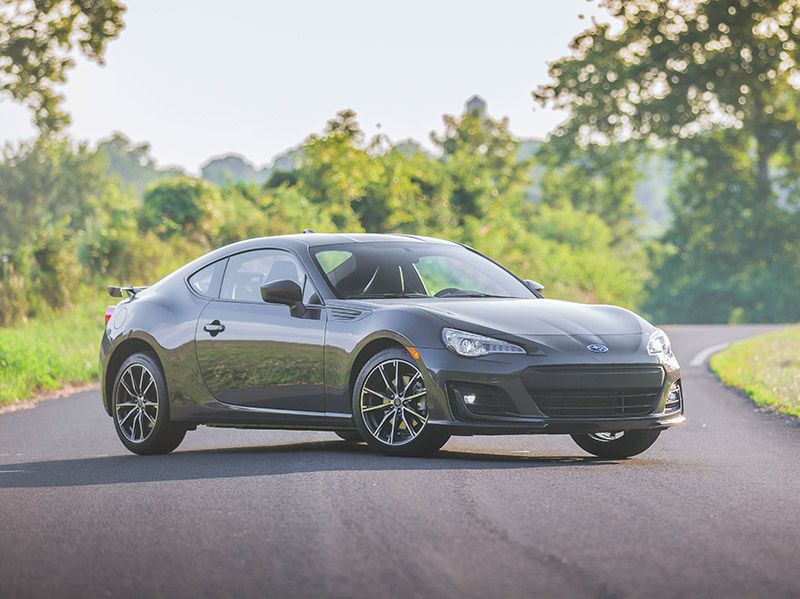 2019 Subaru BRZ front three quarter ・ Photo by Subaru
Every 2019 Subaru comes with standard all-wheel drive — almost. Subaru also makes one of the world's great rear-wheel drive sports cars. It's the 2019 Subaru BRZ, and it's an absolute blast to drive.
Engineered in cooperation with Toyota and built in Japan, the BRZ is an affordable, lightweight four-seat coupe. We'd say it's Subaru's only true sports car, although there's a long list of WRX enthusiasts that would take offense to that idea. First introduced in 2012, the BRZ remains a virtual twin to the Toyota 86. The two cars share a chassis, engine, transmission, and suspension, and much of their styling and interiors. This year the BRZ gets a few small upgrades to better compete with its rivals, the Mazda MX-5 Miata, Fiat 124 Spider, and Nissan 370Z, all of which are two-seaters.
Just Two Trim Levels to Choose From
The 2019 Subaru BRZ comes in just two trim levels: Premium and Limited. This year the top tS model, with its massive rear spoiler, has been discontinued. Unlike on other Subarus, all-wheel drive is not available; every BRZ is rear-wheel drive. The Premium is priced from $26,680, including an $885 destination and delivery fee. That's just $200 more than last year's model. Standard equipment includes four-wheel disc brakes, 17-inch wheels, Bluetooth, a Sport button for additional responsiveness, and a tilt and telescopic steering wheel. A BRZ Limited, like our test vehicle, costs about $3,000 more and gets standard navigation, leather seats, push-button start, dual-zone automatic climate control, and other upgrades.
Under the BRZ's aluminum hood is a high-revving 2.0-liter horizontally opposed four-cylinder engine backed by a standard six-speed manual transmission or an optional six-speed automatic offered only on the Limited for an additional $1,100. The engine is rated at 205 hp with the manual transmission and 200 hp with the automatic.
Photo by Subaru
The Performance Package
Buyers of the BRZ Limited can also add the optional Performance Package. It costs $1,195 and improves the coupe's handling with special Sachs shocks and Brembo brakes. The package also includes unique 17-inch aluminum wheels finished in high-luster dark gray, and it's only available with a manual transmission. Our test vehicle was equipped with this package, and we were impressed with the handling and braking. The Subaru feels like a sports car, with perfect balance, rapid response, and just the right amount of visceral feedback. It's one of the best-handling cars available for its price.
Subaru is also building just 250 of the limited edition BRZ "Series.Gray" model. It's basically a loaded BRZ Limited with a six-speed manual transmission, the Performance Package, and a few exclusive visual upgrades. This model is painted Cool Gray Khaki and wears black 17-inch alloy wheels, black mirrors, and black badging. There are also some interior upgrades, including red stitching on the door trim. The base price is $31,025.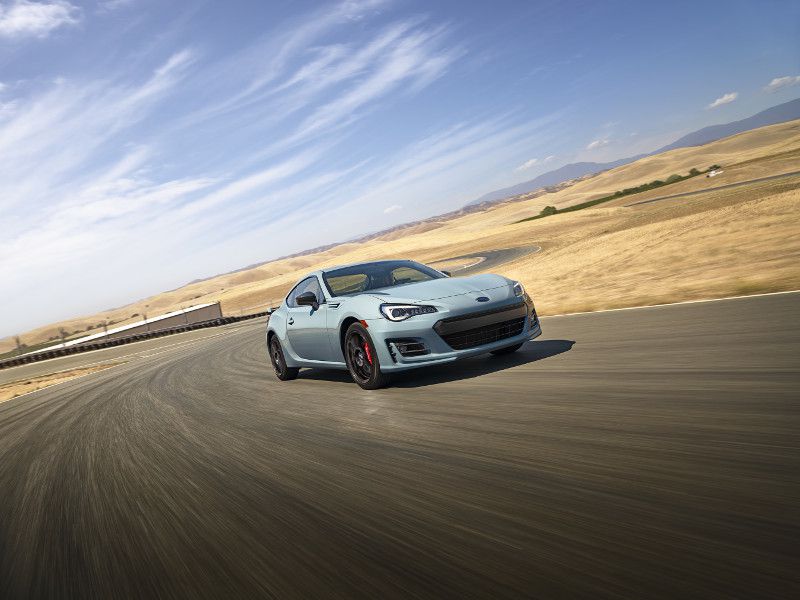 Photo by Subaru
Sporty But Comfortable Interior
You feel like you're in a sports car when you're driving the 2019 Subaru BRZ. The driving position is low, and the view out is all hood and swoopy front fenders. The A-pillars are thin, so visibility is good, and there's plenty of room for the driver and front passenger. The big surprise was the usability of the BRZ's tiny rear seat, which swallowed a couple of high schoolers.
The BRZ isn't fancy inside, but overall build quality is high, its firm, heavily bolstered front seats are comfortable, and its standard 7-inch touchscreen is large enough. Subaru placed the tachometer in the center of the gauge cluster just as Porsche does on the 911, which is very cool. Shifter and pedal placement are also perfect, and the BRZ's small-diameter leather-wrapped steering wheel feels good in your grasp. I also like the climate system's large knobs and toggle style switches, but the Subaru's digital clock and temp readouts suffer from Dated Graphics Syndrome. They reminded us of a clock radio from the 1980s.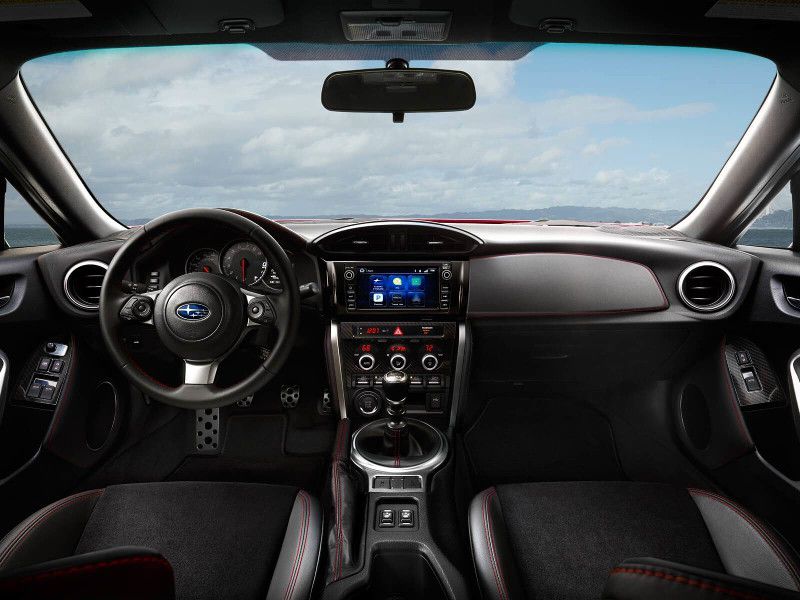 Photo by Subaru
Usable Storage and Cargo Space
More interior storage would be nice, but there's just enough inside the BRZ that we're not complaining. The Subaru's center console bin is large enough but open. A lid would improve things. The BRZ is also without door pockets, though there is a water bottle slot in each door and two cupholders behind the shifter.
With 6.9 cubic feet of space, the Subaru's trunk is also large enough to be useful. And the BRZ's rear seatback folds flat easily, opening a sizable pass-through, which expands the space considerably. Compared to a Mazda MX-5 Miata, the Subaru BRZ is basically a station wagon.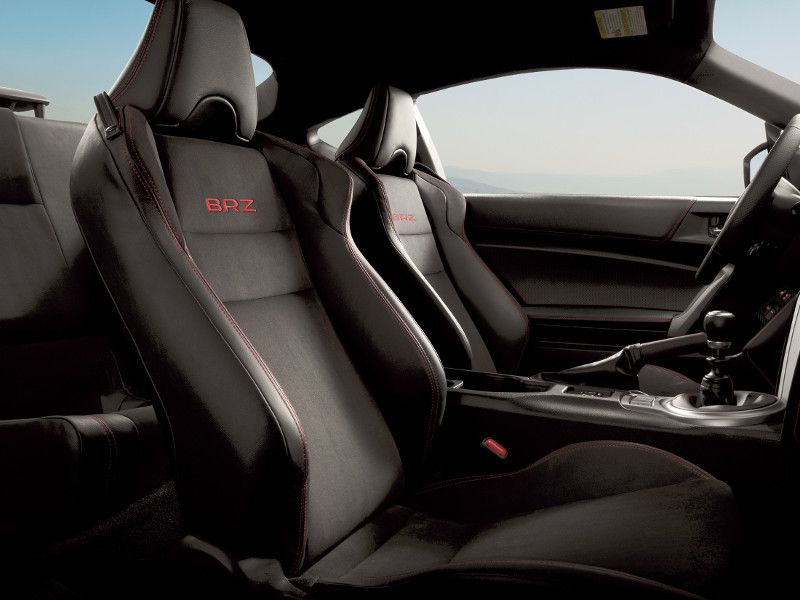 Photo by Subaru
Looks Just Like the Toyota 86
Despite years of a rumored convertible version of the sports car, Subaru only offers the BRZ as a closed coupe. If you're looking for a rear-wheel drive convertible in this class, shop the Mazda MX-5 Miata, Fiat 124 Spider, and Nissan 370Z.
Some may also take umbrage at the fact that the Subaru BRZ looks exactly like the Toyota 86, which is built on the same assembly line. Yes, some diehard enthusiasts can tell them apart, and yes, they wear different trim, wheels, bumpers, and lights. But to 99 percent of the general public, they are twinsies. Buyers should know that the two cars are also differentiated by their suspension tuning, and that Toyota offers the six-speed automatic transmission on the lower trim level while Subaru does not. Pricing is also slightly different, as the Subaru's base price undercuts the Toyota's by about $700.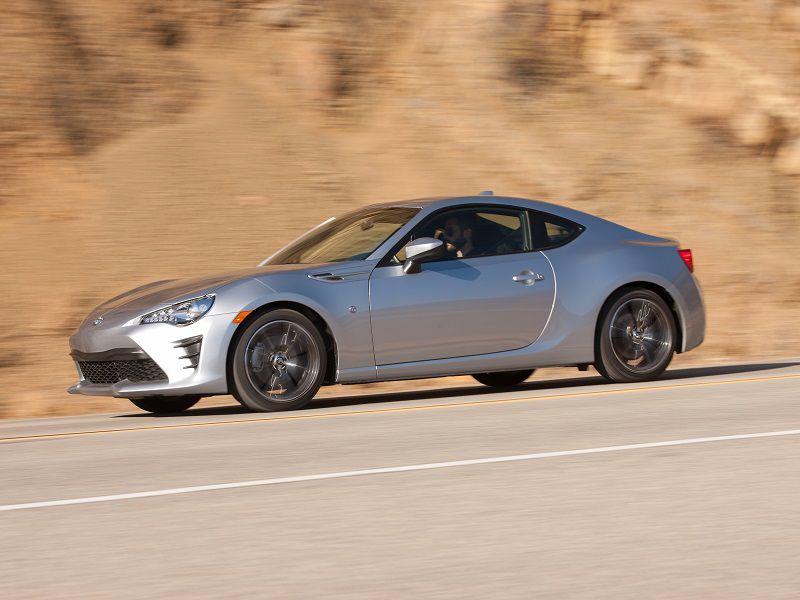 Photo by Toyota
Light and Fast
The 2019 Subaru BRZ only weighs about 2,800 lbs, which makes it one of the lightest cars available. To move that little amount of mass quickly, you don't need much horsepower, which is why the BRZ isn't powered by a big, snorting, gas-guzzling supercharged V8 with flame throwers and nitromethane injection. Instead, Subaru has engineered a naturally aspirated horizontally opposed four-cylinder with double-overhead cams and just 2.0 liters of displacement. It revs out to 7,500 rpm, and with 205 hp, it's considerably more powerful than the engines in the 181-hp Mazda MX-5 Miata and the 164-hp Fiat 124 Spider. The V6-powered Nissan 370Z is still the hot rod of this class, though, with 300 hp.
The engine is smooth enough for a car at this price point, and it provides ample low-end torque off the line. In fact, there's enough power to get the BRZ to 60 mph in just 6.2 seconds with the manual transmission and 7.7 seconds with the automatic. Either way, the Subaru is quick enough to be fun.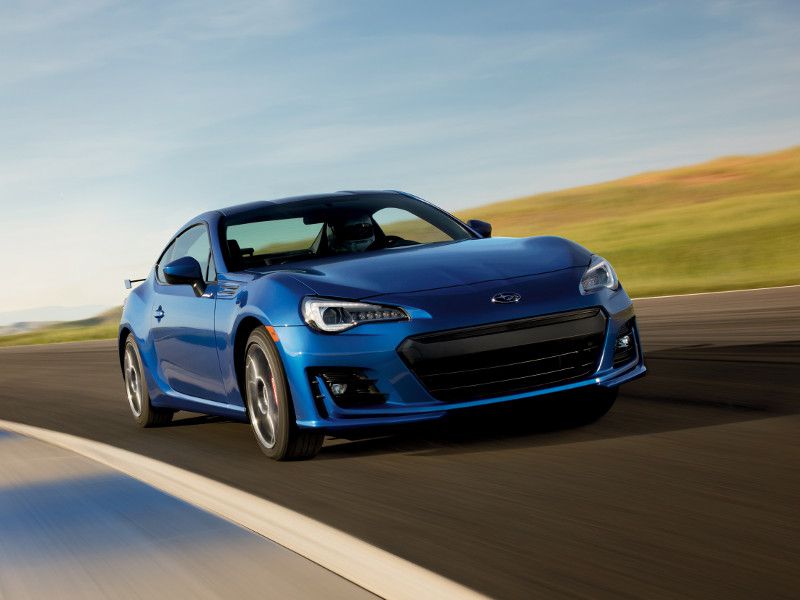 Photo by Subaru
Light Weight Also Improves Handling
The Subaru's unusually light weight doesn't just improve its acceleration, but it also betters the coupe's handling, braking, and ride quality. This is an easy car to drive very quickly. Few cars are this tossable, and even fewer feel this small, light, and responsive. A skilled driver can make this car go very fast on a tight and twisty mountain road, powersliding the rear-wheel drive coupe through the corners like the Drift King of Tokyo. Our test car's sticky summer tires certainly helped, but total grip is limited by their narrow width. Wider wheels and tires are a common aftermarket upgrade by BRZ owners.
Although we prefer the Subaru with the six-speed manual, the available six-speed automatic transmission is geared well and comes with paddle shifters for manual shifting. The BRZ's ride can be a little choppy on the highway and its interior isn't as quiet as we would like, but we road tripped the sports car anyway, taking it on a 350-mile day trip from Los Angeles to the Joshua Tree National Park. We enjoyed the drive and would do it again.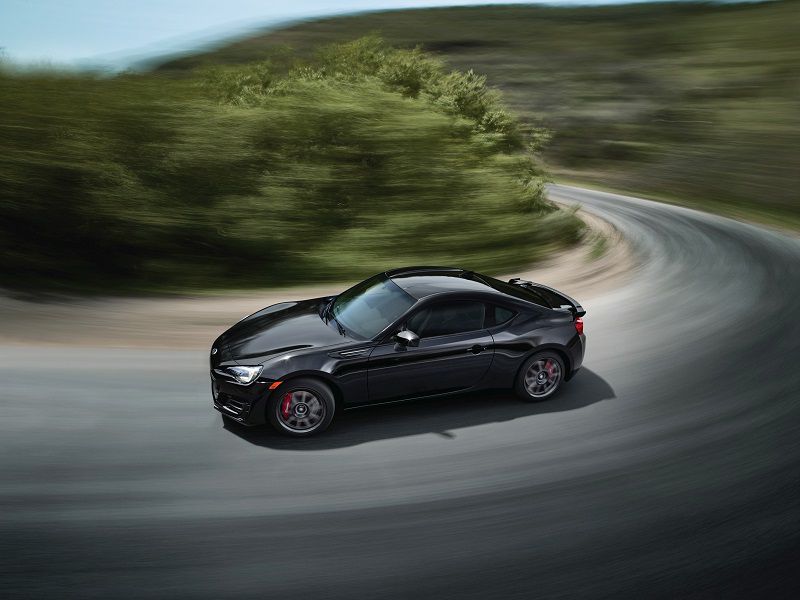 Photo by Subaru
Surprising Fuel Economy
Although few people buy a sports car for its fuel economy, the 2019 Subaru BRZ's fuel economy numbers are good for its class. With the six-speed manual transmission, the BRZ is rated by the EPA at 21 mpg in the city and 29 mpg on the highway. With the available automatic, those numbers jump to 24 mpg city and 33 mpg highway. For comparison, the Mazda MX-5 Miata is rated at 26 mpg city and 34 mpg highway with a manual transmission and 26 mpg city and 35 mpg highway with the automatic.
During a week in our manual-equipped BRZ test vehicle, we averaged 24 mpg in mixed driving. However, on our 350-mile road trip, which was predominately highway driving, we averaged 28 mpg. Unfortunately, its engine requires more expensive premium fuel.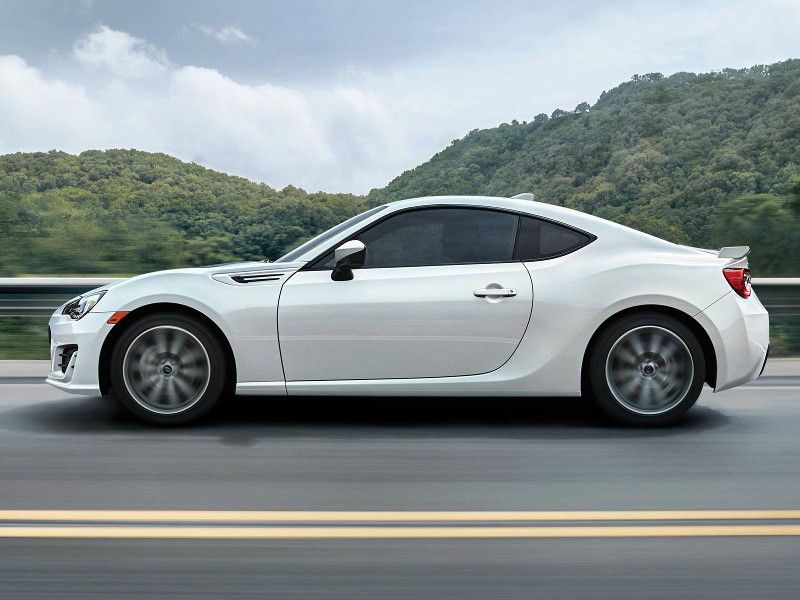 Photo by Subaru
Final Thoughts
Now in its seventh year on the market, the BRZ remains a favorite of young car enthusiasts with a desire to personalize their rides. Aftermarket parts for the BRZ, from larger wheels to radical body kits to lower suspensions to superchargers and turbo kits, are not only available but they're flying off the shelves.
We wouldn't mind a little more horsepower, but the BRZ doesn't really need it. It performs extremely well just the way it is, and it's comfortable enough to be driven every day. Subaru has always offered vehicles with considerable bang for the buck, and the BRZ is one of the coolest and best-performing cars you can buy for less than $30,000. If you're looking for a sexy fun-to-drive coupe, the 2019 Subaru BRZ is a very desirable overall choice.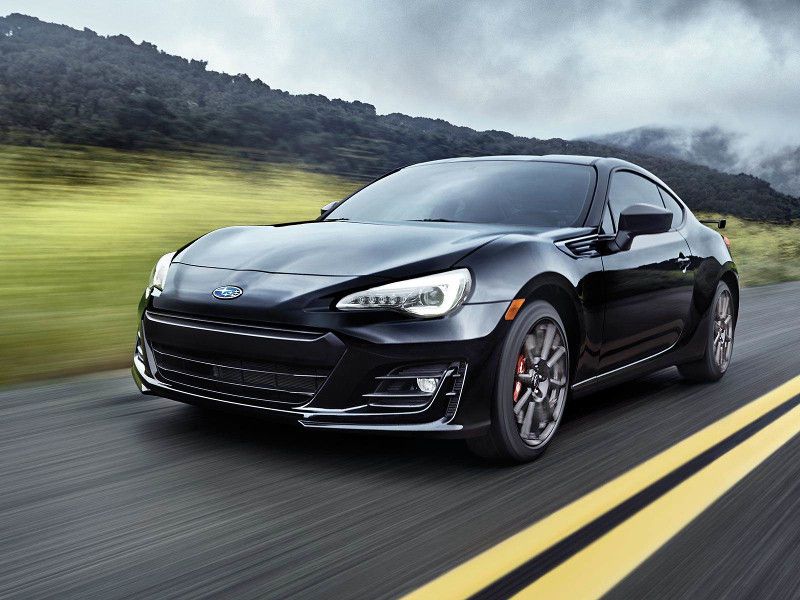 Photo by Subaru