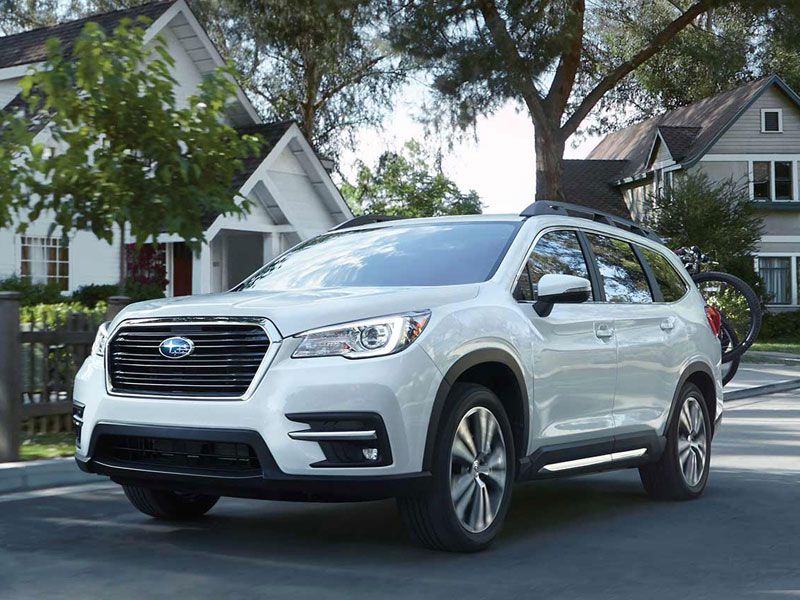 2019 Subaru Ascent exterior hero ・ Photo by Subaru
It hasn't been long since we drove the all-new 2019 Subaru Ascent through Oregon on an extended test drive, but the "oohs" and "ahs" pouring in over our social media posts haven't stopped coming. If this early enthusiasm sparked by a just an Instagram snap or two is any indication of this 3-row SUV's future success, the Subi Ascent is guaranteed to be a smash hit. With ample space, competitive pricing, and that beloved Subaru nameplate, we get it. The Ascent is a compelling new choice for families, active types, and anyone else who wants a bigger Subaru.
Read on to learn about all the ways the brand is aimed to please with the all-new Ascent.
Family-Ready
Subaru isn't shy about saying that it made the Ascent for families. With so many loyal customers outgrowing their five-passenger Outback wagons and Forester crossovers, the Ascent is the perfect vehicle to slip into when the family starts expanding.
The designers thought of nearly everything — easy access to a sizeable third-row seat, lightweight doors that open nice and wide up to 75-degrees (a godsend, especially when you're trying to load in bulky infant carrier seats), and even some neat little handles placed on the top of the seats to help you pull into the third row. There are amenities galore for all passengers with 19 — yes, 19! — cup/bottle holders and USB outlets in all three rows. The whole vehicle just feels airy and open and, most importantly, durable enough to stand up to the literal ins and outs of family life in the car.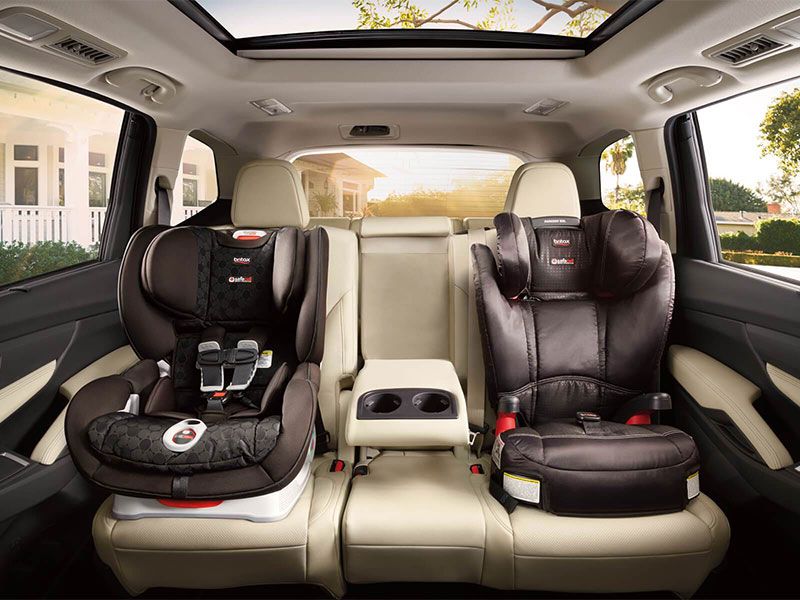 Photo by Subaru
It's just like the Subarus we know and love — only bigger.
Folks at Subaru says they listened to their customers when designing the new Ascent and strived to make a vehicle that was instantly recognizable as both a three-row SUV and a Subaru. They succeeded. Surprisingly, the Ascent looks like both the Outback and Forester, yet somehow still manages to look like a proper large SUV that fits right into its segment.
One thing is for sure: It's attractive — it's not just a bigger and more bloated version of it's smaller Subie siblings, but rather has classic and timeless exterior styling that should stand up to the test of time. Slap a Thule roof cargo carrier on top and you're unmistakably a Subaru on the road, no matter how much bigger your new Ascent is.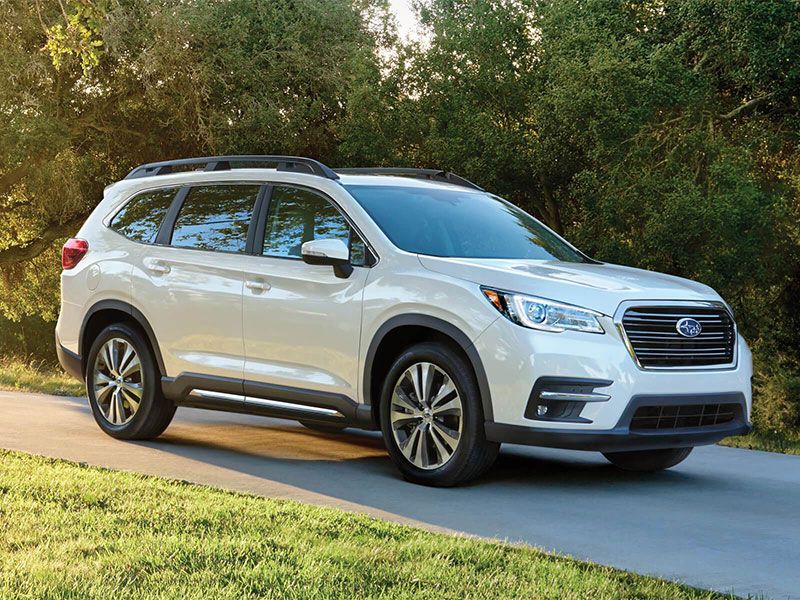 Photo by Subaru
Interior
What we love most about the Ascent's interior is its simplicity. Aside from the aesthetic, which is very clean and modern, this new suv doesn't mimic the cockpit of some SUVs with an obnoxious number of buttons and dials. There's no mouse, touchpad, or other confusing infotainment technology, just a simple touchscreen with additional knobs for volume and radio tuning. There's also plenty of storage — a large center console bin under the armrest up front and extra space under the cargo area floor in the back.
Seating is available for either seven or eight passengers, and unlike most competitors, you don't have to pay an extra charge for captain's chairs in the second row. And the third row is quite roomy and can definitely accommodate adults.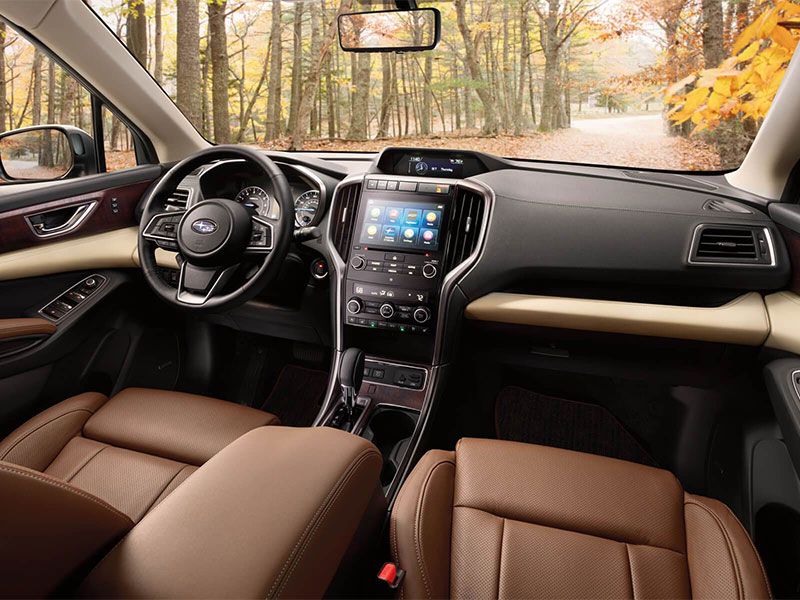 Photo by Subaru
On the Road
While it's evident that passengers will be comfortable and content in the Ascent, the experience behind the wheel is just as pleasant. Through our extended test drive in Oregon, we found the Ascent to be road-trip-ready. It was quiet on the road, smooth down the highways, and sure-footed through the corners. Don't be skeptical of its four-cylinder turbocharged engine; it's got enough pep for everyday driving and doesn't feel underpowered. Sure, other competitors may have a bit more power, but the Ascent has plenty for what it was built to do, and that's transporting people in everyday life and on vacations — not burning rubber on the racetrack. Also notable (but like most Subarus), the Ascent comes standard with all-wheel drive. 
We also had a chance to test the Ascent's towing prowess with an Airstream trailer, and it didn't strain even as we sashayed through a curvy, cone-lined course. All models but the base level can tow up to 5,000 lbs. This towing capacity further enables what you should be doing with your Ascent — adventuring.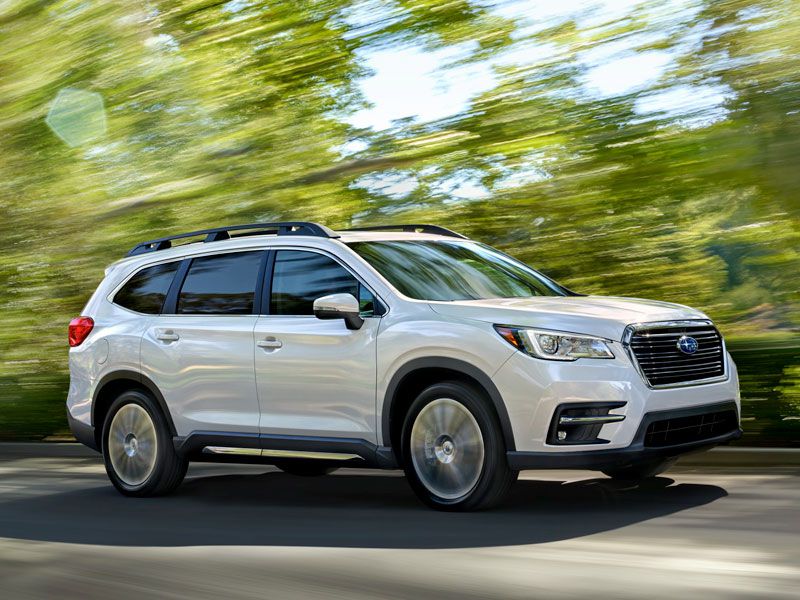 Photo by Subaru
Technology
Subaru is known for many things, but the tech inside its vehicles has never been the big story. However, the company has changed its tune with the Ascent. It boasts a large 8-inch touchscreen (or a 6.5-inch unit on the base model) and is the first vehicle in its lineup to offer a Wi-Fi hotspot. The streaming possibilities are endless inside the car for all passengers and their mobile devices.
Also enhanced is the Subaru Starlink system, which offers several in-car apps and smartphone integration via Apple CarPlay and Android Auto. The Subaru Starlink Connected Services provide convenient functions like remote engine start, a concierge service, and an anti-theft vehicle immobilizer.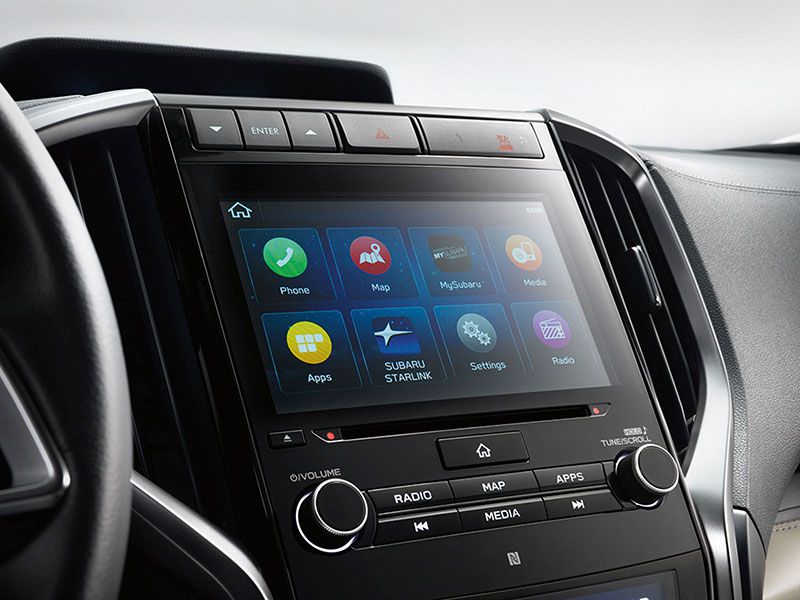 Photo by Subaru
Safety
Subaru has made a big commitment to safety by offering its EyeSight suite of driver assistance technology as standard equipment. The system includes automatic pre-collision braking, adaptive cruise control, and lane departure warnings, though plenty of airbags stand ready to protect your family if a collision is unavoidable. Also, Subaru's Starlink system offers an additional Safety Plus package that includes SOS emergency assistance, roadside assistance, and automatic collision notifications. And to keep the teenagers even safer when you're not in the car with them, Starlink Safety Plus offers geofencing (which prevents your vehicle from leaving boundaries you're able to set when the kids borrow the car), speed alerts, and even a curfew enforcer.
One of the newest features to debut in the Ascent is its rear camera mirror. It's especially helpful when people or gear inside the cabin obstruct the view behind you. However, you'll need to upgrade all the way to the top Touring model to get this feature. Blind-spot monitoring is an extra-cost add-on that is available on models but the base. We think it should be mandatory.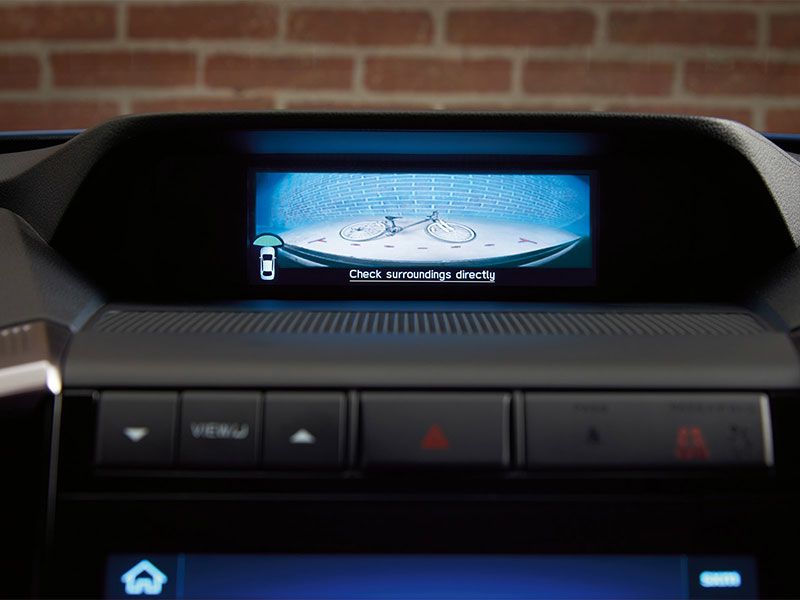 Photo by Subaru
Models and Pricing
The Ascent offers buyers a choice of four trim levels. The base model starts at $31,995 and comes with standard equipment such as all-wheel drive, and Subaru's robust safety suite, EyeSight driver assist technology, and Starlink multimedia system with smartphone integration. There is also seating for eight on bench seats in the second and third rows. The Premium model starts at $34,195 and adds the option of captain's chairs or a bench seat in the second row. You also get Wi-Fi hotspot connectivity, 5,000 lbs of towing capacity, rear climate controls, and heated front seats. The Limited model starts at $38,995 and adds leather upholstery, keyless access with push-button start, a power rear liftgate, heated second-row seats, and 20-inch wheels.
Finally, at the top of the lineup is the Touring model, which starts at $44,695. This trim is instantly recognizable with chrome side-view mirrors and door handles. It also comes with the rear camera mirror and a 180-degree front-view camera. Other luxuries include a premium Harman Kardon Quantum Logic surround sound system with 14 speakers, a panoramic power moonroof, and rain-sensing windshield wipers.
Photo by Subaru
Ascent vs. the Competition
Competition is fierce when it comes to three-row SUVs, as every single mainstream car brand now has at least one to offer. However, one major component that the Ascent has over its competition is that all-wheel drive is a standard feature, whereas most three-row crossovers require an upgrade to get it. Currently, we think the Ascent's biggest rival is the Volkswagen Atlas, also new to the market and very handsome and well-equipped; along with the reigning Japanese leaders of the segment, the Toyota Highlander and Honda Pilot. The top domestic competitors would be the Ford Explorer and the Chevrolet Traverse.
On paper, the Ascent has the highest base price after the Ford Explorer. However, as we previously mentioned, that base price includes all-wheel drive and the EyeSight safety technology suite. The Ascent has more horsepower than the Atlas and Highlander, but less than the Pilot. Meanwhile, it runs in the middle of this very large pack when it comes to fuel economy, cargo space, and towing capacity.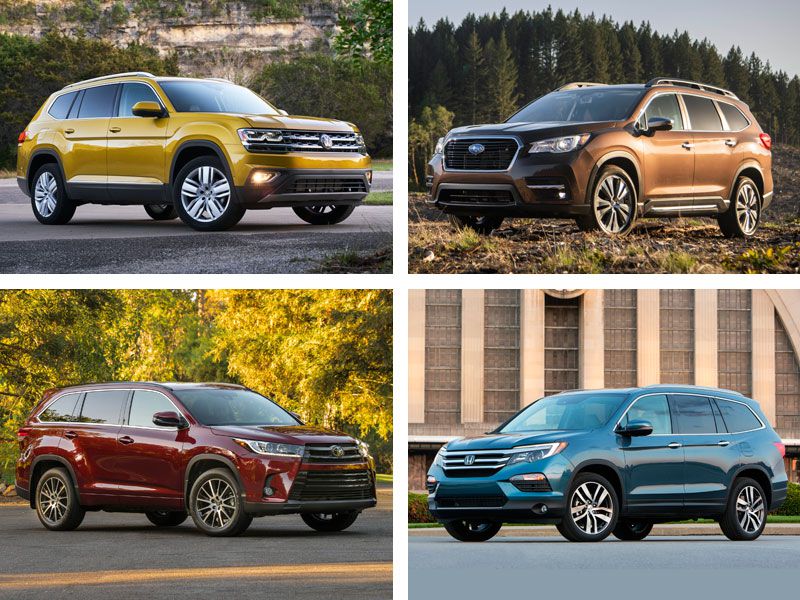 Final Thoughts
From the moment our test drive began, we knew the Ascent would be on our short list of three-row SUV recommendations. So much thought went into so many facets of the vehicle, and it shows. The quiet, serene cabin is simple and accessible, but it's also sturdy and durable to hold up to whatever gets thrown its way. The exterior design is attractive with classic Subaru styling that will never go out of style. And with all the standard safety equipment and off-road capability, the Ascent should be able to accompany you and your family wherever you choose to go.
The 2019 Subaru Ascent is a solid choice for anyone looking for a three-row SUV.
Photo by Subaru