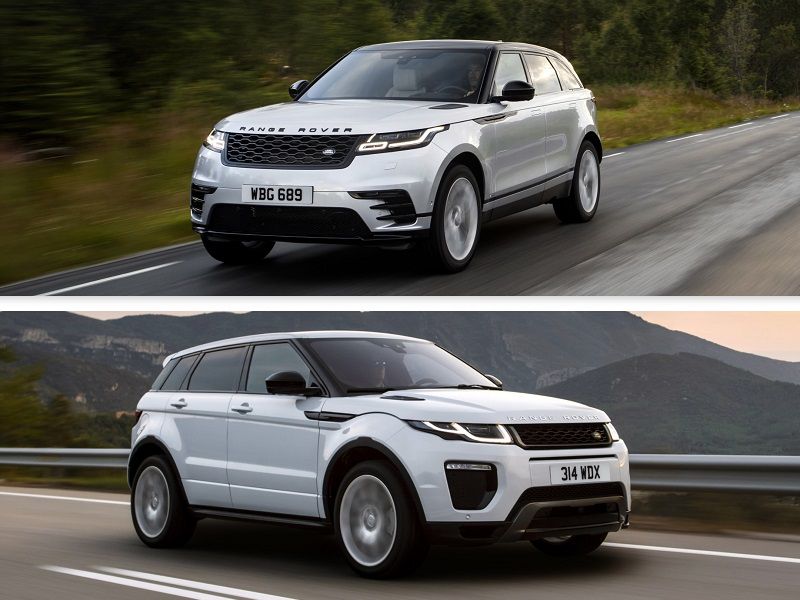 2019 Range Rover Velar Range Rover Evoque ・ Photo by Land Rover
Choosing between the 2019 Range Rover Velar and the 2019 Range Rover Evoque is not a straightforward decision. Naturally, a lot of this depends on who "you" are and what your tastes are like in regard to luxury SUV/crossovers. But there are several objective factors we can explore that might help swing things one way or the other.
Firstly, the Velar is bigger than the Evoque, which is essentially a compact SUV/crossover, while the Evoque is more subcompact (although they're both large for their respective classes). It's also much newer, having debuted for the 2018 model year, while the Evoque has been around since 2012, receiving an update for 2016. As for the other aspects, read on as we break it all down.
Pricing
There's quite a bit of overlap between these two models' prices. Someone looking at a mid-to-high-level Evoque could afford a Velar instead. The 2019 Land Rover Range Rover Velar starts at $50,595 (including $995 destination charges). That's for the base model with a 247-horsepower engine. At the other end of the spectrum is the R-Dynamic HSE (with a 380-hp supercharged V6 as standard) from $74,995.
The 2019 Land Rover Range Rover Evoque (we'll use their full names this once, not to be pedantic but to be technically correct) starts at $42,795 in the SE trim. The lineup embraces ever-increasing degrees of luxury, reaching a pinnacle with the Autobiography trim at $63,595.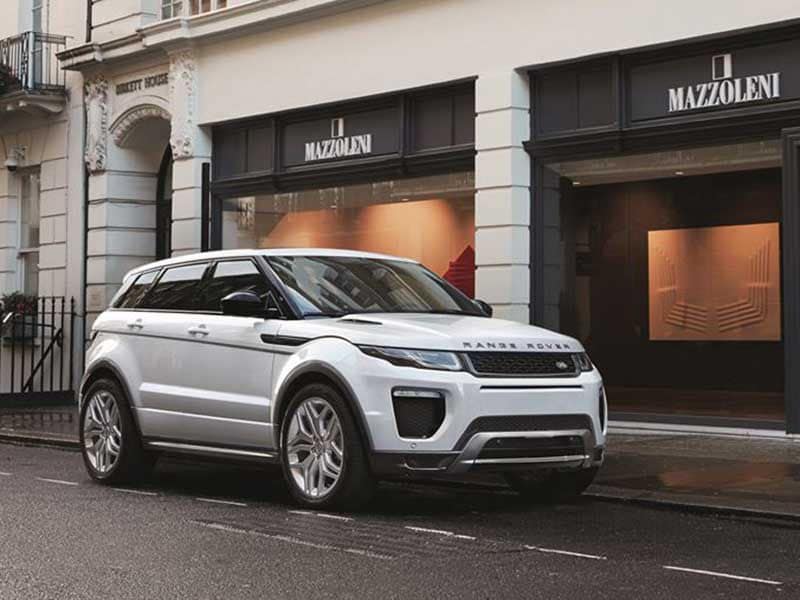 Photo by Land Rover
Standard Equipment
Since these models come from Land Rover, both have all-wheel drive as standard. We'll go into engines and transmissions later and concentrate here on the more interesting stuff. The base Velar is already well-equipped. It comes with a pair of 10-inch touchscreens, navigation, a 360-degree camera system, parking sensors in the front and rear, a hands-free powered tailgate, lane-keeping assistance, and 10-way power-adjustable front seats.
The entry-level Evoque is not quite so well stocked, but it includes 12-way power-adjustable front seats, leather upholstery, parking sensors, dual-zone automatic climate control, navigation, a 360-degree camera system, and an 8-inch touchscreen. At these prices, though, neither contender could be considered a bargain.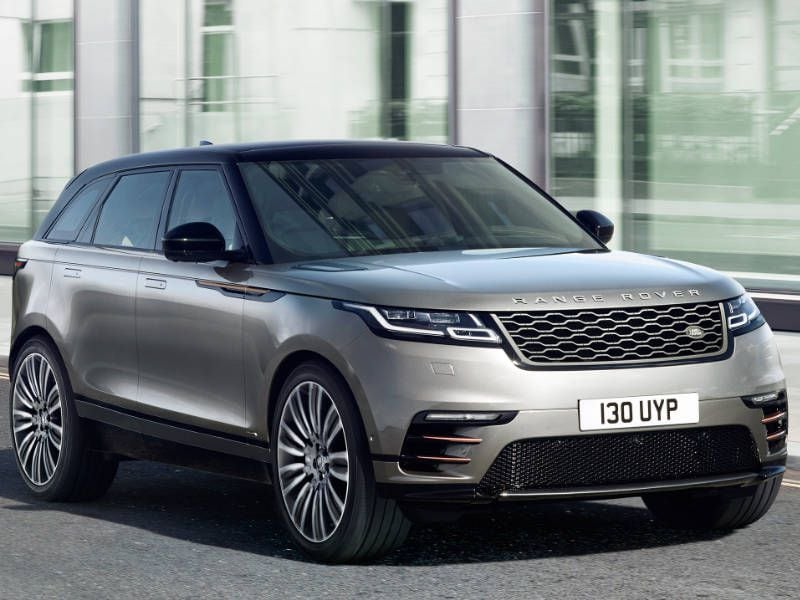 Photo by Land Rover
Options
Companies tend to make buyers climb the trim-level mountain to obtain more equipment, but there are some extras available in the lower models. The Velar, for example, offers a panoramic sunroof, an off-road package with a more sophisticated all-wheel drive system, quad-zone climate control, massaging seats, and satellite radio. It wouldn't be unreasonable to expect the high-dollar Evoque Autobiography version to have everything as standard, but adaptive cruise control with a head-up display is a pricey ($3,470) optional package.
Both models are eligible for sound system upgrades. Land Rover's brand of choice is Meridian, which tends to go down well with audiophiles. And both candidates offer some different engine choices as well.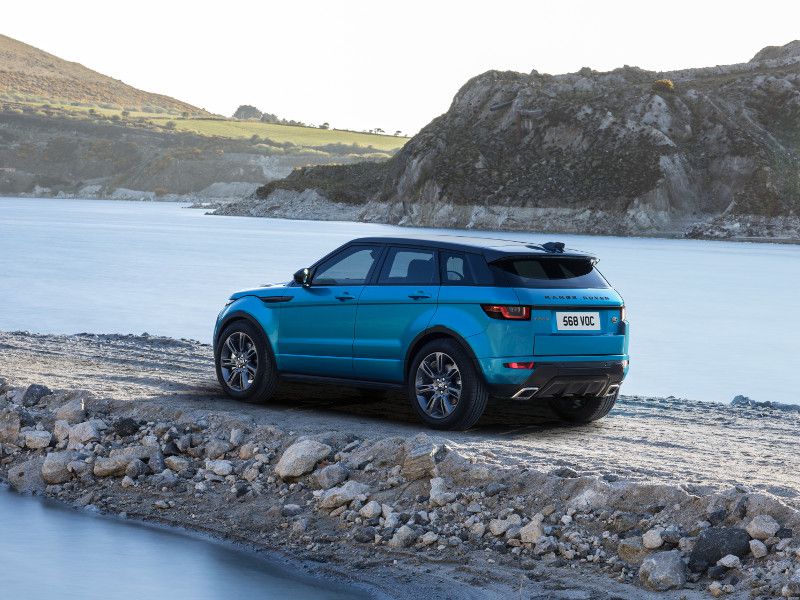 Photo by Land Rover
Exterior Design
The Velar and Evoque each signal Land Rover's desire to appeal to a broader audience than just the exceptionally well-heeled crowd that buy the original Range Rover full-size luxury suv. The Velar looks a little like a "baby Range Rover" with lines that are more conventional than its Evoque cousin. They're still extremely pleasant lines, though.
It's the unconventional that's the point of the Evoque. It's a style statement, meant to be seen by as many people as possible. That's why it's considered more of a city runabout than something destined for the wilderness. However, the Evoque is getting relatively old, while the fresh Velar heralds the new direction that will guide the designs of successive Range Rover vehicles.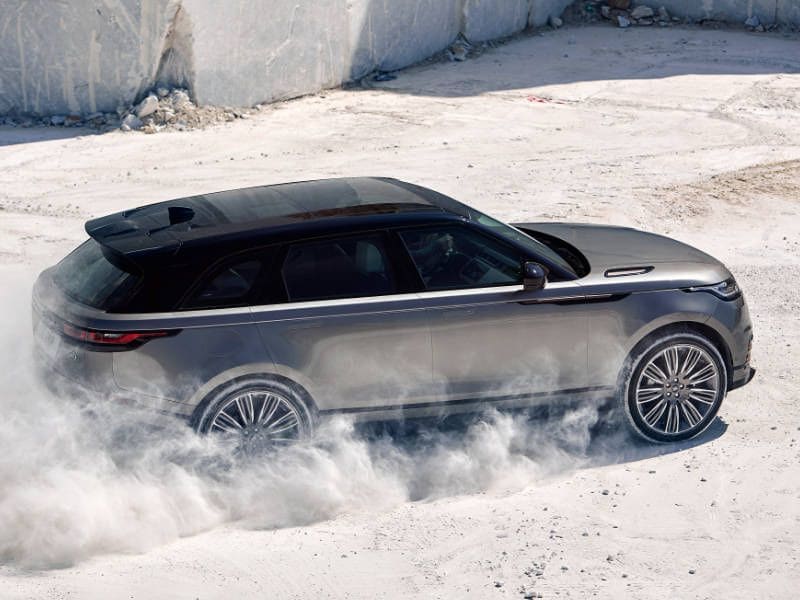 Photo by Land Rover
Interior Design
The cabin of any Range Rover is a prime example of modern luxury. Like its exterior, the Velar's interior signposts how future Range Rover cabins will look. There's plenty of high-class materials, fine leather, and attention to detail. Two touchscreens mean the cabin needs fewer buttons, helping to keep things tidy. Rear legroom is a more-than-adequate 37.2 inches. Cargo space behind the backseat measures a generous 34.4 cubic feet, expanding to 70.1 when it's folded.
Although it still has luxury touches and a good-looking dashboard, things are tighter in the Evoque — for those not in the front seats. There's 34.8 inches of rear legroom (still more than the competing Audi Q3 and Mercedes-Benz GLA-Class), while cargo space is 20.3 cubic feet behind the rear seat and 51 cubic feet behind the front seats.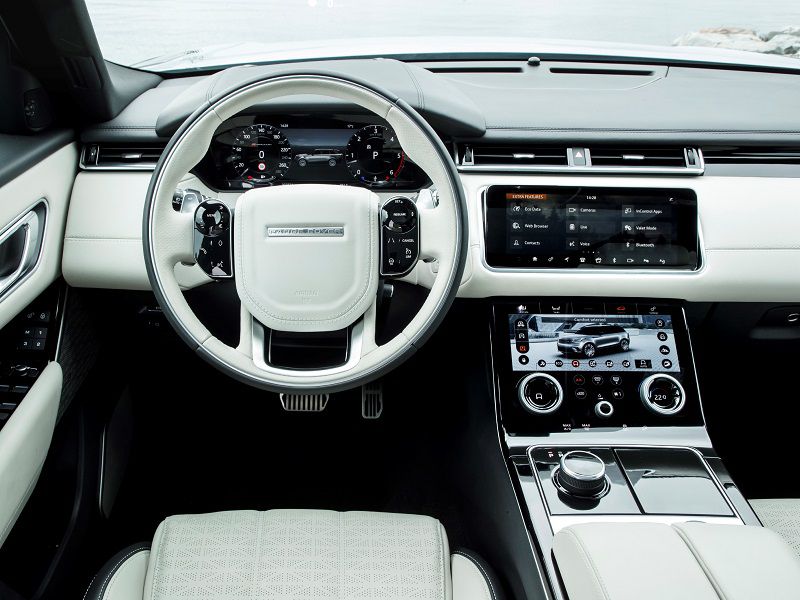 Photo by Land Rover
Engines and Transmissions
The Velar starts with a turbocharged 2.0-liter four-cylinder engine developing 247 hp and 269 lb-ft of torque. At the S trim level, an optional diesel-sipping 180-hp turbo four raises torque to a gutsier 317 lb-ft. Or a supercharged 3.0-liter V6 is also available, generating 380 hp and 332 lb-ft. Every Velar uses an eight-speed automatic transmission.
Except for the top two trims, the Evoque's only engine is a turbocharged 2.0-liter four-cylinder unit making 237 hp and 251 lb-ft of torque. The top two trims may also be specced with a 286-hp engine producing 296 lb-ft of torque. Range Rover deploys a nine-speed automatic transmission in the Evoque.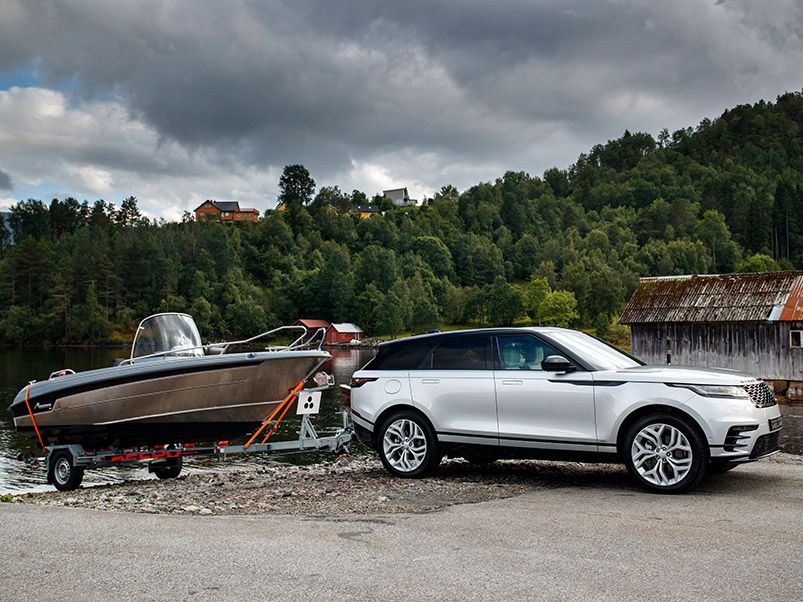 Photo by Land Rover
Fuel Economy
The Environmental Protection Agency's estimates for the 2019 Velar with the basic engine are 21 mpg in the city, 27 mpg on the highway, and 23 mpg combined. The diesel achieves 26 mpg city/30 mpg highway/28 mpg combined, while the V6 is naturally thirstier at 18/24/20 mpg. Meanwhile, the 237-hp engine in the 2019 Evoque returns 22/29/25 mpg; the 286-hp version manages 21/29/24 mpg.
Chances are most buyers at this luxury level are not overly concerned about their fuel bills. Even someone considering the diesel-powered Velar is probably thinking more about the punch from that engine's extra torque, although anyone who does a lot of freeway driving won't have to visit the pumps quite so often.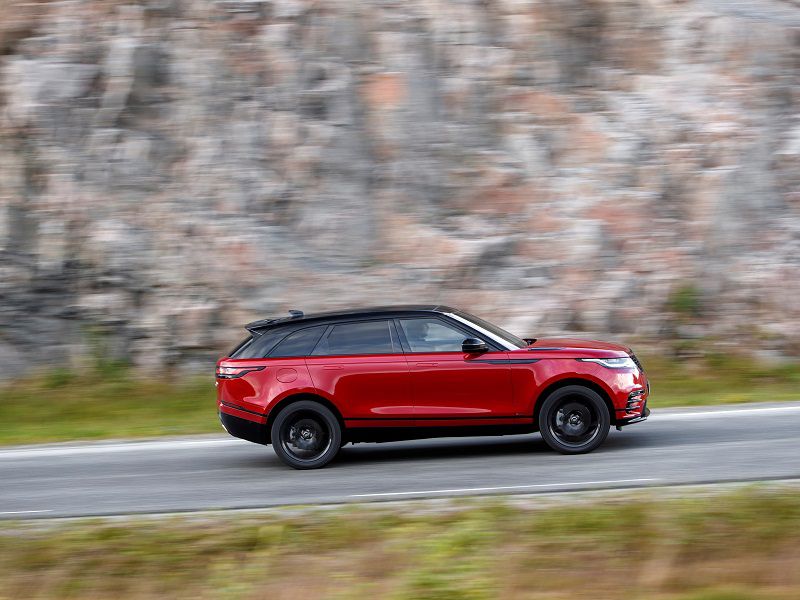 Photo by Land Rover
Performance
Outright speed isn't so important in an SUV/crossover. As long as it can achieve freeway speeds with zero drama and cruise at them all day, most buyers should be happy. Both the Velar and the Evoque can do that.
Torque, the rate at which a vehicle gets moving, is the crucial aspect, especially off-road, but also in city traffic where gaps are few and hotly contested. The Evoque has an advantage of being smaller and therefore lighter than the Velar, so its comparative energy deficit isn't such an issue. Once we get to the Velar's supercharged V6, though, we're into a whole other level of power, one that's appropriate to a luxury vehicle and hard to live without once you've become accustomed.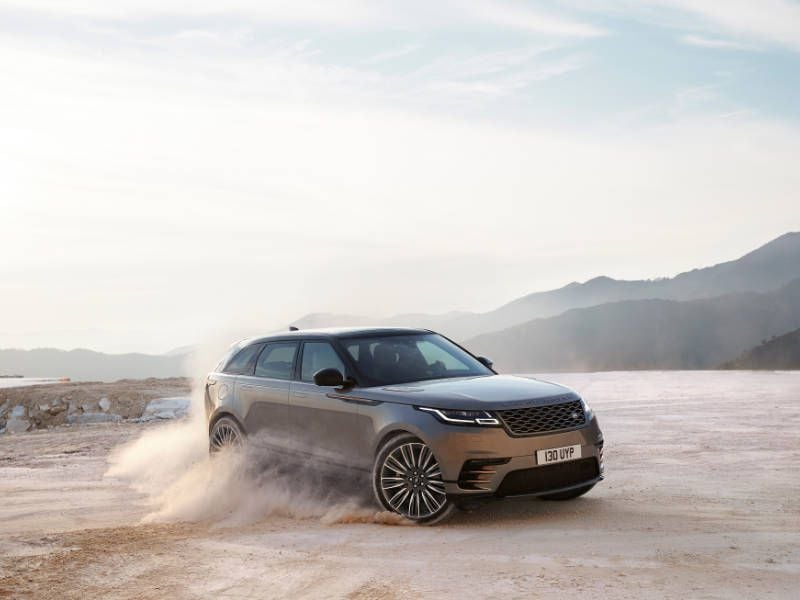 Photo by Land Rover
Ride and Handling
The V6-powered Velar has an adaptive air suspension as standard. This is cool. It can be set for extreme comfort, better control through corners, and even a higher ride height should a Velar driver actually stray from the tarmac. The non-V6 Velars, meanwhile, emphasize comfort. Note that the Velar's excellence doesn't make the Evoque unimpressive by comparison. Although it only has regular springs and shock absorbers, they've been tuned to attempt that difficult balance of pliancy and precision. But the short wheelbase has a detrimental effect.
Despite their urban/suburban appeal, the Velar and Evoque have some off-roading talents, thanks to a wealth of Land Rover expertise. That muddy field used as a parking lot for the polo tournament should hold no terrors.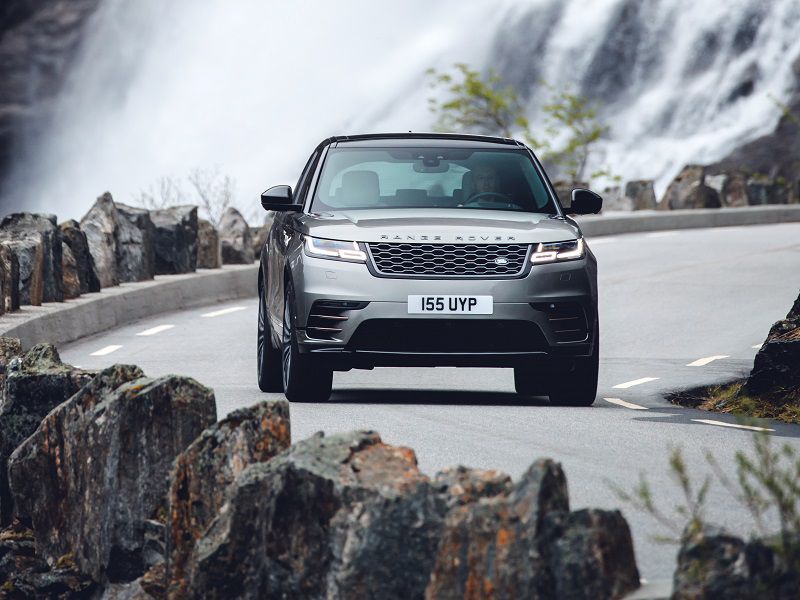 Photo by Land Rover
Which is for you?
The final decision will probably come down to size. The Velar is more spacious. City dwellers will find the smaller Evoque easier to live with and certainly easier to park. Critics have griped about the infotainment systems in Land Rovers, finding them not particularly user-friendly, but the good news is that Apple CarPlay and Android Auto smartphone integration is now available. This information can't help anyone choose between the two, but it's still good to know.
The way vehicle generations are growing ever shorter, a new model of Evoque shouldn't be far off — perhaps for the 2020 model year. If we had the budget, we'd probably choose the Velar right now, because it's newer and offers fresher technology.
Photo by Land Rover