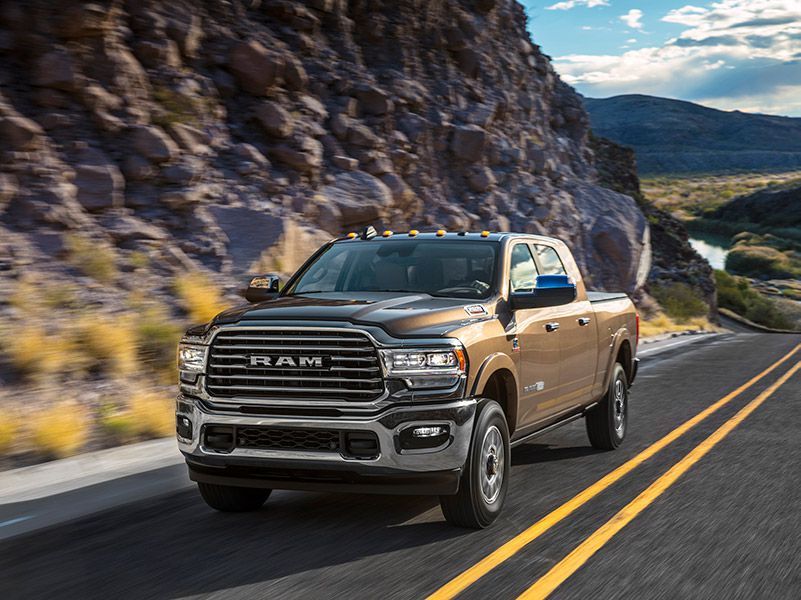 2019 Ram 2500 hero ・ Photo by Fiat Chrysler Automobiles
The heavy-duty truck market is fundamentally different from light (half-ton) trucks. Where light trucks are frequently purchased as daily transportation as well as for recreational uses, a heavy-duty pickup is more often purchased for business use. This means that the features and specs of heavy trucks are generally more oriented towards towing and hauling, with comparatively less emphasis placed on luxury.
The 2019 Ram 2500 HD and 3500 HD trucks could change all that. Sure, they're equipped with powerful engines and utterly bulletproof transmissions designed to tow up to 35,100 pounds, but the latest generation Ram also includes top-tier luxury, an insanely quiet cabin, and all the advanced safety and connectivity tech you can find in any luxury car. And the best part of the new Ram HD line is that it barely costs more than the 2019 Ram 1500 half-ton at the low end, so if you're shopping for a personal truck but you have professional-level power needs, this truck is a great choice. Read on to find out why.
Impressive V8 Engine
The 2019 Ram HD line comes with three different engines. You can choose from the base 6.4-liter Hemi V8 engine or either of two diesel options. The diesels cost a pretty penny above the gas engine, so we'll look at the V8 first. This engine is a righteous truck power plant, not a penalty box designed to upsell you on the diesel.
The Hemi comes with 410 horsepower and 429 pound-feet of torque. This engine is paired with the TorqueFlite eight-speed automatic transmission and your choice of rear-wheel drive or four-wheel drive. If you choose the latter, you'll get either an electronic or manual-shifted Borg-Warner transfer case, depending on the trim level.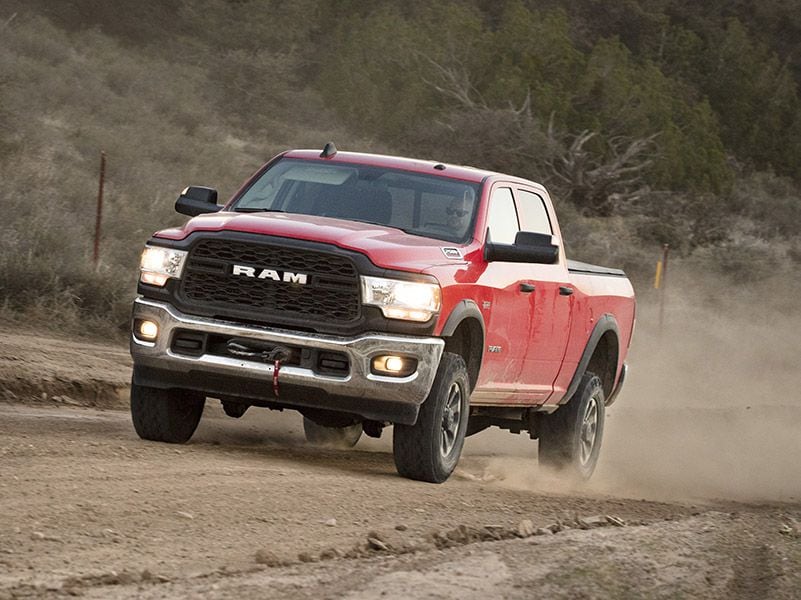 Photo by Fiat Chrysler Automobiles
Double Diesel Options
There are two diesel engine options for the Ram HD. The first is the traditional 6.7-liter Cummins inline six-cylinder turbodiesel. This engine has been boosted to provide 850 pound-feet of torque and 370 horsepower. This engine is paired with a six-speed automatic transmission and your choice of rear-wheel or four-wheel drive. This engine costs $9,100 to add on at any trim level.
The new engine that will have everyone talking is the revised 6.7-liter High Output Cummins with 1,000 pound-feet of torque and 400 horsepower. This engine uses a new compacted graphite iron engine block that is both lighter and stronger than the older diesel. Just about every internal engine component was redesigned as well, enabling Ram to raise the maximum boost level to 33 psi. This engine is paired with a new Aisin six-speed automatic transmission with rear-wheel or four-wheel drive. If you want this package, it'll cost you $11,795 on top of the basic trim price of your truck.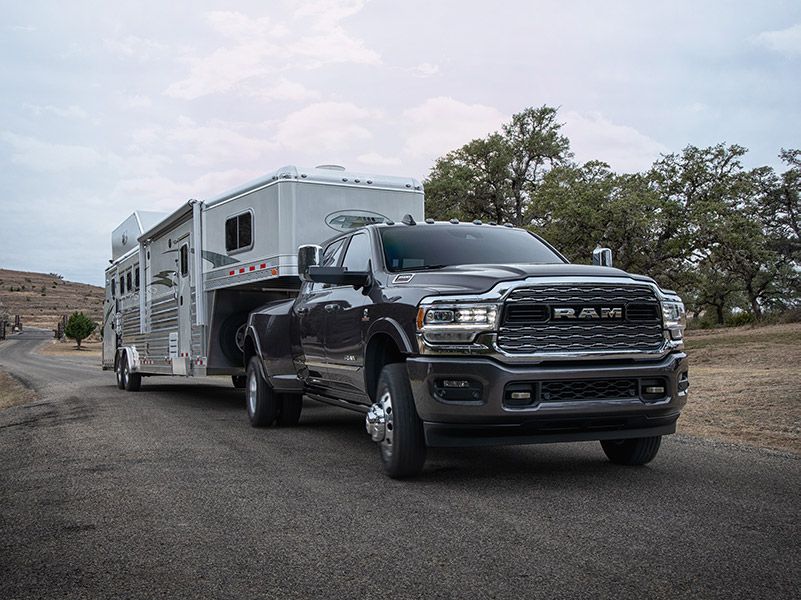 Photo by Fiat Chrysler Automobiles
Big, Bigger, Biggest
The Ram HD comes with three styles of cab. There's a basic two-door regular cab, which seats up to three people across the 40/20/40 split bench seat with an innovative fold-up center console. If you flip the seatbacks forward, you find storage bins behind them. The regular cab is standard on the base Tradesman and the Big Horn or Lone Star trims.
There's also a crew cab option, which offers seating for five or six passengers depending on whether you get the front bench seat or bucket seats. There are storage bins in the floor on either side of the back seat. This cab configuration is optional on the three basic trims and standard on all higher trims. Lastly, if you want the biggest cab in the industry, the MegaCab is optional on all trims except Tradesman and Power Wagon. This cab adds more space for the second row, enabling the rear seats to recline up to 15 degrees. The MegaCab rear seat offers nearly 41 inches of legroom for passenger comfort and class-exclusive forward-fold-flat seats if you want to haul cargo.
Photo by Fiat Chrysler Automobiles
The Trim Walk
There are seven different trim levels for the 2019 Ram HD line. At the affordable end is the basic Tradesman with vinyl or cloth seats and vinyl floor mats. This truck starts at $33,395 and comes with a bench seat, V8 engine, 2,500-pound payload, and a Class V trailering setup. The Big Horn or Lone Star trims add a few features, and carry a sticker price of $37,645. You'll enjoy features like the electronic-shift 4X4 system if you bought the 4X4 option, plus an integrated trailer brake controller.
At the top end of the trim walk, you'll find the Laramie, Laramie Longhorn, and Limited trucks. These trucks will change the way you think about heavy duty. They start at $49,100 for the Laramie trim, and range all the way up to $67,050 for the 3500 4X4 MegaCab Limited. This range is where you'll find leather, the best dashboard tech, and both front and rear parking assistance.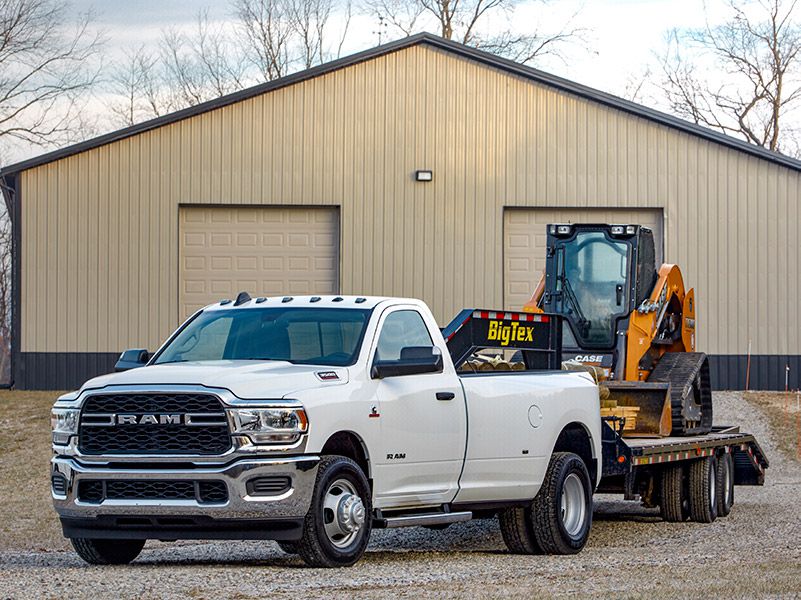 Photo by Fiat Chrysler Automobiles
The Power Wagon
One trim that deserves its own page is the Power Wagon. This package is available as a standalone trim level or an option package available on the Tradesman 4X4 trim. The Power Wagon pack adds the off-road equipment to the Tradesman interior and exterior.
The Power Wagon trim is available only on the 2500 series, and it includes upgraded suspension, a factory lift, locking front and rear differentials, disconnecting sway bar and a 12,000-pound Warn winch with a new synthetic line that's easier to use than a cable. The Power Wagon also includes a 360-degree surround camera system that can be activated for off-road navigation.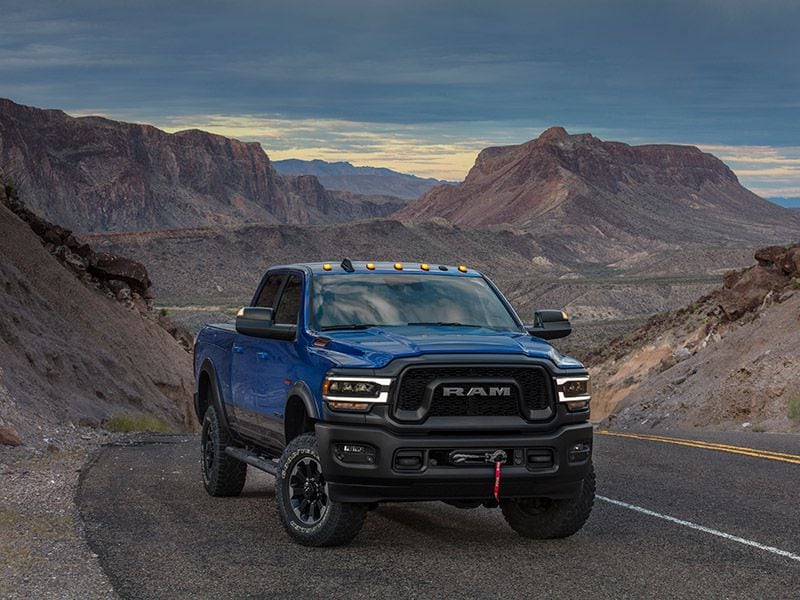 Photo by Fiat Chrysler Automobiles
A Good Looking Truck
The new Ram HD is generally good-looking, following the trend of exceedingly masculine designs that is common in today's market. Yet the Ram doesn't overdo it or try to look like a military vehicle. Ram got the proportions and the stance right on every model.
The Ram HD looks like a truck, and if you like trucks, you'll find the HD to be attractive in every trim from the basic work truck in white to the top of the line dually 3500 with a MegaCab. The Ram HD is built for specific purposes, and it's clear that Ram let those purposes guide the design, rather than trying to look imposing for no particular reason.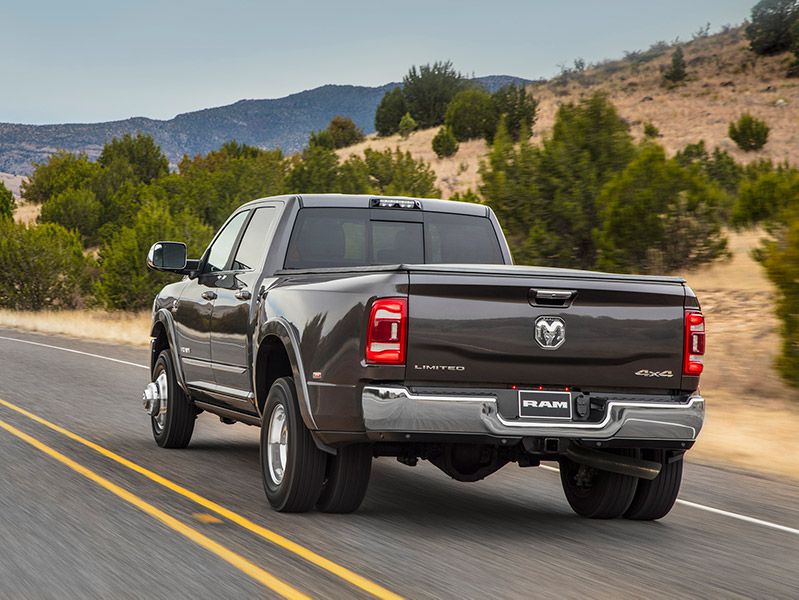 Photo by Fiat Chrysler Automobiles
Quiet Luxury Cabin
If you gravitate towards the higher trim levels, and many buyers will do so, you'll find the Ram HD line to be exceptionally comfortable. Not only is there a lot of room in every cab style, but you can spiff up the interior with every advanced feature. Ram doesn't put a whole lot into the basic trim levels. Rather, it lets you pick and choose how to configure your truck from the option lists.
One thing to mention is the active noise cancellation system present on every Ram HD. More than any other individual feature, this brings a sense of luxury and quality to the truck. Ram engineers worked to make all the engines quieter, but you'll notice it most on the diesels. It's quiet inside the new Ram HD.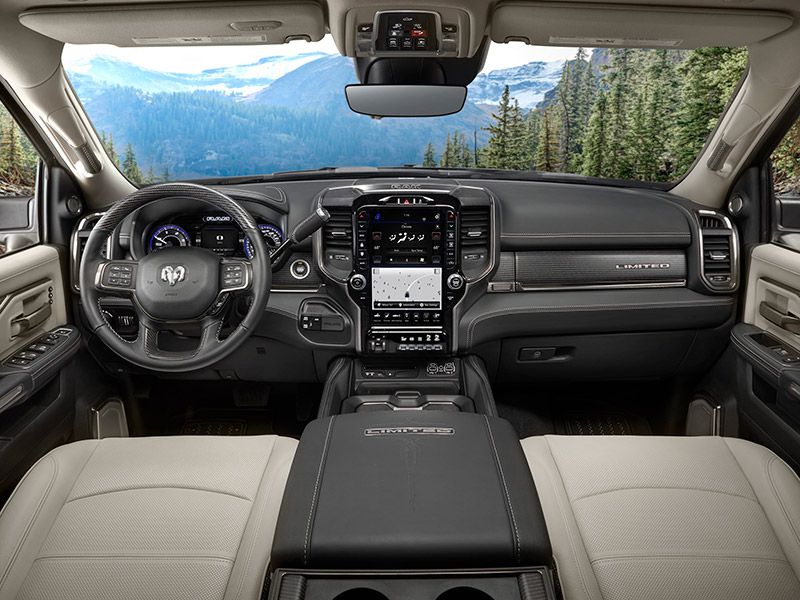 Photo by Fiat Chrysler Automobiles
Living With the Ram HD
Many heavy-duty trucks are large and ponderous at the best of times. The Ram 3500 with dual rear wheels and a MegaCab is no one's idea of a sports car, but if you get the regular cab or the standard crew cab in the 2500 series, you'll find that this is one full-size truck that you can enjoy driving. There's plenty of power, responsive steering, good visibility, and a comfortable cabin.
If you need to tow any trailer, the Ram is up to the task. On our test drive, we selected a Ram 3500 dually pulling a gooseneck dump trailer loaded to the legal limit of 15,000 pounds. We've got extensive experience towing heavy trailers, and this Ram made it easy. Steering, braking, and acceleration were all more than adequate for the task.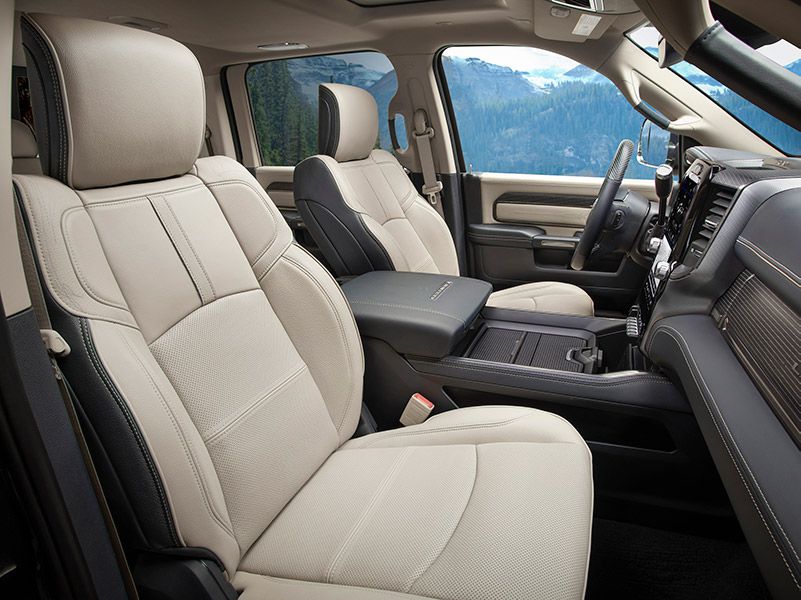 Photo by Fiat Chrysler Automobiles
Competitors to Consider
There are four real competitors to the Ram HD. Unsurprisingly, they are the 2019 Chevrolet Silverado HD, the 2019 GMC Sierra HD, the 2019 Ford F-Series, and the 2019 Nissan Titan XD. Of these, the Chevrolet, GMC, and Ford models are all new this year. Information is still being released on these models. Nissan offers the Titan XD in regular cab, extended cab, and crew cab models, starting at $32,290.
Chevrolet and GMC are touting their best-in-class max tow rating of 35,500 pounds, but it's worth noting that any trailer over 26,000 pounds requires a commercial driver's license, and most states have much lower limits. So the max tow rating is mostly about bragging rights.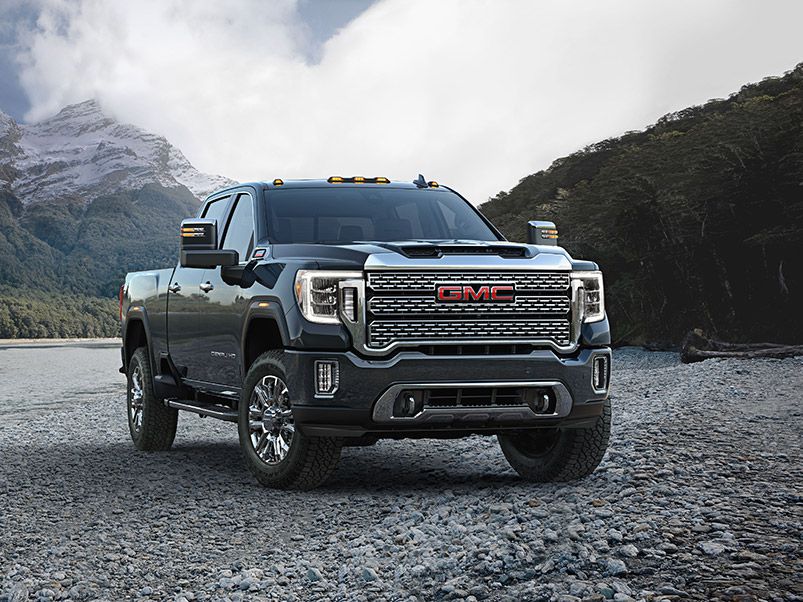 Photo by General Motors
The Bottom Line
The bottom line on the 2019 Ram HD 2500 and 3500 is that these are attractive, capable, and well-priced trucks that will meet your utilitarian needs as well as provide as much of a luxury experience as you want to pay for.
In the course of our time with the Ram HD, we went on an off-road drive in a series of Power Wagons. These off-road monsters had no trouble scrambling over rocks or down challenging trails. We drove home from the desert in a basic Tradesman 2500 4x2, and the Hemi engine provided plenty of power, even with a full 2,500-pound payload in the bed. The transmission kept the engine at its torque peak almost all the time, and brisk acceleration was no problem even with a full load.
If you need a new heavy-duty truck this year, the 2019 Ram HD is well worth your consideration.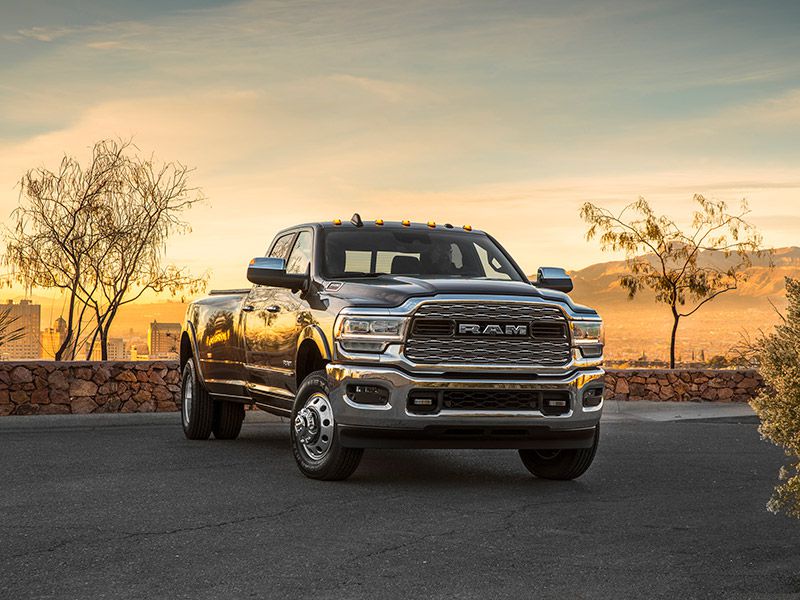 Photo by Fiat Chrysler Automobiles