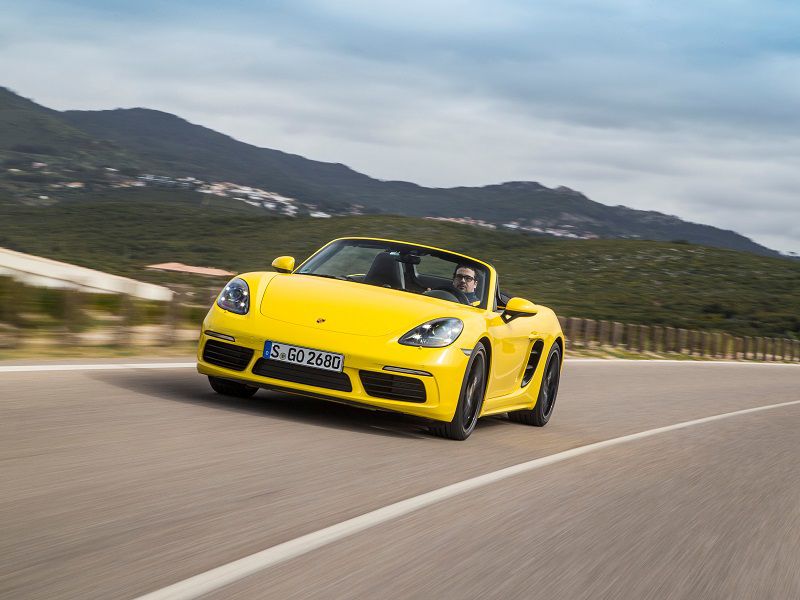 2019 Porsche 718 Boxster Yellow Front Three Quarter ・ Photo by Porsche
It's hard to believe, but the 2019 Porsche 718 Boxster is the company's slowest selling model. This year, the German automaker is on pace to sell just a few thousand examples of this two-seat convertible. And here's the irony of it: The 718 Boxster may be Porsche's best sports car. Yes, even better than the beloved 911.
Blasphemous? Maybe. Just plain stupid? Possibly. But the 718 Boxster really is that good. In fact, Porsche's mid-engine Boxster is one of the world's great sports cars, at any price. Oh, did I mention that it costs about $45,000 less than a 911 Cabriolet? That's right, the 2019 Porsche 718 Boxster is also one of Porsche's most affordable vehicles. It competes with the BMW Z4, Mercedes-Benz SLC, Chevrolet Corvette, Alfa Romeo 4C Spyder, and Audi TT.
Priced From Just Over $60,000
The 2019 Porsche 718 Boxster comes in three variations: Boxster, the more powerful Boxster S, and the even more powerful Boxster GTS. All are convertibles with two seats and a power retractable soft top. If a fixed-roof coupe is what you after, check out the Boxster's twin, the 718 Cayman. These two cars share everything except their rooflines and nameplates, and the Cayman costs about two grand less.
All 718 Boxsters are rear-wheel drive and powered by a raspy turbocharged four-cylinder engine. Prices start at $60,250, including a $1,050 destination charge, for the standard Boxster with a 300-hp 2.0-liter engine. A six-speed manual transmission is standard, while a seven-speed automatic is available for an additional $3,210. If you want more performance, buyers can step up to the Boxster S for $72,625. It's packing a larger 2.5-liter engine with an additional 50 hp and other upgrades such as 19-inch wheels. In the Boxster GTS, which costs about $84,000, the 2.5-liter is amped up to 365 hp. That's just five horsepower shy of the 911 Carrera.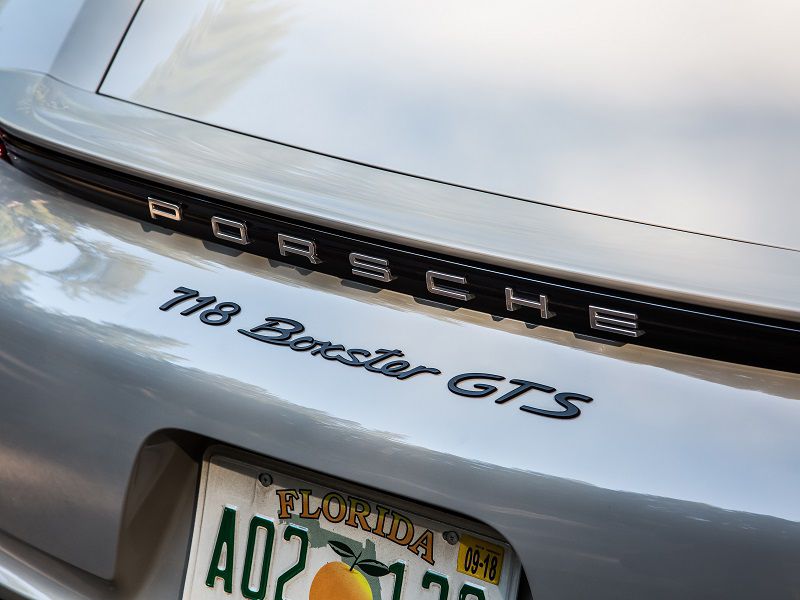 Photo by Porsche
Still Hot After Three Decades
Much like the Porsche 911, the Boxster's visual appeal doesn't seem to ever diminish. Although its basic shape debuted way back in 1997, it's still achingly attractive from every angle and it still looks like nothing else on the road. Everyone knows this is a Porsche, and they stare at the Boxster's long, low, and lean flanks when you drive by. Even elderly women gave our Racing Yellow test car a longing gaze.
Now in its fourth generation, the Porsche Boxster's overall design is certainly familiar, but its unique mid-engine proportions give it an exotic flair others in its class just can't match. And at just 172.4 inches long, it's about 5 inches shorter than a 911 or a Chevrolet Corvette Stingray. The Boxster's tight proportions and sensual curves are then detailed with an aggressive center-mounted exhaust, large side scoops behind each door, and an integrated rear spoiler, which raises itself at speed for additional stability.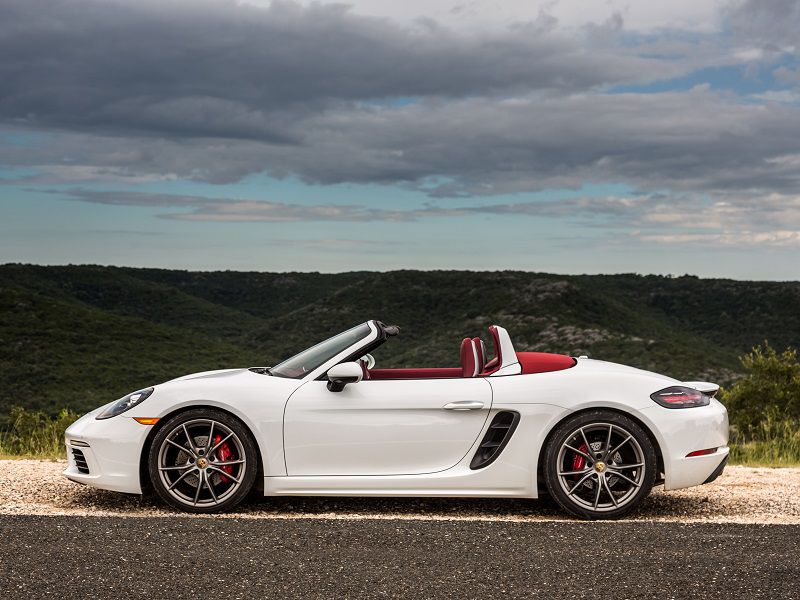 Photo by Porsche
No Hood, But Two Trunks
If you go to the Porsche dealer and ask to look under the hood of a 718 Boxster, you're going to be disappointed. There is no hood. The sports car's engine compartment is completely sealed off. This is extremely unusual. Every other car on the market, even other mid-engine sports cars, have a traditional opening hood, with hinges and everything.
Porsche has always played by its own rules and the 718 Boxster is one of only two mid-engine designs in this class, the other being the Alfa Romeo 4C Spyder. Like the Alfa, the Porsche's engine is mounted right behind the driver in the middle of the car for optimum weight distribution and greater handling capability. Because of this unique layout and Porsche's astute packaging, the 2019 Boxster has two trunks, one in the front and one in the back. The traditional trunk in the rear offers 4.4 cubic feet of space, while the roadster's deep frunk (front trunk) has an additional 5.2 cubic feet. That's about twice the cargo space of Porsche's 911. This makes the Boxster well-suited to grocery shopping and road trips.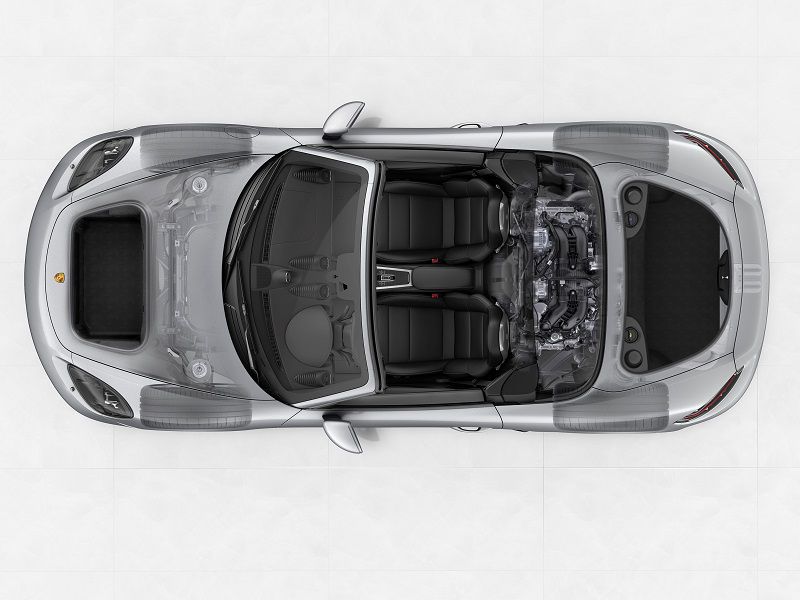 Photo by Porsche
Powerful and Quick
The Porsche's turbocharged 2.0-liter engine is smooth, powerful, and sophisticated, with all-aluminum construction and double overhead camshafts. Don't fret that the Boxster is packing only four cylinders, as this engine is more powerful, uses less fuel, and sounds just as sweet as the naturally aspirated six-cylinder it replaced a couple of years ago. Plus, it revs out to over 7,000 rpm and it's cranking out 300 hp, which is more than enough for this light, little roadster.
The Boxster only weighs about 3,000 lbs, and Porsche says 0-60 mph takes just 4.9 seconds with the six-speed manual transmission. It's a couple of tenths of a second quicker with the PDK automatic, which is among the very best automatic transmissions in the world. It's worth the money if three pedals just aren't your thing. With 350 hp, the Boxster S is even quicker, hitting 60 mph in just 4.0 seconds flat when equipped with the PDK transmission and the optional Sport Chrono Package. That's even quicker than most variations of the 911 Carrera.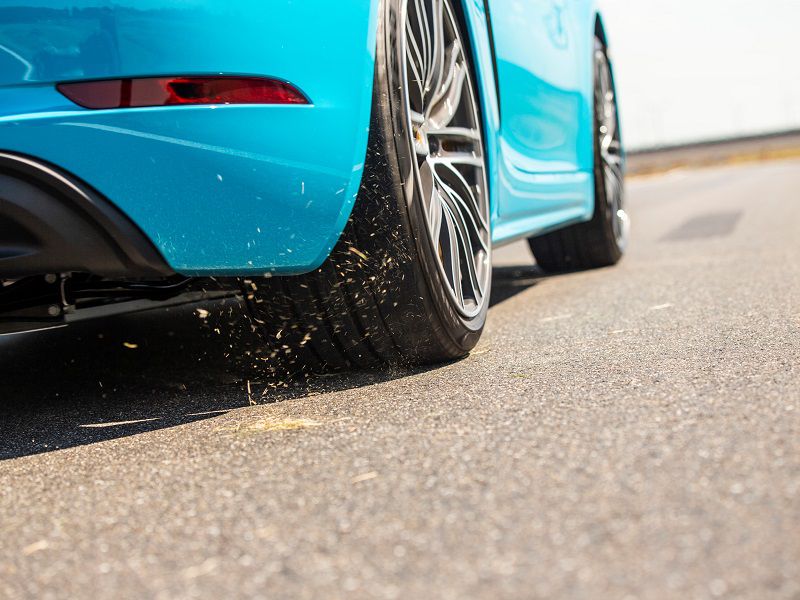 Photo by Porsche
Awesome Driving Dynamics
This is a refined machine with a compliant ride, a tight structure, and a very comfortable interior. It's an easy car to drive around town. Its steering is light and the manual transmission's clutch effort won't cramp your left leg. Plus, its front spoiler doesn't scrape itself raw on driveways and parking lot blocks. The Boxster is livable day in and day out.
Don't misunderstand, the 2019 Porsche 718 Boxster feels like a sports car. It's small, light and responsive, with just the right amount of visceral feedback. It just never feels crude or rough around the edges. It feels like a Porsche, and nothing else does. Its turbocharged engine is raspy and likes to rev. Its manual transmission is geared perfectly, and its shifter clicks through its H-pattern with precision. Its chassis is incredibly balanced, and its grip on the road is seemingly endless. The Boxster is so responsive and fun to drive it seems to respond to your demands like it's hardwired into your synapses. You think it and the car does it. This gives its driver the confidence to go faster. Bottom line: This is one of the best-handling cars available at any price.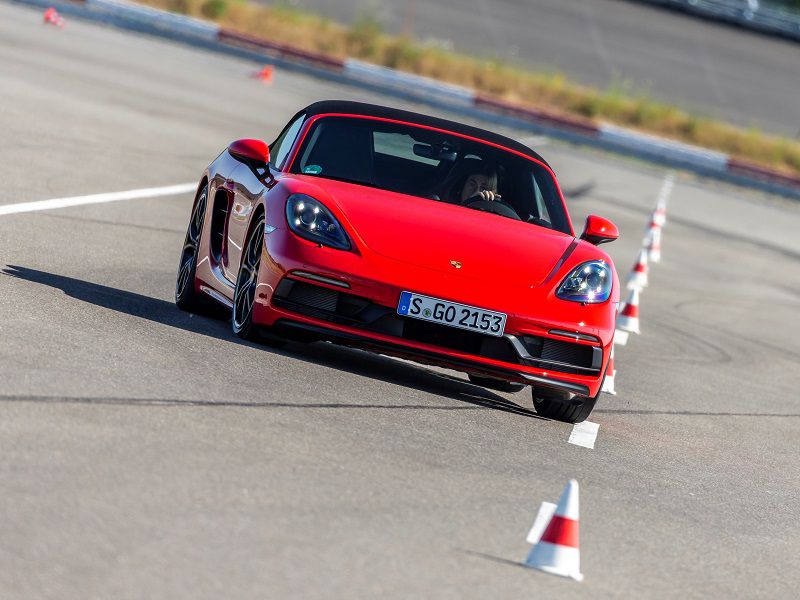 Photo by Porsche
Proper Sports Car Interior
You sit low in the 2019 Porsche 718 Boxster and look out over its swoopy front fenders. There's a surprising amount of room considering the car's purpose and tight dimensions. You don't feel cramped. Build quality is extremely high, but the decor is simple, attractive, and functional. Unlike some of its competitors, you won't find fancy stitching, diamond-quilted leather, and ornate trim all over the Boxster's interior. We didn't miss any of it one bit.
Seat comfort is exceptional and the Porsche's optional seat heaters fire up quickly. Its leather-wrapped steering wheel is just right, and the Boxster's shifter is placed perfectly. Our test car had the optional navigation system as well as Porsche Connect, which adds Apple CarPlay, real-time traffic information, and onboard Wi-Fi. The 7-inch touchscreen is also well placed, but it is getting a little small for the class. The new BMW Z4, which is one of the Boxster's main competitors, has a 10.25-inch screen.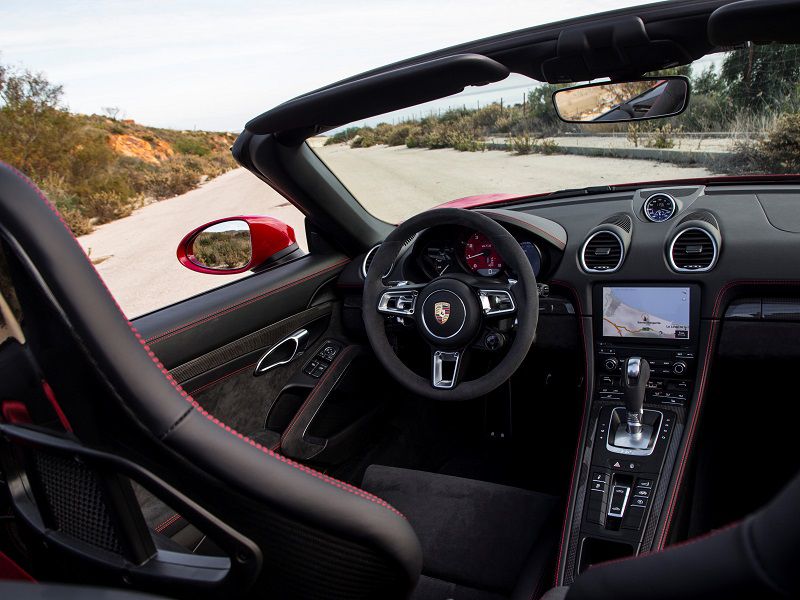 Photo by Porsche
A Few Functional Shortcomings
As much as we like the Boxster's interior, it does have a few small functional shortcomings. But please keep in mind that these are little things, not dealbreakers.
First, the Porsche's two cupholders deploy and retract from inside the dashboard to save space. Although the design is clever, the cupholders don't handle large drinks very well, and they place the beverage above the car's console where spills would coat everything. We were also disappointed that the Boxster didn't have an automatic climate control system, which seems absurd at this price point. Also, the Porsche's interior storage is seriously limited.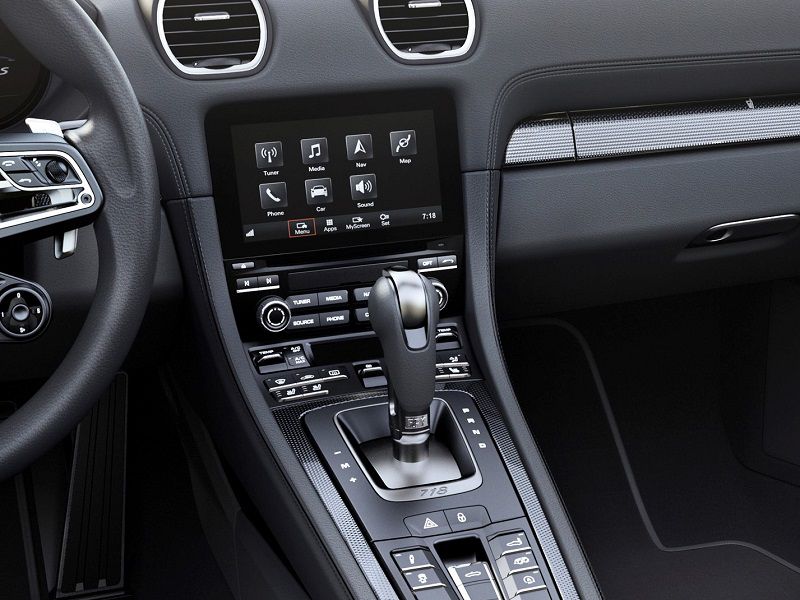 Photo by Porsche
Surprising Fuel Economy
Few people who buy a car like this are worried about its fuel economy, but the 2019 Porsche Boxster is surprisingly efficient for its class. With the six-speed manual, the 300 hp Boxster is rated by the EPA at 21 mpg in the city and 28 mpg on the highway. With the available automatic, those numbers jump to 22 mpg city and 29 mpg highway. During our week in our manual Boxster test vehicle, we averaged 23 mpg in mixed driving.
The more powerful Boxster S is rated at 20 mpg city and 26 mpg highway with the manual and 21 mpg city and 28 mpg highway with the automatic. The 365-hp Boxster GTS is rated 19 mpg city and 25 mpg with the manual and 20 mpg city and 26 mpg highway with the PDK automatic.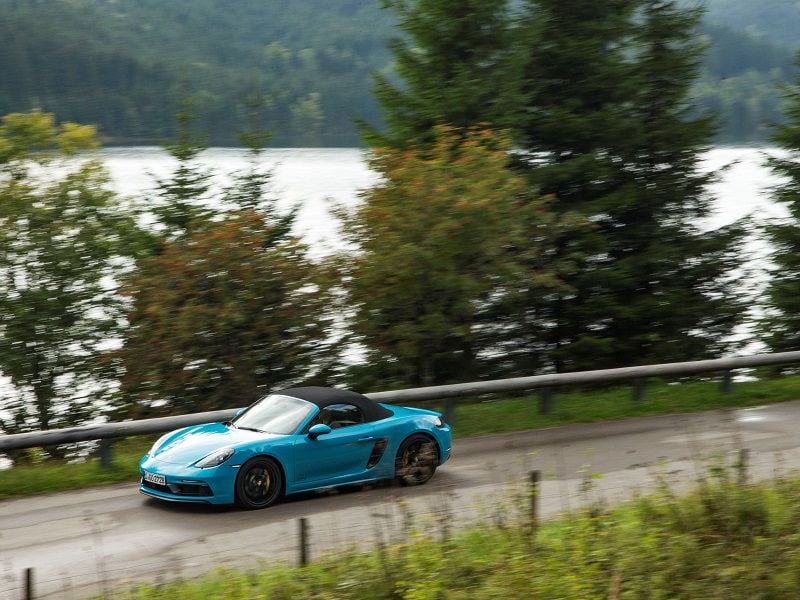 Photo by Porsche
Final Thoughts
Mid-engine two-seat sports cars are always something special. They're purpose-built for speed, and Porsche has created one of the world's best. But the 718 Boxster isn't just fast and sexy. It's also refined and comfortable enough to be enjoyed every day. Plus, it's packed with personality, so it even makes a run to Costco an excuse to take the long way.
If this is the type of machine you desire, go directly to your Porsche dealer. The 2019 Porsche 718 Boxster is a very desirable overall choice.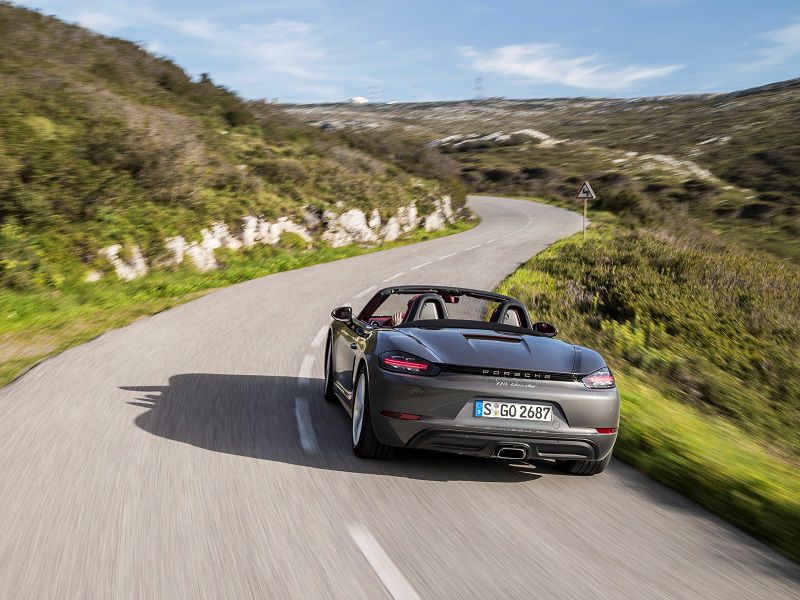 Photo by Porsche