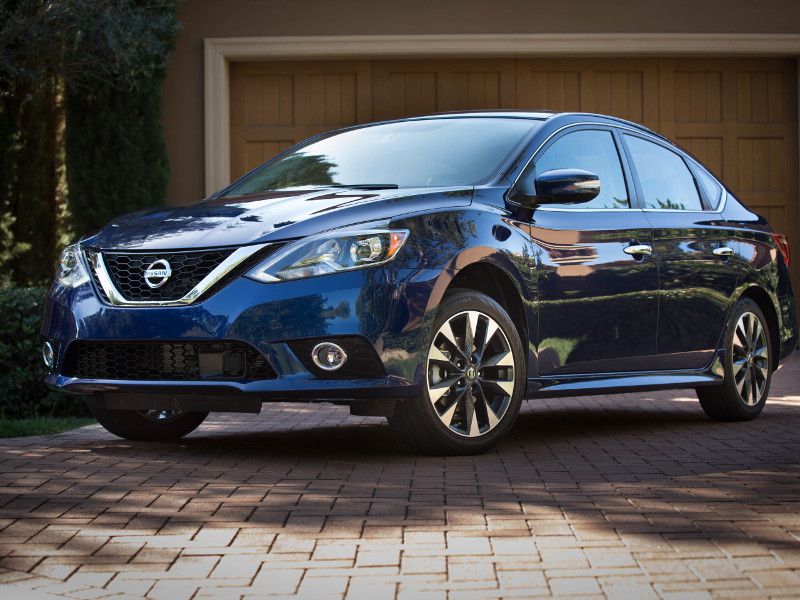 2018 Nissan Sentra blue profile parked ・ Photo by Nissan
Americans have loved the Nissan Sentra since the model was first introduced in the early 1980s. They appreciate its sporty personality, spirited performance, and roomy cabin. Now in its seventh generation, the 2019 Nissan Sentra remains one of America's best selling small sedans.
Nissan's Sentra also has a solid reputation for reliability and it continues to offer one of the largest interiors in its class. Its long list of qualities keeps it a favorite in the extremely competitive compact sedan segment, and this year Nissan has given the 2019 Sentra an increased number of infotainment features. The result is the most comfortable and family-friendly Sentra ever. Assembled in Mexico, the new Nissan Sentra competes against a crowded class of high-quality sedans including the Honda Civic, Hyundai Elantra, Toyota Corolla, Chevrolet Cruze, and Volkswagen Jetta.
Six Trim Levels to Choose From
Just as it did last year, Nissan offers the 2019 Sentra sedan in six trim levels, so there's basically a model for every need and budget. Prices range from $18,685 to $26,735, including an $895 destination charge. Powering the S, SV, SR, and SL models is a naturally aspirated 1.8-liter four-cylinder engine. It's rated at 124 horsepower with Nissan's continuously variable automatic transmission (CVT) and 130 hp in the S with the six-speed manual. (You can also get the CVT in a Sentra S for just $690 extra.)
We recommend moving up to the $19,985 Sentra SV, which gets you the automatic transmission as well as a long list of additional features including keyless entry, push-button engine start, 16-inch wheels, dual-zone climate control, and a sportier steering wheel design. The most luxurious Sentra SL adds luxuries including heated front seats, leather upholstery, and a power driver's seat. All Sentras are front-wheel drive. If you're looking for all-wheel drive in this class, shop the Mazda3 and Subaru Impreza.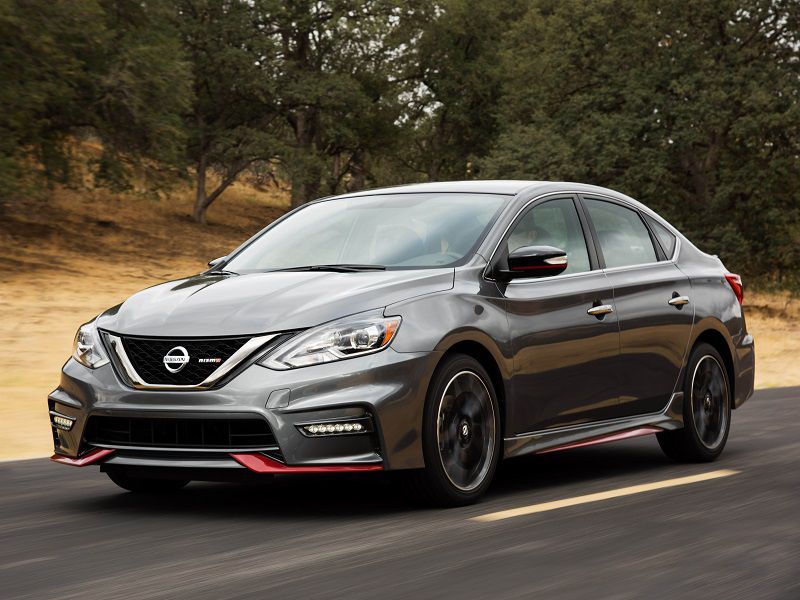 Photo by Nissan
What is Nismo?
Nissan doesn't offer the 2019 Sentra as a hybrid or plug-in hybrid, but it does offer two performance versions of the small sedan. The SR Turbo and the Nismo are powered by a 1.6-liter turbocharged four-cylinder engine making 188 hp. Every SR Turbo gets a sport-tuned version of the CVT automatic transmission while the Sentra Nismos is also available with a six-speed manual. Both models also get upgrades to their suspensions, steering, and front brakes. Prices for these models start at $23,465 for an SR Turbo, like our test car.
Nismo stands for Nissan Motorsports International. It was founded in September 1984 to support Nissan's extensive motorsports efforts, and it has been increasing the performance of the company's street-legal cars for years, applying some of the technology from the racing programs to production models. Other high-performance Nismo models that have been sold in America are the GT-R Nismo, Juke Nismo, and 370Z Nismo.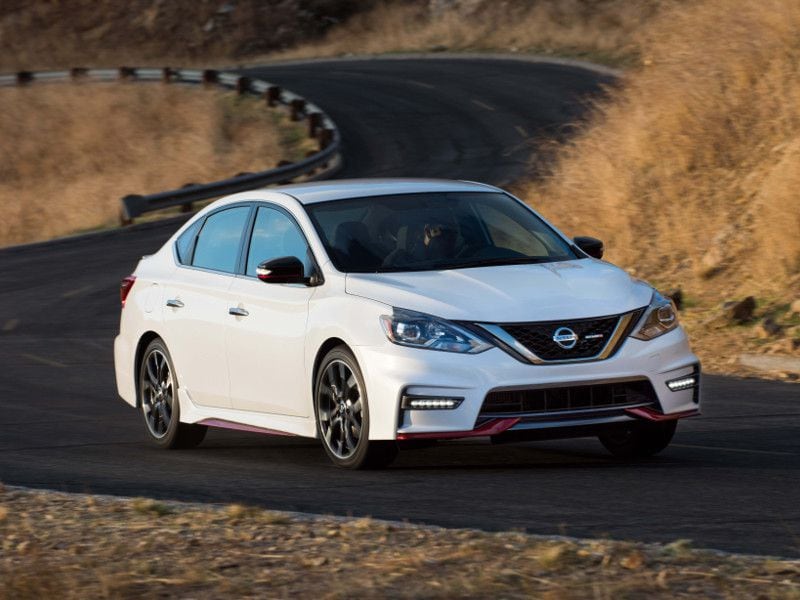 Photo by Nissan
Understated Good Looks
Although the 2019 Nissan Sentra is technically a compact sedan, it can almost pass for a mid-size. The Sentra is large for its class and offers a long wheelbase, which increases its interior space. It's an attractive sedan, with a sharp slopped face and athletic curves. Its look has been around a while. As a result, its styling isn't as radical as some others in its class, but its V-shaped grille and shapely fenders still look good. Nissan also decorates the Sentra with plenty of brightwork around the windows for a touch of upscale style.
The best-looking Sentra is the more aggressively styled SR Turbo model. Although it looks a bit tall and narrow when viewed from the rear, our test car was striking with large alloy wheels, a rear spoiler, and lower body side sill extensions. If you're into the boy-racer look, the Nismo model gets an even more aggressive grille and front spoiler, side and rear bodywork, a black grille, and eye-catching red accents.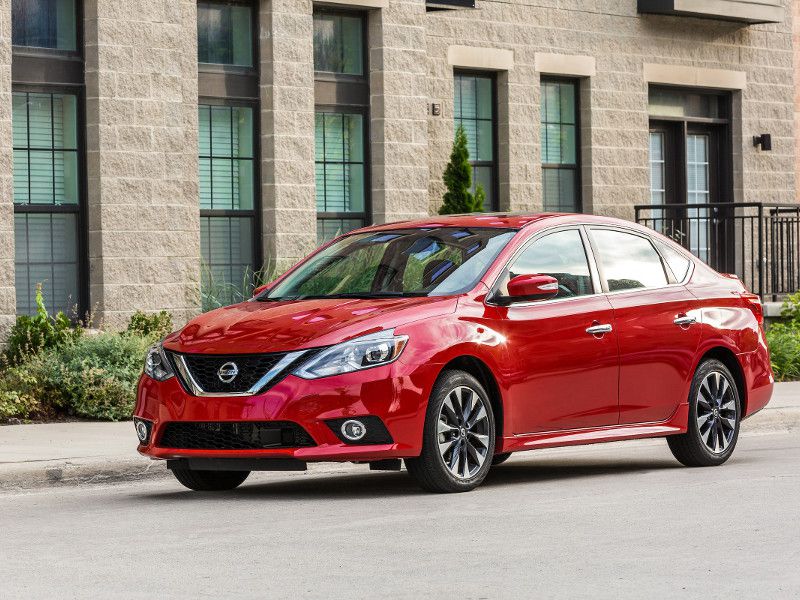 Photo by Nissan
Comfortable Interior
Nissan hasn't redesigned the Sentra's interior in a number of years either, and it's starting for feel dated compared to others in the class like the Honda Civic and Toyota Corolla. The Sentra's interior still offers nice materials and high build quality, but its design isn't as modern as it could be. The simple design provides excellent control placement, and its comfort and functionality are impressive. Nissan also puts a small piece of trim on most of the Sentra's knobs and switches, an appreciated touch of luxury.
We also appreciated our test vehicle's comfortable front bucket seats and excellent visibility. The Sentra's A-pillars on either side of the windshield seem to be thicker than they need to be, but they're not so thick that they compromise your view. The Sentra's driver's seat is also height-adjustable and a tilt and telescopic steering wheel is standard, so there's a perfect driving position for everyone, even shorter drivers.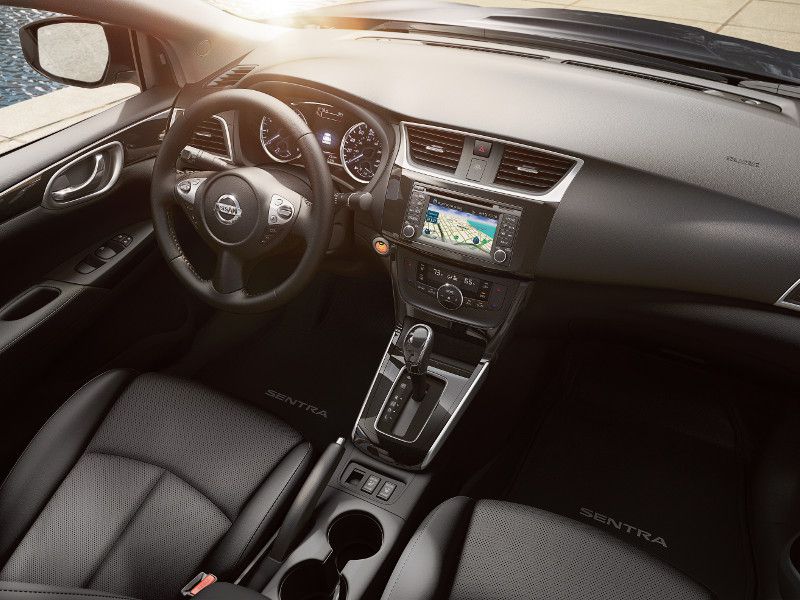 Photo by Nissan
Increased Infotainment Tech
For 2019 all Sentra models except the base Sentra S finally get an upgraded infotainment system with Apple CarPlay and Android Auto. Our test car's color touchscreen felt a bit small, but the infotainment system offered navigation with traffic information voice recognition and mobile apps. It's all very intuitive to use, but other sedans in the Sentra's competitive set continue to offer more in-cabin infotainment technology and features — including onboard Wi-Fi, which remains unavailable in the Sentra. 
Nissan also offers its advanced Safety Shield Technologies on most models, including automatic emergency braking, which is standard on automatic transmission-equipped models except the Nismo; intelligent cruise control, which can maintain a selected distance from the car in front of you; a blind-spot warning; and a rear cross-traffic alert. In crash testing, the Sentra was named a Top Safety Pick by the Insurance Institute for Highway Safety, but it earned a four out of five stars from the National Highway Traffic Safety Administration. Other cars in the class have better ratings.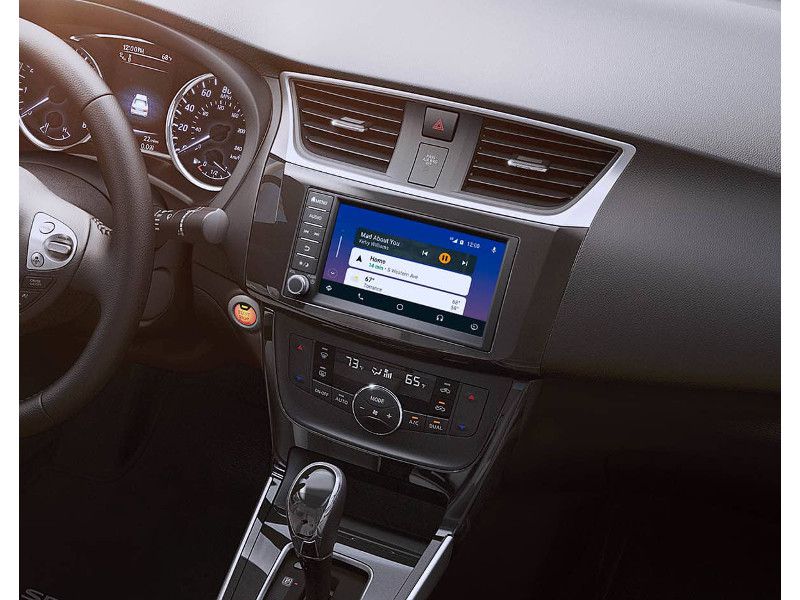 Photo by Nissan
Plenty of Cargo and Storage Space
Nissan didn't skimp on the Sentra's storage space. Its center console bin is large enough, and its big door pockets are ready for your knickknacks. The Sentra's two front cupholders can hold a seriously large coffee, and they're well-placed so tall drinks don't interfere with any of the switchgear. There are also two rear cupholders integrated into the fold-down armrest, which occupies the center seat when in use.
The Sentra's trunk space is also among the class leaders. At 15.1 cubic feet, it offers as much cargo space as some larger mid-size sedans. If more is needed, every Sentra comes standard with a 60/40 split-folding rear seat, which easily folds flat to accommodate larger items.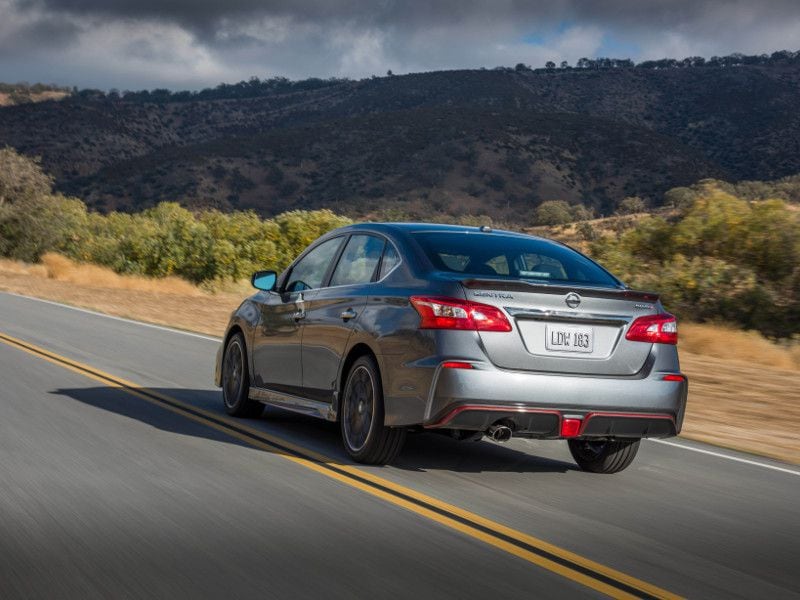 Photo by Nissan
Family-Friendly Space and Fuel Economy
Rear seat space is generous. We've already mentioned that the Sentra's interior is one of the largest in its class, and it seats five with plenty of rear head and legroom. Three tall teenage volleyball players made the trip to practice without complaint. Younger families will appreciate the Sentra's easy-to-reach LATCH connectors in the outboard seats and easily accessed upper tether anchors.
The Sentra also offers impressive fuel economy. With the 124-hp four-cylinder engine the Sentra is rated at 29 mpg in the city and 37 mpg on the highway, and with the 188 hp turbocharged engine used in the SR Turbo and Nismo models, it's rated at 27 mpg city and 33 mpg highway. We enjoyed the power of its turbocharged engine a bit too much and averaged just 28 mpg in our SR Turbo test vehicle. Meanwhile, the Sentra's three-year/36,000 mile bumper-to-bumper warranty and five-year/60,000-mile powertrain warranty are competitive in the class. However, the Hyundai Elantra and Kia Forte come with a five-year/60,000-mile bumper-to-bumper warranty and 10-year/100,000-mile powertrain coverage. The Volkswagen Jetta's warranty is also longer.
Fun to Drive and Comfortable
With 188 hp, our 2019 Nissan Sentra SR Turbo test vehicle was quick off the line and always had plenty of passing power in reserve. Its CVT isn't our favorite automatic transmission in the class, but it's responsive and a good match for the Sentra's turbocharged four-cylinder, which feels better the higher you rev it. The standard 1.8-liter four-cylinder engine gets a little rough as the rpm climb. Although the turbocharged Sentra is quick, its acceleration can't match the performance of the more powerful Honda Civic Si.
The Civic Si also outhandles the Sentra. We like the Sentra's compliant ride and its solid road holding. It's fun to toss around, but the sedan still uses a dated rear suspension design, which keeps it from achieving class-leading performance. The Sentra's steering is nicely communicative, and its brakes provide good feel and strong stopping ability. And once you're up to speed, the sedan's interior remains quiet on the highway.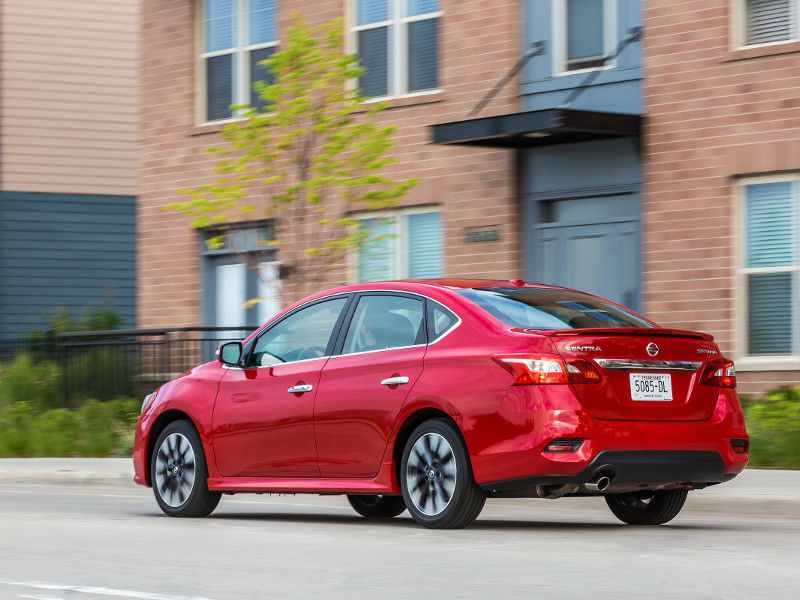 Photo by Nissan
Final Thoughts
Overall, the 2019 Nissan Sentra continues the offer a winning combination. It isn't exactly a sports sedan, but it's responsive, comfortable, family-friendly, and fun to drive. With its big interior, large trunk, and low price, it also continues to offer high value for families on a budget. Although the 124-hp four-cylinder engine in the S, SL, and SV models is enough for most buyers, if you can, step up to the 188-hp turbocharged engine in the SR Turbo. You'll appreciate the additional performance despite the drop in fuel economy.
Although the Sentra hasn't been redesigned in a while, it's aging gracefully. If you're looking for a roomy, fuel-efficient, and comfortable compact sedan, the 2019 Nissan Sentra is a solid choice.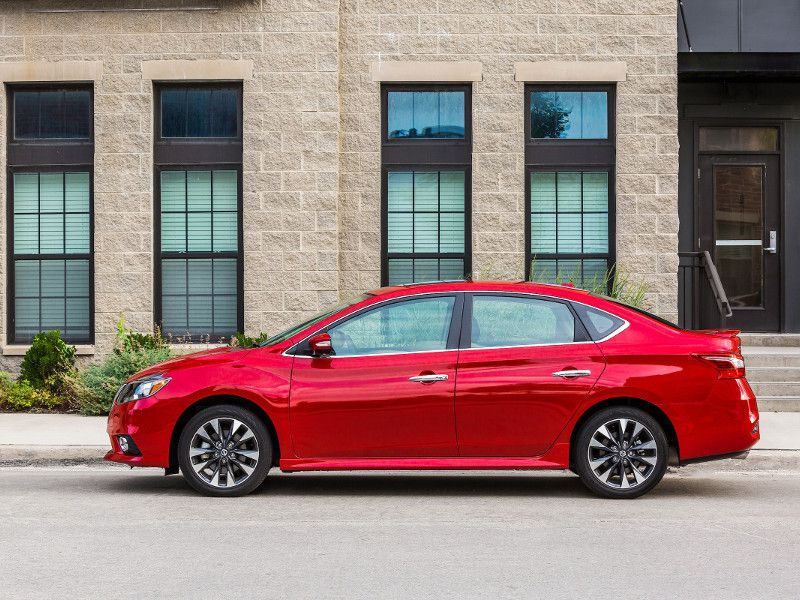 Photo by Nissan