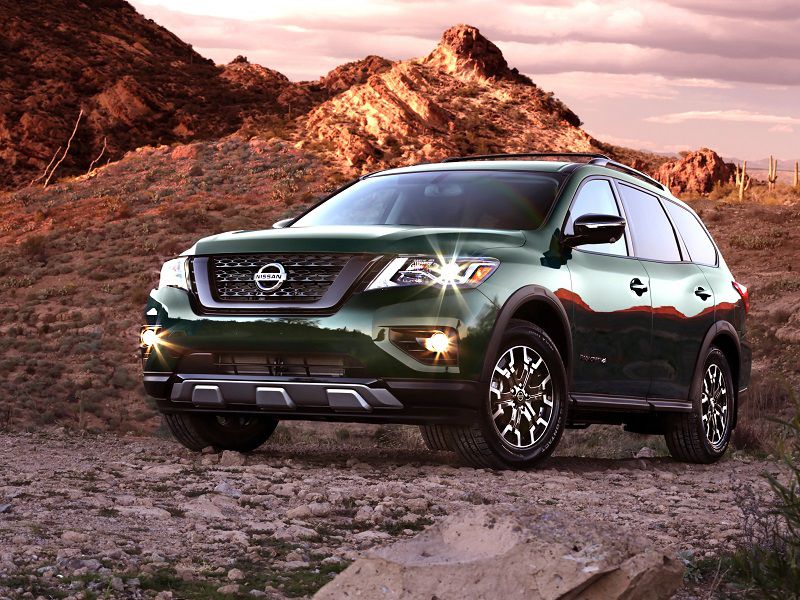 2019 Nissan Pathfinder Rock Creek Green Front Three Quarter ・ Photo by Nissan
As a vehicle reaches the later years of its production lifecycle, marketers are forced to find some way to maintain or revive interest without making radical changes. After three strong years, Nissan Pathfinder sales drooped by over 16 percent in 2018 — not a crisis, but definitely worthy of attention.
The 2019 Pathfinder is basically a carryover model, with just incremental changes and upgrades applied over the 2018 model. (The current Pathfinder debuted back in 2013 and received updates for 2017.) So, lo and behold, the company unveiled the 2019 Nissan Pathfinder Rock Creek Edition at the 2019 Chicago Auto Show. We got a chance to drive the special-edition vehicle in and around Missoula, Montana recently, and returned with this review of the Rock Creek Edition package and the Pathfinder itself.
Pathfinder History
The Pathfinder has had a unique journey through four generations of production since it was first sold in the United States as a 1987 model. Built on the same body-on-frame platform as the Nissan Hardbody pickup truck, it was initially a two-door, two-row, front-engine rear-wheel drive or four-wheel drive SUV. In 1990, the two-door was discontinued, replaced by a four-door/two-row version.
In its second generation (sold from 1995 to 2004), the Pathfinder was completely redesigned on a frameless unibody chassis, but still with two rows of seats and a rear-wheel drive/all-wheel drive platform. Then, in a wild reversal, the third-generation Pathfinder (sold from 2004 to 2012) returned to its body-on-frame roots. In 2013, the current fourth-generation Pathfinder emerged as a unibody, front-engine/front-wheel drive or all-wheel drive three-row crossover.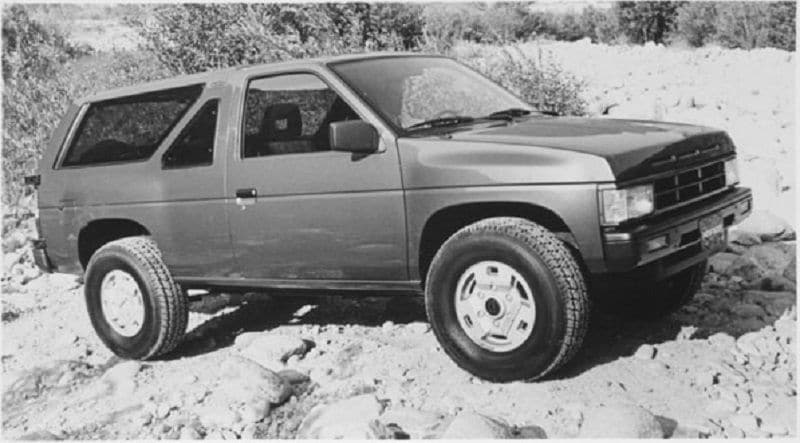 Photo by Nissan
Rock Creek Edition
The Pathfinder's Rock Creek Edition is named after the Rock Creek Recreation Area in the Cherokee National Forest, located in Nissan USA's home state of Tennessee. The Rock Creek Edition is a $995 package of options that can be ordered on Pathfinder SV and SL models.
Nearly all of the options are cosmetic rather than functional. On the exterior, you'll find a black mesh grille, black roof rails, black door handles and side mirrors, black front and rear fascia accents and license plate finish, black molded overfenders, and black model badging, along with "Rock Creek" badging on the front doors. The Rock Creek Edition rides on unique 18-inch wheels with 255/60R18 all-season tires. Inside, there are two-tone seating surfaces and badging; high-contrast stitching on seats, door, console lid, and steering wheel; and orange-toned carbon-fiber-look trim with metallic interior trim. Nissan values the package at over $2,200 with its contents ordered separately.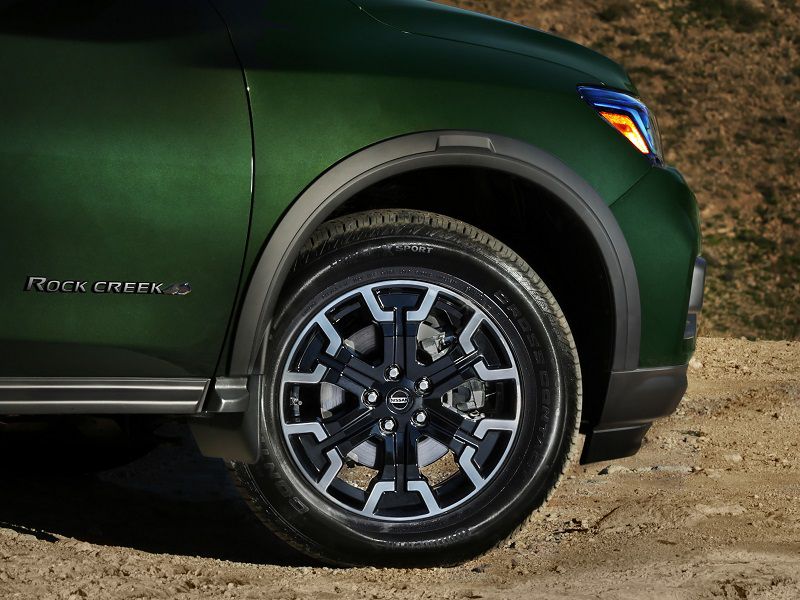 Photo by Nissan
Additional Rock Creek Edition Add-Ons
Each Rock Creek Edition model comes standard with a tow hitch, a wiring harness, and splash guards. Both front-wheel drive and all-wheel drive models are rated to tow up to 6,000 lbs. To further sweeten the value equation of Rock Creek Edition, Nissan has bundled two additional options. For $980 on SV models, you can order the Technology Package, which includes NissanConnect with navigation and services, SiriusXM Traffic, heated cloth front seats, a heated steering wheel, and heated outside rearview mirrors. For $2,110 on SL models, you can add the Premium Package, which includes a Bose 13-speaker premium audio system and a power panoramic moonroof.
All in all, the Rock Creek Edition doesn't transform the Pathfinder in terms of performance or appearance, but it does subtly upgrade and enhance the crossover and distinguishes it from the herd of Pathfinders already on lots and on the road.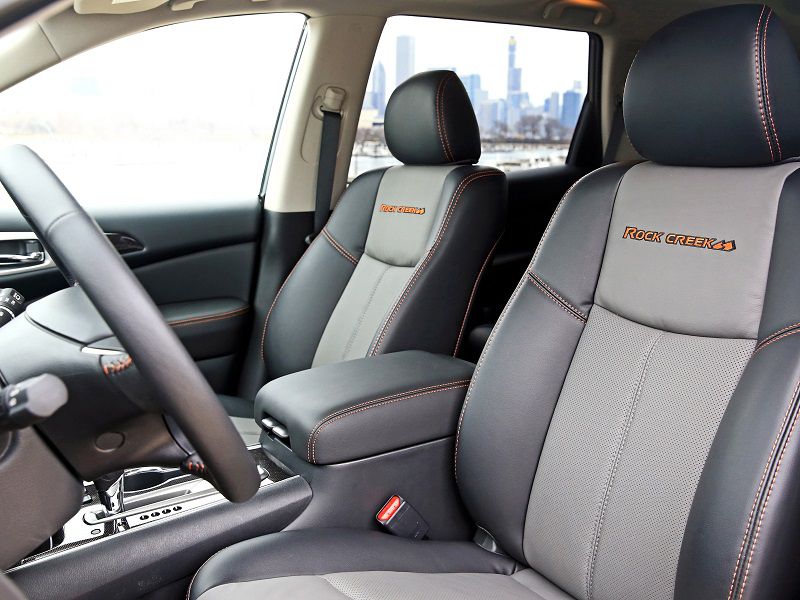 Photo by Nissan
Engine
The Pathfinder comes with a 3.5-liter V6 gasoline engine that uses double-overhead cams, direct gasoline injection, and an aluminum block and heads. It is naturally aspirated (non-turbo), and has variable induction control and continuous variable valve timing.
With an 11.0:1 compression ratio, the V6 is tuned to produce 284 horsepower and 259 lb-ft of torque. This same engine can be found in a number of Nissan vehicles, and it has proven to be trouble-free, reliable, and easy to maintain.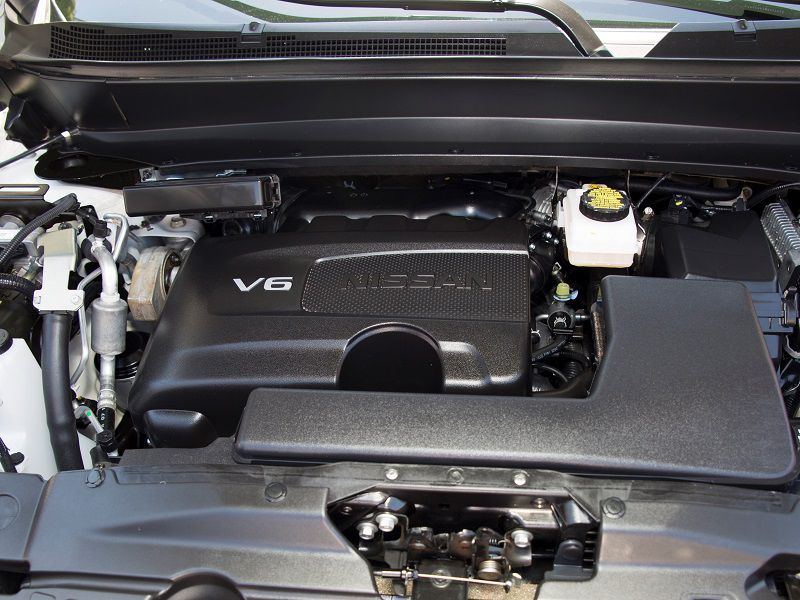 Photo by Nissan
Transmission
The Pathfinder comes with just one transmission choice: a continuously variable automatic transmission (CVT) with standard front-wheel drive or available all-wheel drive. A CVT doesn't use traditional gears and clutches to send power to the wheels, instead substituting a heavy-duty drive belt that runs in a grooved pulley system, allowing for continuous transition within a range of ratios. Nissan's Xtronic CVT with D-Step Logic Control is designed to simulate traditional stepped gear performance, while still maintaining the efficiency of a CVT. It feels like a regular automatic in operation, with revs running up and down predictably.
Nissan has had some challenges with its CVT in the past, including hot operation and stuttering acceleration. The Pathfinder comes with a standard oil cooler designed to address the heat issue, and we didn't notice any stuttering during our drives. But you should do some research before committing to a Nissan CVT.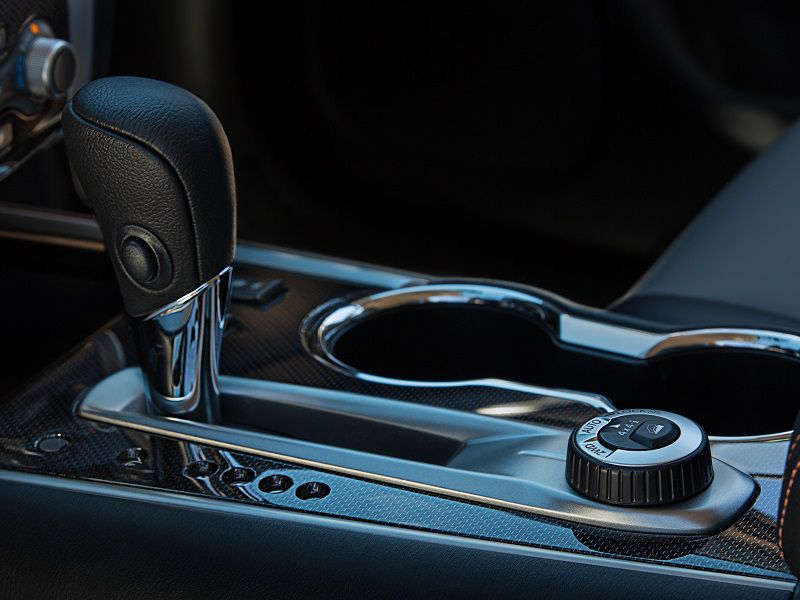 Photo by Nissan
Suspension, Steering, and Drive Modes
The Pathfinder comes with four-wheel independent suspension, using struts in front and a multi-link setup in the rear, with twin-tube shock absorbers with dual-flow paths. A solid stabilizer bar is connected up front, while a hollow tube stabilizer bar helps keep things flat in the rear. Its 7.0 inches of ground clearance means that Pathfinder had better stay on the beaten path where it won't encounter too many big obstacles. Steering is hydraulic-electric and vehicle-speed-sensitive, with a curb-to-curb steering diameter of 38.7 feet. Plan those U-turns carefully.
Pathfinders equipped with all-wheel drive can be directed to operate in front-wheel drive (2WD), four-wheel drive lock, or auto. Hill start assist is standard on all Pathfinder vehicles, while hill descent control is standard on 4WD models only (not available on FWD).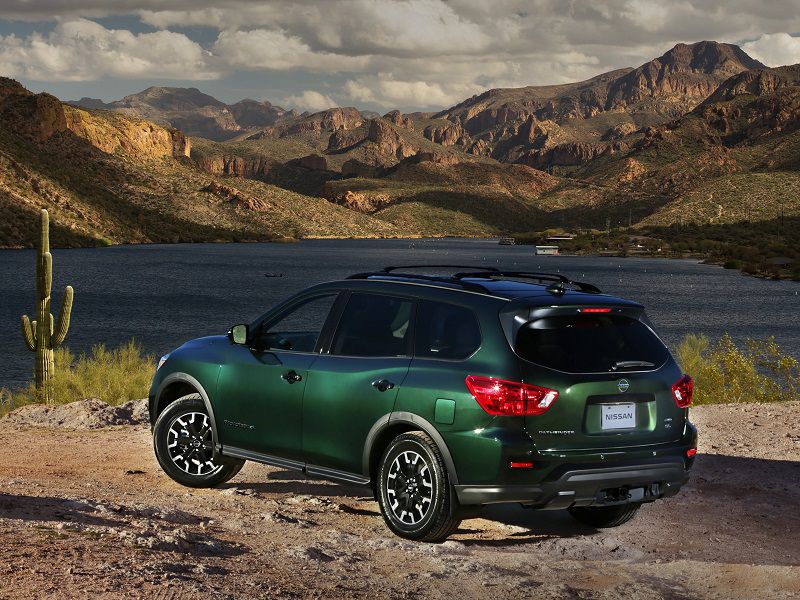 Photo by Nissan
Safety and Driver Assist
Nissan has a great suite of driver assistance features that it bundles as ProPilot Assist. Unfortunately, you can't get that suite on Pathfinder — we'll have to wait for the next generation platform for that.
Some features are available, like a surround-view camera, adaptive cruise control, blind-spot monitoring, and a rear cross-traffic alert. Automatic emergency braking is standard, as is a rear door alert, the usual full array of airbags, LATCH anchors in the second-row outboard seats, a tire-pressure monitoring system with an easy fill alert (why doesn't everybody have this?), and traction and stability control systems.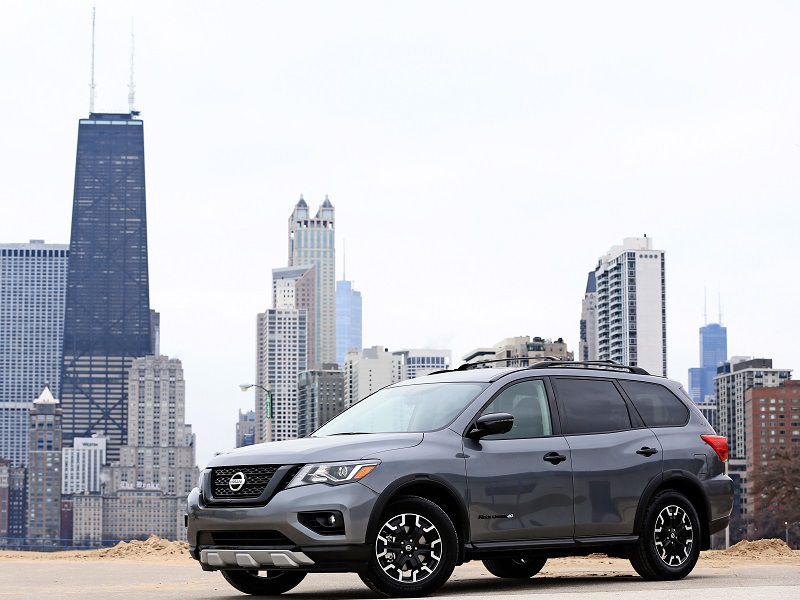 Photo by Nissan
On the Road
Driving the Pathfinder is pleasant enough without being too exciting. The CVT does a good job of simulating the shift feel of a traditional automatic, and starting off the line is sprightly. Passing slower vehicles on a two-lane road outside Montana was a little more dramatic than expected. Speed limits on rural roads outside Missoula can be 70 mph for cars, 60 mph for trucks. A kickdown to a lower gear would be welcome, but Pathfinder lumbers toward a higher speed rather than leaping forward.
The view out of the front window is broad and expansive, but the flat dashboard is a little minivan-ish and honestly a little dated. The rest of the interior, thankfully, is nearly minivan-ish in its utility and comfort. It's very easy to get into (and out of) the third row, and the sliding second row allows for a balance of available legroom between rows.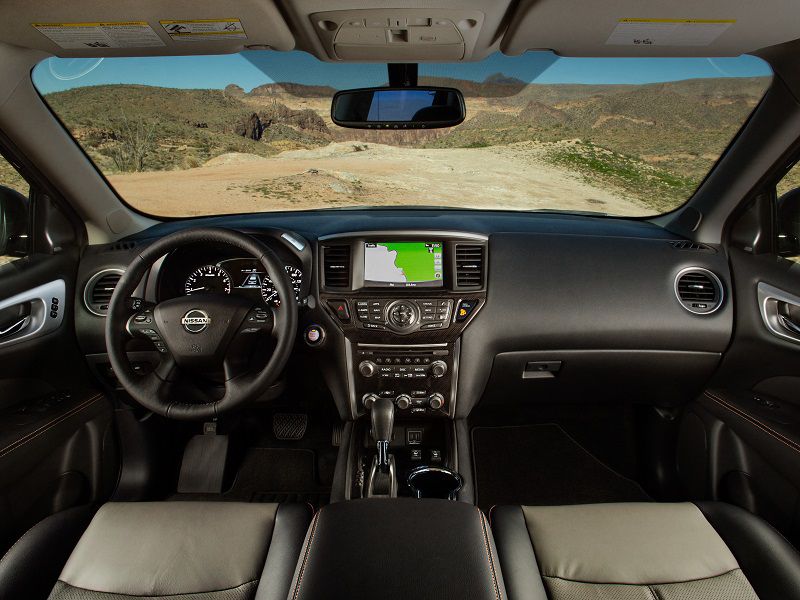 Photo by Nissan
Models, Trim Levels, Pricing, and Packages
The Pathfinder is available in four trim levels: S (starting at $31,430); SV (starting at $34,270); SL (starting at $37,920); and Platinum (starting at $42,770). Add $1,690 to any trim level to upgrade from front-wheel drive to all-wheel drive.
The $995 Rock Creek Edition package can be ordered on the SV and SL trim levels only. Additionally, there's a $2,110 SL Rock Creek Edition Premium Package that adds a Bose 13-speaker premium audio system and power panoramic moonroof. Meanwhile, a $980 SV Rock Creek Edition Tech Package that adds Nissan Connect with navigation and services, SiriusXM Traffic, Nissan Connect Services, heated cloth front seats, a heated steering wheel, and heated outside rearview mirrors.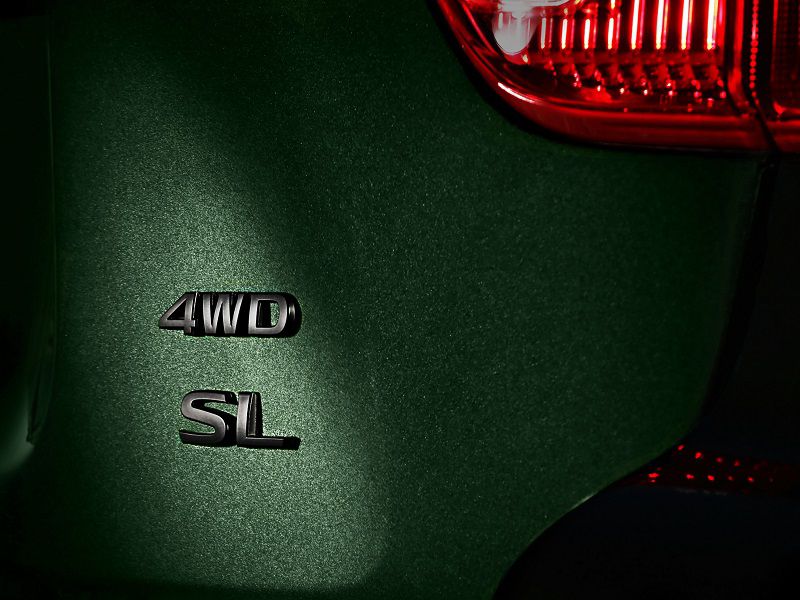 Photo by Nissan
Final Thoughts
Nissan has been slow to update and change the Pathfinder through the generations. The Rock Creek Edition is an attempt to revive and maintain interest in a carryover model that's frankly a little out of date. But even if it's not a cutting-edge crossover anymore, the Pathfinder is a solid entry into the class, and the Rock Creek Edition is a good value.
If you're shopping for a three-row crossover, you should also drive the new Ford Explorer, Honda Pilot, Toyota Highlander, Mazda CX-9, Chevrolet Traverse, Subaru Ascent, and Volkswagen Atlas before you make a decision. And if you're looking for a genuinely rugged three-row SUV, don't overlook the body-on-frame Nissan Armada.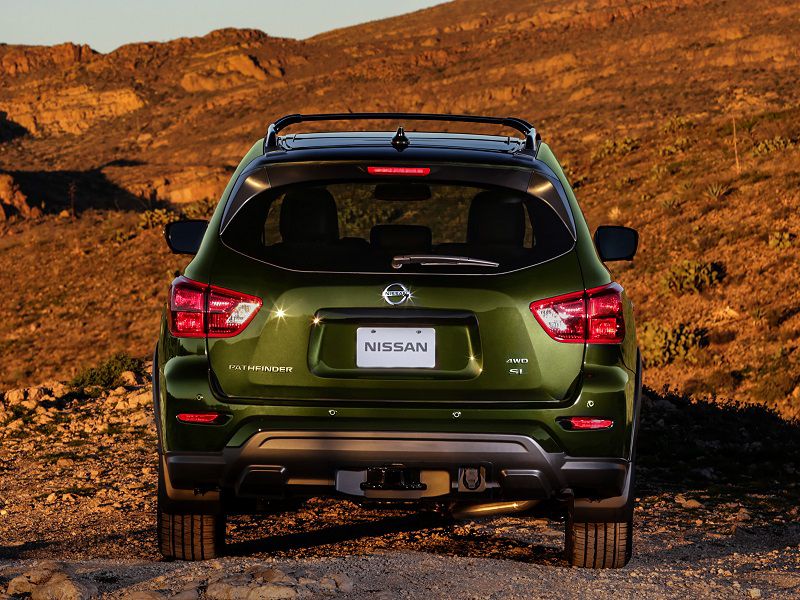 Photo by Nissan