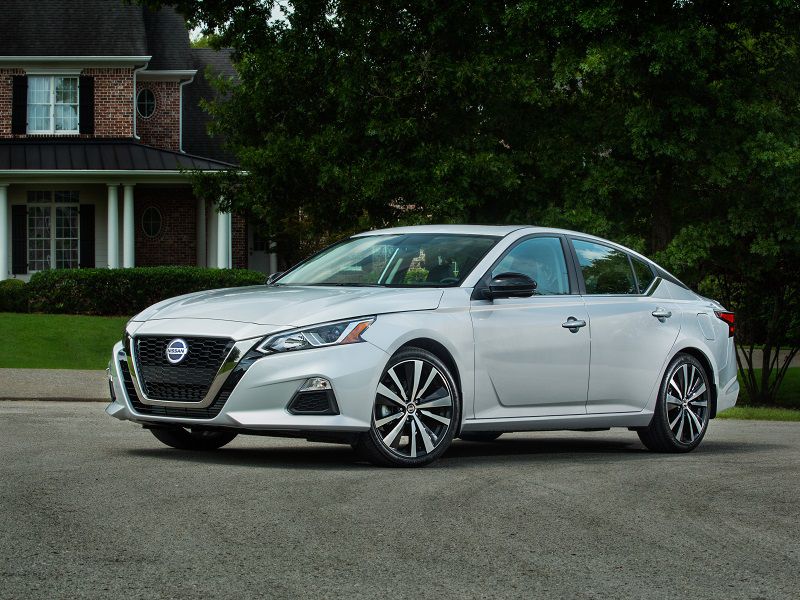 2019 Nissan Altima ・ Photo by Nissan
When we look back from the distance of a few years in the future at the 2019 Nissan Altima, we might regard it as a landmark car. In an era when many manufacturers are de-emphasizing their sedans and some are eschewing them altogether, Nissan has taken a contrarian course. It has invested big time in its mainstay mid-size sedan, equipping it with not one but two new engines and, for the first time, offering all-wheel drive.
The previous-generation Altima was well-regarded and won the most recent J.D. Power Initial Quality Survey in its segment, but the all-new 2019 Altima elevates the model to a new plane. With Nissan's advanced ProPILOT Assist electronic driver-assistance suite, the 2019 Altima takes its drivers well down the road toward the destination of fully autonomous driving. So this car isn't just important to Nissan; we think it is important to the industry.
The exterior design uses Nissan staples.
The 2019 Nissan Altima isn't a pure design, but it is certainly an expressive one. Taking inspiration from the Nissan Vmotion 2.0 concept car that debuted at the 2017 North American International Auto Show, the car has a contemporary look that fits in the mold of competitors like the Honda Accord. The Altima's new, compact engines enabled designers to lower the hood and cowl significantly.
Leading the way is a version of Nissan's "V-motion grille," and the front end features LED projector headlights with daytime running lights and LED fog lights. The "cut-line" extends from the tops of the headlights across the flanks of the car. Of course, the Altima also offers a new rendition of Nissan's "floating roof" with slim pillars and single-panel moonroof. Compared with the previous Altima, the new version is only 1.1 inches lower, 1.0 inches longer, and 0.9 inches wider, yet it looks markedly different in all three respects. That's a testament to the overall design. The coefficient of drag is a stellar 0.26.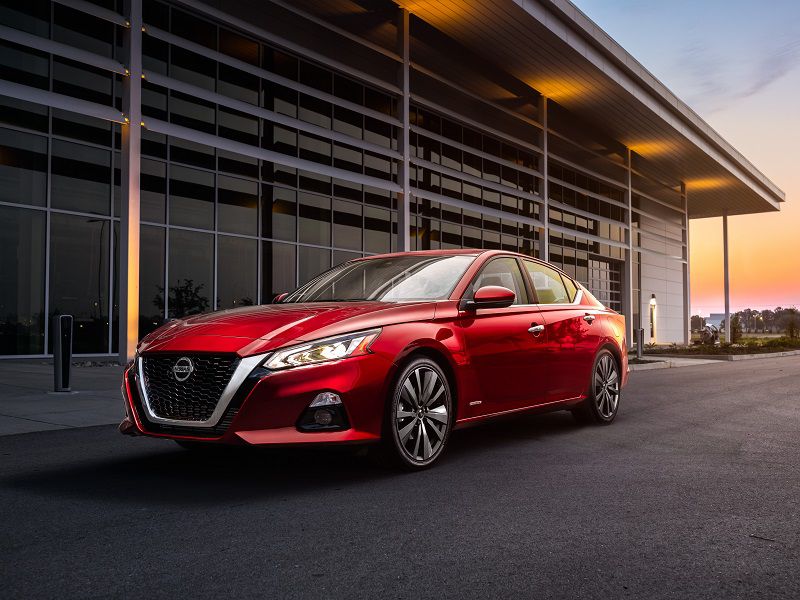 Photo by Nissan
The interior is easy to live in.
The Altima's interior is an artful combination of traditional and contemporary elements. The result is a comfortable, usable cabin that finally moves Nissan away from its previous approach that permeated the lineup. There was nothing wrong with that approach, but the new instrument panel, for example, is a breath of fresh air. The easy-to-read traditional round speedometer and tachometer are contained in a well-hooded nacelle immediately in front of the driver.
Then, extending to the right of the driver, is a broad, swooping dashboard. Perched on the dash, almost as if it were an independent element that has been simply set there, is the infotainment screen. The heating/ventilation/air conditioning controls lie below the infotainment screen and two adjustable vents, and they are immediately understandable. Nissan says the seats are NASA-inspired. Dubbed "Zero Gravity," they feature dual-density foam and substantial bolstering. Perforated leather-appointed seat inserts are available in some trims. The rear seat is comfortable for three and offers a fold-down armrest.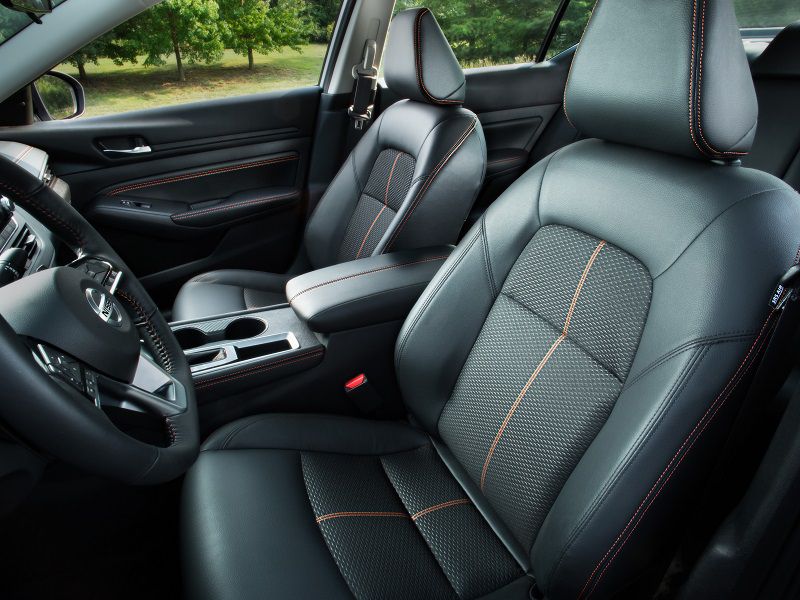 Photo by Nissan
Advanced Entertainment, Information
The 2019 Altima features the next generation of Nissan connectivity, offering over-the-air updates with automatic update notifications and connectivity between home, work, and the vehicle. Both Apple CarPlay and Android Auto are standard across the Altima line. Every 2019 Altima is equipped with an 8-inch color touchscreen display, Bluetooth hands-free phone and audio streaming, a hands-free text messaging assistant, and Siri eyes-free voice recognition.
The audio system in the Altima S, SR, and SV trims features six speakers and AM/FM/HD with RDS, MP3, and an auxiliary input. On upscale trim levels, a Bose system with nine speakers — including a new digital amplifier with eight channels of custom equalization — is offered, and active noise cancellation is also available. The 8-inch infotainment screen is supplemented by a 7-inch "Advanced Drive Assist" display in all 2019 Altimas.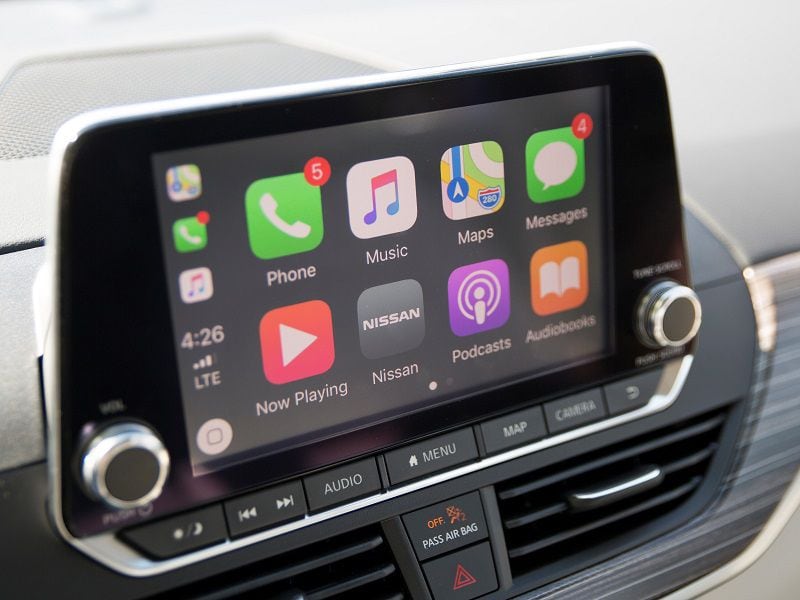 Photo by Nissan
Two Powertrains, One Revolutionary
The Nissan Altima offers the choice of two engines, one so heavily revised you can call it new and another so new you can call it revolutionary. Let's start with the former, a completely revamped 2.5-liter four-cylinder engine that delivers 188 horsepower and 180 lb-ft of peak torque. Key changes from the previous 2.5-liter engine include a thermal-insulated intake port, a direct injection system, a variable tumble control valve, mirror bore cylinder coating, and a variable displacement oil pump.
That's impressive, but it pales in comparison to the 2.0-liter VC-Turbo, the first production engine to use variable compression technology. Delivering 248 horsepower and 280 lb-ft of torque, it changes its compression ratio between 8:1 (high performance) and 14:1 (high efficiency) via a multi-link system that continuously raises or lowers each piston's travel. Lighter and much more fuel-efficient than the 3.5-liter V6 it replaces, the VC-Turbo is a revelation. Both engines are equipped with an Xtronic continuously variable transmission that has an expanded lock-up area for improved efficiency. For the first time, the Altima offers an all-wheel drive system as optional equipment.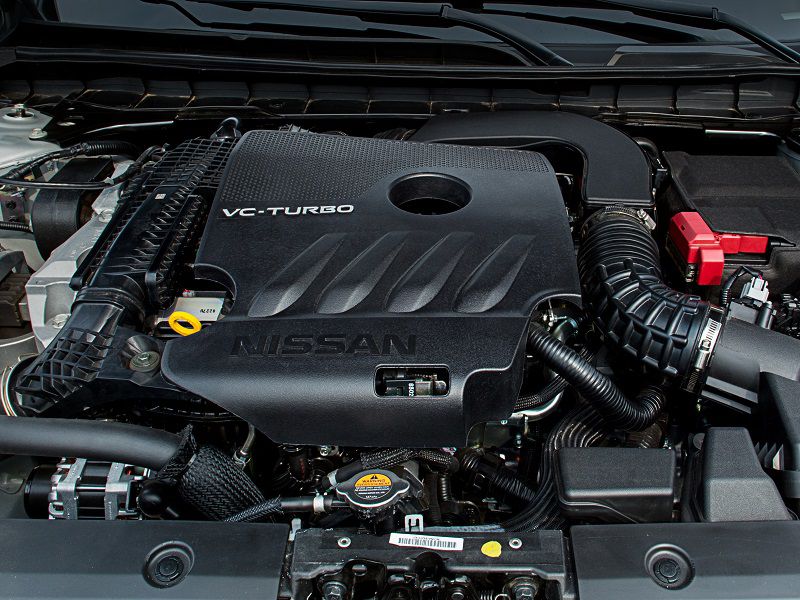 Photo by Nissan
Plenty of power means driving fun.
The Nissan Altima is one of the most fun-to-drive vehicles in its segment. The VC-Turbo's 248 horsepower delivers velvety power application with seemingly instant torque. Surely, (if you don't mind me calling you that) it is the choice for those who take their acceleration seriously. But the 2.5-liter's 188 horsepower also provides good acceleration. Enthusiast writers typically whine about CVTs, but in all-around driving, there is nothing to complain about in the Altima. Application of the accelerator results in immediate power. Enough said.
The Altima's ride isn't sports-sedan harsh. Instead, it cuts a nice compromise between pillow-like ride quality and sharp handling ability. For those desiring a bit more sharp handling, Nissan offers the SR version with stiffer springs and shocks. Still, its ride quality is more than acceptable.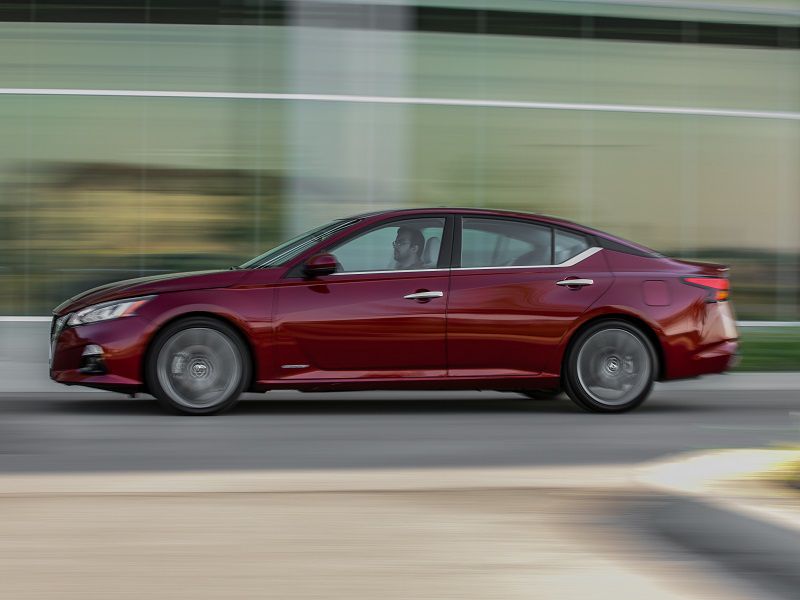 Photo by Nissan
Abundant Safety and Driver Aids
The Altima nearly bowls you over with its available driver-assistance tech. The headliner is ProPILOT Assist, which is designed to relieve you of the burden of all that acceleration, steering, and braking you typically have to do all by yourself. Easy to engage, as opposed to many of the New Age driver-assist systems, it helps drivers stay centered in the lane, navigate stop-and-go traffic, maintain a set speed, and maintain a set distance to the vehicle ahead.
In addition to ProPILOT Assist, rear automatic braking is also new for 2019. It detects large stationary objects when backing up, (geez, how did that boulder get there?) and, after some warnings, it applies the brakes to help avoid a collision. The range of safety features includes standard automatic emergency braking, an intelligent forward collision warning, and an intelligent driver alertness monitor on all grades. (If you're an intelligent driver, you better be alert.) The ever-popular intelligent around-view monitor is standard on the Altima Platinum.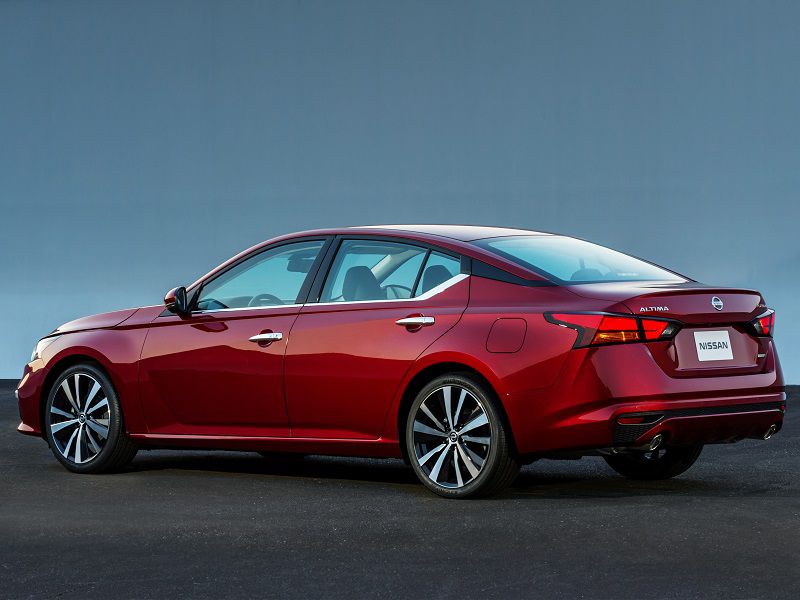 Photo by Nissan
Interior Space, Cargo, and Fuel Economy
The Altima sedan's low cowl and open dashboard contribute to a feeling of roominess. It offers an ample amount of passenger space for five adults with an interior volume of 100.8 cubic feet. The sizable and easily accessible trunk offers 15.4 cubic feet of cargo space.
Fuel economy for the front-drive 2.5-liter four-cylinder-powered Altima S, SV, and SL is 28 mpg in the city, 39 mpg on the highway, and 32 mpg combined. The SR and Platinum trims drop to 27 mpg city/37 mpg highway/31 mpg combined. All-wheel drive knocks each number down about 2 mpg. The 2.0-liter VC-Turbo in the Altima SR, Platinum, and Edition ONE offers fuel economy of 25 mpg city/34 mpg highway/29 mpg combined. All-wheel drive isn't available with the turbo engine.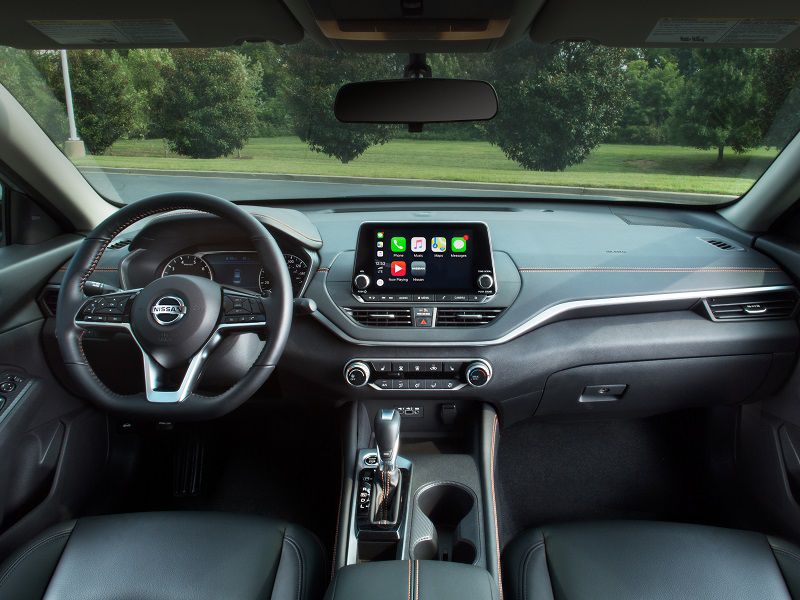 Photo by Nissan
Multiple Trim Levels for Many Tastes
The Altima is offered in five different trim levels: S, SR, SV, SL and Platinum. All five come equipped with the 2.5-liter engine and are available with all-wheel-drive. In addition, the Altima SR and Platinum grades are available with the 2.0-liter VC-Turbo engine. An exclusive Altima Edition ONE launch trim, based on the Platinum VC-Turbo, is being offered in limited numbers, and it comes complete with Nissan Concierge service. As you would expect with five trim levels, the differences are nuanced and stair-stepped. You could be happy with an S trim version, but the higher you climb the food chain the better things get. For racers in the crowd, the SR is the ticket. The Platinum VC-Turbo is the ultimate Altima for most buyers with the powerful engine and comfort and convenience features galore.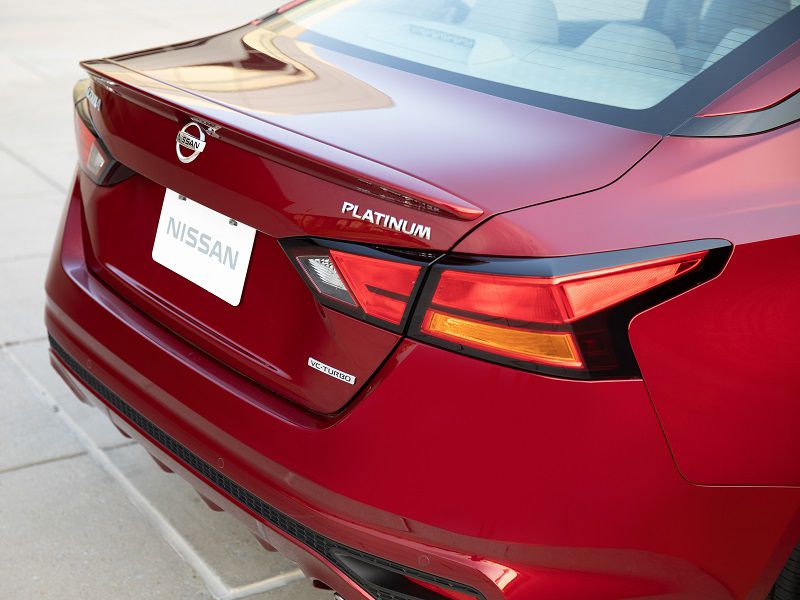 Photo by Nissan
Pricing and Value
The Nissan Altima exemplifies the company's commitment to the sedan market, and it demonstrates a strong faith in new technology. Variable compression is a neat trick if you can do it, and Nissan is confident it can. The Altima 2.5S has an MSRP of $23,750. If you add all-wheel drive, it jumps to $25,100. The 2.5 Platinum has a base price of $31,780, and all-wheel drive bumps that up to $33,130. If you want the VC-Turbo engine, the VC-Turbo SR starts at $29,150. The VC-Turbo Platinum has a starting price of $34,780, and the Edition ONE starts at $35,750. (Add an $895 destination charge to each of these base prices.)
We don't know if all this is enough to swing many buyers back to sedans, but the 2019 Nissan Altima gives you many good reasons to think about it.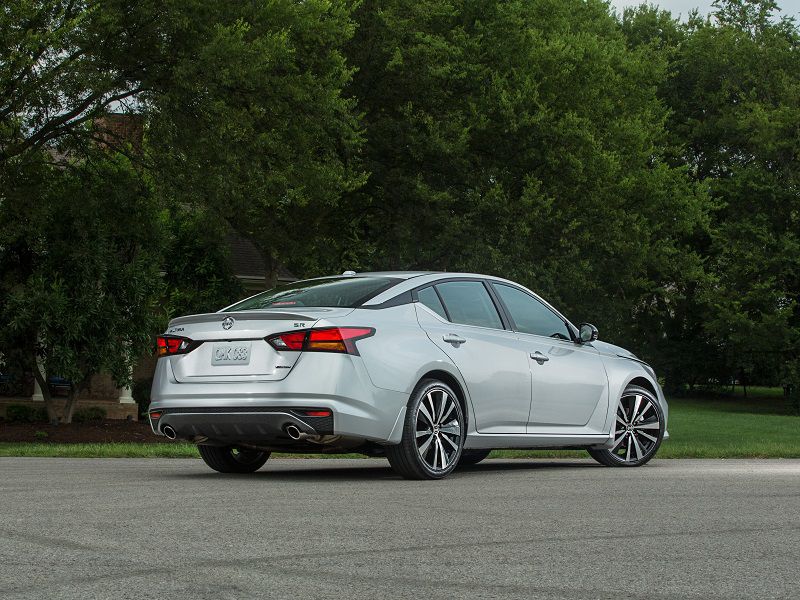 Photo by Nissan