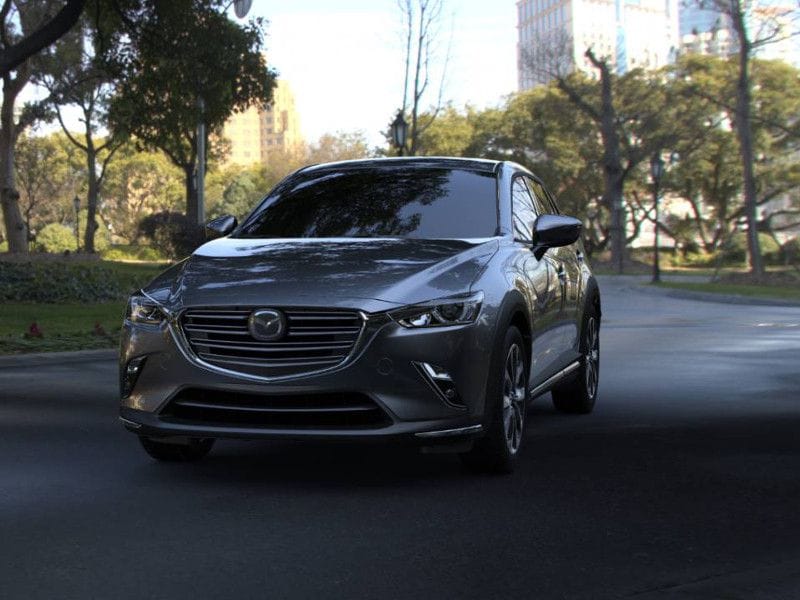 2019 Mazda CX 3 grey ・ Photo by Mazda
In an age in which buyers take to crossovers like ants to a spilled puddle of honey, it is not surprising that car companies are trying to stretch the crossover label to vehicles that don't seem all that SUV-like. So it is with the Mazda CX-3.
Based on a car platform and taller than the sedan version of Mazda's global subcompact, it is by that measure a crossover. But forgive us if we see it as being in many ways similar to the one-size larger Mazda3 four-door hatchback. In both shape and demeanor, the CX-3 is decidedly more car-like than the competitive Honda HR-V, Nissan Kicks, and Toyota C-HR. That has its advantages — most noticeably in handling — and its disadvantages: notably, that the CX-3 isn't as roomy as several of its peers. What the CX-3 is is a good-looking, spunky small crossover that will deliver plenty of driving enjoyment.
Exterior
As we just mentioned, the 2019 Mazda CX-3's exterior style is one of the best things about the vehicle. In a sea of crossovers that, to our eyes, try way too hard to get noticed, the CX-3 offers a clean, attractive, international look that emphasizes sophistication. That is undoubtedly a reason it was a World Car Design of the Year finalist.
For 2019 the CX-3 has received some freshening up. There is a new grille design that is bold but not in-your-face, and we think the new piano black exterior accents are extremely attractive. Ditto for the new chrome additions, which are in keeping with the trend to more "exterior jewelry." The 2019 CX-3 sports a new 18-inch wheel design, and the LED taillights have gotten a facelift as well. The overall impression delivered is both more attractive and more sophisticated than the bulk of its competitors.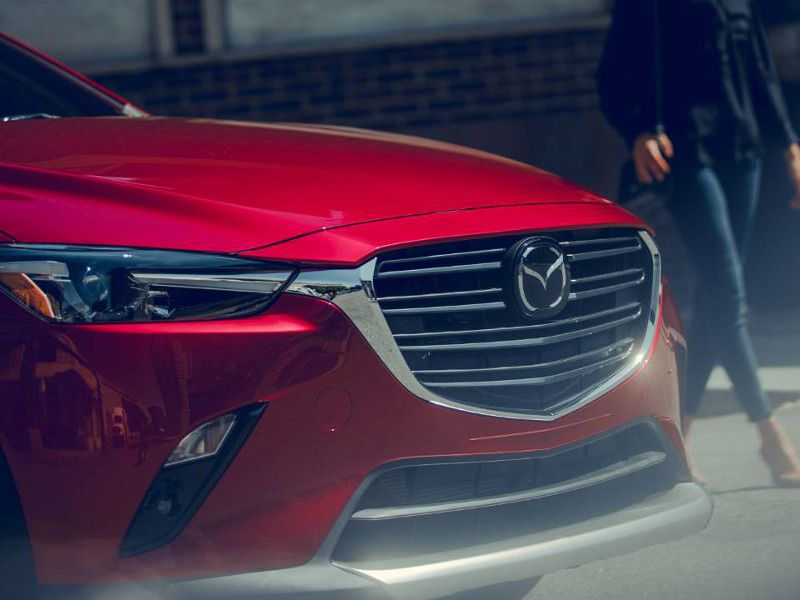 Photo by Mazda
Interior
While many of the crossovers in the subcompact class offer gimmicky interiors, the 2019 Mazda CX-3 opts for attractive functionality with a sophistication one might call continental. The CX-3's interior is one of the best in the segment, rivaling offerings from luxury brands like Audi's Q3. It is clean, bright, sensibly laid out and easy to use.
The CX-3's cabin is also jam-packed with new stuff for 2019. Most notable among the wealth of new items is the redesigned center console offering more storage and a convenient armrest. Similarly, there's a new center armrest with built-in cupholders in the rear-seat area. The front seats have been redesigned with the addition of high-density, vibration-absorbing urethane foam, and full leather seating surfaces are now available. High-gloss, pleated piping is also available on the leather seats, and the interior has added suede-like accents. On the functional side of the ledger, the CX-3 now has a standard electronic parking brake with an auto-hold feature.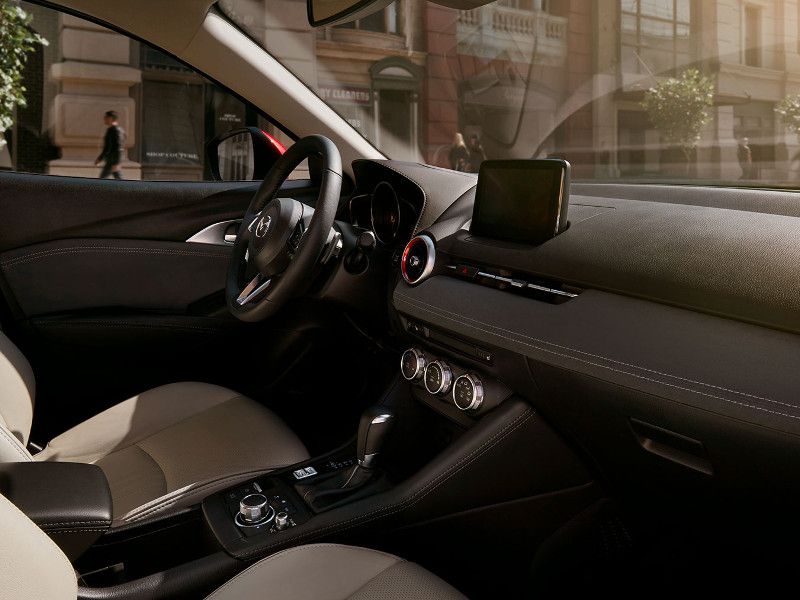 Photo by Mazda
Infotainment
Most vehicles in the subcompact crossover segment offer a touchscreen infotainment interface and let it go at that. Mazda kicks the human-machine interface up a notch to try to ensure the driver's attention stays on the road where it belongs.
One example is the available head-up display that projects some information right into the driver's line of sight. The Mazda Connect infotainment system employs touchscreen, voice, and a joystick-like control (Commander Control) that enables the driver to choose a method of interaction that is least distracting. The 7-inch full-color touchscreen requires a bit of effort to learn, but once the functions are understood it is very easy to operate without turning your attention from the road. The phone, Pandora, Stitcher, and Aha by Harman can be operated hands-free. The available Bose seven-speaker audio system does a nice job of filling the cabin with music.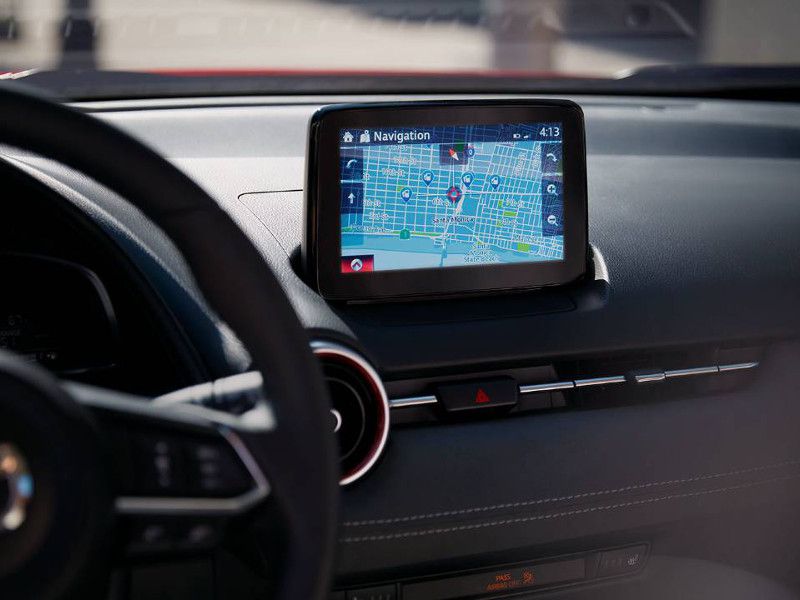 Photo by Mazda
Powertrains
The Mazda CX-3 offers two methods of utilizing the power from the single engine choice. The 2.0-liter in-line four-cylinder SKYACTIV-G engine delivers its 148 horsepower and 146 lb-ft of torque through standard front-wheel drive or available predictive i-ACTIV all-wheel drive.
The revised engine is complemented by Mazda's G-Vectoring Control technology that employs engine timing to aid chassis dynamics. Mazda says it leads to smoother, more accurate steering inputs, and we can't disagree. For the handful of you who want a manual transmission, you will be disappointed. The SKYACTIV-DRIVE six-speed automatic transmission with manual-shift mode and sport mode is the only transmission available, but it is a good one. It's a true geared automatic, not one of the continuously variable transmissions that are spreading like wildfire through smaller vehicles these days.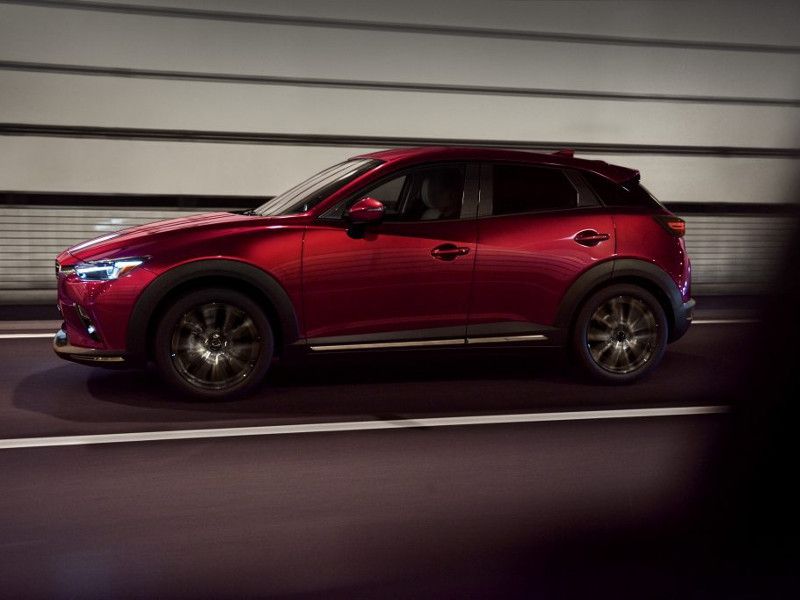 Photo by Mazda
Driving Impressions
Driving is where the CX-3 really shines versus its competition, and driving is a key function of a vehicle now, isn't it? Frankly, the Mazda's ride and handling are far better than they need to be. It benefits from some very impressive technological prowess that others don't offer.
For example, its i-ACTIV all-wheel drive uses sophisticated sensors that monitor steering angle, throttle input, and wheel-spin plus ambient temperature and even the use of windshield wipers to understand the driving conditions the vehicle finds itself in. The system can adjust power output more than 200 times per second using 27 different variables to predict what road conditions are like — rather than just sensing wheel-slip and adjusting front-to-rear torque to compensate. The result is that the CX-3 offers superior all-weather handling. Front-drive CX-3s aren't as technically astute but still offer excellent drivability.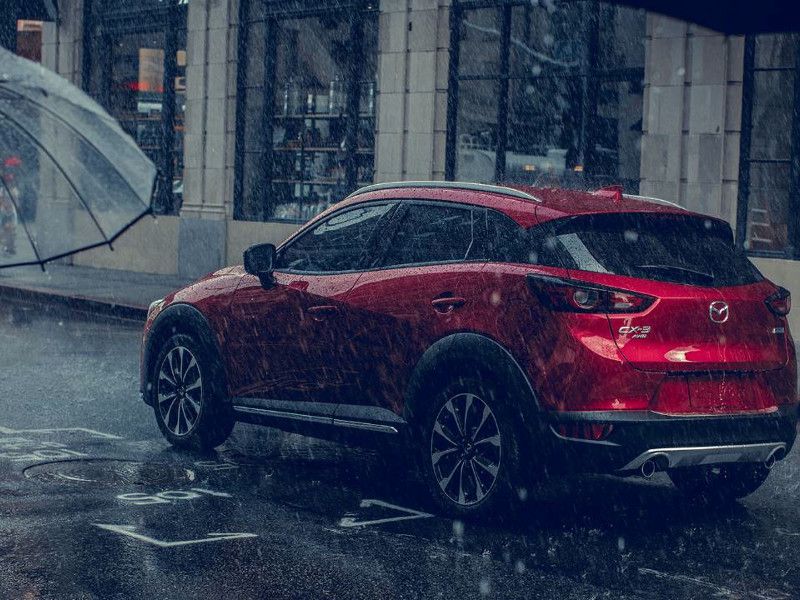 Photo by Mazda
Safety and Driver Aids
For 2019 Mazda is ladling on electronic driving aids in impressive portions. Blind-spot monitoring with rear cross-traffic alert is now standard on all CX-3 models, and various trim levels get escalating arrays of safety equipment.
For example, the New Sport i-ACTIVSENSE package includes Advanced Smart City Brake Support with pedestrian detection, smart brake support, radar cruise control with stop-and-go, a lane-departure warning, automatic high beams, adaptive headlamps, an Active Driving Display, rain-sensing windshield wipers, automatic climate control, automatic on/off LED headlights, and LED taillights. Other trim levels offer very similar packages that include a comprehensive level of electronic safety aids.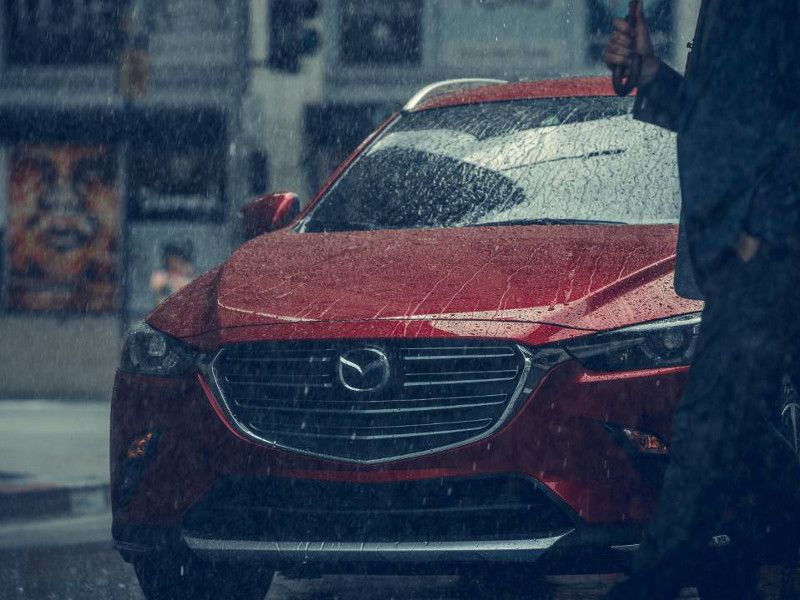 Photo by Mazda
Interior and Cargo Space
The Mazda CX-3 offers a very pleasant driving experience, but one of the costs is in interior space. The CX-3 just isn't as big as someone of its key competitors. For example, it is 2 inches shorter in overall length, 3 inches shorter in overall height, and 1.5 inches narrower than the Honda HR-V.
Those dimensions — particularly the lower height — make difference in interior room. The HR-V offers 100.1 cubic feet of passenger space while the CX-3 has 87.6. The HR-V's maximum cargo area is 58.8 cubic feet, while the CX-3's cargo area is just 44.5 cubic feet. In the front seats, the difference in interior space is not really an issue. But in the rear, the HR-V offers substantially more legroom.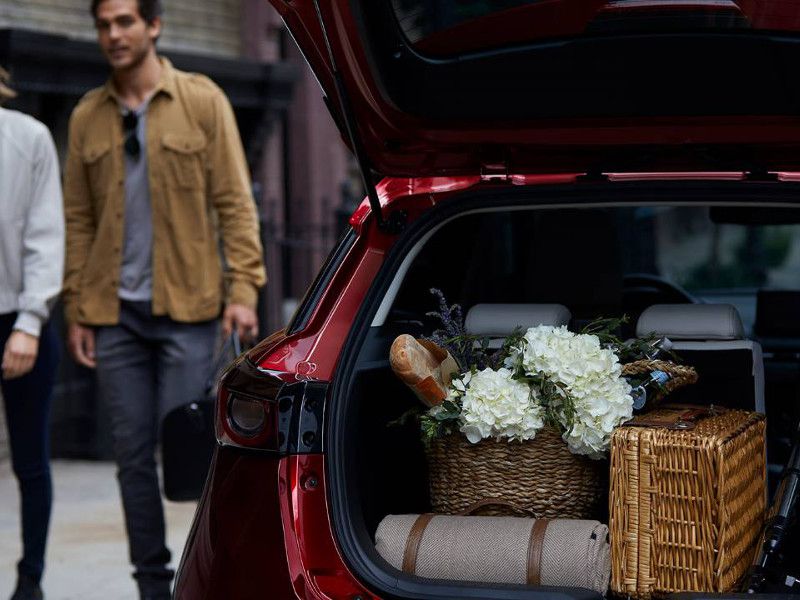 Photo by Mazda
Fuel Economy
The Mazda SKYACTIV engines are renowned for their good fuel consumption numbers. EPA fuel economy estimates for the front-drive 2.0-liter four-cylinder CX-3 is 29 mpg in the city, 34 mpg on the highway, and 31 mpg combined. With all-wheel-drive, the CX-3 drops to 27 mpg city/32 mpg highway/29 mpg combined.
In comparison, the front-drive Honda HR-V has EPA ratings of 28 mpg city/34 mpg highway/30 mpg combined, and the all-wheel-drive version has ratings of 26 mpg city/31 mpg highway/28 mpg combined. The Toyota C-HR — sold only with front-wheel drive — is EPA-rated at 27 mpg city/31 mpg highway/29 mpg combined.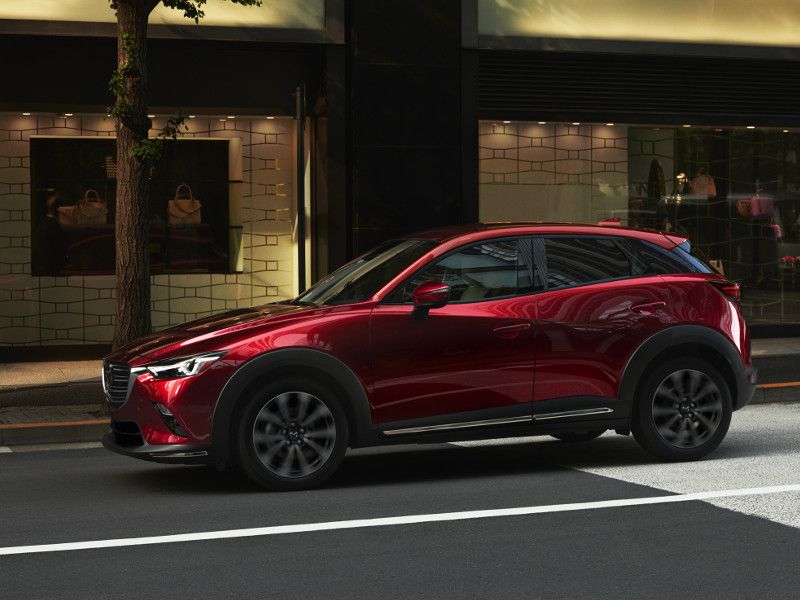 Photo by Mazda
Trim Levels
The 2019 Mazda CX-3 crossover is offered in three trim levels: Sport, Touring, and Grand Touring. The Sport trim is pretty well-equipped, and a comprehensive i-ACTIVSENSE safety equipment package is offered — a big benefit. On some other vehicles, you must buy an upper-level trim to even get the opportunity to purchase a safety package.
The Touring trim is a good middle ground with a nice level of standard equipment and the availability of its own i-ACTIVSENSE safety package. Then there is the Grand Touring, which is very close to an all-inclusive version of the CX-3. We think the Touring version will likely be the best value for most buyers, and the Touring trim with the associated safety package would be a very good choice.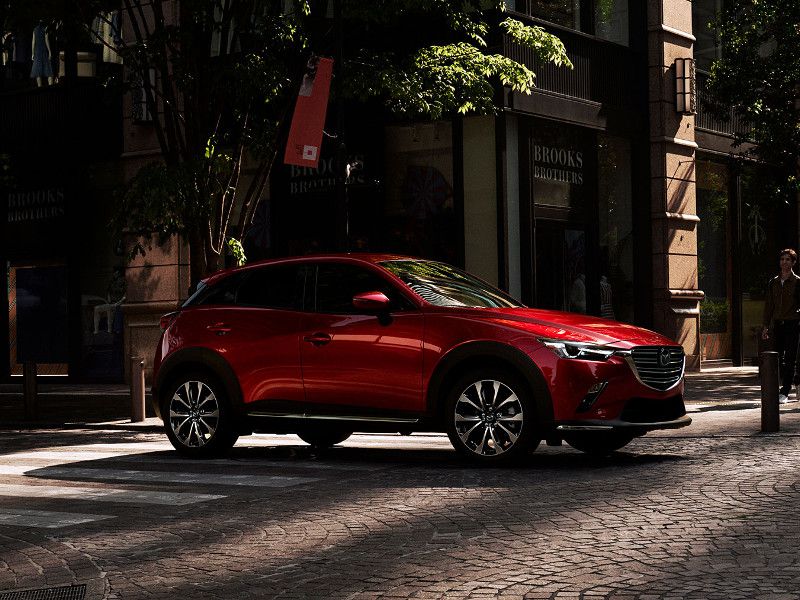 Photo by Mazda
Pricing and Value
The Mazda CX-3 is an eager five-passenger subcompact crossover that is very likely the most fun-to-drive model in the segment. At the same time, it isn't as roomy as many vehicles in the class and offers virtually no genuine off-road capabilities. The Jeep Renegade is the alternative if that makes a difference to you. We also think the CX-3 is the best-looking vehicle in its segment, with an air of sophistication and maturity about it that differentiates it from most of the small crossover pack.
The least-expensive CX-3 Sport has an MSRP of $20,390 in front-drive form plus a $995 destination charge. A Touring version with all-wheel-drive has a suggested retail price of $23,875 plus destination charge. The top-of-the-line CX-3 Grand Touring with all-wheel-drive has a base price of $27,145 plus destination.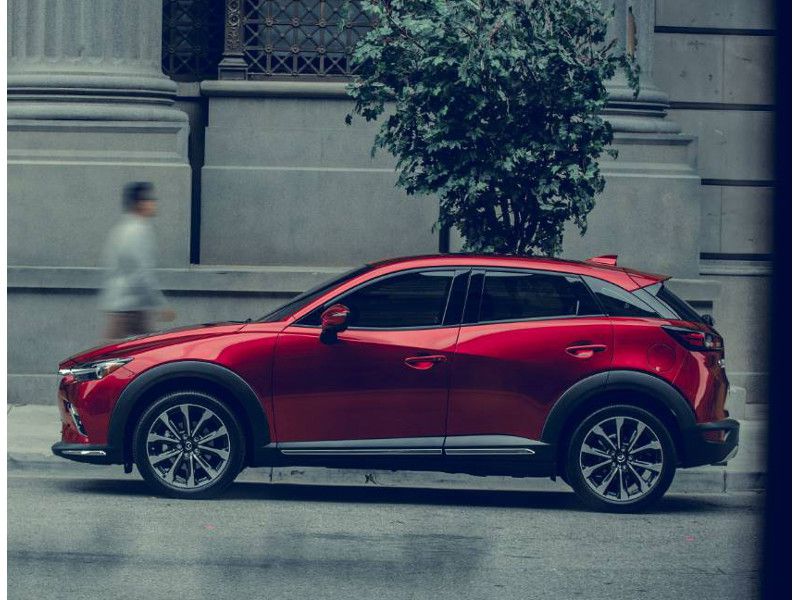 Photo by Mazda