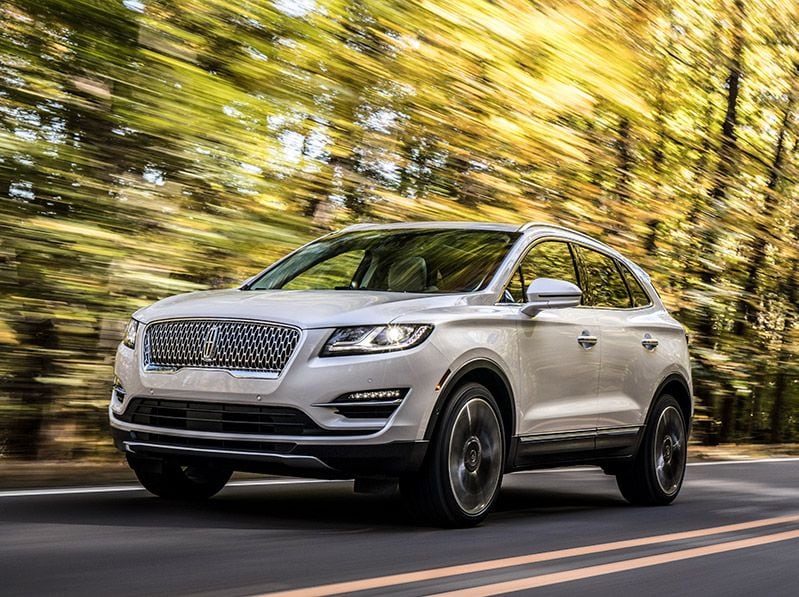 2019 Lincoln MKC front three quarter ・ Photo by Lincoln
Lincoln's best-selling cars aren't cars. They're SUVs. Crossovers. So far this year, the Lincoln MKX and the brand's smallest and most affordable crossover, the Lincoln MKC, are fighting it out for top sales honors. And the American luxury automaker is itching for more, replacing the MKX with the Nautilus for 2019 and making notable improvements to the 2019 MKC.
Adding safety and features to the 2019 Lincoln MKC is necessary to fight off its popular competitors, which include the Lexus NX, the redesigned Infiniti QX50, the BMW X1, the Mercedes-Benz GLC, and the newly introduced Cadillac XT4. Still in its first generation, the Lincoln MKC was first introduced in 2015. Based on the popular Ford Escape (Lincoln is part of Ford), the 2015 MKC was attractive, fuel efficient, and well-appointed. It offered a smaller and lower priced alternative to luxury SUV buyers, and it immediately found a following — especially with women, who make up more than half of all MKC buyers.
Four Trim Levels to Choose From
Lincoln offers the Kentucky-built 2019 MKC in four trim levels: Premiere, Select, Reserve, and Black Label. Prices start at $34,280, including a $925 destination fee, for an MKC Premiere with front-wheel drive. All front-wheel drive models use a turbocharged 2.0-liter four-cylinder rated at 245 horsepower, which is competitive for the class. This engine is also offered with all-wheel drive. Buyers looking for more power can get a 285 hp turbocharged 2.3-liter four-cylinder for an additional $1,140, but only with all-wheel drive. Every 2019 MKC uses a six-speed automatic transmission and has a maximum seating capacity of five.
There are also three different Black Label themes to choose from, each with a very dramatic name. There's Modern Heritage, Center Stage, and Indulgence. Our all-wheel drive 2019 Lincoln MKC Black Label test vehicle was equipped with the Modern Heritage theme and had a base price of $49,610. It represents the top of the extensive MKC lineup. With options, which included the 2.3-liter engine, its price was $58,510.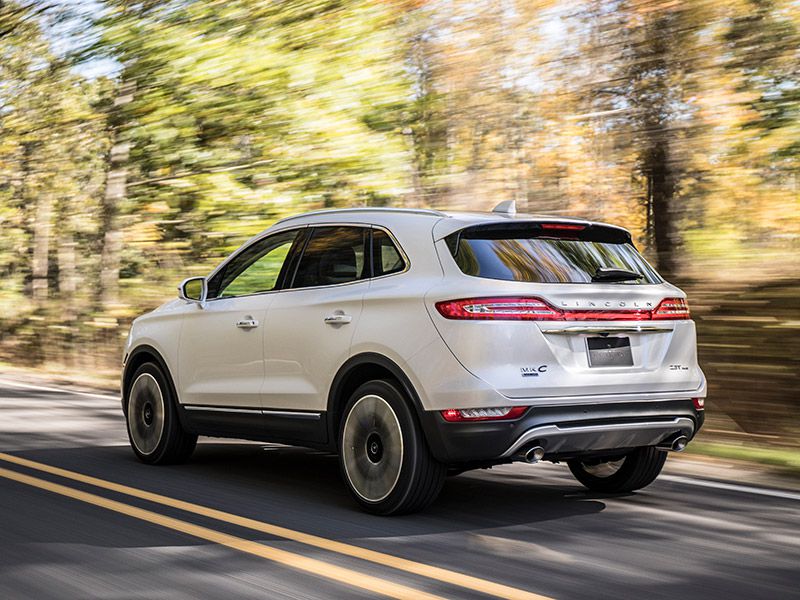 Photo by Lincoln
Excellent Driving Dynamics
The 2019 Lincoln MKC is one of the most powerful and one of the quickest SUVs in the compact class. While it's plenty quick with the standard 2.0-liter, with its optional 2.3-liter turbocharged it's just plain fast. The engine is smooth and provides plenty of torque off the line. Acceleration is strong with a 0-60 mph time of about 6.6 seconds. That's about a half-second quicker than the Lexus NX.
It would be even quicker with a more modern transmission. The six-speed automatic works well enough, but it's dated. Many competitors now feature transmissions with more gears, and the benefits are acceleration and fuel economy. Lincoln isn't really known for building fun-to-drive vehicles, but the MKC's chassis, steering, and brakes are well tuned and its handling is sporty. It's not quite as fun in the turns as its German competitors, but it's stable and it hangs on if you push it around a few corners. Its steering is lightly weighted, and the MKC doesn't feel big and bulky, although it does feel solid and substantial. Plus, it rides comfortably, even on choppy sections of highway.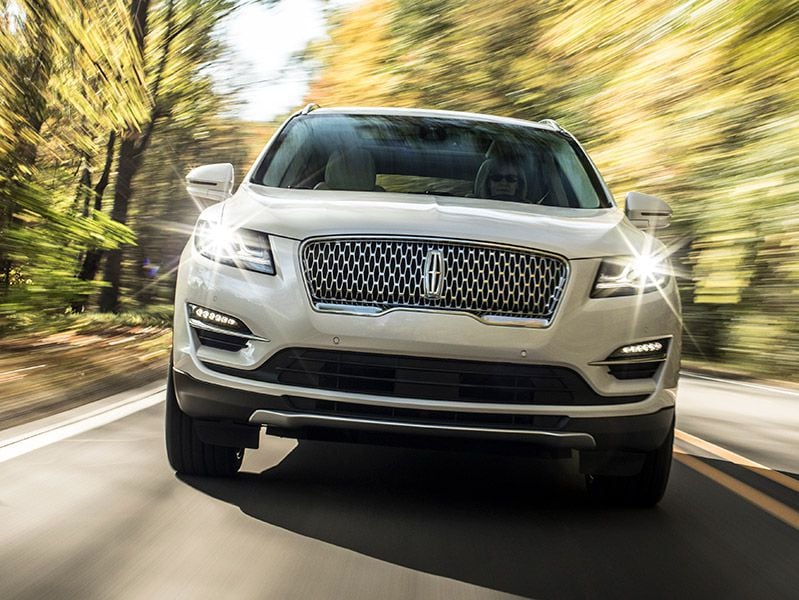 Photo by Lincoln
Good Fuel Economy
Even with its powerful turbocharged engines, the 2019 Lincoln MKC also manages good fuel economy. The SUV is rated at 20 mpg in the city and 27 mpg on the highway with the base 2.0-liter engine and front-wheel drive. With all-wheel drive, those numbers dip to 19 mpg in the city and 25 mpg on the highway.
With the more powerful 2.3-liter engine and all-wheel drive, the EPA rates the combination at 18 mpg in the city and 25 mpg on the highway. Both engines will run on less-expensive regular-grade gasoline to keep costs down, and every MKC comes with a convenient capless fuel filler. I averaged 20 mpg during a week of mixed driving around Los Angeles in our all-wheel drive 2.3-liter test vehicle.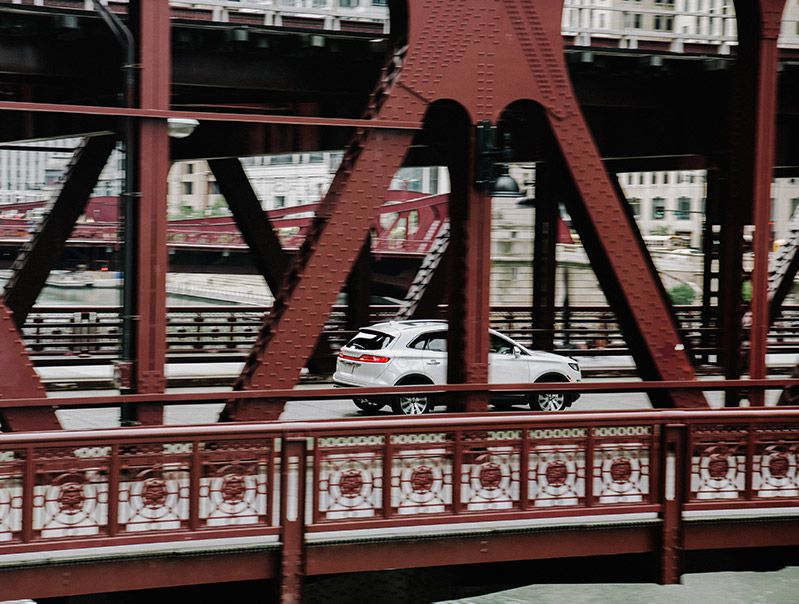 Photo by Lincoln
Upscale Exterior Style
This year, Lincoln has updated the look for the MKC, replacing its grille, headlamps, and front bumper for a more modern and far more attractive look. Lincoln has finally ditched the MKC's winged grille that reminded buyers of Lincolns from the 1930s. Its replacement is an aggressive horizontal form with a chrome mesh, a design also used on the brand's sedans and other SUVs — and it's a huge improvement.
With bulging fenders and sporty proportions, the MKC looks expensive and will never be mistaken for a Ford Escape. Overall, it's one of the more attractive vehicles in the compact luxury SUV class, and Lincoln's designers have added cool details including LED headlamps and taillights, dual chrome exhaust tips and large, intricate alloy wheels. Although there's a fair amount of chrome, there isn't too much. From the rear, the MKC is Audi-esque with a wide tailgate, a design pioneered on the Audi Q5 and Q7.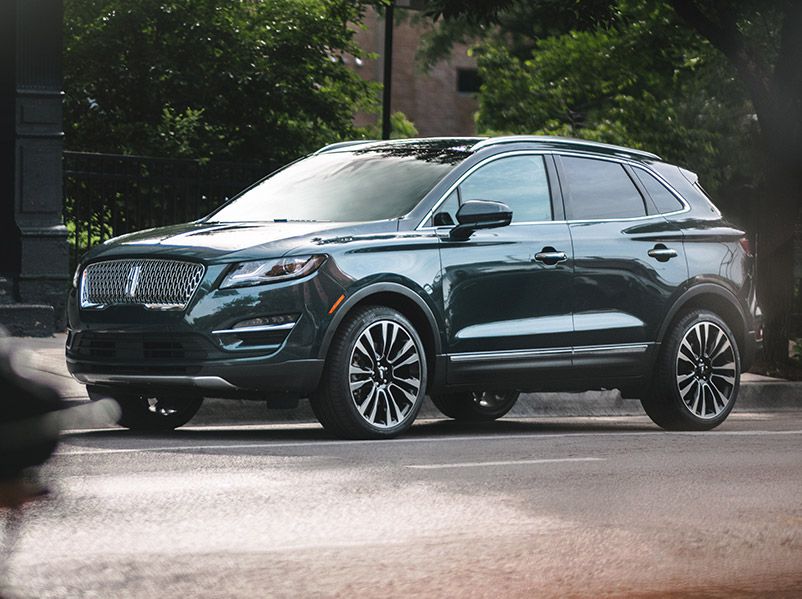 Photo by Lincoln
Impressive Cargo Space
Open that power liftgate and you'll find 25.2 cubic feet of space behind the MKC's rear seat, which is average for this class but more than you get in a Lexus NX. Every MKC comes standard with a 60/40 split-folding rear seat, which is easily folded flat to expand that space to 53.1 cubic feet. The Lexus offers about the same.  
Lincoln has also thought through the storage space in the MKC's cabin. The interior offers plenty of storage, including two large console bins between the front seats and sufficient door pockets with slots for water bottles. The two large front seat cupholders are well-placed.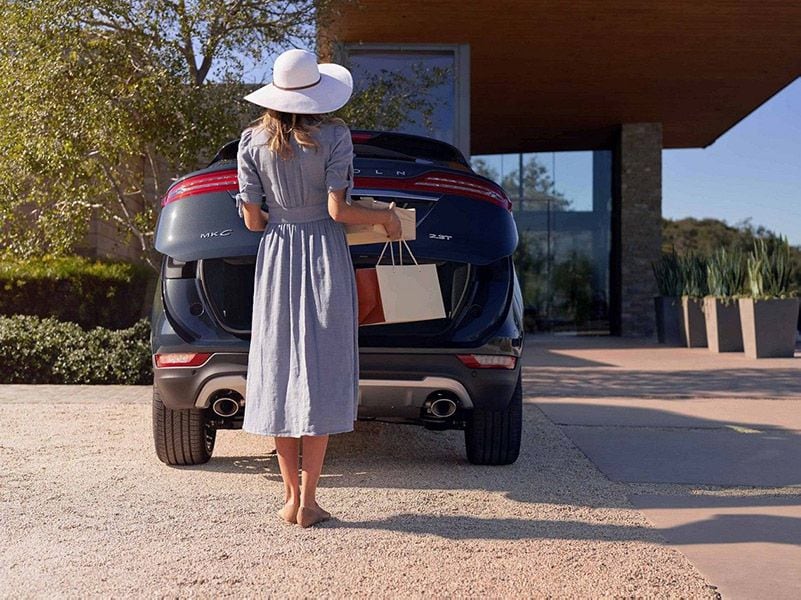 Photo by Lincoln
One of the Best Interiors in Its Class
When dressed in the top Black Label trim, this is one of the best cabins in the compact luxury SUV class. Fit and finish are very good, and MKC's interior materials — which include real leather, wood, suede, and aluminum — are high-quality. The heated and cooled front seats in our test vehicle were comfortable and supportive. 
Some may find the Lincoln's push-button shifter a little off-putting, but the buttons are large and high on the dash. You'll get used to it quickly if you give it a chance, and the system will put the transmission in park for you when you shut off the engine. The gauges are clean, clear, and colorful, and the large digital speedometer is easy to read at a glance. Rear seat space is about typical for this segment, which means four adults fit comfortably in the MKC, but you can fit three pre-teens in the backseat without any complaints.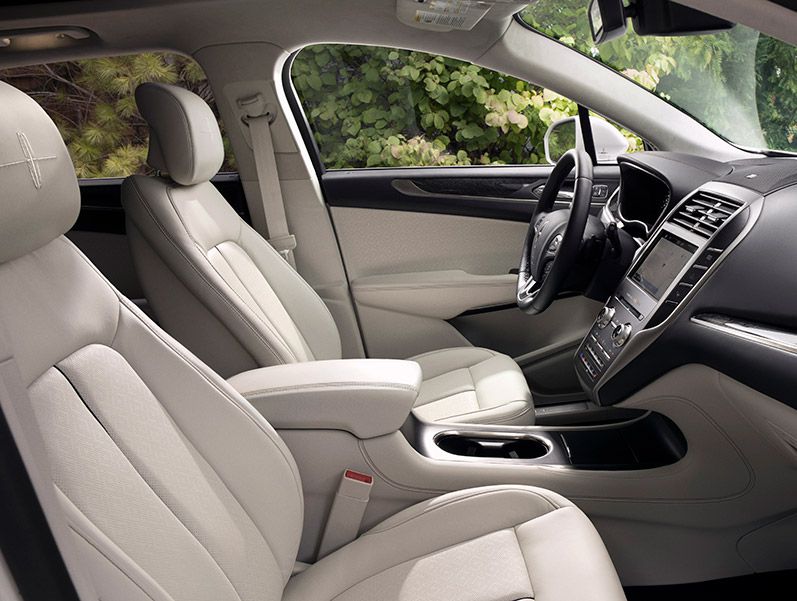 Photo by Lincoln
Solid Infotainment Tech
Ford has continuously improved its Sync infotainment system, and the latest version is the finest system Ford has ever offered. The Sync 3 system's menus are easy to navigate, its 7-inch touchscreen is quick to respond to your inputs, and its navigation system includes 3D maps and allows for pinch to zoom and other smartphone-like gestures. It's also compatible with Apple CarPlay and Android Auto, and Bluetooth and onboard Wi-Fi are standard.
The touchscreen is large and it's mounted high on the dash so you don't have to divert your eyes too far from the road to check the nav screen or one of its many other functions. There are also large knobs for tuning the audio system, as well as controls on the steering wheel, which keeps distractions to a minimum. We should also mention the awesome clarity and punch from our test vehicle's THX 14-speaker audio system. It's one of the best audio systems in this class.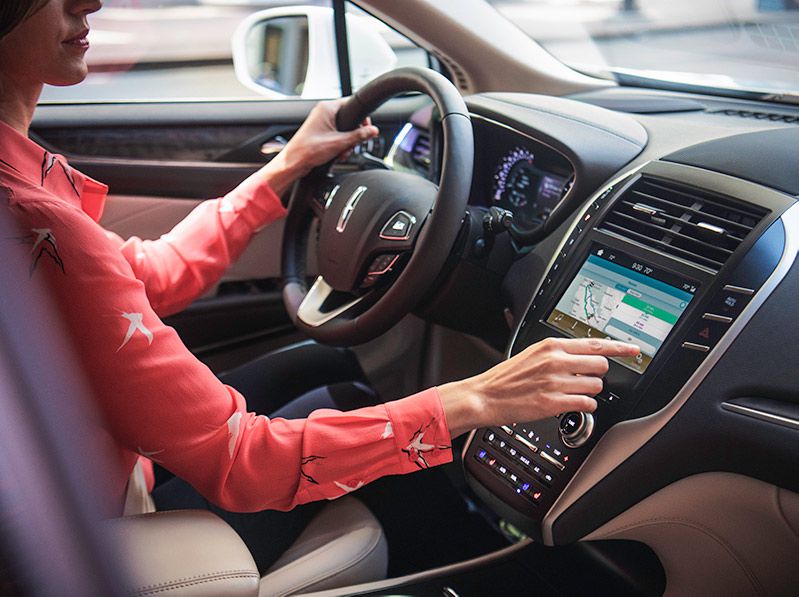 Photo by Lincoln
Advanced Safety Systems
Although some vehicles in the MKC's class have received the highest overall safety ratings, the Lincoln does not. It's rated four out of five stars by the National Highway Traffic Safety Administration, and it failed to qualify as a Top Safety Pick from the Insurance Institute for Highway Safety. Parents with infants or toddlers will appreciate the Lincoln's easy-to-reach LATCH connectors and easily accessed upper tether anchors.
Lincoln does pack the MKC with advanced tech based safety systems and driver aids, including Pre-Collision Assist with pedestrian detection. This system will warn the driver of a probable accident. If the driver does not respond in time, the system can automatically apply the brakes. Also available is active park assist, which will practically parallel park the SUV for you. A lane-keeping alert and blind-spot monitoring with cross-traffic alert, adaptive cruise control, front and rear parking sensors, and a lane-keeping system are also offered.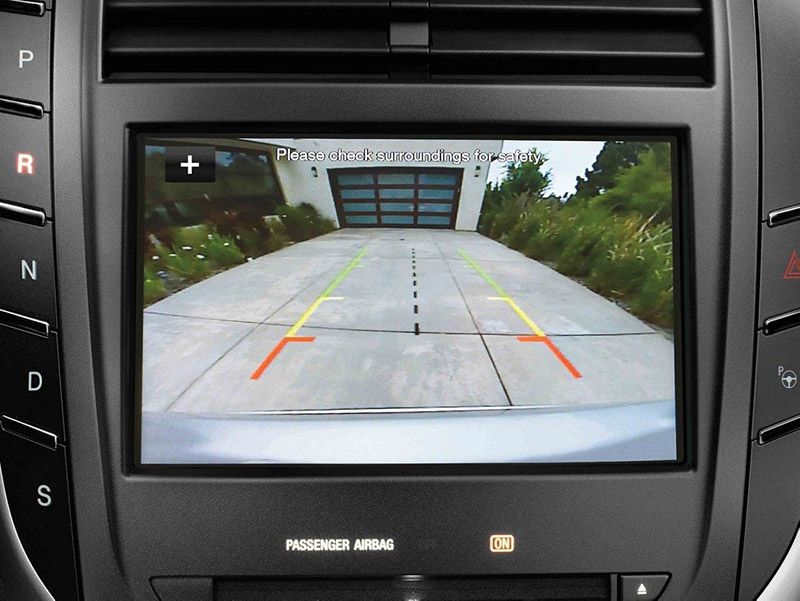 Photo by Lincoln
Final Thoughts
As much as we enjoyed the additional performance of our test vehicle's 2.3-liter engine, the standard 2.0-liter is strong enough for most buyers. We were also impressed with the interior appointments of the Black Label trim level, but it's expensive. And you don't have to pay up for the Black Label to get the access to the Lincoln Concierge service, available 24/7, which allows owners to schedule pickup and delivery for vehicle service at any location.
With so many attributes and a wide range of trim levels and price points, it's easy to understand why the MKC has become one of Lincoln's best sellers. If you're looking for a powerful, comfortable, and beautiful compact SUV, the stylish 2019 Lincoln MKC is a desirable overall choice.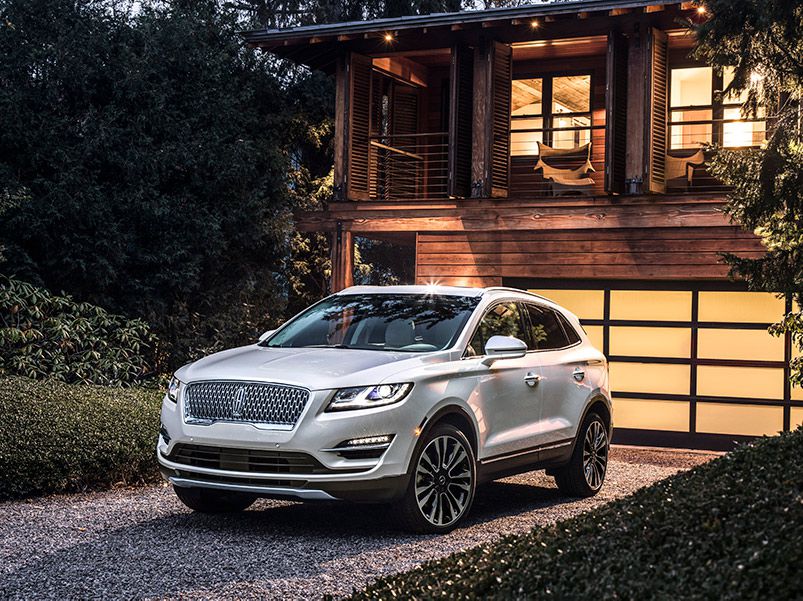 Photo by Lincoln