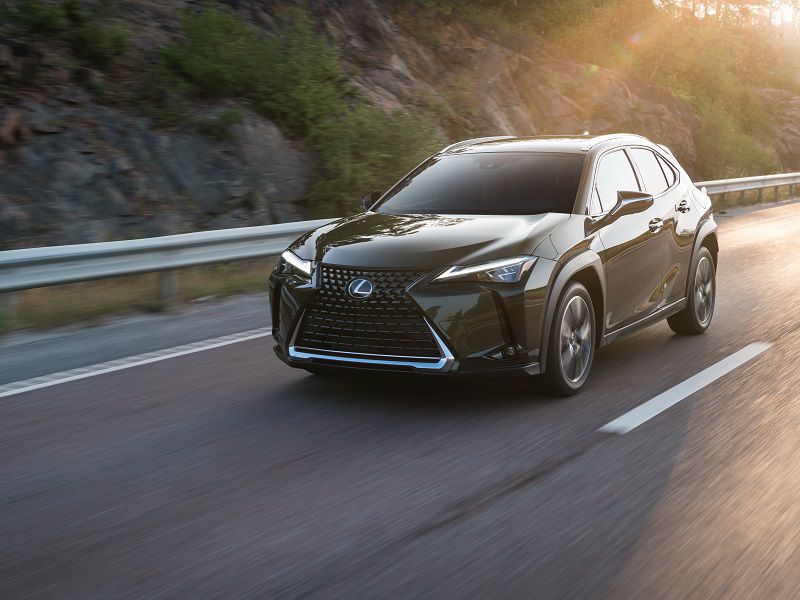 2019 Lexus UX 200 ・ Photo by Lexus
The 2019 Lexus UX is an all-new crossover slotting just below the popular NX. It's an entry-level vehicle with all the style and luxury of a Lexus minus the prohibitive luxury-car price. The idea is to attract buyers who are ready to spend more on an upscale vehicle, but who still have to stick to a budget. Adding to its affordability is fantastic fuel economy whether you opt for the hybrid UX 250h or the gas-powered UX 200.
Just because the UX is an entry-level vehicle, don't think it's somehow downmarket. It looks every bit a Lexus inside and out, with a wide range of features and fantastic materials. The outside is sleek, the interior is plush, and it delivers a genuine luxury experience in an affordable crossover. Let's take a closer look at the all-new 2019 Lexus UX and see what sets it apart from the competition.
It's a steal at $32,000.
Lexus is billing this as entry-level and it isn't kidding. The gas-powered Lexus UX 200 is priced at $32,000 while the hybrid UX 250h can be yours for $34,000. That's only a $2,000 premium for the hybrid, which gets you both better fuel economy and all-wheel drive, which isn't available on the 200, even as an option. Compare this to the Lexus NX equipped with front-wheel drive, whose starting price is $36,185.
There are three trim levels available, including the F Sport, so the price can creep up on you when you start piling on the features. Even so, Lexus says if you equip the UX with everything available, then you're looking at a price of $41,000. That's still remarkably affordable for a luxury crossover. If you're looking to take your first step into the world of luxury vehicles, the UX hits the mark.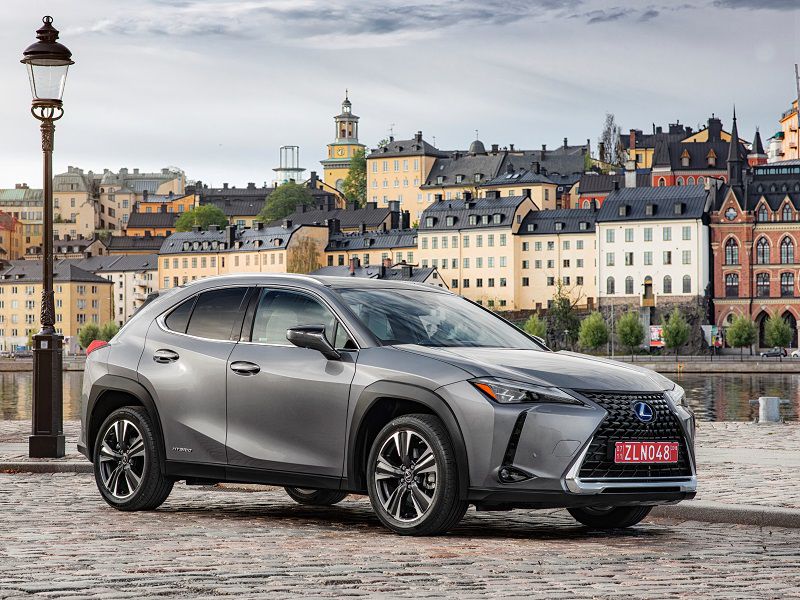 Photo by Lexus
Despite the low price, the interior is pure luxury.
When you look at its price, your first thought might be that Lexus skimped on the interior. It can't possibly look like a Lexus at that price. Or can it? Open the door and there's a top-notch interior that doesn't look one bit like designers compromised to meet their price points. Standard features include eight-way power front seats with two-way lumbar for the driver, dual-zone automatic climate control with rear vents, and a manual tilt and telescopic steering column.
Higher trims get leather seats in vibrant colors like red and blue, a power tilt and slide moonroof, and heated and ventilated seats. There's also a special leather trim available for the dashboard called washi. It's inspired by the grain of Japanese paper and has a unique look and feel. The overall impression inside the Lexus UX is one of modern elegance that coddles passengers in comfort.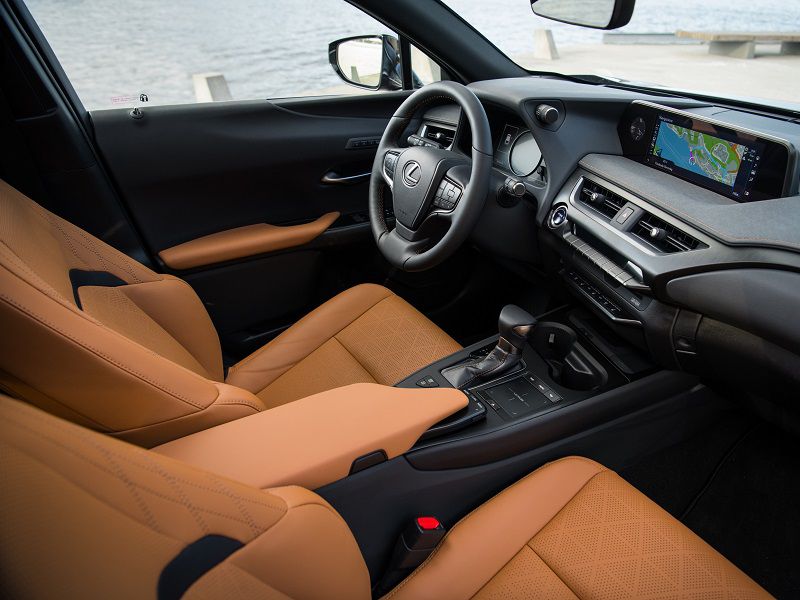 Photo by Lexus
Urban dwellers, this is your crossover.
There may be plenty of room to swing a full-size SUV into a parking space outside the city, but in urban environments, it can be a challenge. crossovers are the ideal solution to that problem. They offer plenty of room for passengers and cargo, but with a smaller footprint that's much easier to manage on city streets.
Lexus designed the UX specifically with urban dwellers in mind. Even its name is a nod to its intended audience: Urban + X-over = UX. It's a compact 177 inches long with a 103.9-inch wheelbase to keep the cabin roomy for passengers. There's also 21.7 cubic feet for cargo in the UX 200 and 17.1 cubic feet in the UX 250h. If you make a wrong turn and need to make a U-turn, the UX has a best-in-segment 34-foot curb-to-curb turning diameter. This also helps when trying to park in narrow city parking spaces.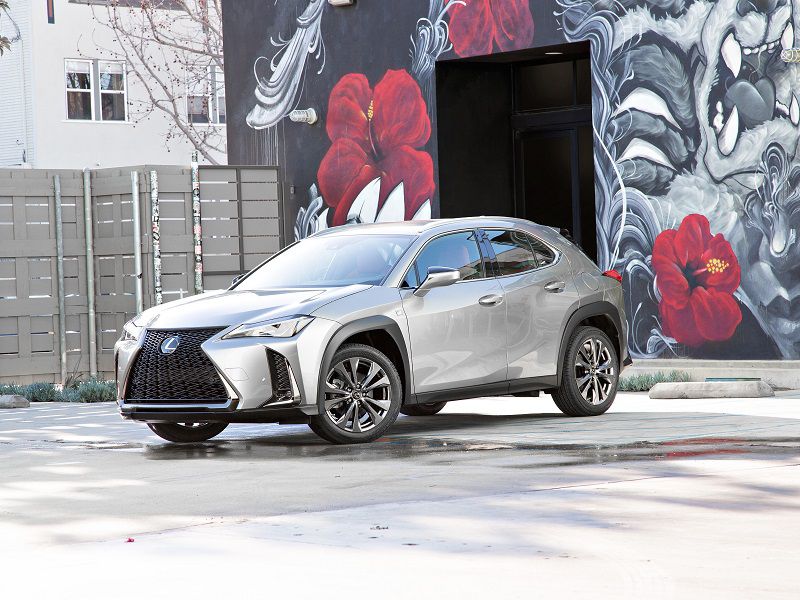 Photo by Lexus
Gas or hybrid, the choice is yours.
Lexus is making the UX available with two powertrains. The UX 200 comes with a 2.0-liter four-cylinder engine with 169 horsepower and 151 lb-ft of torque paired to a continuously variable automatic transmission. The UX 250h comes with the same gas engine along with two electric motors for a combined 181 horsepower. The hybrid also gets the added benefit of all-wheel drive, which you can't get on the gas-powered UX.
Either version of the UX is plenty peppy enough to accelerate into highway traffic, but we found the hybrid more responsive and smoother when you mash the pedal. The switch between the gas and hybrid engines was seamless, and you won't notice unless you're really paying attention. Add in the improved fuel economy of the hybrid, and it's our top pick, even if you live where the snow never flies and don't think you need all-wheel drive.
Photo by Lexus
Fuel efficiency is fantastic.
Pricing on this crossover makes it an entry-level luxury vehicle that more people can afford. Fantastic fuel economy makes it a crossover that stays affordable over the long term and keeps it from becoming a budget-buster if gas prices take a sudden jump.
The Lexus UX 200 gets an EPA-estimated 29 mpg in the city, 37 mpg on the highway, and 33 mpg combined. The UX 250h hybrid improves on those numbers with an EPA-estimated 41 mpg in the city, 38 mpg on the highway, and 39 mpg combined. Whether you're planning on using the UX simply to get around town or have longer road trips in mind, its fuel economy ensures you won't have to worry about going over budget because of gas prices.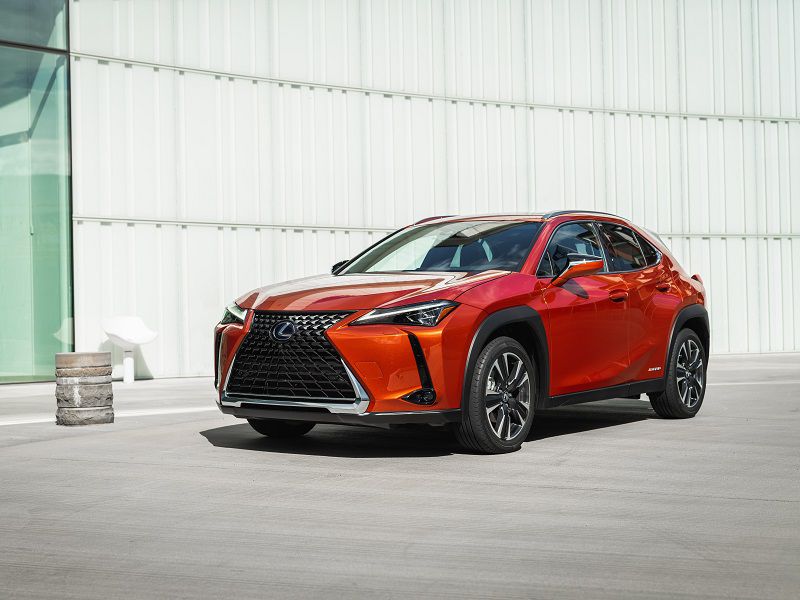 Photo by Lexus
The F Sport is truly sporty.
Lexus offers an F Sport package on many of its vehicles, including the UX. This adds a sport suspension and unique wheels that are more rigid than what's on the rest of the UX lineup. These changes do make a difference in how the F Sport handles. It's more controlled and easier to toss through the corners. The package also adds exterior design elements to differentiate it from the rest of the lineup with a revised grille pattern, rear bumper, and black trims.
The interior gets an upgrade with more supportive sport seats to hold you in on the corners, a digital instrument cluster inspired by the Lexus LFA supercar, a perforated-leather-trimmed F Sport steering wheel with paddle shifters, and aluminum pedals and door scuff plates. It's a complete package from how it looks to how it drives, and it can be added to the UX 200 or 250h for $2,000.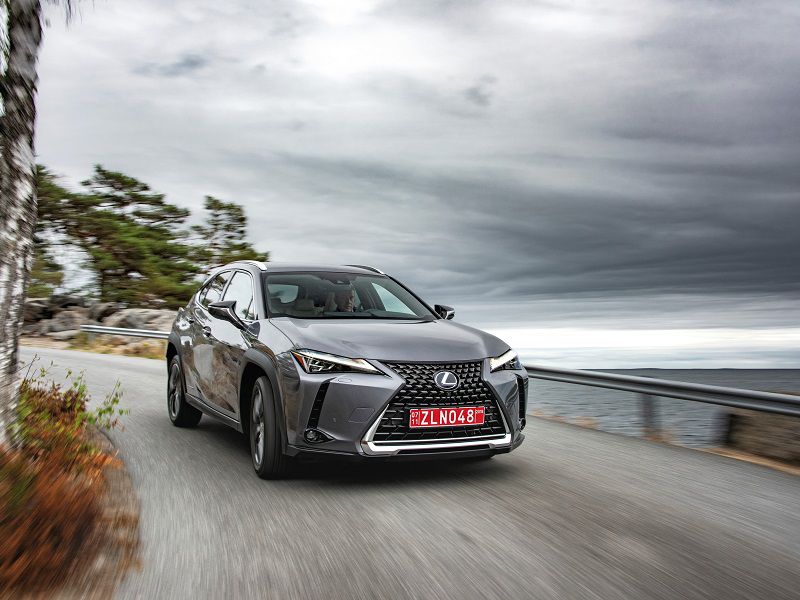 Photo by Lexus
Good Connectivity but a Tricky Interface
The Lexus UX features the brand's Remote Touch Interface (RTI) for controlling the infotainment screen. This touchpad is located on the center console, and it mimics the feel and function of your smartphone. You can double tap and swipe to move the cursor on the screen, which makes it more intuitive. The biggest challenge comes when you try to use the RTI over rough roads where an unexpected bump can send the cursor in the wrong direction.
A 7-inch screen and six-speaker audio are standard, while a 10.25-inch screen with navigation and an eight-speaker audio system are also available. There's also standard 4G Wi-Fi connectivity, four USB ports, and Apple CarPlay, but you're out of luck if you want Android Auto. It's not the most fully-featured system available despite good connectivity, and it takes time to get the hang of the RTI touchpad.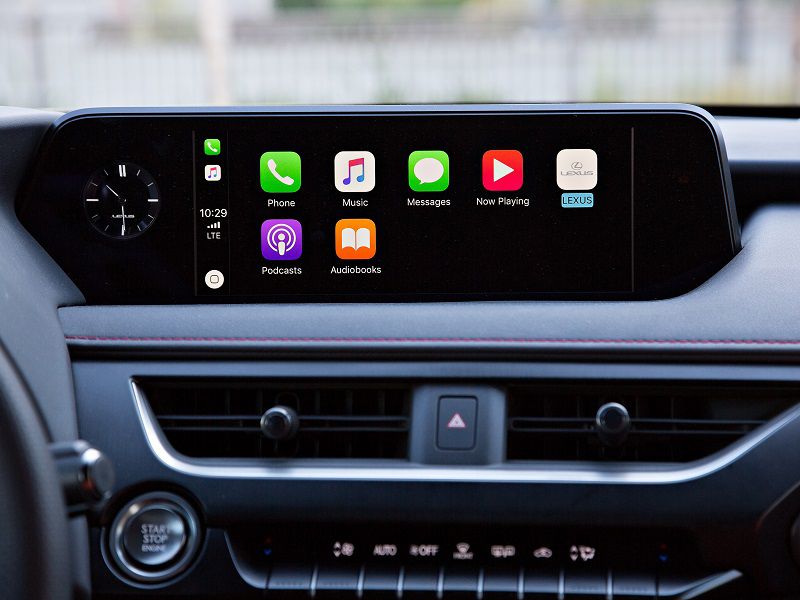 Photo by Lexus
The UX is strong on safety.
While the 2019 Lexus UX has not yet been crash-tested, it comes with a strong suite of safety features including standard Lexus Safety System+ 2.0 across the lineup. This includes a pre-collision system with pedestrian detection, all-speed dynamic radar cruise control, a lane departure alert with steering assist, lane tracing assist, road sign assist, and intelligent high-beam headlamps. That's a lot of standard safety on a model that starts at only $32,000.
Additional available safety includes blind-spot monitoring, a parking support alert, and parking brake support. Parking support alert detects stationary vehicles or vehicles crossing from the sides when parking across a broader range than traditional rear cross-traffic alert systems. Parking brake support takes things a step further by applying the brakes if it detects a possible collision with objects in front of or behind the vehicle. This is an entry-level vehicle that doesn't make safety an afterthought.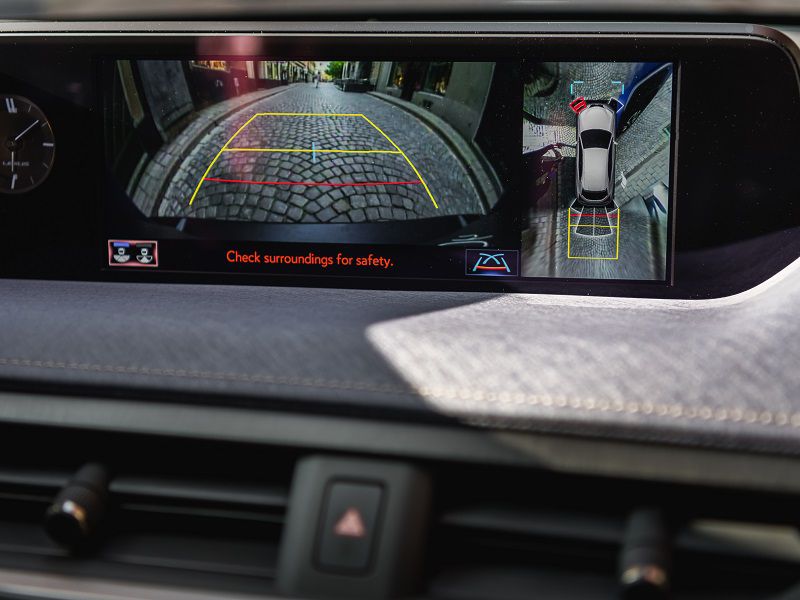 Photo by Lexus
Final Thoughts
The 2019 Lexus UX is an intriguing entry in the crowded crossover segment. Automakers are introducing new crossovers at an incredible rate, so shoppers need a good reason to take notice. The UX succeeds in being different as an entry-level crossover with a true luxury car experience. Especially inside, the UX looks and feels like it costs more than its affordable sticker price.
Two available powertrains with excellent fuel economy add to overall affordability. The infotainment system is somewhat lacking, notably with the absence of Android Auto and a tricky to use touchpad interface, but it does have good connectivity with 4G Wi-Fi and numerous available apps. Overall, the 2019 Lexus UX is a solid crossover entry for buyers looking at moving into a luxury car for the first time.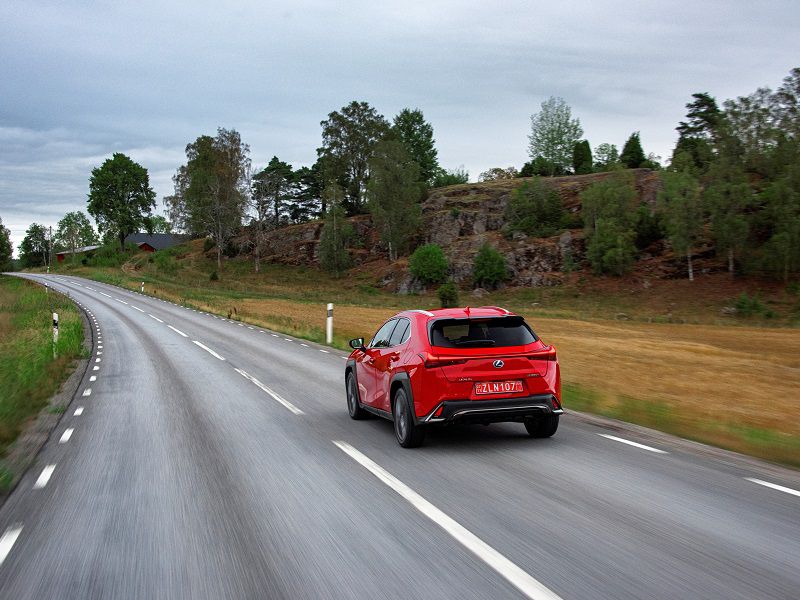 Photo by Lexus