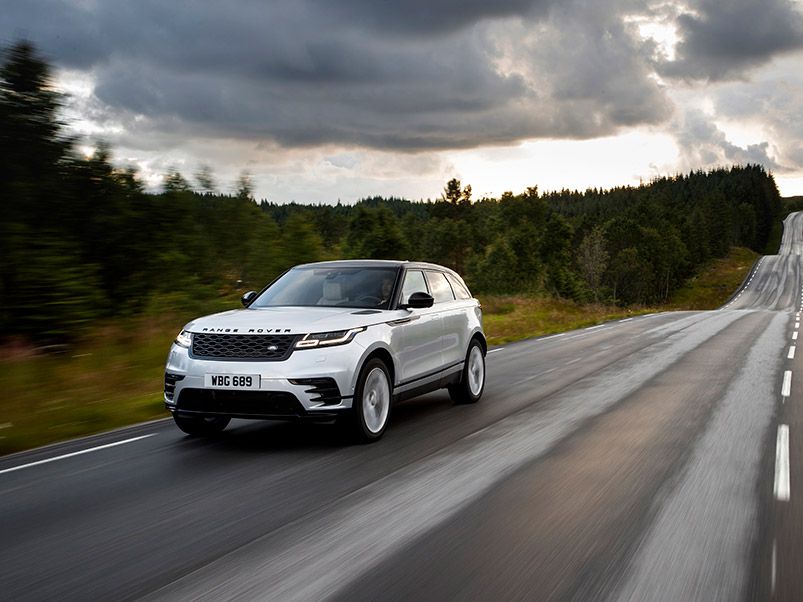 2019 Range Rover Velar front three quarter driving ・ Photo by Jaguar Land Rover
"That's an ugly Land Rover," said no one ever. Land Rover doesn't do ugly. Never has. The designs of its Land Rover and Range Rover luxury SUVs are renowned around the globe, and Gerry McGovern, who became the design director at Land Rover in 2004, has overseen the luxury brands ascension to style icon. The 2019 Range Rover Velar may be his masterpiece.
Land Rover calls the design of the 2019 Range Rover Velar avant-garde, and last year this stunning SUV was judged to be the most beautiful vehicle on the planet, winning the World Car Design of the Year title. But the Velar is so much more than just a pretty face. The five-passenger SUV is also refined, family-friendly, and fun to drive. It's built in the UK and competes against a long list of popular, high-quality luxury SUVs including the BMW X3, Porsche Macan, Volvo XC60, Audi Q5, and Mercedes-Benz GLC.
Available Diesel Power
For 2019, the Range Rover Velar lineup remains more complicated than it needs to be. There two models: base and R Dynamic. Each is equipped with all-wheel drive and an eight-speed automatic transmission. There are also several trim levels to navigate, although Land Rover calls them "Specification Packs" just to be contrarian. They include the Velar S, R-Dynamic SE, and R-Dynamic HSE.
Prices for the Velar model start at $50,595, including $995 for destination, and $59,695 for an R Dynamic. The standard engine is a 247-horsepower turbocharged 2.0-liter four-cylinder engine. Although there isn't a hybrid model, on the base Velar offers several engines including our test vehicle's fuel-efficient turbodiesel, a 180-hp 2.0-liter four-cylinder for an additional $6,300. Both models are also available with a 380-hp supercharged V6, which drives the base prices over $60,000. With options, our diesel-powered Velar S test vehicle cost $64,636, while a fully loaded R-Dynamic HSE with the V6 engine will top $82,000.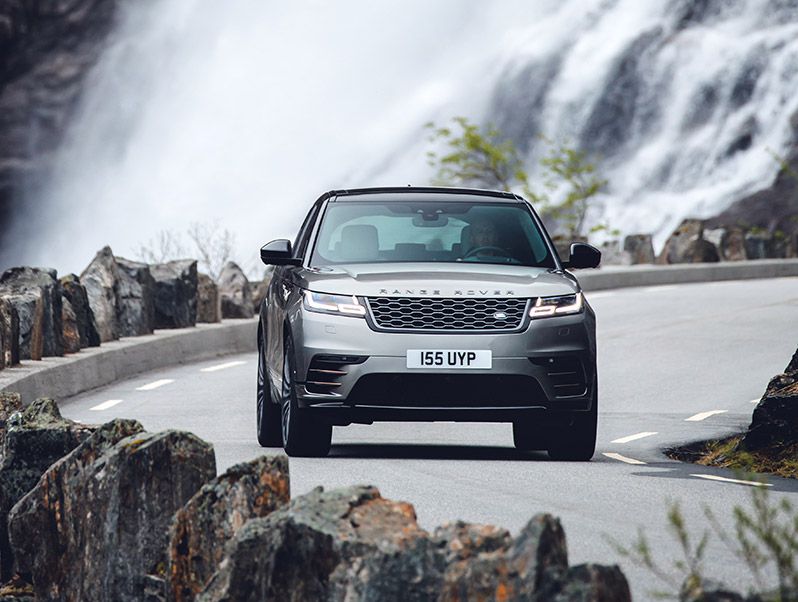 Photo by Jaguar Land Rover
Quick and Fun to Drive
Despite its aluminum structure, the 2019 Range Rover Velar weighs about 4,700 lbs. Still, it's quick enough with the available turbodiesel, which has plenty of torque. The Velar's eight-speed automatic transmission is well geared and responsive, and it has a Sport setting for more immediate performance. Paddle shifters for manual control are also standard. The driver can also tune the Velar with different driving modes, including Comfort and Dynamic, which quickens throttle response and tightens up the SUV's suspension to improve handling.
As much as we like the diesel, we prefer the Velar's more powerful gas engines, which are also used in the Jaguar F-TYPE sports car. The standard 247-hp 2.0-liter engine delivers substantially better acceleration, and with the optional 380-hp supercharged V6, the Velar is seriously fast. Punch it off the line and the V6-powered Velar sprints from 0-60 mph in just 5.3 seconds.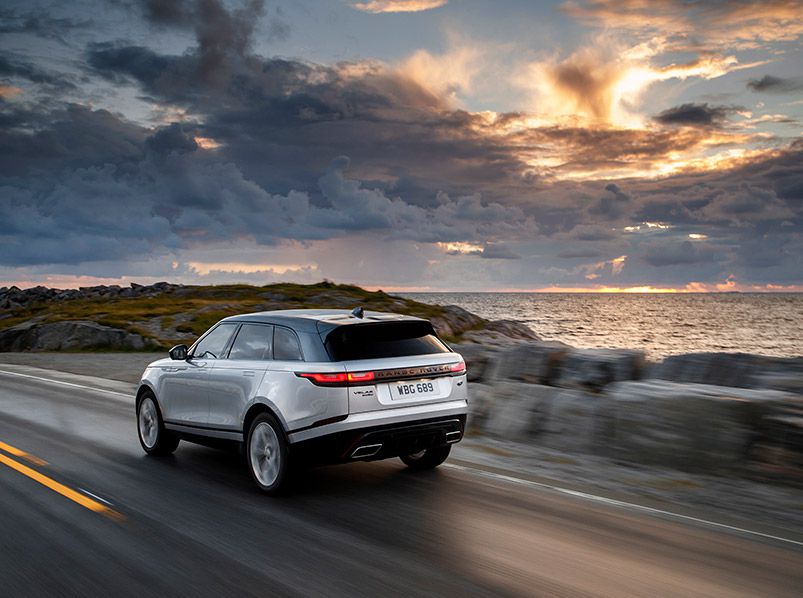 Photo by Jaguar Land Rover
Doesn't Feel Too Big Around Town
The new 2019 Range Rover Velar shares its chassis, engines, and other major components with the fun-to-drive Jaguar F-PACE. And like the Jag, the Velar is athletic, with agility you may not expect from such a large, heavy SUV. Although it isn't quite as responsive as the lighter Jaguar, on a twisty mountain road in Dynamic mode, you'd swear you were driving a European sports sedan. Body roll is very well controlled in corners, and it's fun to hustle this big SUV through traffic.
Around town, the Velar rides firmly, but remains very comfortable. Its independent suspension and our test vehicle's massive 19-inch tires soaked up larger road imperfections nicely, including the deep inner-city potholes. Land Rover also offers an air suspension with an adjustable ride height that improves performance both on and off road. Like the larger Range Rover flagship, the Velar is easy to drive around town, and parking it won't make your palms sweat thanks to its tight turning circle.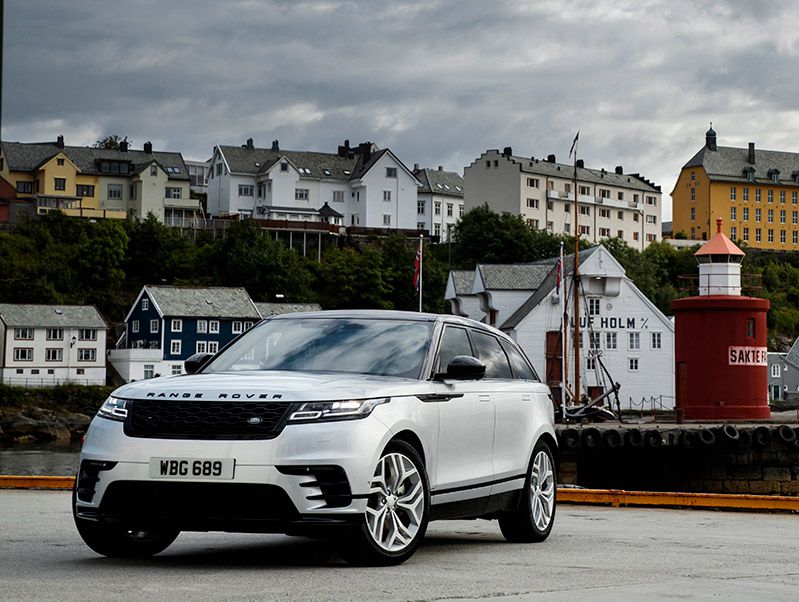 Photo by Jaguar Land Rover
Off-Road Capable
In the Land Rover hierarchy of off-road capability, the 2019 Range Rover Velar slots in somewhere in the center. It isn't as off-road rugged as the larger Range Rover, Range Rover Sport, or Land Rover Discovery, but it can cover raw earth better than the smaller Evoque or Discovery Sport.
Of course, most Velar buyers don't care about the SUV's off-road chops. Well, we tested it in the dirt anyway. And after a few hours at our local off-road park, we were impressed with the Velar's ground clearance and the traction supplied by its all-wheel drive system, which offers settings for different surfaces that include Grass, Gravel, Snow, Mud, and Sand. Challenging trail sections were no problem thanks to the Velar's generous wheel travel and steep approach and departure angles. And its quick-acting traction control system got us through a deep sand section. Land Rover says the Velar can even drive through water more than 2 feet deep, but we didn't give it a try.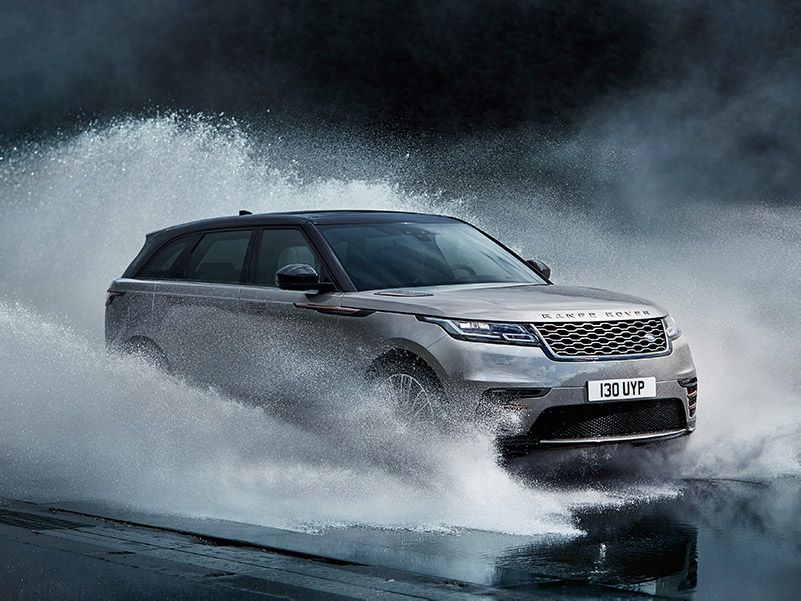 Photo by Jaguar Land Rover
Good Fuel Economy for the Class
Fuel economy is also good for this class. As you'd expect, the 2.0-liter diesel is the fuel sipper of the bunch, with fuel economy ratings of 26 mpg in the city and 30 mpg on the highway. That's strong for the class, given that BMW, Mercedes-Benz, and Porsche do not offer diesel engine competitors. Porsche does offer a hybrid version of the Cayenne, but it starts at more than $80,000. I averaged 27.7 mpg during a week of mixed driving, and I continuously used the Rover's start/stop feature, which shuts off the engine at idle to save fuel.
With the standard turbocharged 2.0-liter, the Velar is rated at 21 mpg city and 27 mpg highway. Opt for the big and burly supercharged V6, and you're looking at ratings of 18 mpg city and 24 mpg highway.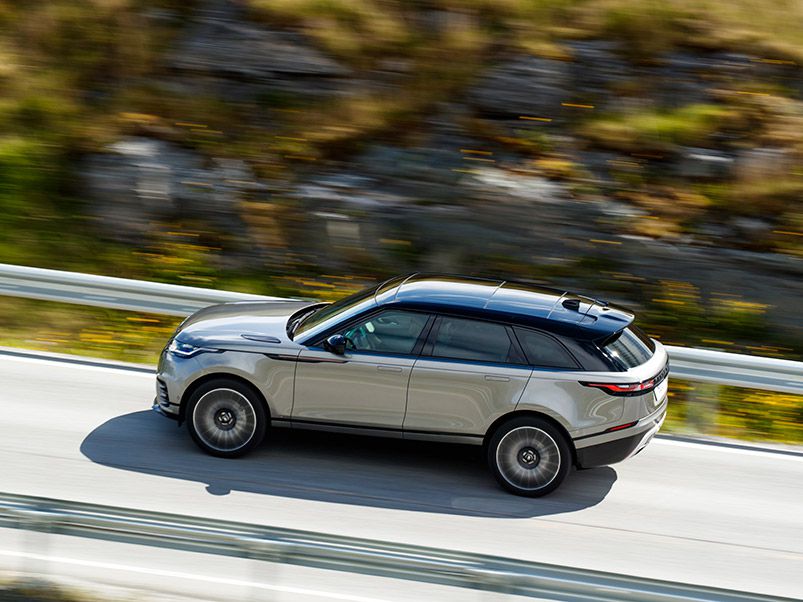 Photo by Jaguar Land Rover
Beautifully Appointed and Comfortable
Much like its exterior, the interior of the 2019 Velar is minimalistic and impressively modern. It's also beautifully finished, artistically crafted, and exceedingly comfortable with firm, well-shaped seats and seat heaters powerful enough to toast your buns in the parking lot of Chicago's Soldier Field in December. (Go Bears.) Nothing about the Velar's interior feels cheap or flimsy. All the surfaces are soft to the touch, and all the knobs and switches function with precision. A panoramic sunroof is standard, and the Velar's rotary shifter rises dramatically from the console when you start the engine. Its configurable 12.3-inch gauge cluster is just cool.
There are also two large touch screens, one for the climate controls, seat heaters, and other functions, and a second 10-inch screen for its improved InControl Touch Pro infotainment and navigation system. Although the system is still slow to respond, for 2019 Land Rover offers a new optional Smartphone Pack that adds onboard W-Fi and Apple CarPlay and Android Auto connectivity.
Photo by Jaguar Land Rover
Family-Friendly Interior Seats Five
Because the 2019 Range Rover Velar shares its structure with the Jaguar F-PACE, it also shares that models generous 113-inch wheelbase, which provides plenty of interior space. The Range Rover Velar seats five comfortably, and its rear seat reclines and features its own climate controls. Some may be disappointed to learn that a third row is not available; for that feature check out the larger Range Rover Sport and the Land Rover Discovery, as well as the compact Land Rover Discovery Sport.
Young parents will appreciate the Range Rover Velar's easy-to-reach LATCH connectors in the outboard seats and an easily accessed upper tether anchors on the seat backs. However, buyers should be aware that safety ratings for this model are not available, because neither the National Highway Traffic Safety Administration or the Insurance Institute for Highway Safety has crash-tested the Velar.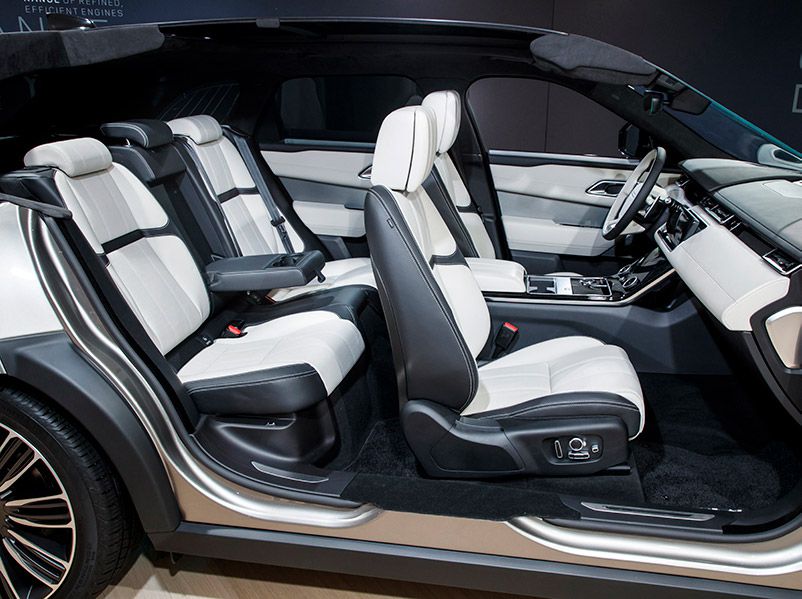 Photo by Jaguar Land Rover
Big Cargo Volume
Cargo space behind the Rover's second-row seat is generous. The Range Rover Velar offers 34.4 cubic feet of cargo space back there, and it's easily accessed with a power liftgate, which is standard on most models. That's more than enough room for the mother of all Costco runs. Plus the Velar's optional air suspension can lower the SUV to make loading items easier.
The second row is split 40/20/40, and it easily folds flat to open up an impressive 70.1 cubic feet of cargo room. Although that's about average for the luxury suv class, it more space than you'll find in the larger Range Rover Sport. Storage inside the Velar's interior is also plentiful, with two felt-lined bins in the center console and large cubbies on each door. The two well-placed front-seat cupholders are ready for your morning coffee.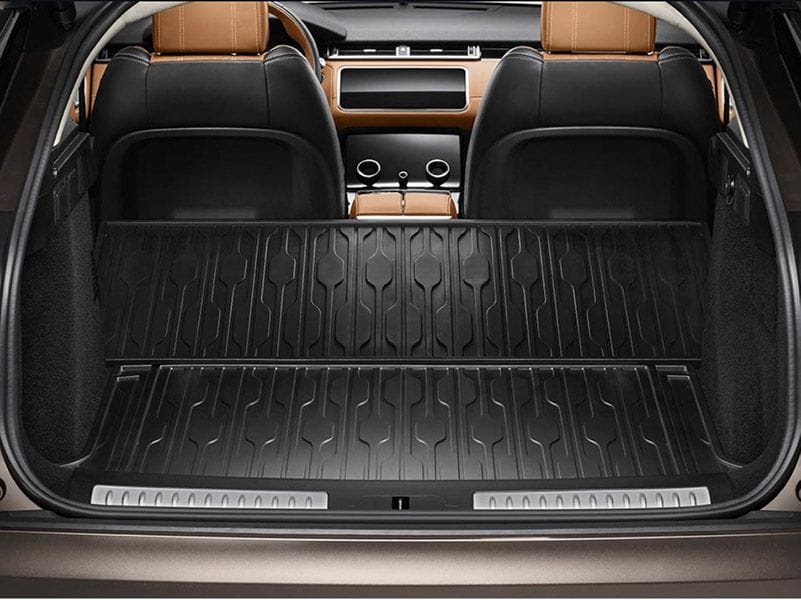 Photo by Jaguar Land Rover
Final Thoughts
Hemmed in by constantly increasing safety regulations and an ever-growing stack of aerodynamic data most of today's car designers have given up on the dream of creating something truly beautiful — something iconic that will stand the test of time. They've relegated themselves to oversized grilles and LED lighting to distinguish their lazy creations in what has become a sea of sameness.
With the 2019 Range Rover Velar, however, Land Rover and its design team prove greatness is still possible. It's sexy, modern, sleek, sensual, and simple. It's understated to perfection, while it makes a powerful statement. And most importantly, it looks like nothing else. The fact that the Velar is comfortable, luxurious, and fun to drive is just a bonus. If you're looking for a luxurious and capable mid-size luxury suv, the 2019 Land Rover Range Rover Velar is a very desirable overall choice.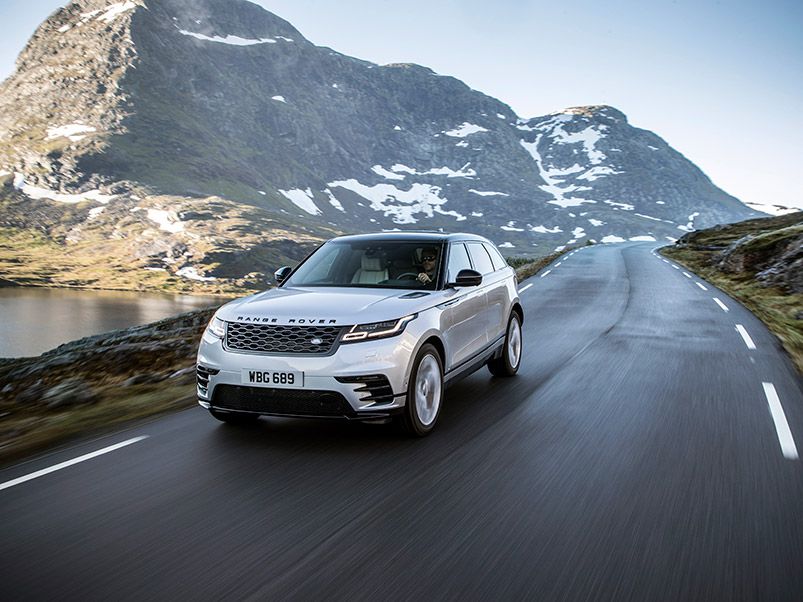 Photo by Jaguar Land Rover