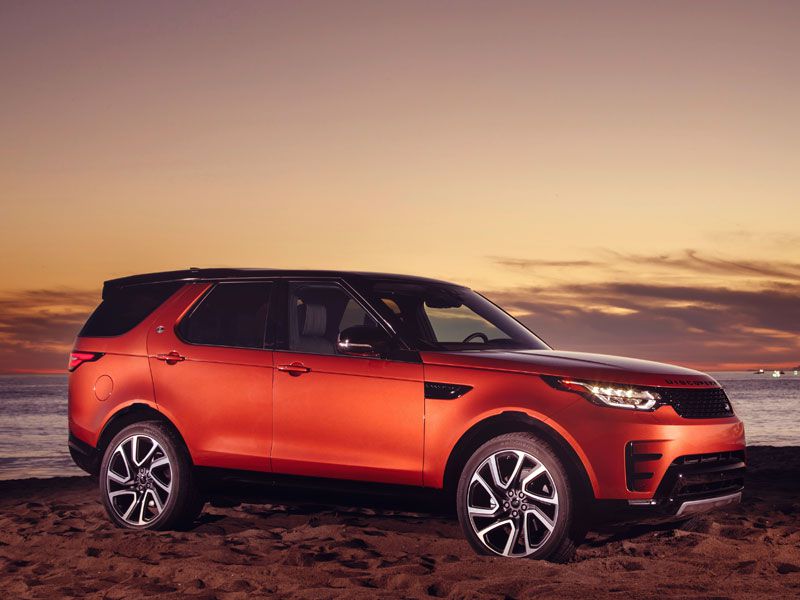 2017 Land Rover Discovery ・ Photo by Land Rover
The 2019 Land Rover Discovery is a sophisticated seven-passenger luxury SUV that delivers everything you'd expect from the brand. Even better, Land Rover engineers have done a remarkable job of incorporating a third row that can actually accommodate two full-size adults. 
Of course, the Discovery carries on in the go-anywhere tradition of its forebears, and it accomplishes it with a style that is far more attractive and less function-first than previous editions. While still at home in the Outback, the Discovery is equally at home on Rodeo Drive or Fifth Avenue. When it comes to off-pavement prowess, the 2019 Discovery is able to traverse terrain you shouldn't even attempt in most competitors. These days, though, that's only one phase of the Discovery's personality. It is also a perfectly competent seven-passenger grocery-getter, soccer-team transporter, and commuter vehicle.
Exterior
The Land Rover Discovery has evolved from vehicles that were significantly more utilitarian than the sleek and upscale current model. For the latest edition, Land Rover stylists retained some previous design elements, but the stepped roofline that was so pronounced (and semi-awkward) on the previous four generations of Discovery has been streamlined to the point where you have to be paying close attention to notice it.
The streamlining has practical benefits, too. This is the most aerodynamic Discovery yet, with a drag coefficient of 0.33, although when you're rock-crawling or fording, a river drag coefficient doesn't have much to do with it. Another modern touch is the faster windshield angle, yet it still seems bolt-upright compared to many contemporary crossovers. The current Discovery is undoubtedly the best-looking version ever.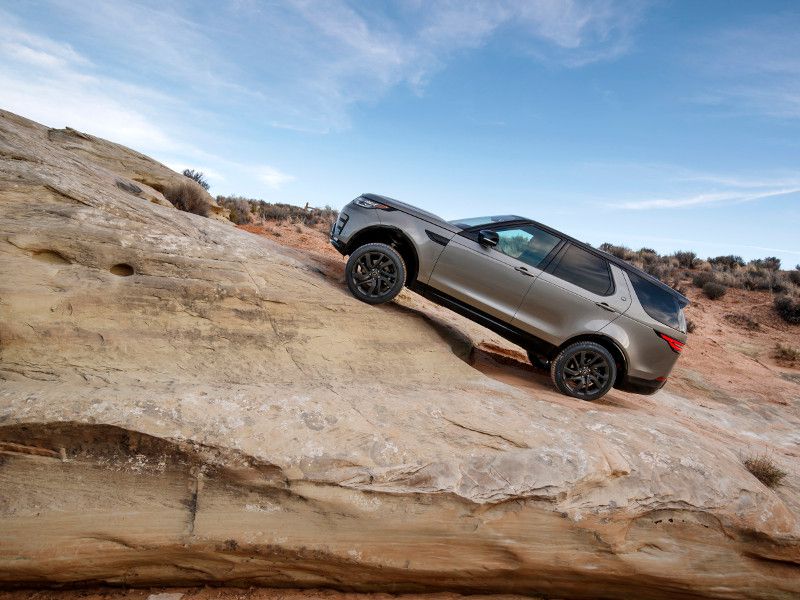 Photo by Newspress USA
Interior
From the second you open the door, the Discovery's interior makes it very clear you're in a Land Rover. Attractive? Very much so. A wide choice of upscale finishes is available, from premium Windsor leather to natural shadow oak veneer. And you have the choice of five motifs — Ebony, Acorn, Nimbus, Vintage Tan, and Glacier. The Discovery leaves little doubt that it is an upscale ride, and it makes you wonder how much more luxurious the sister Range Rovers can be.
Ergonomics? Well, not so much, at least to those of us used to more conventional controls and switchgear. We're certain you can quickly learn the niceties of the Discovery's human-machine interface, but we doubt that you'll immediately understand it when you first slip behind the wheel. The interior's best feature is its Intelligent Seat Fold function. It enables owners to configure the second and third-row seats using switches just inside the tailgate, on the C-pillar, on the infotainment touchscreen, or even remotely using a smartphone.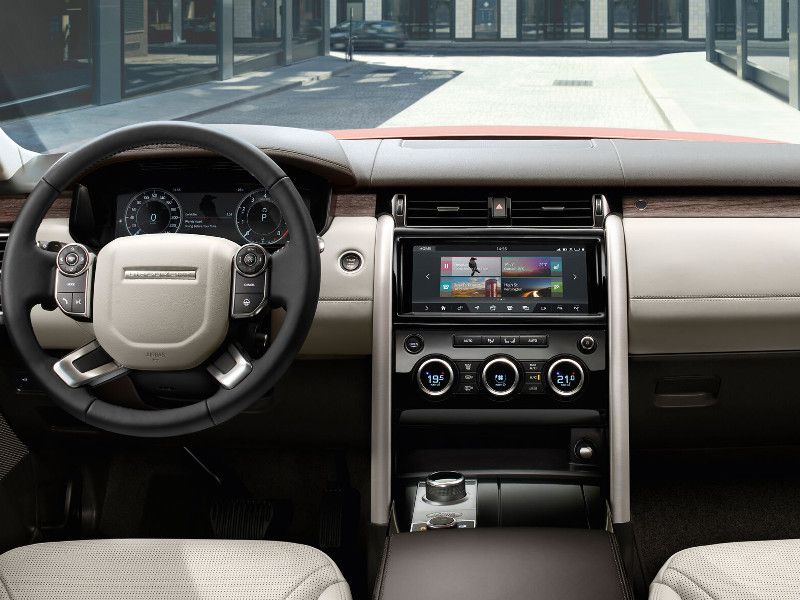 Photo by Newspress USA
Infotainment and Controls
The 2019 Discovery integrates some of the vehicle controls into the infotainment system. That works well if you understand the operation of the infotainment system, but for novices, it is a bit disconcerting. Land Rover calls its system Touch Pro functionality, and it features a 10-inch high-resolution central touchscreen standard across all models.
The system delivers greater connectivity than ever before, including access to a range of apps. It uses "Dual View" technology and offers digital television capability along with other entertainment functions. The system's Touch Pro Services includes 4G Wi-Fi connectivity for up to eight devices as part of the InControl Connect Pro Package that is widely available across the model range. And beyond typical infotainment functions, the central touchscreen provides access to satellite navigation, heating, and vehicle controls.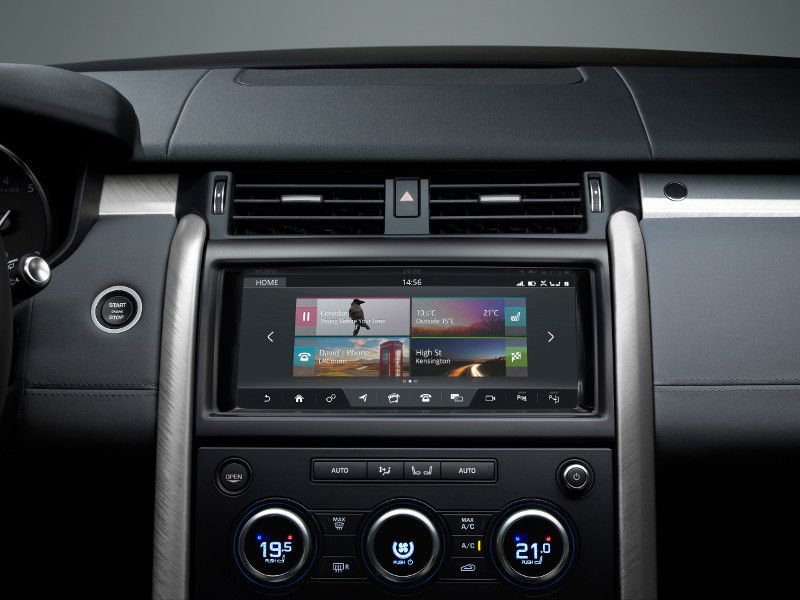 Photo by Newspress USA
Powertrains
The Discovery's standard powerplant is a supercharged 3.0-liter gasoline-fueled V6 engine that boasts 340 horsepower and 332 lb-ft of torque. It is mated to a highly efficient ZF eight-speed automatic transmission. We think the better choice — albeit more expensive — is the turbodiesel option. The 3.0-liter turbodiesel V6 delivers 254 horsepower, but its key advantage, beyond longevity, is its mammoth production of torque. Maximum torque is 443 lb-ft, and that is helpful in a wide variety of off-road situations. Land Rover says a Discovery equipped with the turbodiesel will accelerate from zero to 60 mph in 7.0 seconds.
For ultimate all-terrain capability, Discovery buyers can specify a two-speed shift-on-the-go transfer box, providing selectable high- and low-range gears. The computer-aided system provides a standard 50/50 torque split between front and rear wheels but uses a range of sensors to distribute torque between the front and rear depending on the conditions. The alternative is a full-time four-wheel drive system with a single-speed transfer box. It provides a torque split of 42/58 across the front and rear axles but can redistribute torque to the axle with the most grip, up to 62/38 and 22/78 respectively.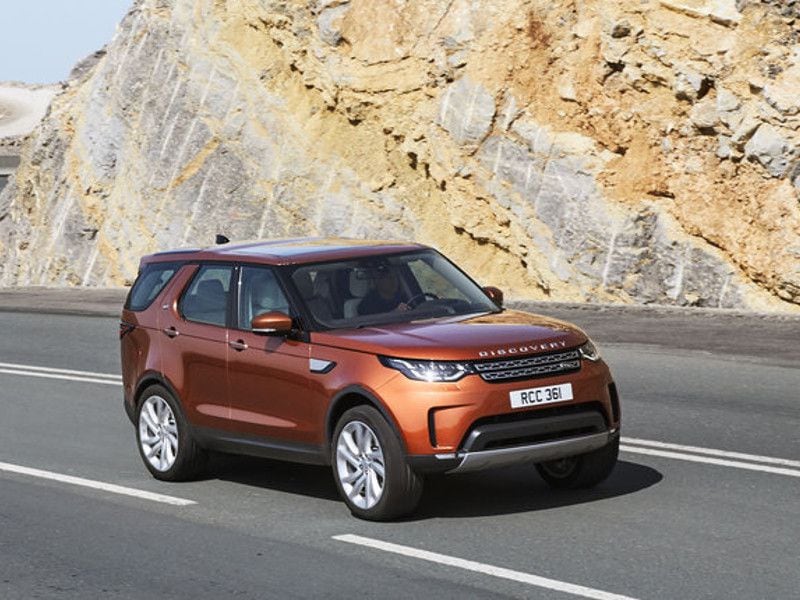 Photo by Land Rover
Driving Impressions
With the right equipment, the Discovery is one of the most-capable off-roaders of its size. At the same time, the Discovery does a remarkable job of providing excellent ride, handling, and interior quietness in day-to-day driving.
Our experience in the vehicle showed that, despite its good looks and cushy cabin, the Discovery has remarkably impressive all-terrain capabilities. Further, the Discovery helps automate the off-road experience with its All-Terrain Progress Control and Terrain Response 2. The Progress Control System allows drivers to set a crawl speed ranging from 1 to 19 mph enabling them to concentrate on negotiating difficult terrain while the technology controls engine and braking functions. Terrain Response 2 automatically monitors the driving conditions to ensure the vehicle parameters are set up for the surface being traversed.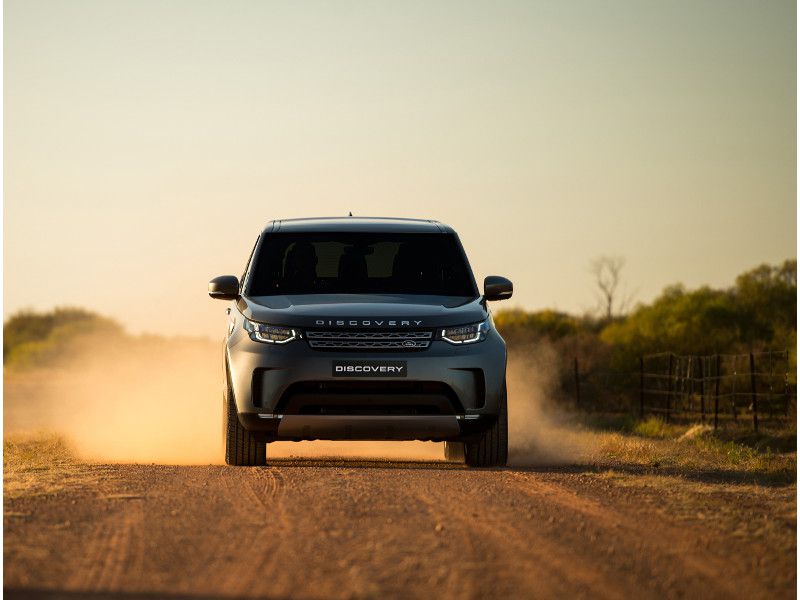 Photo by Newspress USA
Safety and Driver Aids
The Land Rover Discovery can be equipped with an impressive array of active safety features. Included on the list are adaptive cruise control with stop-and-go capability and steering assist, Clear Exit Detection, traffic sign recognition with adaptive speed, and automatic high beams.
A driver condition monitor assesses drivers' behavior in steering, braking, and acceleration to detect if they are becoming tired or are otherwise impaired. The surround-view camera system offers a 360-degree view and a variety of other views that can aid parking and hooking up a trailer. Lane-keep assist applies torque to the steering to help the driver stay within the lane. Autonomous emergency braking detects pedestrians as well as vehicles and applies the brakes to stop the vehicle quickly and safely.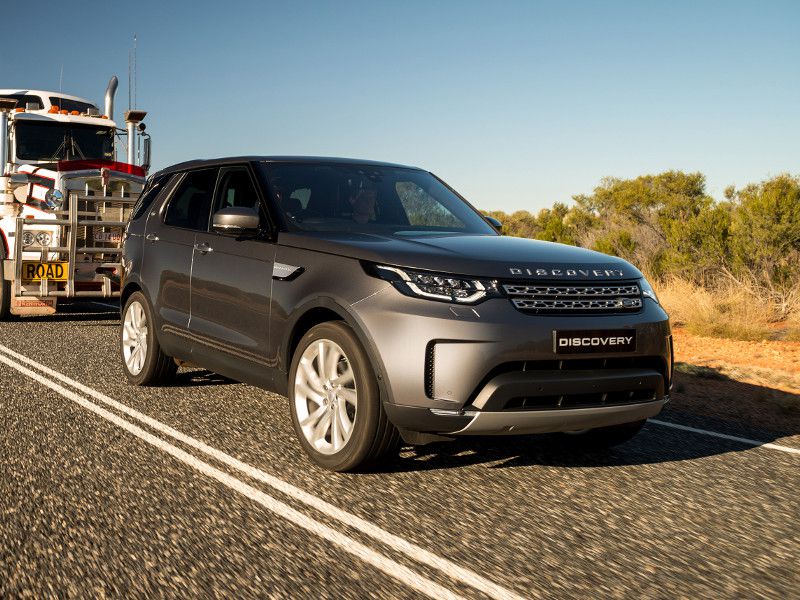 Photo by Newspress USA
Cargo and Towing
The Discovery manages to pack a lot of interior and cargo room into a relatively tidy package. It offers 128 cubic feet of interior space. There is very little cargo space with all the seats in use, but with various seats folded the interior becomes much more accommodating. It offers 34.6 cubic feet of cargo space behind the second-row seats with the third row folded. When you fold down both rows of rear seats it has up to 62.8 cubic feet of cargo area, and that area is very accessible.
One unique aspect of the Discovery is its powered inner tailgate. When the vehicle was last redesigned, it shifted to a conventional single-piece tailgate, and it is accompanied by an additional fold-down section that deploys when the tailgate is opened. Able to support a reasonable load, the inner tailgate is a great place to sit for removing muddy Wellies and other sodden gear. Properly equipped, the Discovery offers maximum towing of over 8,000 pounds.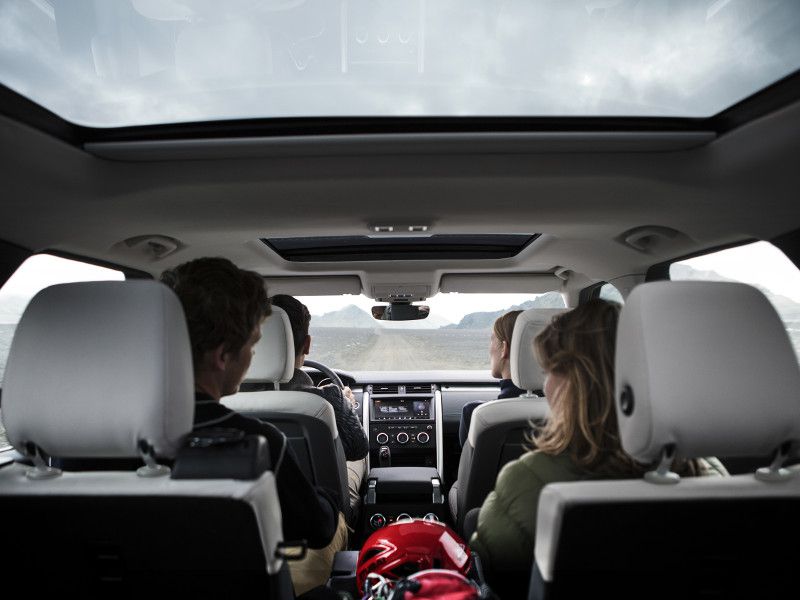 Photo by Newspress USA
Fuel Economy
If you are looking for stellar fuel economy, don't consider any all-wheel-drive off-roader, especially one that weighs as much as the Land Rover Discovery. Even with an aluminum body structure, the Discovery is hefty and feature-filled.
EPA fuel economy ratings for the supercharged all-wheel-drive gasoline-powered version are 16 mpg city/21 mpg highway/18 mpg combined. The turbodiesel offers somewhat better fuel economy and significantly more overall range. The 3.0-liter turbodiesel V6 is EPA-rated at 21 mpg city/26 mpg highway/23 mpg combined. In comparison, the all-wheel drive Jeep Grand Cherokee turbodiesel has EPA ratings of 21 mpg city/28 mpg highway/24 mpg combined. It should be noted the Grand Cherokee is a five-passenger vehicle, while the Discovery seats seven.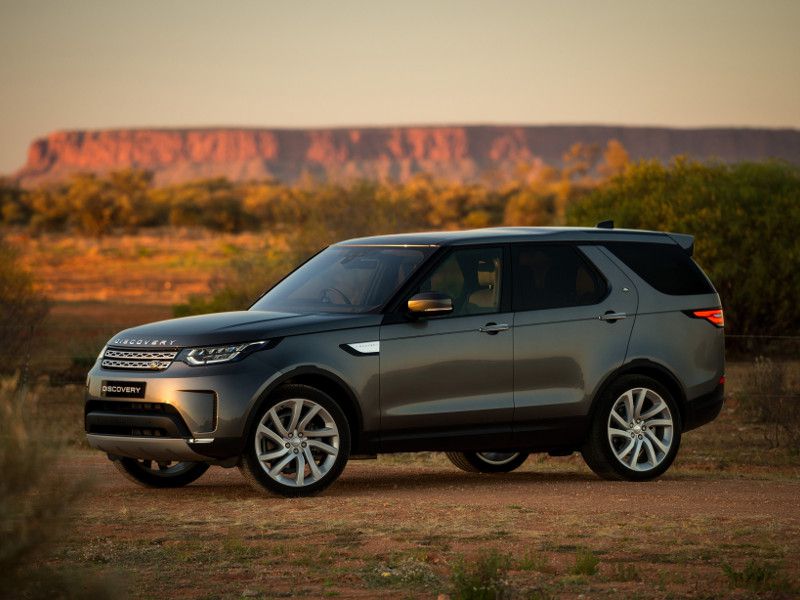 Photo by Land Rover
Trim Levels
The Discovery is available in three different trim configurations: SE, HSE, and HSE Luxury. Both gasoline and diesel engines are offered in each trim level, and all Discoveries are all-wheel drive.
As you would expect, as the trim levels and prices ascend, you get additional levels of features and equipment. Some will decide to pay the premium for the diesel engine, which increases the Discovery's range and available torque. Others will opt for the less-expensive gasoline-powered version. The SE is the value-oriented trim level if you can call a mid-size SUV with a price of $53,000 value-oriented. For those who are looking for a fully equipped vehicle, the HSE Luxury with turbodiesel engine is the most expensive of the breed. Its off-road chops are nothing short of impressive.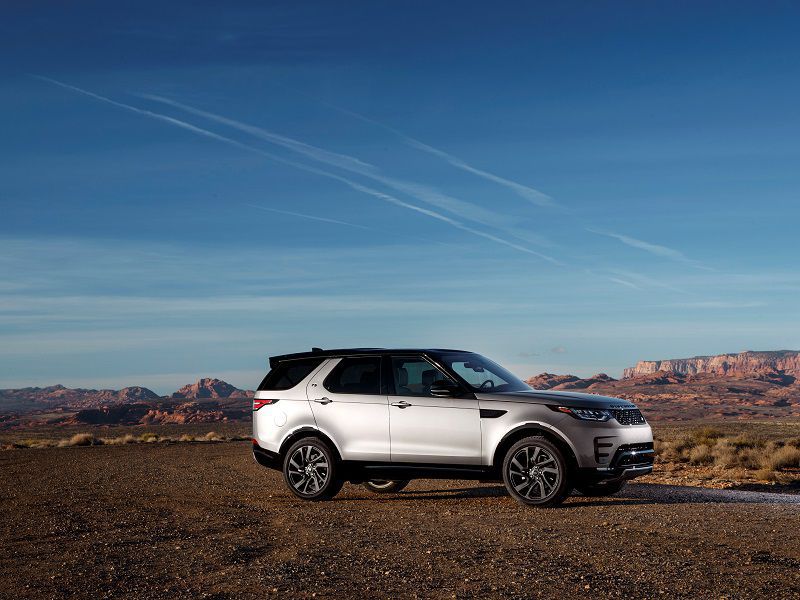 Photo by Jaguar Land Rover
Pricing and Value
Land Rover products have typically been the most accessible (read: least expensive) of the Land Rover/Range Rover lineup, but now that distinction is getting blurrier. As just mentioned, the least expensive Discovery has a base price of well over $50,000. That appears to be the price you pay for a vehicle that not only offers superior around-town style, comfort, and convenience but also has the all-terrain capabilities to take on the Gobi Desert or the Rubicon Trail. (Excuse us, Jeep.)
The base gasoline-powered SE has an MSRP of $52,950 plus a $1,025 destination charge. For the HSE trim level, the MSRP climbs to $59,700 plus destination. For those looking to bask in the highest-level Discovery, the HSE Luxury trim has an MSRP of $67,200 plus destination. Choosing a turbodiesel engine adds $2,000 to the MSRP at each level.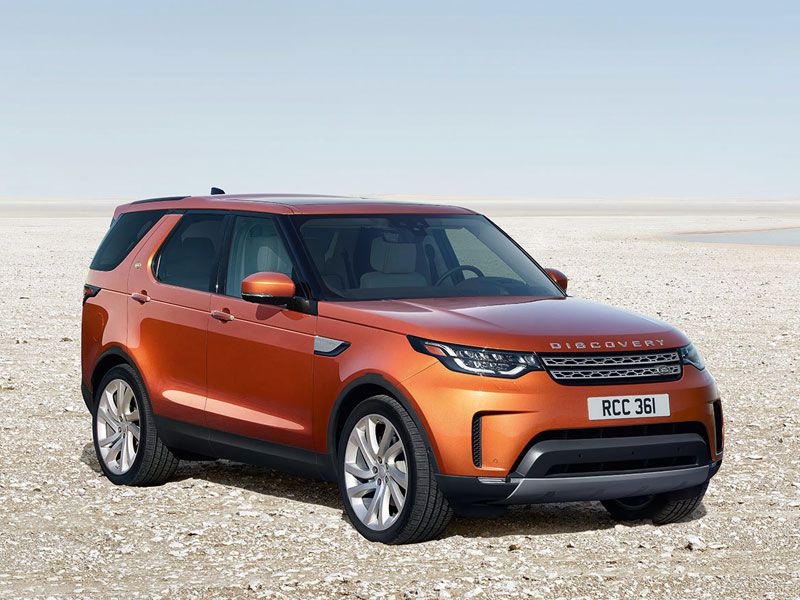 Photo by Jaguar Land Rover