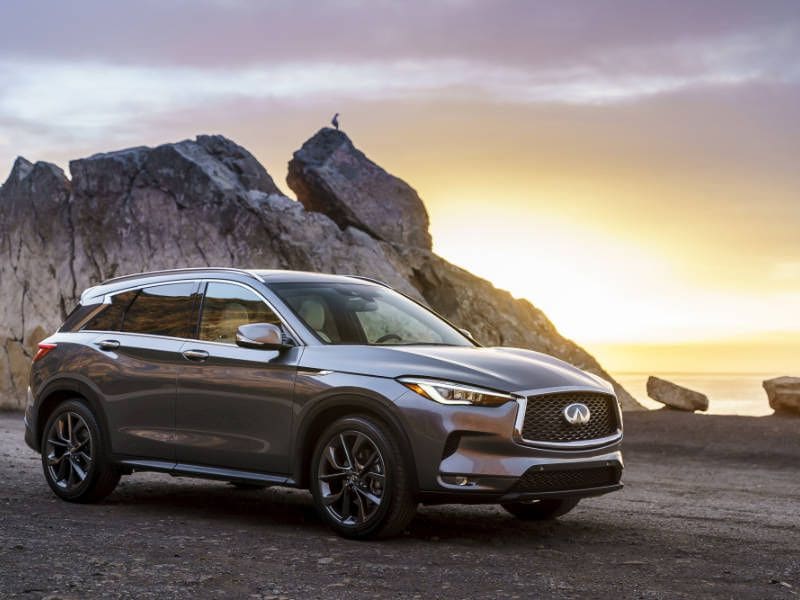 2019 INFINITI QX50 hero ・ Photo by Infiniti
The Infiniti QX50 is all-new for the 2019 model year after a brief disappearance from the market last year. Crossovers continue to be big business and Infiniti is betting heavily that the new QX50 will entice consumers looking for a luxury experience combined with the practicality of a crossover. Infiniti gave this mid-size SUV a thorough makeover, so it hardly resembles its former self. It looks completely different outside, has a more premium feel inside and boasts an all-new powertrain.
The QX50 is also the first production car to feature Infiniti's VC-Turbo engine. What makes this new engine special is industry-first variable compression ratios that optimize both power and fuel efficiency. The QX50 also has available ProPilot Assist driver assistance technology and a spacious cabin to comfortably seat up to five passengers.
Trim Levels and Pricing
The Infiniti QX50 is available in three trim levels: Pure, Luxe and Essential. Front-wheel drive is standard and all-wheel drive is available on every trim, even the base model. The engine stays the same no matter which trim you select, so it becomes simply a matter of choosing how much luxury you want in your crossover.
The base Pure starts at $36,550 and comes well-equipped with standard features including a power liftgate, leatherette seats, forward emergency braking with pedestrian detection, and predictive forward collision warning. The mid-level Luxe starts at $39,400 and adds a panoramic sunroof, LED fog lamps, and blind spot warning. At the top is the Essential with a starting price of $43,350. It adds leather seats, a 360-degree camera system, moving object detection, remote engine start, heated outside mirrors and tri-zone climate control. If you want all-wheel drive, then add $1,800 to those prices.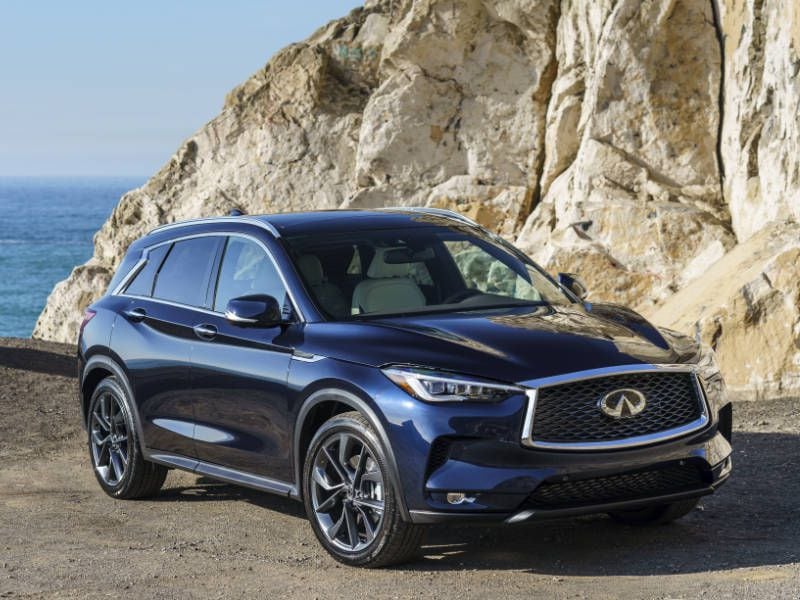 Photo by Infiniti
Powertrain
Power for the QX50 comes from a 2.0-liter VC-Turbo four-cylinder engine with 268 horsepower and 280 lb-ft of torque. This is paired with a continuously variable automatic transmission and a choice of front-wheel or all-wheel drive on all three trim levels. It's the first-ever production vehicle with a variable compression ratio engine, making it truly unique.
The idea behind the VC-Turbo is to provide the perfect balance between fuel efficiency and power, adjusting the compression ratios to deliver exactly what you need when you need it. The result is a vehicle that drives like it has a more powerful engine than the one under the hood. You won't hear or feel this technology at work, but you will notice the QX50 is responsive and more powerful than you'd expect from its specifications.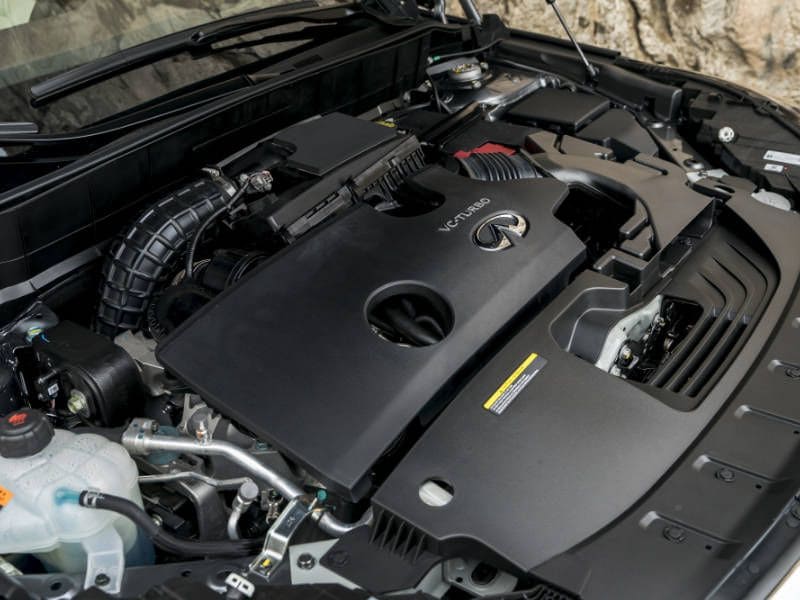 Photo by Infiniti
Ride and Handling
Infiniti is a luxury brand, and that comes with a certain set of expectations from customers. luxury cars should have a smooth ride that evens out the bumps in the road with a minimum of road and wind noise intruding into the cabin. The QX50 delivers on those expectations. The ride is composed and comfortable even on rough pavement. There's no harshness to be found and outside sounds stay outside so passengers can relax.
Handling is equally relaxed without becoming sloppy. Steering is responsive and requires little effort while providing just enough feedback to stay connected with the road. crossovers can feel unwieldy and even top-heavy at times, but the QX50 does an impressive job of driving less like a crossover and more like a sedan. Even on tight corners, the QX50 offers a relaxing and enjoyable drive experience.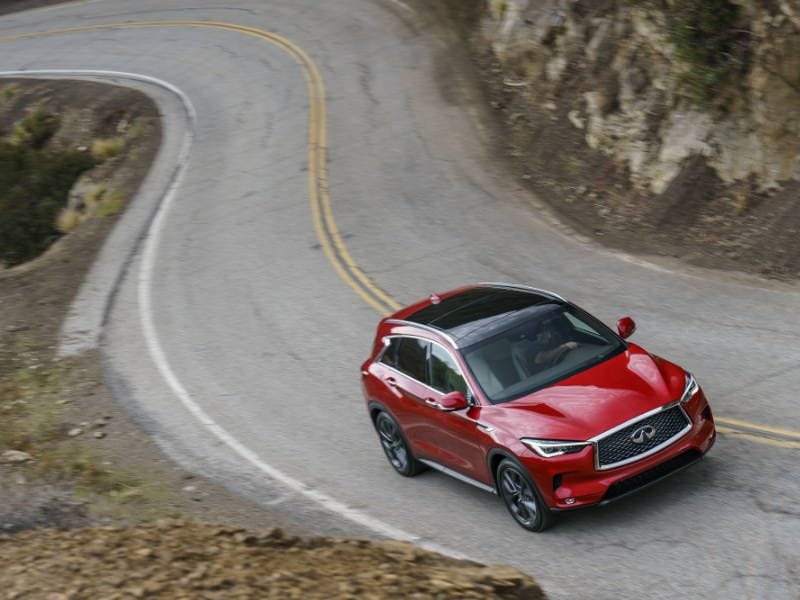 Photo by Infiniti
Interior
There's ample room for five passengers in the QX50 in a beautiful and elegant interior. High-quality trim abounds, and it's both pleasing to the eye and to the touch. There are thoughtful details that add to the QX50's sense of luxury, including open-pore wood and aluminum trim pieces, rich color choices like dark blue and brown, and quilted leathers. It's a true luxury-car experience, especially if you go with the top trim level.
Those seated in the second row can take advantage of the QX50's sliding bench seat. Instead of being limited to a set amount of legroom, passengers can slide the rear seat forward or back. This either frees up additional cargo room behind the second row or adds more legroom so passengers can stretch out and enjoy the ride.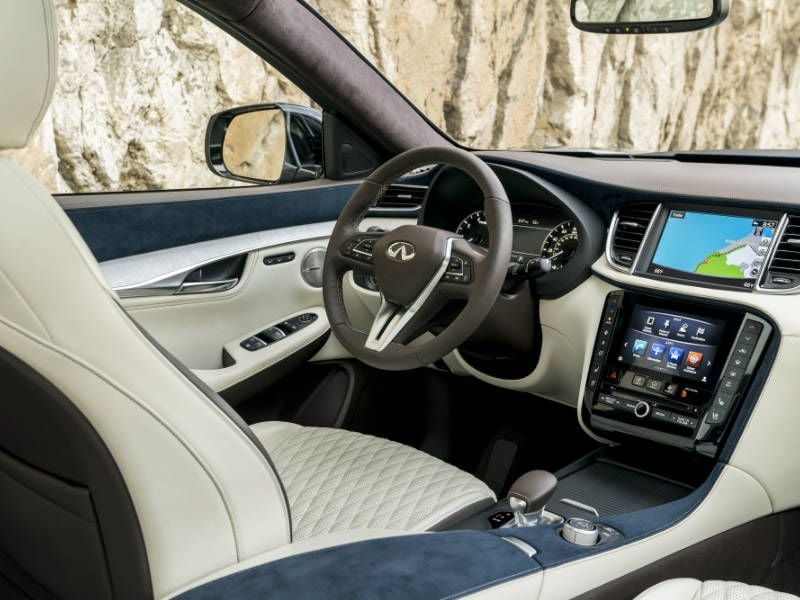 Photo by Infiniti
Cargo Capacity
This mid-size SUV has room for five passengers, and the sliding second-row bench seat offers greater flexibility with cargo. The cargo area is 39.0 inches deep with the rear seats pushed back for maximum legroom or 44.9 inches deep with the seats moved forward. There are 31.1 cubic feet of cargo behind the second row with the seats all the way back, which expands to 64.4 cubic feet with the rear seat folded down.
These dimensions make for a wide and long cargo area, especially with the second row moved forward. It can easily accommodate golf bags or a stroller without having to awkwardly tip things at an angle to make them fit. There's also an extra bit of storage beneath the floor for smaller items or things you don't want in plain sight. Finally, there's a low load floor, so heavy cargo doesn't have to be lifted too high.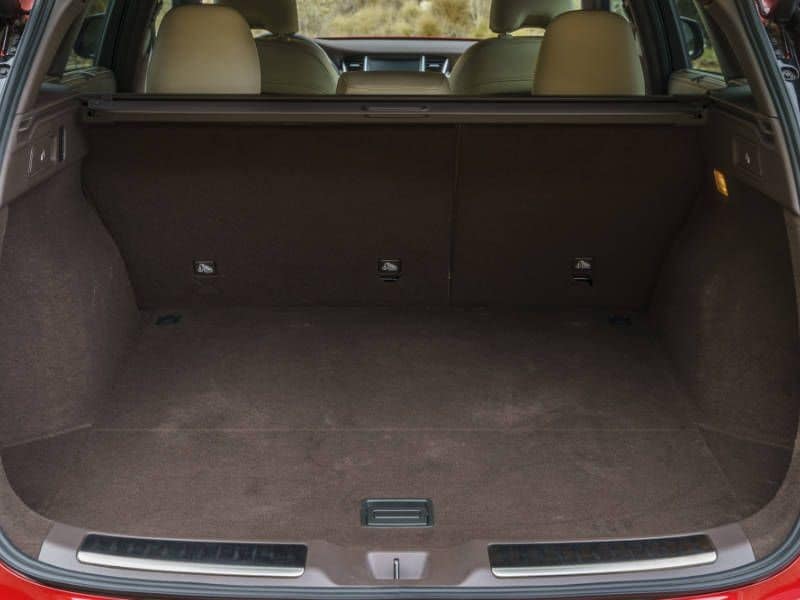 Photo by Infiniti
ProPilot Assist Technology
The QX50 offers ProPilot Assist as an available feature. Infiniti's system isn't full self-driving technology, but it's a step in that direction. All you do is press a button on the steering wheel and set the adaptive cruise control to your desired speed, and the car takes over. The system controls braking, steering and throttle, and it can even bring the vehicle to a complete stop.
You must keep your hands on the steering wheel at all times. Visual and audible alerts grow increasingly urgent the longer your hands are off the wheel in an effort to get your attention. Eventually, if you still don't respond, the system will turn on the hazard lights and bring the car to a complete stop. ProPilot is very easy to use and makes driving less tiresome in heavy traffic, but it's not a replacement for the driver.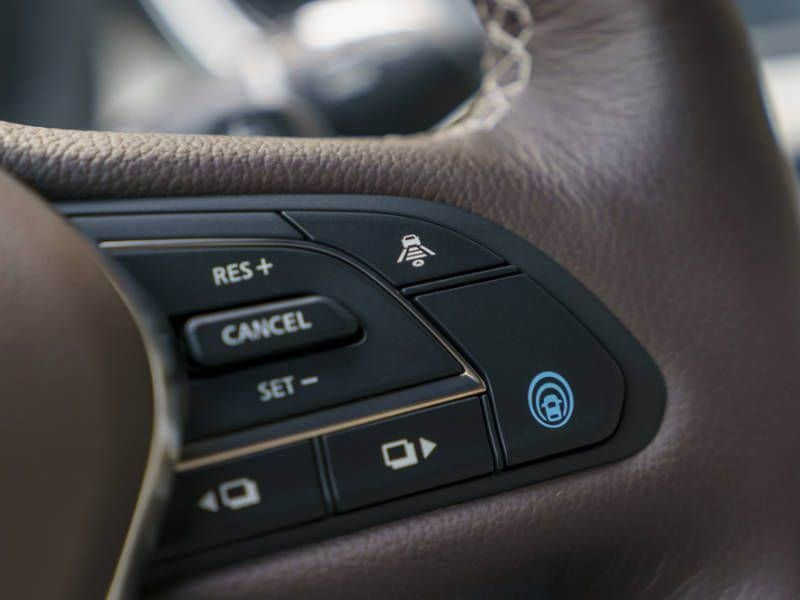 Photo by Infiniti
Safety
The 2019 Infiniti QX50 has not yet been crash tested, but it comes with numerous standard and available safety features to set your mind at ease. Standard safety features include forward collision warning, forward emergency braking with pedestrian detection, and traction and stability control.
Additional safety features available on select trim levels include a lane-departure warning, lane-keep assist, blind-spot warning, rear cross traffic alert, backup collision intervention, intelligent cruise control with full speed range and ProPilot Assist. The only downside to the safety features is their availability, given that many are offered only as an option on the top Essential trim level.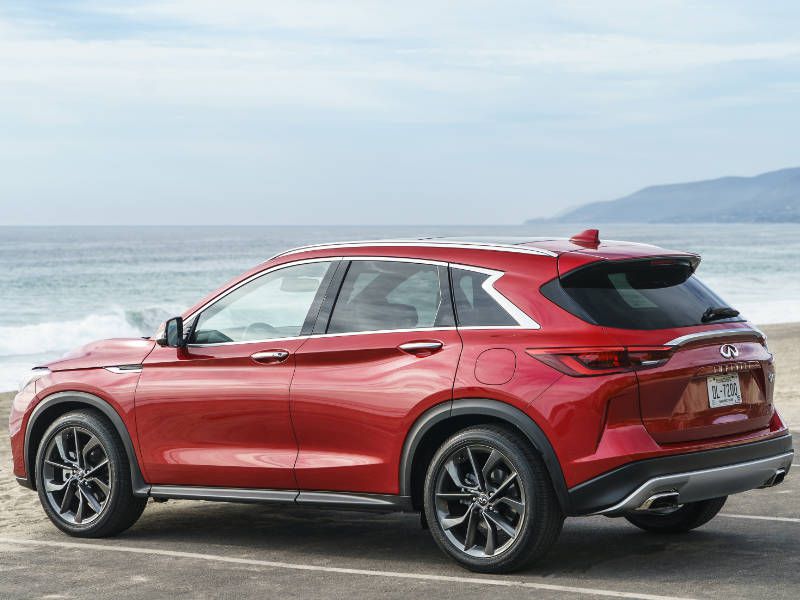 Photo by Infiniti
Fuel Economy
Another perk to the new variable compression engine in the QX50 is its efficiency. It drives like a traditional gasoline engine but delivers the gas mileage of a diesel. This helps the front-wheel drive QX50 models achieve an estimated 27 miles per gallon in mixed driving, with all-wheel drive models managing 26 mpg. Those figures are improvements of 35 percent and 30 percent, respectively, over the previous-generation QX50's EPA ratings. 
Many buyers' go-to choice for better fuel efficiency is a hybrid, but the VC-Turbo engine in the QX50 provides another option. Those who still want a fully gas-powered engine will appreciate getting better fuel economy without having to switch to a hybrid vehicle.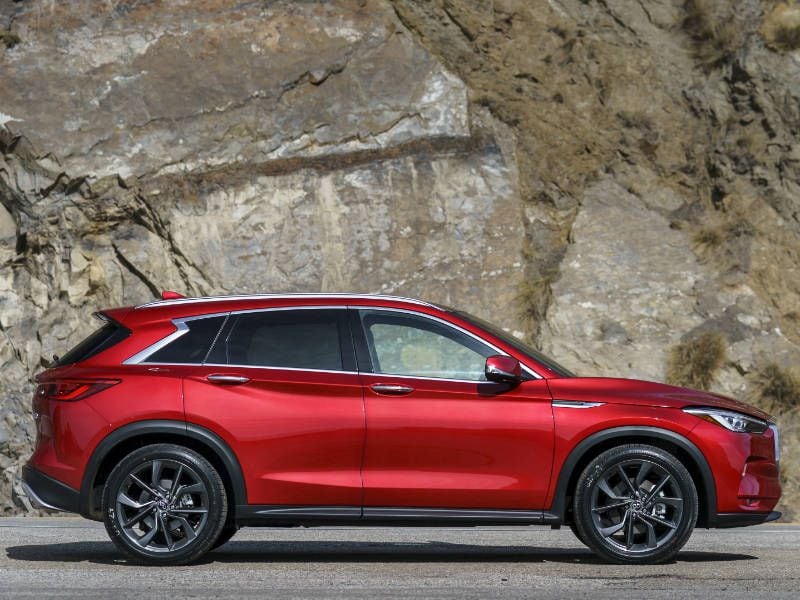 Photo by Infiniti
Final Thoughts
The all-new 2019 Infiniti QX50 offers an enticing package. Its updated styling makes it more attractive on the outside, and its interior is top-notch with the style and quality of far more expensive vehicles. It looks and feels every bit the luxury car with premium materials throughout and a smooth, quiet ride. Although the QX50 isn't cheap, its starting price of $36,550 makes it a luxury crossover that's attainable even if you have a limited budget. The new QX50 also boasts advanced technologies, with features like ProPilot Assist offering owners the latest in semi-autonomous technology to make driving less taxing and more relaxing.
Overall, the latest QX50 is a vast improvement over the outgoing generation. In a segment with an increasing number of choices, the Infiniti stands out from the pack and is sure to appeal to those who want a luxury-car experience combined with the capability of a crossover.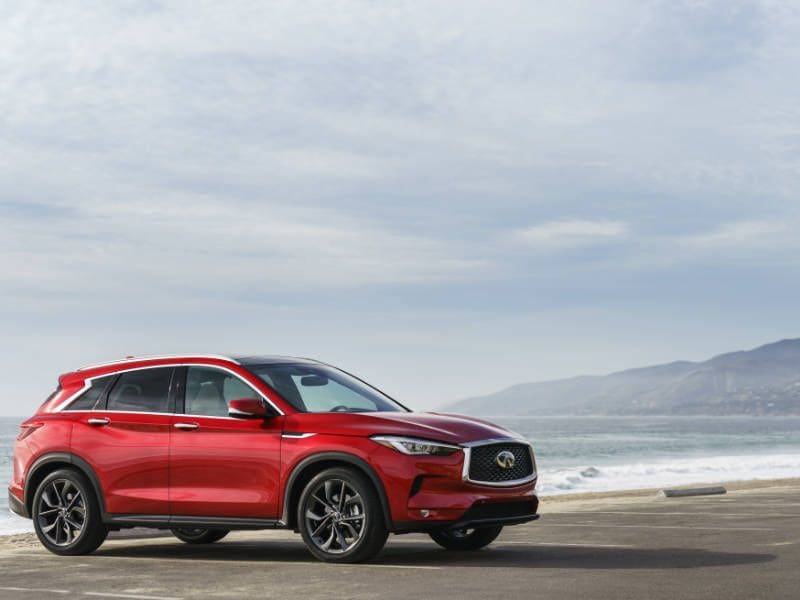 Photo by Infiniti