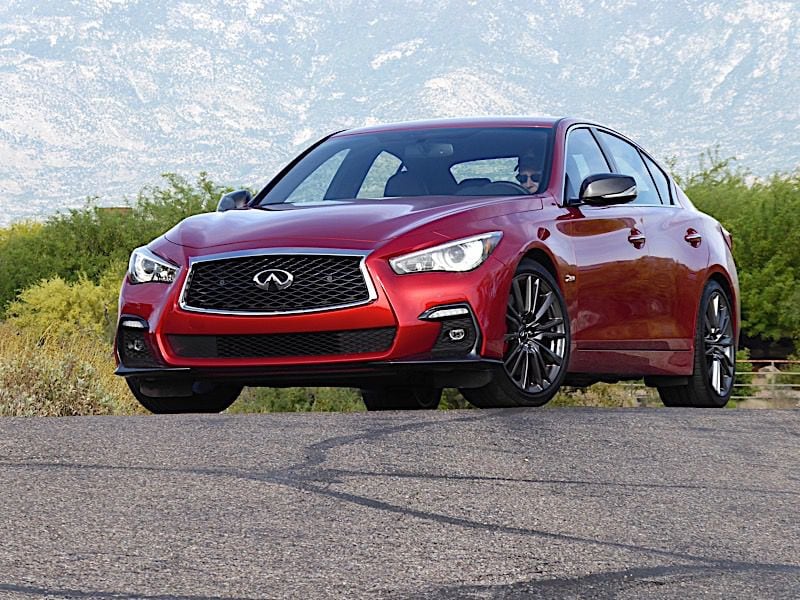 19 infiniti q50 front 2 sessions ・ Photo by Ron Sessions
The shapely and sporty Infiniti Q50 is the brand's best-selling car. Even though the mid-size luxury four-door sedan is now into its sixth model year with few major changes, it still has strong curb appeal. The 2019 Q50 lineup includes the four-cylinder 2.0t Pure and the V6-powered 3.0t Luxe, 3.0t Sport, and Red Sport 400. Last year's Q50 hybrid is no longer offered.
For 2019, the Q50 adds a standard predictive forward collision warning system as well as forward emergency braking. Blind-spot monitoring also joins the standard equipment list for the range-topping Red Sport 400 model. Including the $995 destination charge, 2019 Q50 pricing starts with the 2.0t Pure at $36,645, and continues with the $39,395 3.0t Luxe, $49,045 3.0t Sport and $52,345 Red Sport 400. All-wheel drive is a $2,000 upcharge for all models.
Boosted Performance
Under the neatly creased and flowing hood of the Q50 is either a 208-hp 2.0-liter four-cylinder turbo or a twin-turbo 3.0-liter V6. The V6 really delivers performance commensurate with the Q50's sporty looks and athletic handling, tuned to 300 horsepower and 295 lb-ft of torque in the 3.0t models and a rousing 400 horses and 350 lb-ft in the Red Sport 400, courtesy of significantly increased turbocharger boost pressure and intercooler capacity. There is barely a hint of turbo lag with the top-rated V6 pulling strongly from just 1,600 rpm all the way to 5,200 rpm.
Dual exhaust gives the V6 a full-bodied sound at wider throttle openings, yet the car quiets down in around-town driving and during highway cruising, never forgetting its luxury mission. The Red Sport 400 also has a shorter final-drive ratio than the other V6 Q50s for quicker acceleration. All V6 models feature a quick-shifting seven-speed automatic transmission with an available Sport mode and rev-matching downshifts. The Red Sport 400 has handy magnesium steering wheel-mounted paddle shifters for manual shift control. The Q50 V6 offers excellent response over a wide range of engine and road speeds for merging, passing, or just cruising around town.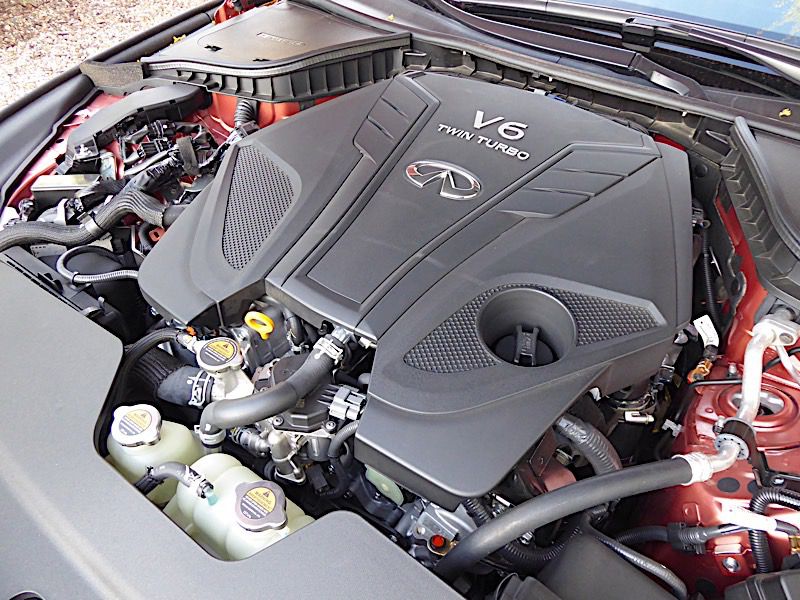 Photo by Ron Sessions
Hospitable Cabin
Sliding behind the wheel of the Q50 feels like slipping into a well-tailored suit. The leather-wrapped steering wheel and shifter, both shared with the Q60 coupe, fall neatly into your hand, as do all controls. The instrument panel is an attractive dual-cowl design, the simple but elegant white-on-black electroluminescent analog gauges clear and sharp. Dual-zone automatic climate control is standard, as is push-button starting, a power sunroof, and Samurai-inspired Kacchu aluminum interior trim. Console storage, however, is a bit on the short side.
The power-adjustable front bucket seats feature a spinal-support seatback design that helps minimize back fatigue, a plus during long stints. A memory function moves the seat rearward and the steering wheel up for easier ingress and egress. The Red Sport 400 comes standard with the Q50's top fitments, including sport seats with super-soft quilted semi-aniline leather seat coverings; adjustable thigh extensions; a power driver's seat torso bolster; a heated steering wheel and front seats; red contrast stitching on the seats, doors, and dashtop; a black headliner; and dark chrome trim.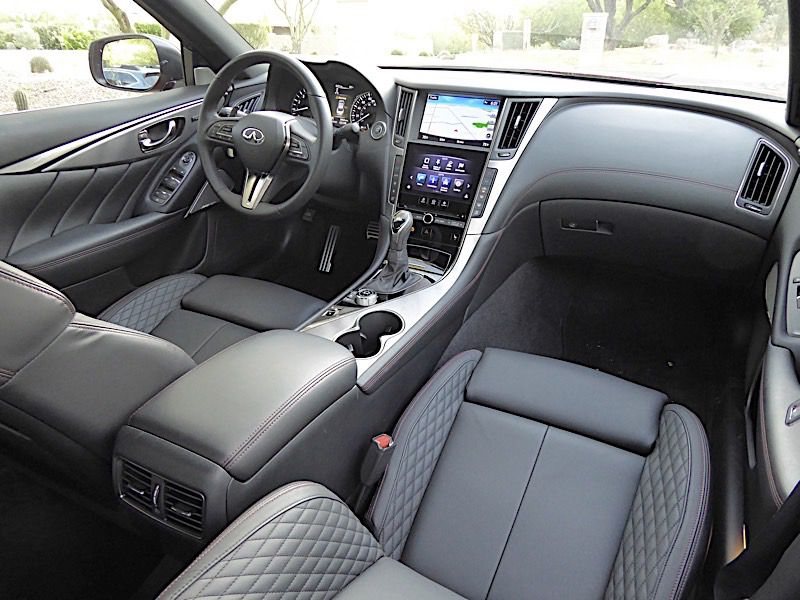 Photo by Ron Sessions
Screen Gems
As with some recent Acura and Honda designs, the Q50 features a dual-screen infotainment display layout. The upper of the two touchscreens, the closest to the driver's line of sight, is an 8-inch unit for often-used applications such as navigation. Meanwhile, the lower 7-inch display houses audio, phone, vehicle settings, and other functions. The beauty is the driver can keep the navigation screen open while accessing other applications on the lower one. However, there's no Apple CarPlay or Android Auto, which haven't made it to the Q50 just yet.
A six-speaker AM/FM/CD stereo with RDS and MP3 playback, SiriusXM, Travel Link, and HD radio are standard, but audiophiles will want to option up to the full-fidelity of the 16-speaker Bose surround-sound system.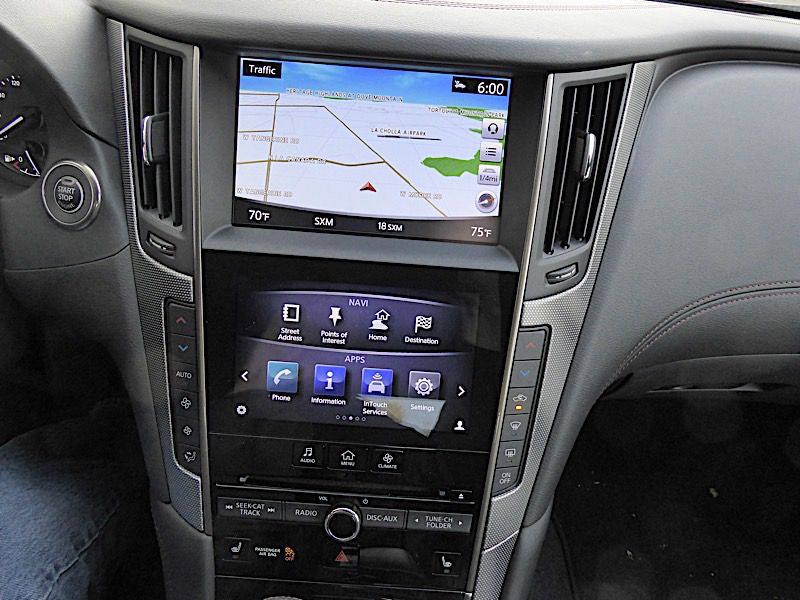 Photo by Ron Sessions
Dailing It In
The Q50 gives the driver multiple ways to access and operate the car's infotainment system. Aside from touchscreen tiles, the driver's steering wheel controls, and hard shortcut buttons and an analog volume knob below the lower screen, there's this iDrive-like control wheel on the console. It gives quick access to the backup camera and voice commands, and it has a handy back button.
Equally convenient are the hard buttons for the dual-zone climate control system. They are arrayed vertically, flanking the lower screen with individual temperature-control buttons for each front seat occupant. The driver will, however, have to reach over to the passenger side of the lower screen to put the system in recirculation mode or operate the front or rear window defroster.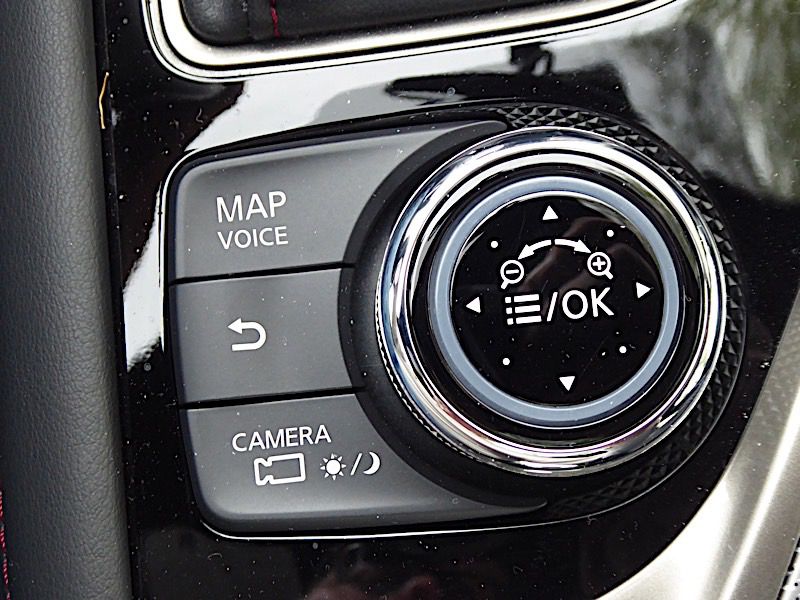 Photo by Ron Sessions
Sitting Pretty
The Q50 is a true mid-size luxury sedan that doesn't sacrifice rear seat roominess on the altar of sportiness. Headroom for back seat passengers is generous for the class.
Due to its longer wheelbase, rear seat accommodations will handle a couple of full-grown adults (three would be pushing it). There's more rear legroom in the Q50 than in competitors such as the Lexus IS and Genesis G70. So there's less need to move the front seats forward to create more knee space for aft passengers.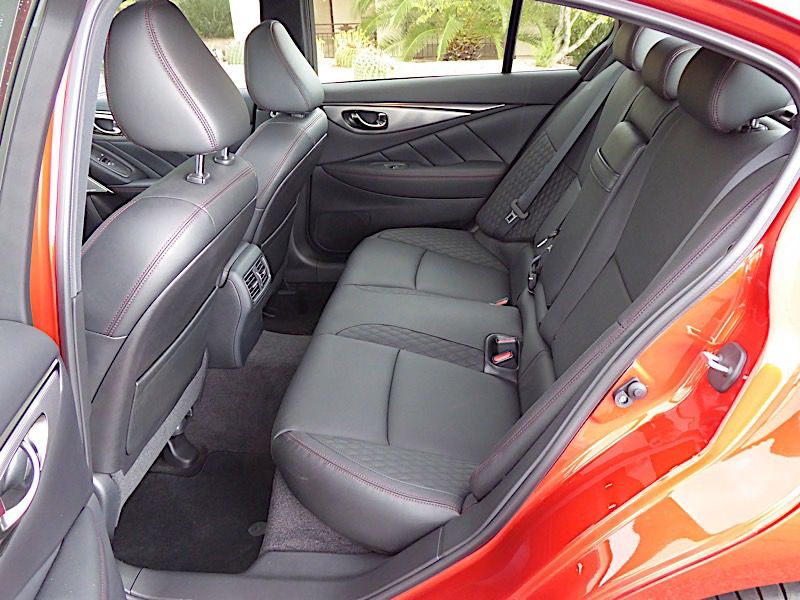 Photo by Ron Sessions
Cargo Considerations
Another positive outcome of the Q50's slightly larger size (roughly 5 inches longer nose to tail than both the Genesis G70 and Lexus IS) is more trunk space. The Q50's 13.5-cubic-foot trunk is about 3 cubic feet larger roomier than the luggage compartment of the G70 or Lexus IS. That's room for another small suitcase or maybe even two.
And the Q50 can handle longer items as well, courtesy of a 60/40 split folding rear seatback with a center pass-through for skis. The folding rear seatbacks have easy-to-reach remote pull handles in the trunk. Note that the Q50 does not have a spare tire and is equipped with more expensive run-flat tires as a result.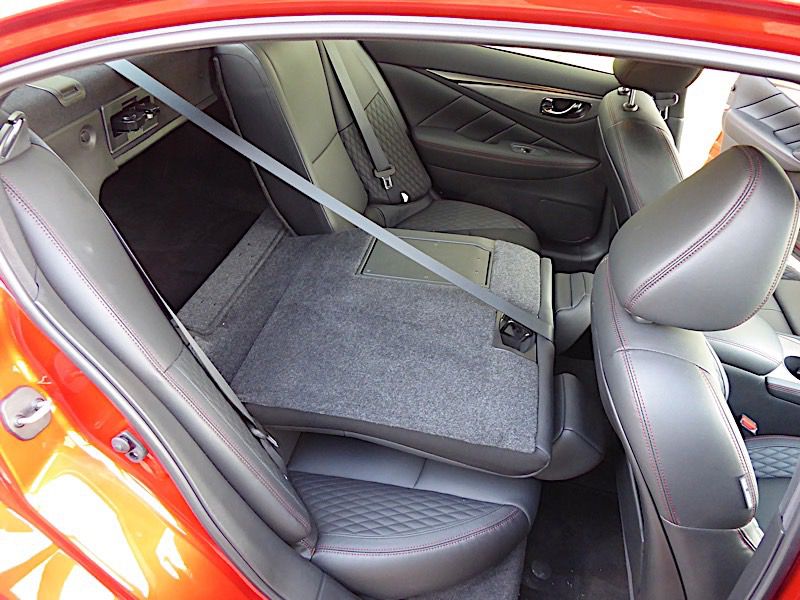 Photo by Ron Sessions
Safety Net
The current Q50 is nearing the end of its production cycle, with a new-generation model due soon, so it does not have a full suite of standard safety tech that some just-released models such as the Nissan Altima currently offer. That said, Infiniti added a predictive collision warning (which looks a couple of car lengths ahead) and auto emergency braking as standard equipment on the Q50 this year. The Red Sport 400 also gets a standard surround-view 360-degree parking camera, and a blind-spot monitoring system has been added for 2019 (it's optional on other Q50 models).
An optional Proactive Package, however, brings all the goods. It includes adaptive full-speed cruise control (basic cruise control is standard), automatic high beams, a lane departure warning, lane departure prevention (with steering assist), active lane control, backup collision intervention, and more. The Proactive Package also comes with direct adaptive steering (steer-by-wire technology) that will be a key feature on fully autonomous vehicles, which gets us into the discussion of the Q50's excellent vehicle dynamics.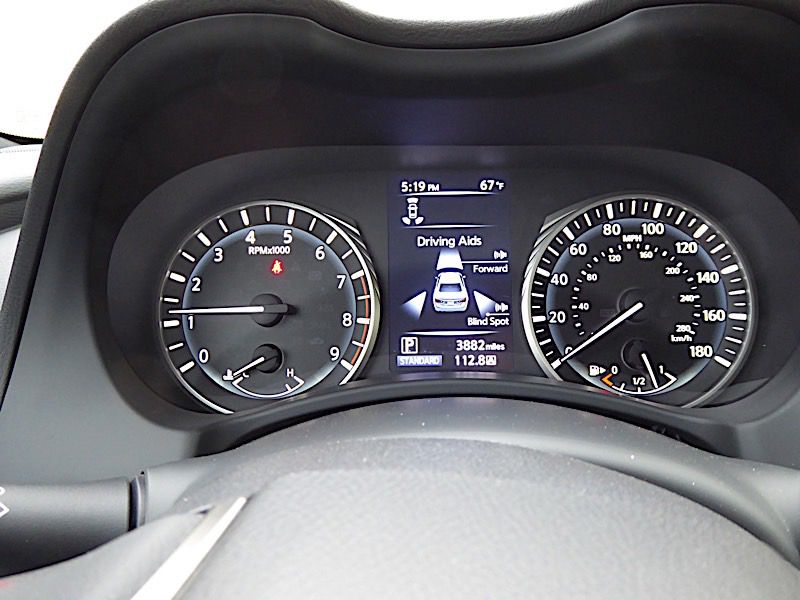 Photo by Ron Sessions
Dynamically Speaking
The 2019 Infiniti Q50 Red Sport 400 is such a joy to drive, it's hard to imagine wanting the car to drive itself. For now, the Q50 has limited semi-autonomous features (with the optional Proactive Package) and that's a good thing. Compared to the base V6 model, the rear-drive version of the Red Sport 400 has 100 more horsepower, quicker gearing, quicker steering, larger vented four-wheel disc brakes, twice as many brake caliper pistons, and larger (19-inch vs. 18-inch) wheels wrapped with meatier summer performance tires. It's all kept in harmony with the road by standard adaptive shocks that adjust damping on the fly for precise body control with minimal road harshness.
That translates to a car that is calm and collected over a variety of road surfaces, handles flat in corners, accelerates with verve, steers with precision and brakes with confidence. Both rear-wheel drive and Infiniti's Intelligent all-wheel drive are available on all Q50 models. EPA fuel economy ratings span from 23 mpg in the city, 30 mpg overall, and 25 mpg combined for a rear-wheel drive four-cylinder down to 19 mpg city, 26 mpg highway, and 22 mpg combined for an all-wheel drive Red Sport 400.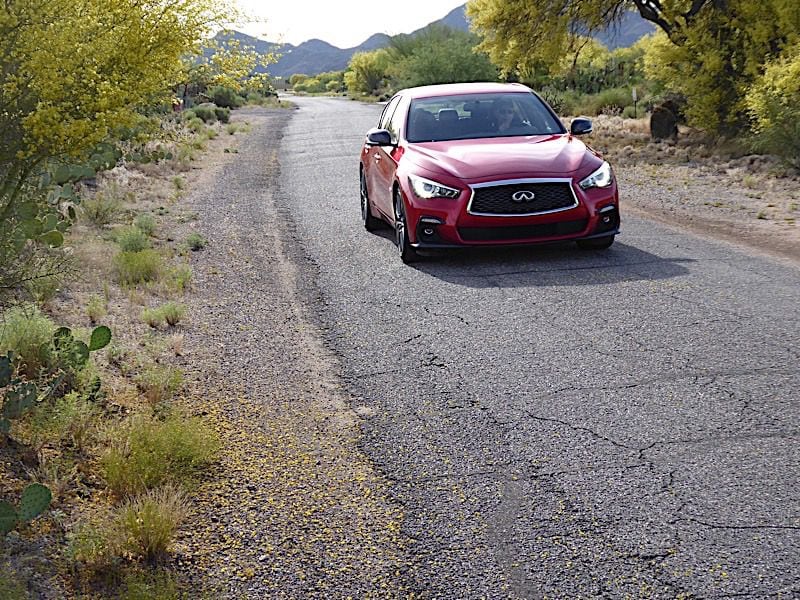 Photo by Ron Sessions
Attractive Proposition
With competition that includes the BMW 3 Series, Mercedes-Benz C-Class, Audi A4 and S4, Cadillac CT5, Genesis G70, and Lexus IS, the Infiniti Q50 travels in fast company.
From a performance-driving standpoint, the 400-hp 2019 Q50 Red Sport 400 is the ultimate Infiniti sedan, one that doesn't forget that its ultimate mission is to deliver big doses of luxury between the apexes.