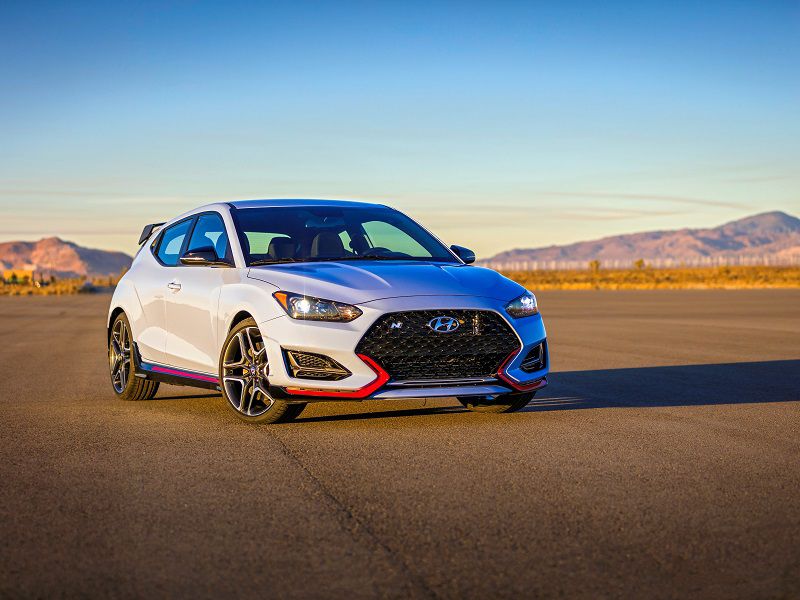 2019 Hyundai Veloster N Blue Parked Front Quarter ・ Photo by Hyundai
When Hyundai first entered the U.S. market in the early 1990s, it championed value for money. Over the next decade, the focus was shifted to improving the quality of its offerings. Lately, we've seen the company's design language flourish into recognizable, attractive models. And with the introduction of the 2019 Veloster N, we begin the next chapter of Hyundai's brand progression. Built to compete directly with the Volkswagen Golf GTI, Ford Focus ST, and Honda Civic Type R, the Veloster N will pioneer Hyundai's dedicated performance vehicles in America.
Changing its "budget brand" perception has been a slow, arduous process, but the rollout of exciting, fun to drive cars could finally banish that stigma. Our first crack at the Veloster N took place in Willows, California — home to one of the toughest tracks in North America. A torture test at Thunderhill Raceway, a smile test on a nearby autocross course, and a livability test on surrounding roads should tell us everything we need to know about Hyundai's performance ambitions.
What's New for 2019
The Veloster N is the first U.S.-spec offering from Hyundai's N performance division, breaking new ground for a traditionally conservative brand. According to Hyundai, N stands for both "Namyang," Hyundai's South Korean research and development home, and for "Nurburgring," perhaps the most famous proving ground in the world (and where Hyundai's N has placed a technical center). Inspired by the work of BMW's M engineering and development, Hyundai's N extracts superior driving dynamics from mainstream models.
To build out its new tuning arm, Hyundai poached Thomas Schemera and Albert Biermann — both formerly of BMW M. Biermann has already applied his engineering skill to sister-brand Kia's Stinger GT with impressive results, and though N doesn't yet produce bespoke engines (like BMW M), we expect great things from this hot hatchback and N division's future products.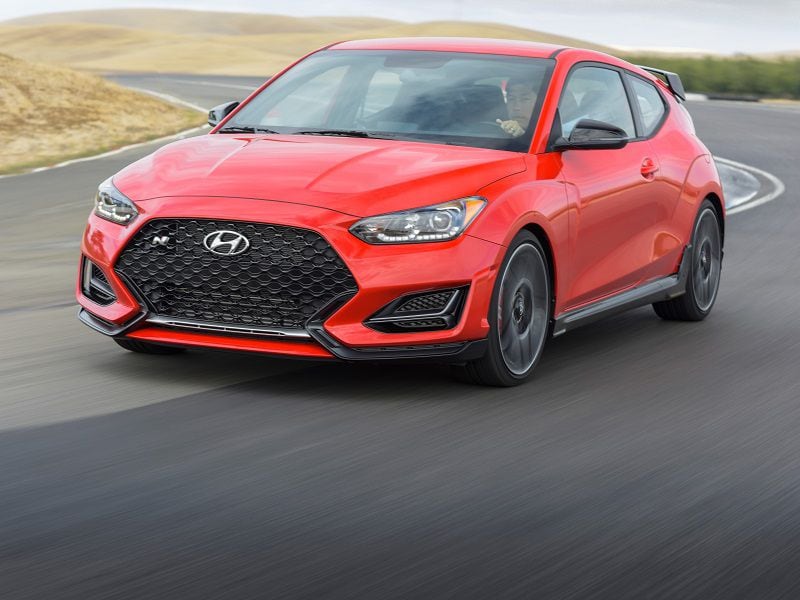 Photo by Hyundai
Exterior Styling
For the second-generation 2019 Veloster, Hyundai retained the hatchback's funky-yet-practical three-door configuration, but toned down the styling. For some, the "matured" Veloster isn't as exciting, but given the popularity of the Golf GTI, we think Hyundai's design refinement is a smart move. Those who want more visual aggression, meanwhile, have a friend in the spicier Veloster N. Compared to lesser Velosters, the N wears a unique front fascia with a pronounced chin splitter; LED headlights and daytime running lights; front air curtains; red accents (or dark gray if you select a red paint job) for the front air dams, side skirts, brake calipers, and rear diffuser; a double-decker roof-mounted spoiler; a bespoke lower fascia; and large dual exhaust ports. Though Hyundai doesn't say how much downforce the Veloster N's aerodynamic bits generate at speed, it does confirm reduced lift and increased traction.
Base Veloster N models use 18-inch wheels shod in Michelin Pilot Super Sport tires, while Performance Pack versions gain 19-inch rims and Pirelli P Zero rubber. To our eyes, the Veloster N's functional design is properly cool and, depending on color, should appeal to both young and adult buyer tastes.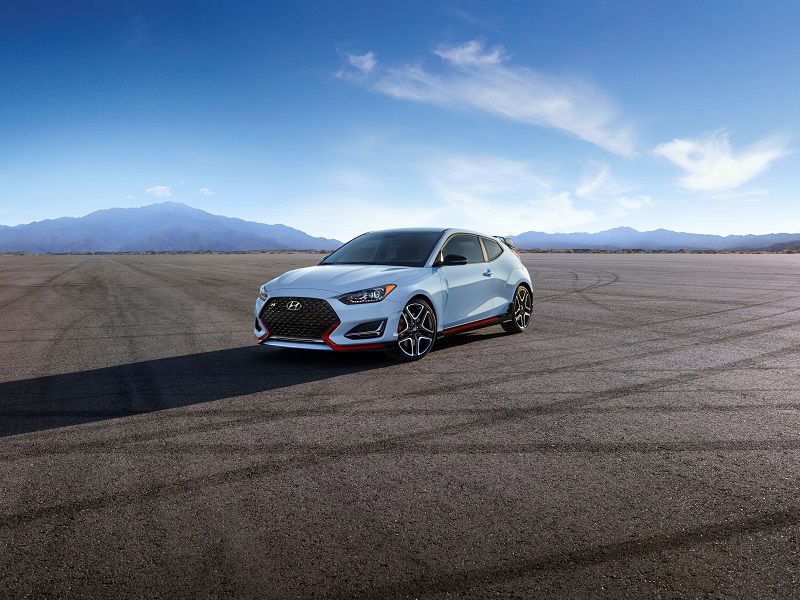 Photo by Hyundai
Interior Comfort and Convenience
The only trace of cost-conscious Hyundai is found within the Veloster N's cabin. Some neat details like Performance Blue seatbelts, seat stitching, gearshift knob, and steering wheel buttons inject some life into the cockpit, but they do little to disrupt the monotone black aesthetic. The dashboard design has personality, but heavy use of hard plastics diminishes its quality appeal. Meanwhile, although they may not look like much, the Veloster N's well-bolstered sport seats are both comfortable and supportive for trips around the track, and, we expect, around town. A thicker sport steering wheel, leather-wrapped gearshift, sequential shift lights, and N-adorned gauges round out the list of N Performance accents.
Though the Veloster N's fit and finish may not match rivals like the Golf GTI, this Hyundai's standard convenience features are solid. An 8.0-inch touchscreen infotainment system, Apple CarPlay and Android Auto, an Infinity premium audio system, LED headlights and taillights, remote entry and push-button ignition, and automatic climate control create a well-equipped base car. Whether the Veloster N will be available with upgrades like leather seats and a moonroof is yet to be announced.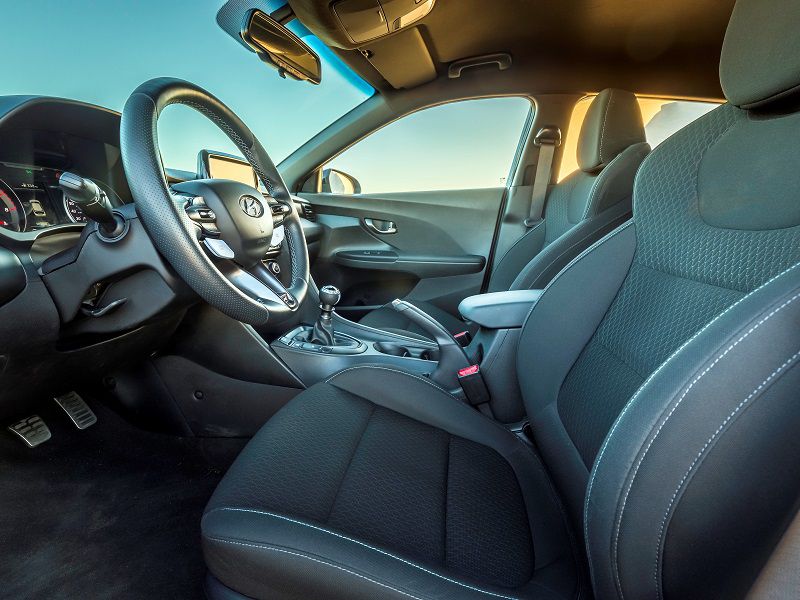 Photo by Hyundai
Powertrain
The 2019 Hyundai Veloster N is offered with one engine at two stages of tune. A 2.0-liter turbocharged four-cylinder makes 250 horsepower in its base form, but it's dialed up to 275 hp with the optional performance package. Torque remains at 260 lb-ft for both cars. A six-speed manual is the only transmission option, moderating power delivery to the front wheels. Hyundai doesn't offer a 0-60 mph time, but we estimate a run in the mid 5 seconds, thanks in part to a launch control system. The EPA's fuel economy ratings are 22 mpg in the city, 28 mpg on the highway, and 25 mpg combined.
With peak torque available from just 1,450 rpm and hanging on until near the 6,750 rpm redline, the Veloster N's twin-scroll turbo motor (derived from the 2.0T turbo engine in the mid-size Hyundai Sonata) is a perfect weapon for the brand's hottest hatchback. Equally worthy is the six-speed gearbox, which has greater durability, shorter shift throws, and shorter clutch stroke than the Turbo R-Spec trim level. Gate separation and gear engagement is clear, with a perfect throttle blip for each downshift. Those who prefer to do their own heel-toe maneuvers can turn off the rev matching with a button on the steering wheel.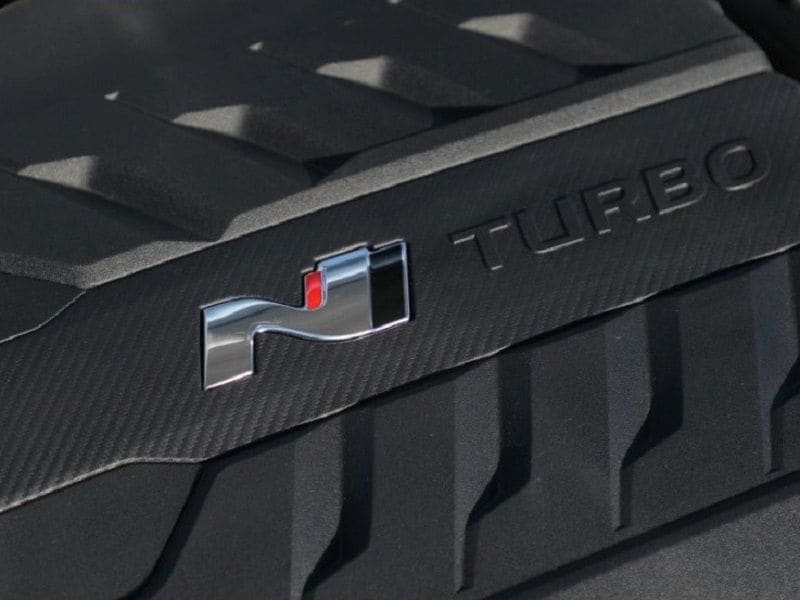 Photo by Hyundai
Track-Ready Performance Gear
Thunderhill Raceway is one of the more perilous tracks in North America. Blind off-camber corners and steep, sudden elevation changes underline any vehicle's flaws in bright red ink. For a front-wheel drive hatchback, the potential weakness is understeer — something Biermann and his N performance team has hedged against with precise tuning and tech.
The standard Veloster N gets performance engine mounts, 13-inch front and 11.8-inch rear brakes, additional welding, reinforced front shock mounts, rack-mounted power steering (as opposed to the Tubo R-Spec's column mounted setup), three-mode stability control, brake-based torque vectoring, and continuously variable suspension damping. An optional Performance Pack adds an electronic limited slip differential, larger brakes, and a variable exhaust. Track nuts can also add sport brake pads and Pirelli Trofeo R tires through their Hyundai dealer. Despite this racetrack focus, the Veloster N proves a comfortable daily driver. At even modest speeds, the hatchback's turbo engine and refined gearbox are ready to play. Rougher roads introduce a more cabin jostle and ride harshness than we'd prefer, but only a prolonged trip on beaten pavement would be a real issue.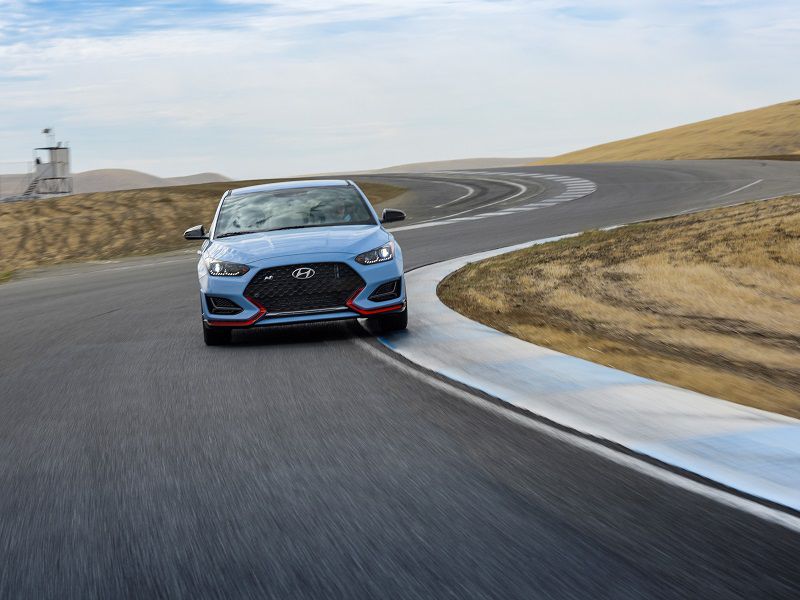 Photo by Hyundai
Tackling Thunderhill
Our Performance Pack-equipped test cars take on Thunderhill without fear. Proper cooling and good hardware let us brake deep into corners without fear of lockup. In the Sport ESC and N driving modes, the e-diff and torque vectoring systems limit understeer without cutting power. Steering weight and precision are superb, reminding us favorably of the Kia Stinger GT. The chassis is light and agile through rapid direction changes. Power out of corners is ample and seemingly unrestricted. 
On Hyundai's staged Autocross course, the Veloster N continues to impress, but without the optional sport brake pads, it reveals some fade over time. Understeer creeps into the equation as well, but it's cured with an additional half-second of patience through hairpins. Overall, finding fault with the Veloster N's on-track demeanor is a difficult task — far more so than expected.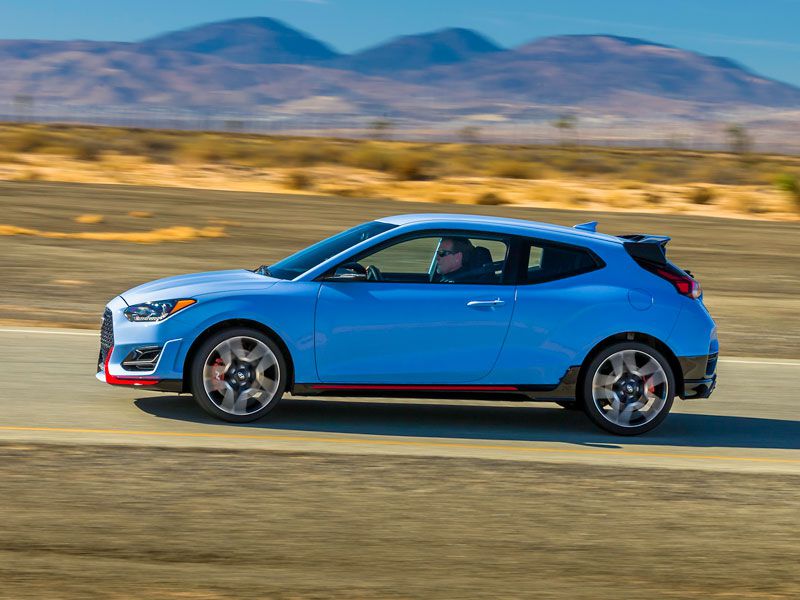 Photo by Hyundai
Safety Technologies
Standard safety features include a backup camera with dynamic gridlines and a driver blind spot mirror. Unlike the standard Veloster, the N isn't available with driver-assistance features like a forward collision warning, automatic emergency braking, lane-keeping assist, automatic high beams, a rear cross-traffic alert, or adaptive cruise control. The 2019 Veloster has not yet received crash test ratings from the NHTSA or IIHS.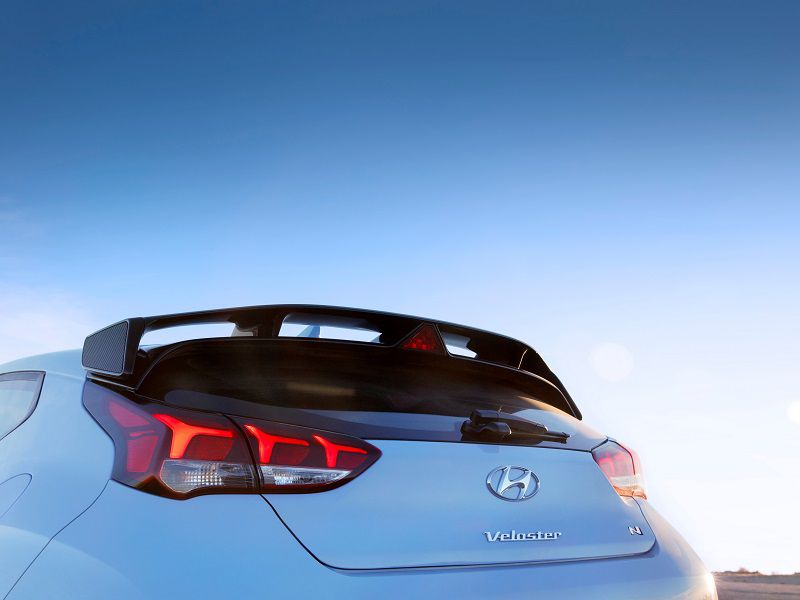 Photo by Hyundai
Pricing and Packages
Hyundai will announce official pricing closer to the Veloster N's sale date later this year, but the company has confirmed the base model will start below $28,000, including destination fees. Performance package versions will start below $30,000, including destination. Given its robust list of standard features, we don't anticipate Hyundai will offer additional packages or standalone options for the Veloster N. The entry-level Veloster starts at $18,500.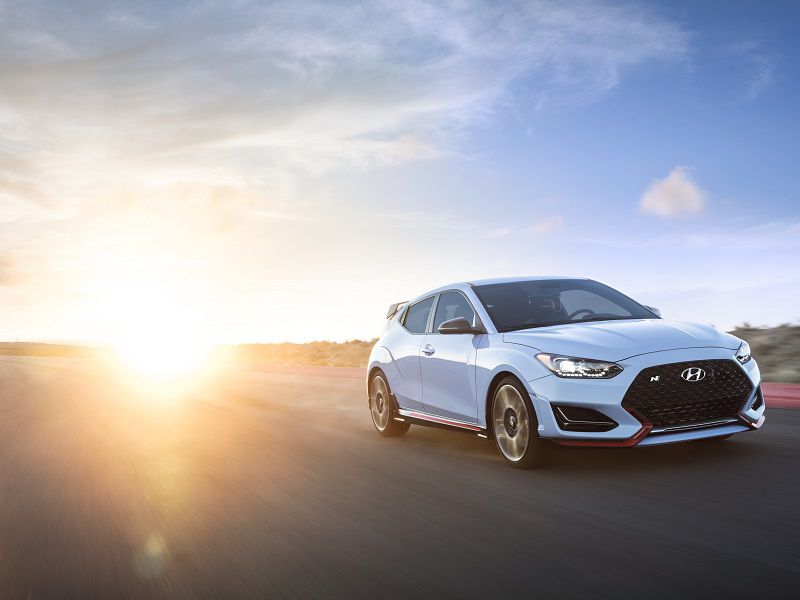 Photo by Hyundai
Highs and Lows
Highs:
Communicative, perfectly weighted steering
Responsive, nimble chassis
Slick-shifting gearbox
E-diff gets the power down well through corners
No discernable turbo lag or torque steer
Lows:
Drab interior without the quality of some rivals
Muted exhaust note within the cabin
Photo by Hyundai
Competition
Good as the Hyundai Veloster N may be, it cannot escape competition. The hot hatch arena has never been more fierce, with Honda's Civic Type R ($35,595), Volkswagen's Golf GTI ($27,310), and Ford's Focus ST ($26,045) all offering superb front-drive dynamics in a practical form. The good news for Hyundai is that, at about $28,000 to $30,000, the Veloster N stacks up quite well against its rivals.
In performance pack trim, the Veloster N outmuscles both the Golf GTI (220 hp) and Ford Focus ST (252 hp) by a good margin. Comparably equipped versions of the GTI and ST would also be closer to the N's price than base models. Honda's Civic Type R trumps the Veloster N in output, at 306 hp, but with a significantly higher starting price. We'll see if an upcoming "stripped down" Type R narrows that gap.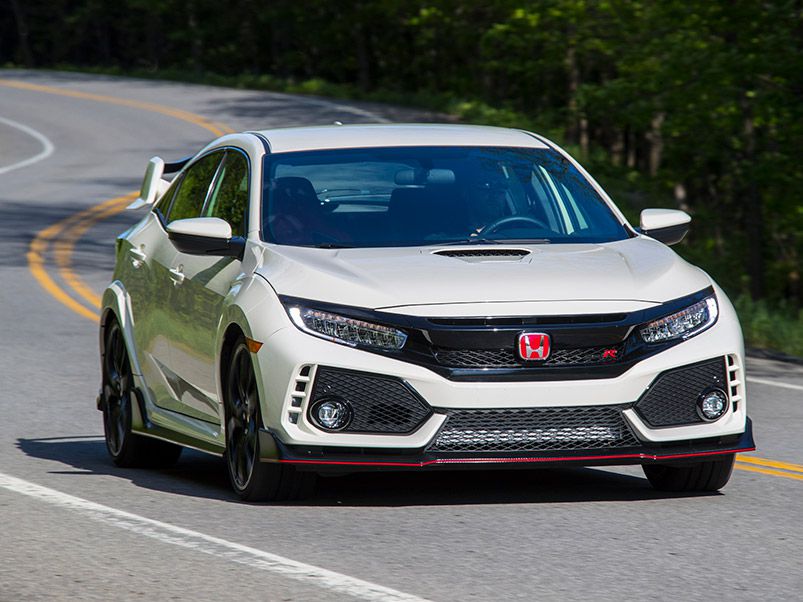 Photo by Honda