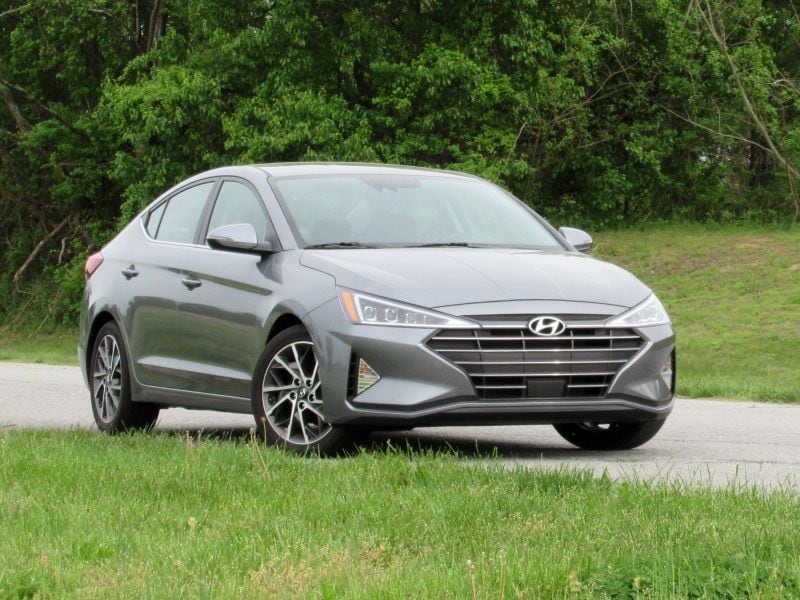 2019 Hyundai Elantra Gray Front Three Quarter BH ・ Photo by Brady Holt
At a time when the average new car costs more than $35,000, it's easy to worry about finding a good option without breaking the bank. To afford your car payment, will you have to cancel your vacation plans, find a second job, or eat nothing but ramen? Not at all. Even when many cars indeed are expensive, the more affordable options have improved, too. And one familiar budget-friendly name — the 2019 Hyundai Elantra — has just become a better deal than ever.
The Elantra compact sedan, Hyundai's rival to the best-selling Toyota Corolla and Honda Civic, has a base price of just $17,200. Newly updated for 2019, the Elantra now boasts advanced safety and infotainment features on nearly every trim level, along with fresh styling, a pleasant driving experience, and a long warranty. Let's go over the details of this sensible, affordable sedan.
Less Expensive than the Competition
The 2019 Hyundai Elantra generally costs less than comparably equipped compact sedans. We ran the numbers on a variety of Elantra trim levels and found that while a few competitors had similar sticker prices, Hyundai pulled ahead by frequently offering bigger discounts off the MSRP. That means you can get a loaded Elantra with goodies like leather upholstery or an Infinity sound system for the price of a more spartan model from another brand, or stick with an entry-level vehicle and keep the savings for yourself. 
We mentioned the Elantra's low base price of $17,200 in its SE trim. Most buyers likely will upgrade to the $19,500 SEL, which adds an array of safety and infotainment features, plus a standard automatic transmission instead of a manual. Another strong value, as its name suggests, is the Value Edition ($20,500); it brings a sunroof, push-button start, automatic climate control, and a host of little upgrades throughout the cabin. The Elantra lineup also includes the fuel-saving Eco ($21,050), the powerful Sport ($22,600), and the leather-upholstered Limited ($22,700).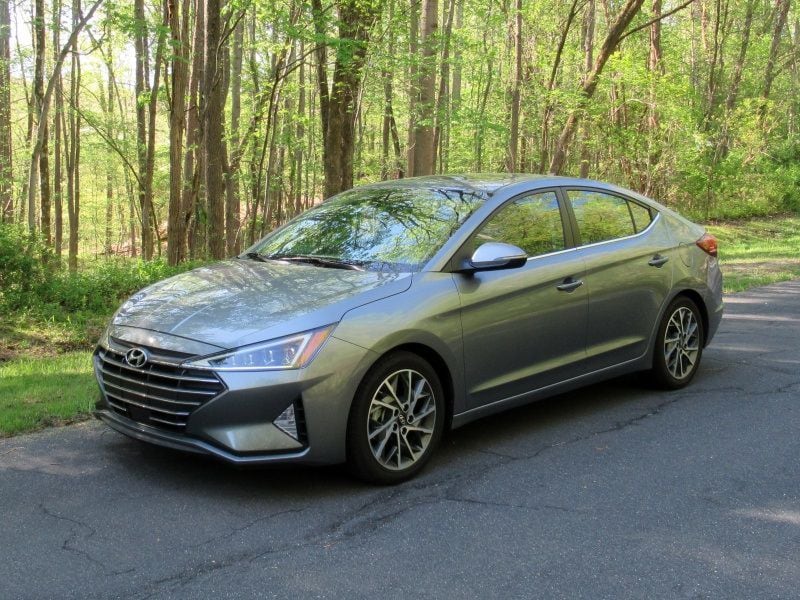 Photo by Brady Holt
New Safety Improvements
The Hyundai Elantra has been a great bargain for years, but the updated 2019 model is better than ever, thanks to its advanced safety features: a forward-collision warning, automatic emergency braking, a lane-departure warning, and autonomous lane-correcting steering. All of these features have been available since 2017, but they used to come only on a fully loaded Limited model. Now they're standard on all Elantras but the base SE, along with blind-spot monitoring, a rear cross-traffic alert, and a newly introduced driver-attention monitor.
You still need a pricey Limited like our test vehicle to get a few more safety features: pedestrian-detection capabilities, radar cruise control, and Safe Exit Assist, which helps prevent rear passengers from opening their doors into the path of a passing vehicle. In the event of a collision, the 2019 Elantra boasts perfect ratings in all crash tests from the Insurance Institute for Highway Safety, plus a decent score of four out of five stars from the National Highway Traffic Safety Administration.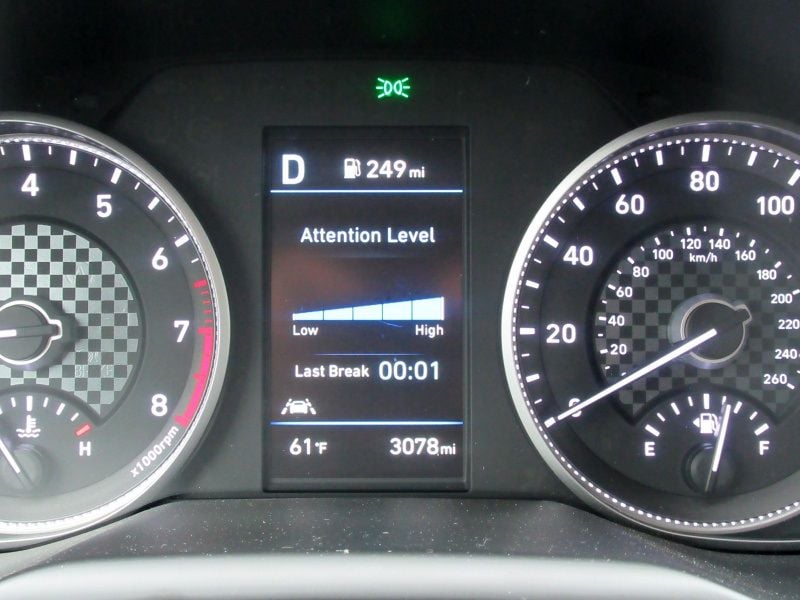 Photo by Brady Holt
Fresh Styling This Year
When the current-generation Elantra debuted as a 2017 model, its exterior was classy but relatively conservative. It never was an anonymous blob like some economy cars, but it also didn't have the sporty, aggressive design of some popular competitors. The 2019 update makes the car edgier, with triangular headlights and fog lamps. The headlights also are lower and extend, spear-like, into the grille.
Around back, the Elantra's taillights are a deeper, richer red, and their split design — they narrow as they extend onto the trunk — recalls a BMW. Hyundai also moved the rear license plate from the trunk lid down to the bumper, which means you won't hear your plate clatter when you slam the trunk.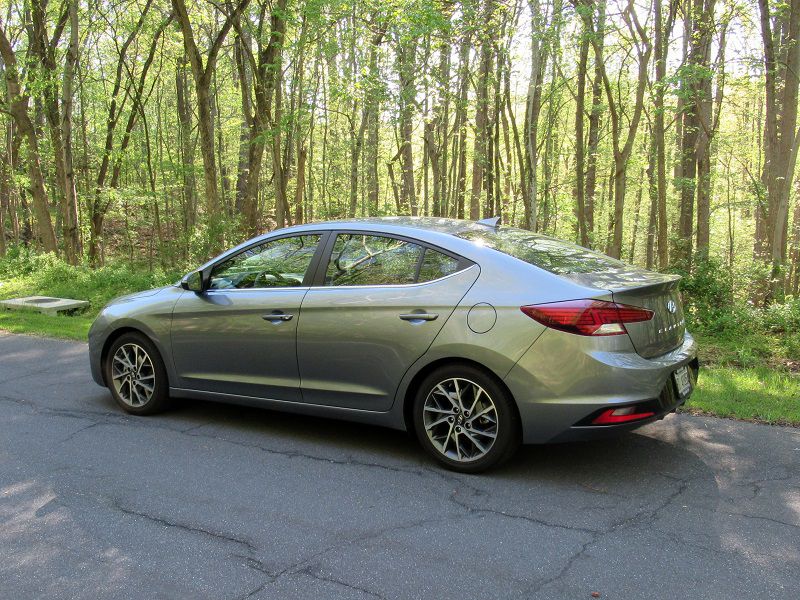 Photo by Brady Holt
User-Friendly Interior Design
The 2019 Elantra's interior remains more conservative than its redesigned exterior. Some additional textures and other details dress up the dashboard and gauges compared to last year's model, but this isn't one of the flashier designs in the compact segment. Nor are the interior materials especially fancy, though the cabin is well-assembled. Of course, Hyundai's simplicity-focused approach has an important strength: The Elantra's controls are especially easy to use, with clear buttons and knobs and a well-executed infotainment system.
Every Elantra includes an in-dash touchscreen with an integrated backup camera display. The base SE has a little 5-inch unit, while all other models upgrade to 7 or 8 inches. These larger screens support Android Auto and Apple CarPlay smartphone integration, letting you use some of your phone's functions through your car.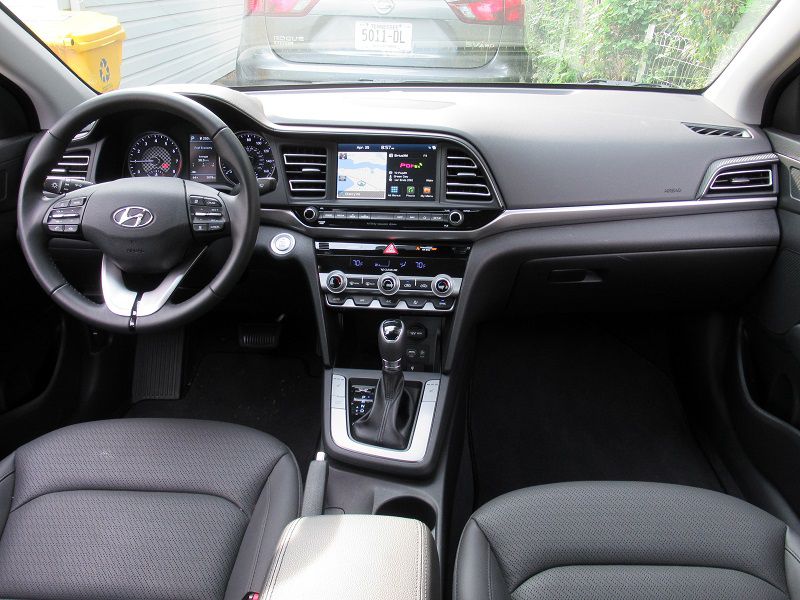 Photo by Brady Holt
Decently Roomy
Just because the 2019 Hyundai Elantra is a compact sedan, don't assume you won't fit comfortably inside. The front seats go back nice and far, and they're firm and comfortable. Their side bolsters are gentle enough that you can easily slide in and out of the seats, but also supportive enough to keep you from sliding back and forth if you swerve. The Elantra has a decently high seating position for a sedan, too.
The Elantra's rear seat is class-competitive for the compact sedan segment. Adults can't stretch out, but two will fit without much fuss. If you drive for Uber, though, you might pick a Honda Civic or Nissan Sentra instead; those competitors will give your customers more legroom in the back. Trunk space is a healthy 14.4 cubic feet, above average for the class. For more space, Hyundai also sells an Elantra GT five-door hatchback, which shares some mechanical components (but no visual cues) with the Elantra sedan.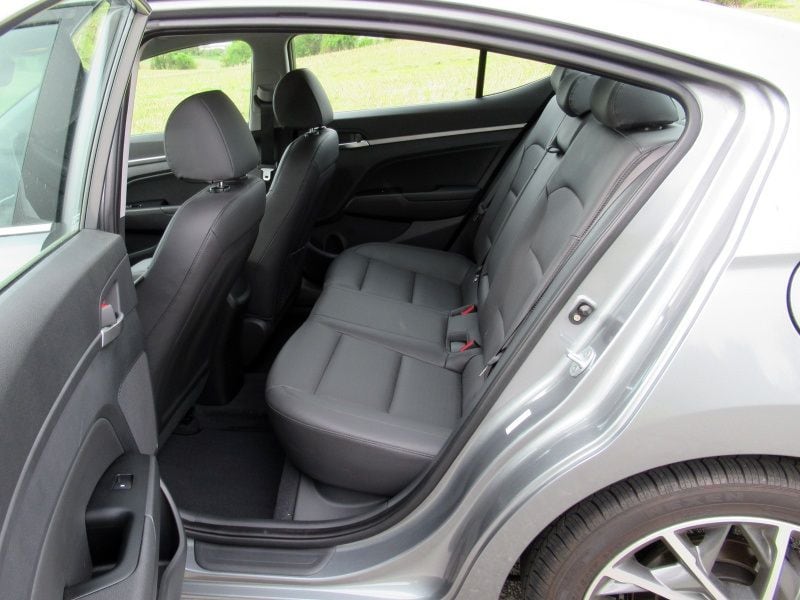 Photo by Brady Holt
Pleasant Driving Experience
On the road, the 2019 Hyundai Elantra is a pleasant little car to drive. While it's not going to deliver thrilling responsiveness or cossetting luxury, it's also unlikely to grate on you. It hums confidently along the highway, provides responsive steering and handling on a winding road, and has a firm but composed ride on bumpy city streets.
Most Elantras, including the Limited we tested, use a 2.0-liter four-cylinder engine with 147 horsepower and a six-speed automatic transmission. Many competitors have higher-output, more advanced powertrains, but the Elantra's gets the job done. If you want more responsiveness, you also can select the Sport mode, which keeps the transmission in a lower gear; that said, we preferred Normal mode, which keeps the engine quieter and more fuel-efficient. More advanced turbocharged engines with dual-clutch automatic transmissions are available in the Elantra Eco and Elantra Sport, and these models are quieter and quicker than the base 2.0-liter.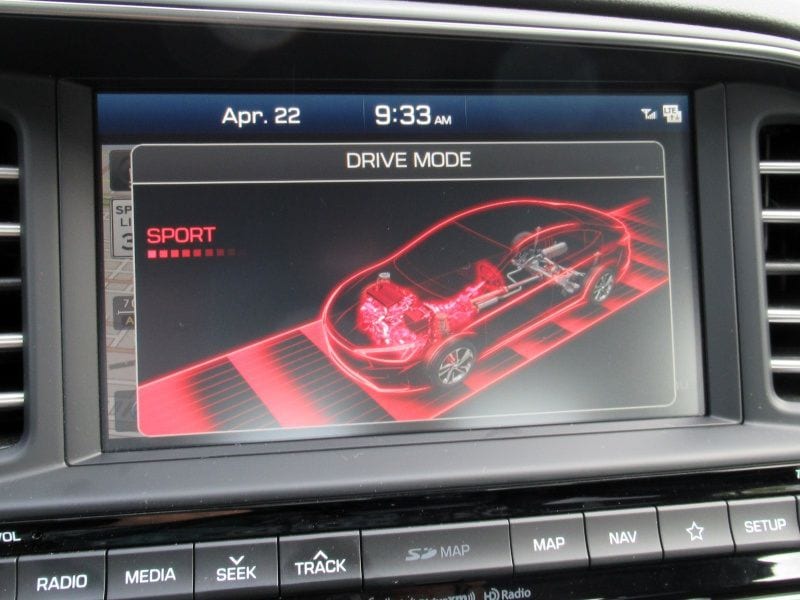 Photo by Brady Holt
Respectable Fuel Economy
Most 2019 Hyundai Elantra models equipped with the 2.0-liter engine and automatic transmission (including our test vehicle) achieve EPA fuel economy ratings of 28 miles per gallon in the city, 37 mpg on the highway, and 32 mpg overall. That's class-competitive, if not stellar, for a compact sedan. A new continuously variable automatic transmission is coming next year, providing a 2 mpg boost in EPA testing. In our 2019 Elantra Limited, we beat the EPA estimates to average an impressive 36 mpg during a week of mixed driving.
For maximum mileage, the Elantra Eco is the model to get. Its smooth, peppy 128-hp turbocharged 1.4-liter engine and seven-speed dual-clutch automatic transmission bump EPA estimates to 32 mpg city, 40 mpg highway, and 35 mpg overall — and we saw 45 mpg when we drove one along rural country roads of Delaware and Maryland's Eastern Shore last year. We wish this engine were more widely available in the Elantra lineup. Meanwhile, the speedy but fuel-thirsty 201-hp Elantra Sport slips to 29 mpg overall with a seven-speed dual-clutch automatic, and just 25 mpg with a six-speed manual.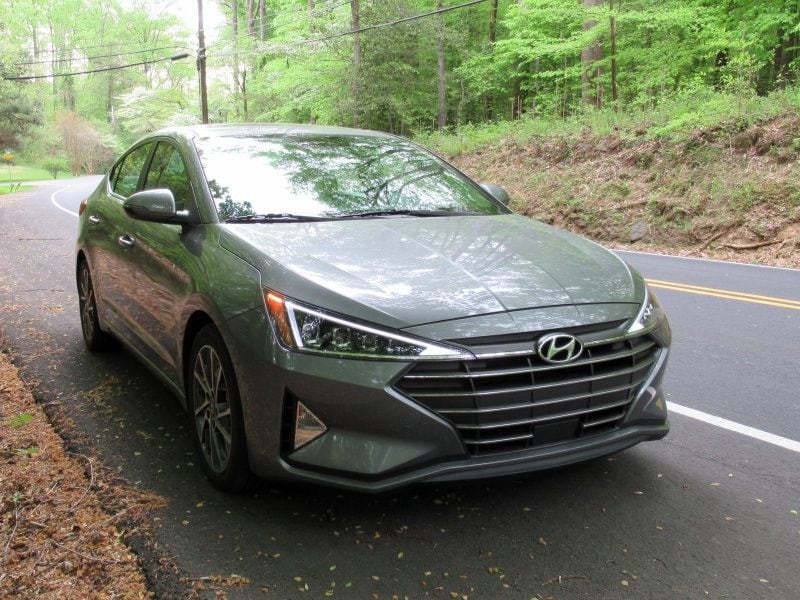 Photo by Brady Holt
Plenty of Competition
You have many great options if you're shopping for a compact car. One of our favorites is the roomy, fuel-efficient, and fun-to-drive 2019 Honda Civic. However, the Elantra has superior infotainment and more user-friendly controls, while costing thousands of dollars less. Looking at bargain-priced options, the redesigned 2019 Kia Forte — the Elantra's mechanical cousin from Hyundai's sister brand — is another great choice. The Forte edges out the Elantra's rear seat comfort and fuel economy, and its interior design is more modern. That said, the Hyundai still tends to cost less.
The 2019 Nissan Sentra is another extra-affordable compact sedan, and it boasts an extra-roomy rear seat. We prefer how the Elantra drives, though, and it has more advanced safety features than the Sentra. Meanwhile, if you want a decent budget car from an unexpected source, the redesigned 2019 Volkswagen Jetta is a surprisingly good deal, despite VW's European cachet. Lastly, we mentioned the Hyundai Elantra GT five-door hatchback; it looks and feels fancier than the Elantra sedan, and it has more cargo space, but it's much less fuel-efficient and many safety features are restricted to fully loaded versions.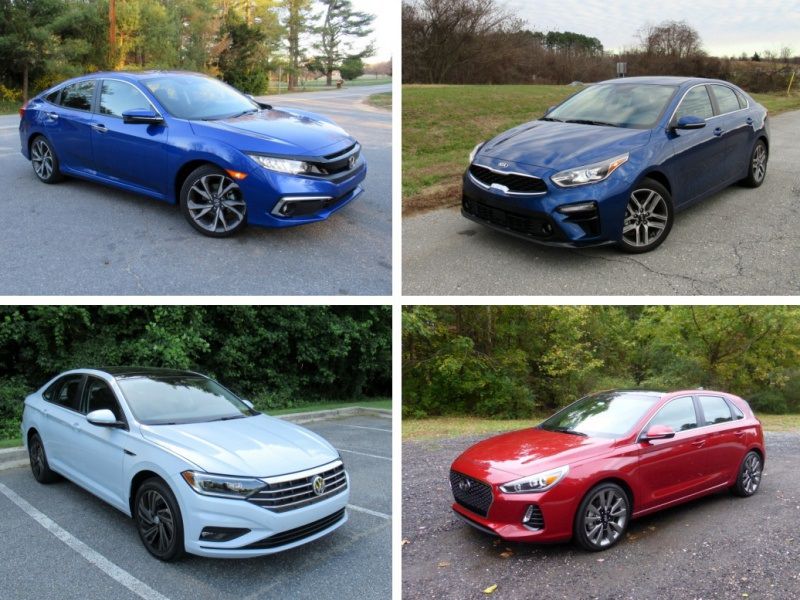 Photo by Brady Holt
Standout Value
The Hyundai Elantra isn't one of those cars that inspire intense desire. Teenagers won't hang Elantra posters in their bedrooms. Pop stars won't write songs about it. It's probably not going to make it into "The Fast and the Furious Part 52." You're not going to find anyone who puts "drive an Elantra" on their bucket list.
But all that's just fine. The Elantra is a perfect companion for real life. It will whisk you around without fuss wherever you want to go. It will sync smoothly with your phone and slam the brakes for you to avoid or mitigate a crash. While it's not the only affordable compact sedan you can buy, the 2019 Hyundai Elantra is a thoroughly competent sedan that sells for fantastic prices.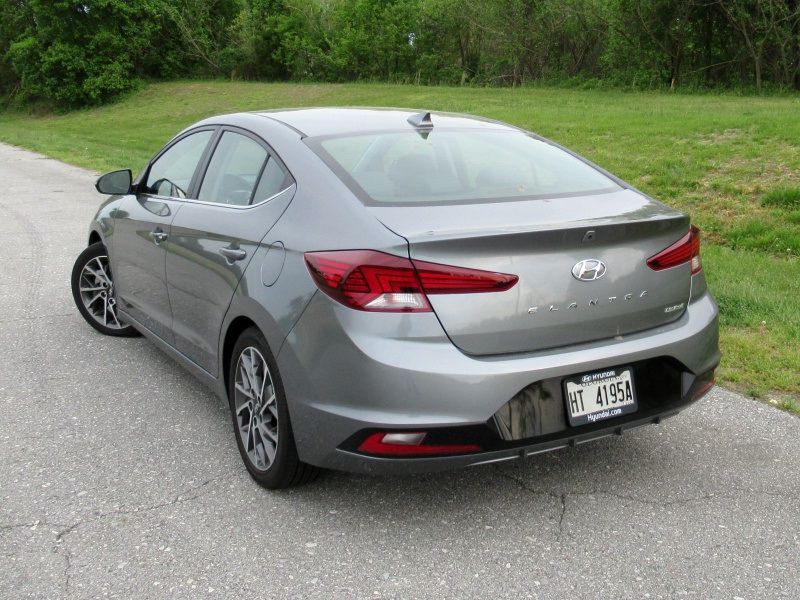 Photo by Brady Holt