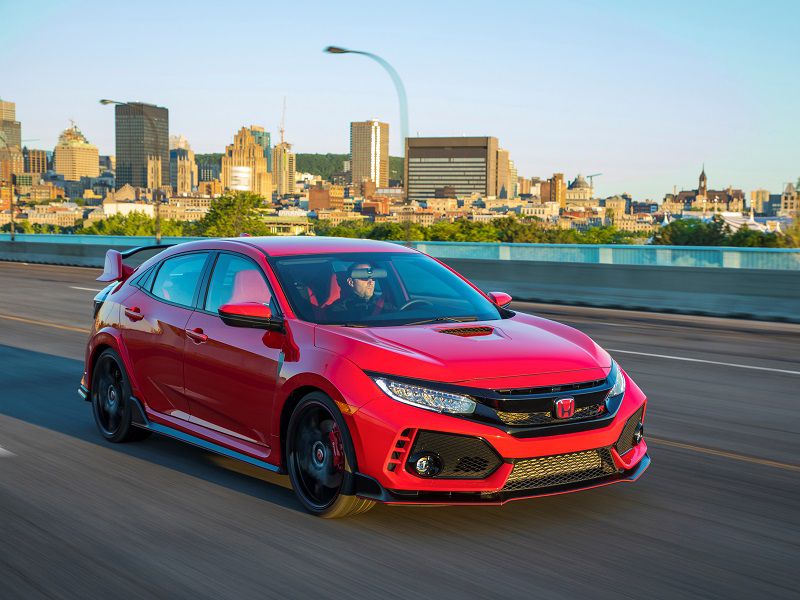 2019 Honda Civic Type R ・ Photo by Honda
Picking up your daughter from school in the 2019 Honda Civic Type R is almost as fun as driving the high-performance hatchback on a twisty mountain road. The Type R gets an incredible amount of attention. And it's not just the kids who go wild for the hot hatch, as several members of the faculty also come over to ask about the Honda. You'd think I was driving a Ferrari or something.
The 2019 Honda Civic Type R is something special, and everyone knows it. Assembled in England, it's the most powerful, best-performing, most radically styled, and — at $35,700 — the most expensive Honda Civic ever sold in America. It's an absolute blast to drive, and it's one of our favorites in the hot sport compact category, which also includes the Volkswagen Golf R, Hyundai Veloster N, and Subaru WRX STi.
The Ultimate Honda Civic Hot Rod
Hot-rod Honda Civics are nothing new. Performance has always been part of the Civic's appeal. In 1986, the original Honda Civic Si basically created the tuner era, and three decades later, Honda continues to offer two high-performance versions of the Civic: the Si and the Type R. The 2019 Honda Civic Type R is the ultimate Civic hot rod. Easily identified by its massive rear spoiler, the Type R is packing a 306-horsepower turbocharged 2.0-liter engine, a limited slip differential, 20-inch wheels, and high-performance summer tires. With incredible handling, 0-60 mph runs in about 4.9 seconds, and a top speed of 170 mph, it's among the best performing front-wheel drive cars of all time.
Although Honda offers the 2019 Civic in three body styles — a four-door sedan, a two-door coupe, and a five-door hatchback — the Type R is only offered as a hatchback. And only with a six-speed manual transmission. Prices start right around $36,595 including an $895 destination fee.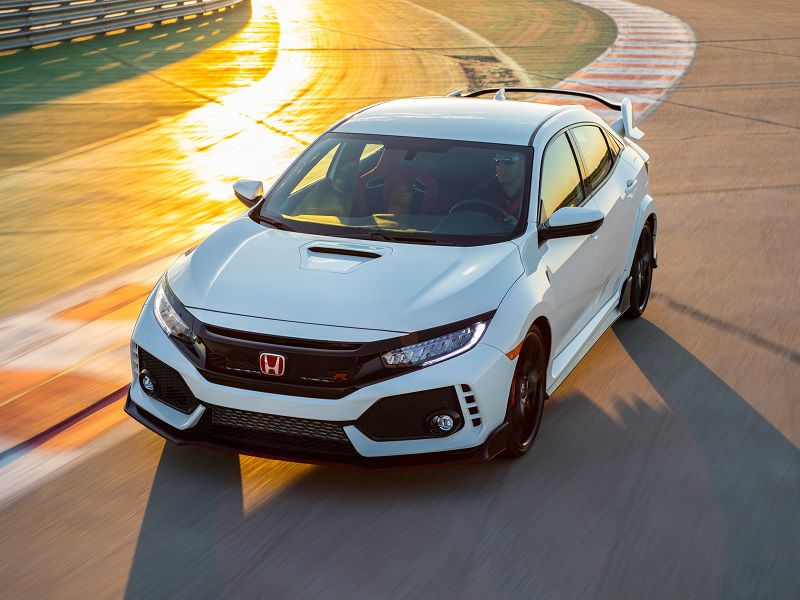 Photo by Honda
The Other Honda Civic Hot Rod
With those specs, the 2019 Honda Civic Type R is significantly more powerful and more expensive than the turbocharged Civic Si, which is available as a coupe or a sedan. Its 2.0-liter four-cylinder makes 205 hp and prices start at $25,195 for either body style. The Civic Si rides on 18-inch wheels and tires, but like the Type R, it gets a standard limited slip differential and it's only offered with a six-speed manual transmission.
For most enthusiast buyers the Si is the Civic to get. It can hit 60 mph in about 6.7 seconds, which is plenty quick, and its handling and braking performance can match anything in its class, including the Ford Focus ST, the Hyundai Veloster Turbo, the Volkswagen Golf GTi, and the all-wheel drive Subaru WRX. The Civic Si also rides more comfortably than the Civic Type R, it gets better fuel economy, and its styling is significantly less extreme.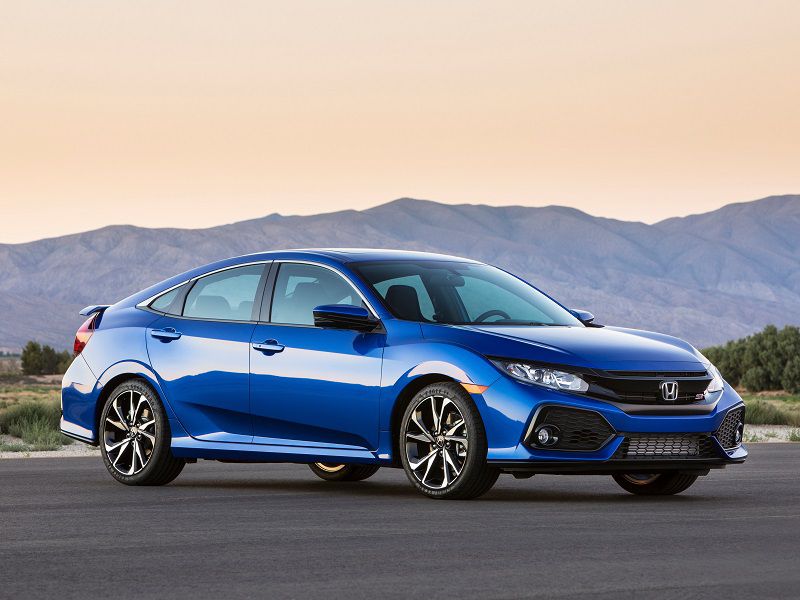 Photo by Honda
Fast and Fun to Drive
Buyers looking for the ultimate performance, however, will find it in the Civic Type R rather than the Si. This car is seriously quick and fun to drive. Its turbocharged 2.0-liter engine is torquey and smooth, with plenty of upper-rpm horsepower as it revs to its 7,000 rpm redline. Honda's six-speed manual transmission is among the best in the world. Its gear ratios are perfectly matched to the Civic's engine and it matches revs for you when you downshift.
The Honda's precise steering and powerful brakes are also impressive, and its handling rivals cars that cost more than twice as much. With its massive tires and lowered suspension, there's an incredible amount of grip and the Civic's balance is perfect. This is a car you will drive on a twisty mountain road just for the fun of it. The Type R's suspension is adjustable from the driver's seat, with three settings: Sport, Comfort, and R. Comfort is a bit more relaxed, while the Sport and R modes stiffen up the suspension, quicken the throttle response, and increase the sound from the turbocharged engine.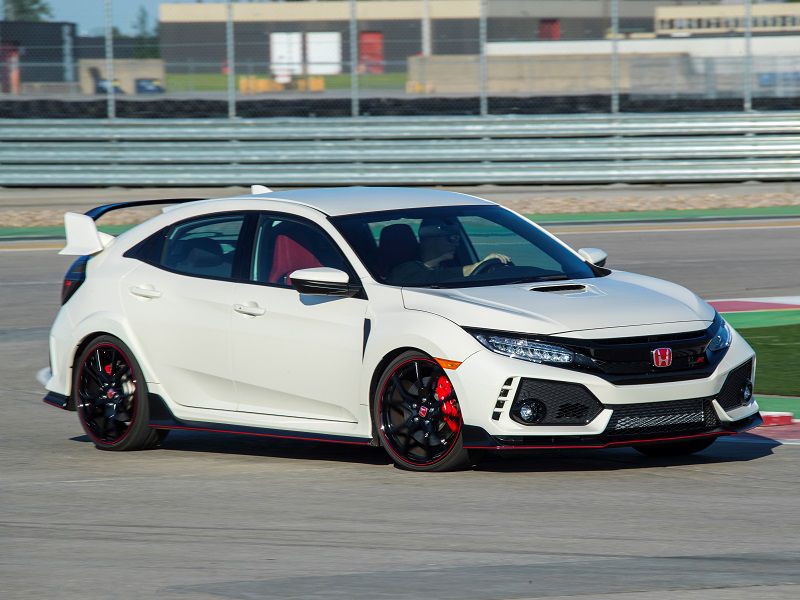 Photo by Honda
Surprisingly Refined Ride
Even more impressive than the Type R's performance is the hatchback's refinement. Thanks to a compliant ride, light clutch, and quiet interior, this hot hatch is shockingly easy to live with every day. And unlike some serious high-performance machines, you could drive the Civic Type R cross-country in complete comfort.
Too often, performance cars with Civic's awesome handling ability ride like their tires are made of concrete. They crash over potholes and chatter your teeth over choppy pavement. They're just too uncomfortable to live with unless you're under 25 years old. That's just not the case with the Civic Type R. The Type R's ride is firm, but Honda's engineers have managed to tune its suspension to soak up the road, even in its Sport and R modes. Bill down the street, my neighbor with a Porsche Boxster, BMW M235i, and Range Rover, was blown away by the Type R's suspension. After a quick ride he said, "I was expecting it to be harsh, but it rides just as well as my Porsche, maybe better."
Photo by Honda
Strong Fuel Economy for Its Class
Considering its extreme power and performance, the 2019 Honda Civic Type R is also surprisingly fuel-efficient. The Type R is rated at 22 mpg in the city and 28 mpg on the highway. Those are strong numbers for this class. The VW Golf R, which is packing 288 hp, is rated at 22 mpg city and 29 mpg highway, while the 310-hp Subaru WRX STi is rated at 17 mpg city and 22 mpg highway.
During our week with the Honda, driving it in and around Los Angeles with a heavy right foot, we averaged 24 mpg. The less powerful Civic Si is significantly more fuel efficient, with ratings of 28 mpg city and 38 mpg highway. Buyers should also know that the Civic Type R's turbocharged engine requires more expensive premium fuel.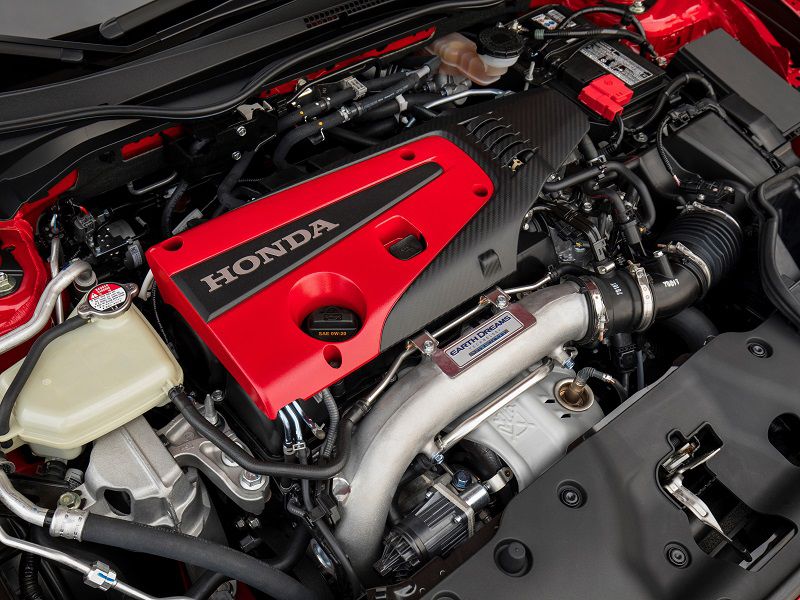 Photo by Honda
Family-Friendly Interior
The 2019 Honda Civic Type R is technically a compact car, but because of its long wheelbase, it can almost pass for a mid-size. It gives the Civic one of the largest interiors in its class, with plenty of rear head and legroom. However, unlike other Civic models, which can seat five, the Type R is a four-seater.
Seat comfort also gets high marks. The Type R's suede front sports seats have big bolsters to hold you in place, but they're not too firm like sport seats can be. The driver's seat is height-adjustable, and a tilting and telescopic steering wheel is standard. The gauge cluster features a large center-mounted digital speedometer and tachometer, which can be read at a glance, and there's a cool racecar-like shift light feature. Unfortunately, the Type R does not offer some safety technology that comes standard on other Civic hatchback models, including a forward-collision warning with automatic emergency braking, adaptive cruise control, a lane-departure warning with lane-keeping assistance, and road-departure mitigation.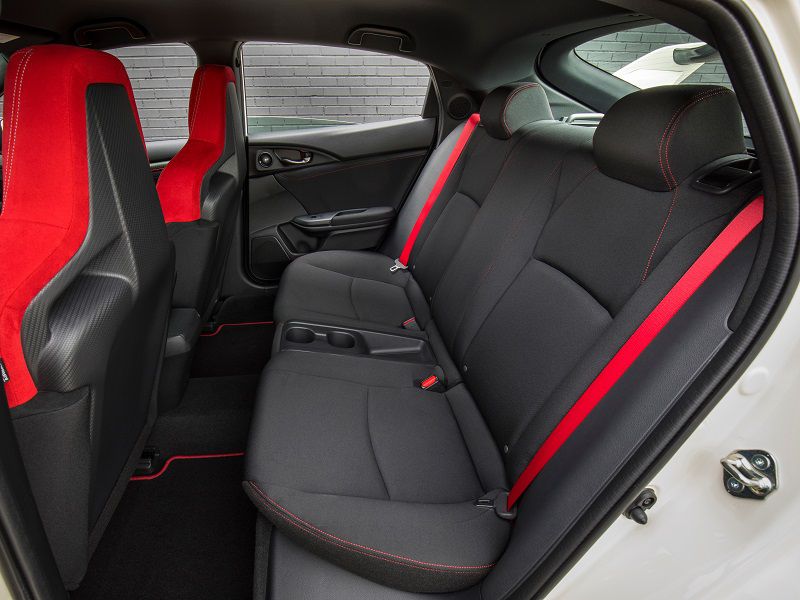 Photo by Honda
Plenty of Cargo and Storage Space
The Civic Type R's cargo space is also among the class leaders. The Civic hatchback offers 26 cubic feet of cargo space. And its rear seats are split 60/40 and easily fold flat to expand that space to 46 cubic feet. It easily swallowed my mountain bike.
Storage inside the Civic's interior is also very generous. The center console bin is large, there are two sizable cubbies below the dash, and the two front-seat cupholders are well-placed so tall drinks don't interfere with the shifter or any of the switchgear. There are also two rear cupholders.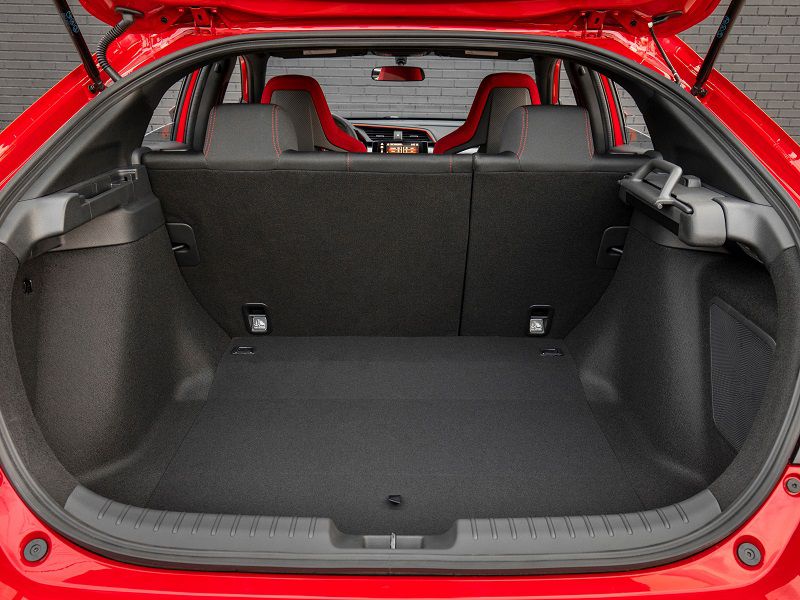 Photo by Honda
High-Quality Interior
Inside the 2019 Civic Type R, you'll find high-quality materials and excellent build quality. The design is modern and control placement is nearly perfect. Everything is within easy reach, and the push-button parking brake is right where it should be: beside the shifter. For 2019, Honda has finally added a volume knob for the radio, which is a major ergonomic improvement, although another knob to change the radio station should have been included as well.
Bluetooth, navigation, and a multi-view rearview camera are standard, and the Type R's 7-inch touchscreen is well-sized and well-placed, although some of its audio and navigation graphics seem dated. The 12-speaker premium audio system offers Apple CarPlay and Android Auto integration, although heated seats, a sunroof, and onboard Wi-Fi are not available on the Type R. A wireless phone charger is optional.
The 2019 Civic Type R comes with a three-year/36,000 mile bumper-to-bumper warranty and five-year/60,000-mile powertrain warranty, which is competitive in the class. However, others in this segment offer a longer warranty, including the Volkswagen Golf R, which comes with coverage for six years or 72,000 miles.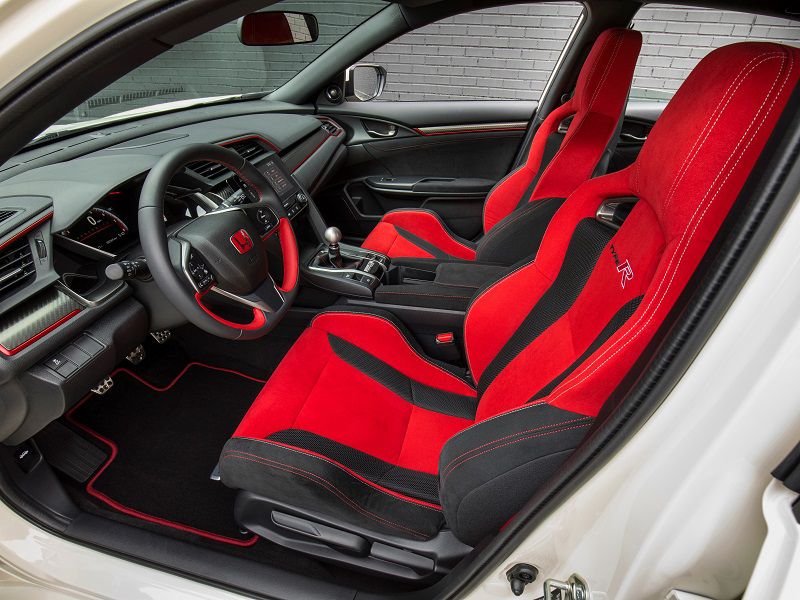 Photo by Honda
Final Thoughts
To emphasize the model's limited availability, every Civic Type R comes with an individually numbered metal plaque on its console below its shifter. Our test vehicle, which was blacker than the Batmobile, was number 12892. Another cool touch is the Type R's metal shift ball. Yes, it's cold in the winter and hot in the summer. Deal with it.
Overall, the 2019 Civic Type R is a very desirable combination. Fast, fun, and comfortable, with a spacious interior and a large cargo hold, it offers incredible performance and daily practicality at a comparatively reasonable price. Sure, there are faster cars out there, and cars that cost much more, but the Civic Type R is among the world's great driver's cars at any price, and its smiles per dollar ratio is off the chart. If you're shopping for a hot hatchback, the 2019 Honda Civic Type R is one of the best.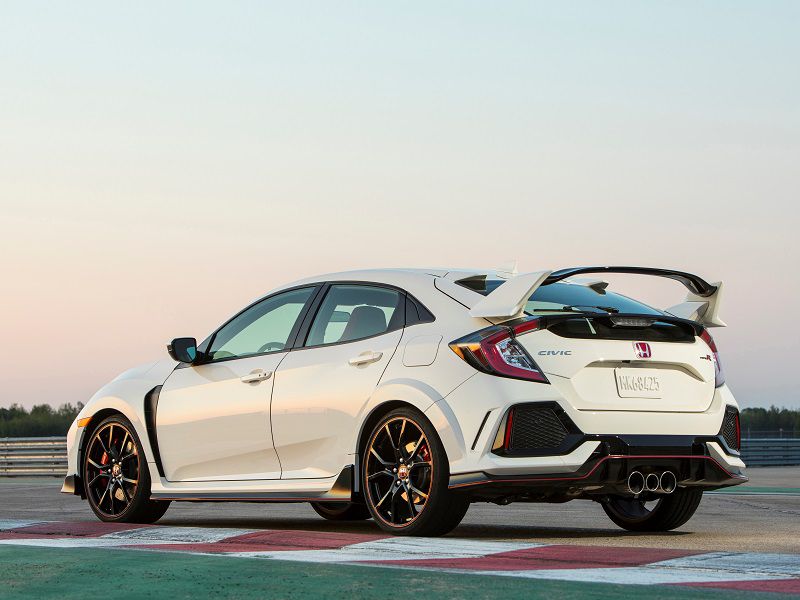 Photo by Honda