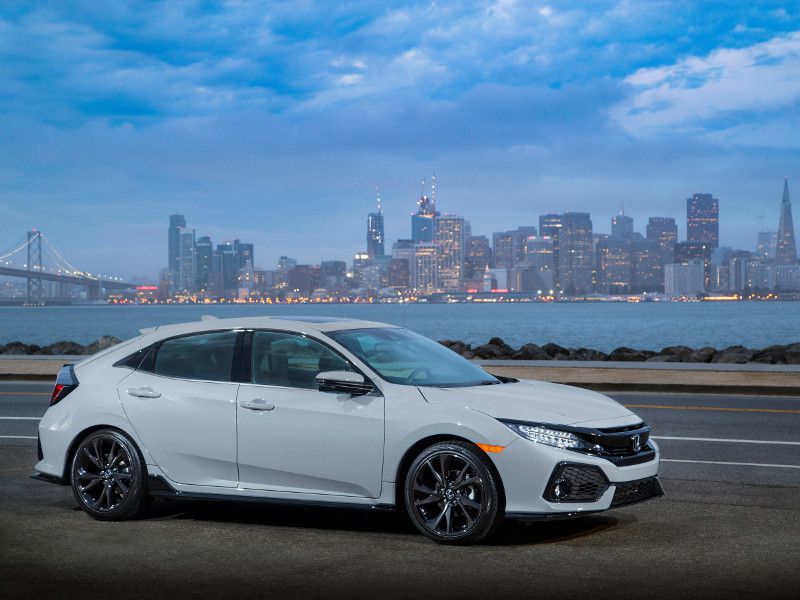 2019 Honda Civic Hatchback white driving ・ Photo by Honda
As SUV sales continue to boom, many automakers are giving up on compact cars. Not Honda. The brand famous for small, fuel efficient, fun to drive vehicles is investing in the space, and it has made significant updates and improvements to the popular 2019 Honda Civic.
One of America's best-selling cars for decades, the Civic remains one of Honda's most popular models. A sporty, roomy, and reliable vehicle, the Civic is now in its 10th generation and remains one of our favorites in the extremely competitive compact class. It's assembled in Indiana, alongside the popular Honda CR-V, and competes successfully against a long list of high-quality, high-value sedans, coupes, and hatchbacks including the Toyota Corolla, Mazda3, Volkswagen Jetta and Golf, Kia Forte, Hyundai Elantra, Subaru Impreza, and Nissan Sentra.
Sedan, Coupe, or Hatchback
Honda continues to offer the 2019 Civic in three body styles: a four-door sedan, a two-door coupe, and a five-door hatchback. Honda also gives buyers a long list of trim levels and powertrains to choose from. Coupe models generally cost about $1,000 more than Civic sedans, while the hatchbacks cost about $1,000 more than the coupes.
Prices start at $20,370, including a $920 destination fee, for a Civic LX sedan with a 158-horsepower 2.0-liter four-cylinder engine and a six-speed manual transmission. That's about $500 more than last year. Sport, EX, EX-L, and Touring models are also available, and most come with a continuously variable (CVT) automatic transmission. The EX, EX-L, and Touring also get an engine upgrade to a turbocharged 174-hp 1.5-liter four-cylinder, which is also used in Honda's Accord and CR-V. Every Civic is front-wheel drive. If you're looking for all-wheel drive in this class, check out the Subaru Impreza or the Mazda3.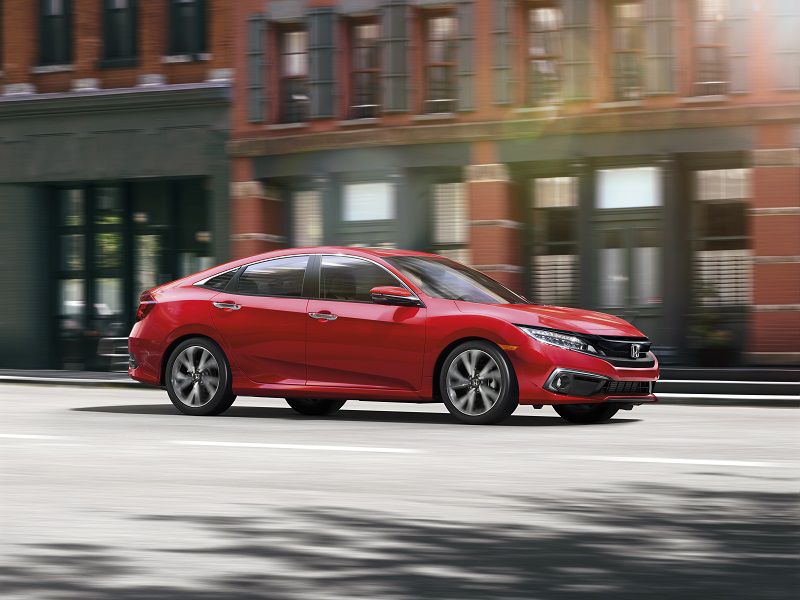 Photo by Honda
A Couple of Performance Models
Honda Civics have always been fun to drive, and performance is still a big part of the model's broad appeal. For 2019, Honda offers two high-performance versions of the Civic, the 205-hp Si and the 306-hp Type R. The Civic Si competes with the Subaru WRX and Volkswagen Golf GTI. It's available as a coupe or a sedan, both of which cost just over $25,000. A turbocharged 2.0-liter four-cylinder is standard along with a limited slip differential, a six-speed manual transmission, larger disc brakes, and 18-inch wheels and tires. The Civic Si can hit 60 mph in about 6.7 seconds.
Known for its incredible handling, the Civic Type R is the premier high-performance hot hatch in the world. Easily identified by its huge rear spoiler, this model costs $36,620, hits 60 mph in just 4.9 seconds, and has a top speed of 170 mph. It's only offered as a five-door hatchback with a six-speed manual transmission.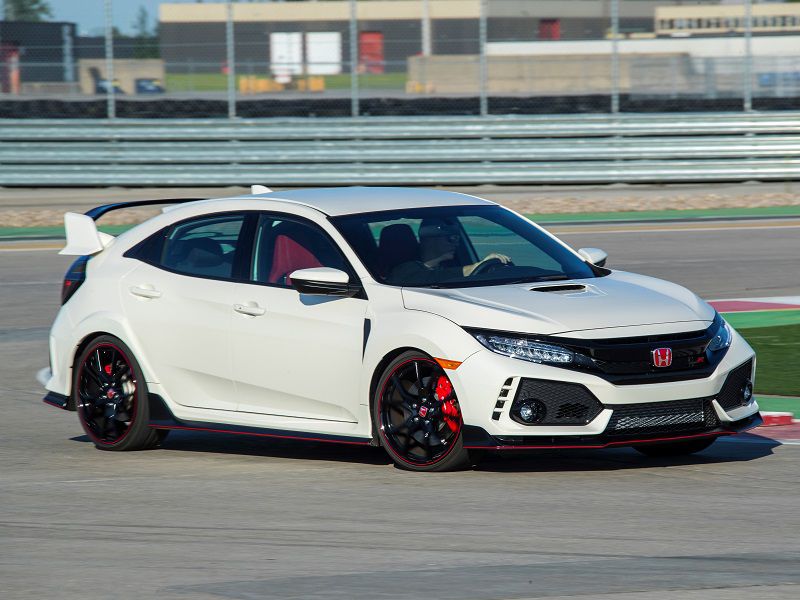 Photo by Honda
Fun and Quick on the Road
Our test vehicle, a 2019 Honda Civic sedan in the top Touring trim, wasn't as speedy as a Civic Si or Type R, but it was quick, agile, and very refined. Although small, our tested Civic's turbocharged 1.5-liter feels like a larger engine, with good low-end torque and plenty of upper rpm horsepower. The engine is also impressively smooth and well-matched to the Civic's CVT automatic transmission, which is tuned perfectly and offers a Sport mode.
In the mountains above Malibu, California, it was fun to use the Civic's paddle shifters and select the transmission's gear ratios manually. Although this powertrain is engineered for exceptional fuel economy, it's also lively and responsive. It feels like it was designed by people who like to drive for people who like to drive.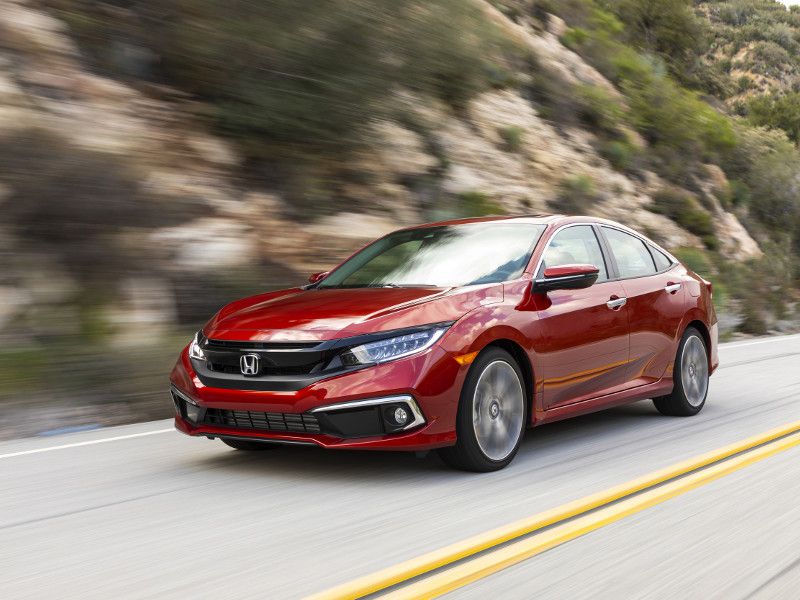 Photo by Honda
Good Handling and a Smooth Ride
The 2019 Honda Civic is also one of the best handling cars in this class. Our test vehicle, which wore large 18-inch tires, was fun to toss around, and I was impressed by its precise steering and strong brakes. The Civic continues to use a more sophisticated rear suspension design than some of its rivals, and the benefits are felt on the road, with high levels of grip and a smooth, well-controlled ride. In the world of compact cars, there are only a few you would drive on a twisty mounted road just for the fun of it. The Civic is at the top of that list.
But this is also a car you could drive cross-country just because you have a week to kill. The Civic's ride is compliant, and Honda has added insulation to keep its interior quiet at highway speeds. It works. The Civic feels solid on the road, offering a higher level of refinement than any other car in this class.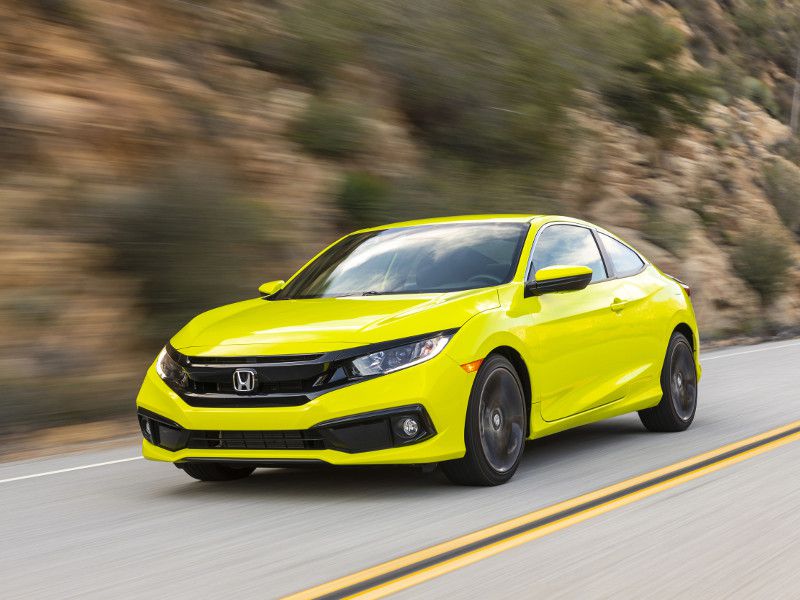 Photo by Honda
Excellent Fuel Economy
The Honda Civic has been renowned for its efficiency since the 1970s, so the 2019 Honda Civic's impressive fuel economy is no surprise. With the 158-hp 2.0-liter engine and the six-speed manual transmission, the Civic sedan is rated at 25 mpg in the city and 36 mpg on the highway. Add the automatic transmission, and those numbers climb to 29 mpg in the city and 37 mpg on the highway.
Surprisingly, models with the more powerful turbocharged engine and the CVT get even better mileage, with ratings as high as 32 mpg city and 42 mpg highway. This makes the Civic one of the most fuel-efficient cars in its class. We averaged an about 34 mpg on our drive around Los Angeles, which included some steep and curvy mountain roads. Although the Civic isn't available as a hybrid, the 2019 Honda Insight is basically a hybrid version of the Civic sedan. It offers 151 hp and has fuel economy ratings of 55 mpg city and 49 mpg highway.
Photo by Honda
An Improved Interior
For 2019, the Honda Civic gets an improved interior. Honda has updated the Civic's ergonomics, adding a volume knob and other hard buttons to its infotainment system. It's a huge improvement. It also added a few hard buttons to the climate controls and updated the upholstery and interior trim. Although the Civic's audio and navigation graphics still feel dated, its infotainment system offers Apple CarPlay and Android Auto integration, and its touchscreen is well-sized and well-placed. Unfortunately, there isn't an onboard Wi-Fi hotspot, which seems like an oversight in a car that's bought by more first-time car buyers than any other.
The gauge cluster is a bit too complex, but the large digital speedometer is easy to read at a glance. We also appreciate the Civic's high-quality materials, exceptional build quality, and nearly perfect control placement. Everything is right where it should be. The Civic's seats are also the best in this class. They're perfectly shaped, just firm enough and they offer seat heaters with three levels of warmth.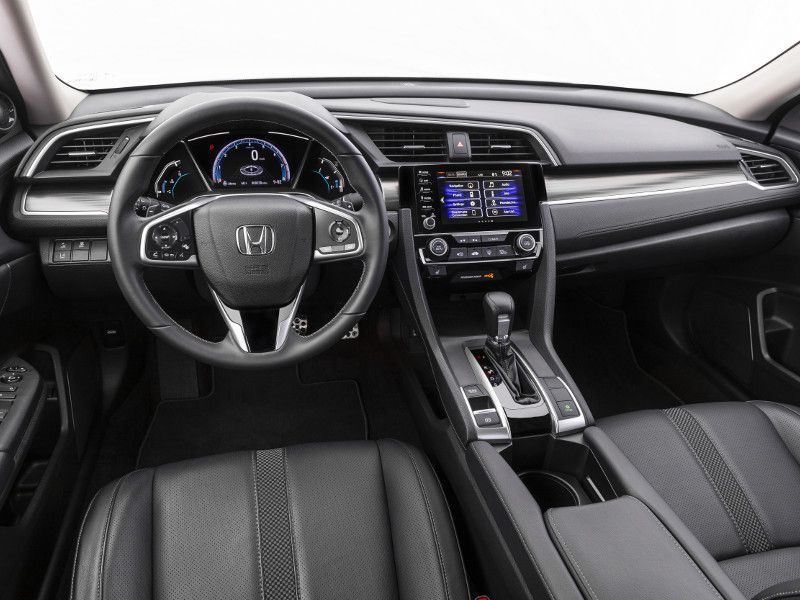 Photo by Honda
Family-Friendly Space and Safety
With its long wheelbase, the Civic has one of the largest interiors in its class. It seats five comfortably with plenty of rear seat head and legroom. Although the Civic is in the compact class, it can almost pass for a mid-size car. Our test car also had heated rear seats, which will make your kids happy.
This year, Honda has also ramped up the safety tech. Every Civic sedan and coupe (except the Si) comes standard with collision-mitigation braking, adaptive cruise control with low-speed follow, lane-keeping assist, and road departure mitigation. The EX model and up also get Honda LaneWatch, which eliminates the driver's right blind spot with a camera mounted in the passenger-side mirror. Although the Civic has received very high crash test scores, it is not rated a Top Safety Pick by the Insurance Institute for Highway Safety due to weaker headlight performance. It has earned an overall five-star safety rating from the National Highway Traffic Safety Administration.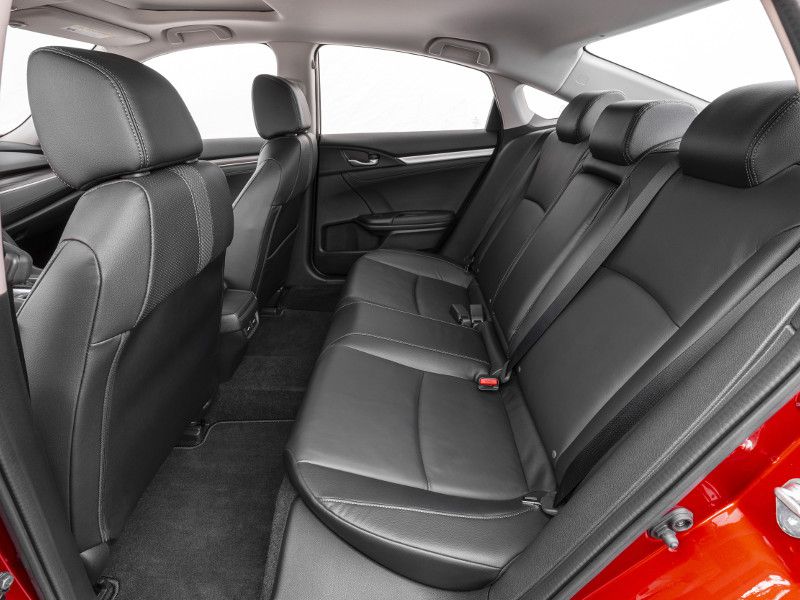 Photo by Honda
Plenty of Storage and Cargo Space
The Civic's interior also offers plenty of storage. I's center console bin is large and there are two usable bins below the dash and one ahead of the shifter. The Civic's two front seat cupholders are also well-placed and they're big so you can order that 24 oz cold brew. Make it two.
At 15 cubic feet the Civic sedan's trunk space is also among the class leaders. If more is needed, every Civic sedan comes with a standard with a 60/40 split fold down rear seat, which are easily folded to expand the space. The trunk of the Civic Coupe is smaller, with about 12 cubic feet of space, but the Civic hatchback will easily swallow a mountain bike. It offers 26 cubic feet of space with it rear seats up and 46 cubic feet when they're folded flat.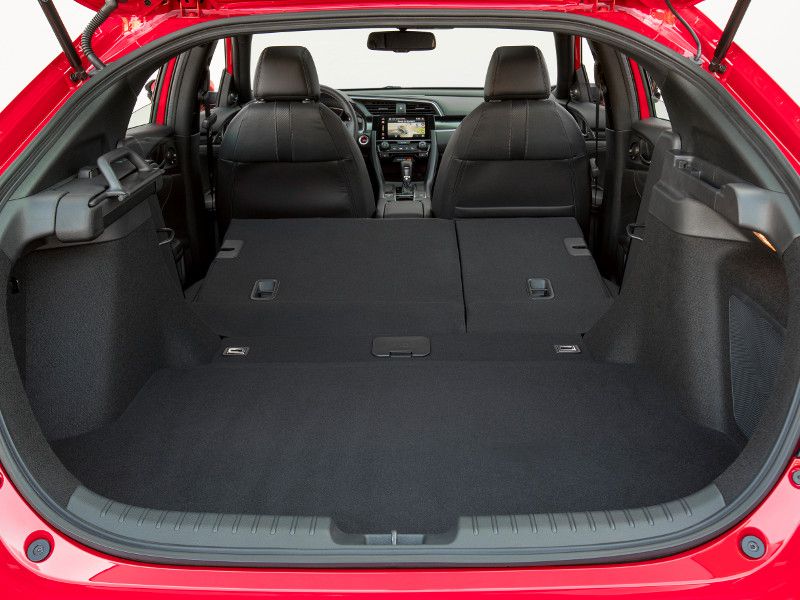 Photo by Honda
Final Thoughts
With its improved ergonomics, new Sport trim level, quieter interior, and other improvements, we have little doubt the 2019 Honda Civic will keep its sales crown in the compact car class. This is the best Civic that Honda has ever made. It's comfortable, stylish, spacious, fun-to-drive, fuel efficient, and family-friendly. It's also the safest Civic ever, offering exceptional crash test scores and a long list of driver aids and high tech active safety systems.
If you're shopping for a car in this class, the 2019 Civic is a very desirable choice. But step up to the 174-hp turbocharged engine if you can. Although the base 158-hp four-cylinder engine is enough for most buyers, the additional performance and fuel economy that comes with the turbocharged engine is worth the additional cost.
Photo by Honda