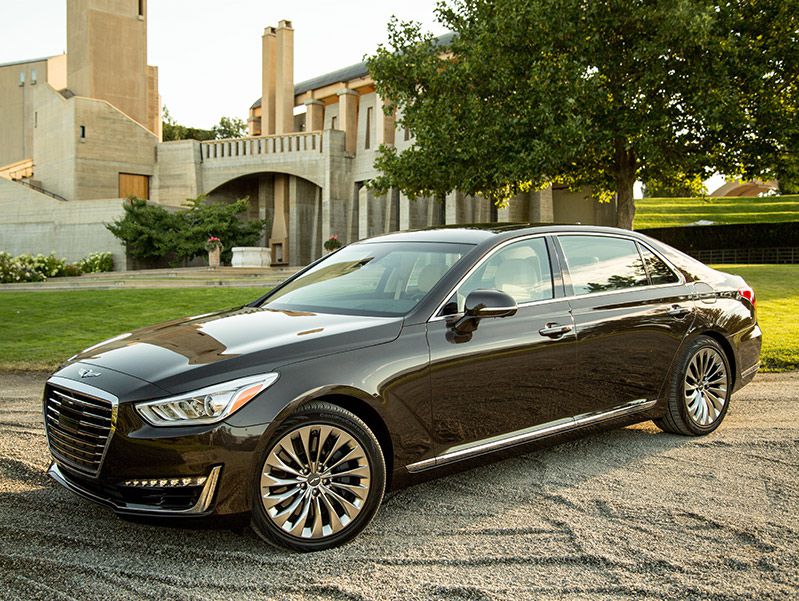 2018 Genesis G90 front three quarter ・ Photo by Genesis
Genesis is a newcomer among the world's luxury brands, and the G90 sedan is its flagship. Designed to compete against the top sedans from the likes of BMW, Mercedes-Benz, Audi, and Lexus, the G90 faces very difficult competition. But the Genesis brand has been quietly gaining accolade after accolade, giving the impression it can compete in this heady realm. This year alone, Genesis was the No. 1 brand in the prestigious J.D. Power Initial Quality Study and in the J.D. Power U.S. Automotive Performance, Execution and Layout study. In addition, AutoPacific named Genesis the top brand in its Vehicle Satisfaction Award rankings.
Winning those awards against the best of the world's carmakers is not easy, and it indicates that Genesis, the luxury brand from Korean car manufacturer Hyundai, is on the right track. As the leader of the line, the G90 sedan gets a lot of the credit.
Well-Drawn Exterior
The Genesis G90 benefits from the oversight of Chief Design Officer Peter Schreyer, who previously was a high-ranking design executive at Audi. That influence is telling. The G90's exterior is refined and imposing while still appearing light on its feet. Its massive grille opening, prominent hood, and long wheelbase make it clear this is a sedan to be reckoned with.
The V8-powered model is equipped with full-LED headlights, and 19-inch alloy wheels are standard. With its short overhangs and minimal rear deck, the G90 has a modern appearance that doesn't push the envelope too hard. In the rear, chrome-finished dual asymmetrical exhaust tips are integrated into the lower bumper. They offer an attractive counterpoint to the vertical LED taillights. The G90's restrained exterior design yields an exceptional 0.27 coefficient of drag for minimized wind noise and enhanced fuel efficiency.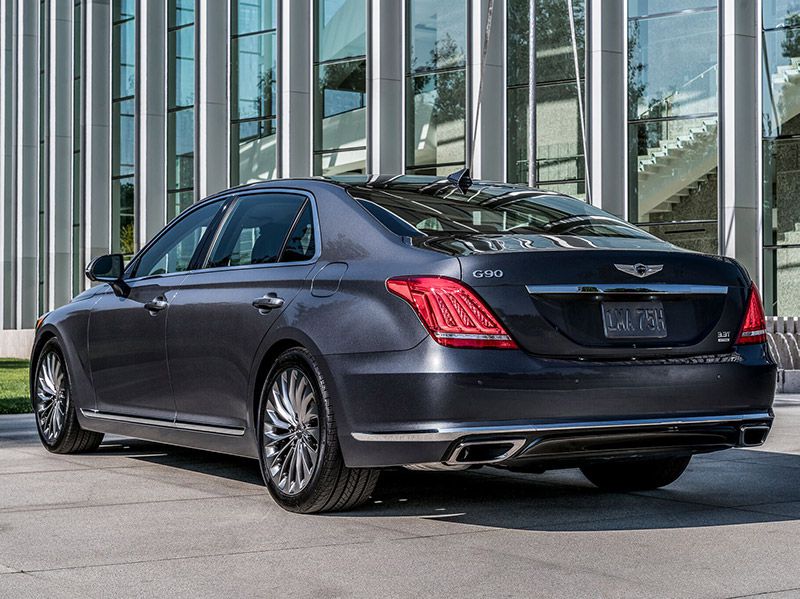 Photo by Genesis
Lush Luxury Interior
Inside the G90's expansive cabin, fine materials and textures from around the world are accompanied by enhanced ergonomics to deliver convenience and comfort. From the look and feel of the interior, material selection got high priority. Occupants are surrounded by genuine wood accents, and the instrument panel features both wood and hand-stitched leather. Extensive use of brushed chrome accents gives the interior the look of a high-end audio system. For instance, the Lexicon audio speaker grilles are precision-machined out of stainless steel.
The seats, covered in perforated leather, are generously sized and extremely comfortable. Headroom and legroom in the front and rear seats compare well to luxury sedan competitors. The configurable instrument panel features traditional round displays that are easily readable accompanied by a giant horizontally oriented information screen. The rear seat rivals the fronts for comfort with an elaborate drop-down center armrest and rear climate controls.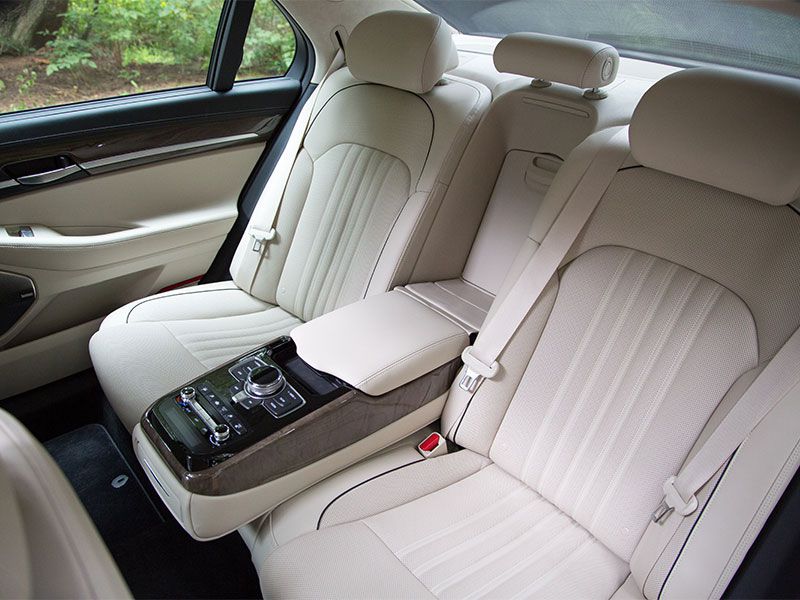 Photo by Genesis
Big-Screen Infotainment
Many of the G90's array of features can be controlled with the car's audio-visual system displayed on a 12.3-inch high-definition widescreen in the center of the dash. Functions are chosen and activated using a console-mounted control knob. Among other things, the big screen delivers pictures captured by the car's one-megapixel digital camera that is activated when parking. Its images share the screen with a high-resolution 360-degree multi-view monitor that has steering guidelines, so parking the massive G90 is relatively easy.
The screen and controller are the key interfaces for the Lexicon premium sound system. It boasts QuantumLogic surround sound with 17 speakers and a 10-inch subwoofer, and it delivers big-time sound with impressive fidelity and power across the aural range. In addition to the big-screen infotainment system, the G90 has a 7-inch high-resolution TFT-LCD display in the center gauge cluster.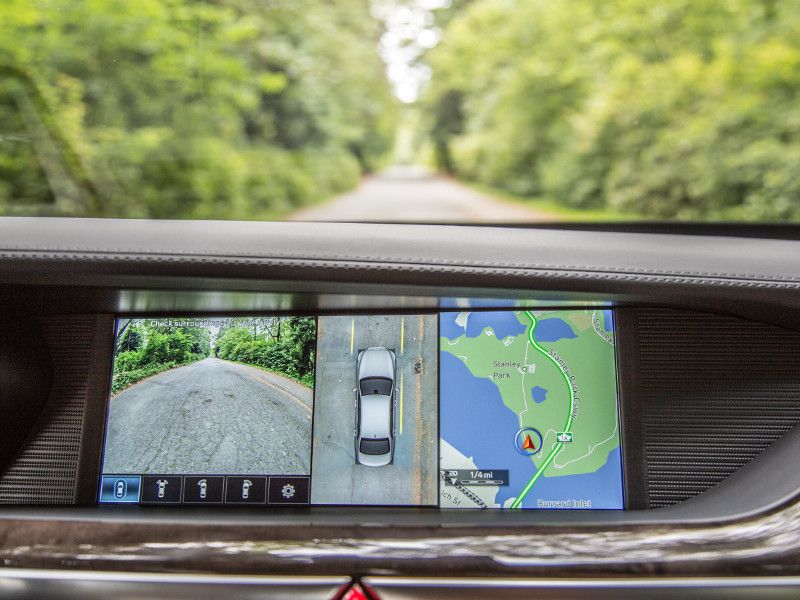 Photo by Genesis
Pair of Winning Powertrains
The Genesis G90 offers a choice of two powertrains: a 3.3-liter direct-injected, twin-turbocharged V6 engine with a 365 horsepower and a 5.0-liter direct-injected V8 producing 420 horsepower. The turbo V6 delivers a peak of 376 lb-ft of torque across a wide range (1,300 to 4,500 rpm). An integral turbo and exhaust manifold help reduce weight, while improving durability, and an electronic wastegate improves responsiveness. The 5.0-liter V8 offers 383 lb-ft of torque at 5,000 rpm. With high-pressure direct injection for impressive power, the "Tau" V8 benefits from an optimized intake runner length, enhanced timing chain, and upgraded multiple-injection mapping. These enhancements combine to produce a flatter torque curve at lower rpm for even better drivability.
The Genesis G90 is equipped with an eight-speed automatic transmission with enhanced shift logic, sport-mode mapping, and shifting smoothness. It has steering wheel-mounted paddle shifters to enable manual shifting when desired. All G90 powertrains feature driver-selectable Intelligent Drive Mode that allows users to select among four modes depending on conditions and driving preferences. The H-TRAC intelligent all-wheel-drive system is available with either powertrain.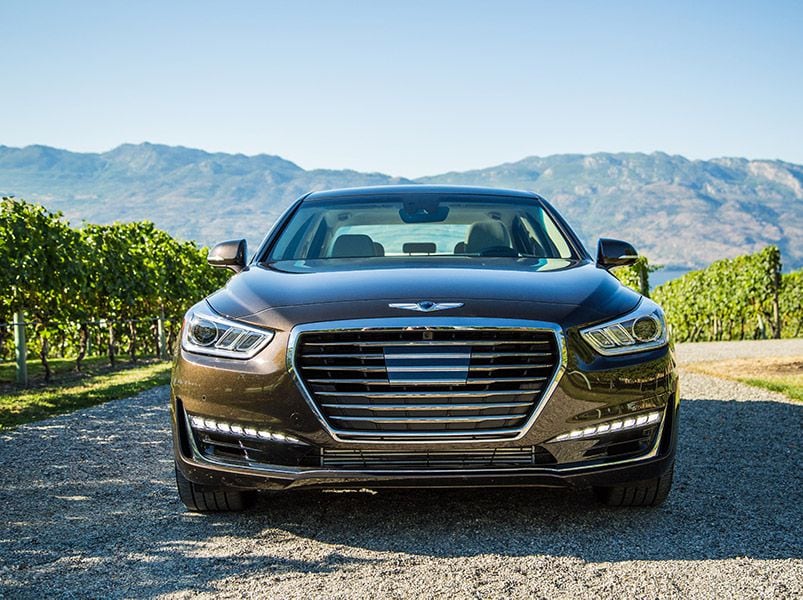 Photo by Genesis
Driving Tech Favors Comfort
Oddly, the performance of the twin-turbo V6 version of the G90 and the naturally aspirated V8 are virtually identical. Acceleration is robust enough, exemplified by the fact that with either engine, the G90 can sprint from 0 to 60 mph in less than 5.5 seconds. The twin-turbo V6 is actually the sportier of the two versions, with a wider torque band making it more responsive. The V8 is less frenetic but provides smooth power.
Both versions of the G90 are set up to prioritize ride comfort and quiet. The adaptive control suspension uses electronic damping to manage body motions. Sourced from Sachs/ZF, it offers additional stability through its Dynamic Stability Damping Control (DSDC) feature by providing independent damping control in both rebound and compression strokes for improved body and yaw control. Integrated with electronic stability control, the DSDC is designed to increase agility and stability by managing the front- and rear-wheel damping forces. Calibrated differently, it would probably offer sports-sedan handling, but in the G90 its prime benefit is cushy ride quality.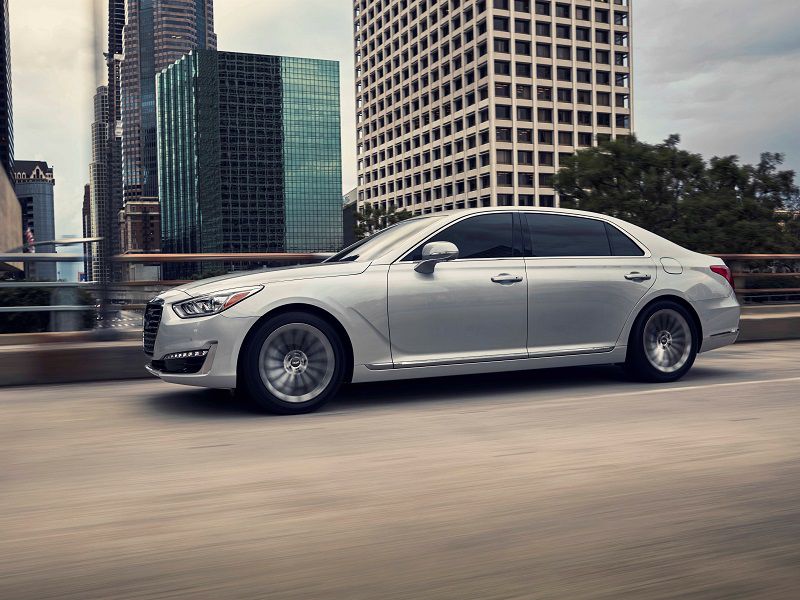 Photo by Genesis
Impressive List of Safety Aids
The G90 has so much available driver-assistance tech it's difficult to describe it all. A total of nine standard airbags are designed to protect passengers from collisions in all directions. A pre-active seat belt system automatically tightens seat belts when it detects urgent braking, accelerating, or slipping situations. In addition to a body structure engineered to protect occupants in a wide variety of collision types, the G90 is equipped with an extensive array of electronic safety and driver aids. These advanced safety features include automatic emergency braking with pedestrian detection, smart blind-spot detection with rear cross-traffic alert, and lane-keeping assist.
Also standard are driver attention alert, "dynamic bending light" with high beam assist, and a 360-degree multi-view monitor. The G90's adaptive cruise control has a stop-start function that operates in concert with the standard electronic stability control system. It enables full functionality down to zero mph in stop-and-go traffic conditions with input from the front grille-mounted radar sensor. The system can also help deploy the automatic emergency braking system should an impending collision with a vehicle ahead be detected.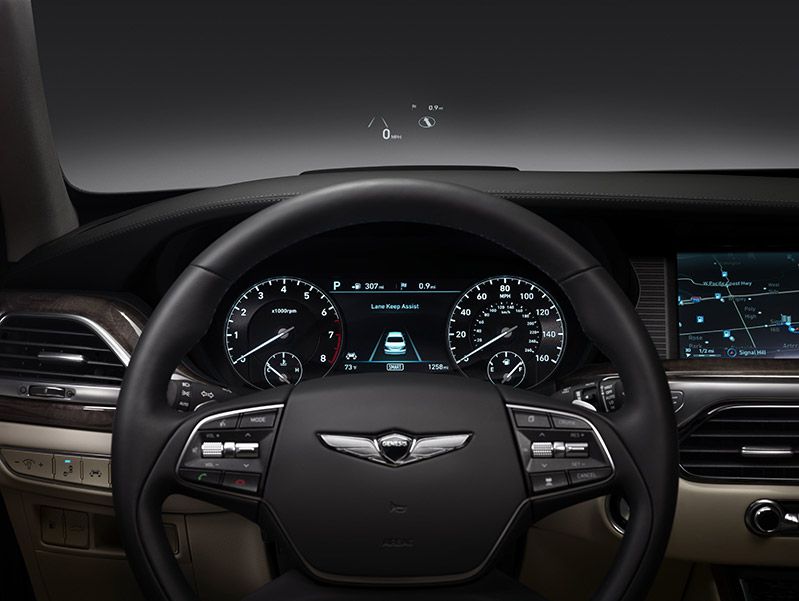 Photo by Genesis
Interior Space, Cargo, and Fuel Economy
The G90 isn't as long as the Mercedes-Benz S-Class or the BMW 7 Series, but it is wider, and that translates into good interior space. Front-seat headroom and legroom both exceed the dimensions of the German sedans. At the same time, rear legroom suffers in comparison to the S-Class and 7 Series. That said, five adults will find the G90 extremely accommodating and a comfortable place to let highway miles zip by.
It also has a sizable and easily accessible trunk. The trunk will hold 16 cubic feet of cargo, but the G90's rear seat does not fold, so the cargo space can't be extended into the passenger cabin. The trunk lid can be operated remotely and via a push button. Fuel economy for the rear-wheel drive and all-wheel drive V6-powered G90 is 17 mpg city/24 mpg highway/20 mpg combined. Fuel economy for the rear-wheel drive V8-powered G90 is 16 mpg city/24 mpg highway/19 mpg combined, and all-wheel-drive lowers each by one mpg.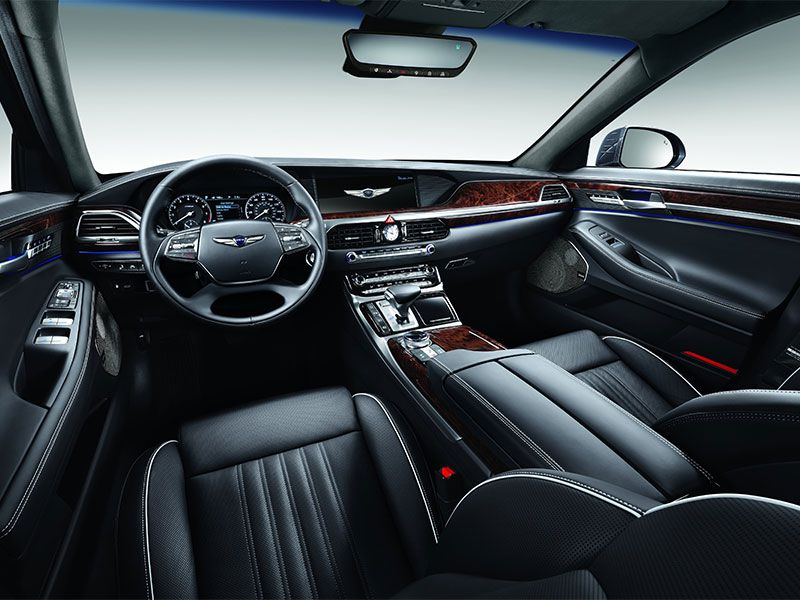 Photo by Genesis
Trim Levels That Mirror Engine Choices
The G90 is offered in two trim levels that match the powertrains: 3.3T Premium and 5.0 Ultimate. The 3.3T Premium is equipped with the twin-turbo V6 engine and can be ordered in rear-drive or all-wheel drive configurations. Among the standard features are power door closure, full-color head-up display, full LED headlights with LED accents, and front and rear parking sensors.
The 5.0 Ultimate includes all the features of the 3.3T Premium — and that's a boatload — plus rear-seat entertainment with two 10.3-inch monitors, ventilated rear seats, power-operated left and right rear seats, power-operated rear-seat head restraints, a memory function for the outboard rear seats, and rear-seat vanity mirrors. If you're in the livery business, it's a great choice.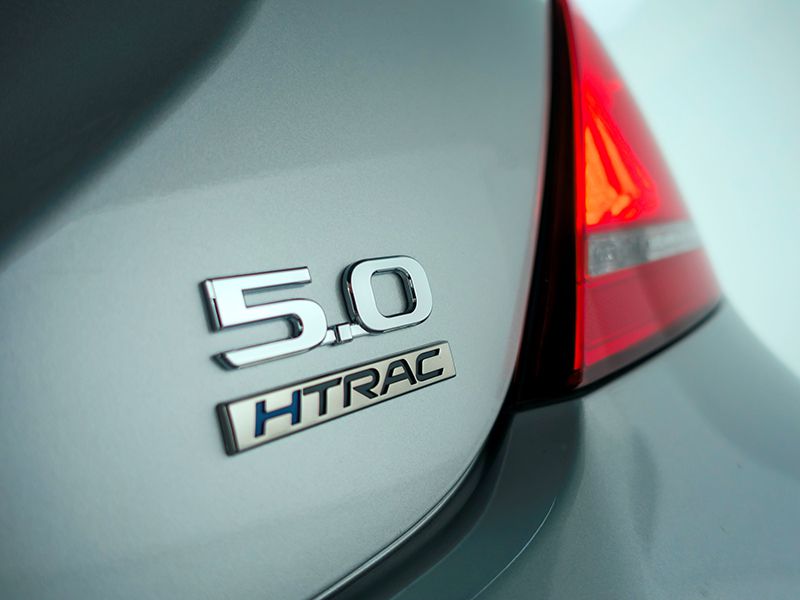 Photo by Genesis
Pricing and Value
As the flagship sedan of the Genesis line, the G90 carries a lot of prestige on its broad shoulders. It is both the style and technology leader. As you can tell from the description of its equipment, Genesis has spared no expense in filling the car with intriguing and useful stuff. For 2019 the G90 3.3T Premium has an MSRP of $68,350 plus $995 destination charge, and the 3.3T Premium with all-wheel drive has a base price of $70,850 plus a $995 destination charge. The 5.0 Ultimate has a starting price of $72,850 plus the destination charge, and with all-wheel drive it jumps to $75,350 plus destination.
Those looking for the best value amongst these choices will likely find it in the rear-drive 3.3T Premium. It has an immense array of bells and whistles, and its performance equals or betters the V8-powered version.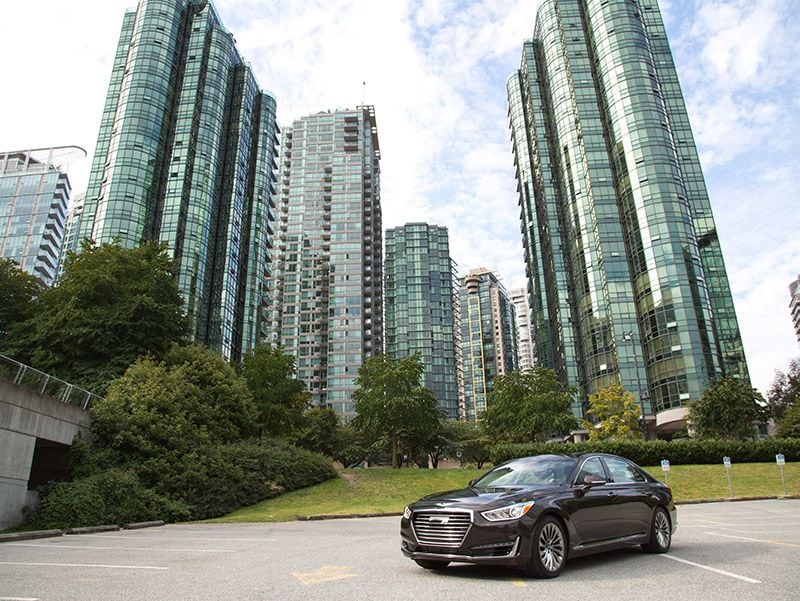 Photo by Genesis