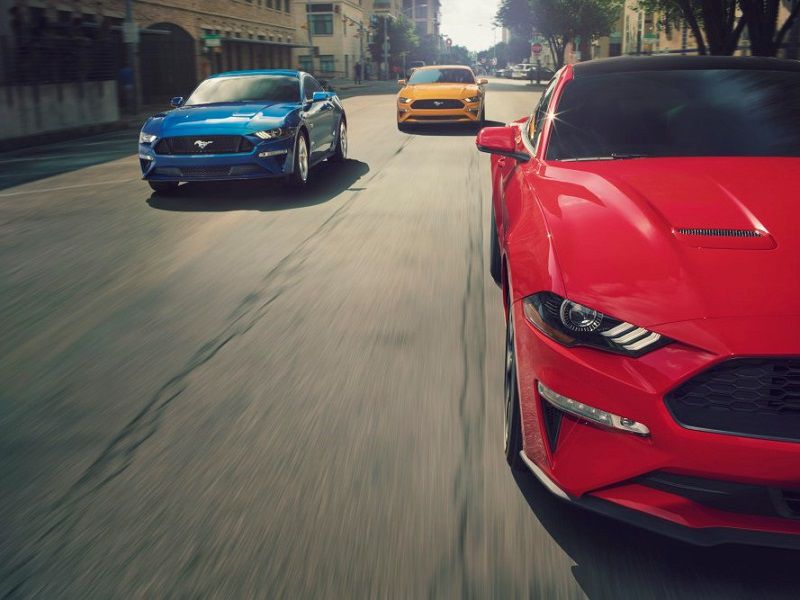 2019 Ford Mustang Trio Hero ・ Photo by Ford
Bright, sunny, and warm. An azure sky and a twisty coastal two-lane highway. A Velocity Blue 2019 Ford Mustang GT convertible. Is this heaven? Nope. But it's close.
Put the top down and smell the salty brine of the Pacific's dark waters. Hear its waves crash the coast, and watch the line of surfers, each coated in black neoprene, search for the perfect ride. You've already got it. Drop a gear and hammer down, listen to the throaty rumble of the Mustang's 5.0-liter V8. Feel its thrust. Shift through those gears, slow, and repeat. This is the experience that has made the Mustang so popular for over 50 years, and the 2019 Ford Mustang continues that legacy, offering the most speed, safety and fuel economy in the model's history. Let's take a closer look at this all-American dream car.
Strong Performance Value
Ford assembles the Mustang in Flat Rock, Michigan, about 20 miles from its headquarters in Dearborn. For 2019, the Mustang is offered in five trim levels: Ecoboost, Ecoboost Premium, GT, GT Premium, Bullitt, and Shelby GT350. Powered by a turbocharged 2.3-liter engine, the Ecoboost models are a solid performance value at a starting price of $27,490, including a $1,095 destination fee. Despite its four cylinders, the engine makes 310 horsepower and 350 lb-ft of torque, which is more than you get in a turbocharged Chevrolet Camaro or a V6-powered Dodge Challenger. It's even more powerful than some of the legendary Mustangs of the past, including many V8 models.
For an additional $5,500, Ford also offers the Mustang as a convertible with a power-folding soft top. Ford understands that the Mustang is all about fun and personal expression, and it offers the model in 10 colors including the very well-named Need for Green and our favorite, Orange Fury.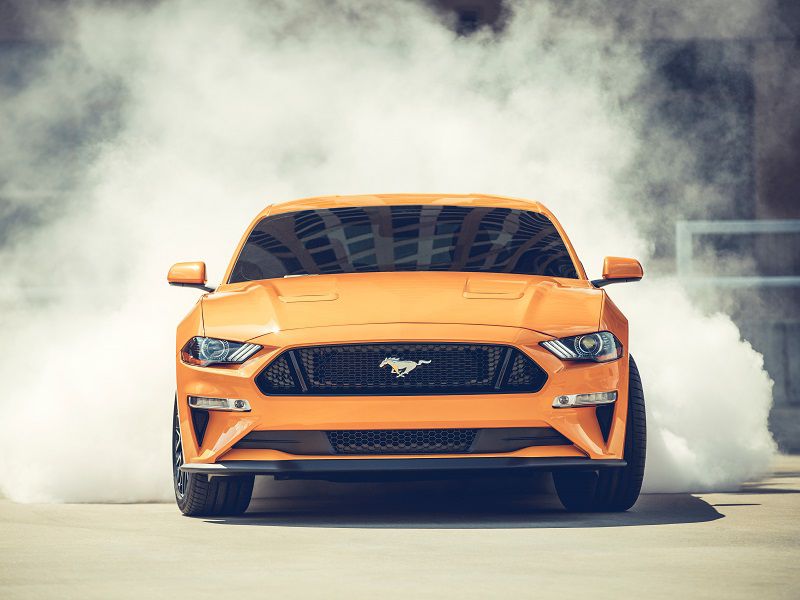 Photo by Ford
V8 GT models get pricey.
If you need more muscle, the V8-powered Mustang GT starts at $36,450. Last year, its all-aluminum 5.0-liter engine was pumped up to produce 460 hp and 420 lb-ft of torque. That's more horsepower than you get in a Chevrolet Camaro SS or a Dodge Challenger R/T.
All Mustangs are rear-wheel drive. Only the V6-powered Dodge Challenger SXT and GT offer all-wheel drive in this class, though unlike the Mustang and the Camaro, the Challenger is not offered as a convertible. The standard transmission in every Mustang is an easy-to-shift six-speed manual, but a new 10-speed automatic is available in all Ecoboost and GT models for $1,595. Equipped with one option package and an Active Valve Performance Exhaust System, which has a cool Quiet mode, our 2019 Ford Mustang GT Premium convertible test vehicle cost $48,945.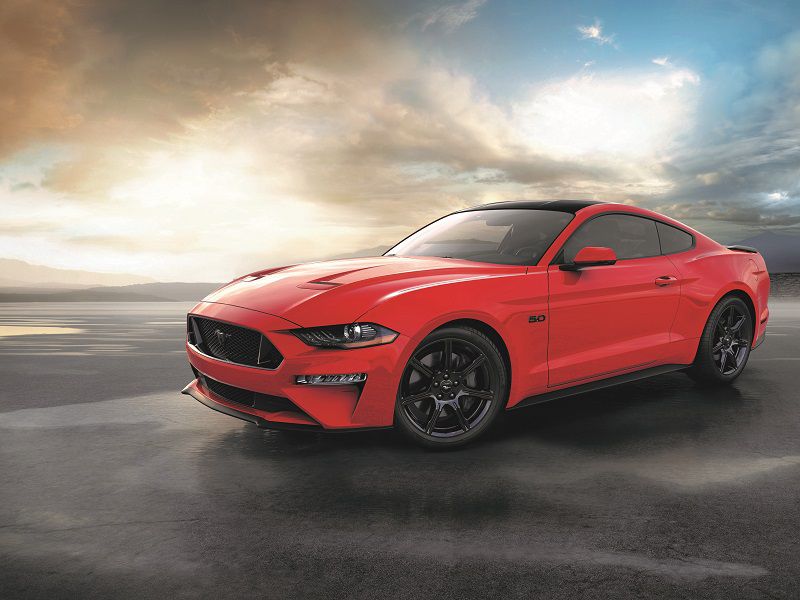 Photo by Ford
Remembering Steve McQueen and Carroll Shelby
If you need to channel Steve McQueen, Ford also offers the Mustang Bullitt with a 480-hp V8. Its paint is Highland Green, just like the Mustang fastback driven by the king of cool in the 1968 cop drama "Bullitt." It's only available as a coupe and costs $47,690.
Racer and car builder Carroll Shelby is another iconic name from the Mustangs past, and the 2019 Shelby GT350 and GT350 R remain the ultimate Mustangs for 2019. These models are powered by a shrieking 5.2-liter V8 with unique flat crank design and an incredible 8,250 rpm redline. Both models use a six-speed manual transmission exclusively and are only available as coupes. These Shelby models also come standard with Brembo brakes with six-piston front calipers, Recaro sport seats, and launch control. Their aggressive bodywork features vented front fenders and a more sinister grille and front bumper. The GT350 R also adds carbon fiber bodywork and exotic carbon fiber wheels, which are stronger and lighter than aluminum rims. Prices start at $60,235 for the Shelby GT350 and over $68,230 for the GT350 R.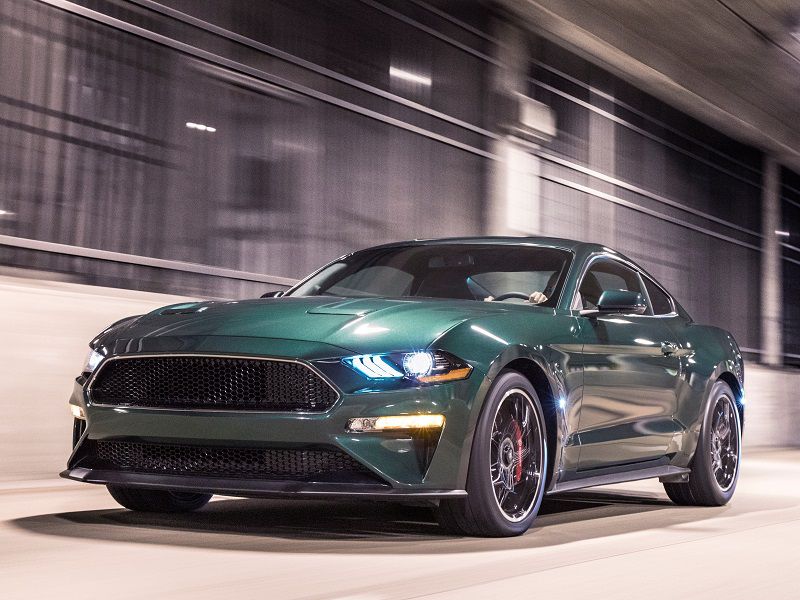 Photo by Ford
Exterior Isn't Too Retro
Last year, Ford gave the Mustang a little facelift, with a new lower and leaner grille, a new hood, and LED lights, but our favorite view of the muscle car is from the rear. This baby got back, with a wide stance, broad shoulders, LED taillamps, and four big exhaust pipes.
The Mustang's exterior includes elements from many Mustangs of the past, but the overall shape and details aren't too retro. It beautifully blends the new and the old, while convertible models look best with the top down, well, because they always do. In Velocity Blue with dark 18-inch wheels, our Mustang GT Premium convertible looked great driving along the coast, but a bit more visual separation between the Ecoboost and GT models would be appreciated. Only chrome 5.0 callouts on its front fenders and quad exhaust tips identify a GT.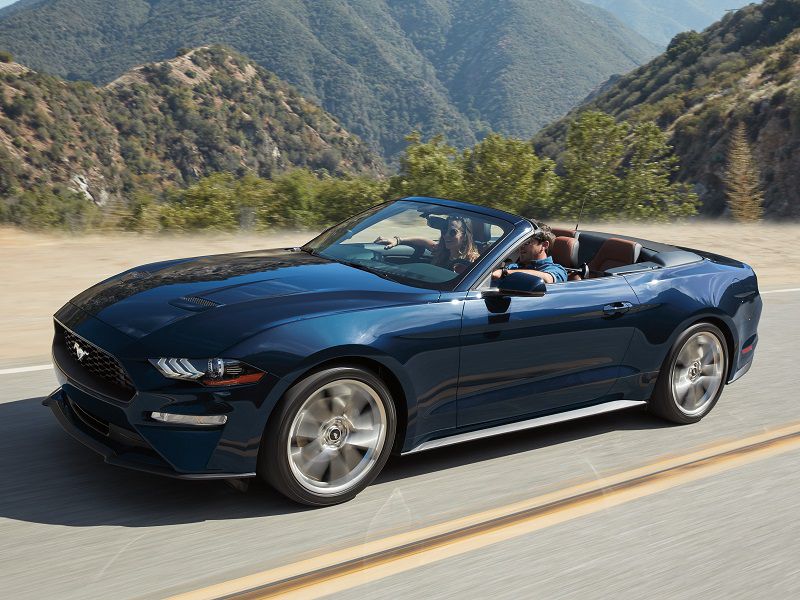 Photo by Ford
High Tech Interior
Our test car's interior was well appointed, properly constructed, and attractive. All the controls are well placed, and the front seats are comfortable. Our test car's configurable 12.4-inch gauge cluster was also impressive and featured an incredible amount of instrumentation, including dials for air/fuel mixture and cylinder head temperature.
Ford's SYNC 3 infotainment system is intuitive to use and features a Wi-Fi hotspot and a large 8-inch touchscreen. Switching between the navigation and the audio screens could be easier, but the system is otherwise aggravation-free. Every Mustang gets a rearview camera, remote keyless entry, and an SOS Post-Crash Alert System, which alerts first responders to the vehicle's location if its airbags deploy. Available safety systems include parking sensors, active cruise control, a forward-collision warning, a lane-keeping system, a blind-spot monitor with cross-traffic alert, and pre-collision assist with pedestrian detection.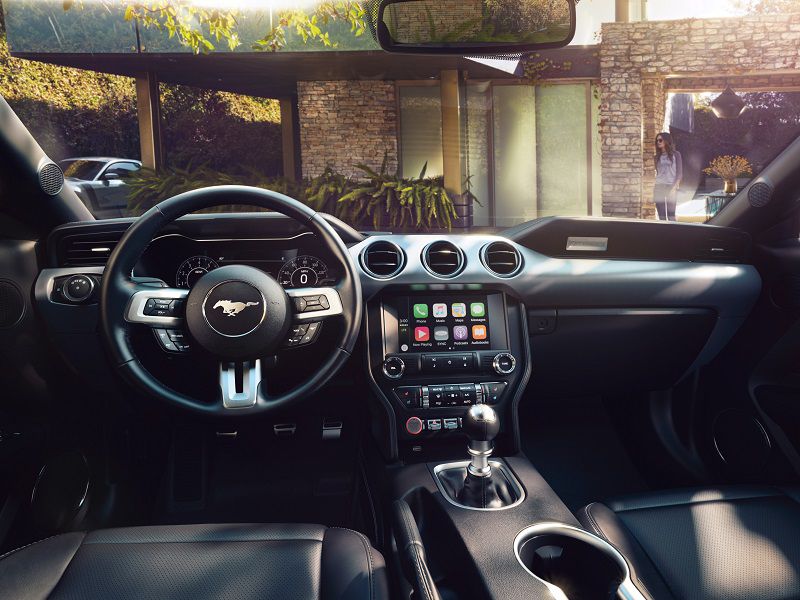 Photo by Ford
It has a usable back seat.
The 2019 Ford Mustang is a four-seater. There is no middle back seat. And rear legroom and headroom are a problem if you're over 6 feet tall, but the space can be usable when necessary. For the first half of a 300-mile road trip, we had a 15-year old sitting back there. She said it wasn't that bad.
At 13.5 cubic feet, the Mustang coupe's trunk is also larger than you might expect, and it offers more cargo space than the trunk of the Chevrolet Camaro. Plus, a 50/50 split-folding rear seat for additional cargo volume is standard. The trunk opening is small, however, which may prevent loading larger boxes or other bulky items. The smaller trunk of the Mustang convertible measures 11.4 cubic feet.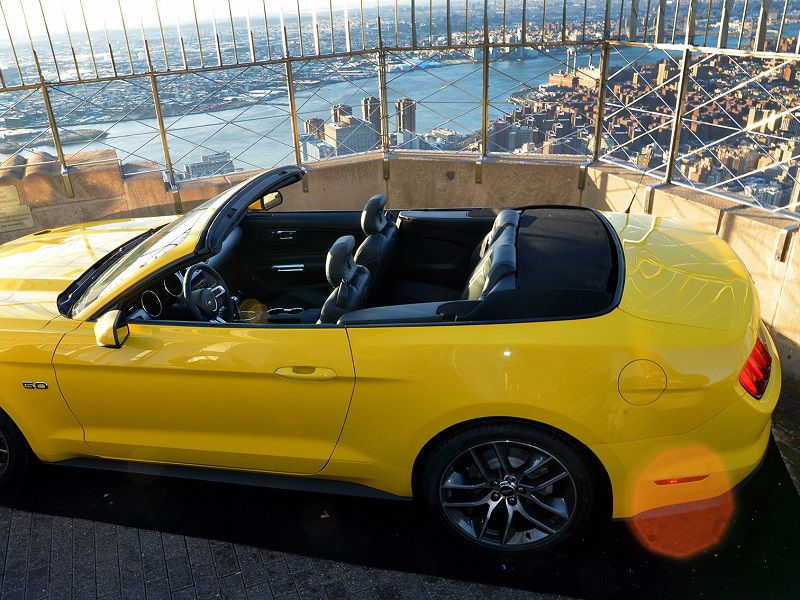 Photo by Ford
Fun, But Also Comfortable
Our 2019 Ford Mustang GT Premium convertible test vehicle was fun to drive, but also comfortable and quiet. Despite being a convertible, it felt solid, and its interior was well isolated on the highway thanks to the thick soft top and glass rear window.
It rode well too, even on our test car's beefy 18-inch wheels and tires. Selectable drive modes and an adjustable suspension with settings for Comfort, Sport+, Track, and Dragstrip allow you to tune the car for your mood and the current driving environment. Leaving it in the Comfort setting, we burned a Saturday driving over 300 miles and emerged from the Mustang without an ache or a complaint. The Mustang's steering is quick, and its effort is adjustable with Normal, Comfort, and Sport settings. Braking performance is exceptional, with a firm pedal and short stopping distances.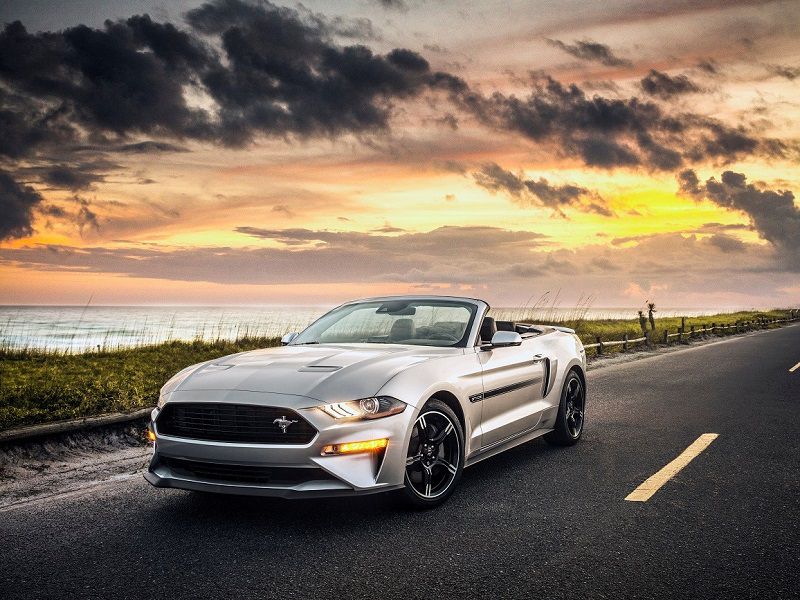 Photo by Ford
Seriously Quick
Our favorite bit about the Mustang, however, is its big V8 engine. It's smooth, and it rumbles through its four big exhaust pipes and revs to an unbelievable 7,500 rpm. Ford's nickname for this engine is the Coyote, and it provides enough thrust to strain your neck muscles. Use the standard launch control and a Mustang GT can accelerate from 0 to 60 mph in just over 4.0 seconds.
The optional 10-speed automatic transmission shifts smoothly and features paddle shifters and rev matching, but we prefer our test car's six-speed manual. Its geared perfectly for the V8's power delivery, and its clutch action is light, so stop-and-go traffic isn't hard on your left leg. Also, its shifter requires just a flick of your wrist to change gears. For 2019, Ford has also added automatic rev matching to the manual transmission, and it works perfectly.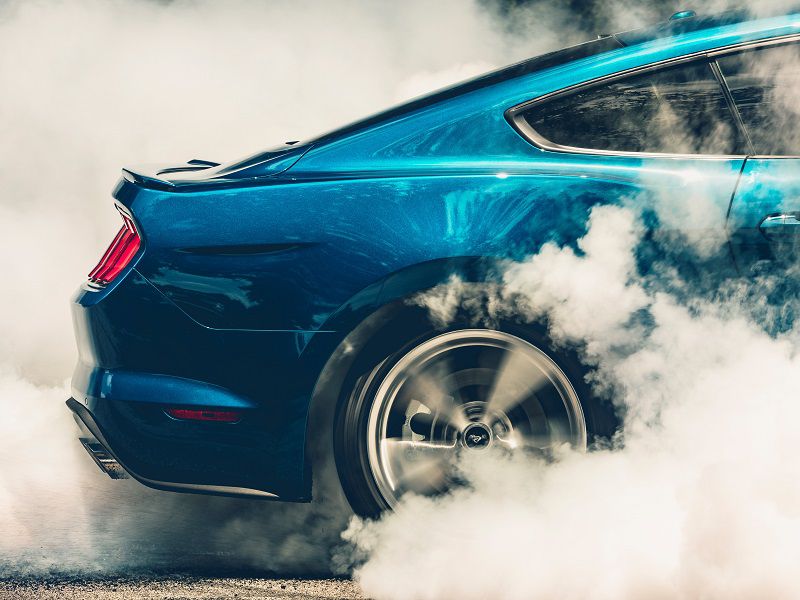 Photo by Ford
Surprising Fuel Economy
The 2019 Ford Mustang is surprisingly fuel- efficient considering its big horsepower numbers. And its economy numbers are strong for its class. With the manual transmission, Ecoboost Fastback models are rated by the EPA at 21 mpg in the city and 31 mpg on the highway. With the available automatic, its highway rating increases to 32 mpg. These numbers match the performance of a Chevrolet Camaro with its 2.0-liter turbocharged four-cylinder. We were also pleasantly surprised that it doesn't require more expensive premium fuel.
Mustang GT models with the 5.0-liter V8 are rated at 15 mpg city and 24 mpg highway with the manual transmission, and 1 mpg higher with the 10-speed automatic. We averaged 21 mpg during our week with the GT Premium convertible, which seemed reasonable considering its impressive performance. Unfortunately, the Mustang doesn't have a very large gas tank, which limits your fuel range. To complete our 300-mile road trip, we were forced to pit stop.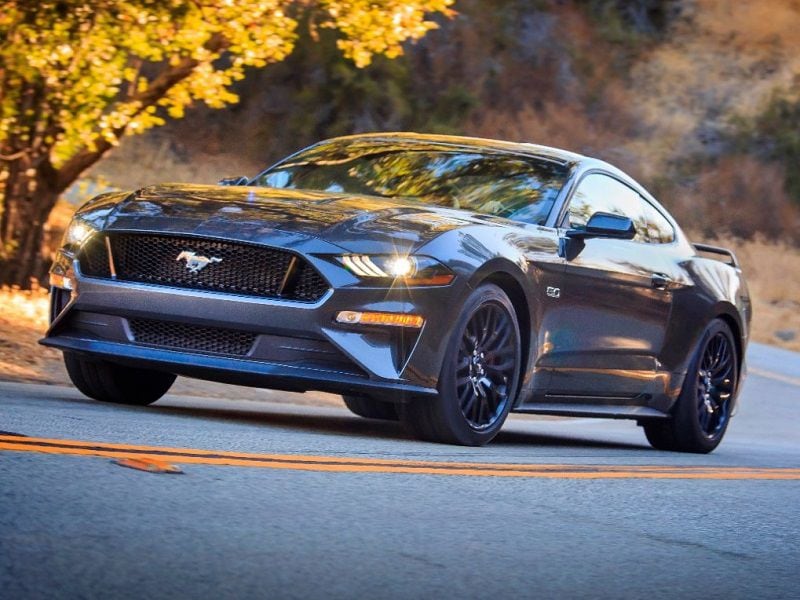 Photo by Ford
Final Thoughts
Ford has been building Mustangs since 1964 has it pretty well figured out. The 2019 Mustang not only looks fantastic, but few cars are this fun to drive. Plus, the Mustang is comfortable, can perform with many cars that cost much more, and is packed with features and technology. Although the Ecoboost models are enough for most buyers, step up to V8-powered GT if you can. You'll appreciate the additional performance, and the sacrifice in fuel economy is worth it.
If you're in the market for a sexy performance coupe or convertible, the 2019 Ford Mustang is a very desirable choice.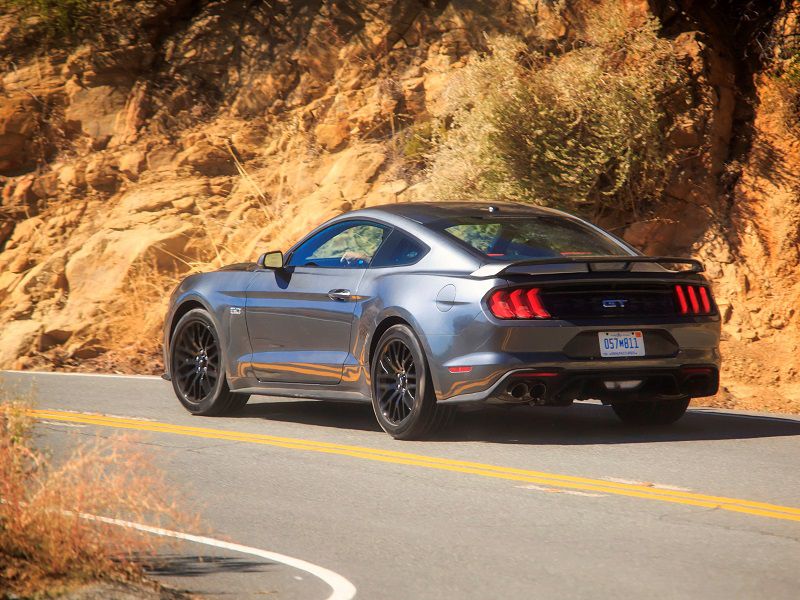 Photo by Ford