2018 Buick Regal GS front three quarter driving ・ Photo by Buick
There have been many legendary and extremely popular versions of the Buick Regal since the nameplate debuted in 1973. The most significant has to be the turbocharged Regal coupes of the mid-1980s. Revered for their power and performance, those T-Types, Grand Nationals, and GNXs are valuable with today's car collectors. But time marches on, and the 2019 Buick Regal Sportback is even more powerful than those legendary muscle cars.
All-new just last year, the 2019 Buick Regal Sportback packs 250 horsepower from its standard turbocharged four-cylinder engine. That's more than the T-Types and the Grand Nationals built in 1986 and 1987, while the 310-hp Regal GS significantly outpowers the legendary 1987 Regal GNX. That puts the 2019 Regal among the most powerful Buicks of all time. The sport luxury hatchback, which is built in Germany and offered with front-wheel drive and all-wheel drive, competes with the BMW 4 Series Gran Coupe and the Audi A5 Sportback.
Available With All-Wheel Drive
Buick offers the 2019 Regal Sportback in six trim levels: Regal, Preferred, Preferred II, Essence, Avenir, and GS. All but the GS are powered by a turbocharged 2.0-liter engine making 250 hp, which is competitive with the 252-hp Audi A5 and the 248-hp BMW 430i Gran Coupe. Although other models from General Motors are offered with hybrid and diesel technology, the Buick Regal is not.
Front-wheel drive is standard on all turbocharged Regals, but an additional $2,000 will get you all-wheel drive on the Preferred II and Essence models. Front-wheel drive models get a nine-speed automatic transmission, while turbocharged Regals with all-wheel drive are equipped with an eight-speed automatic. Prices start at $25,995, including a $925 destination charge, for the base Regal Sportback, which is nearly $20,000 less than the rear-wheel drive BMW 430i Gran Coupe and the all-wheel drive Audi A5 Sportback. Standard features included heated front seats, keyless entry with push-button starting, and a heated steering wheel.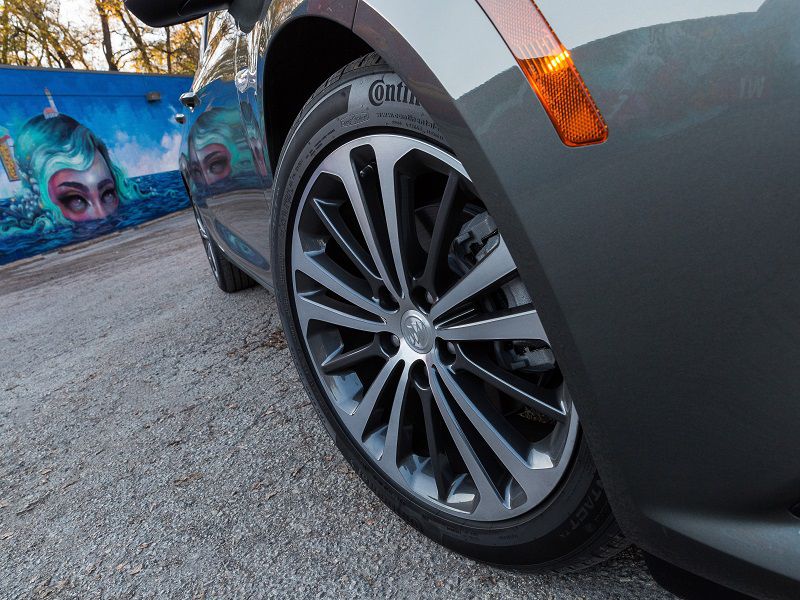 Photo by Buick
Enthusiasts will enjoy the Regal GS.
With 310 hp and all-wheel drive, the 2019 Buick Regal GS joins a long list of high-performance Buicks to wear the GS letters. During the original muscle car era, Gran Sport Buicks were among the most powerful American cars of the 1960s and early 1970s and today those models, including the 1965 Riviera GS and 1970 Skylark GS, are coveted collector's items.
More expensive, more powerful, and more fun to drive than the other Regal models, our 2019 Regal GS test vehicle represents the pinnacle of the Regal line. Under the hood is a 3.6-liter V6 with a sport-tuned exhaust system mated to a nine-speed automatic transmission. The Regal GS rolls on 19-inch wheels and comes with Brembo front disc brakes and a sport-tuned suspension. The driver can also choose GS and Sport driving modes for additional performance. Prices start at $39,995, and our test vehicle, which wore several expensive option packages, cost $44,115.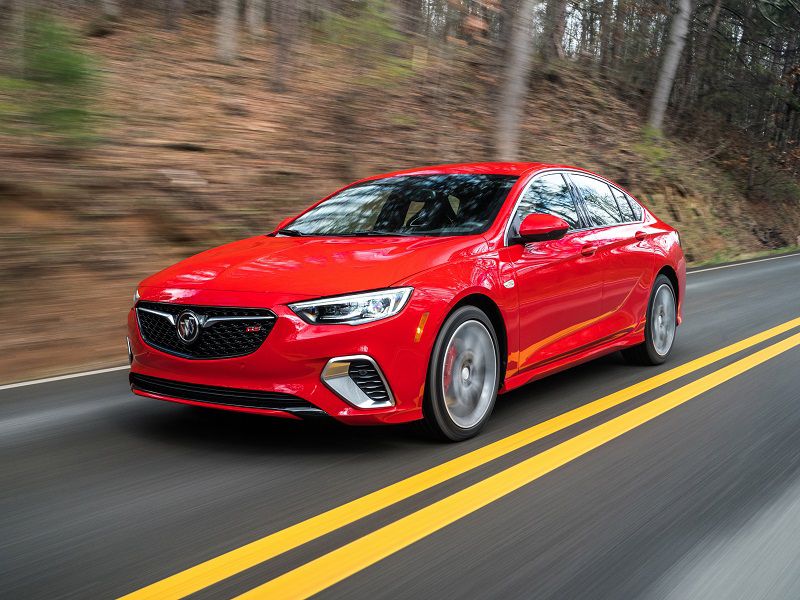 Photo by Buick
Attractive Exterior, Comfortable Interior
Unique front and rear bumpers, side skirts, and a small rear spoiler gave our GS test vehicle just enough attitude, while its Sport Red paint job grabbed everyone's attention. And yes, our neighbors, friends and family all stuck to the script. "Wow, that's a Buick?" they all said.
Inside, the GS gets a fat flat-bottom steering wheel and heated, ventilated, and massaging sport seats. Although the seats are a bit narrow up by your shoulders, they are comfortable and not too firm. The Buick's controls are well placed, and the standard dual-zone automatic climate controls are simple and easy to use. Overall, its interior is attractive and functional, and panel fitment is precise. Although the Buick's turn signal stalk feels flimsy, quality is high. I like the abundance of chrome trim, and the hatchback's doors feel solid.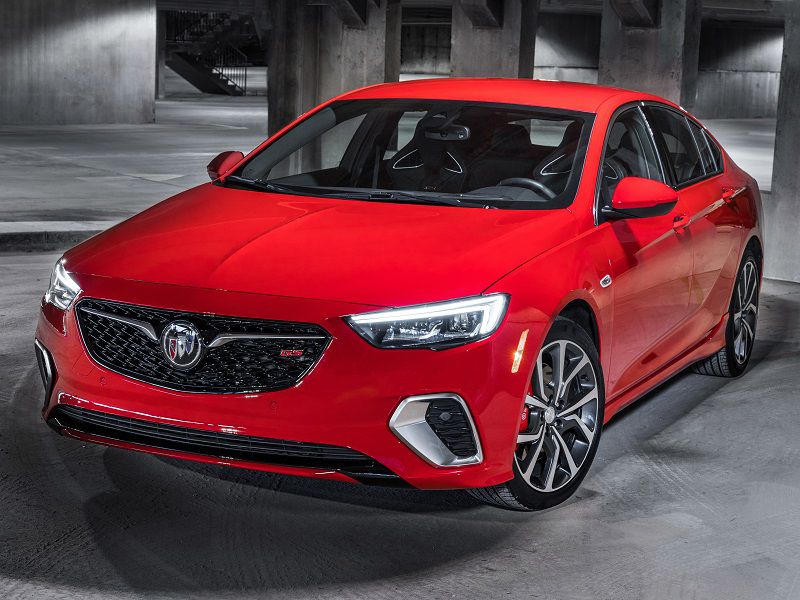 Photo by Buick
Solid and Simple In-Cabin Technology
Every 2019 Buick Regal Sportback comes with standard Bluetooth and an easy-to-use infotainment system, which is compatible with Apple CarPlay and Android Auto. It also offers an onboard 4G LTE Wi-Fi hotspot, which kept my teenagers happy along with the car's wireless phone charging pad. The Regal's 8-inch touchscreen (some lesser trim levels get a 7-inch screen) is within easy reach, but it's starting to feel small compared to larger screens we've sampled lately. On the upside, Buick keeps the Regal's in-cabin technology from becoming overly complex. There are auxiliary buttons on the dash and steering wheel to control the audio system, and the optional navigation system is quick to program.
Other available technology includes a programmable head-up display that keeps the driver from having to look down at the dashboard. It projects the speedometer and other information on the windshield ahead of the driver, which keeps your eyes on the road and cuts down on distraction.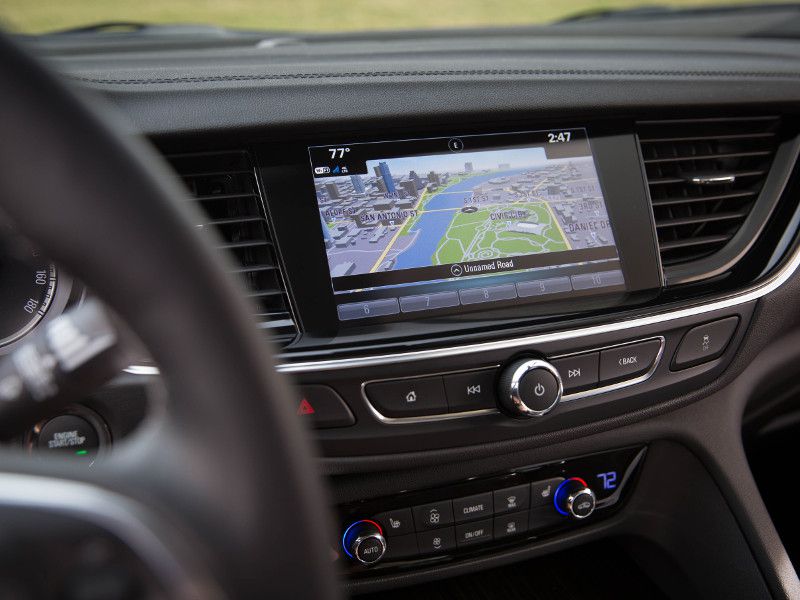 Photo by Buick
Family-Friendly Rear Seat Space
The 2019 Buick Regal Sportback seats five comfortably, and its rear legroom is impressive. The back seat also has plenty of headroom if you're under 6 feet tall, though unfortunately its middle rear seat isn't very comfortable and it's not equipped with a headrest. Backseat passengers do get a couple of air conditioning vents, and parents of younger children will appreciate the Buick's easy-to-reach LATCH connectors in the outboard seats.
Storage inside the Buick's interior is also abundant. The center console bin is large, and the big door bins have slots for water bottles. There are also seatback pockets and three large front cupholders, including one behind the shifter that doubles as a phone or wallet holder. When two occupy the rear seat, there are two rear cupholders in a fold-down center armrest.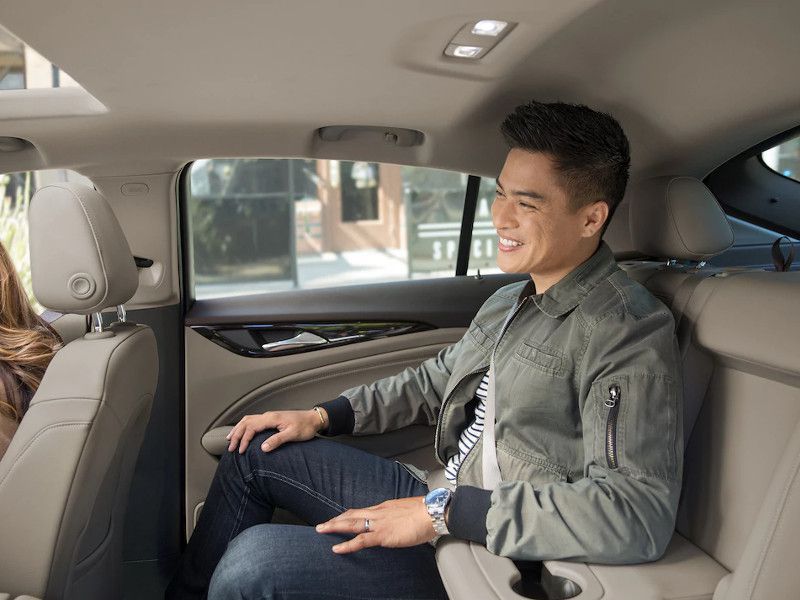 Photo by Buick
Big Cargo Area
Of course, the point of a hatchback is cargo capacity, and the Buick Regal's trunk is huge. It provides 31.5 cubic feet of cargo space behind the rear seat and 60.7 cubic feet with the 60/40 split-folding rear seat folded flat. That's more than BMW offers in the 4 Series Gran Coupe and it's more than you get in the Audi A5 Sportback.
Buick also allows you to fold the rear seats with buttons in the cargo area and a 40/20/40 split rear seat is available. Unfortunately, a power liftgate is not available, and the Buick's is big and heavy and proved hard for kids to open and close.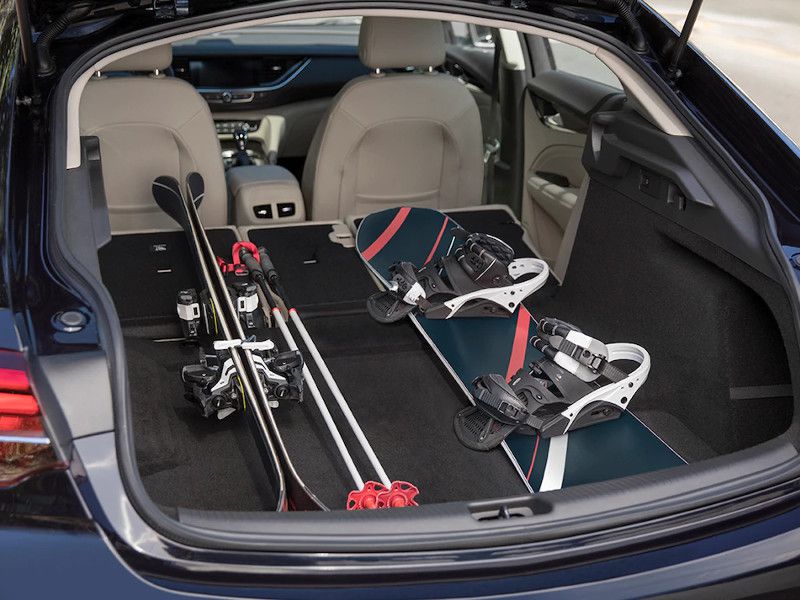 Photo by Buick
Advanced Safety Systems
The National Highway Traffic Safety Administration and the Insurance Institute for Highway Safety have not yet rated the 2019 Regal, but Buick offers the hatchback with a long list of high-tech safety systems. Our test car was equipped with the $1,690 Driver Confidence Package #2 that includes adaptive cruise control, which will keep a safe distance from the vehicle ahead; lane-keep assist with a lane-departure warning, which will steer the Regal back into your lane for you;  and a forward collision alert that warns if vehicles or pedestrians are in your path. Forward automatic braking is also included. It automatically applies the brakes if the system believes an accident is imminent.
The Regal GS comes standard with lane change alert with a side blind zone alert, a rear cross-traffic alert, and a rear seat reminder that suggests you check the rear seat for kids or pets before exiting the vehicle if anyone recently opened the back doors.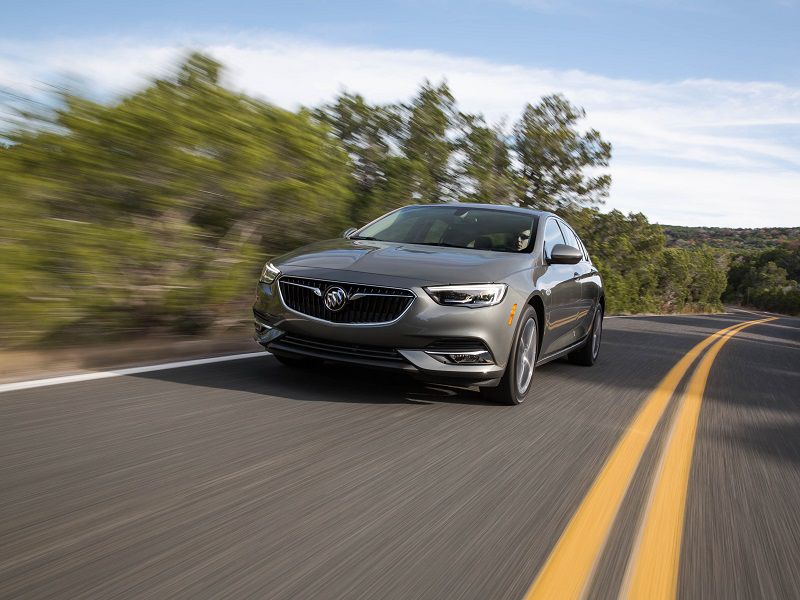 Photo by Buick
Quick, Smooth, and Sporty
Most car buyers don't associate fun-to-drive with Buick, but the 2019 Regal is quick, sporty, and responsive. It was fun driving the Regal GS around Los Angeles with its big, powerful V6 engine, comfortable ride, and agile handling. The engine is smooth and there's plenty of power off the line for quick acceleration. Zero to 60 mph takes just 5.4 seconds. Steering feel is good, and the all-wheel drive system, big tires, and powerful brakes inspire confidence even in a heavy downpour.
We're also impressed with the Regal's relaxed highway ride and its extremely smooth start/stop feature, which shuts off the engine at idle to save fuel. Its nine-speed automatic transmission is also well tuned. Although it's usually in the right gear, the transmission does have a manual mode. Unfortunately, unlike other cars in this class, the Regal does not have paddle shifters. Fuel economy is also good for this class: 22 mpg in the city and 32 mpg on the highway in the four-cylinder Sportback. The significantly more powerful GS is rated at 19 mpg city and 27 mpg highway. I averaged 22 mpg during a week of mixed driving.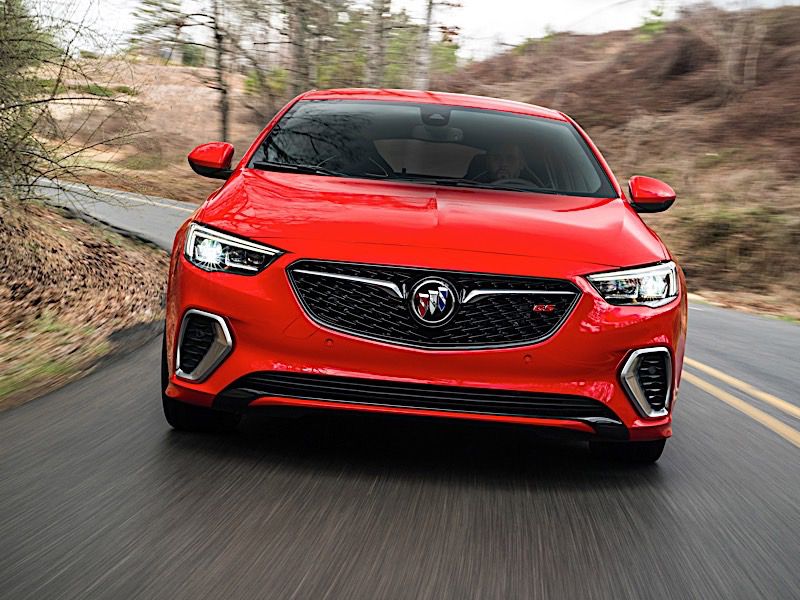 Photo by Buick
Final Thoughts
Comfortable and fun to drive, the 2019 Buick Regal Sportback is as a very strong value. The hatchback performs well and offers exceptional cargo space, which is of course the point of a hatchback. With its fastback roofline and clean, modern interior, it's also very attractive inside and out and it costs many thousands less than its German rivals.
While its true that we do prefer the Audi A5 Sportback and the BMW 4 Series Gran Coupe to the Buick, those Germans start at over $40,000 and can cost as much a $55,000 when loaded up with options. The Regal Sportback and Regal GS cost much less and therefore represent a very strong value. If you're looking for a sporty luxury hatchback that won't break the bank, the 2019 Buick Regal Sportback is a solid overall choice.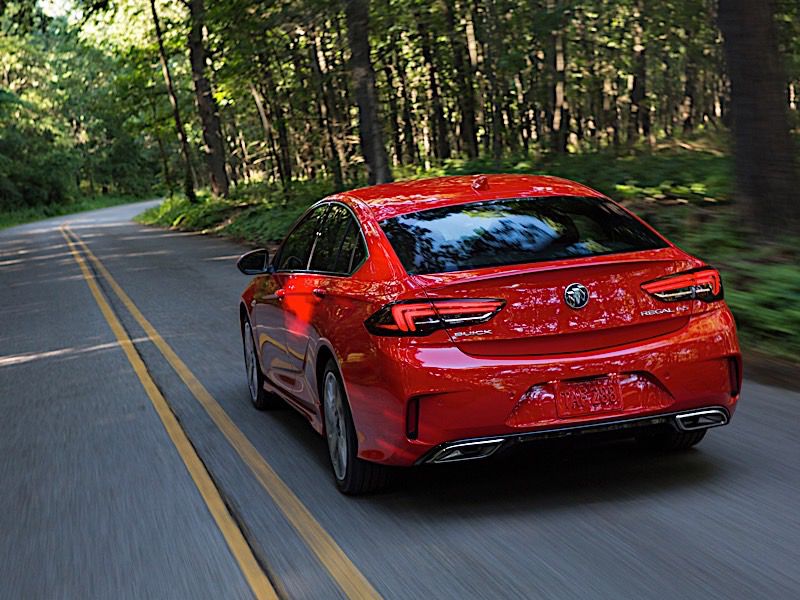 Photo by Buick