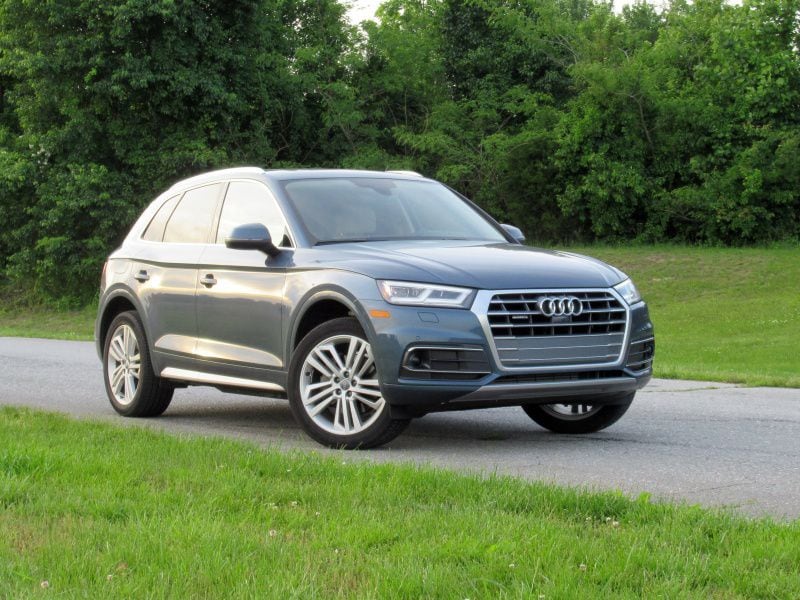 2019 Audi Q5 parked ・ Photo by Brady Holt
When you buy a good luxury sedan, you can expect it will look great inside and out, be comfortable and enjoyable to drive, and have lots of spiffy features. However, in many cases, your sedan may not have room for four adults to be comfortable. Its trunk quickly will reach its capacity when you go camping or clean out Costco. And its intricate suspension is designed for racetracks more than rutted dirt roads.
That's why so many folks now prefer luxury SUVs, particularly car-based crossovers like the 2019 Audi Q5. As America's most popular Audi, the compact Q5 outsells the brand's A3, A4, A6, and A8 sedans — combined. Still fresh after a thorough redesign last year, the Q5 features Audi's familiar combination of elegantly restrained styling, a well-finished and high-tech interior, and composed driving dynamics. But being an SUV, it adds a usefully roomy interior for both passengers and cargo. That's a pretty compelling combination. Keep reading to learn how the Q5 stacks up in its highly competitive compact luxury crossover segment.
Pricing
The 2019 Audi Q5 has a relatively high base price for its class, starting at $42,950 for the entry-level Premium model. That said, you get lots of standard features that cost extra on many competitors, including genuine leather upholstery, all-wheel drive with hill-descent control, automatic emergency braking, heated front seats, rain-sensing windshield wipers, three-zone automatic climate control, and a power liftgate.
With all that considered, we'd upgrade to the Premium Plus model ($49,950), which adds a navigation system, Audi's "Virtual Cockpit" digital display, blind-spot monitoring with rear cross-traffic assist, hands-free liftgate operation, and a panoramic sunroof, plus richer interior trim. Our test car was the top Prestige level, which starts at $53,850 and brings adaptive cruise control with stop/start capability and lane-keeping steering assistance — which are standard equipment on some competitors — along with such goodies as a 19-speaker Bang & Olufsen surround-sound stereo, head-up display, surround-view parking camera, and automatic steering assistance while parking. Buyers also can opt for the SQ5 performance model, which costs about $10,000 more than a comparable Q5.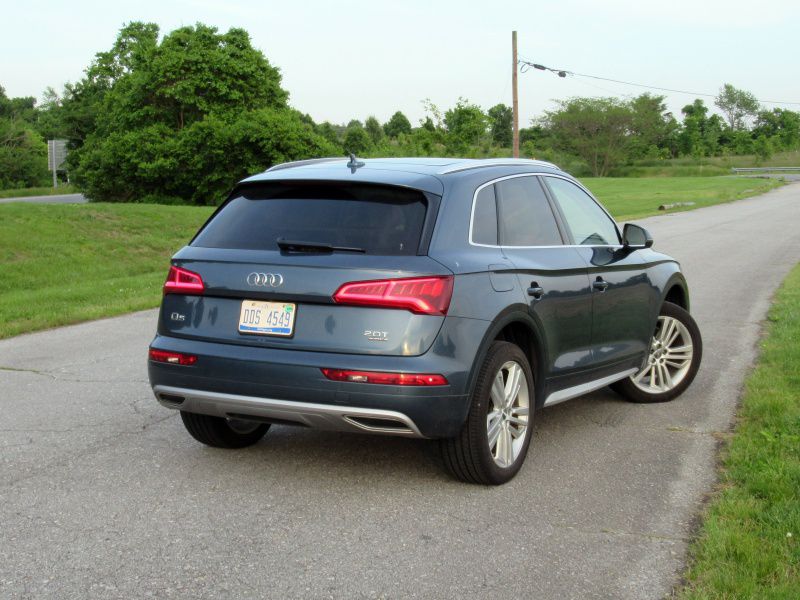 Photo by Brady Holt
Choice of Powertrains
The standard Q5 uses a 2.0-liter 248-hp turbocharged four-cylinder engine that delivers strong, smooth acceleration. Few buyers will miss the previous-generation Q5's V6 engine. However, even if you choose the "dynamic" driving mode, you won't feel like you're in a performance machine. Instead, you get moving with imperturbable competence. The four-cylinder also achieves competitive fuel economy: an EPA-estimated 22 miles per gallon in the city, 27 mpg on the highway, and 24 mpg overall. An unobtrusive stop-start system turns off the engine while you're idling and fires it back up when you lift your foot off the brake. 
The high-performance SQ5 trades fuel economy for livelier performance, featuring a 349-hp turbocharged V6. Still, its overall character remains more mild-mannered than sporty compact crossovers like the Porsche Macan or Alfa Romeo Stelvio. The SQ5 achieves 19 mpg in the city, 24 mpg on the highway, and 21 mpg overall, impressive for such a powerful SUV.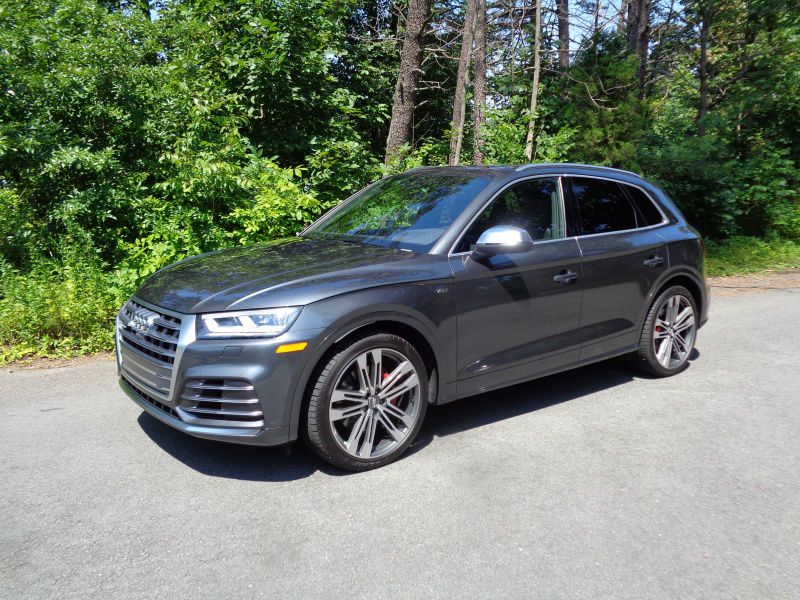 Photo by Brady Holt
Composed Ride and Handling
The 2019 Audi Q5 drives with exemplary composure, with a firm, controlled ride and capable handling. If you've ever heard an SUV described as "car-like," the Q5 epitomizes that terminology. You quickly forget that you're sitting up higher as this Audi tackles corners with easy aplomb. That puts the Q5 a cut above many luxury crossovers, which feel comparatively disconnected from the road. However, unlike an Alfa Romeo Stelvio — the gold standard for driver engagement in this class — the Q5 drives like a pleasant, refined car rather than an overtly sporty one. To put it another way, Audi sedans still drive better than Audi SUVs.
And while the SQ5's performance suspension gives it higher handling limits, its character remains similar to the base Q5 when you're driving it in everyday traffic. That is to say, you know that it's capable, but it doesn't thrill you. The good news is that every Q5 version, even the SQ5, rides comfortably even on bumpy streets.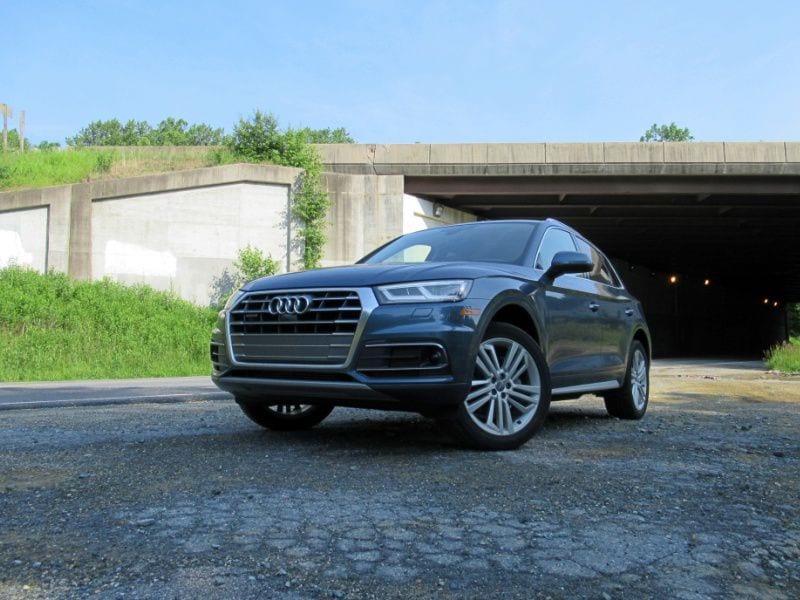 Photo by Brady Holt
Classy Styling
Many crossovers use exuberant styling cues to stand out from the pack — sharply sloped rooflines, aggressive front fascias, or deep creases in the bodywork. Instead, the 2019 Audi Q5 aims to be quietly classy, featuring much the same styling that's been popular since the first-generation Q5 debuted back in 2009. A more upright, angular front end is the main difference. Some buyers might fault Audi as too conservative, but others will welcome this subtle approach.
Inside, there's no question that the Q5 is a recent design. It follows the modern trend of perching an infotainment screen atop a low dashboard, with physical infotainment controls located between the front seats. This approach creates a low, unobtrusive dash while still providing a big digital display. A few interior materials and panel fitments are slightly below the Audi norm, but the Q5's buttons and knobs retain the brand's famously stellar precision, and the cabin's overall ambiance remains firmly luxury-grade.
Photo by Brady Holt
Virtual Cockpit
One of the most dazzling things about the Q5's interior is the optional Virtual Cockpit, a highly customizable digitally rendered gauge cluster. While digital gauge clusters aren't unusual in today's luxury cars, Audi's system arguably is the best. Not only does it render very attractive replicas of analog gauges, but it also lets you present a variety of information in a variety of layouts. Our favorite view reduces the size of the speedometer and tachometer and gives most of the space to a gorgeous Google Maps satellite view.
You also can get the same view on the Q5's traditional dashboard infotainment screen. But while that screen still has attractive graphics, a growing number of competitors (along with the latest all-new Audi models) have larger center-dash displays. We appreciate that Android Auto and Apple CarPlay smartphone integration are standard equipment on all Q5s. And the Google-based navigation system makes it easier to search for a destination than in most cars.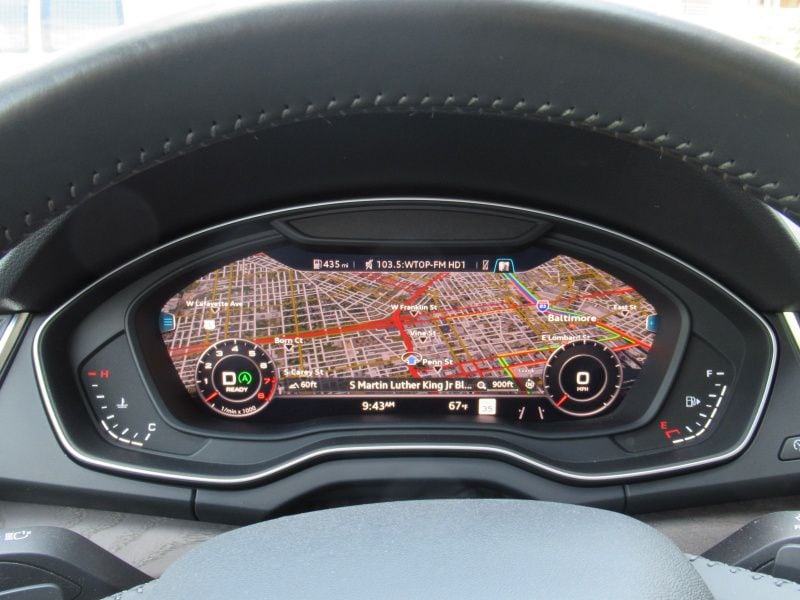 Photo by Brady Holt
Decently Spacious
The Q5 isn't the roomiest compact crossover you can buy. Like many of today's luxury models, it has generous front-seat accommodations but less rear-seat and cargo room than similarly sized mainstream models like the Honda CR-V or Nissan Rogue.
Four adults can be comfortable in the Q5, though a large center floor hump makes it awkward to fit a fifth. Meanwhile, there's 25 cubic feet of cargo space behind the rear seat, and 53 cubic feet if you fold it down. Those figures are class-competitive, though not class-leading. You'll have the useful amount of cargo space and flexibility associated with any SUV, and there's room for plenty of suitcases behind the rear seat, but some competitors have even more.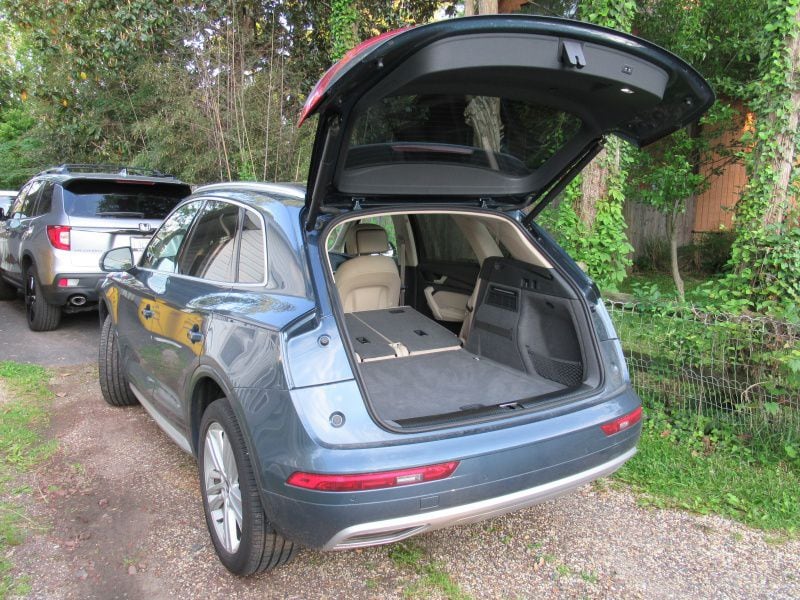 Photo by Brady Holt
Stellar Safety Scores
The 2019 Audi Q5 earned perfect crash-test scores from the Insurance Institute for Highway Safety and the National Highway Traffic Safety Administration — a Good rating in each IIHS crash test and five stars from each NHTSA test. The Q5 also earned top IIHS marks for its emergency automatic braking system and for the ease of installing child seats, though lower marks for its headlight performance.
Every Q5 comes standard with emergency automatic braking, a welcome piece of safety technology for which some competitors charge extra. Optional upgrades include a lane-departure warning with lane-keeping assistance, blind-spot monitoring, and rear torso-protecting airbags for the rear seat. This is a relatively rare feature that complements the typical array of standard side airbags: torso protection for the front seats, plus a curtain airbag that protects the heads of front and rear passengers. Notably, the Q5 earned top side-impact crash-test scores even without the optional rear torso airbags.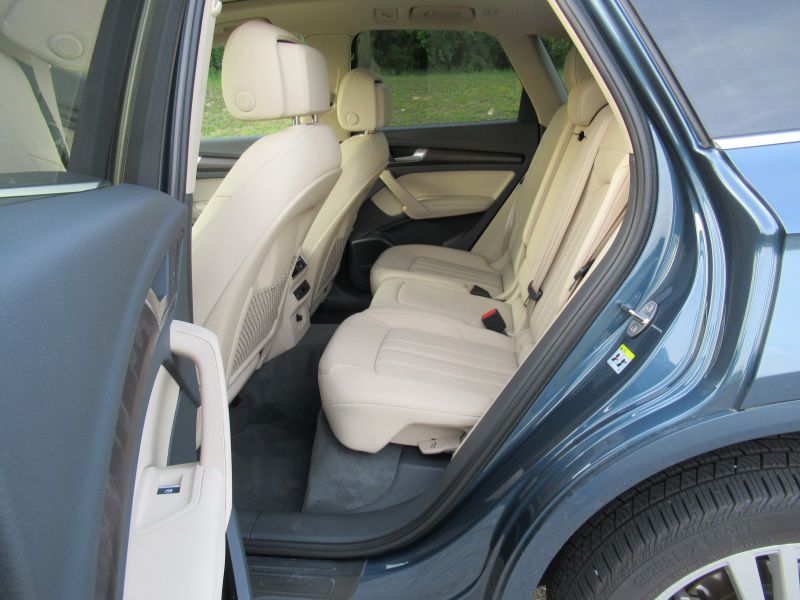 Photo by Brady Holt
Notable Competitors
The Q5's closest foes are its fellow Germans: the BMW X3 and Mercedes-Benz GLC. The X3 boasts a roomier interior and livelier driving dynamics, but BMW's expensive options tend to make it costlier than the Q5. The GLC, meanwhile, has less space inside than the Q5, but a more opulent cabin design.
Other key rivals tend to offer lower prices and more extroverted styling than the Germans. These include the Acura RDX, Lexus NX, and Cadillac XT4. The RDX is the best-rounded of the three, with generous interior space and engaging driving dynamics, though less elegance than the Audi. The XT4 has sharp, unique styling cues and pleasant driving dynamics, but its infotainment doesn't dazzle and its advanced safety features aren't widely available. The NX also is sharply styled and fun to drive, and has generous standard safety gear, but it feels downscale of the Q5. Lastly, the Infiniti QX50 and Volvo XC60 are relatively affordable and subtly elegant, though less sporty than the Audi. And, no competitor can match Audi's Virtual Cockpit.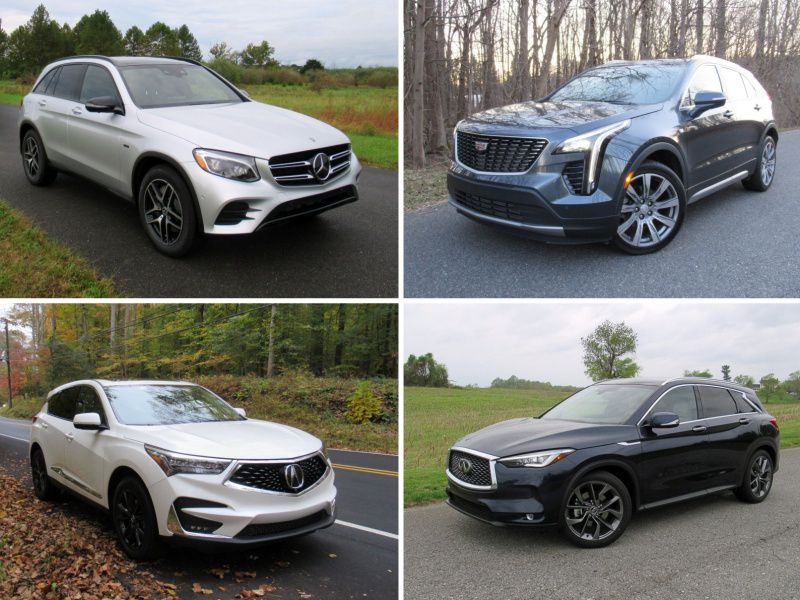 Photo by Brady Holt
Highly Competent
Overall, the Q5 stands out against its foes by offering a fault-free driving experience, a high-tech and well-finished interior, and a usefully spacious cabin. It's a highly competent vehicle even by the standards of its competitive market segment, and its generous standard equipment keeps it from becoming too crazy-expensive.
True, the Q5 doesn't jump out to dazzle you in many ways, which some buyers will understandably demand from a luxury vehicle. But if you're looking for a compact luxury crossover that quietly does pretty much everything well, don't miss the 2019 Audi Q5.
Photo by Brady Holt