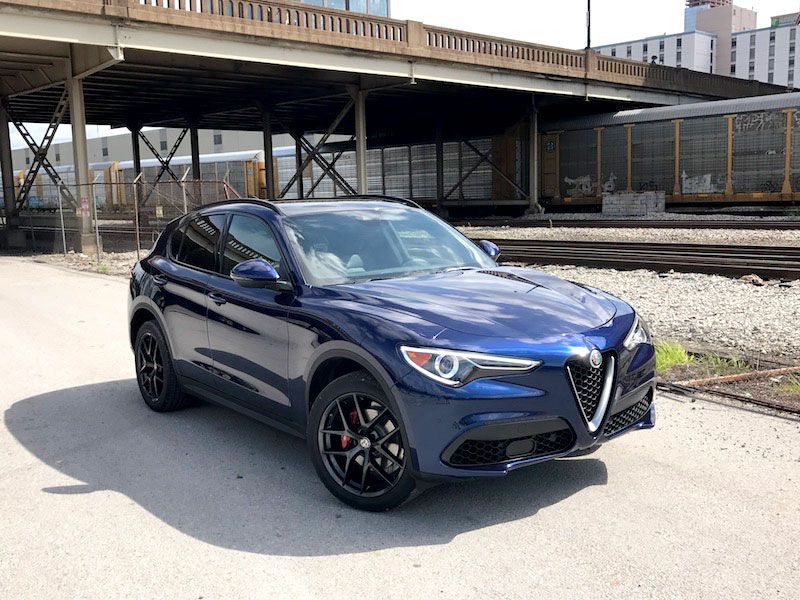 2017 Alfa Romeo Stelvio exterior front angle with grille by Matt Landish ・ Photo by Matt Landish
Alfa Romeo began in Italy in 1910, but it is now part of the Fiat Chrysler Automobiles company, the same company that owns American brands Dodge, Jeep, and Chrysler. After a 20-year absence, the brand returned to America in 2014 and today its small line up of vehicles is made up of the mid-size Giulia sedan, the two-seat 4C sports car, and this mid-size 2019 Alfa Romeo Stelvio SUV.
All new Alfa Romeos are still built in Italy, and the five-passenger Stelvio delivers a unique combination of Italian style, luxury, technology, and performance, including an available 505-horsepower turbocharged V6 engine. Even its name speaks of the SUV's considerable performance. Northern Italy's Stelvio Pass is one of the great driving roads in the world, with 48 hairpin turns. First introduced in 2017, the Stelvio competes with a long list of mid-size luxury SUVs from Germany, Japan, and the United States including the BMW X3, Mercedes-Benz GLC, Audi Q5, Lexus NX, Acura RDX, Infiniti QX50, Lincoln Nautilus, and Cadillac XT5.
Most models are all-wheel drive.
The 2019 Alfa Romeo Stelvio is the brand's best-selling model. It's offered in six trim levels: the rear wheel drive Stelvio and Stelvio Sport and the all-wheel drive Stelvio Ti, Ti Lusso, Ti Sport, and 505-hp Quadrifoglio. Prices start at $41,590, including a $1,295 destination charge, and all-wheel drive is available on the base Stelvio and Stelvio Sport for an additional $2,000.
Standard features on the base Stelvio include leather seating, keyless entry, a dual-zone automatic climate control system, power front seats, a 7-inch infotainment screen, Bluetooth, Apple CarPlay, and a backup camera. All models up to the $48,590 Stelvio Ti Sport are powered by a turbocharged 2.0-liter four-cylinder engine connected to an eight-speed automatic transmission. The engine makes a very respectable 280 hp, which Alfa says is enough to accelerate the SUV from 0-60 mph in just 5.4 seconds. That's quick for this class. The Alfa is not offered as a hybrid. Buyers looking for a hybrid in this class should shop the Lexus NX 300h hybrid, which comes standard with all-wheel drive and costs about $41,000.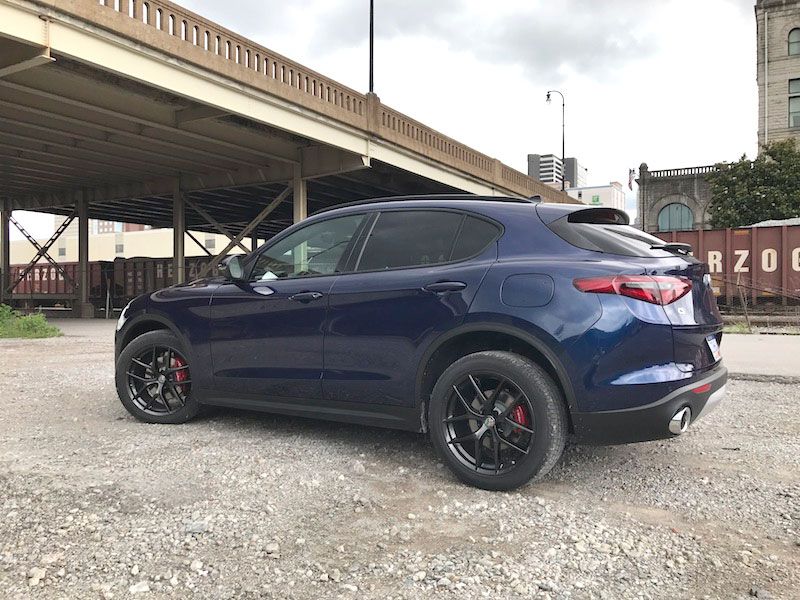 Photo by Matt Landish
Driving enthusiasts want the Quadrifoglio.
Translated to English, quadrifoglio means four-leaf clover or cloverleaf. However, at Alfa Romeo, it has meant high performance since 1923. That year, Enzo Ferrari (yes, that Enzo Ferrari) was Alfa's star racecar driver and he had hit a string of bad luck. In a superstitious move, Alfa added a four-leaf clover to his racecar and Enzo won the next race. The symbol has appeared on every Alfa racecar since. On the street, the nameplate first appeared on a special high-performance version of the Alfa Romeo Giulia coupe in 1963.
Today, Alfa Romeo offers two high-performance Quadrifoglio models: the rear-wheel drive Giulia sedan and the all-wheel drive Stelvio. Both are powered by a twin-turbocharged 2.9-liter V6 pumping out an incredible 505 hp, which makes the Stelvio Quadrifoglio one of most powerful SUVs in the world. Alfa's engineers also added a sport-tuned suspension, bigger brakes, larger wheels and tires, and an eight-speed automatic transmission with paddle shifters. At $81,290, it costs more than a Porsche Macan Turbo or a Mercedes-AMG GLC 63.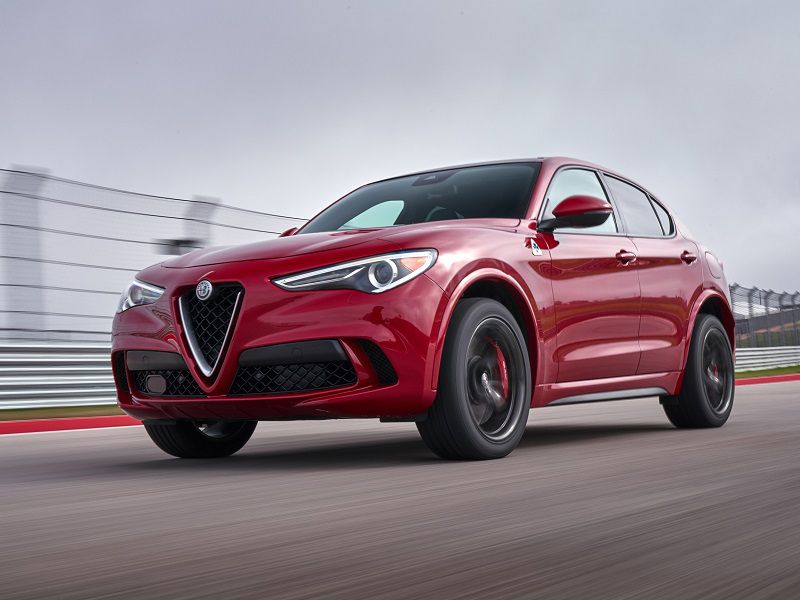 Photo by Alfa Romeo
Exhilarating to Drive
We've driven a 505-hp Quadrifoglio, and its speed and handling are so spectacular that its $80,000+ price seems like a bargain. Somehow the SUV remains comfortable and refined while it's screaming to 60 mph in just 3.6 seconds and carving up a twisty mountain road like a supercar. It's truly one of the world's greatest high-performance machines.
The $52,000 2019 Stelvio AWD we tested wasn't quite as speedy as the Quadrifoglio, but the more mainstream version of Alfa's SUV remains sporty, fun to drive, and refined. Unlike some SUVs in this class, the Alfa is engaging and sporty around town. With its optional 19-inch wheels and sport-tuned suspension, the Stelvio is responsive and satisfyingly athletic. It feels small from behind its heated leather-wrapped flat-bottom steering wheel, and its handling and braking are more than enough for most buyers. Its turbocharged 2.0-liter engine is smooth and packs enough punch. Its eight-speed automatic transmission is well tuned. Out on the highway at 80 mph the Stelvio is compliant, comfortable, and quiet.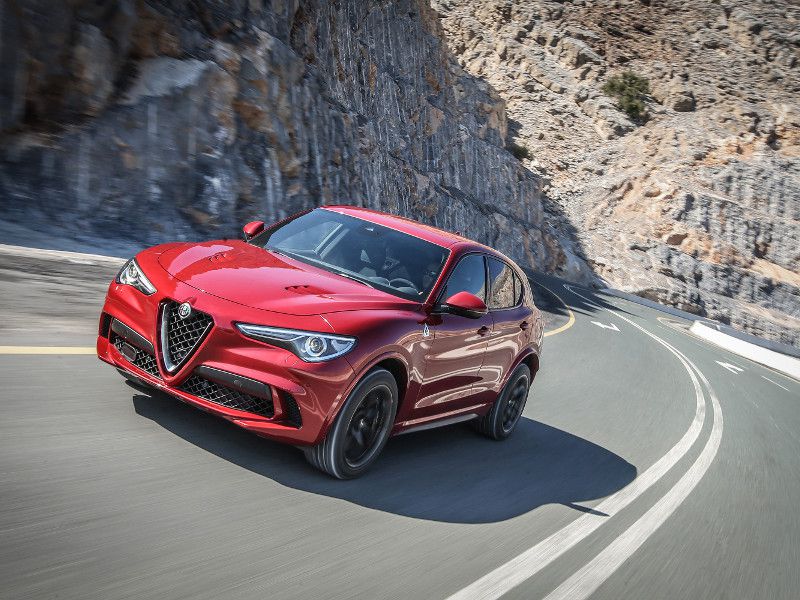 Photo by Newspress USA
Above-Average Fuel Economy for This Class
For an SUV that's this quick and fun to drive, the 2019 Alfa Romeo Stelvio still manages respectable fuel economy. With all-wheel drive, the Stelvio is rated at 22 mpg in the city and 28 mpg on the highway, which is strong for this class. Even the 505-hp Stelvio Quadrifoglio manages an impressive 17 mpg city and 23 mpg highway. For comparison, the turbocharged Lexus NX 300 F Sport is rated at 22 mpg city and 27 mpg highway while the NX 300h hybrid is rated at 33 mpg city and 30 mpg highway.
Every Stelvio comes with a start/stop system, which shuts off the SUV's engine at idle to save fuel. Although the system isn't as smooth as some other in this class, we used it extensively and averaged 23 mpg during a week of mixed driving. Unfortunately, the Alfa's turbocharged engine requires more expensive premium gasoline.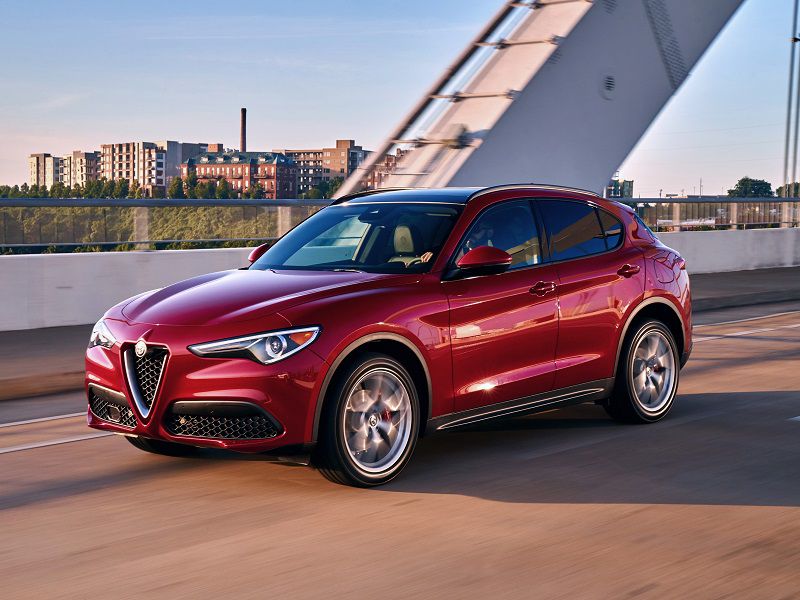 Photo by Alfa Romeo
Sporty and Comfortable Interior
The Stelvio's standard Alfa DNA Drive Mode Select system allows you to tune the SUV's personality with the twist of a knob on its console. There are three modes: Dynamic, Normal, and Advanced Efficiency. Dynamic mode increases throttle and steering response, while Advanced Efficiency retunes the SUVs traction and stability control systems to improve grip in wet, slick or snowy conditions.
Visibility is good, and the Stelvio's outside mirrors are well-placed. The heated front seats in our test vehicle were extremely comfortable. The Alfa's height-adjustable driver's seat and tilt and telescopic steering wheel make it easy to find the perfect driving position. Overall, the interior has an attractive design with modern, even futuristic shapes and clean white-on-black instrumentation, which has a classic appeal. Unfortunately, some of the Stelvio's interior plastics can feel a bit cheap, and its infotainment, which is also manipulated with a large console knob, seems a bit dated and can be frustrating to use. A touchscreen would be better. On the plus side, our test car's optional 8.8-inch screen is big for this class.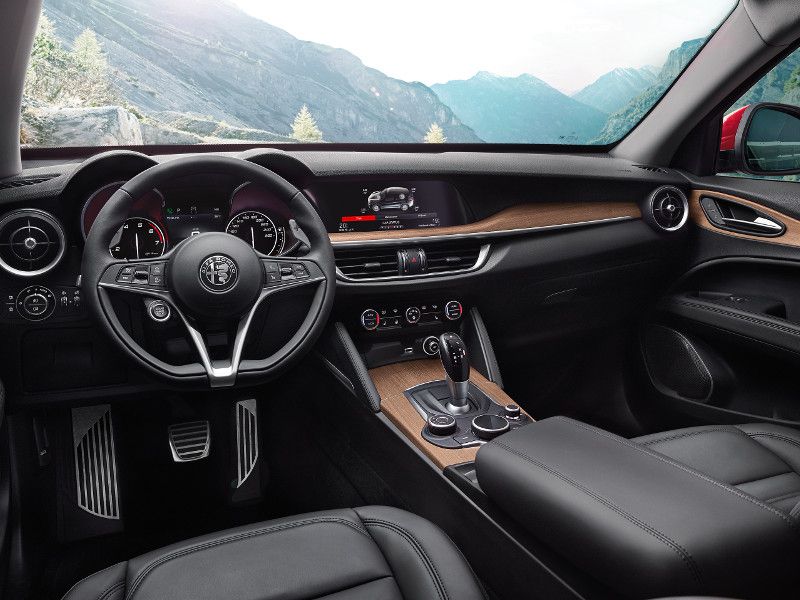 Photo by Newspress USA
Family-Friendly
Rear seat space is about average for this class, so three can fit in back if the ride is short. Storage inside the Alfa's interior is also sufficient. The center console bin is large enough, but the front cupholders are placed ahead of the shifter such that tall drinks can block the climate controls.
Cargo space is also about average for this class. The 2019 Alfa Romeo Stelvio offers 18.5 cubic feet of space behind its back seat. That's a bit more than the Lexus NX, but the Acura RDX offers significantly more. Every Stelvio comes standard with a 40/20/40 split-folding rear seat, which easily folds flat for your larger items. With the Alfa's rear seat folded down, there's 56.5 cubic feet of space, which was enough for a mountain bike, some gear, and a cooler.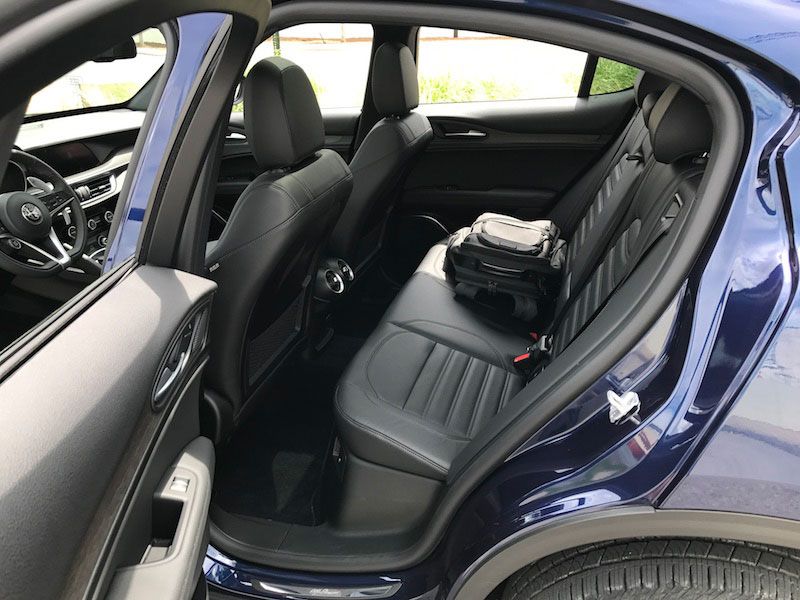 Photo by Matt Landish
Available Advanced Safety Systems
The 2019 Alfa Romeo Stelvio has not received safety ratings from either the National Highway Traffic Safety Administration or the Insurance Institute for Highway Safety. Alfa's Giulia sedan, which shares the Stelvio's chassis, did receive the highest ratings in all of the crash tests performed by IIHS, though it was dinged for its hard-to-use child seat LATCH connectors.
Alfa Romeo does offer a long list of valuable active safety systems on the Stelvio. Our test car was equipped with adaptive cruise control with stop and go, a full-speed forward collision warning with automatic emergency braking, a lane-departure warning, blind-spot monitoring with front cross-path detection, and front and rear parking sensors.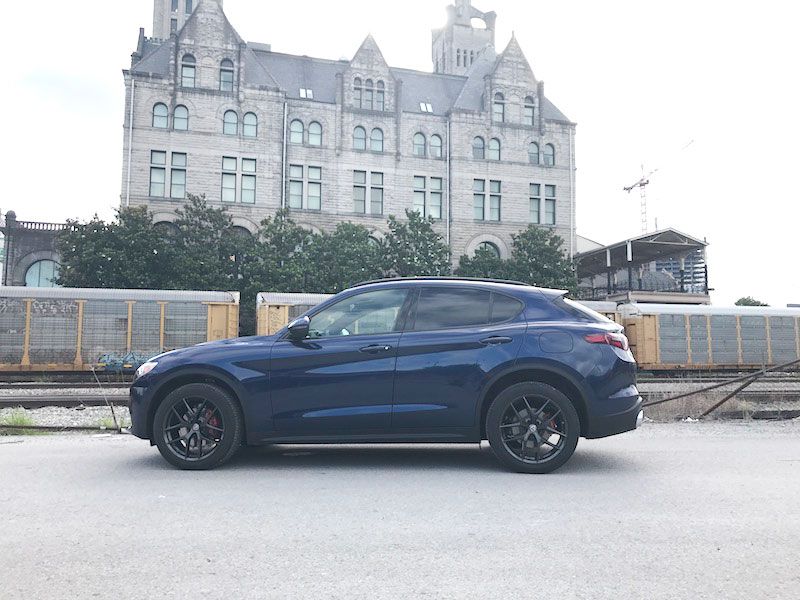 Photo by Matt Landish
Sexy Italian Design
Have you ever seen an ugly Alfa Romeo? We haven't either. The Italian carmaker has been building beautiful machines for over 100 years. Even Henry Ford was a fan, once famously stating, "When I see an Alfa Romeo go by, I tip my hat." The man who put America on wheels would be blown away by the exterior design of the 2019 Stelvio.
The SUV shares its chassis with the brand's equally beautiful Giulia sedan, which helps give the Stelvio aggressive rear-wheel drive proportions and a hunkered down stance. Its voluptuous curves, unmistakable Alfa grille, and sensuously styled derriere make it one of the most striking designs in this class. It will look right for decades. There's a timeless element to its shape, yet it's completely modern and tasteful, without any unnecessary dress like overwrought shapes or scoops, just two oversized dual exhaust pipes and beautifully integrated rear spoiler. Our Stelvio AWD test vehicle turned heads around Los Angeles despite its dark and subdued Stromboli Gray paint.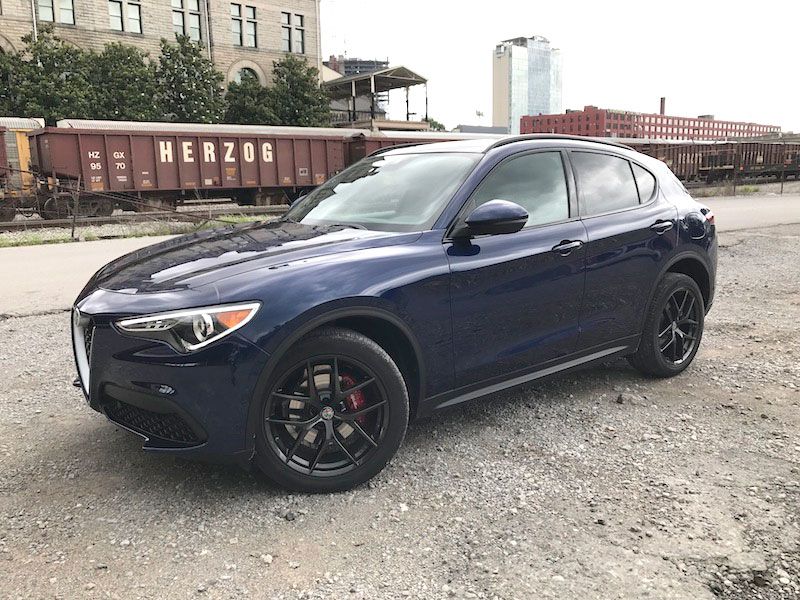 Photo by Matt Landish
Final Thoughts
There's passion in the design of the Stelvio — a passion you see in its styling and a passion you feel when driving this Italian SUV. The Stelvio is comfortable, it performs well, and it's certainly fun to drive.
Although its infotainment system falls a bit behind some of its competitors, the Alfa's interior is also visually striking and its functionality is very family-friendly. The SUV also offers a long list of optional safety technology. Overall, the Stelvio delivers a unique combination of luxury, performance, and style. If you're looking for a sporty five-passenger luxury SUV, the 2019 Alfa Romeo Stelvio is a desirable choice.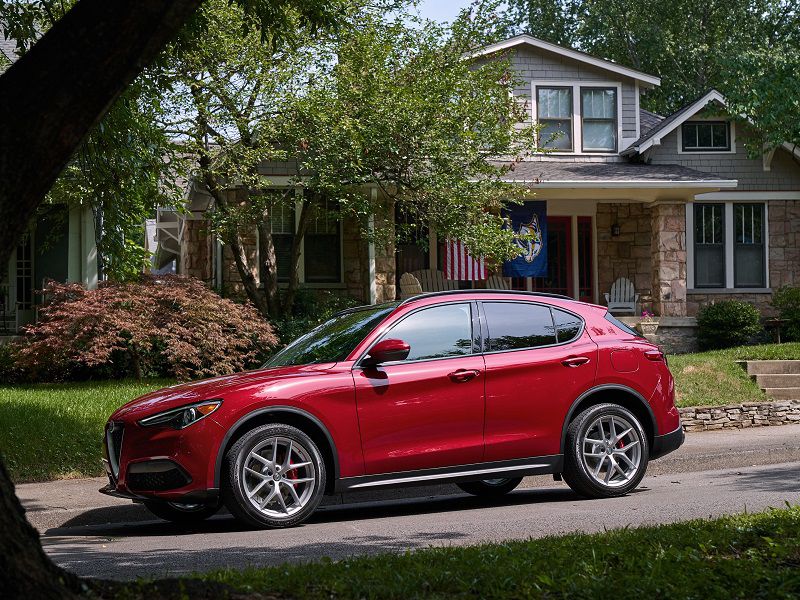 Photo by Alfa Romeo