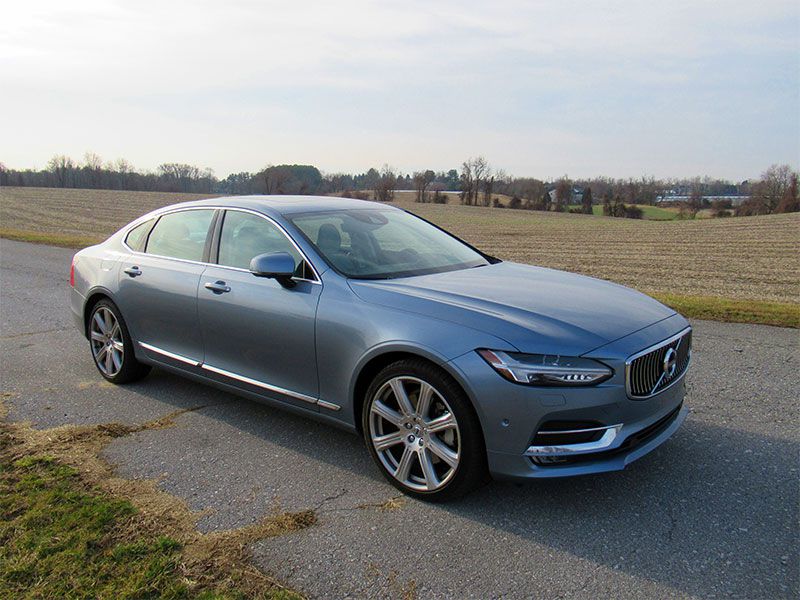 2018 Volvo S90 exterior front angle by Brady Holt ・ Photo by Brady Holt
Even when you're buying a luxury sedan, you've got to accept some compromises. Different luxury sedans offer super-spacious interiors, sporty performance, and attainable prices — but you usually won't find all three of these characteristics combined. The roomiest luxury cars tend to offer comfort-biased suspension tuning, like the Lincoln Continental and Cadillac XTS or cost nearly six figures like a Mercedes-Benz S-Class and BMW 7 Series.
Then there's the 2018 Volvo S90. Priced from $48,100, the S90 competes most directly against mid-size luxury sedans like the BMW 5 Series and Mercedes-Benz E-Class, even as is its artfully disguised plus-sized dimensions provide extra space to stretch out. While we wouldn't say the S90 is free of compromises, it's an intriguing blend of qualities that few of today's luxury sedans can replicate — and it's less expensive than the competition. Let's go over the details.
Bigger than Before
The S90 debuted for 2017 as an all-new replacement for the S80, Volvo's flagship passenger car. The 2017 S90 already offered above-average rear seat space, but Volvo didn't rest on its laurels. Just a year later, Volvo stretched the 2018 S90's wheelbase by 4.7 inches, which went straight to rear legroom. The company created this long-wheelbase S90 for owners who'll be chauffeured in the back seat, but as long as you have room to park a larger car, there's no downside to the extra space.
Just don't expect the S90's accommodations to be like a big sofa. Even with more rear legroom, this Volvo feels more like a sports sedan than a cushy cruiser. Rear passengers won't feel cramped, but they won't be exactly coddled either. Meanwhile, a large floor hump compromises three-abreast seating. The front seats offer a wide array of adjustments, even for the width of the seatbacks' bolsters, though at the expense of Volvo's historically thick cushioning. Trunk space is in line with the competition at about 14 cubic feet.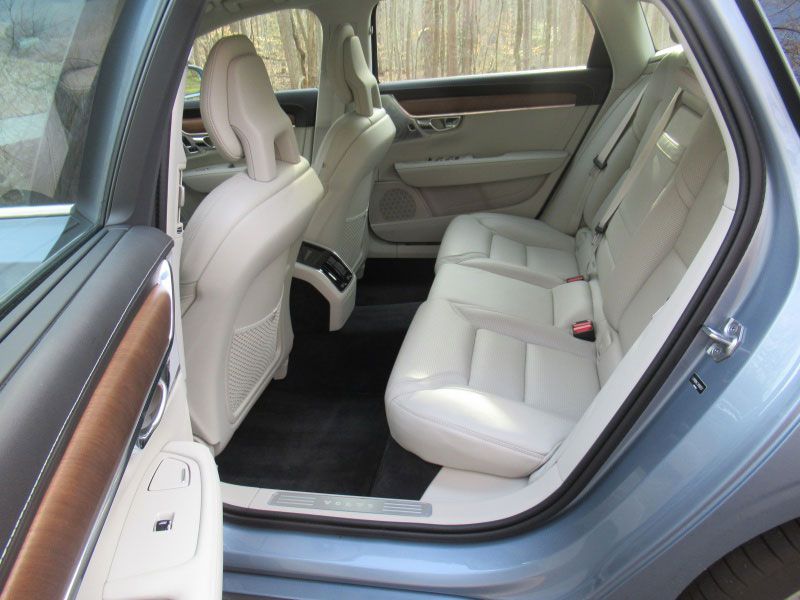 Photo by Brady Holt
Scandinavian Style
You won't mistake a Volvo sedan for any of its competitors. Starting with the 2016 XC90 SUV, the Swedish brand has reshaped its lineup to create a uniquely Volvo design language. It starts up front, where designers applied the XC90's face to a long, low sedan: a concave, vertically slatted grille sitting between slim headlights. Each headlamp includes a T-shaped LED that Volvo calls "Thor's hammer."
In profile, the S90's length comes clearly into focus, particularly with this year's update. At 200 inches, it's half a foot longer than a Mercedes-Benz E-Class or BMW 5 Series. But it carries its size gracefully, retaining an athleticism that sets it apart from a barge-like full-size car. Around back, big blocky taillights distinguish the S90 from any other car on the road.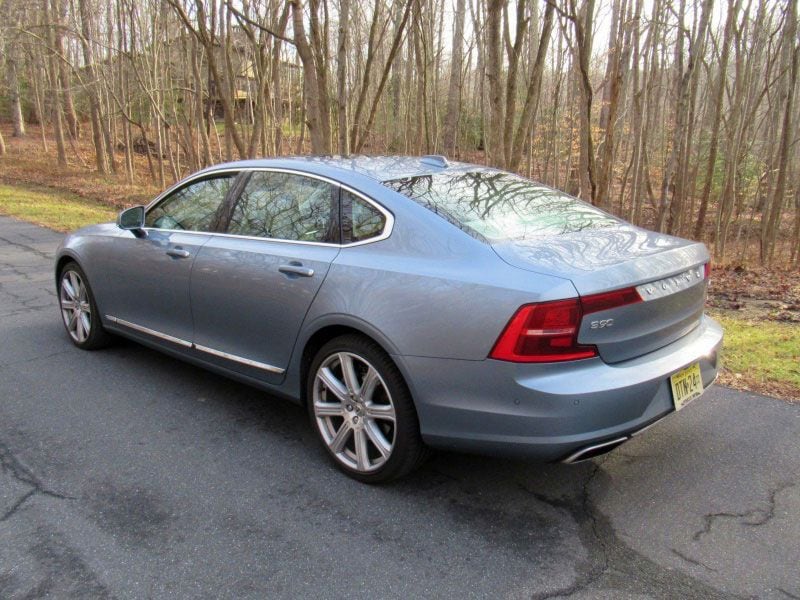 Photo by Brady Holt
Warm Interior
Many modern luxury cars have drifted toward cold, sterile interiors that focus on performance and technology. The S90 has a warmer, more welcoming aesthetic that's also contemporary and functional. Our test car's white leather upholstery and swaths of rich open-pore walnut trim are perfectly suited to each other.
The dashboard features a straightforward design that breaks down to a series of rounded-off rectangles. The central focus is a vertically oriented 9-inch touchscreen, flanked top to bottom by slim vents. As in other Volvos, the system switches seamlessly among a variety of display options, including the navigation map, radio information, climate control settings, and your paired phone, or multiple at once. Android Auto and Apple CarPlay smartphone integration come standard. Some folks will wish for more physical buttons and knobs, rather than using the touchscreen for most functions. But Volvo executed the system well, and having few buttons avoids dashboard clutter. One nitpick: There's no great place to stash your phone.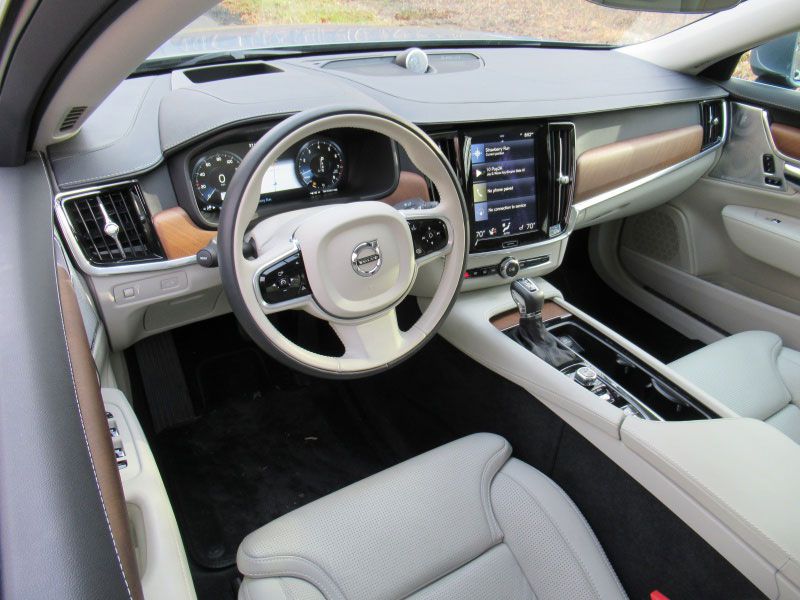 Photo by Brady Holt
Powerful Yet Fuel-Efficient
The S90's three available engines all start with the same 2.0-liter four-cylinder. The base T5 engine uses a turbocharger to achieve 250 horsepower, while the T6 throws in a supercharger to reach 316 hp, and the top T8 plug-in hybrid further adds an electric motor to reach 400 hp. All use an eight-speed automatic transmission.
Despite the S90's size and power, it achieves respectable fuel economy. The EPA rates the front-wheel drive T5 at 24 mpg in the city, 34 mpg on the highway, and 27 mpg combined — the same as the smaller BMW 530i and 2 mpg better than a Mercedes-Benz E300. Choosing all-wheel drive decreases mileage to 26 mpg in mixed driving, and the AWD-only T6 drops to a still-respectable 25 mpg. The T8 can plug into the electric grid and travel up to 21 miles gas-free, and then averages 29 mpg combined once it uses up that electricity. Our T6 test car averaged 23.5 mpg in mixed driving.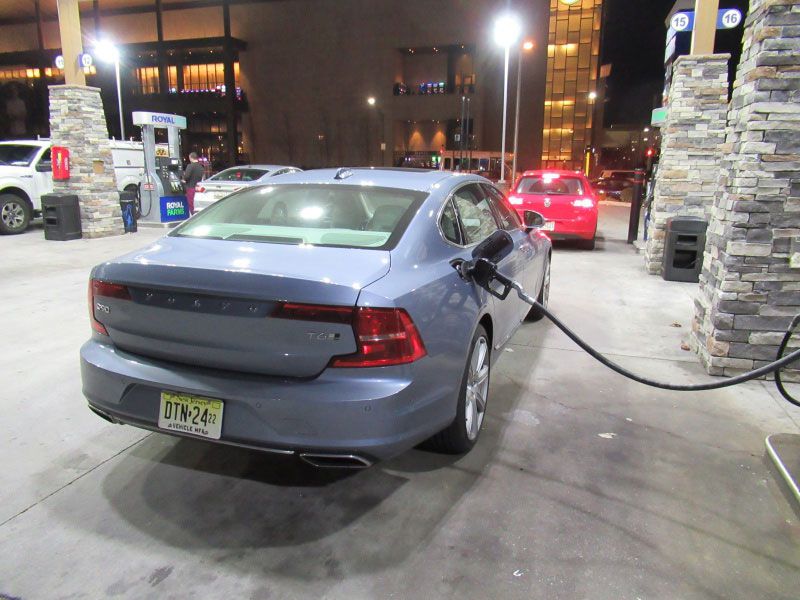 Photo by Brady Holt
Comfortable Yet Agile
You wouldn't call the S90 an engaging sports sedan or a cushy luxury cruiser — but it delivers a helping of both qualities. The suspension is taut and composed, recovering quickly after hitting bumps even if it doesn't prevent you from feeling them. Wind, road, and engine noise is all well-suppressed. And while the big Volvo doesn't crave a winding road, it tackles corners with ease. We'd pass on our test car's huge 20-inch wheels, as we're confident that smaller wheels would keep the ride even smoother.
The best way to describe the S90's driving experience is effortless — whether you're accelerating or handling, the Volvo confidently does what you ask of it without fuss. The transmission doesn't stumble, the throttle is neither lethargic nor jumpy, the steering feels natural, and the body doesn't roll or bob. Our 316-hp T6 test car delivers estimable straight-line performance, but while the engine is smooth and quiet, some luxury buyers will favor the aural melody of a competitor's six-cylinder engine.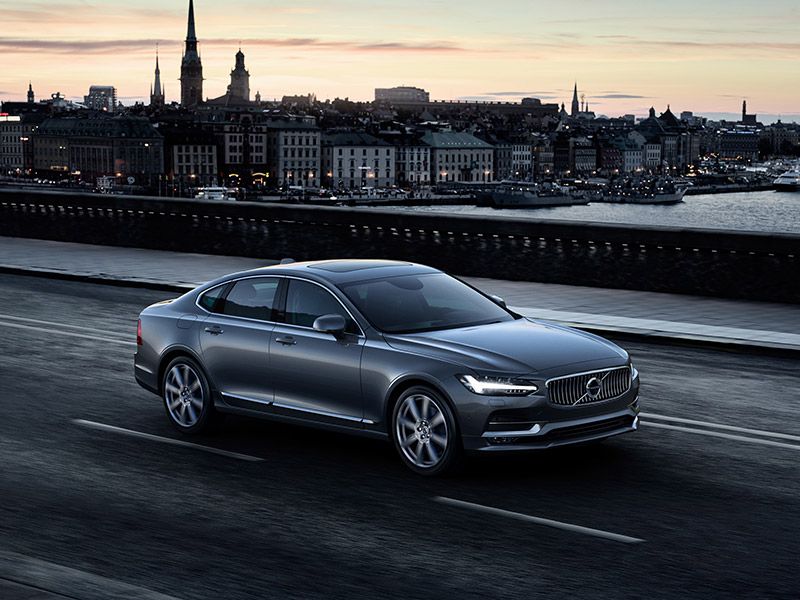 Photo by Volvo
Supreme Safety
Safety has been a Volvo hallmark for decades, and while the competition also boasts excellent crash safety and accident-avoidance technology, the S90 is among the best in its class. It earned top scores in all Insurance Institute for Highway Safety crash tests, and while it hasn't been tested by the National Highway Traffic Safety Administration, it earned five-star ratings from NHTSA's European counterpart. One demerit: The IIHS faulted the S90's headlights, seeking greater illumination on the left side of the road.
Standard safety features include automatic emergency braking, blind-spot monitoring, and lane-keeping and roadway-departure assistance systems. None of these technologies is novel, but many competitors charge extra for them. The IIHS also determined that the S90's autonomous braking is particularly effective at avoiding a collision. The only extra-cost safety feature is a useful surround-view camera, which uses a network of cameras around the vehicle to stitch together an overhead view of the S90 and surrounding obstacles.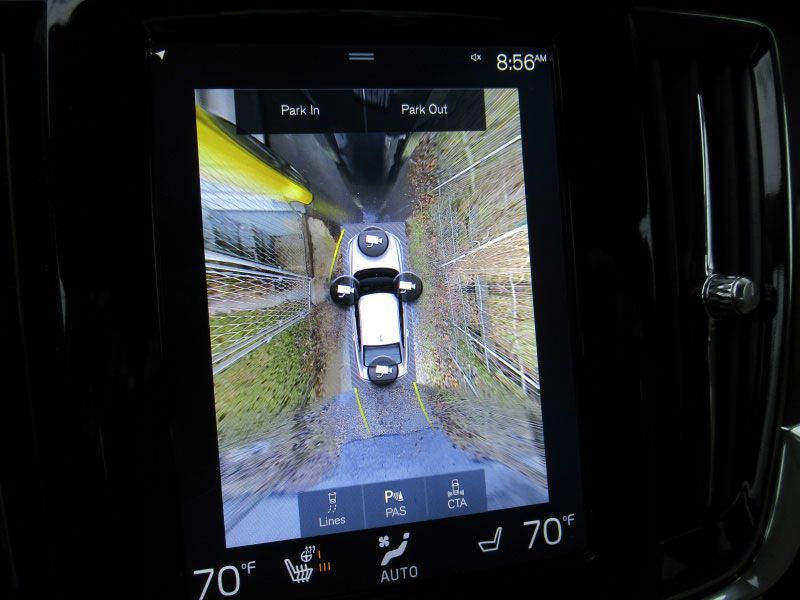 Photo by Brady Holt
Pricing and Value
The S90 starts at $48,100 for the front-wheel drive T5, and all-wheel drive costs $2,200 extra. The T6 with standard AWD starts at $54,100, and the T8 hybrid starts at $63,650 before a $5,002 federal tax credit. All three variants are available in the base Momentum trim, and the T6 and T8 can upgrade to the Inscription model for an extra $4,500. All S90s enjoy genuine wood and leather trim, a panoramic moonroof, a 10-way power driver's seat with memory, a navigation system, and the aforementioned safety features. The Inscription brings ventilated front seats; upgraded leather, wood, and other cabin trim; more adjustments for the front seats; rear climate controls; and some other goodies.
Most competing luxury sedans have similar base prices to the S90, but many of the S90's standard features cost thousands extra on various competitors. Furthermore, as of this writing, transaction-price estimates suggest that you can haggle $7,000 off the price of an S90 — a bigger discount than most competitors. We recommend getting online price quotes from your local Volvo dealers to confirm these estimates.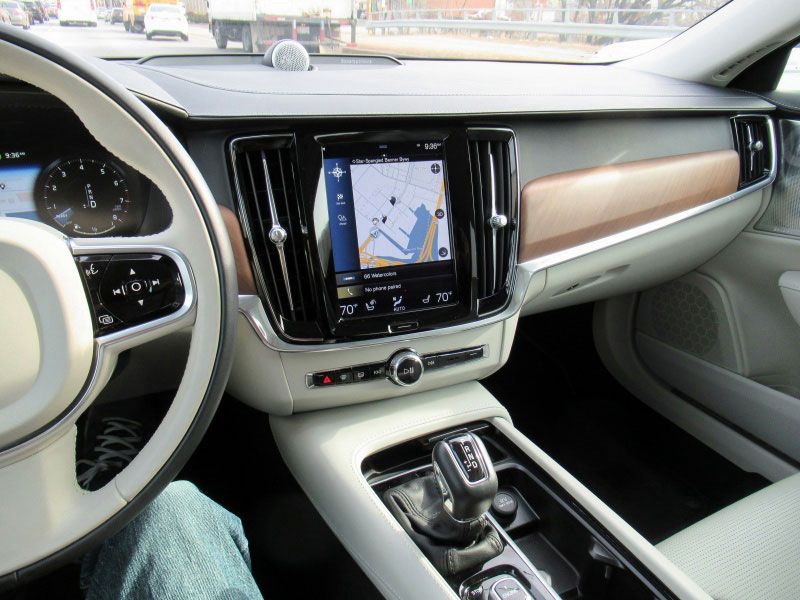 Photo by Brady Holt
Variety of Competitors
There's no car on the market with the S90's precise combination of performance, interior volume, and value. But there are some other models you may want to consider. The Genesis G80 is a big luxury sedan at similarly affordable prices, but it's not quite as agile as the Volvo. The Infiniti Q70L is a long-wheelbase sports sedan with a nice balance of ride and handling, but it's more expensive and has a less contemporary interior. The full-size Cadillac CT6 offers a spacious cabin and delightful driving dynamics, but it's also pricier than the S90. And if handling isn't a priority, the Lincoln Continental brings classy looks and plenty of space, but its top safety technology is only available in an expensive options package. Also, none of these cars matches the S90's gas mileage. 
Meanwhile, among smaller mid-size luxury sedans, the Audi A6 and Lexus GS are well-rounded vehicles at fairly reasonable prices. The class's sales leaders — the Mercedes-Benz E-Class and BMW 5 Series — are also appealing options if price isn't a top concern.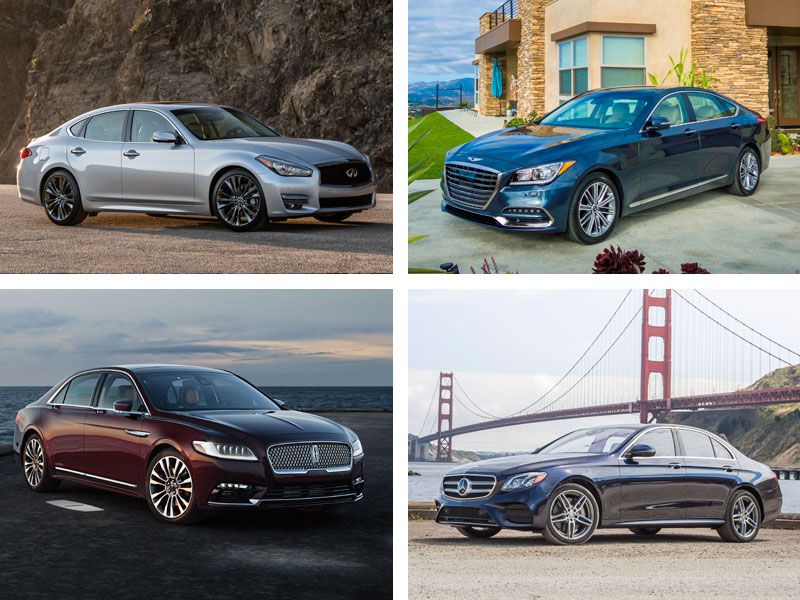 Checking All the Boxes
It's a little awkward to present a $50,000 luxury sedan as a great value. But if you're interested in a car like the S90, it's hard to argue with the features for the money that Volvo delivers — especially if you're able to score a good discount.
And there's much more to the S90 experience than its price advantage. Whether you're looking for a spacious interior, sporty driving dynamics, or an attainable price, Volvo has you covered. It's not the best at everything, but the 2018 Volvo S90 checks all the right boxes, and it does so with its own unique style and character.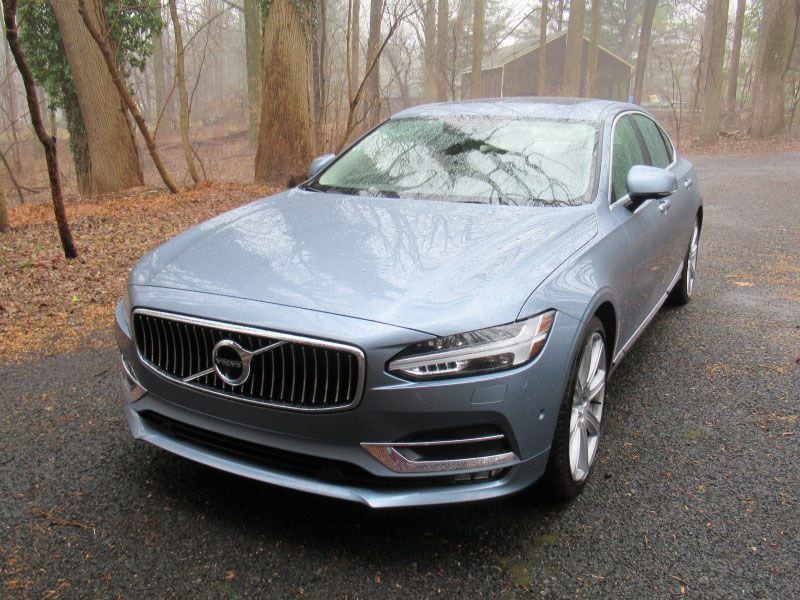 Photo by Brady Holt