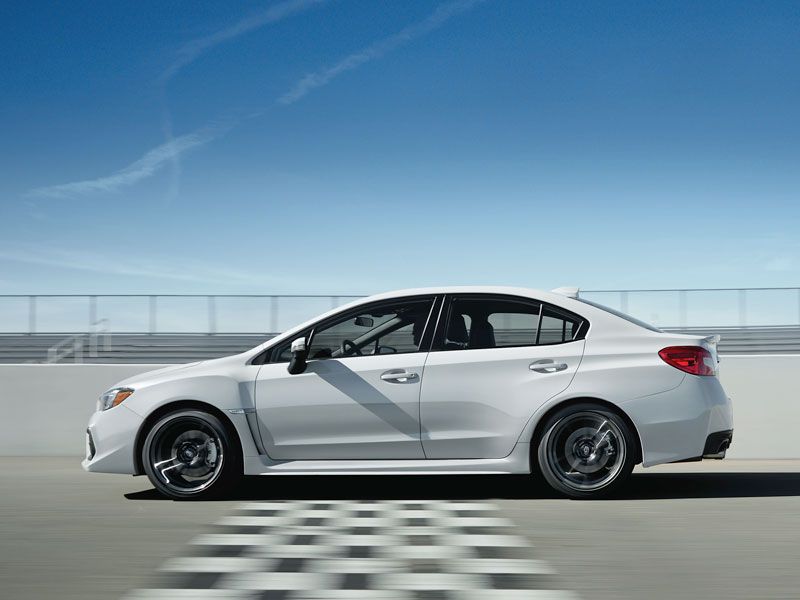 2018 Subaru WRX exterior profile ・ Photo by Subaru
It's a long and fast sweeping left-hander that splits into two lanes and funnels traffic from one Los Angeles freeway to another. The ramp is uphill at first, crests as it bends and becomes a downhill dragstrip before the eventual merge onto eight-lane concrete super slab known as the 405 freeway. In the 2018 Subaru WRX, it becomes a racetrack. And you should have seen the look on the guy's face when a Subaru passed his BMW M3 on the outside.
German luxury automakers like BMW and Mercedes-Benz may have invented the high-performance sport sedan, but the WRX, which is engineered and built in Japan, is one of the best. And at well under $30,000, it's a high-performance bargain. It competes with the new Honda Civic Si sedan and with hot hatchbacks like the Ford Focus ST and VW Golf GTI.
Many Updates for 2018
Although its reputation for safe, durable vehicles with standard all-wheel drive is well-earned, Subaru also has a rich history of performance models that began in the mid-1980s with the XT coupe and continued with the 140-mph SVX in 1991. But it was the introduction of the first turbocharged WRX sedan to the U.S. market in 2002 that secured Subaru's place on the car enthusiast's cool wall. In 2018, Subaru of America is celebrating its 50th anniversary — and in honor of its half-century of success, the company has improved the 2018 WRX, making it the safest, best-performing and most comfortable WRX of all time.
Updates for 2018 include revised styling with a larger and more aggressive lower front grille; a retuned suspension for improved handling and ride comfort; upgraded interior materials; and more sound insulation for a quieter interior. Subaru has also added its new EyeSight driver assist safety technology to the WRX's options list, as well as a performance package with Recaro front sport seats and stronger brakes.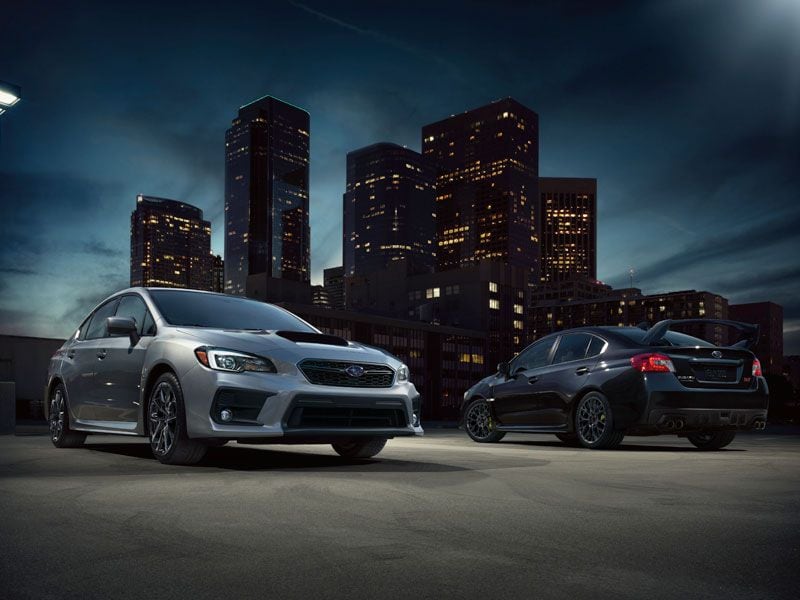 Photo by Subaru
Three Trim Levels
Now in its third generation, the WRX remains faithful to the model's original blueprint. The 2018 WRX is still based on the Impreza sedan, it's still all-wheel drive, and it's still powered by a turbocharged horizontally opposed four-cylinder engine. It's currently available in three trim levels: base, Premium, and Limited. Each is powered by a 2.0-liter, 268-horsepower engine. All-wheel drive and a six-speed manual transmission are standard, but the Premium and Limited models also offer a continuously variable automatic transmission or CVT.
Prices start at $27,885, including $860 for destination and delivery, for the base WRX and jump to $30,155 for a Premium like our test vehicle. Both represent an incredible value. Standard equipment on the Premium includes automatic climate controls, a rearview camera, Bluetooth, Subaru's Starlink infotainment system with a 7-inch touchscreen, 18-inch wheels and summer performance tires. For $33,655 you get the Limited trim with the CVT. If you're looking for more power and performance step up to the WRX STI variant, which packs 305 hp and starts at $36,955.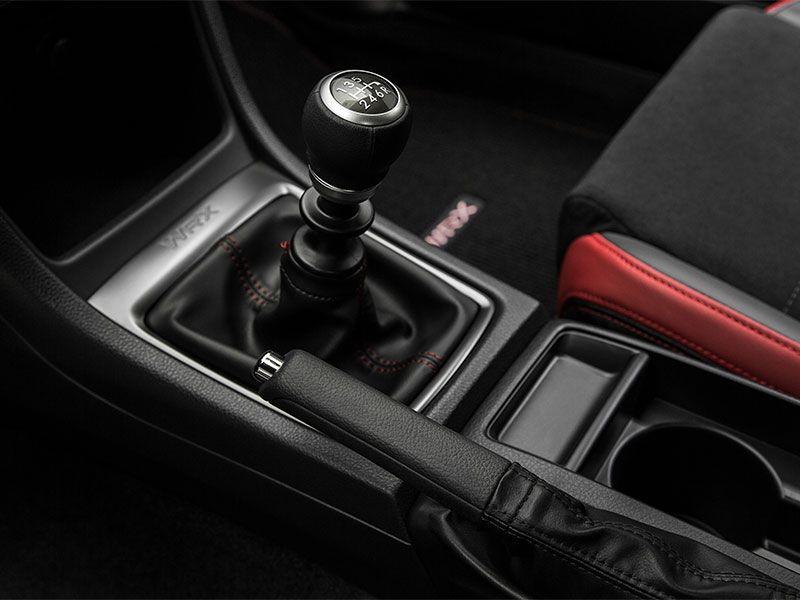 Photo by Subaru
Exhilarating to Drive
WRX stands for World Rally eXperimental, connecting the car to the Subaru's successful World Rally Team, which has won events all over the world with legendary drivers like Colin McRae, Petter Solberg, and Travis Pastrana. Plus, a specially prepared WRX just set the lap speed record for sedans around Germany's famed Nurburgring track. In the real world, you can feel the connection between those machines and the 2018 WRX. Few sedans are this visceral and exhilarating to drive. The WRX is for people that want to hear an internal combustion engine and feel the surface of the road. It's comfortable enough to be driven every day, but it never lets you forget that it's a hot rod at heart. It feels small, light and spry.
The Subaru's all-wheel drive system and big summer tires provide impressive amounts of grip. There's plenty of steering feel and the ratio is very quick, although some may find the steering to be heavy. With its deep thrum, no other engine sounds like Subaru's turbocharged four-cylinder, which makes plenty of power and comes on strong at around 2,500 rpm. Launch it hard and click through the six-speed manual's tightly spaced gears and the WRX squirts from 0-60 mph in less than 6.0 seconds.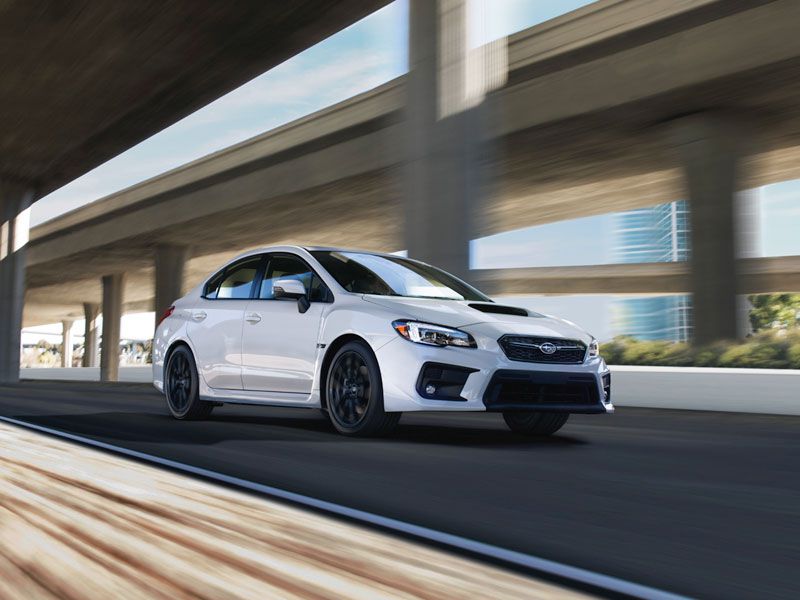 Photo by Subaru
Sporty, Upscale Interior
Our test car's optional heated Recaro sport seats look and feel great, with a combination of leather and suede. There's good lumbar support and they're aggressively bolstered to hold you in place during hard cornering. Visibility is excellent, and it's fun to look out over the WRX's big hood scoop. The WRX seats five comfortably and its rear legroom is plentiful, although the less powerful Honda Civic Si has a significantly larger backseat.
For 2018 Subaru has upgraded the WRX's interior materials and the engineers have added insulation and thicker side glass to keep more noise from entering the car. All the controls are well placed, attractive and easy to use. I really like the red stitching, the racy flat-bottomed steering wheel and the classy chrome trim on the window and climate controls.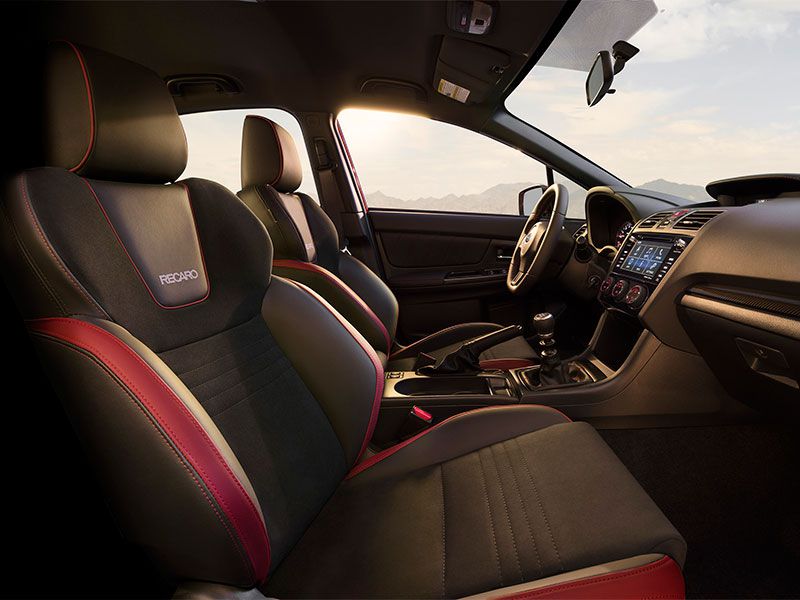 Photo by Subaru
Big Trunk But Thirsty
For a compact sedan, the 2018 Subaru WRX does have a decently large trunk. It offers 12.0 cubic feet of cargo space, the same amount of space available in the trunk of a BMW M3, although it's less than you'll find in a Honda Civic Si sedan. For more room, a 60/40 split-folding rear seat is standard on the Subaru. However, the WRX's interior storage isn't quite as praiseworthy — the center console bin is shallow, and the door pockets are small, although they do have slots for water bottles. There are also seatback pockets and a sizable shelf forward of the shifter.
Unfortunately, fuel economy is not very good for this class. The WRX is rated 21 mpg city and 27 mpg highway with the six-speed manual transmission and 18 mpg city and 24 mpg highway with the CVT, on premium fuel. I averaged 23 mpg during a week of mixed driving.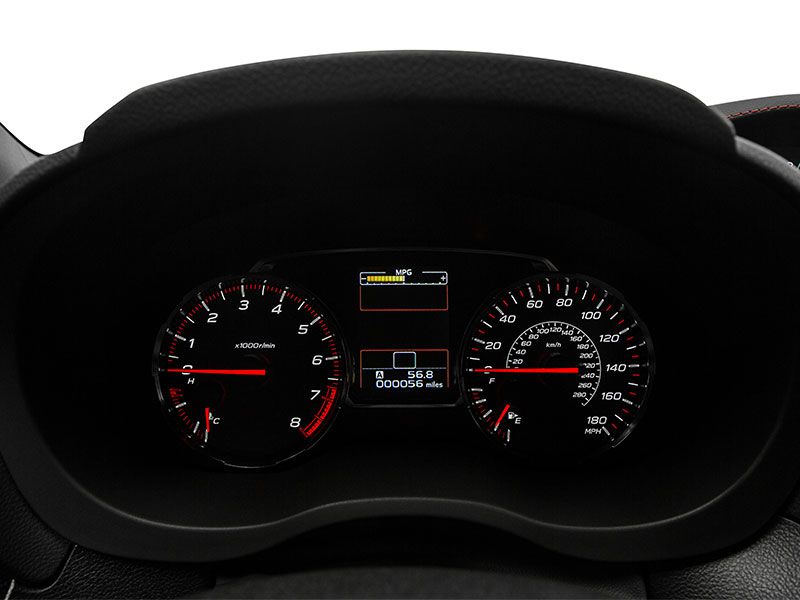 Photo by Subaru
Solid In-Car Technology
Bluetooth and Subaru's Starlink infotainment system are standard on every WRX. The system is easy to use and it responds quickly to your commands. The system is compatible with Apple CarPlay or Android Auto, but onboard Wi-Fi is not available. The base car comes with a 6.2-inch touchscreen, while the Premium and Limited trim levels upgrade to a larger 7.0-inch unit with additional functionality. A well-designed navigation system, as well as a Harman Kardon audio upgrade, is optional on the WRX Limited.
A second 5.9-inch color display that sits above the touchscreen is also standard. It's manipulated by a small toggle switch between the Subaru's air conditioning vents. It displays your fuel economy information, climate control temperature as well as some engine data like turbo boost pressure. And if that's not enough, there's a third LCD screen between the WRX's analog speedometer and tachometer. It shows a redundant digital speedometer, your gear selection, and other information.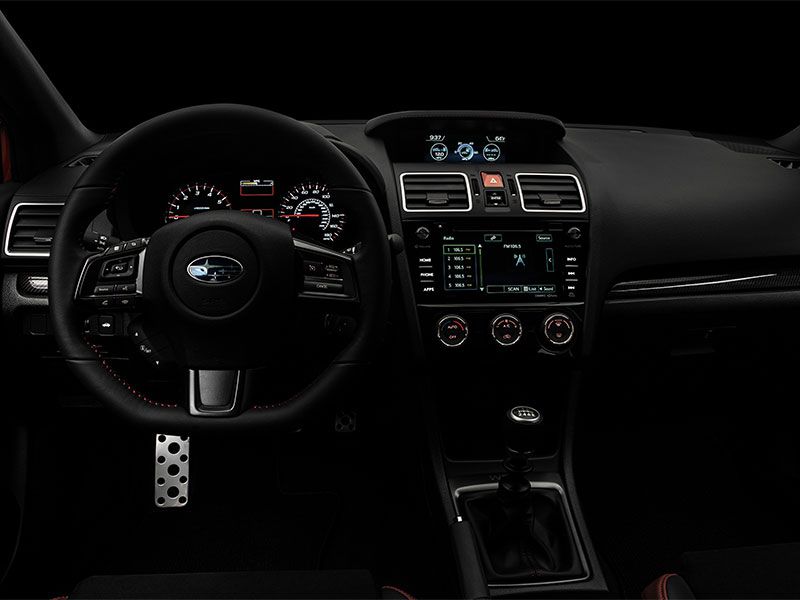 Photo by Subaru
Advanced Safety Systems
Subaru's award winning EyeSight driver assistance technology is available on WRX Limited with the CVT. Updated for 2018, EyeSight includes lane-keeping assist, active cruise control and a pre-collision system, which warns if a vehicle or pedestrian is in your path and will automatically begin braking for you to avoid a potential accident. The system also has a new feature that automatically switches between high and low beams based on oncoming traffic. EyeSight is offered on many other Subarus but is surprisingly not available on the more expensive WRX STI.
To help improve visibility, the 2018 WRX Limited also features redesigned LED steering-responsive headlights as well as LED fog lights. Blind spot detection and a rear cross-traffic alert are optional on WRX Limited with the manual transmission. Keyless entry with push-button start is also standard on the Limited.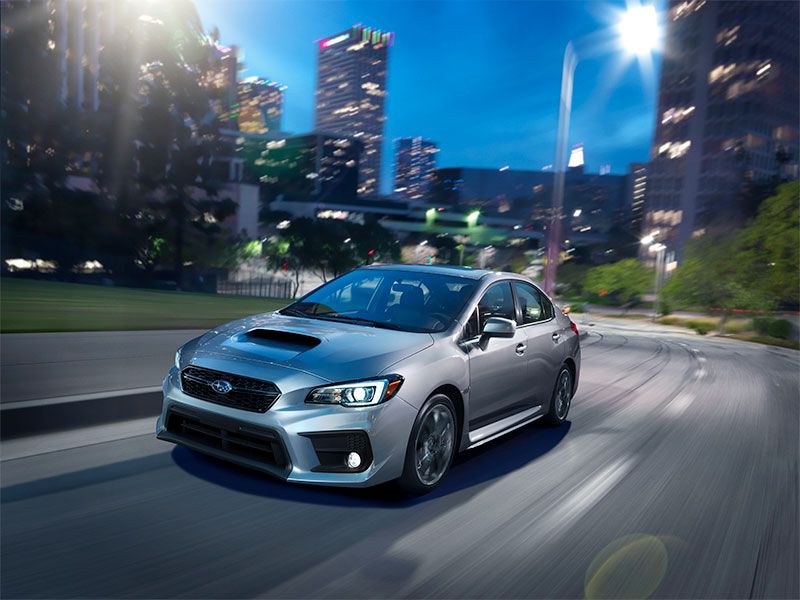 Photo by Subaru
Clean Exterior Lines
At first glance, the WRX's shape is attractive but simple — maybe even a little under the radar. It's well-proportioned, but it isn't overly adorned like it fell out of "The Fast and the Furious." Even the new larger grille is subtle.
But look a little closer. That's when you'll pick up the sedan's big hood scoop, flared fenders, defused rear bumper and four large exhaust pipes. The Subaru's new black 18-inch wheels set off our test vehicle's Pearl Blue paint; red brake calipers, which are part of the Performance Package, are another cool touch. Your neighbor with the Prius might not know what it is, but the guy down the street with the Mustang will understand you have something special.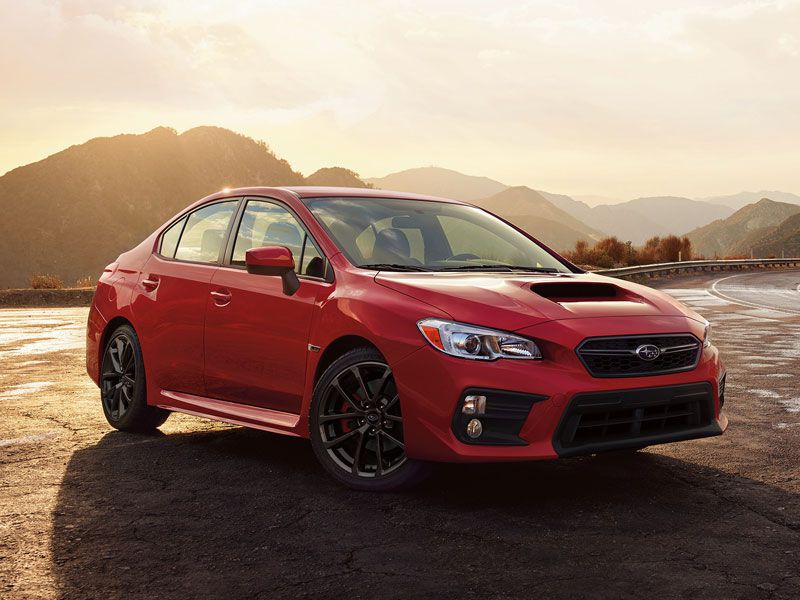 Photo by Subaru
Final Thoughts
In the last 50 years, Subaru has become one of the most successful automotive brands in America with popular models like the Outback, Forester and Impreza. With the WRX, it shows off what it can do in the realm of high-performance, and it's an impressive creation: quick, comfortable and all-weather friendly. It also represents a very high value.
If you're looking for a high-performance sport sedan with room for five and a price around $30,000, the new and improved 2018 Subaru WRX is a very desirable choice.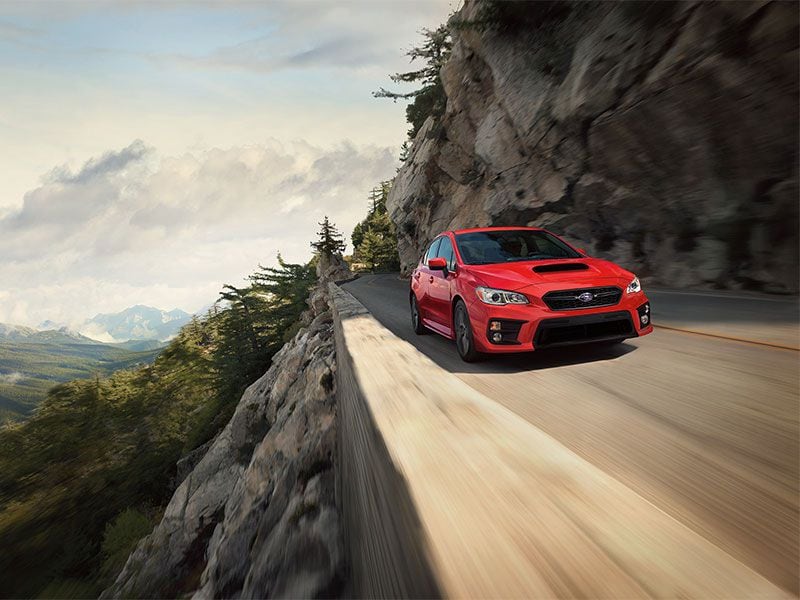 Photo by Subaru