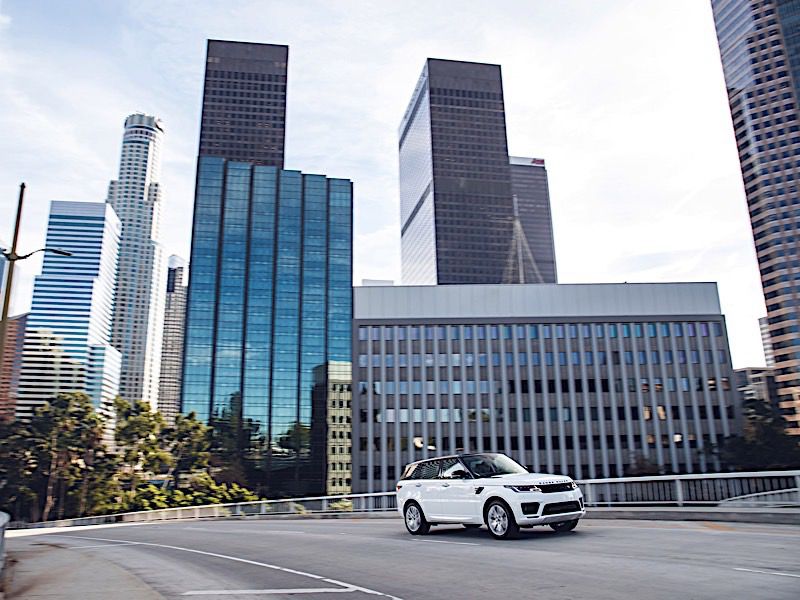 2018 Range Rover Sport front three quarter hero 01 ・ Photo by Jaguar Land Rover
When your new luxury SUV costs over $90,000, just the thought of driving it off-road can be a bit stressful. But this is the 2018 Land Rover Range Rover Sport. Subjecting its shiny new paint job and clean undercarriage to jagged rocks, thick mud, and thorny, low-hanging tree branches is part of its appeal. It's like driving your new muscle car at the local drag strip or your exotic sports car flat out on a twisting mountain road.
Land Rover may build the world's premier lineup of luxury SUVs, but its vehicles are also some of the toughest and most capable off-road. Land Rovers have been driven across Africa's deserts and through South American jungles. Recently, Land Rover asked a Le Mans-winning racecar driver to jump in a new 2018 Range Rover Sport and climb the 45-degree 999-step staircase to China's Heaven's Gate rock arch. Why? Just to prove it could. Now in its second generation, the Range Rover Sport competes against such models as the BMW X5, Mercedes-Benz GLE, Audi Q7, Porsche Cayenne, and Volvo XC90.
Available in Seven Trim Levels
This year, the Range Rover Sport lineup expanded to seven trim levels and four engines, including a fuel-efficient turbodiesel. There is no hybrid model, but a plug-in hybrid model is coming in 2019 and Land Rover says it will have the ability to be driven 31 miles on electric power alone. Every 2018 Range Rover Sport comes with all-wheel drive and an eight-speed automatic transmission. Prices start at $67,745, including $995 for destination, for the SE model and $73,345 for an HSE powered by a 340-horsepower 3.0-liter supercharged V6. A 254-hp 3.0-liter diesel V6 is an option for $2,000, which is a good deal considering it radically improves the SUV's fuel economy. Bluetooth, navigation, and a power tailgate are standard.
Prices jump to $83,145 for the better-performing HSE Dynamic. In this model, the supercharged V6 makes an additional 40 hp and the wheels and tires grow from 20 inches in diameter to 21 inches. Land Rover says the HSE Dynamic can sprint to 60 mph in 6.8 seconds. Horsepower junkies, however, should step up to the Supercharged model like our test vehicle. It's actually $50 cheaper than the HSE Dynamic and replaces the V6 with a 518-hp supercharged 5.0-liter V8. Total bargain. That engine also powers the Supercharged Dynamic model and the $97,645 Autobiography Dynamic.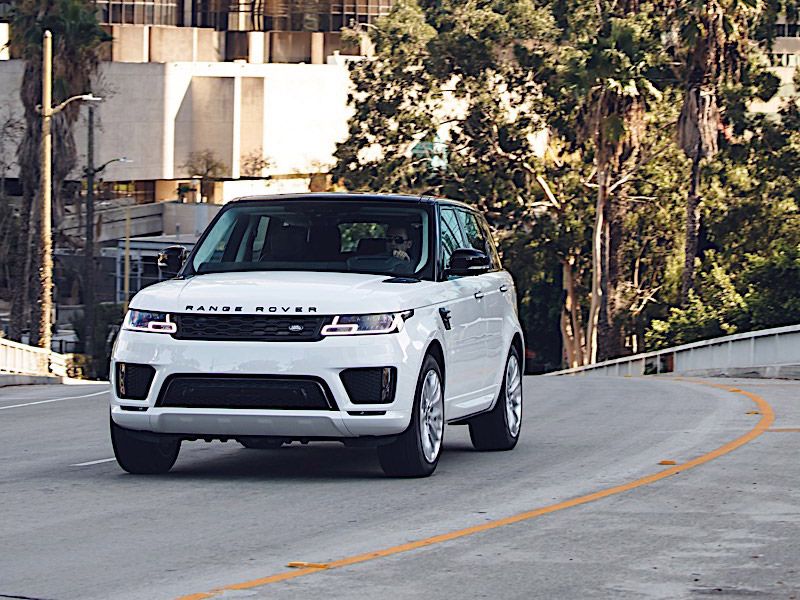 Photo by Land Rover
High-Performance 575-hp SVR
SVR is Land Rover's new Special Vehicle Operations department. Like AMG at Mercedes-Benz or BMW's M division, it builds high-performance versions of the brand's SUVs. The $114,595 Range Rover Sport SVR is the fastest and most powerful Land Rover ever. It was developed on Europe's racetracks, including Germany's famed Nurburgring. The SVR gets a sport-tuned suspension, stickier tires, a special exhaust system, and sport seats.
For 2018, its supercharged 5.0-liter V8 gets a boost in horsepower from 550 hp to 575 hp, which Land Rover says dropped its 0-60 mph acceleration time from 4.6 seconds to 4.3 seconds. That makes it one of the quickest SUVs in the world. The Range Rover Sport SVR competes with the BMW X5 M, Mercedes GLE63 AMG, and Porsche Cayenne Turbo.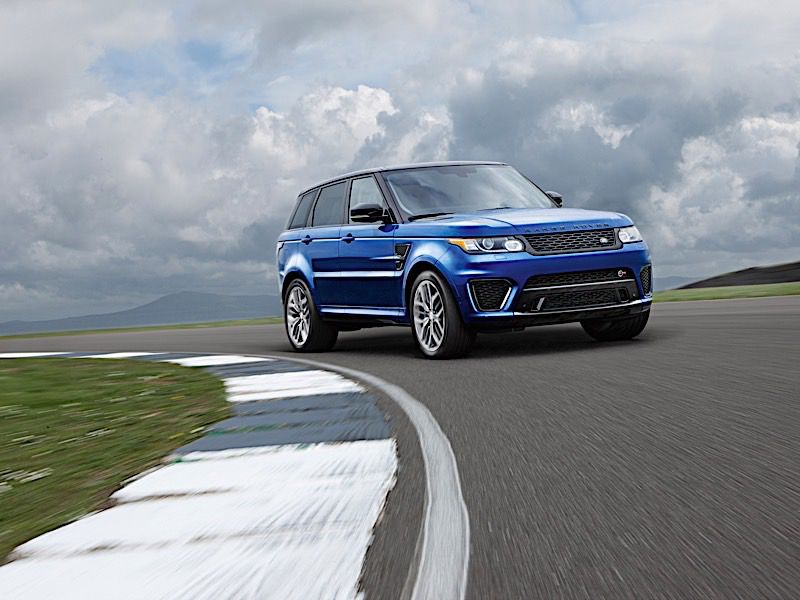 Photo by Jaguar Land Rover
Part Sport Sedan, Part SUV
Considering its 5,121-pound curb weight, the 2018 Range Rover Sport Supercharged is surprisingly responsive and fun to drive. It handles like it weighs half that much, with little body roll and impressive grip from its wide 20-inch tires. On a curving road, it enjoys being pushed and rewards its driver with stable handling and the confidence to go as fast as you dare.
The Range Rover Sport's long-travel air suspension is tuned firm. It doesn't ride as smoothly as the larger Range Rover model, but it's comfortable and it soaks up large potholes well. Out on the highway, the ride is smoother and the Range Rover Sport cuts through entire states effortlessly. But the best part was the power from the supercharged V8. It's endless. The truck can hit 60 mph in just 5.0 seconds, and its V8 rumble and supercharger whine are aphrodisiacs. The automatic transmission is perfectly geared and has a sport setting for more immediate performance.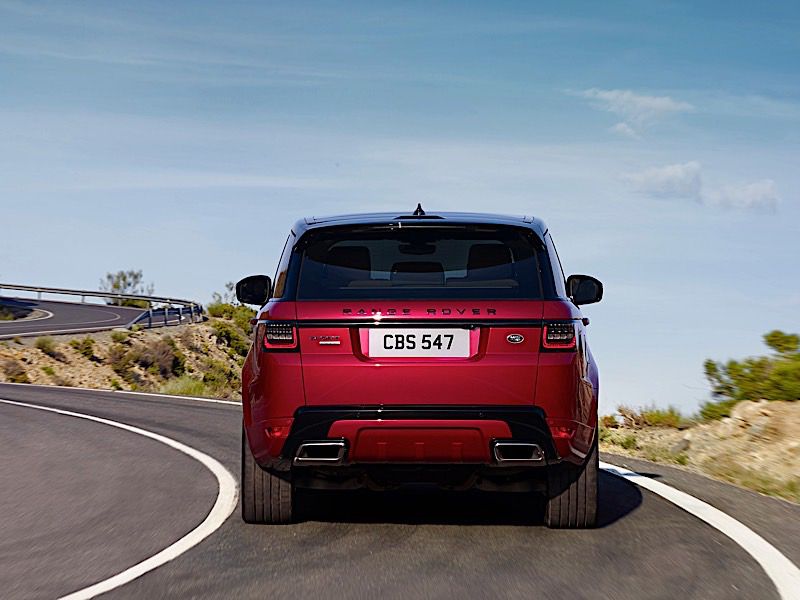 Photo by Jaguar Land Rover
Very Capable Off-Road
Although our 2018 Range Rover Sport Supercharged test vehicle cost over $85,000, we took it to an off-road park in Gorman, California, about 100 miles north of Los Angeles, to test its off-road capability. It had just rained, so there was plenty of mud to play in, and we managed to get through the day without any body damage. (We did scratch the paint, but it'll buff out.) The slick conditions were a real test for the Range Rover Sport's all-wheel drive system, which offers four settings for different surfaces. It also put its quick-acting traction control system to the test as well as its generous wheel travel and steep approach and departure angles.
Despite its big 20-inch tires, which are more designed for the street than the bog, the Range Rover Sport handled everything we threw at it. With its height-adjustable air suspension in its highest setting to increase clearance by 3 inches, it navigated some challenging trails, climbed some slick grades, and made mincemeat out of a sizable water crossing that was at least two feet deep. Land Rover says the vehicle can ford through 33.5 inches of water.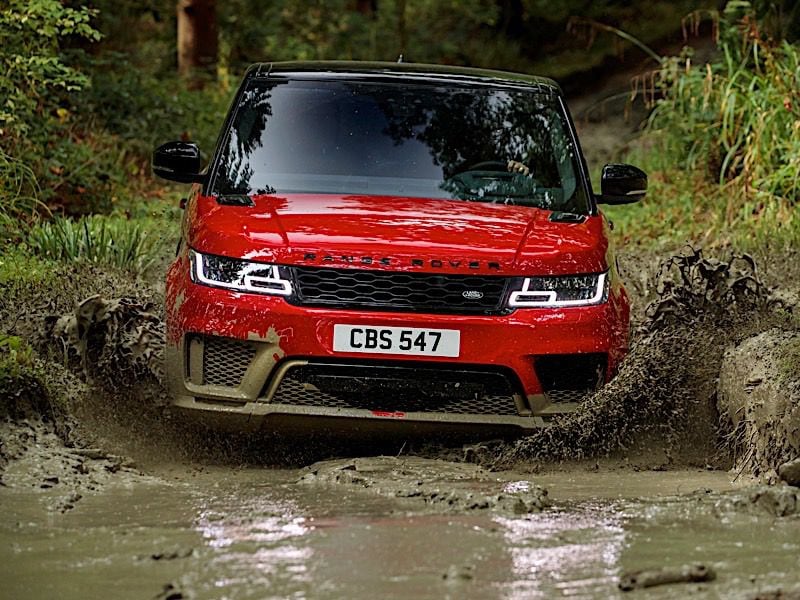 Photo by Jaguar Land Rover
Good Fuel Economy for the Class
If you buy a Range Rover Sport, the fuel economy might surprise you considering its size and weight, but it's still a thirsty beast. The standard supercharged V6 is rated at 17 mpg in the city and 23 mpg on the highway, while the supercharged 5.0-liter V8 drinks at the rate of 14 mpg city and 19 mpg highway. I averaged 16.1 mpg during a week of mixed driving around Los Angeles, including our afternoon of off-road hijinks. It's no Toyota Prius, but that's pretty good fuel economy for this class.
As you would expect, the 3.0-liter turbodiesel V6 is the fuel sipper of the range, with fuel economy ratings of 22 mpg city and 28 mpg highway. It also offers well over 600 miles of fuel range, which makes it a great road tripper. That's on par with BMW's diesel-powered X5, which is rated 23 mpg city and 29 mpg on the highway.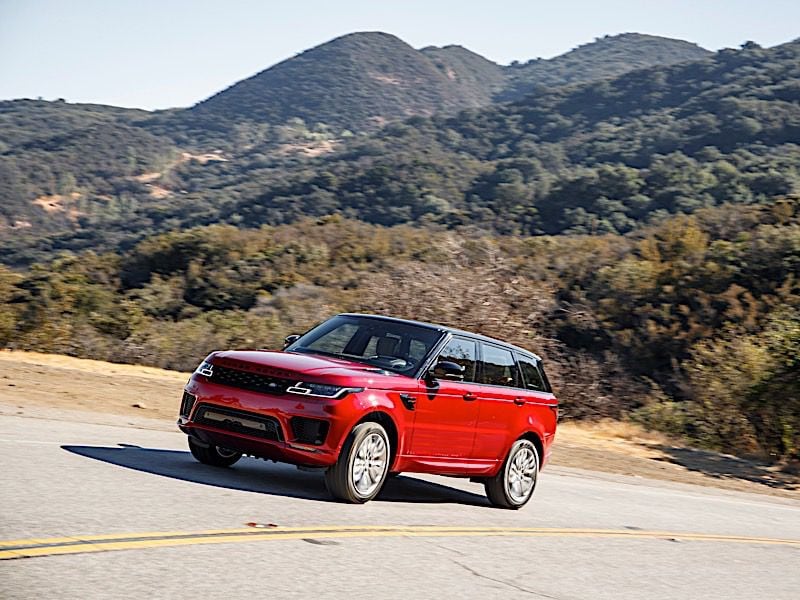 Photo by Jaguar Land Rover
Much Improved Interior
For 2018, Land Rover has radically improved the interior of the Range Rover Sport adding comfort, style, and technology. The front seats have been completely redesigned, and they're narrower than before. They're now more supportive, especially on long drives.
Also new is a dashboard setup that uses two huge 10-inch touchscreens to control the climate and infotainment systems. The design is sleek, modern, and user-friendly. The instrument cluster is also digital, and its 12-inch display is completely configurable with different gauges and frequently used features including phone, navigation, and media settings. With the updates, this remains one of the best interiors in the segment. Build quality is very high. All the surfaces are soft, all the knobs and switches feel expensive, and the large leather-wrapped steering wheel feels good in your hands.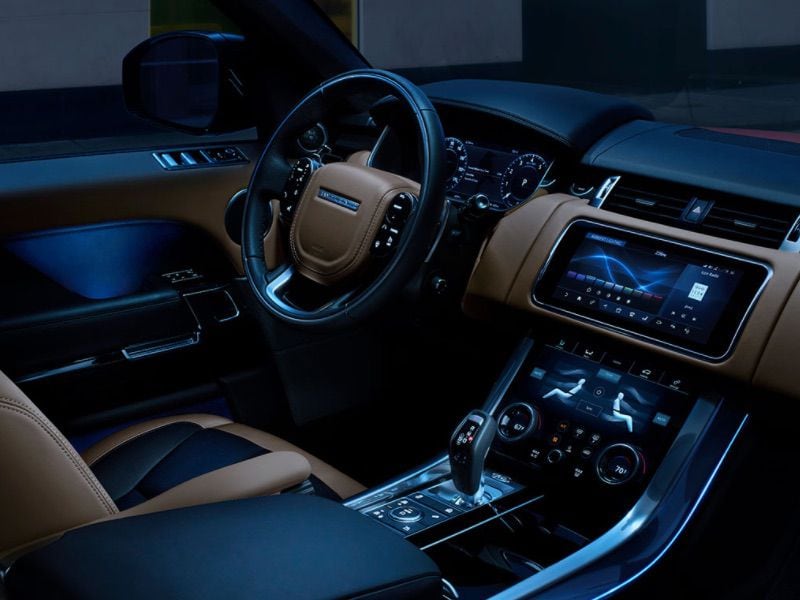 Photo by Jaguar Land Rover
Plenty of Family Space
Inside, the 2018 Range Rover Sport is the same size as the full-size Range Rover. Both SUVs share the same all-aluminum structure and generous 115-inch wheelbase. This gives the Range Rover Sport more rear seat space than you'll find in many of its competitors.
Unlike the flagship Range Rover, the Range Rover Sport is available with a third-row seat, which takes its seating capacity from five to seven. But beware, the third row is tight; it works well for small kids, though. Rear seat air conditioning vents are standard, while onboard Wi-Fi and heated rear seats are available. Young parents will also appreciate the easy-to-reach LATCH connectors in the outboard seats and easily accessed upper tether anchors on the seat backs.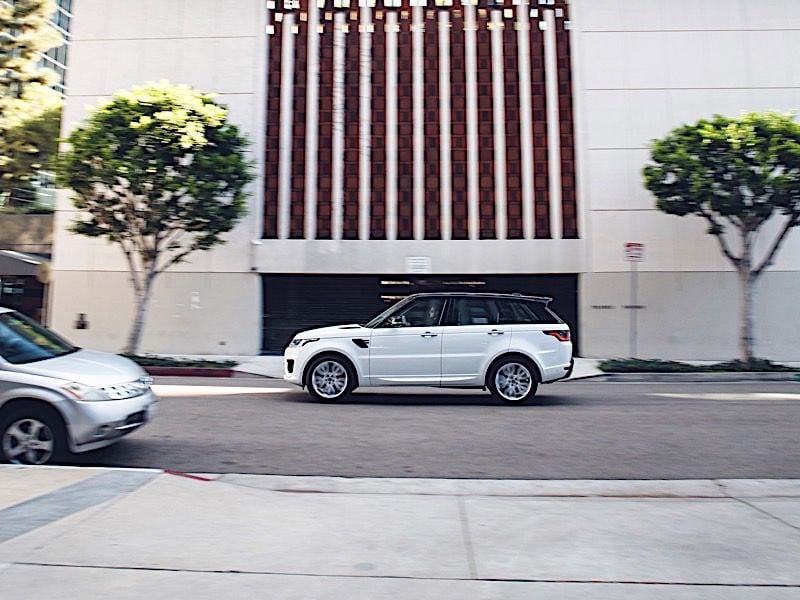 Photo by Jaguar Land Rover
Big Cargo Volume
Storage inside the Range Rover Sport's interior has also been improved, and it now includes cupholders that can be removed to reveal a deep new storage area. The center console bin is large enough to store an iPad, and there are large door bins.
There isn't much cargo space behind the optional third-row, but it easily folded flat, and cargo space behind the Range Rover's second row is a generous 27.7 cubic feet. The second row is split 60/40, and it also easily folds flat to open up a respectable 62.2 cubic feet of space, which is about average for the mid-size luxury suv class.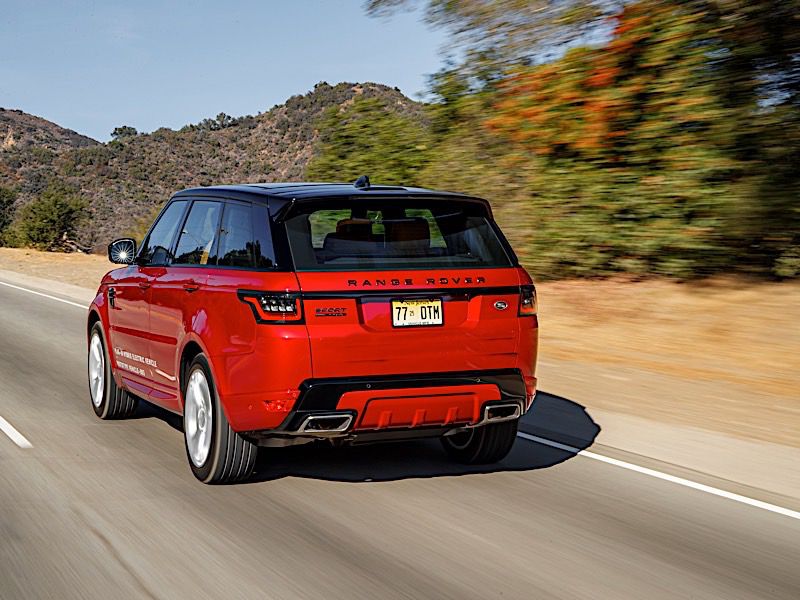 Photo by Jaguar Land Rover
Final Thoughts
As much as we appreciated the extra grunt and acceleration offered by our test vehicle's big V8, its additional cost and thirst should be considered before you choose it over the supercharged V6 models. That smaller engine makes more than enough power for most buyers. However, it's the turbo diesel engine we recommend. Its fuel economy is by far the best, and its $2,000 price premium is reasonable.
Overall, the 2018 Range Rover Sport is a solid overall choice for anyone looking for a luxurious and capable mid-size luxury suv. It's fun to drive, spacious, and family-friendly, and its style both inside and out is unsurpassed.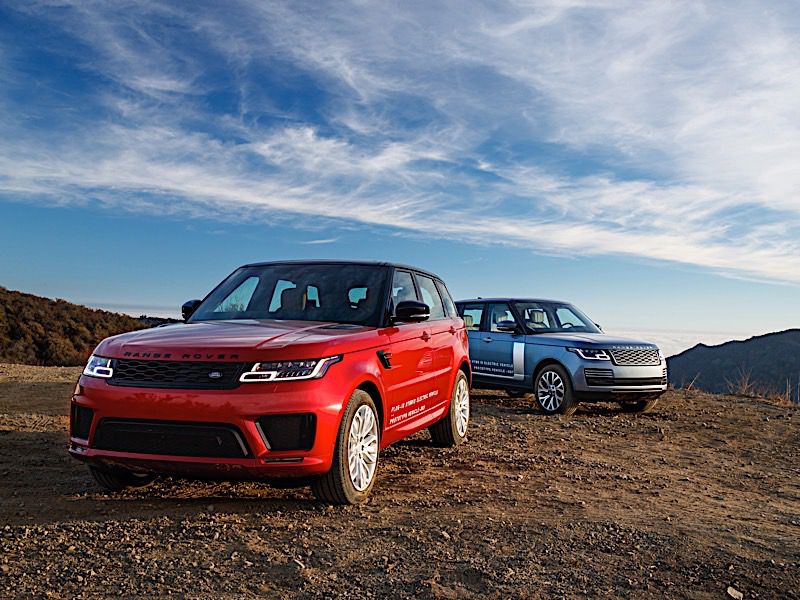 Photo by Jaguar Land Rover