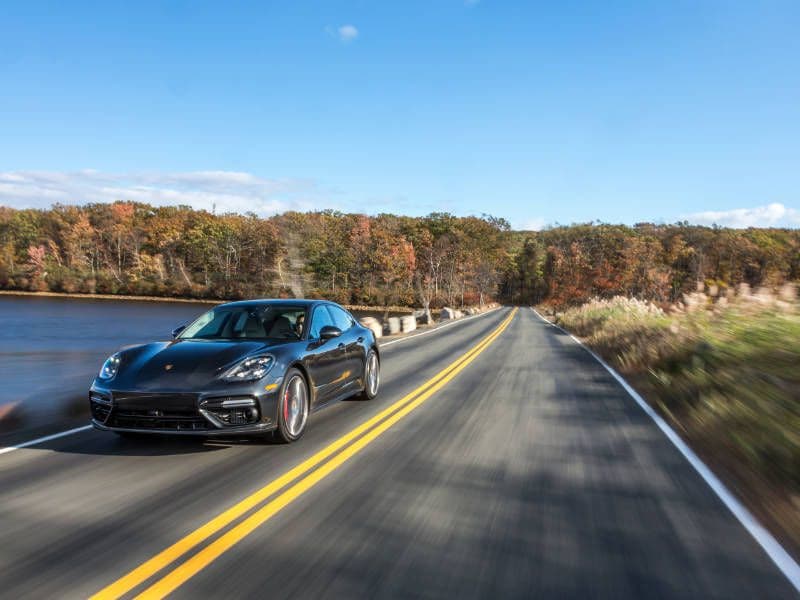 2017 Porsche Panamera front three quarter driving hero ・ Photo by Porsche
The secret to choosing between the 2018 Audi A7 and 2018 Porsche Panamera is to keep an unblinking eye on the costs. To be fair, this is not really a like-for-like comparison, because the Panamera is bigger and even more upmarket. So this match-up could be most useful to someone caught between stretching the budget to attain a Porsche or reining things in and getting something close for less outlay but still with glamor and guts.
We're focusing on the entry-level Panamera because it's closest to the A7 in price and power. If anyone wants to spend even more, they should head straight to the Porsche dealership. For the rest of us, let's see how it all shakes out.
Pricing and Trim Levels
The A7 starts out with Premium Plus trim, at $70,675. This is an extremely well-equipped car right from the factory. About the only things it doesn't have are features like power-closing doors, a corner-view camera setup, cooled front seats (with lumbar adjustment for the front passenger), and a head-up display. Fortunately, those are all part of Prestige trim, which comes in at $73,375.
The "plain" Panamera starts at $86,050 with rear-wheel drive, but it's $90,650 for the all-wheel-drive variant (all-wheel drive is standard on the A7). The Panamera is as well-stocked as its rival, but that still doesn't explain such a massive price difference.
: Audi A7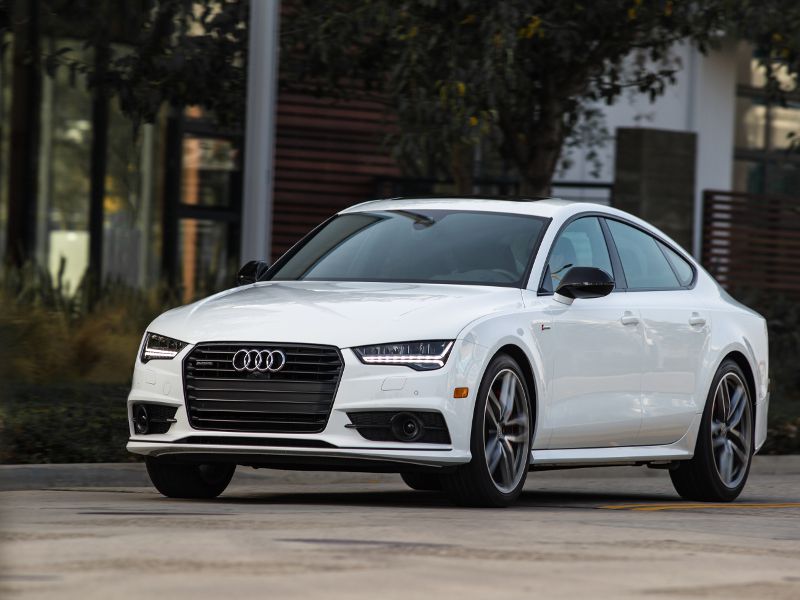 Photo by Audi
Options
The A7 offers a four-seater Competition Package of 20-inch alloy wheels, upgraded leather, sport rear differential/suspension/seats, a flat-bottomed steering wheel, and red brake calipers. A Driver Assistance Package brings more advanced safety aids. Other options include a high-end Bang & Olufsen audio system and infra-red night vision.
As well as the aforementioned (and pricey) all-wheel-drive system, the Panamera offers a 21-speaker Burmester sound system upgrade. This is recognized as one of the top audiophile brands. Multi-contour active front seats are just some of the many other options. This category was almost a tie, but Porsche is notorious for expensive extras. Admittedly, Audi's options are hardly bargains, but the more affordable A7 wins this round.
: Audi A7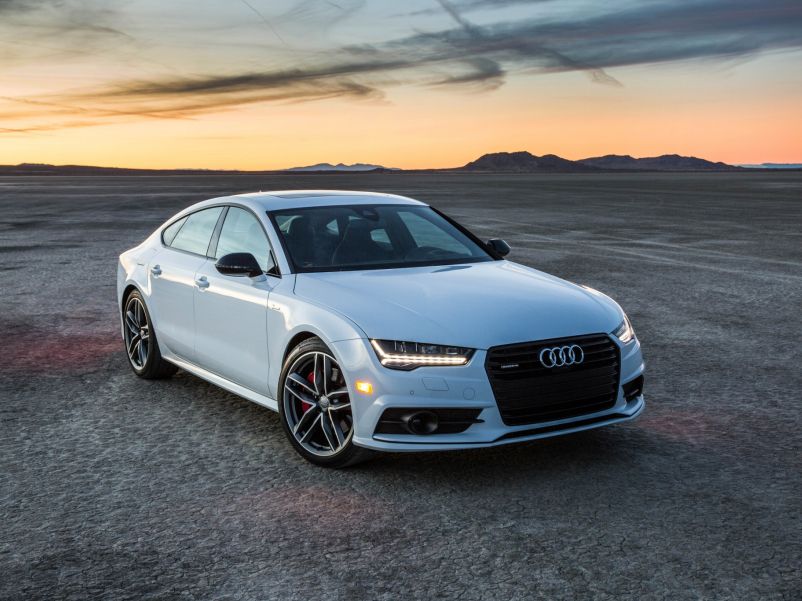 Photo by Audi
Engines, Transmissions, and Fuel Economy
The A7 deploys a supercharged 3.0-liter V6 with 340 hp and 325 lb-ft of torque. This is fed to all four wheels by an eight-speed automatic transmission. The Environmental Protection Agency estimates fuel consumption at 20 mpg in the city, 29 mpg on the highway, and 23 mpg combined.
The Panamera has a turbocharged 3.0-liter V6 generating 330 hp and 331 lb-ft. Its eight-speed automatic transmission is technically an automated manual, but the driver doesn't have to worry about that. As mentioned, rear-wheel drive is standard; all-wheel drive is optional. Fuel consumption is 21 city/28 highway/24 combined mpg with rear-wheel drive and 1 mpg less with all-wheel drive. 
: Tie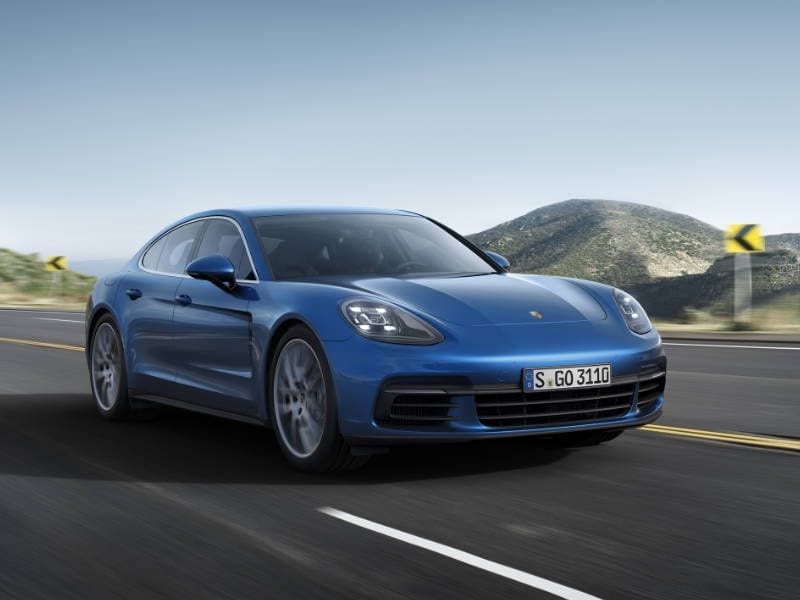 Photo by Porsche
Standout Features and Technology
The thing about the A7 is that it's such a well-integrated, well-pitched package. Nothing in particular stands out because everything is so good. But let's give credit to Audi for taking the "four-door coupe" idea (which really began with the Mercedes-Benz CLS sedan) and giving it a hatchback. A new generation is due for 2019 and should be much more tech-rich.
The Panamera makes greater use of technology the A7 doesn't offer, with the driver using the 12.3-inch touchscreen instead of reaching for various switches. The other big plus point about the Porsche is that it's deceptively agile for such a big car.
: Porsche Panamera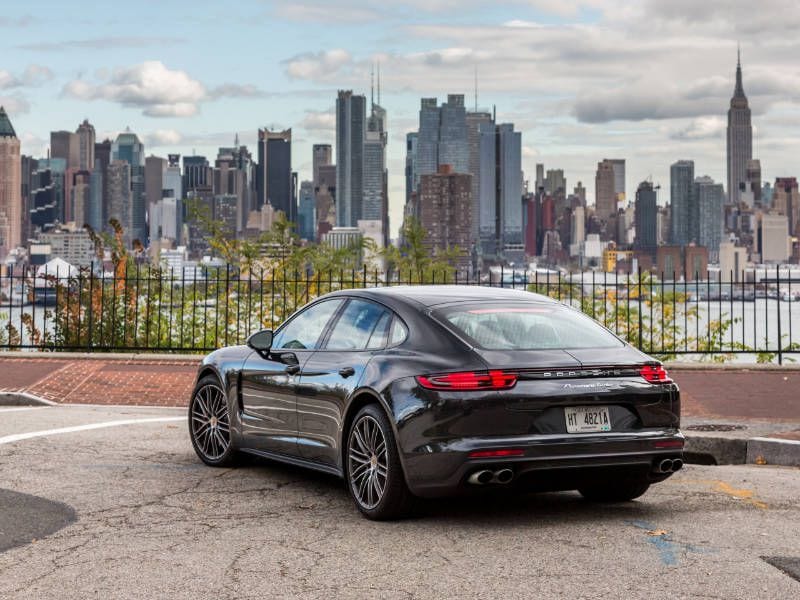 Photo by Porsche
Driving
Under normal conditions, the A7's all-wheel drive setup has a 40/60 power split front to rear. The feel is like a rear-wheel drive car, usually an enthusiast's preference. It can shift that power to any wheels with the most grip, though. Standstill to 60 mph takes 5.2 seconds (not super-fast, but brisk). Top speed is 130 mph.
The Panamera pushes that envelope a little more, to 164 mph, but it's slower in the sprint to 60 mph by 0.2 of a second. Some cars feel great on the road but show their limitations on a track. With Porsches, their positive qualities go into a higher definition. As good as the A7 is in this category, the Panamera is better.
: Porsche Panamera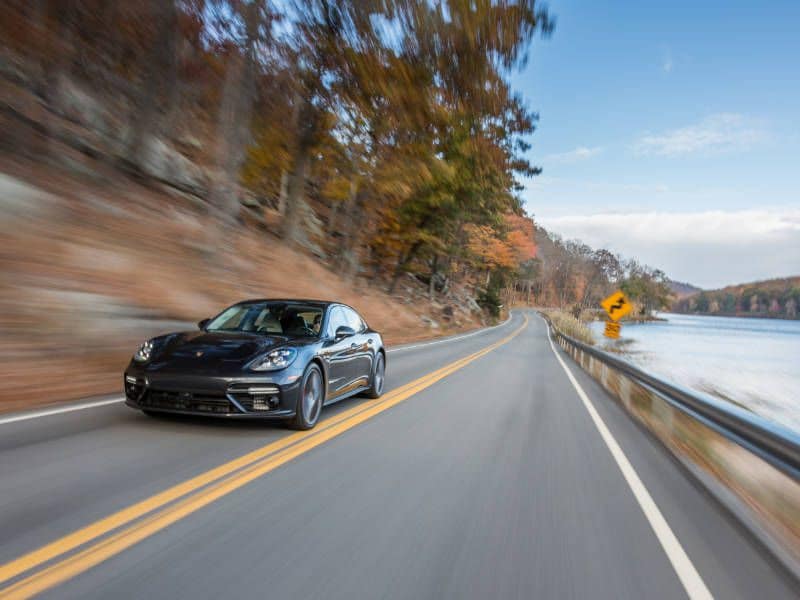 Photo by Porsche
Exterior Design
The A7's first generation may be winding down, but it doesn't come across as dated. That's how clever and timeless the original design was. We're now into the second generation of the Panamera. The first model's looks came in for quite a bit of criticism. Most of those naysayers agree that this model's lines hang together better. But there's still no getting away from the basic premise of a large four-door hatchback designed with cues taken from Porsche's iconic 911 sports car.
Tastes vary, yet there are certain rules regarding proportions that will always make things more agreeable to the human eye. In light of this, the beauty contest goes to the A7.
: Audi A7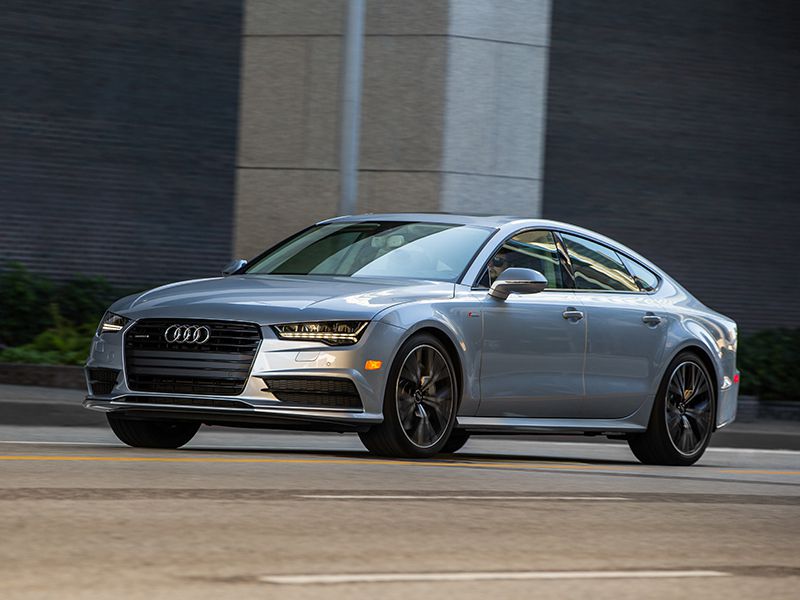 Photo by Audi
Interior Design
Though it's been around for longer, the A7's cabin still looks sophisticated, understated, and elegant. The materials remain of good quality. Audi did everything right at the A7's outset. The Panamera's cabin is more modern, naturally, and it doesn't have a whole lot of switches, relying instead on the touchscreen for many commands.
What's impressive about both cars is how they can convey high class, a driver-focused ease of use, excellent cabin space, and a great amount of practicality — all at the same time. It would be wrong to favor one car over another in this respect, so we're calling a draw.
: Tie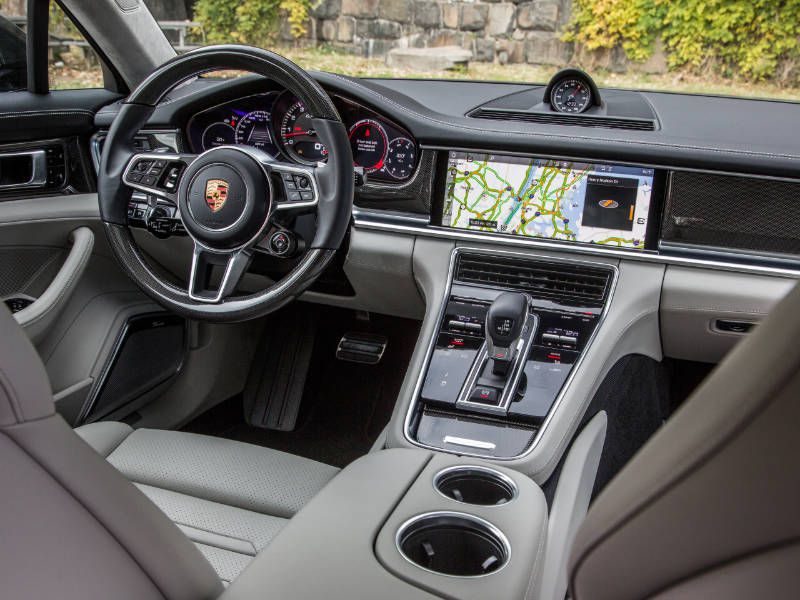 Photo by Porsche
Comfort and Cargo Capacity
The A7 scores well on both these counts, with plenty of room for occupants. Cargo space behind the rear seat is a big 24.5 cubic feet. Audi doesn't give an official cargo volume for when the back seat is folded, but it's something in the region of 49 cubic feet.
The Panamera is bigger than the A7. The EPA categorizes it as a large car, whereas the A7 is a mid-size. They're the same height, though. Porsche allocates 17.6 cubic feet to the trunk area, which expands to 47.3 cubic feet when the rear seat is folded down. Both cars have supportive and well-shaped seats that might seem firm at first, but prove their worth when more hours are spent behind the wheel.
: Tie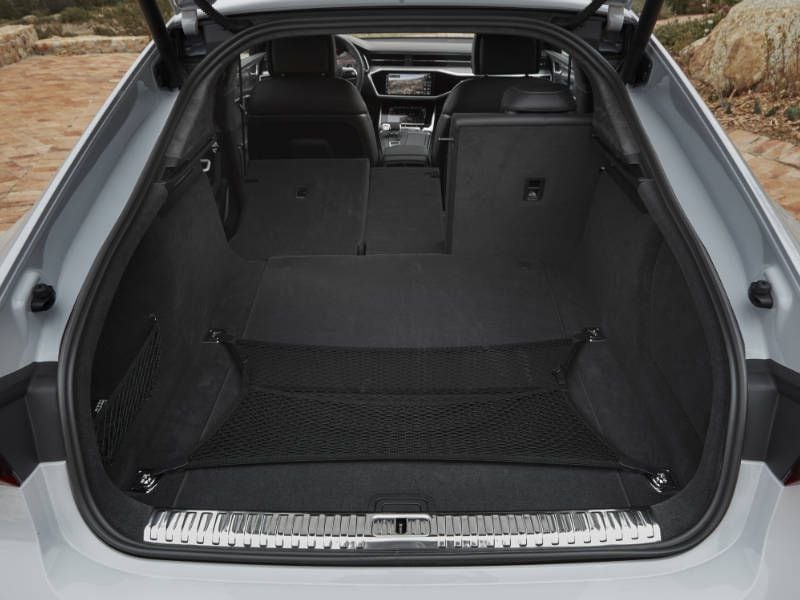 Photo by Audi
Safety Ratings
The A7 has a standard forward collision mitigation system that includes a driver alert, rear brake light flashing, and automatic window-closing and seatbelt tensioning. The Driver Assistance Package ($2,000) brings adaptive cruise control with automatic braking, active lane assistance, and automatic high beams. The Panamera's optional Assistance Package brings Night Vision Assist, Lane Keep Assist, and adaptive cruise control. That also means going for at least the LED headlights with Porsche's Dynamic Light System, which could add up to at least $6,390.
Neither car has been crash-tested in the United States, but people should be equally as safe in either. Once again, the high price of the Panamera's options nudges us toward giving this section to the A7.
: Audi A7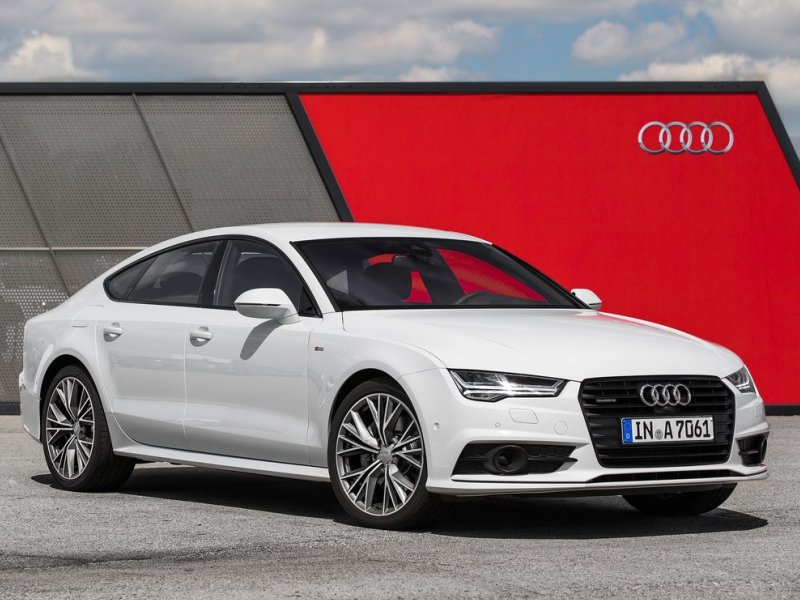 Photo by Audi
Overall
If the budget allows, go for the Panamera. It's appreciably newer, it's somewhat larger, and it's a Porsche — with all the dynamic delights implied by that famed badge.
That's not to say it's the best at every aspect, especially not the financial one. If all-wheel drive is a necessity and you don't want to splash out more than $90,000, then the Audi is the right choice. Since this is an outgoing generation, it might be worth negotiating hard for an even better deal. And the A7 hardly feels like the second prize. At this level, we're only quibbling about degrees of greatness.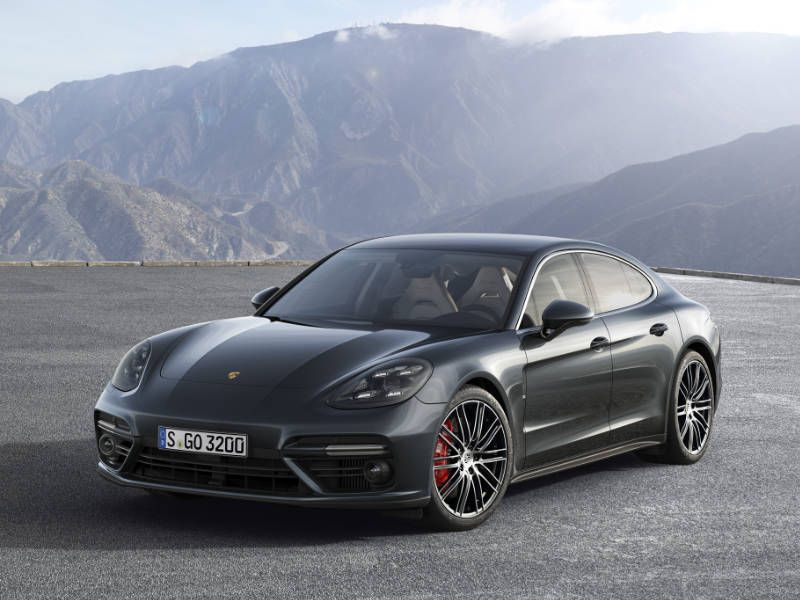 Photo by Porsche