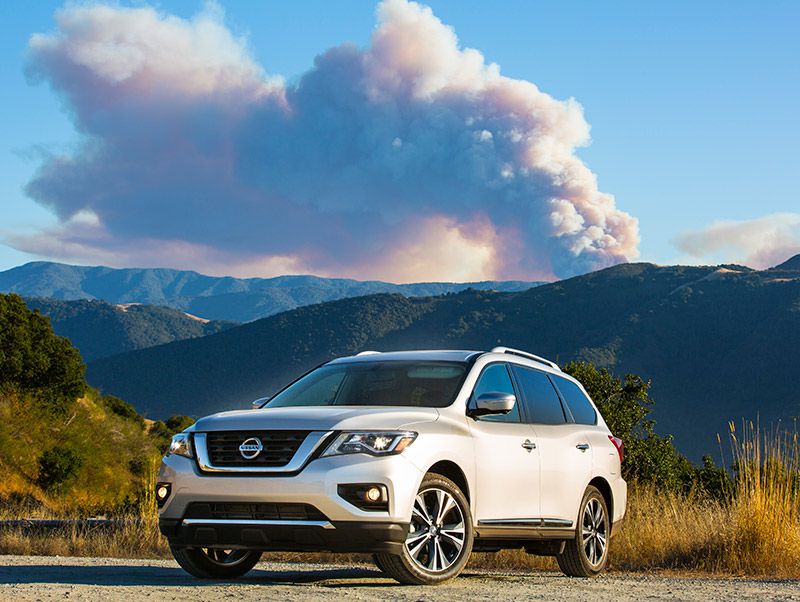 2018 Nissan Pathfinder hero ・ Photo by Nissan
Some cars and trucks just have great names. No random alphanumeric sequences. No made up words like Catera or Azera. Are those cars or prescription drugs? And one of the greatest names of all time is Pathfinder. A Pathfinder is rugged, tough, and intelligent. It will take you anywhere you want to go. It's what dreams are made of. Pure fantasy. Forget the office, Martha — we're going on an adventure.
Nissan first introduced the Pathfinder in 1987 as an off-road-ready SUV with a tough look and a daring disposition. Somewhere along the line, the Pathfinder became more domesticated, growing a third-row seat, a smoother ride, and more luxurious accommodations. It also became one of Nissan's most popular SUVs. Last year, Nissan gave the Pathfinder a redo with a revised look, a new more powerful engine, and more safety features, and today it competes in the ever-expanding seven-passenger three-row SUV segment. Its main competition includes a long list of popular models like the Ford Explorer, Chevrolet Traverse, Toyota Highlander, Volkswagen Atlas, and Mazda CX-9.
Four Trim Levels to Choose From
Built in Tennessee, the 2018 Nissan Pathfinder is offered in four trim levels: S, SV, SL, and Platinum. Each is available with front-wheel drive, but all-wheel drive is available across the range for an additional $1,690. All 2018 Pathfinders are powered by a 3.5-liter V6 cranking out 284 horsepower, which is strong for the class. Unlike many of the Pathfinder's competitors, there is no four-cylinder engine option. Every Pathfinder also gets a continuously variable automatic transmission, or CVT.   
Base prices start at $31,265 and range up to almost $45,000 for a top-of-the-line Pathfinder Platinum with all-wheel drive like our test vehicle. Add options, including a $1,700 rear seat entertainment system with two 8-inch screens, and our test vehicle cost $47,840.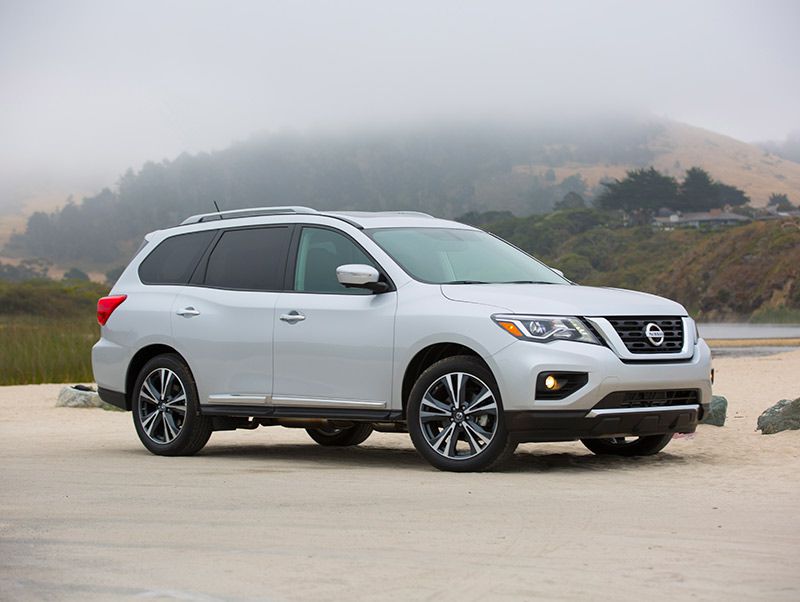 Photo by Nissan
Powerful, Comfortable, and Easy to Park
Even with 284 horsepower, we were concerned that the 2018 Nissan Pathfinder would be sluggish. After all, this is a big vehicle measuring almost 200 inches long and weighing over 4,650 pounds. But we had nothing to worry about. This is a quick SUV, with plenty of punch off the line, hitting 60 mph in just 7.4 seconds. Those looking for even better acceleration do have other options, including the Mazda CX-9, the 295-hp Toyota Highlander, and the muscle car of the class, the V8-powered Dodge Durango. 
Around town, the Pathfinder's CVT is extremely smooth, if a little lazy, and the big SUV feels smaller than it is. It's easily maneuvered and easy to park thanks to its short front overhang and tight turning circle. It also rides comfortably, even with our test vehicle's massive 20-inch wheels, but the suspension also keeps body roll to a minimum. It handles well for this class.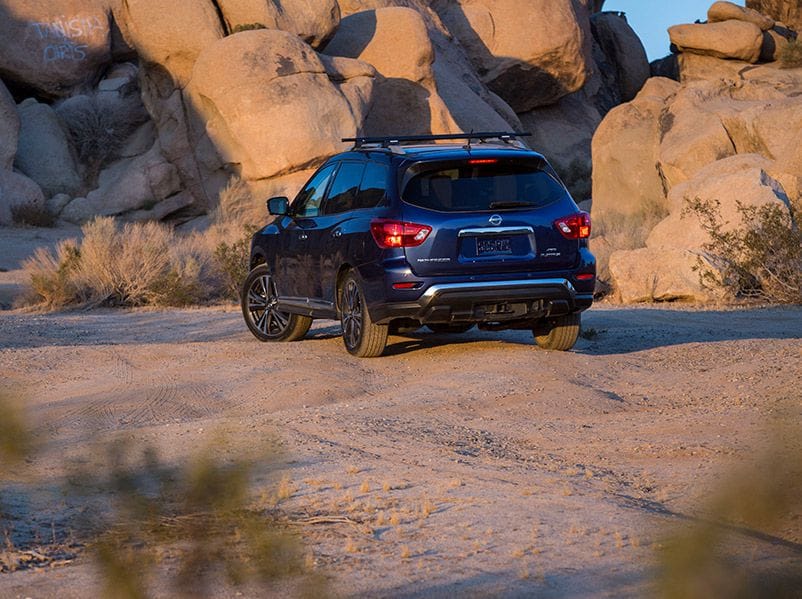 Photo by Nissan
Surprising Fuel Economy
The 2018 Nissan Pathfinder is also surprisingly fuel-efficient considering its high levels of horsepower. All Pathfinders are rated 20 mpg in the city and 27 mpg on the highway with front-wheel drive and 1 mpg less with the optional all-wheel drive, on regular fuel. That matches the fuel efficiency of the competing Honda Pilot, which has a bit less power, as well as the more powerful Toyota Highlander. We averaged 20 mpg in mixed driving around Los Angeles in our all-wheel drive test vehicle. 
If you're looking for radically better fuel economy in this class, check out the Toyota Highlander Hybrid, which is the only partially electrified model in the segment. The EPA rates its fuel economy at 30 mpg in the city and 28 mpg on the highway.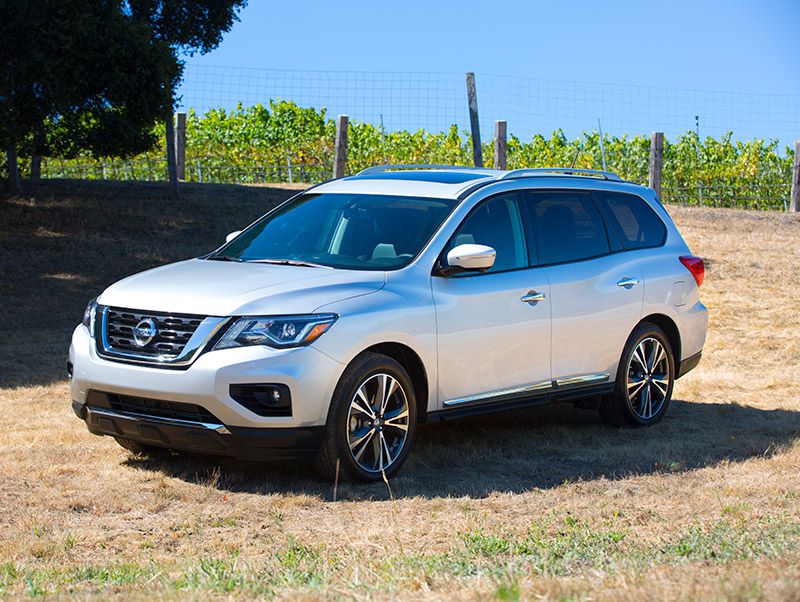 Photo by Nissan
Not Off-Road Ready
While the original Nissan Pathfinder was an off-road plaything, the 2018 model is not. Yes, it's available with all-wheel drive, but the system does not offer a low range. The Pathfinder also lacks other important off-road hardware like a locking differential and skid plates to protect its undercarriage. There also isn't much wheel articulation in the Pathfinder's suspension, and ground clearance is a problem. The Nissan's deep chin spoiler looks great, and it improves aerodynamics and fuel economy, but it's begging to be damaged out on the trail by a large rock or steep incline. 
Don't misunderstand, the Pathfinder is rugged enough for a basic dirt road or the muddy parking lot at your kid's soccer match, but you should consider other SUVs if you're planning to do serious off-roading. The best for that type of adventuring are probably the Jeep Grand Cherokee, Chevrolet Tahoe Z71, and Land Rover Discovery.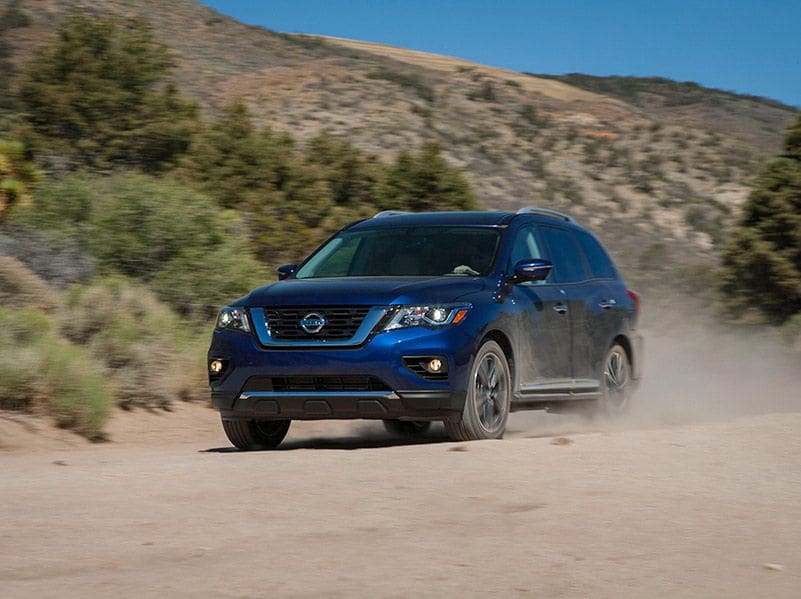 Photo by Nissan
Comfortable High-Quality Interior
Visibility is excellent, and the front seats are large and well-shaped. On our Platinum test vehicle, they're also heated and cooled, and the driver's seat is 10-way adjustable. Overall, the Pathfinder's interior is well-laid out, well-constructed, and spacious. There are high-quality materials like soft leather and wood, and upscale bright trim decorates many of the controls, shifter, and cupholders. The analog gauges are attractive and easy to read, and a customizable screen displays your fuel economy and other important information.
All the controls are where they should be. The audio and climate controls have large knobs and buttons, and the 8-inch touchscreen is one of the largest in the class. Nissan's infotainment system is quick to respond to your inputs, and the navigation system is easy to program. Our test vehicle did offer Apple CarPlay and Android Auto connectivity, and Bluetooth is standard, although onboard Wi-Fi is not available. Our only complaint is the foot-operated parking brake, which feels old fashioned. A push-button electronic parking brake has become common at this price point.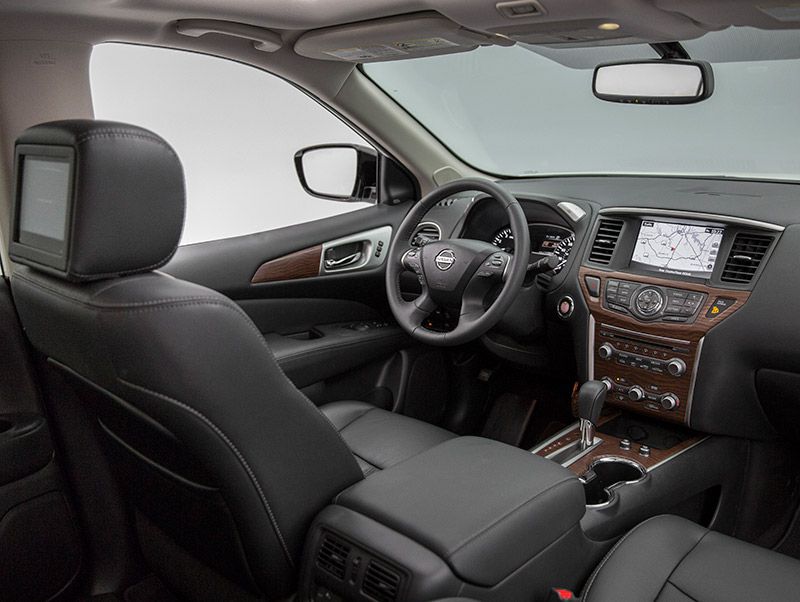 Photo by Nissan
Family Friendly Interior and Cargo Space
Seven-passenger seating is standard, and third-row access is easy once you push a section of the second-row seat forward. Second-row captain's chairs are not available, although the Nissan's second-row bench reclines and can slide forward to increase third-row legroom. Interior storage includes a large console bin, big door pockets that have slots for water bottles, and two big well-placed cupholders next to the shifter. There's also a sizeable bin ahead of the shifter for your phone and house keys.
Cargo space is also generous. The Pathfinder offers 16 cubic feet of space behind the third-row seat, which is split 50/50 and folds flat very easily. With it folded, the space opens up to 47.8 cubic feet. With the second row, which is split 60/40, also folded flat, there's 79.8 cubic feet of space. These numbers are strong for the class. Most Pathfinders include a power-operated liftgate. It can also tow 6,000 lbs, which Nissan says is class-leading capability. Nissan's larger, full-size Armada, which competes with the likes of the Chevrolet Tahoe and Ford Expedition, can tow 8,500 lbs.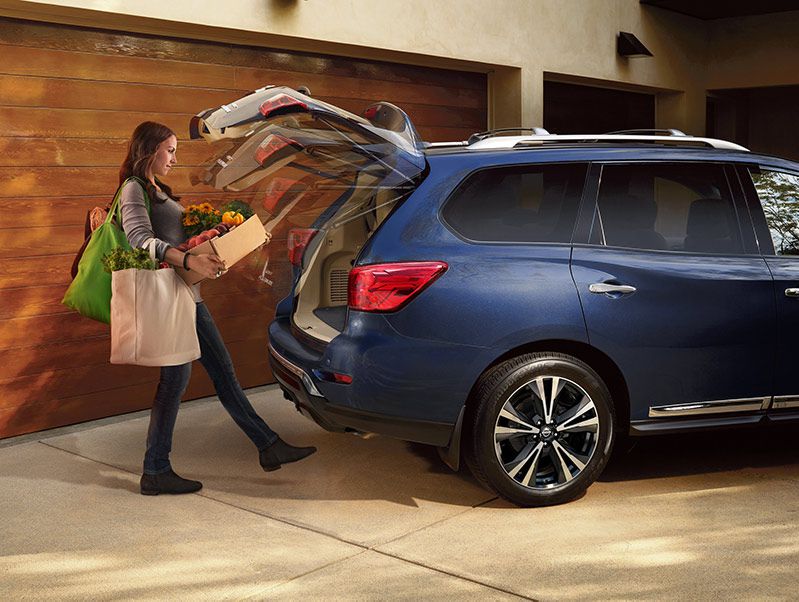 Photo by Nissan
High-Tech Safety Systems
Our 2018 Pathfinder Platinum test vehicle was also equipped with a long list of active safety systems and driver aids, including a blind-spot monitor with a rear cross-traffic alert and intelligent cruise control. Automatic emergency braking, which will warn you of a probable frontal collision and apply the brakes to avoid or mitigate the impact, is standard on all models.
Every Pathfinder also comes with a new rear door alert system, which reminds you to check the back seat for kids or pets before leaving the vehicle. And we're huge fans of Nissan's Around View Monitor, which is a backup camera on steroids, offering a 360-degree bird's eye view of the SUV and surrounding obstacles at low speeds.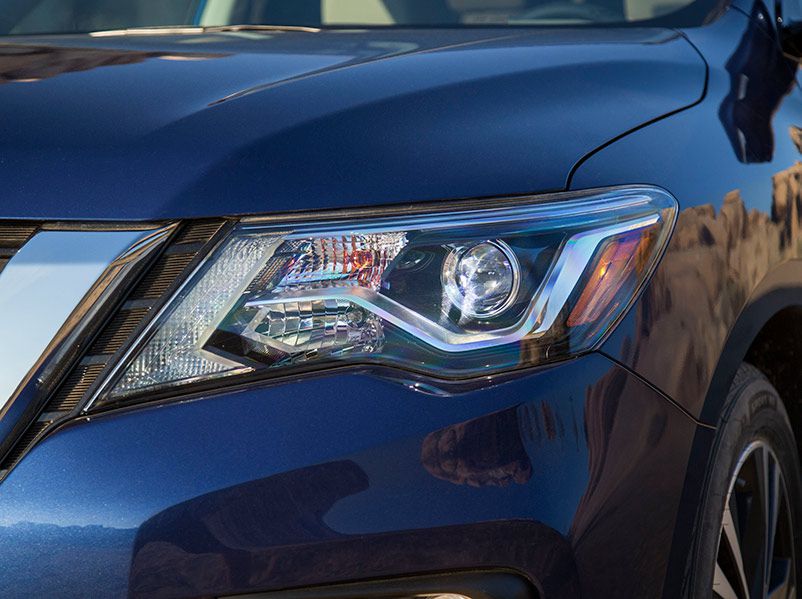 Photo by Nissan
Understated Styling
Last year, Nissan heavily revised the Pathfinder's styling, giving the SUV an all-new front clip with a smoother hood and front fenders. There was also a new grille, headlamps and front bumper. The new look is cleaner more upscale but also bit less daring. Overall the Pathfinder's appearance is simple, clean, and attractive. It isn't one of the more aggressive designs in the mid-size SUV class, but its sculpted sides, long roofline, and severely raked windshield keep it from being boring. Those looking for a more ornate look might check out the Infiniti QX60, which shares the Pathfinder's platform and powertrain, as well as the Toyota Highlander, the Mazda CX-9, and the Ford Explorer, which borrowed much of its look from Range Rover.
All models roll on big 18-inch alloy wheels except for the Platinum, which gets a set of 20-inchers as well as additional chrome trim. If chrome ain't your thing, Nissan offers the blacked out Midnight Edition. Mr. and Mrs. Vader, your SUV is ready.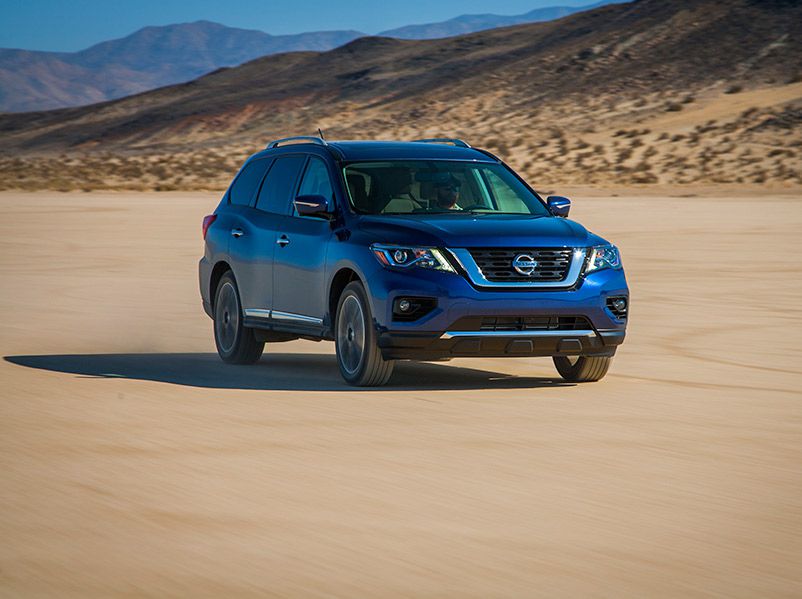 Photo by Nissan
Desirable Overall Choice
As much as we appreciated the additional luxury and all the bells and whistles of our Pathfinder Platinum test vehicle, it's quite expensive. The SV and SL models are better values if you're on a budget. Both are very well-equipped and keep the Pathfinder's price tag below $40,000.
Overall, the 2018 Nissan Pathfinder remains a desirable overall choice for those looking for a mid-size SUV with three-row seating. The Pathfinder is stylish, comfortable, powerful, and refined. It also gets very respectable gas mileage, especially on the highway, and it offers a family-friendly interior with plenty of space.
Plus, it has a great name.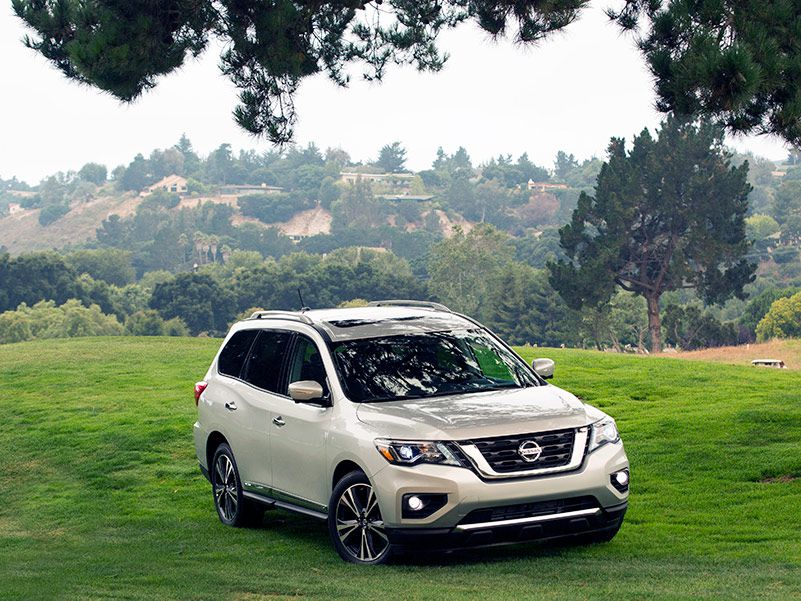 Photo by Nissan