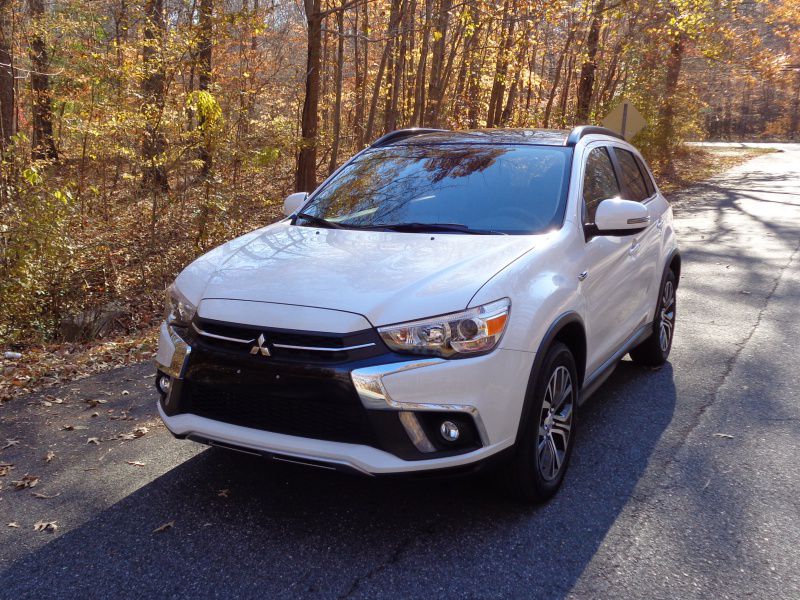 1 2018 Mitsubishi Outlander Sport front ・ Photo by Brady Holt
When the Mitsubishi Outlander Sport debuted as a 2011 model, there was no recognized class of "subcompact crossovers." The Toyota RAV4 and Honda CR-V, which had originated the idea of a small car-based SUV, had gotten steadily larger and more popular since their pint-sized 1990s iterations. The 2011 Outlander Sport was an oddity. But with tidy dimensions and a low price, it found buyers.
The competition caught on to this formula. Now, the subcompact crossover class is perhaps the fastest-growing market segment, with every major automaker offering at least one entry. Notable models include the Chevrolet Trax, Honda HR-V, Jeep Renegade, and Nissan Rogue Sport. Mitsubishi is even broadening its own field with the all-new 2018 Eclipse Cross, which slots just above the Outlander Sport. With all of these new competitors, you might assume the aging Outlander Sport has become hopelessly outclassed. But depending on what you're looking for, it might still be just right for you.
Not Too Expensive
The 2018 Mitsubishi Outlander Sport is priced from $20,385, a respectable starting point for even the smallest crossover. While that's not the lowest price in its class, it's less than a Chevrolet Trax or Nissan Rogue Sport, and nearly $3,000 below the new Eclipse Cross. Mitsubishi also includes generous standard equipment, including power windows, locks, and mirrors; cruise control; Bluetooth connectivity; a 7-inch touchscreen; and automatic climate control. Most buyers will pay $1,200 extra to swap a five-speed manual transmission for a continuously variable automatic, or CVT. For another $1,500, you can upgrade from front-wheel drive to Mitsubishi's "All-Wheel Control" all-wheel drive system.
Our test car was the fully loaded top-trim SEL AWC, which includes leather upholstery, a larger engine, a panoramic sunroof, a nine-speaker sound system, an emergency automatic braking system, and a lane-departure warning. Its sticker price reached $29,310. While some competitors cost even more, that's on the spendy side for a subcompact crossover. By the way: Don't confuse the Outlander Sport with the Outlander, a larger and more expensive seven-passenger crossover that shares little with the Sport aside from its name.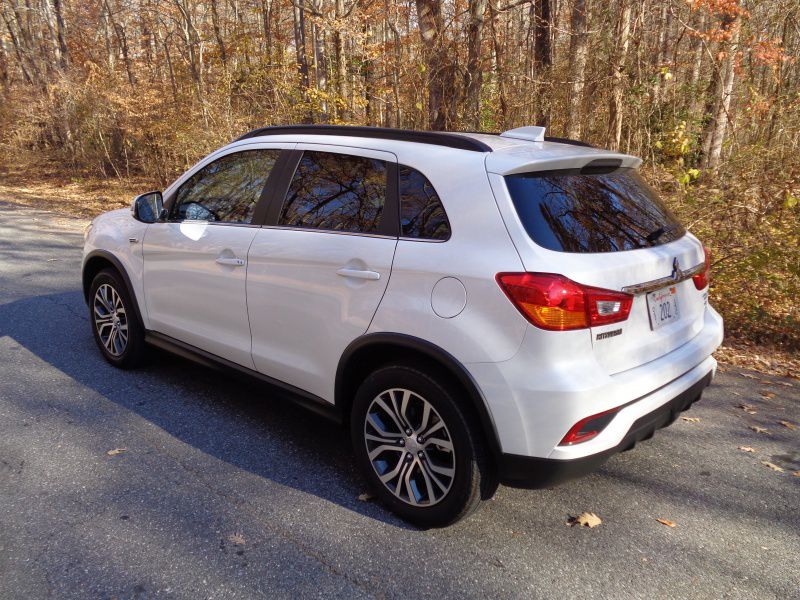 Photo by Brady Holt
Doesn't Look Old
We mentioned that the Outlander Sport has been around since 2011. That's a long time for a car to go without major changes. Mitsubishi has instead elected to give the Outlander Sport a series of small updates over the years, most recently for 2018. This year, the crossover got some extra chrome on the grille, a revised rear bumper, a newly available emergency automatic braking system, and an upgraded infotainment system with optional Apple CarPlay and Android Auto integration.
So despite its old bones, the Outlander Sport avoids looking like an old car. Its boxy silhouette has aged well, continuing to look more like an SUV than many newer hatchback-like rivals. It's more of a size-small truck than just a car with all-wheel drive (despite its car-like mechanical roots). Even the interior still looks fresh — it's not flashy, but the crisp gauges remain fetching, and this year's new infotainment system dresses up the otherwise plain dashboard.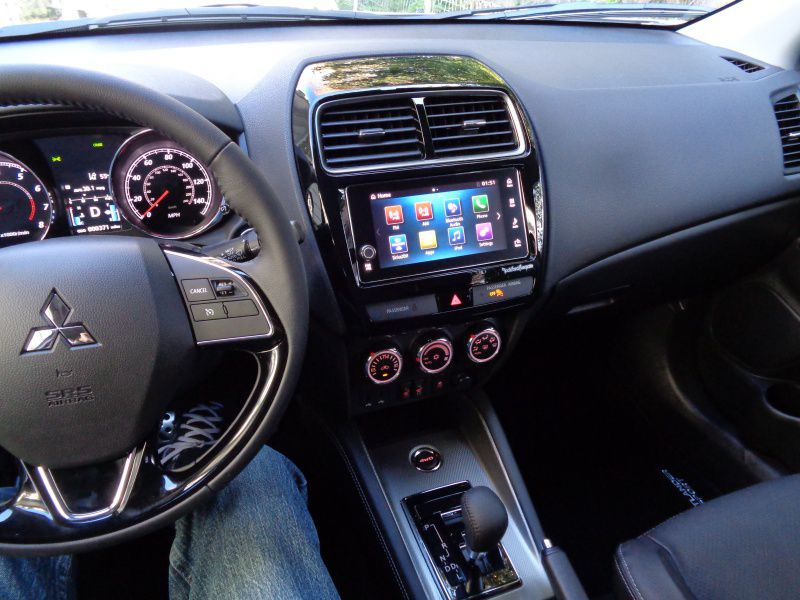 Photo by Brady Holt
High Seating Position
Many of the latest subcompact crossovers feel like ordinary hatchbacks from behind the wheel. Hop into a Mazda CX-3 or Toyota C-HR, and you get the fairly low seating position of a sporty compact car. But in the Mitsubishi Outlander Sport, high seats provide the commanding forward view of an SUV. Granted, it's still a small SUV. You're not going to tower over smaller vehicles like you would in a Chevrolet Tahoe or a Toyota Land Cruiser. But as its SUV-like styling promises, the Outlander Sport gives you more of an SUV flavor.
The seats themselves aren't amazingly comfortable, even on our leather-trimmed SEL test car. They're a little hard and flat. But their chair-high positioning and the Outlander Sport's respectable interior volume keep things appealing.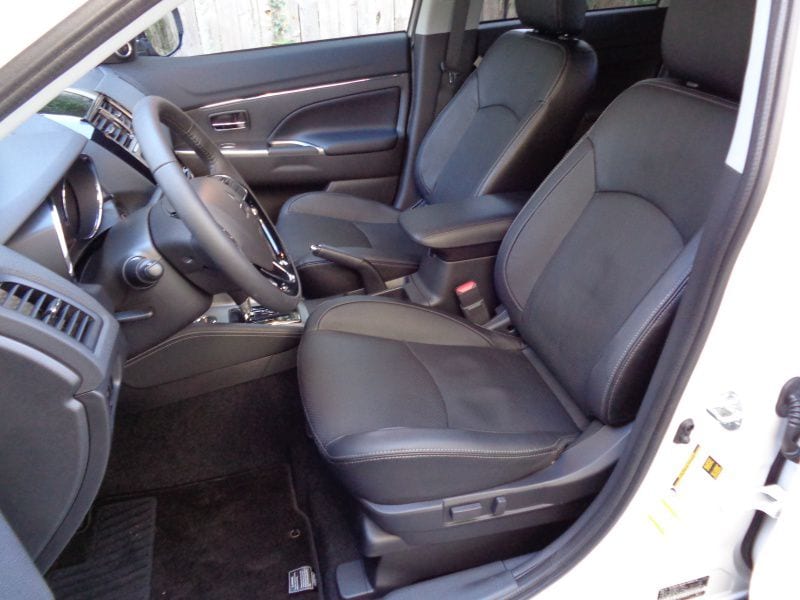 Photo by Brady Holt
Decent Interior Space
As a subcompact crossover, the Outlander Sport is bound to have less interior space than the best-selling Honda CR-V and Toyota RAV4 that are one size larger. But thanks to its boxy body, the little Mitsubishi can still pack in people and cargo. Four adults can sit comfortably — while the rear seat doesn't have ample knee clearance, its high cushion and ample foot space ensure that there's enough room. A third adult can squeeze into the center-rear position, aided by the nearly flat floor.
For cargo, the Outlander Sport can fit 21.7 cubic feet of luggage behind the rear seat, and 49.5 cubic feet with the rear seat folded flat. That's above average for the subcompact crossover class, though a bit less than a Honda HR-V or Nissan Rogue Sport.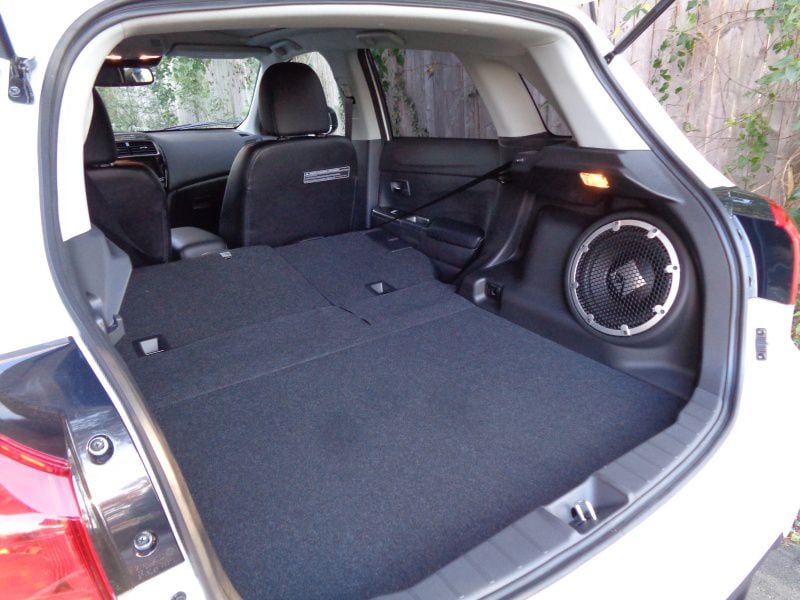 Photo by Brady Holt
Not a Sports Car
The Outlander Sport is an easy-to-park city car that packs respectable interior room into a subcompact footprint. But unfortunately, nothing about this usefulness contributes to a zesty fun factor. This SUV is more utility than sport.
The Mitsubishi's base 2.0-liter four-cylinder engine has just 148 horsepower, among the lowest of any crossover. Even the tested 2.4-liter, 168-hp four-cylinder is less than fiery. A sensitive throttle makes the Outlander Sport leap eagerly off the line, but the engine quickly sounds like it's working too hard. In fact, the engine note makes the Outlander Sport feel slower than it is — it's actually right on par with the competition, at least with the 2.4-liter engine. The Outlander Sport also isn't especially agile. While it's easily maneuverable, fun-to-drive poise just isn't its forte. Nor does it have a cushy ride, though that's a common drawback to subcompact crossovers.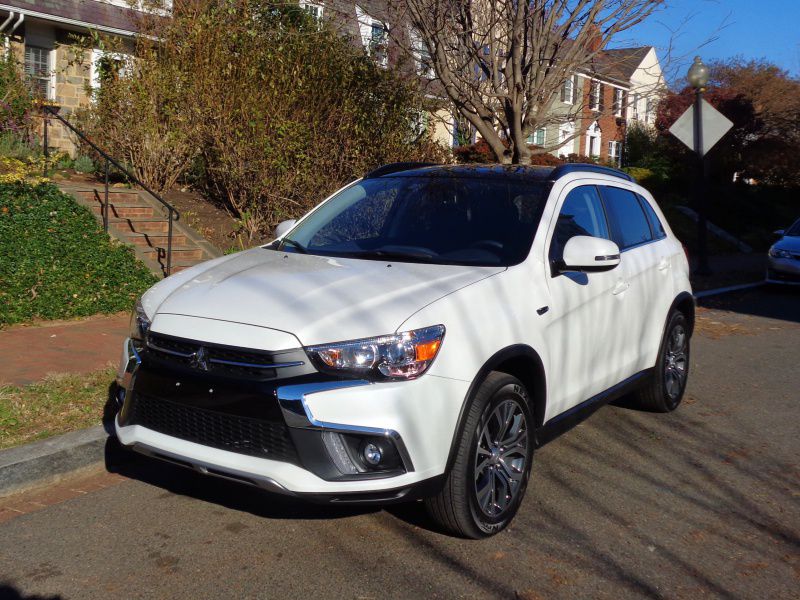 Photo by Brady Holt
Safety and Fuel Economy
Though it's not especially powerful, the Outlander Sport isn't a standout for fuel economy. EPA estimates range from 25 mpg to 27 mpg in mixed driving, depending on the engine and transmission you choose and whether you get front-wheel drive or all-wheel drive. The good news is that the peppier 2.4-liter engine only costs you 1 mpg. We averaged 26.7 mpg during a weeklong test in our 2.4-liter AWD model. That's decently thrifty, but some competitors and even some larger crossovers do even better.
New for 2018, the Outlander Sport has added emergency automatic braking to its list of available safety features. The new feature earned the Insurance Institute for Highway Safety's top score of Superior, meaning that it applied the car's brakes in time to entirely avoid a collision at 12 mph and 25 mph. Unfortunately, to get this valuable feature, you need the top-of-the-line SEL with the optional $2,000 Touring Package — while it's standard equipment on some competitors. If you don't stop in time, the Outlander Sport did decently well in crash tests. It didn't earn perfect scores, but it's far from unsafe.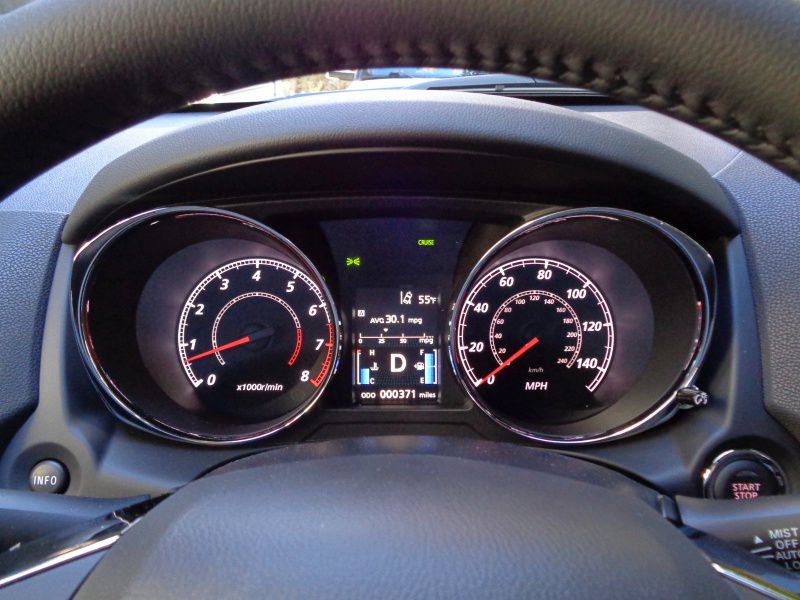 Photo by Brady Holt
Long Warranty Coverage
Hyundai and Kia are the brands known for the best warranty coverage, but Mitsubishi offers equally generous terms: five years or 60,000 miles of bumper-to-bumper protection, 10 years or 100,000 miles for the engine and transmission, and five years (with unlimited miles) of free roadside assistance.
Other competitors offer less generous protection, which means that if you plan to keep your crossover for a long time, there's a greater risk that you'll have to pay for repairs yourself. With the Outlander Sport, you won't have to worry about the costs of a mechanical failure for many years.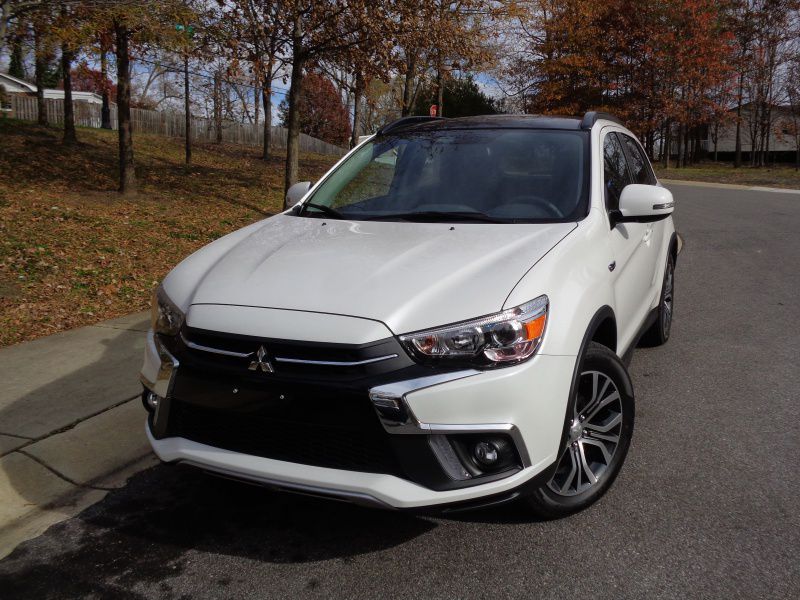 Photo by Brady Holt
Notable Competitors
The Outlander Sport competes in the increasingly crowded subcompact crossover class. And if this Mitsubishi sounds appealing to you, there are some other models you may want to consider as well. Perhaps the closest competitor is the Nissan Rogue Sport — like the Mitsubishi, it's respectably roomy for its size and has a fairly high seating position. It also gets better gas mileage and, starting with the 2018.5 model year, it has more standard safety features. But the Mitsubishi has a lower base price, a longer warranty, and a more advanced infotainment system, and it's styled more like an SUV than the Nissan.
For maximum value, the Kia Soul is slightly smaller than the Outlander Sport while still offering generous interior space, along with a well-finished interior and a well-executed infotainment system. The main downside: All-wheel drive isn't available. Meanwhile, the Chevrolet Trax has tight rear-seat legroom, but frequent discounts can make it an impressive bargain — and, like the Mitsubishi, it does offer AWD. Lastly, if you want a tiny crossover with maximum SUV flavor, the Jeep Renegade provides loads of Jeep heritage at affordable prices.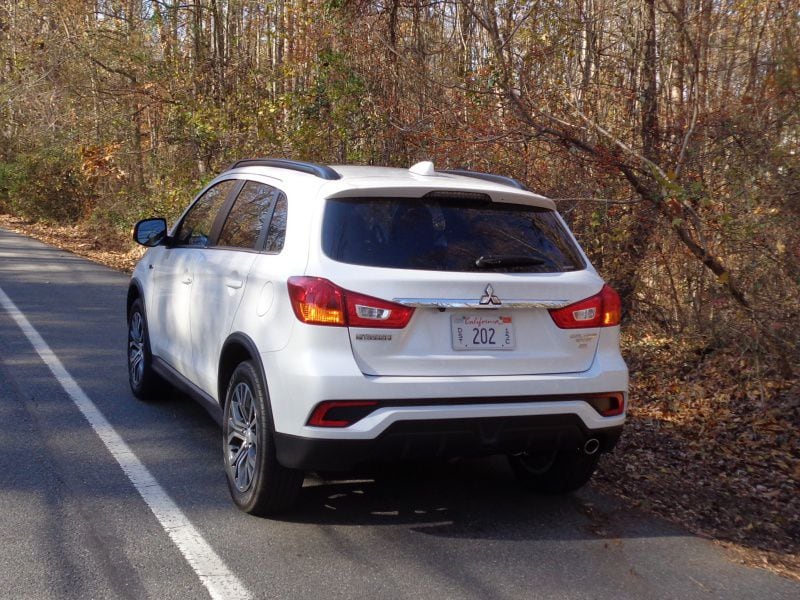 Photo by Brady Holt
Still a Contender
Though it's one of the oldest designs in its class, the 2018 Mitsubishi Outlander Sport remains a contender among today's subcompact crossovers. It offers a high seating position, plenty of interior space, well-executed infotainment technology, and a long warranty — all at reasonable prices. Those strengths join the general advantages common to all subcompact crossovers: an easy-to-park size, a tight turning radius, and decent gas mileage.
Some of the newest competitors offer smoother and quieter rides, zippier handling, richer interior trim, more widely available safety features, and better gas mileage. But many of them have their own flaws as well. If the Outlander Sport's focus on functionality and value seems appealing, be sure to give it a look.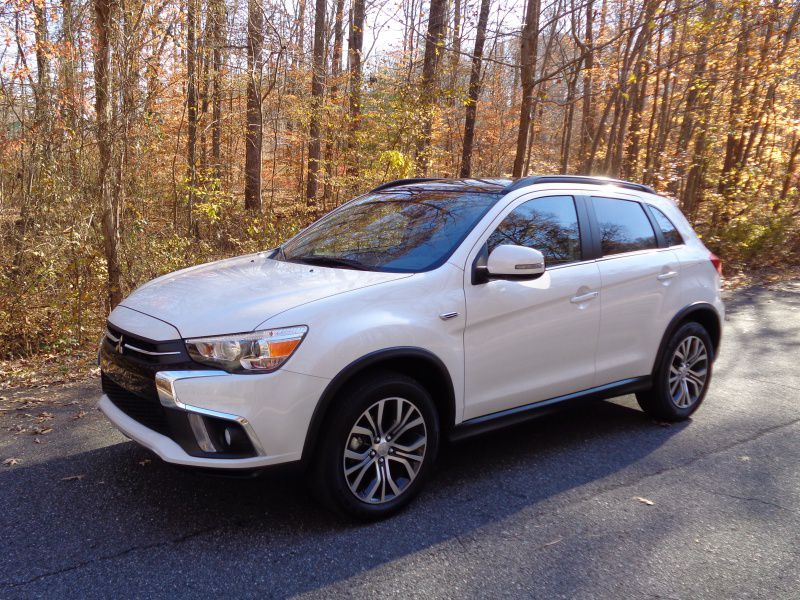 Photo by Brady Holt