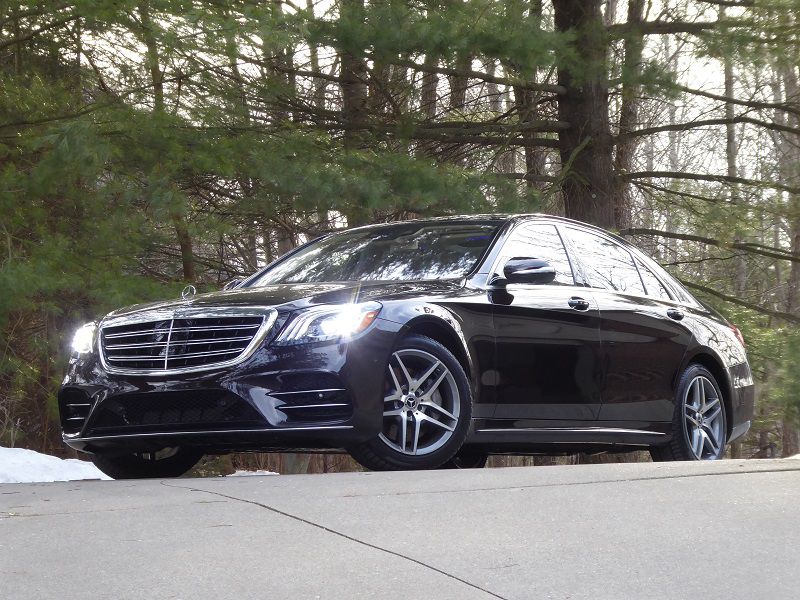 2018 Mercedes Benz S Class Front Quarter RS ・ Photo by Ron Sessions
The 2018 Mercedes-Benz S-Class is by far the best-selling full-size luxury sedan in its segment and a major reason Mercedes has become the leading luxury brand in the U.S. The S-Class is the epitome of today's luxury flagship, bringing unquestioned refinement, effortless power, and exquisite comfort to the segment.
The S-Class is the big Benz — the roomiest and most cosseting offering in the luxury brand's sedan lineup. For 2018, it gets an updated exterior with a new grille and fascias; revised powertrain offerings; and more advanced infotainment, safety, and semi-autonomous driving technology.
The 2018 Lineup
For 2018, the S-Class sedan lineup includes twin-turbocharged V6 and V8-powered luxury four-doors, and super-opulent stretched-wheelbase Maybach sedans and AMG-enhanced high-performance four-doors with twin-turbo V8 or V12 power. A two-door coupe is also offered, but last year's plug-in hybrid is no longer available. 
Prices begin at $90,895 for the new-for-2018 V6-powered S450 but ramp up quickly, ranging to $230,495 for the V12-powered AMG S65 sedan. The S450's 362-horsepower 3.0-liter twin-turbo V6 is shared with the C43 AMG compact sports sedan, and it moves the big Benz to 60 mph in a fairly brisk 5.4 seconds while achieving EPA ratings of 19 mpg in the city, 28 mpg on the highway, and 22 mpg combined.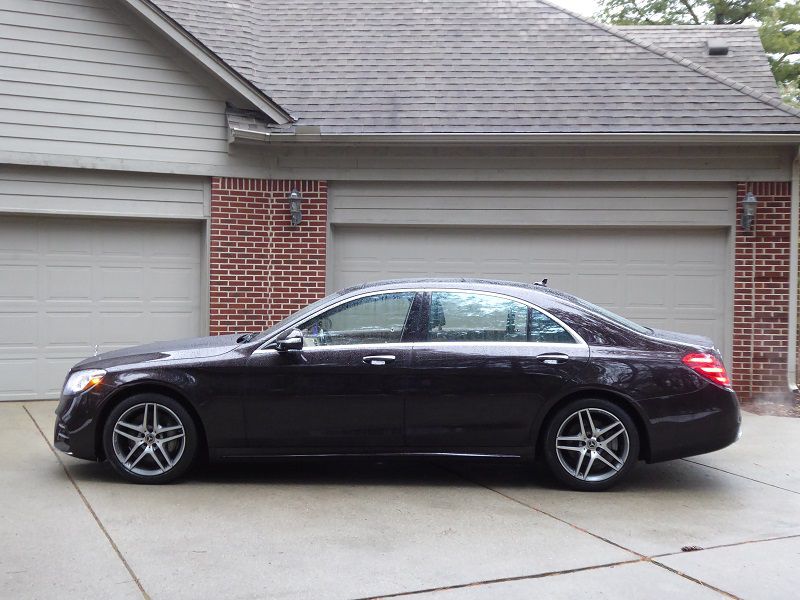 Photo by Ron Sessions
Choice of Engines
Next up the food chain from the new S450 is the best-selling S-Class model: the $100,895 V8-powered S560 sedan. The S560's 463-hp 4.0-liter biturbo V8 replaces last year's 447-hp 4.7-liter biturbo V8, and Mercedes changed the name from S550 to reflect the change. The muscular yet refined sound of the V8 is hard to resist, and Mercedes says the added thrust of 101 more horsepower accelerates the 2.5-ton luxury flagship to 60 mph in 4.6 seconds. EPA estimates for the V8-powered S560 are 17 mpg city/27 mpg highway/21 mpg combined, just 1 mpg less than the V6. On the other hand, for those buyers in a real hurry, there's the 603-hp AMG S63 sedan that can hustle to 60 mph in 3.4 seconds.
The S450 and S560 are mated to a wide-ratio nine-speed automatic transmission featuring quick, seamless shifts. The optional 4MATIC all-wheel drive gives more worry-free traction in snowy climates than the standard rear-wheel drive model and costs just $3,000 extra.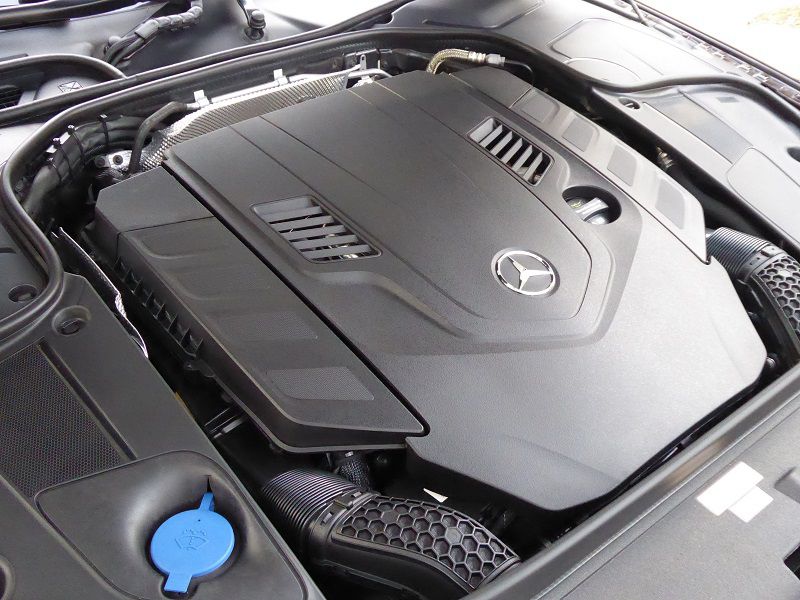 Photo by Ron Sessions
Big on Luxury
The S-Class sedan coddles front- and rear-seat passengers as much as the driver. The seats are flagship-worthy cushy, the cabin calming. Materials are top-notch and can be augmented via the option sheet with Exclusive and stunning Designo two-tone upgrades such as quilted Nappa leather and piano black wood trim.
Standard amenities include a panoramic sunroof, heated power front seats with memory, power-closing doors and trunk, a Burmester surround-sound premium audio system, and an onboard Wi-Fi hotspot. Inductive wireless charging for Qi-enabled phones and other devices is standard for front-seat patrons, optional at the rear. A new three-spoke steering wheel features controls on the right spoke that augment the existing console touchpad and controller and voice commands. And yes, the S-Class still has ashtrays — one in the front console and one in each rear door.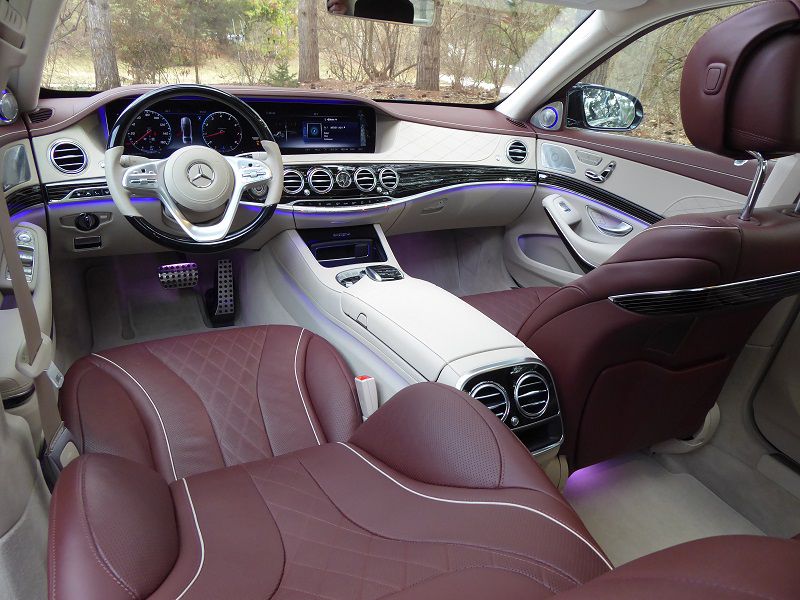 Photo by Ron Sessions
Dual Screens
There are two new 12.3-inch hi-resolution screens, one each for navigation and Comand system infotainment and the other for a driver information display.
The latter can be customized in Sporty, Classic or Progressive instrument modes.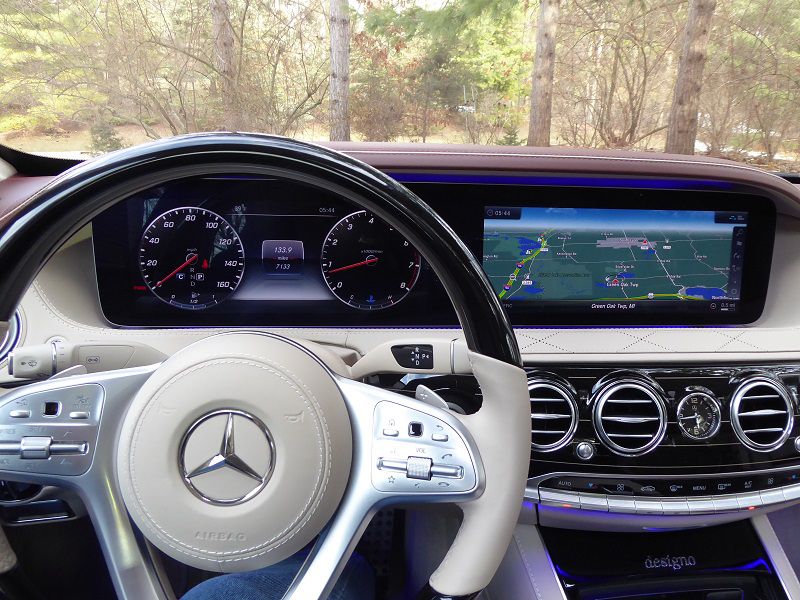 Photo by Ron Sessions
On the Road
Even the "base" S450 sedan rolls with Airmatic air suspension and adaptive shocks that take the rude edge off bumps, frost heaves, and potholes while maintaining rock-solid stability and control. A sumptuous ride quality is core to the S-Class experience. On the road, it never wavers from its comfort-oriented mission, but it also manages to keep body motions in check over undulating pavement and minimize body lean in corners. Impact harshness, even with the standard run-flat tires, doesn't intrude into the cabin.
The S-Class's electronically assisted rack-and-pinion steering is precise, with velvety effort around town that firms up nicely at highway speeds. It's a car that instills confidence wherever you go, whether that's bustling freeway, a winding rural back road, or a crowded city street. And despite the big Benz's considerable heft, its huge disc brakes provide good pedal response and are easy to modulate. A standard automated emergency braking system will try to stop the S-Class to help avoid hitting another vehicle or pedestrian should the driver fail to do so.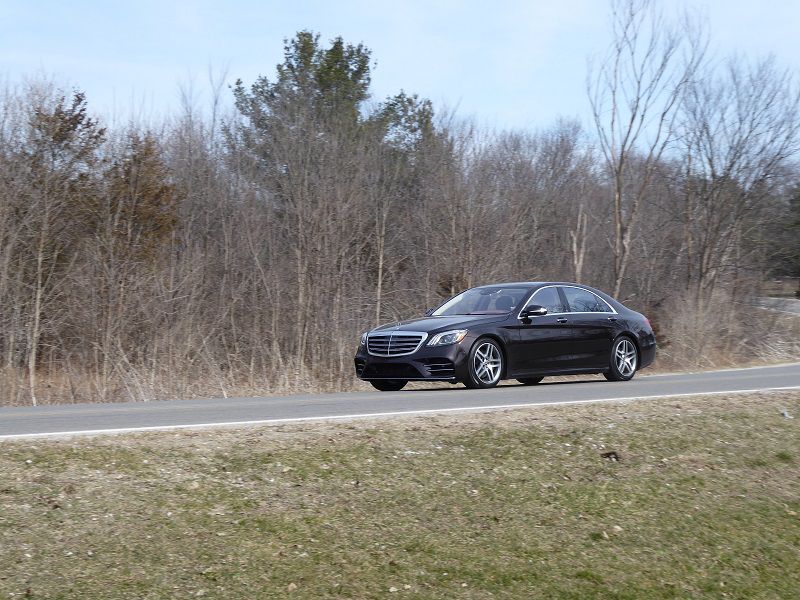 Photo by Ron Sessions
Semi-Autonomous Additions
The 2018 S-Class enjoys significantly upgraded semi-autonomous driving capabilities, along with revised controls. Distronic with Active Distance Assist now makes use of GPS map data and speed limit information to slow the car as it semi-autonomously steers into turns, curves, roundabouts, intersections, exit ramps, toll plazas, and so forth, making it more useful on secondary roads as well as major highways. Mercedes also upgraded the car's Active Lane Change Assist, which changes lanes for you on a four-lane highway that's clear of traffic — with no driver input other than flicking the turn-signal lever.
The automatic slowing for turns and such with Distronic switched on works remarkably well, but it takes some time to become comfortable with it. I found myself hovering my right foot just off the brake pedal for a while until I learned to trust the system. Ditto for the Active Steering Assist feature, which turns itself off after about a half minute if you don't keep at least one hand on the steering wheel even as it moves in your hands to follow the road.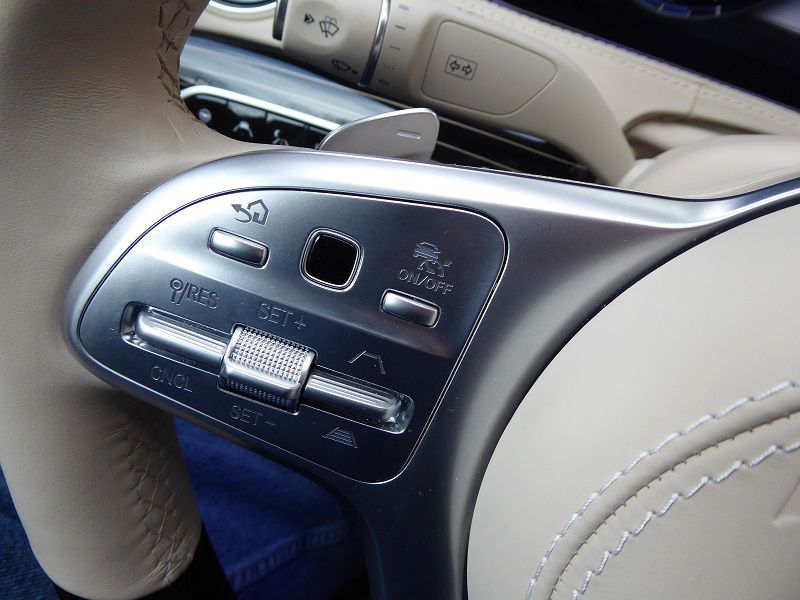 Photo by Ron Sessions
Energizing Comfort
The S-Class comes standard with an Energizing Comfort system that allows interior occupants to select from a menu of ambient lighting schemes, customized audio tracks, climate control settings, massage functions (if equipped with the optional massaging seats), or fragrance infusions to improve alertness and well-being. All you have to remember is to keep the right fragrance jar in its holder in the glovebox. Upbeat monikers for the schemes include Joy, Well Being, Vitality, Refresh, and Training.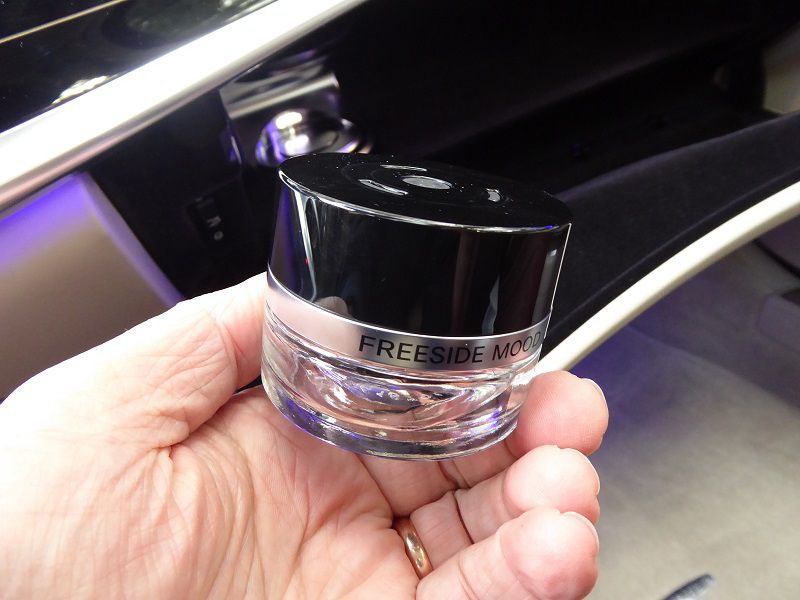 Photo by Ron Sessions
Black-Car Roominess
Mercedes-Benz offers only the long-wheelbase S-Class variant in the U.S., so rear headroom and legroom are black-car/limousine appropriate. As you'd expect from a rear seat that's in chauffer-driven service in many markets, the S-Class is available with rear-seat heating and massage, seatback recline, folding tables, and more.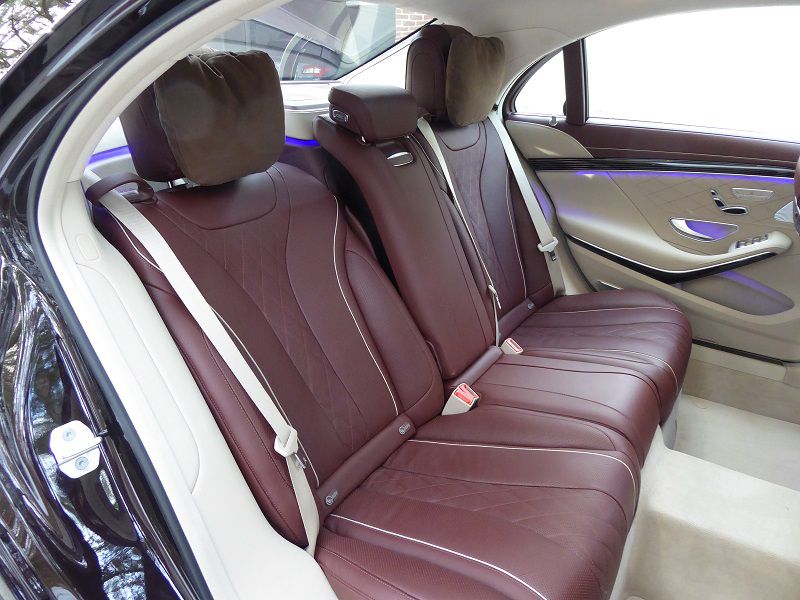 Photo by Ron Sessions
Looks Like Money, Drives Like Money
With its exquisite comfort, top-notch materials, a hushed cabin, smooth ride, and, of course, unquestioned power, the S-Class doesn't have to shout luxury. Its understated exterior design conveys a certain degree of success in this world, but it doesn't call unnecessary attention to itself.
Instead, the 2018 Mercedes-Benz S-Class sedan quietly, confidently, and comfortably defines today's premium luxury car. And it's got the stand-up hood ornament to prove it.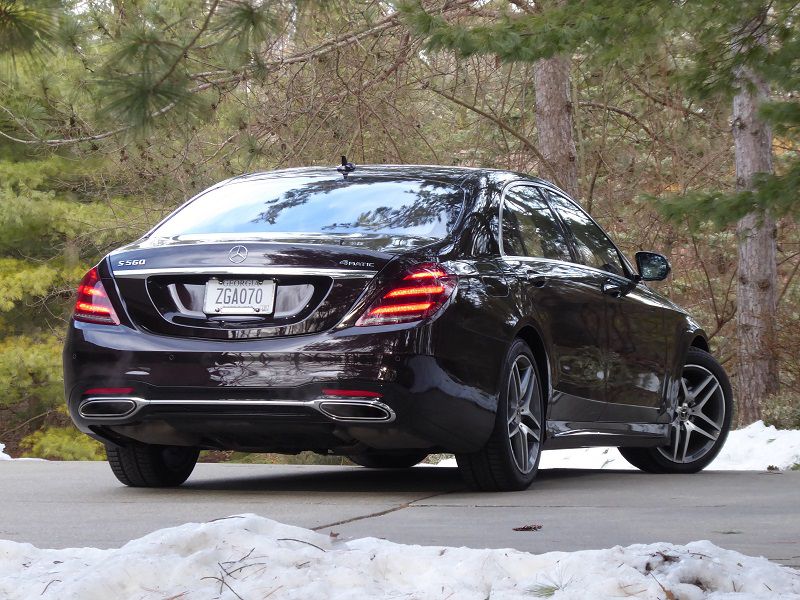 Photo by Ron Sessions