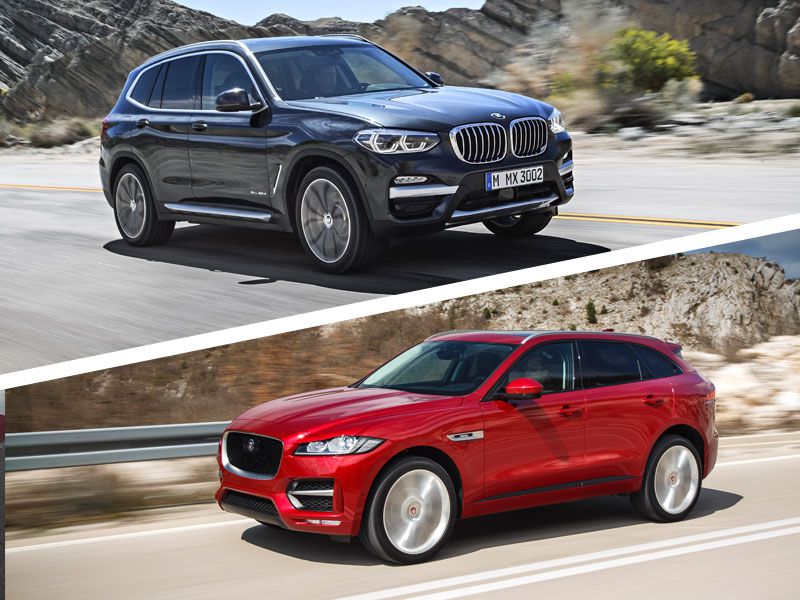 2018 BMW X3 vs Jaguar F PACE ・ Photo by BMW / Jaguar Land Rover
The task of choosing between a 2018 Jaguar F-PACE and a 2018 BMW X3 is definitely a first-world problem; both cars are incredibly seductive and lovely to both look at and drive. However, when you're considering spending that much coin, you want to be sure you make the right choice. We drove both of these small luxury SUVs and meticulously judged them with this specific comparison in mind. Read on to see which SUV reigned supreme.
Pricing
Pricing between these two gets a little tricky, as both models have nearly the same starting price; a base Jaguar F-PACE costs $42,065 and the base BMW X3 costs $42,650. However, it's the options packaging that really starts adding up, and you'll be hard-pressed to find either vehicle with no options.
For our test, we drove two performance models that came with significantly higher price tags — the beefy 2018 X3 M40i had a sticker price of $65,045 and the strapping 2018 F-PACE S cost $75,741. Despite costing $10,000 less than the Jag, we were surprised to find that the BMW actually seemed to offer more for the price. For example, the X3 had a head-up display, adaptive LED headlights, and wireless smartphone charging — all of which are available with the Jaguar but were not included on our F-TYPE S test car.
BMW X3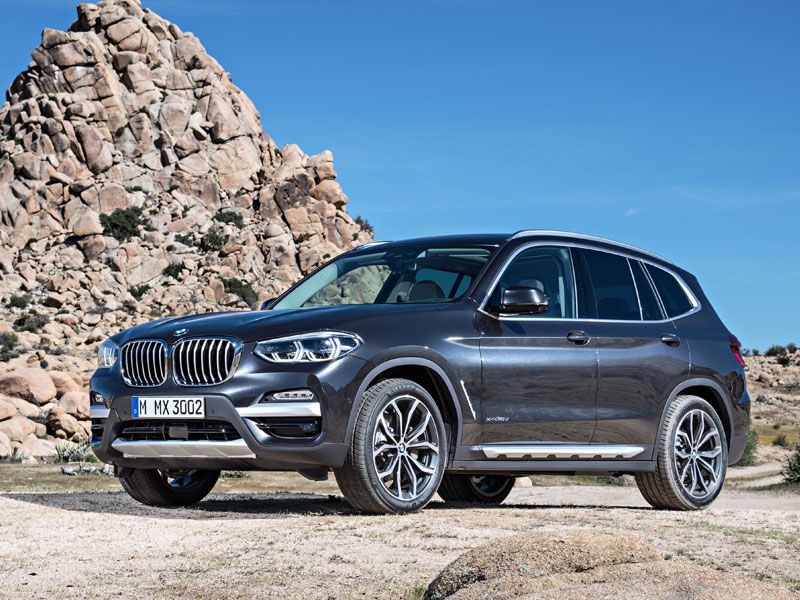 Photo by BMW
Fuel Efficiency
It's a close call between the two when it comes to fuel economy. The official BMW stats report a combined fuel economy estimate of 25 mpg combined (22 city/29 highway) while the F-PACE pulls in 24 mpg combined (22 city/27 highway).
When you compare the performance models; the X3 M40i we tested was rated significantly better at 23 mpg combined (20 city/27 highway), while the F-PACE S was rated at 20 mpg (18 city/23 highway). Real-world numbers had us averaging in the teens, but the BMW still returned better fuel economy than the Jaguar.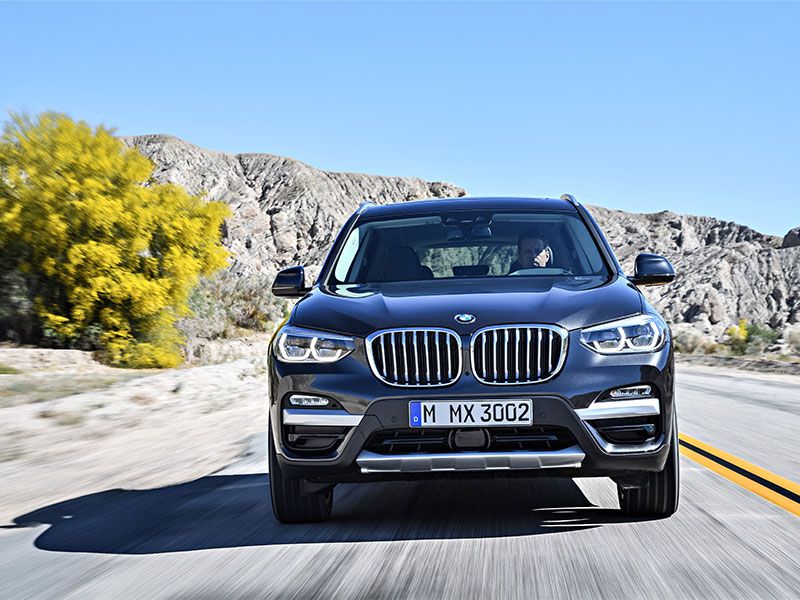 Photo by BMW
Drive Experience
Both the X3 and F-PACE rank as Olympic-level athletes in this category, and chances are if you're looking at these two, performance matters. Both are exquisite to drive, and the performance models we tested were off the charts when it came to thrills.
But the two definitely have their own distinctive personalities — the F-PACE S is quite firm, but at times it feels disconnected. And the X3 M40i's quick acceleration and brawn can get away from you if you were to let it. For the average tasks your typical SUV has to tackle, though, the power in each is almost ridiculous. But we have to give the slight edge here to the BMW; the M40i handles better than the Jag, you can feel every twist and turn. We'll chalk this up as another win for the Ultimate Driving Machine.
Photo by BMW
Exterior Styling
Personally, we are enamored with the exterior design of the F-PACE. Because it's less of a mainstream vehicle, it really stands out whether you're in a parking lot or on the highway. Inspired by Jaguar's drop-dead gorgeous F-TYPE sport coupe, it's easy to see the same sleek, sophisticated design details take form in the F-PACE SUV.
While the F-PACE looks modern, the X3 retains its classic form — in fact, the BMW has made little changes to the X3's styling since its inception in 2004. There is something to be said for timeless design, but we think BMW is long overdue for some variation.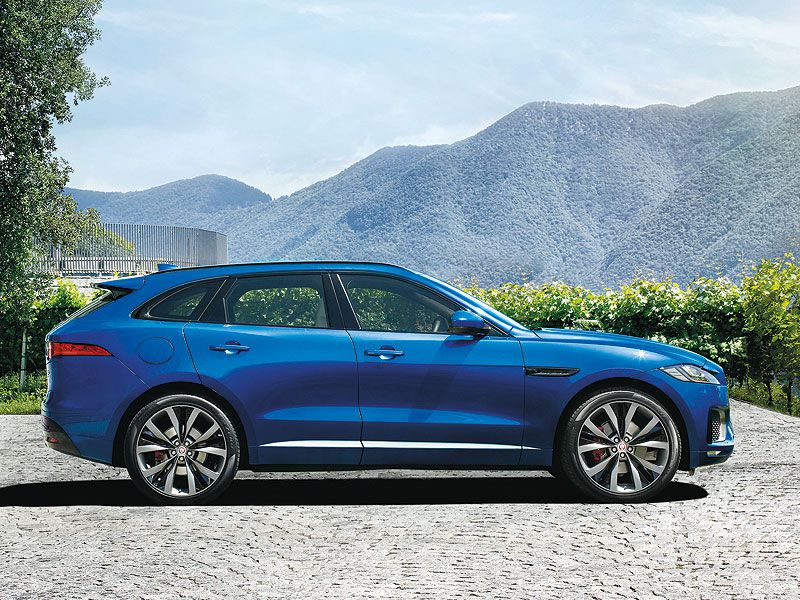 Photo by Jaguar
Interior Design
Moving on to the inside, each vehicle has a clean and upscale cabin. Both offer exactly what you'd expect: leather seats, heated steering wheel, and large, full-color touchscreens.
However, we still think the Jaguar F-PACE is where it's at when it comes to design. The fit and finish is impressive, from the suede headliner to the custom-configurable ambient lighting and premium carpet floor mats. We especially liked the Jag's premium Meridian sound system and its cooled glovebox — no more melted protein bars or hot bottled water!
Jaguar F-PACE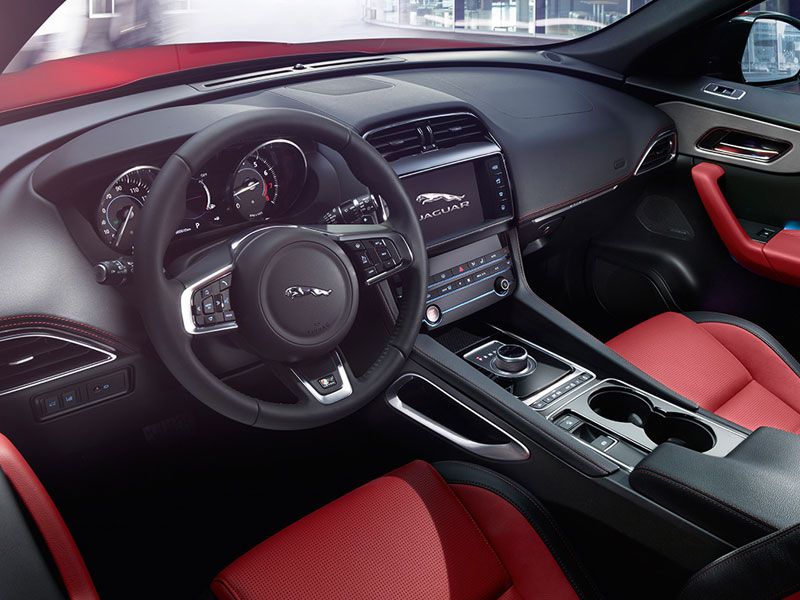 Photo by Jaguar
Technology
These days, a car isn't considered luxurious if it doesn't offer the latest techy features, like smartphone integration and a Wi-Fi hotspot. Although we quite liked the ease of use and design layout of Jaguar's InControl infotainment system, our biggest disappointment was the lack of smartphone integration via Apple CarPlay or Android Auto. The X3 not only offers Apple CarPlay, but it's one of the only cars we've ever tested that supports wireless integration, no cord required! (Unfortunately, the BMW doesn't support Android Auto just yet.)
Both SUVs offer keyless entry, various in-car apps to monitor maintenance and various vehicle information, and Wi-Fi hotspot availability. Our test cars also both featured digital instrument clusters that you can customize to your preference and that switch themes depending on the drive mode. We did like Jag's rubber wristband "activity key," which lets you leave your bulky keys in the car during your morning run or day at the beach. But we have to choose the X3 as the winner for its Apple CarPlay integration — a feature most iPhone users will appreciate every time they get into the car.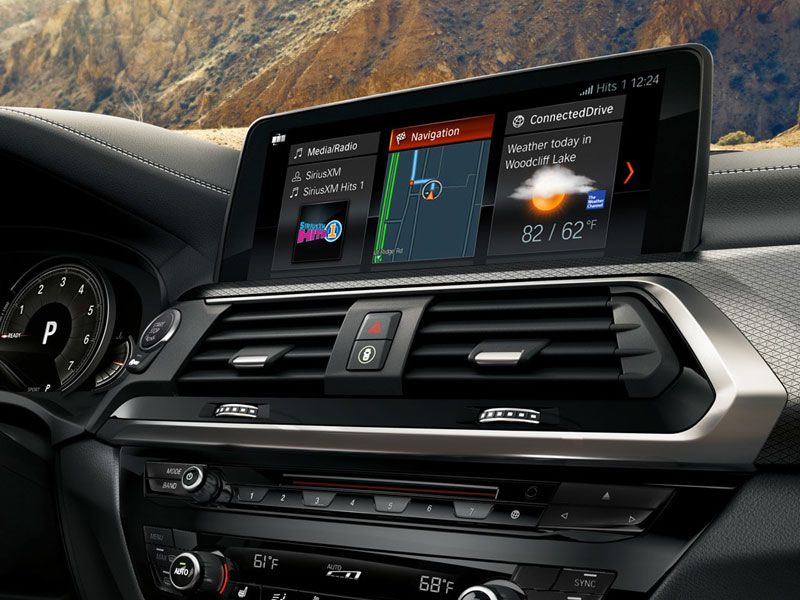 Photo by BMW
Family-Friendliness
These two luxury suvs would work well with small families. Both the X3 and F-PACE have two rows and seating for five. As with most compact SUVs in the segment, five people is a bit of a crunch, especially if you're dealing with child seats. We found that installing them was a breeze in both cars because their removable plastic covers pop right off and give immediate access to the latch anchors. If you have children, especially small ones who require rear-facing safety seats, definitely bring it along when you go for your test drive. This one is too close for us to call, so we strongly suggest researching your safety seat and its compatibility with both these vehicles.
On paper, cargo capacity is also sufficient in either vehicle and should hold up to a big Target or Costco run. The BMW offers 28.7 cubic feet of storage behind the second row while the standard version of the Jaguar has 33.5 cubic feet. However, our F-PACE test car included an optional full-size spare tire that dramatically reduced cargo space and also created an uneven load floor. Our advice: Skip the full-size spare tire if cargo capacity is a priority.
Tie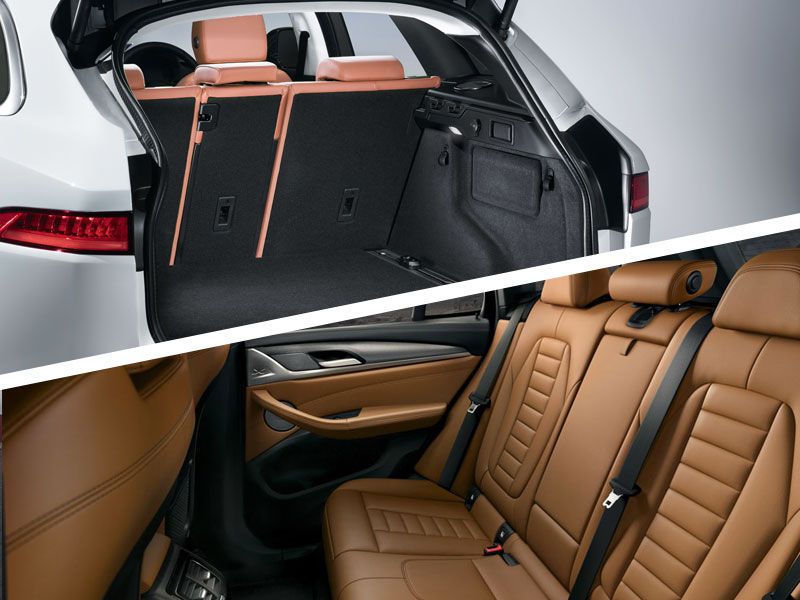 Photo by BMW / Jaguar Land Rover
Safety
The good news is that both of these vehicles offer loads of standard safety equipment and driver assistance features. Both the X3 and F-PACE have the same number of airbags (frontal, side impact, and side curtain for the front and rear seats), rear cameras, blind-spot monitoring, and lane-keeping assist. They also both offer adaptive cruise control and head-up display as options. Upgrades also include parking assist and 360-surround camera views.
Unfortunately, neither the X3 or F-PACE have been crash-tested by the National Highway Traffic Safety Administration. However, the Insurance Institute for Highway Safety has named the X3 a Top Safety Pick+ for 2018. The F-PACE has yet to be rated. Because of the availability of the same safety equipment and driver assistance features, we will call this one a tie, at least until the F-PACE is rated by IIHS.
Tie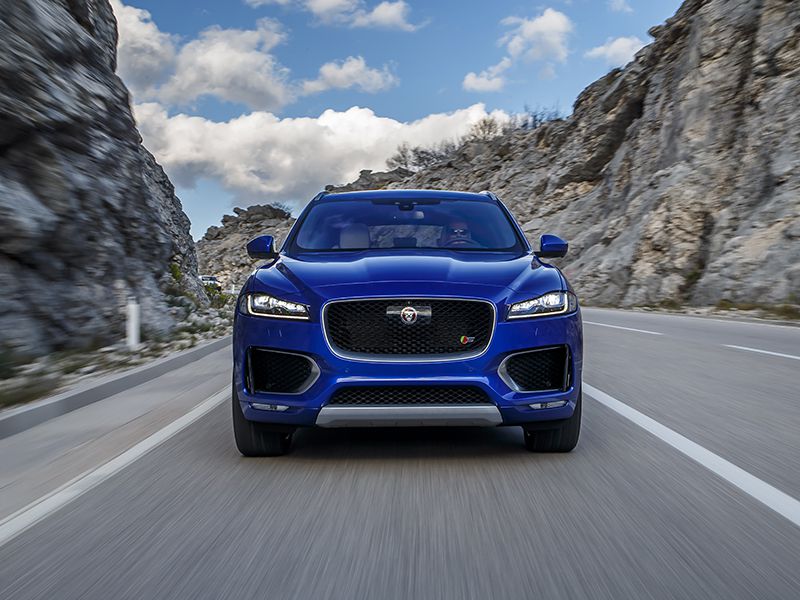 Photo by Jaguar Land Rover
The Final Verdict
It was a tough comparison, and as we mentioned at the very start, we feel that if you are in the market for a luxury SUV, both the X3 and F-PACE offer a thrilling driving experience and lots of luxury. And overall, both excellent vehicles.
While we did feel more of an emotional connection with the F-PACE's seductive design and relative uniqueness on the road, we have to declare the X3 the overall winner for dominating the majority of our categories. But no matter which you choose, you're bound to enjoy your vehicle.
BMW X3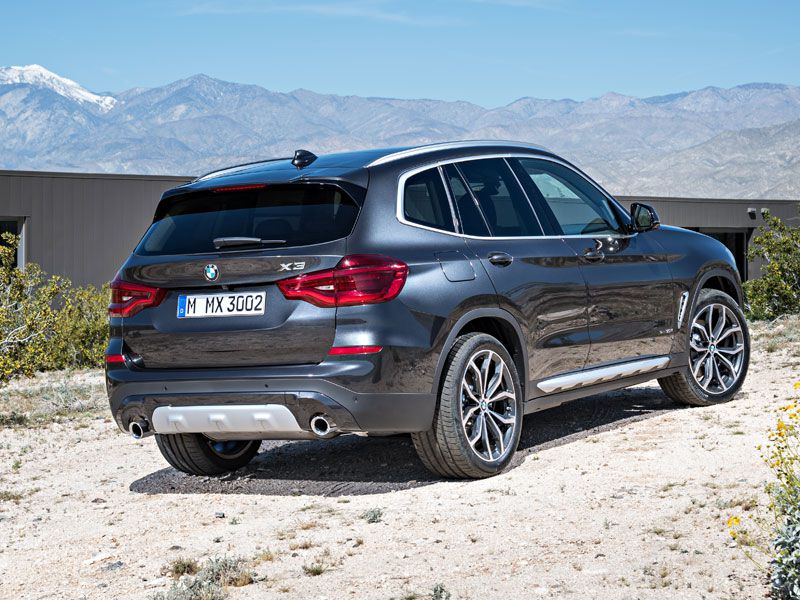 Photo by BMW