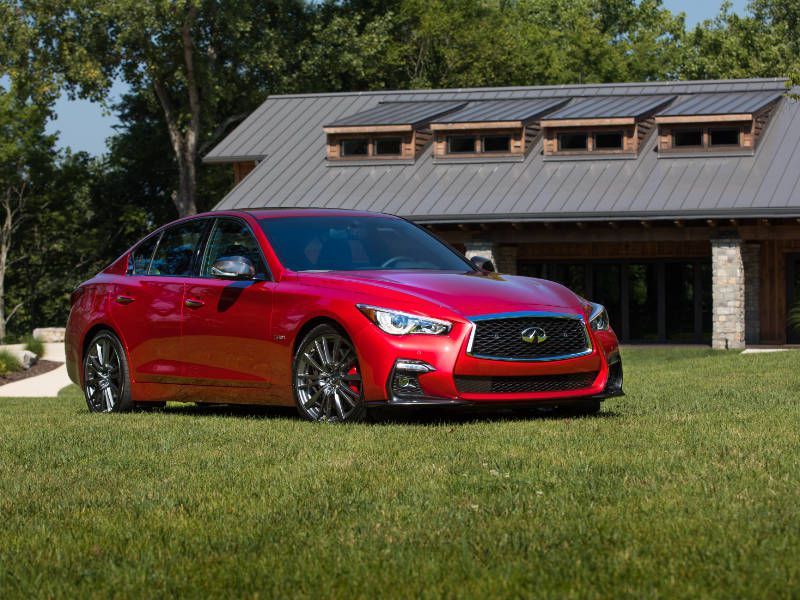 2018 Infiniti Q50 front quarter hero ・ Photo by Infiniti
The 2018 Infiniti Q50 premium compact sport sedan has received a mid-generation tweak. It's another indication of how short-lived car generations are becoming since the Q50 debuted in 2014. But the pace of technology only knows acceleration. Also, the Q50 is based on the same platform as the G model it succeeded. The main news is that trim levels are now Pure, Luxe, Sport and Red Sport 400. It's the Luxe and Sport versions that Infiniti expects to be the most popular. But for whatever reason, the company only brought along its "halo" model — the Red Sport 400 — to the launch event we attended. So although a lot of what follows pertains to the whole range, the driving impressions are more specific.
Pricing
The 2018 Infiniti Q50 range, available now, starts at $35,105 for the rear-wheel drive 2.0t Pure. That's $250 more than the 2017 equivalent. The 2.0t Luxe is $37,455; the 3.0t Luxe is $39,855; the 3.0t Sport is $41,555, and the Hybrid Luxe is $51,505. At the top of the range is the Red Sport 400, priced from $51,905. For a little context, let's compare some prices with the Audi A4, which is the newest and among the best of the current premium compact sedan crop. The front-wheel drive 2017 A4 2.0 TFSI starts at $35,850, while the range-topping 354-hp 2018 S4 starts at $51,875 including all-wheel drive.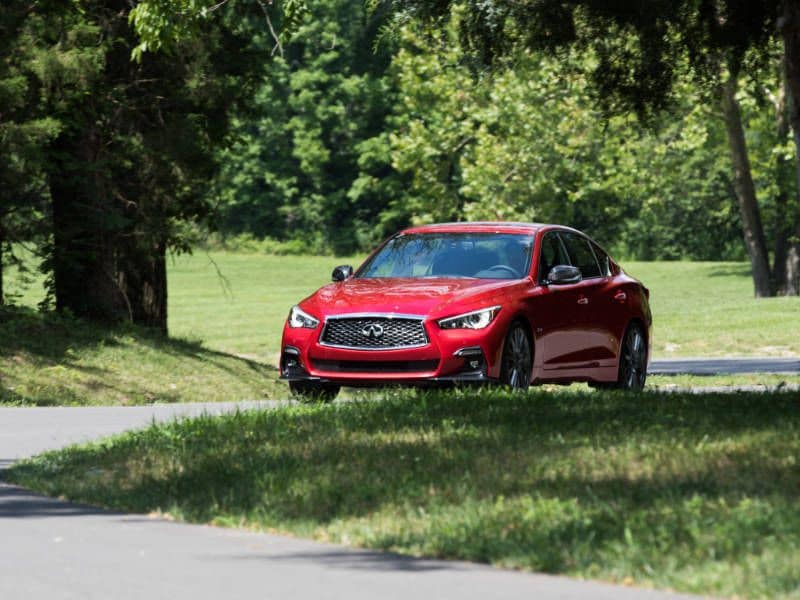 Photo by Infiniti
Equipment
Standard kit for the 2.0t Pure includes 17-inch alloy wheels, LED headlights, rain-sensing wipers, dual exhaust tailpipes, leatherette seating surfaces, eight-way power-adjustable front seats, dual displays in the center console (8-inch and 7-inch), rearview camera, keyless entry/ignition, Bluetooth and the mandatory safety features. No version offers smartphone integration in the form of Apple CarPlay or Android Auto. Things then become plusher as the prices get higher. The hybrid model, for example, has virtually every extra as standard, including leather upholstery, upgraded Bose audio system, and the tinted glass power moonroof. The regular Luxe cars still have leatherette upholstery, though. The Sport versions get leather, with sportier front seats.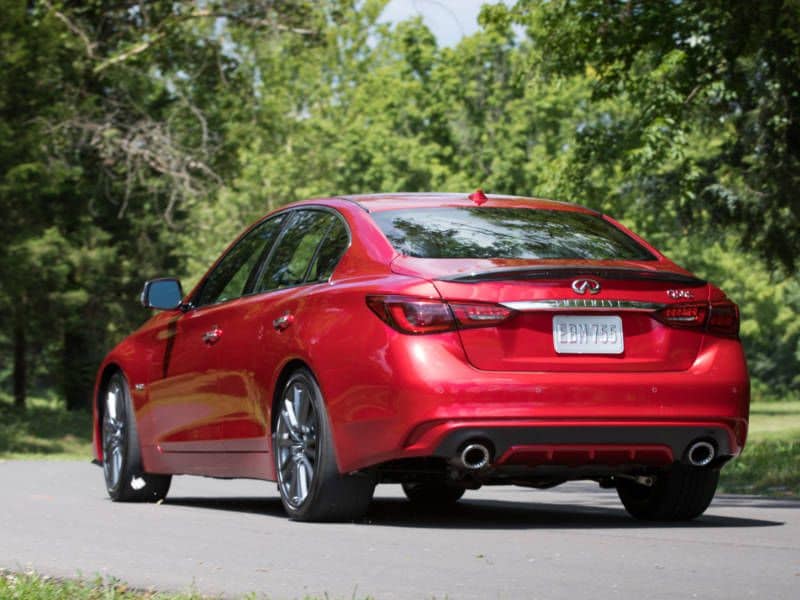 Photo by Infiniti
Options
All-wheel drive is an extra $2,000, which can be added to any of the Q50 models, including the hybrid. It's not until we get to the Luxe trim level when navigation and advanced safety features like forward-collision mitigation, blind-spot monitoring, and parking sensors become available. Oddly, although heated front seats can be ordered, ventilated front seats are not offered in any Q50. The Luxe, Sport and Red Sport 400 models are eligible for the ProActive package ($2,700), which includes a steer-by-wire system first introduced in the 2014 Q50 and immediately disliked by nearly anyone who drove it. The company has made improvements, and the numbness is less extreme, but the system still isn't ready for prime time.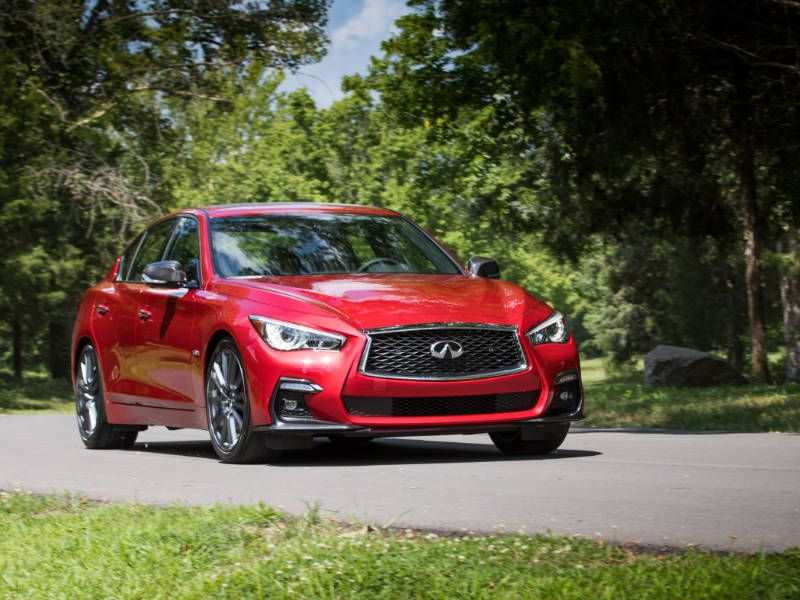 Photo by Infiniti
Interior Design
The steering wheel is new; the hub is not as blobby. Infiniti has also put some nice fake leather on the dashboard and complemented it with some contrasting stitching. Oh, and apparently the shift lever has a new design.
Otherwise, it's not so different from before. There's some metal-effect plastics sweeping up the center console and in the door panels that looks decidedly cheap. And that's in the most expensive Red Sport 400 model, whose cabin doesn't look particularly premium-class. No big updates for the instrument cluster, which is now looking rather dated, or the graphics of the similarly behind-the-curve infotainment system.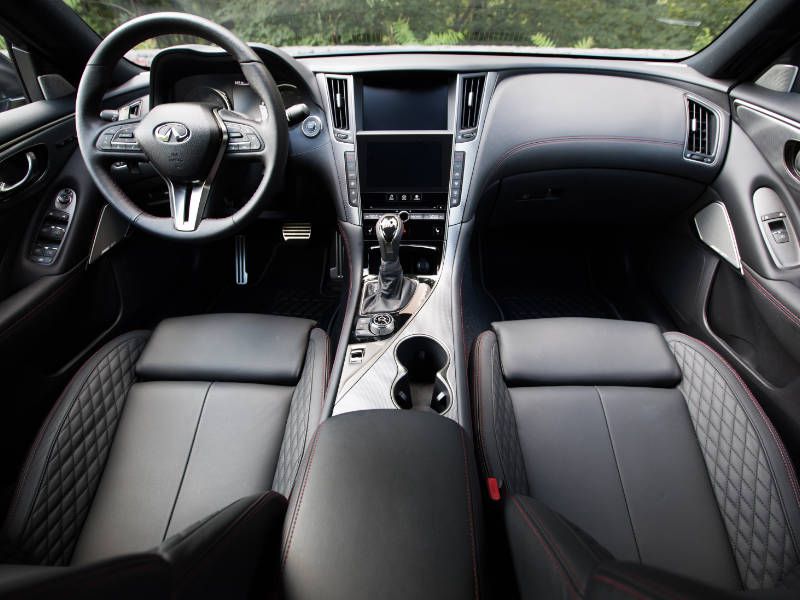 Photo by Infiniti
Exterior Design
Infiniti says the new Q50 has restyled fascias front and rear. That may well be true, but without a magnifying glass and a micrometer, it's hard to tell. Not that last year's model was a mess. The Q50 is arguably a handsome car to begin with. No one uses the word "polarizing" when describing its looks – which is more than we can say for Infiniti's rival, Lexus. The company has also introduced some new designs for the alloy wheels. But again, nothing radical. The Red Sport 400 is, naturally, available in red. A nice, deep metallic hue. But it can also come in blue, white or silver.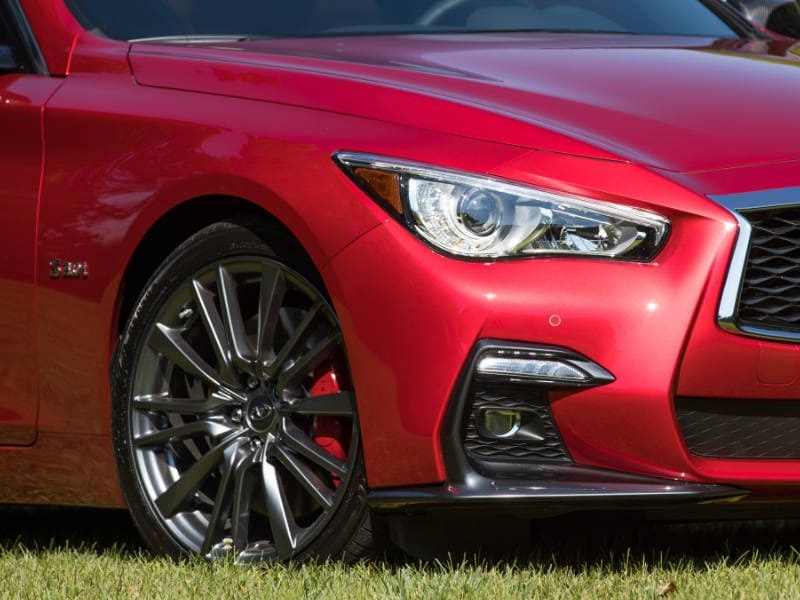 Photo by Infiniti
Engine Options
The 2.0t models have a 2.0-liter four-cylinder engine that's turbocharged to produce 208 hp and 258 lb-ft of torque. The 3.0t models have a turbocharged 3.0-liter V6. It makes 300 hp and 295 lb-ft of torque. It's upgraded to produce 400 hp and 350 lb-ft in the Red Sport 400. The hybrid deploys a naturally aspirated 3.5-liter V6 (302 hp, 258 lb-ft of torque) plus an electric motor (67 hp, 214 lb-ft). Because of the complexities of hybrid drivetrains, Infiniti quotes total system output as 360 hp and does not give a torque figure. All versions use the same seven-speed automatic transmission fitted with steering wheel-mounted paddle shifters.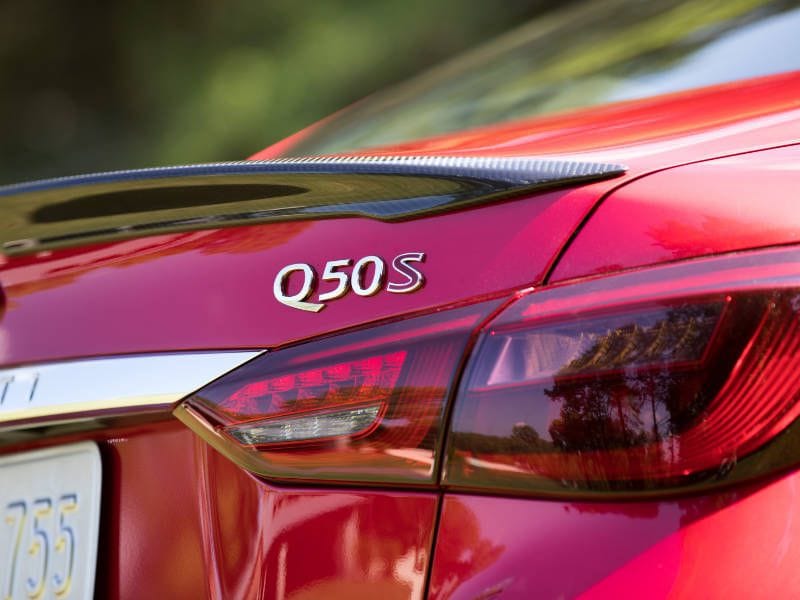 Photo by Infiniti
Fuel Economy
The EPA puts fuel consumption for the 2.0t models at 23 mpg city, 30 mpg highway and 25 mpg combined with rear-wheel drive or 22/28/24 mpg with all-wheel drive. That doesn't compare so well with the 2017 Audi A4 2.0-liter with front-wheel drive, which makes 252 hp and 273 lb-ft and is rated for 25/33/28 mpg. The 3.0t Luxe and Sport versions achieve 20/29/23 mpg (rear-wheel drive) or 19/27/22 mpg (all-wheel drive). The Red Sport 400 returns 20/26/22 mpg with rear-wheel drive; all-wheel drive cuts city consumption by 1 mpg. The hybrid manages 27/32/29 mpg (rear-wheel drive) or 26/30/28 mpg (all-wheel drive). All models require premium fuel.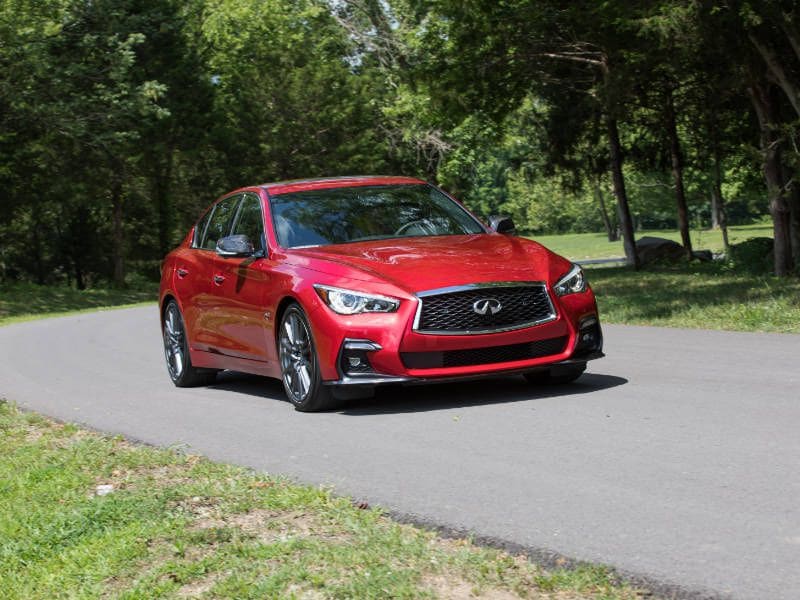 Photo by Infiniti
Comfort and Cargo
As we mentioned, we drove the Red Sport 400 model, which has sport front seats. These provide extra support along the sides for holding occupants in place during energetic cornering. These seats are comfortable, and it's easy to attain an ideal driving position. We were not so impressed, however, with the lack of lumbar support for the front passenger, and the manual actuation of the extendable thigh-support cushions. Meanwhile, sitting in the back seat of any Q50 shouldn't be a problem for anyone who fits within the 95 percent of body shapes and sizes. The trunk area usually accommodates 13.2 cubic feet (about average for the class). But the hybrid model has that reduced to 9.4 cubic feet because of the lithium-ion battery pack.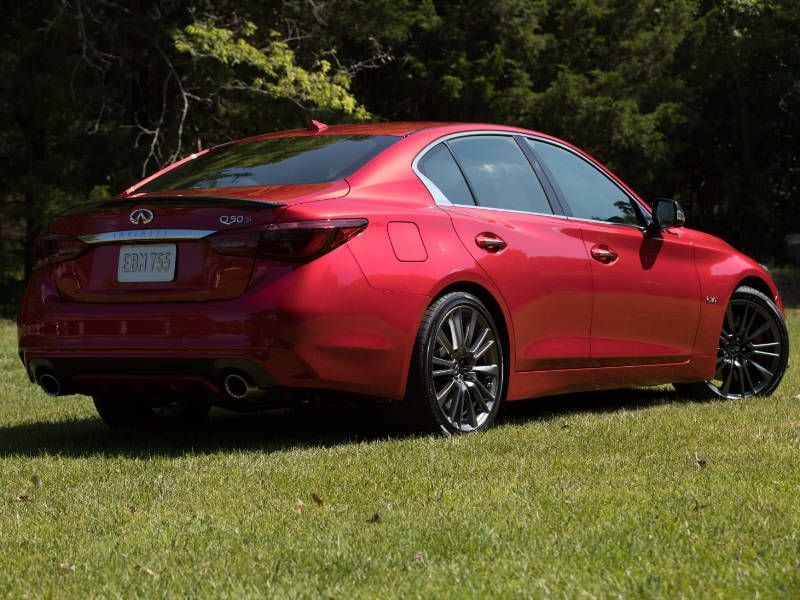 Photo by Infiniti
Performance
As mentioned earlier, we've only had the pleasure of driving the most powerful version of the 400-hp twin-turbo V6. It's a superb engine that delivers its considerable power in a manner that's both predictable and entertaining. The sprint from standstill to 60 mph is a fleeting 4.5 seconds. At the other end of that envelope, the Red Sport 400's brakes have a confidence-inspiring strength and feel. Driving modes range from economical to customizable. The Sport Plus setting (with meatier steering, firmer suspension, and faster throttle responses) feels like a nice balance for most of the time, although a little too "caffeinated" on occasion. With a high-performance car comes high-performance tires and these were noticeably noisy.
Photo by Infiniti
Final Thoughts
What has changed for 2018? The optional Bose Premium audio system update sounds nice, but nothing particularly special.The company says it has worked to reduce noise, vibration, and harshness (issues that plagued earlier Infiniti models). There's still some room for improvement, though, if the Red Sport 400 is any indication. We'd love to drive one of the more popular variants to get a better picture. The 2018 Infiniti Q50 is accomplished, roomy and no doubt handsome to many. But that's not quite enough when there are several excellent alternatives. It seems the company hasn't invested a lot of money or resources into updating one of its best-selling vehicles. In such a case, it's hard to recommend that buyers invest in it.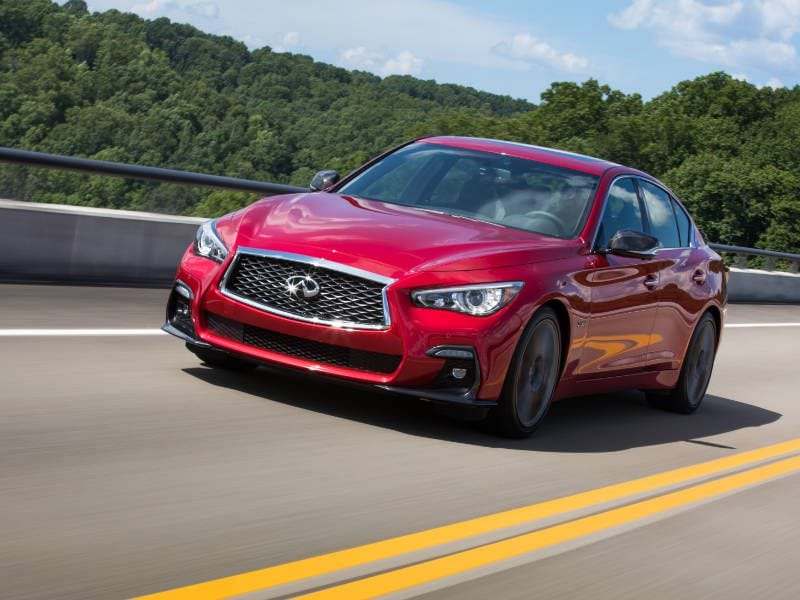 Photo by Infiniti