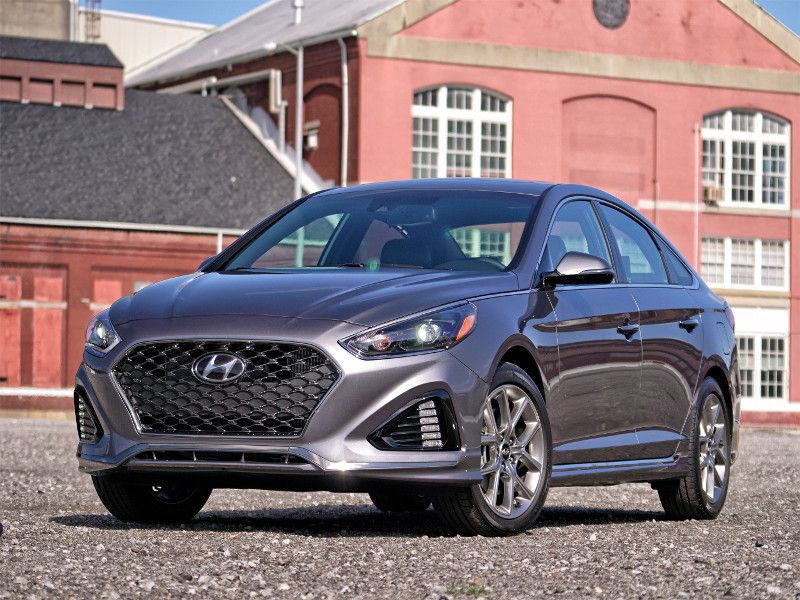 2018 Sonata Sportfrontside ・ Photo by Hyundai
The 2018 Sonata is Hyundai's freshly updated bread-and-butter mid-size sedan, a car that has been a solid performer for Hyundai since the Korean company's early days in the U.S. Like a good wine, the Sonata has had its good years and its bad years. So into which category does the newly-minted 2018 Sonata fall? Let's drive it and find out.
Perfectly Adequate
If my boss at Autobytel limited my reviews to just two words — and given some of the "War and Peace"-length missives I've filed, I'm sure nothing would make her happier — my review of the 2018 Hyundai Sonata would read: "Perfectly adequate." The Sonata is a good and decent public servant, one that provides its buyers with a roomy interior, zippy performance and excellent value for money. Sexy it isn't — but does that matter in this segment?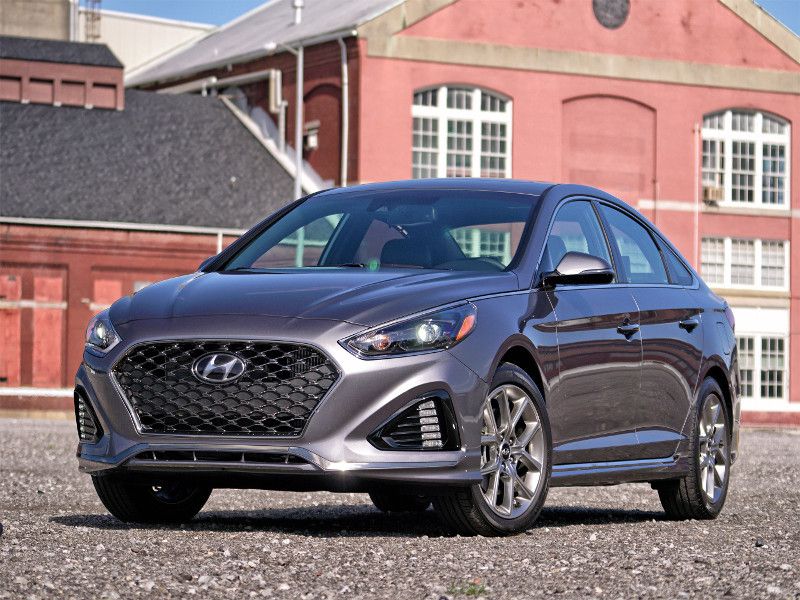 Photo by Hyundai
From Rockstar to Accountant
There was a time when the Sonata defined sexy. In 2011, Hyundai came out with a swoopy, sharply angled version that was as hot as a supermodel. Its crisp styling stood out from the crowd, and sales ballooned. But in 2015, Hyundai replaced the slick Sonata with an all-new and much more conservative design. It was a good car, with a comfortable and well-laid-out interior, but it was missing the wow factor that had put the previous-generation Sonata on the map — a move that had a lot of people in the industry (and, judging from its sales performance, in the showrooms) scratching their heads.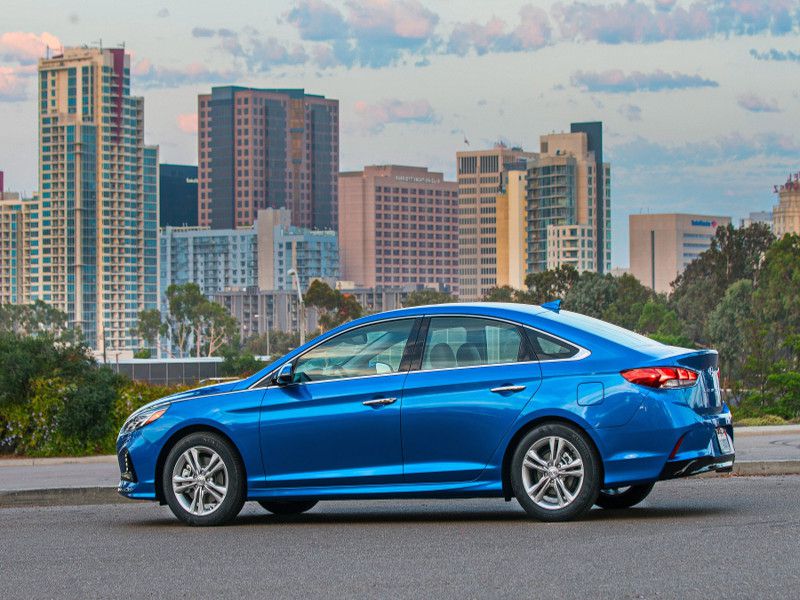 Can Sonata get its sexy back?
The 2018 redesign is an attempt to get the Sonata's sexy back. There's really only so much Hyundai can do since this is technically a mid-cycle refresh — a restyle that generally takes places three or four years into a model's run, as opposed to a full-on redesign — but it's done a lot. 
The whole front end is new, designed around a big trapezoidal grille. The rear also sports a fresh look, with a new fascia and trunk lid that emphasizes the length of the rear window and gives the car an almost hatchback-like profile. It's a better-looking car than the 2015-2017 Sonata, to be sure, but still not the knockout that the 2011-2014 Sonata was.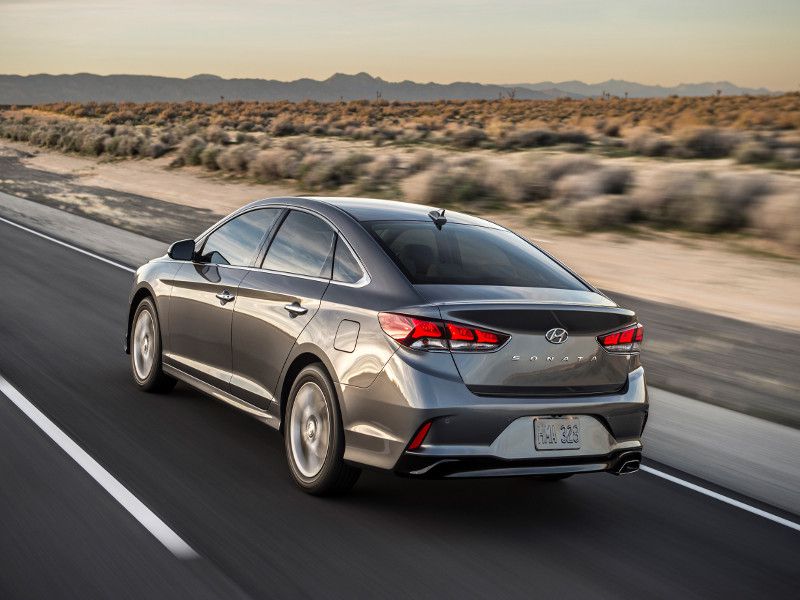 Photo by Hyundai
A better interior layout...
Hyundai has also updated the Sonata's cabin, which I happen to think was one of the better aspects of the 2015-2017 car — and I'm not convinced the changes are all good. I do like the revised dash design, which spreads out the controls in the horizontal plane. To me, this is a good thing: Bigger, more spread-out buttons are easier to find and use. However, some of the Sonata's controls are so far to the left of the center stack that the steering wheel blocks the driver's view of them.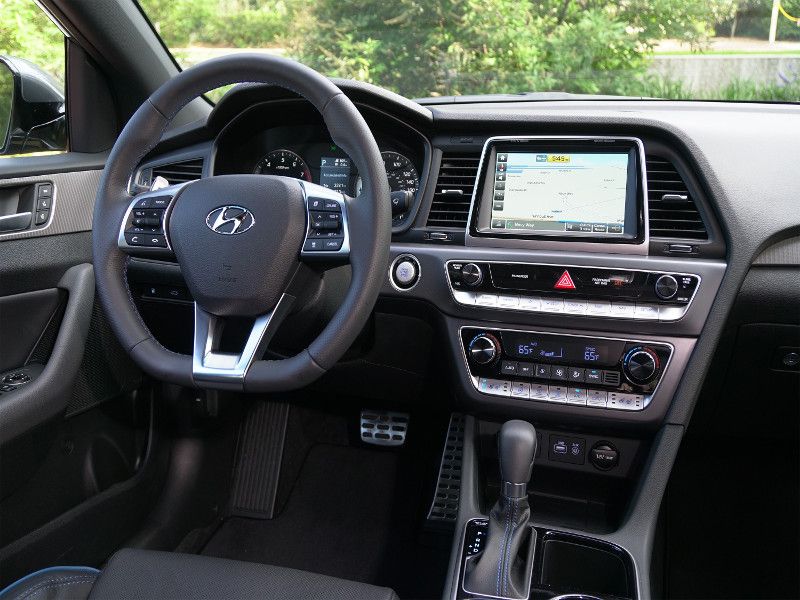 ...but what's up with the trim?
I've got a bigger problem with the way the interiors are trimmed. I sampled several Sonata models at the press preview event, and I thought the interior of the $33,000-or-so Sonata 2.0T Limited I drove looked an awful lot like the interior of the $26,000-or-so Sonata Sport — and that ain't right. I did like the trim in the SEL and Limited models, but none of the Sonata cabins really jumped out at me.
A few more potential concerns: On cars with a black interior, I think some of the plastic trim looks chintzy. And on cars with a gray interior, the light-colored door panels contrast sharply with the black on the B-pillar (the post between the front and rear doors), giving the appearance of a factory screw-up — the pieces can look like they are intended for two different cars.
High Practicality
Still, from a practicality standpoint, the Sonata comes out looking good. Back seat space is generous, and rear-seaters are well provided for. Some trims even get a high-power USB port, perfect for keeping those tablets charged (and the kids quiet) on long road trips. The trunk is big— 16.3 cubic feet — but the Sonata's stretched-out roofline does result in a small trunk opening, so getting really bulky cargo into the trunk could prove to be a challenge.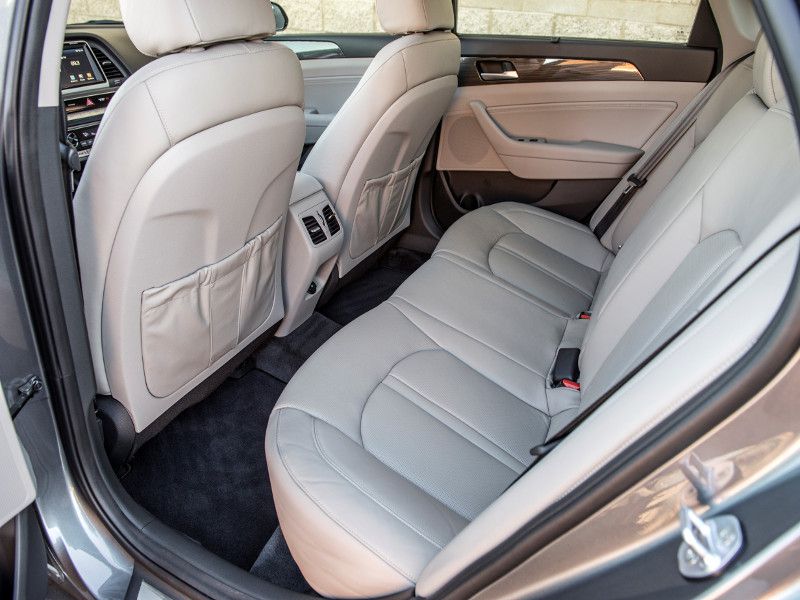 Greatly Improved Driving Dynamics
Driving dynamics is one area where the new Sonata has made notable improvements. Hyundai put a lot of time and engineering effort into refining the suspension and steering — neither of which are traditional Hyundai high points — and the effort has paid off. The 2015-2017 Hyundai had just-okay road manners, but the new one is significantly better; the steering is reasonably communicative, and the car feels poised and well-composed in the curves.
Even so, the ride quality does not suffer; the Sonata is quiet and comfortable. It doesn't quite compare with the Mazda6 or Ford Fusion for driver engagement, but the Sonata is no longer lingering at the back of the pack.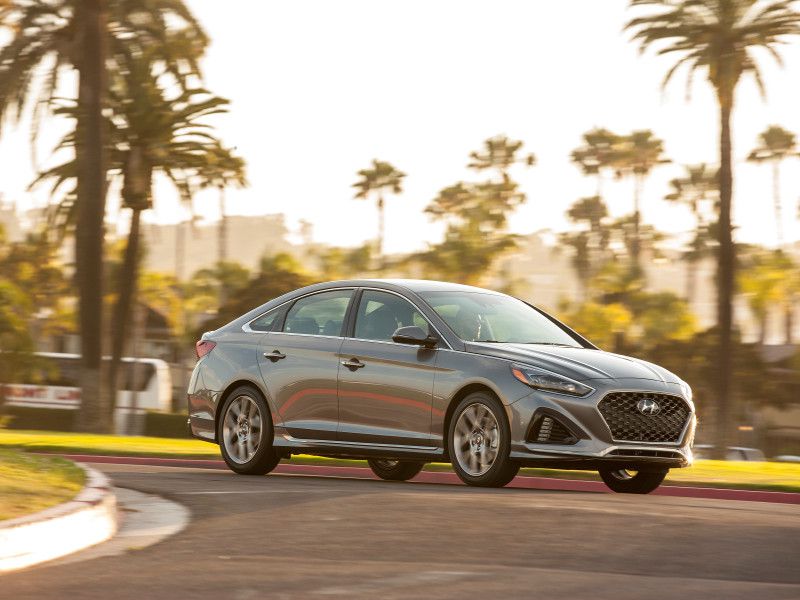 Engine Choices: Good and Better
The Sonata goes on sale with two engines. Most common will be the 185-horsepower 2.4-liter four-cylinder, a solid performer that reminds me why big, naturally aspirated (not turbocharged or supercharged) engines are such a good fit for mid-size sedans. It's a reliable powerplant that returns decent gas mileage — 28 mpg on the EPA combined cycle on most models, and 29 mpg on the SE trim.
Optional is a 245-hp turbocharged 2.0-liter engine, this year backed by a new Hyundai-developed eight-speed automatic transmission. The extra gears make a good performer even better, and EPA fuel economy figures of 26 mpg indicate a limited penalty for the extra performance. That said, turbo engines use a lot more fuel when developing a lot of power, so if you can't keep your foot light on the throttle, expect lower real-world numbers.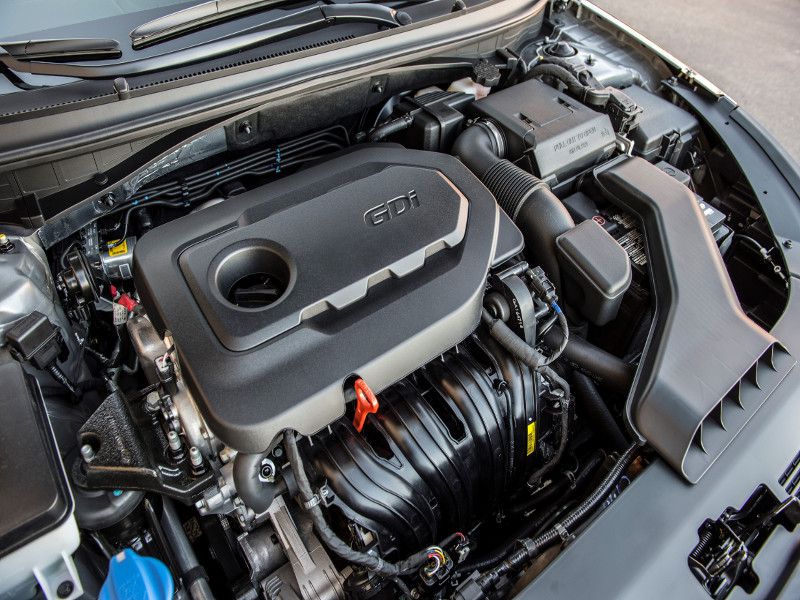 Sonata Eco: The Stingy Sonata
Hyundai also plans to relaunch the Sonata Eco model, which gets a 1.6-liter turbocharged engine that delivers 178 horsepower mated to a seven-speed twin-clutch automatic — a type of automatic transmission that uses mechanical bits similar to a manual, which helps it to deliver better gas mileage. The EPA rates the Eco model at 31 mpg combined.
This engine is aimed at the parsimonious: The Eco model will be based on the entry-level SE trim. We asked Hyundai about this at the press preview, and officials told us that they had tried offering the Eco model with features like leather, a sunroof, and navigation, but buyers didn't want it; for that reason, the Eco will be miserly in trim and equipment as well as fuel consumption. Hyundai also has updates to its Sonata hybrid and plug-in hybrid variants in development; they'll arrive early in 2018.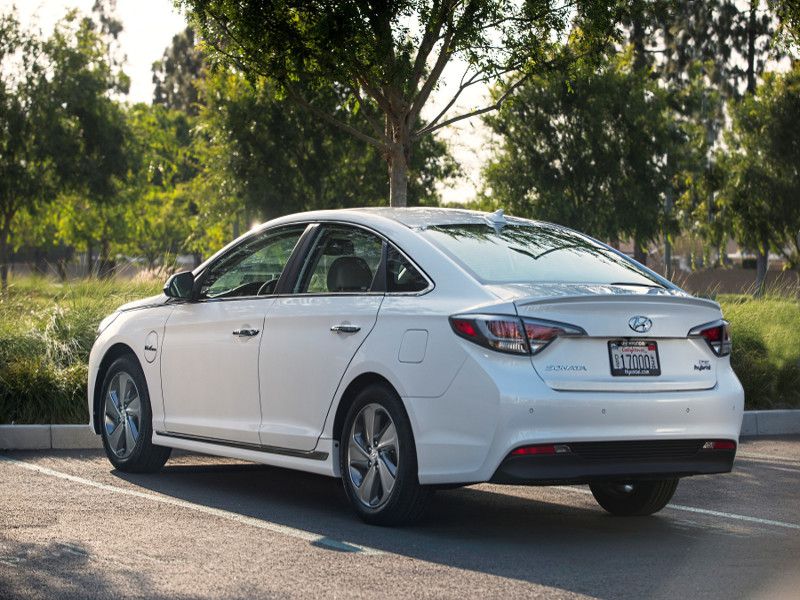 Photo by Hyundai
Good tech, but not everyone can have it.
One area where the Sonata stands out is technology. All Sonatas get an upgraded stereo that is compatible with Apple CarPlay and Android Auto. A blind-spot warning system is also standard, and a wireless phone charging pad is available on higher trims.
Like many other manufacturers, Hyundai has bundled its advanced safety and driver aids into a single package comprising collision detection with automatic braking, lane-departure assistance, adaptive cruise control, and automatic high beams. The system is available as part of an option package on SEL and Limited models, but not the SE, Eco or Sport. It's great that the Sonata has this technology available, but we'd like to see Hyundai follow the lead of some other automakers and make it available on all trim levels — not just the more posh ones.