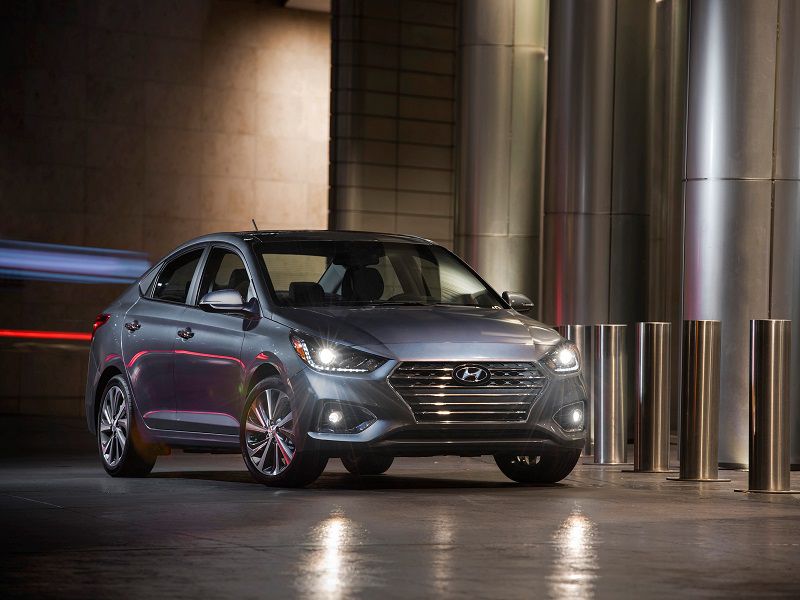 2018 Hyundai Accent Parked Grey Front Quarter Hero ・ Photo by Hyundai
The 2018 Hyundai Accent is fully redesigned with a new powertrain, expanded connectivity features, and an updated look. This is an affordable subcompact sedan designed to appeal to those on a budget, yet it comes with a good range of standard and available features. The Accent gives budget-minded buyers access to much of the safety and technology once available only on more expensive sedans that were out of reach.
Along with a wider range of features and styling that keeps the Accent appealing rather than boring, Hyundai engineers strove to make it a car people will enjoy when they're behind the wheel. The Accent is out to prove that just because a car is affordable, that doesn't mean that it has to be dull. Let's take a closer look at the all-new 2018 Accent and see if this is the right car for you.
Pricing and Trims
The 2018 Accent is available in three trims, starting with the SE at $14,995. This is the only trim available with a six-speed manual transmission. If you're one of the increasing number of people who can't drive a manual, then you can get the SE with a six-speed automatic for an additional $1,000. Either choice comes standard with a 5-inch color touchscreen, cruise control, Bluetooth hands-free connectivity, and power windows.
The Accent SEL adds standard features including a larger 7-inch touchscreen, Apple CarPlay and Android Auto, a tilting and telescopic steering wheel, and dual charging USB ports for $17,295. At the top of the lineup is the Limited with a price of $18,895. Additional Limited features include forward collision avoidance assist, a power sunroof, heated front seats, Blue Link Connected Services with three-year subscriptions, a hands-free trunk, and a leather-wrapped steering wheel and shift knob. In any trim, the Accent is an affordable choice.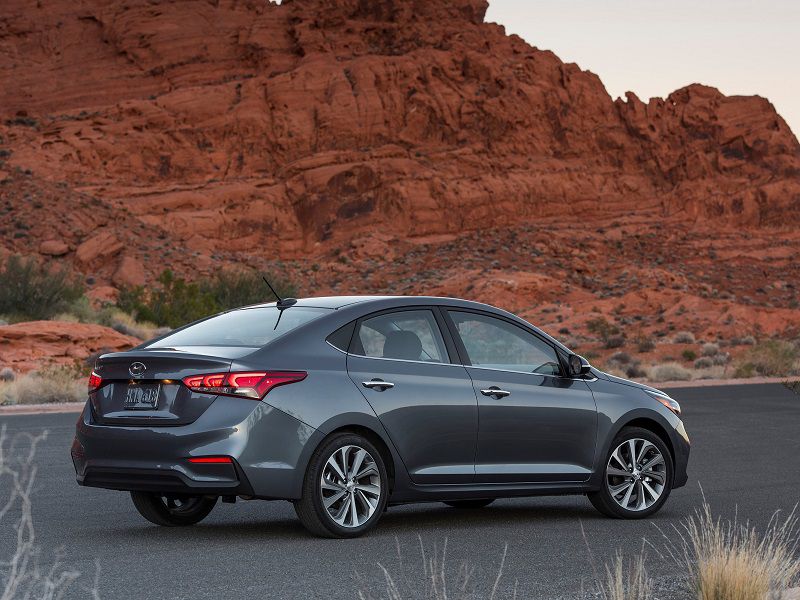 Photo by Hyundai
Powertrain
The Hyundai Accent has a 1.6-liter four-cylinder engine with 130 horsepower and 119 lb-ft of torque paired to either a six-speed manual or a six-speed automatic transmission. This is a small car, but that's still not a huge amount of power, and there are times when it shows. When you're driving around town or on rural roads, the engine does well and gives you all the performance you need. In highway driving, it shows its weakness when it's time to merge with high-speed traffic.
Once you're up to speed everything is fine, and if you need extra speed for highway passing, the Accent happily complies. In models with the automatic transmission, there's also Drive Mode Select, which lets you choose Normal or Sport modes. Sport makes the Accent more responsive and tightens the steering, but only to a mild degree. The Accent is at its heart an affordable sedan, not a sporty one.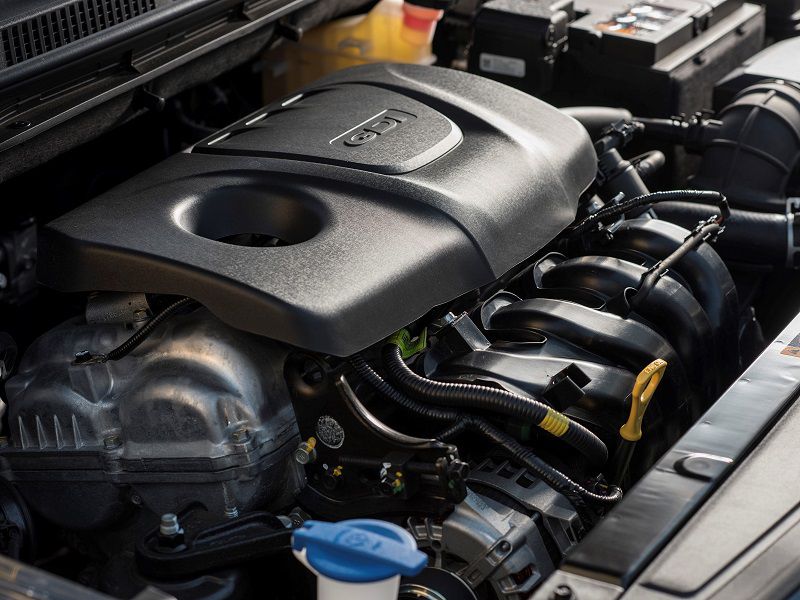 Photo by Hyundai
Ride and Handling
Usually, an affordable sedan like the Accent isn't a heck of a lot of fun to drive. These vehicles don't have powerful engines, and when it comes to ride and handling, you feel every cost-saving measure. The Accent avoids those pitfalls with a smooth ride that evens out rough pavement and does a solid job of absorbing bumps in the road that would be jarring in many similarly priced sedans.
Handling is also good, and it's what makes the Accent a fun drive. Steering is tight and controlled even in Normal mode, and it gets more so in Sport. This makes it easy to maneuver through crowded highway traffic and relaxing on winding country roads. Engine and wind noise are kept at bay, but you will hear some road noise, especially on rough roads. The Accent's unexpectedly good handling and smooth ride aren't often found in cars at this price.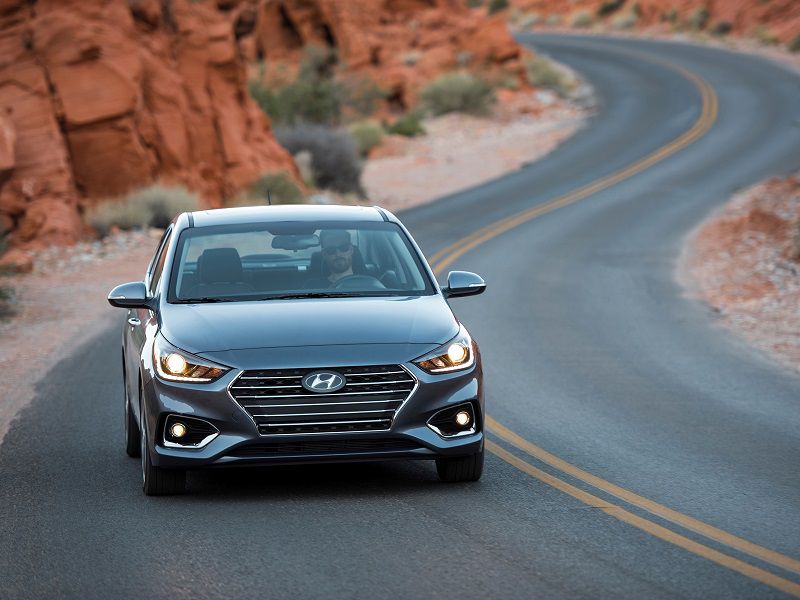 Photo by Hyundai
Fuel Economy
A low price is only part of what makes the Hyundai Accent an affordable choice. It also saves money over the long term thanks to its good fuel economy. Models equipped with the automatic transmission get an EPA-estimated 28 mpg in the city, 38 mpg on the highway, and 32 mpg combined. Go with the manual transmission on the base model and the numbers take a slight dip to 28 mpg in the city, 37 mpg on the highway, and 31 mpg combined.
Whichever transmission you choose, the Accent is a good option for those with long commutes who don't want to feel the pain of rising gas prices. Although the Accent's fuel economy numbers are good, some vehicles in the class do post slightly higher figures —making it worth your while to shop around a bit and compare if fuel economy is at the top of your list.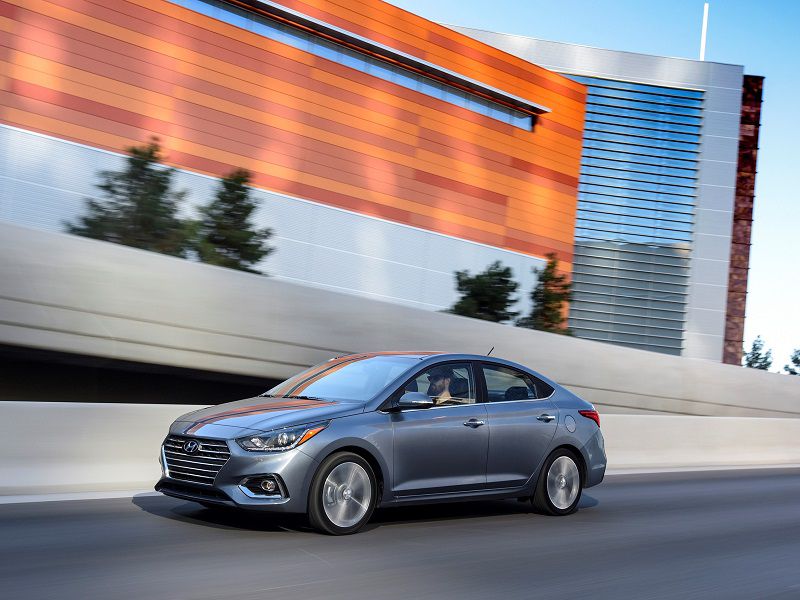 Photo by Hyundai
Cargo Capacity
Even if you're not buying an SUV or a crossover, that doesn't mean you won't occasionally need to carry cargo. Whether it's a weekly trip to the grocery store or luggage for the family getaway, cargo space matters in a sedan. The Accent is small, which can be a challenge, but there's still 13.7 cubic feet for cargo in the trunk, which bests others in its class. It also has a wide, low trunk opening, so lifting heavy or bulky items into the trunk is easier.
Adding even further to the Accent's flexibility to carry cargo is the 60/40 split-folding rear seat. These are standard, so you'll find them even on the base trim. This expands the trunk and lets you carry longer items that wouldn't otherwise fit. If you're worried about cargo capacity, then the Accent has you covered.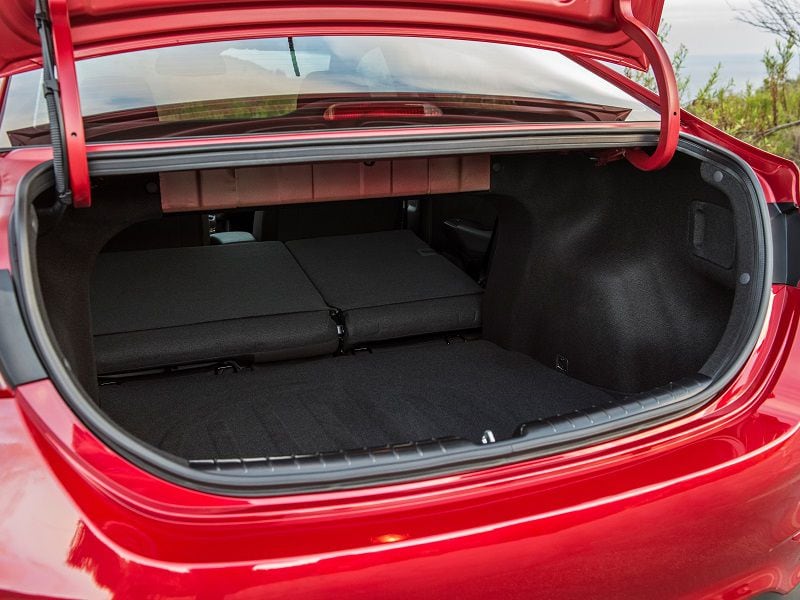 Photo by Hyundai
Interior
There's room for five passengers in the Accent, although fitting three in the rear seats is a tight squeeze. The back is best reserved for only two adults except for the shortest of trips. On the plus side, there's good headroom for rear passengers, and unless the front seats are pushed all the way back, even rear legroom is good for most adults. Up front, the seats are comfortable and supportive with good adjustability. Longer trips won't tire the driver, although rear seat passengers might find the seats too stiff.
While the interior isn't fancy, it's also not bare bones. There are quality materials throughout and plenty of soft-touch surfaces. The dashboard display is clean and uncluttered, and the overall impression is a good one. Rather than opening the door and being reminded this is an economy car, the Accent looks like it costs more than what you paid.
Photo by Hyundai
Infotainment
The standard infotainment system on the base Accent has a 5-inch color touchscreen, AM/FM, four speakers, Bluetooth hands-free connectivity, and smartphone and USB auxiliary jacks. That's a small list of features and a small screen, but move up to the SEL and things get much better. This trim has a 7-inch touchscreen, SiriusXM, six speakers, and both Apple CarPlay and Android Auto. There are also dual USB charging ports.
Once you get to the Limited, Hyundai's Blue Link is added. This includes three years of the system's complimentary connected car service, connected care package, and remote package. Combined, these features let you do things like access your car remotely from a smartwatch or smartphone, check that the doors are locked, activate remote start, and get monthly vehicle health reports. Although the base system is minimal, the top two trims have the key features most buyers want on today's cars.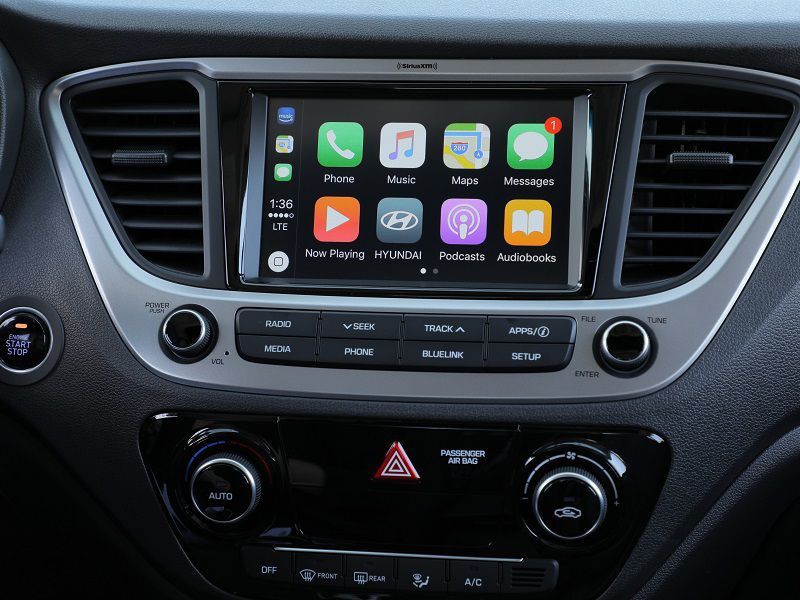 Photo by Hyundai
Safety
The National Highway Traffic Safety Administration has not yet crash-tested the 2018 Hyundai Accent, but it has been crash-tested by the Insurance Institute for Highway Safety. The IIHS gave it a top rating of Good in all crash tests except for small overlap front on the passenger side, which received an Acceptable rating. It received a Superior rating for available front crash prevention technologies.
Standard safety on the Accent includes electronic stability control, traction control, and multiple airbags. The SEL adds a driver's blind-spot mirror and the Limited adds forward collision-avoidance assist. The only way to get these features is to go with the higher trims as they aren't available as options. Overall, the Accent has solid safety ratings but relatively few advanced safety features, even on the top trim.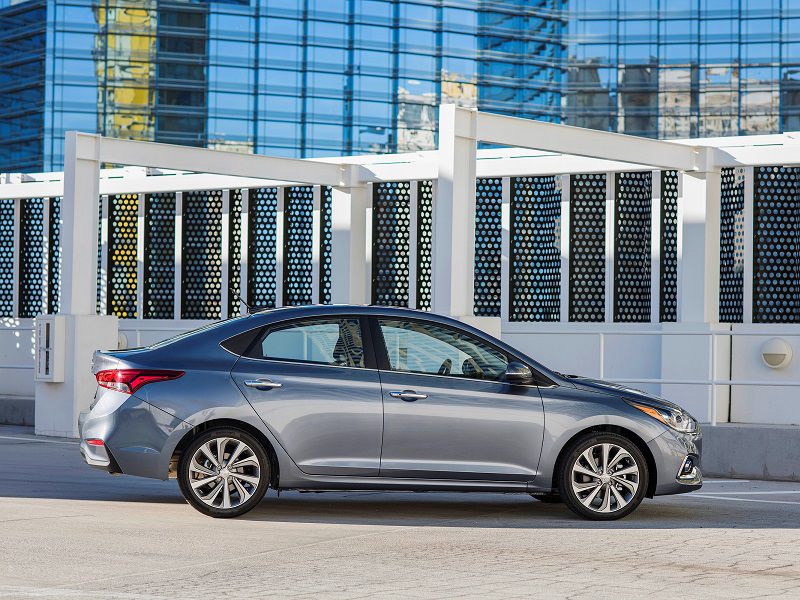 Photo by Hyundai
Final Thoughts
The Accent is a subcompact sedan that packs in the options buyers want most at an affordable price point. While the base model feels more like an economy car, once you get up to the Limited it loses that vibe and becomes a well-equipped choice while keeping its affordable price.
There's a solid infotainment system with great connectivity options and a surprisingly good ride quality for a car at this price point. The Accent isn't a sporty ride, but it's still fun to drive and gets good fuel economy, which helps it maintain its affordability over the long term. The all-new 2018 Hyundai Accent is an economy car that won't make you feel like you sacrificed.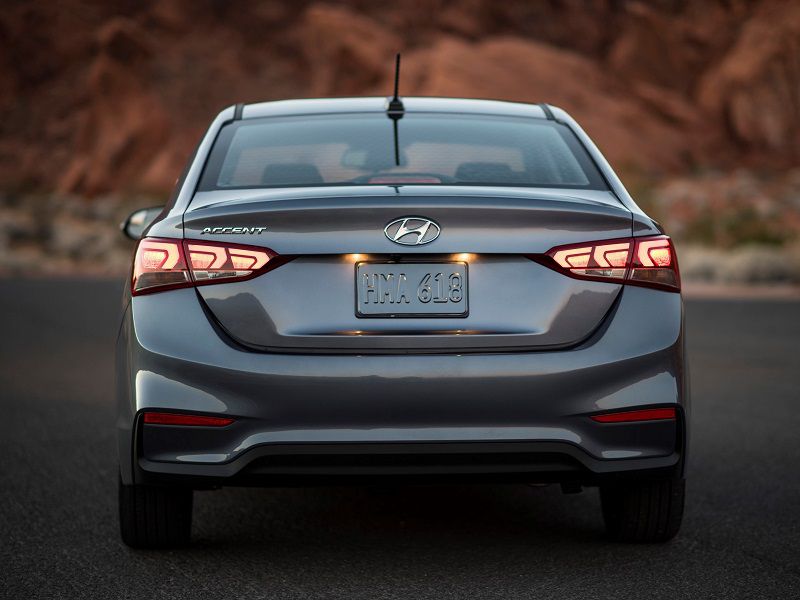 Photo by Hyundai