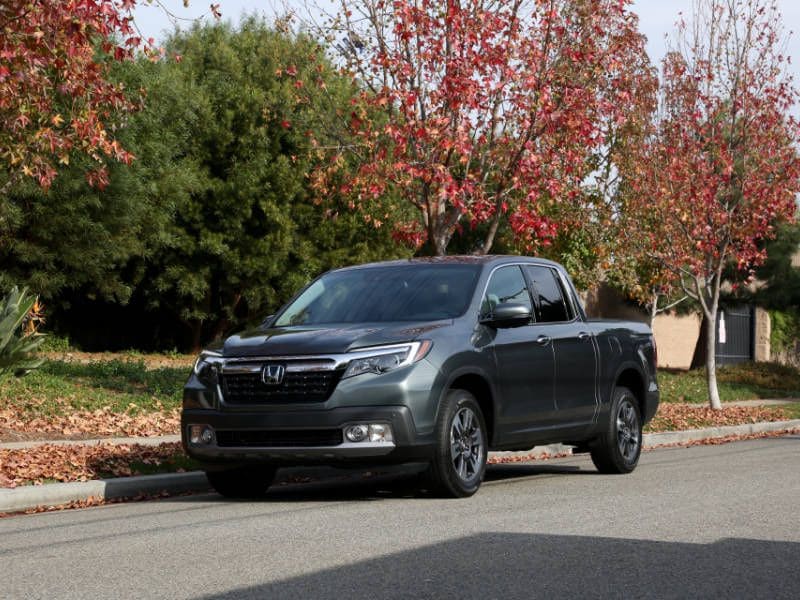 2018 Honda Ridgeline hero ・ Photo by Miles Branman
Honda comes at the automotive industry from all sides. In the most head-on, predictable way, Honda satisfies consumer needs with efficient, reliable, feature-rich vehicles in the most popular segments. For enthusiasts, there's the wild-bodied, tuned-up Civic Type R hatchback. On the cutting edge, Acura's NSX is a hybrid, all-wheel-drive supercar that's as fast as a Ferrari. What else is left?
How about a mid-size pickup that isn't rear-wheel-drive-based, isn't body-on-frame, and looks as friendly as a Girl Scout? The Ridgeline is undeniably odd, but something about Honda's track record for intelligent design suggests the quirks are really benefits. To find out, we put the 2018 Honda Ridgeline through two weeks of light- and heavy-duty tasks. Here's what we learned.
What's New for 2018
Completely redesigned for the 2017 model year, the Honda Ridgeline carries over its engine, exterior, interior, and other features for 2018. The only changes amount to one fewer trims (RTS models have been discontinued), front-drive exclusivity for RT vehicles, two new paint colors, and the expansion of the Sport-trim's color palette (to silver, white, and black).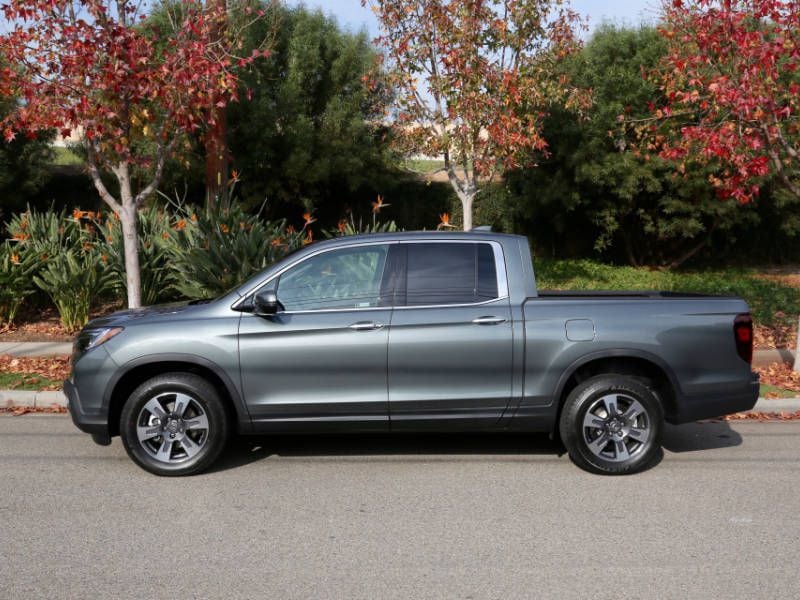 Photo by Miles Branman
Exterior Styling
The first generation Ridgeline was brushed aside in the minds of truck enthusiasts first and foremost because of its "soft" exterior design. To lower this barrier to entry, Honda incorporated traditional pickup styling cues into its new Ridgeline while retaining its approachable expression. Gone are the flying buttresses connecting the cab to the bed, added is a fake panel gap between the cab and rear end, and the rest of the exterior has been smoothed over to match the latest Honda vehicle – especially the Pilot. In fact, head-on, the Ridgeline, and Pilot are indistinguishable, establishing a fun betting game for oncoming traffic. In profile, however, the Ridgeline looks sufficiently bold and athletic.
All Ridgelines feature a double-cab, short bed layout and ride on 18-inch, six-spoke wheels, meaning the only real visual distinction between trims is for range-topping Black Edition models. This uniformity is surely a welcome trait for buyers of entry and mid-grade models who would find themselves on dinky steel wheels and with tons of plastic body cladding if they opted for a Chevrolet Colorado or Toyota Tacoma.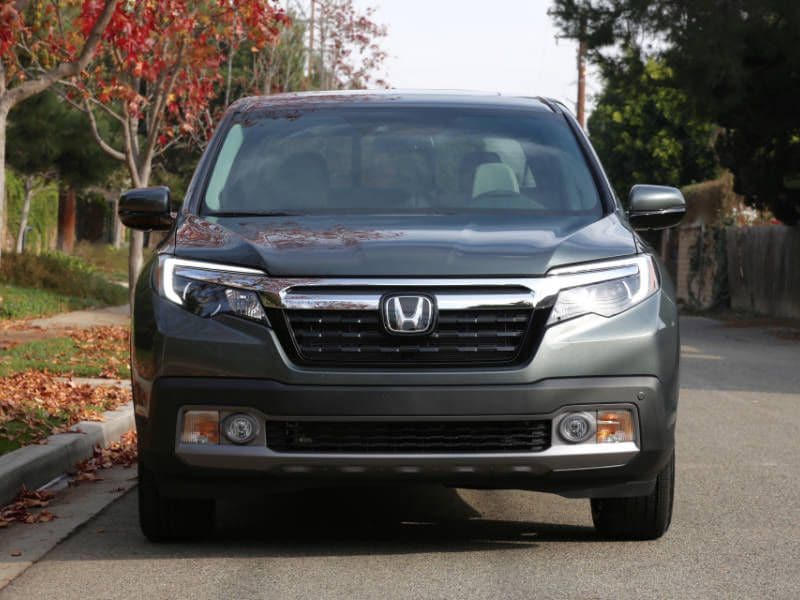 Photo by Miles Branman
Interior Comfort
Inside, the Ridgeline's trim-level gaps show more clearly, though still not as prominently as some of its competitors. Honda interior designers worked their usual magic on the Ridgeline's cabin, bringing forth a clean, smartly laid out dash, center stack, and console. All touch points are of high quality while cheaper plastics are hidden from view.
Front passengers enjoy ergonomic, comfortable chairs with adjustable armrests; rear riders benefit from class-leading headroom and legroom. Both the sense of space and the physical volume within the cabin is remarkable for the midsize segment. Furthermore, the Ridgeline's cabin is supremely quiet thanks to an optional acoustic windshield and standard Firestone Destination tires. Supple ride quality is perhaps the Ridgeline's best feature. In the same way that crossovers are attractive for their sedan-like driving dynamics, the unibody Ridgeline is infinitely smoother than its body-on-frame rivals. There are certain drawbacks to this construction method, but all for the benefit of passenger comfort.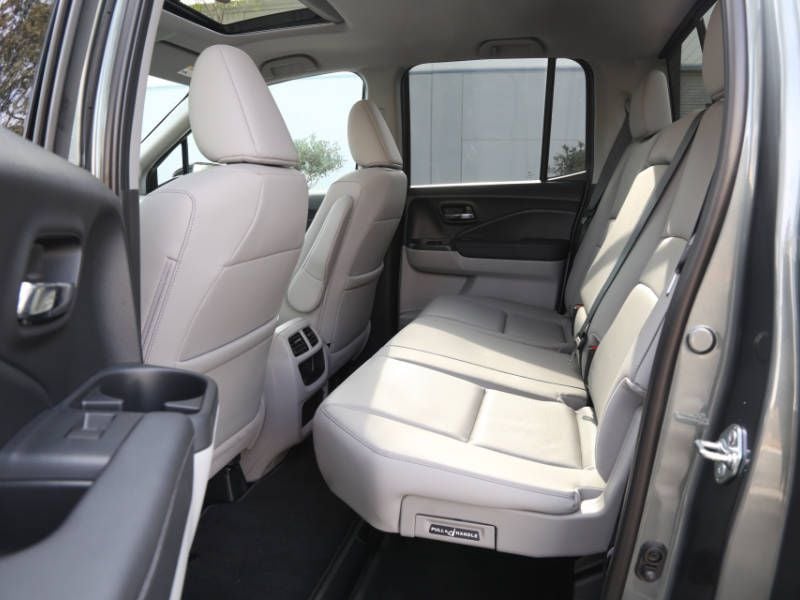 Photo by Miles Branman
Convenience and Safety Features
The 2018 Honda Ridgeline is available with a range of top-notch convenience and safety features, but nothing comes cheap (more on that later). Honda Sensing bundles blind spot monitoring, auto high beams, adaptive cruise control, lane keeping assist, lane departure warning, forward collision warning, road departure mitigation, forward collision mitigation braking for an impressive roster of driver aides.
We'll save the itemization of convenience features for the pricing section and instead talk about the Ridgeline's real convenience features: cargo and utility. The two most popular Ridgeline-exclusive features include a dual-action tailgate that opens top-down and side-to-side and an in-bed storage reservoir that swallows 7.3 cu. ft. of cargo and can be drained via embedded plugs. The benefit of a swinging tailgate is simply to ease access to items in the bed (rather than clambering over the tailgate). As we found out, there's nothing gimmicky about this feature – it really does help when carrying a full bed.
Photo by Miles Branman
Powertrain and Fuel Economy
Honda's one-size-fits-all theme continues when it comes to powertrains. Toyota's Tacoma is offered with two engines, Chevy's Colorado is available with three engines, and Honda's Ridgeline only gets one. Fortunately, the standard-issue 3.5-liter V6 has plenty of power. 280 hp and 262 lb-ft of torque are channeled through a six-speed automatic transmission to the front wheels, or all four (if buyers opt for the $1900 AWD system). Without the weight of a body-on-frame setup and a heavy-duty transfer case, the Ridgeline makes the most of its engine to move between 4,200 and 4,500 pounds (depending on equipment). Front-drive Ridgelines boast 19 city, 26 highway, and 22 combined mpg, while all-wheel-drive models lose a single mpg across the board. A comparative double-cab, short-box, 4WD Tacoma lags at 18 city, 23 highway, and 20 combined, while a similarly equipped Colorado only manages 17 city, 24 highway, and 19 combined.
The Ridgeline's more rugged rivals claw back some merit in towing demonstrations. Front-drive Ridgeline models can tow a meager 3,500 pounds, while all-wheel drive editions offer an improved 5,000 pounds of max towing. Comparatively, a V6-equipped Tacoma can drag 6,800 pounds and a V6-powered Colorado can pull a whopping 7,700 pounds. Maximum payload ratings are nearly the same across the board.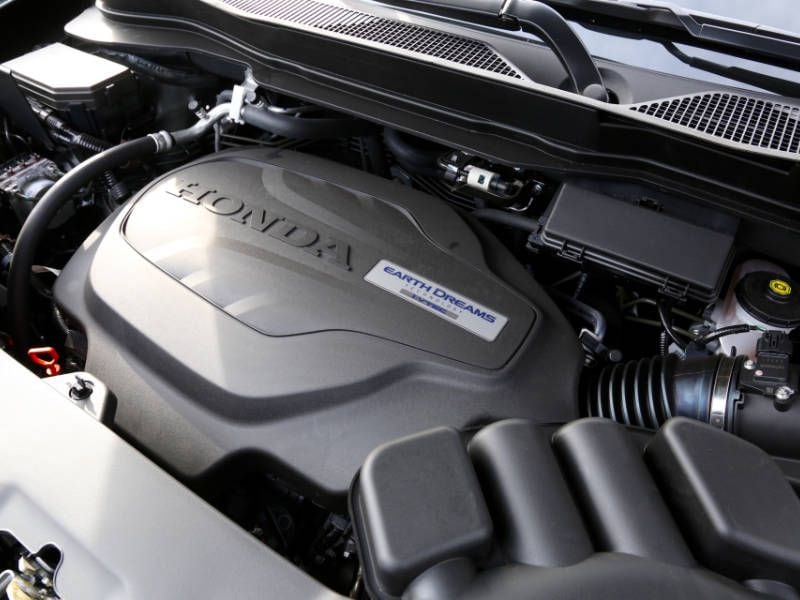 Photo by Miles Branman
Driving Dynamics
No one buys a pickup truck for its handling prowess. Even beefed-up models like the Ford F-150 Raptor are tuned more for straight-line punishment than corner carving. Still, in an emergency or hurried moments, one might expect that his or her truck can take a bend at speed without flopping or flipping. The Ridgeline, however, does more.We won't call it "sporty," necessarily, but the Ridgeline's handling is surprisingly deft. With above-average steering feel, the Ridgeline coasts through corners with minimal body roll and a surefootedness most unlike a standard pickup. If nothing else, the Ridgeline inspires confidence that, if called upon, it can respond quickly and safely.  
In terms of straight-line performance, the Ridgeline is just off the pace of the higher-powered V6 Colorado, but significantly quicker than the similarly potent V6 Tacoma. Independent tests claim a 0 to 60 mph sprint of 6.6 seconds for the Ridgeline, 6.1 seconds for the Colorado, and 7.7 seconds for the Tacoma.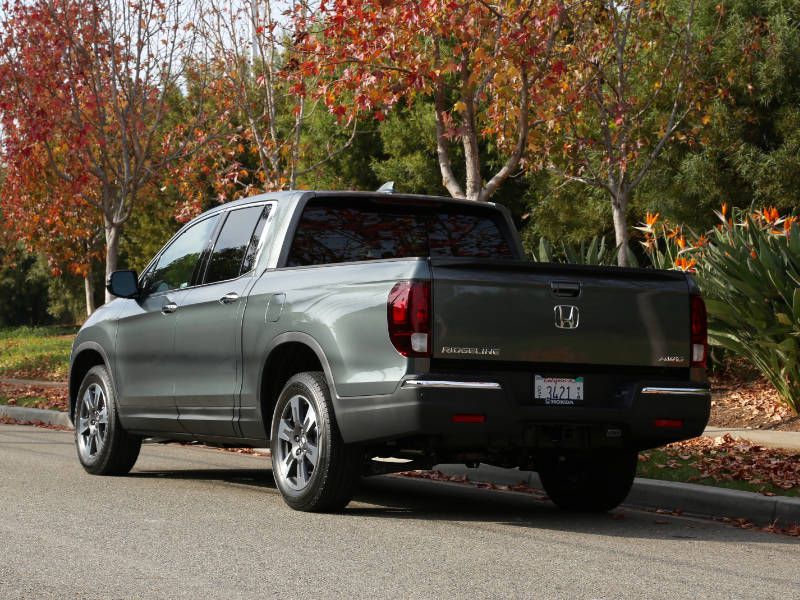 Photo by Miles Branman
Pricing and Packages
One engine and one layout mean Ridgeline shopping is considerably easier than Colorado or Tacoma configuration. Buyers simply choose FWD or AWD, and one of six trims. Only the entry-level RT model is confined to FWD, but its starting price of $29,630 (plus $975 for destination and handling) comes with a number of standard features. Highlights include a multi-angle rearview camera with gridlines, daytime running lights, a dual-action tailgate, in-bed trunk, rear privacy glass, LED taillights, a trailer hitch, truck bed lights, remote entry, push-button ignition, power door locks, a 5-inch display audio, 7-speaker audio system, Bluetooth audio and calling, MP3, AM, FM, and one USB port.
If you want AWD, you'll need to step up to the Sport ($33,270) and add $1,900 for four driven wheels. At $35,170, this puts the "base" AWD Ridgeline much higher than the cheapest 6-cylinder, 4x4 Tacoma ($31,465) or 6-cylinder, 4x4 Colorado ($32,495).  For the best stuff, including truck bed audio, a 400-watt power outlet, and Honda Sensing, you'll need to choose the RTL-E trim ($41,720). All this sounds fairly pricey, though equipment-matching the Tacoma and Colorado puts the three trucks on nearly level price territory.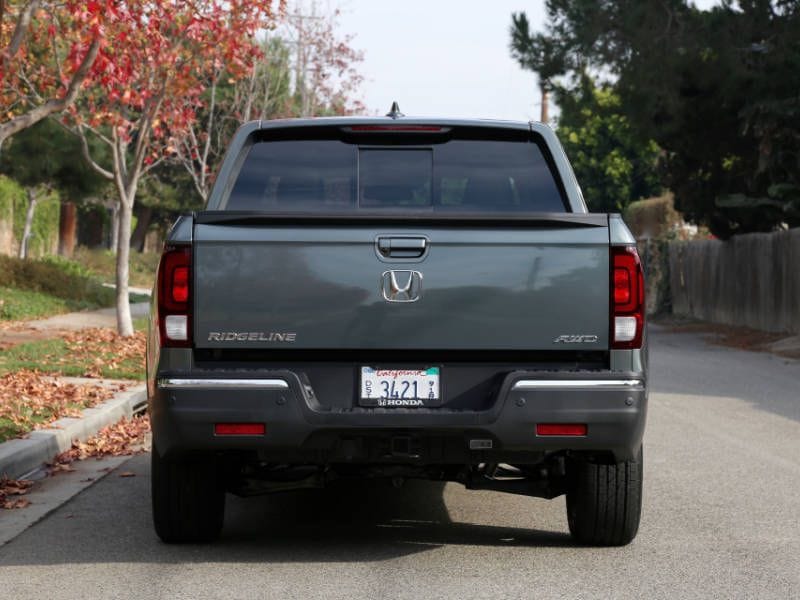 Photo by Miles Branman
Highs and Lows
Highs: - Remarkably smooth and quiet ride - Segment-best fuel economy - Innovative storage solutions - Car-like handling - Comfortable, spacious cabin
Lows: - Frustrating infotainment system - Segment-low towing and ground clearance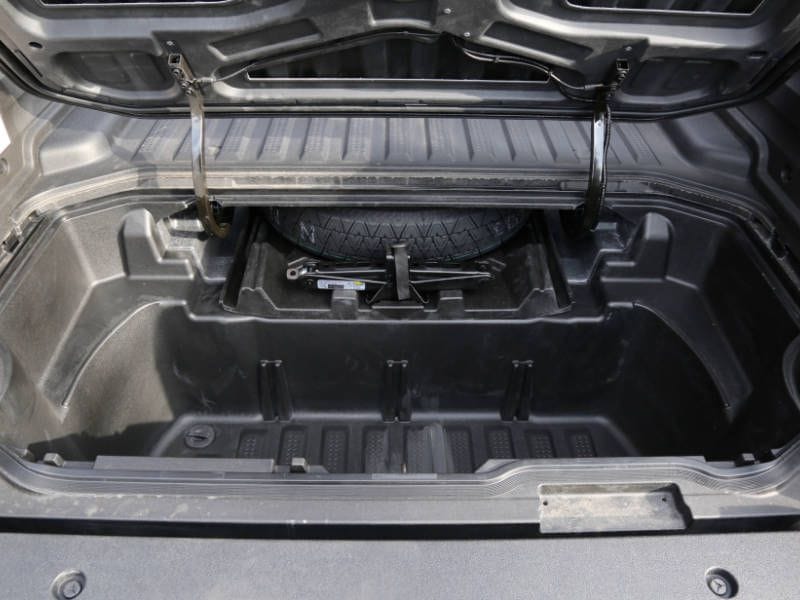 Photo by Miles Branman
Competition
The Toyota Tacoma and Chevrolet Colorado serve as the Ridgeline's main rivals. Other competitors include the GMC Canyon (basically a restyled Colorado) and the Nissan Frontier. Ultimately, choosing between the Toyota Tacoma and Chevrolet Colorado is a much more difficult task than choosing the Ridgeline over one of the other trucks. If you require a high tow rating or plan to do any serious off-roading, the Ridgeline comes up short compared to all its rivals. However, if you simply want the utility of a pickup, the Ridgeline is best-in-class. Ride quality, fuel economy, comfort, safety and passenger volume all favor Honda's rig.
If you want a budget pickup, however, the Ridgeline isn't for you. The cheapest double-cab Tacoma ($26,030) and Colorado ($21,195) both undercut the Ridgeline. However, if you have $30,000 to $40,000 to spend, there are far more reasons to love the Honda than to loathe it.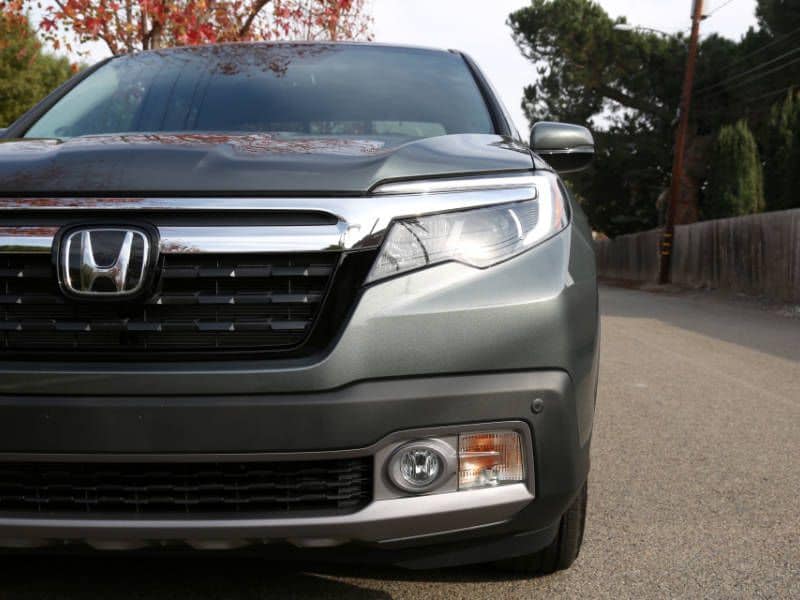 Photo by Miles Branman
Our Take
As it turns out, Honda's oddball pickup does a darn good impression of a traditional body-on-frame truck, while throwing comfort, creativity and convenience into the mix. For the money, the 2018 Honda Ridgeline is one of the most practical and user-friendly utility vehicles on the market.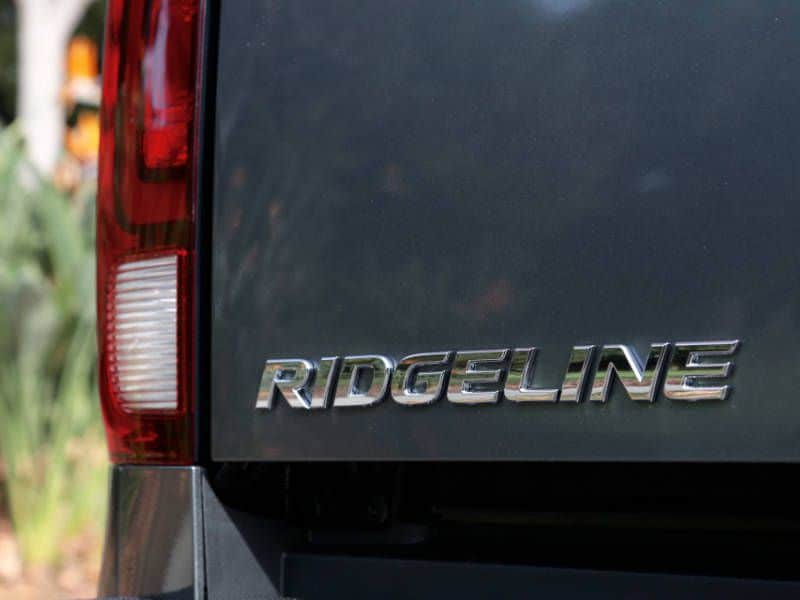 Photo by Miles Branman