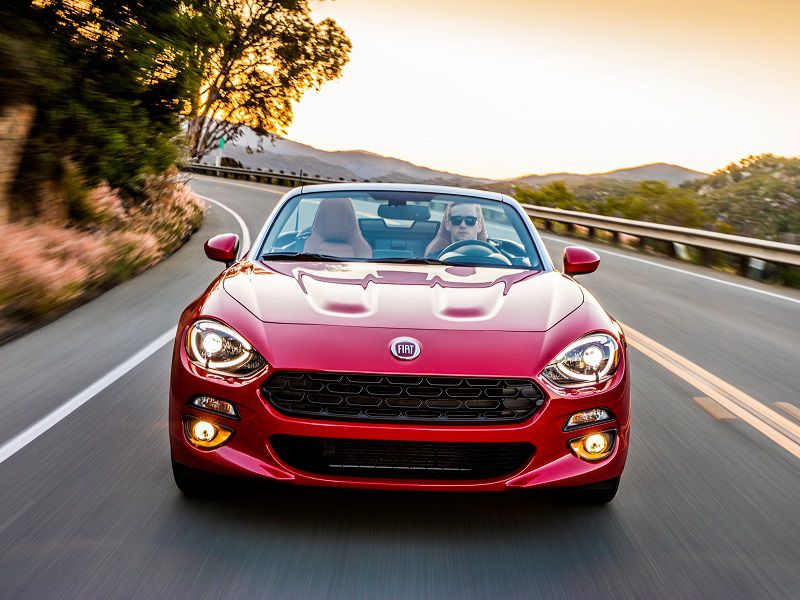 2018 Fiat 124 Spider Driving Red Front ・ Photo by FIAT
An Italian sports car, a 1962 Ferrari 250 GTO, is the most valuable car in the world. One just sold for over $70,000,000. Yes, that's seven zeros. Most new Italian sports cars aren't cheap, either. You can't touch a new Ferrari or Lamborghini for anything under $200,000. Even the four-cylinder Alfa Romeo 4C starts around $56,000.
But then there's the 2018 Fiat 124 Spider. It's not only the least expensive Italian sports car for sale in the United States, with a base price around $25,000, it's also the most affordable turbocharged two-seat convertible sold in America. Small, powerful, and sexy, the new Fiat 124 Spider was designed in Turin, Italy, and closely resembles the classic 124 Sport Spider from the 1960s and 1970s. Those early cars, although beautiful, weren't exactly known for their quality — so this time the Fiat roadster is built in Japan, sharing its rear-wheel drive platform with the Mazda MX-5 Miata. The result is a fun-to-drive two-seat droptop with impressive build quality and improved reliability. And that makes the Fiat 124 Spider a consistent favorite in the convertible sports car class, where it competes against the Nissan 370Z and its Mazda cousin.
Available in Four Trim Levels
The 2018 FIAT 124 Spider is available in four varieties: Classica, Lusso, Abarth, and Lusso Red Top. Prices start at $26,240, including $1,245 for destination and handling, for a Classica. A Lusso like our test vehicle starts at $28,840. Both trims get a six-speed manual transmission standard, but a six-speed automatic transmission is available for an additional $1,350. The range-topping Lusso Red Top Edition starts at $32,685 and comes with the six-speed automatic, which does have a manual mode and paddle shifters.
All-wheel drive is not offered, and every 124 Spider comes with a manually operated soft top, which can be lowered or raised in just a few seconds. In fact, you can put the top up and down from the driver's seat without breaking a sweat. Under the hood of the Fiat is a smooth and powerful 1.4-liter turbocharged four-cylinder engine. It makes 160 horsepower. That's 5 hp more than you get in the Mazda MX-5 Miata, which is not turbocharged. The Nissan Z convertible is significantly more expensive at over $41,000, but it's also quite a bit stronger. Its V6 makes 332 hp.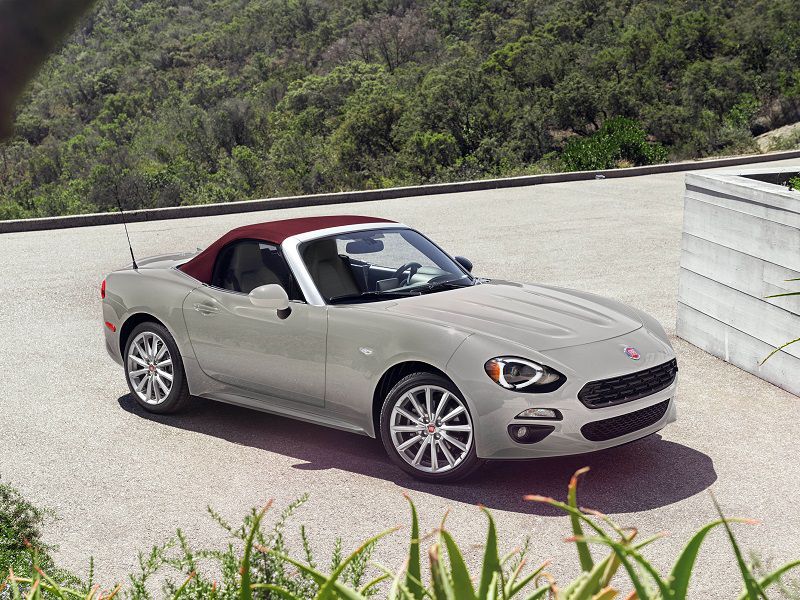 Photo by FIAT
It's pronounced Ah-bart.
If more performance is on your list of desires, Fiat offers the 124 Spider Abarth. It's the hot-rod version of this two-seater, and it's named for European racing legend Karl Abarth, who began modifying Fiats in the 1950s. Unfortunately most Americans mispronounce Abarth, saying Ae-barth instead of the correct Ah-bart.
In this model, Fiat cranks up the turbocharged engine to 164 hp and adds a sport-tuned suspension with Bilstein shocks, a limited slip differential, a front strut tower bar, a selectable Sport Mode, more aggressive front and rear fascias, unique wheels, gunmetal graphics, and a louder exhaust system with four chrome pipes. Brembo brakes and Recaro seats are optional. Prices start at $29,540, which is a couple of grand cheaper than a Mazda MX-5 Miata RF Club.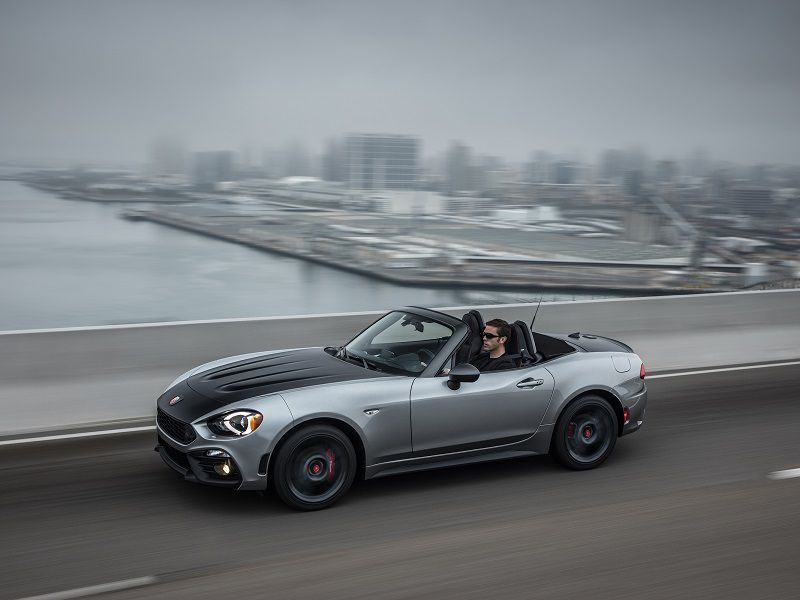 Photo by FIAT
Responsive Handling
With rear-wheel drive, a fully independent suspension, and the same chassis hardware as a Mazda Miata, it's no surprise the 2018 FIAT 124 Spider handles well and is a blast to drive. This little two-seater is agile, responsive, and well-balanced. Its steering also has plenty of feel. In the mountains or a coast road on a sunny Sunday with the top down and the breeze blowing through your mane, the Fiat feels better the harder you push it.
Although the base model comes with 16-inch wheels and tires, the 17-inch Bridgestones on our Lusso test vehicle looks more substantial and have plenty of grip. Around town, the Fiat feels sporty and engaging, but it also manages to provide a supple ride. For a sports car, it's impressively comfortable, even on rough roads, and its chassis is tight, with no squeaks or rattles. This is a sports car that can be driven every day without making you feel like you've made a sacrifice in comfort or refinement.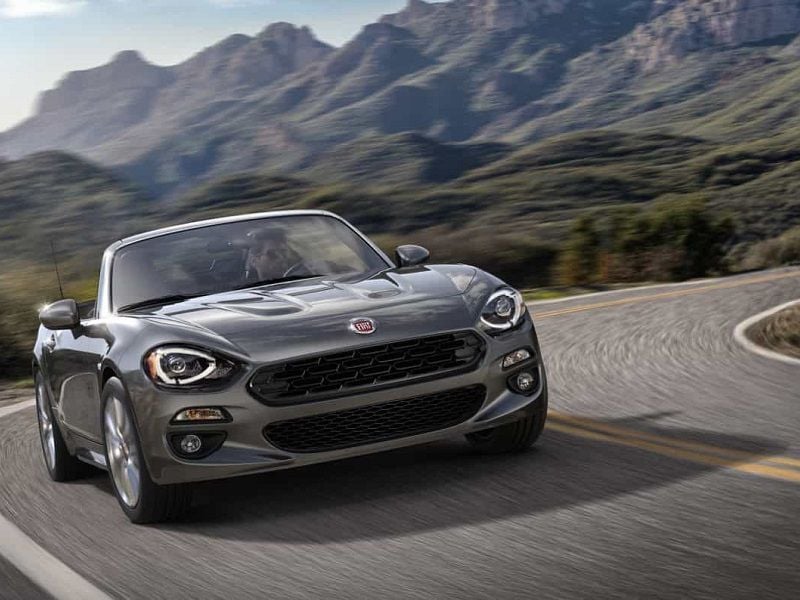 Photo by FIAT
Plenty of Power
The Fiat's turbocharged four-cylinder sounds good at idle and likes to rev out to its 6,250-rpm redline. With 160 hp peaking at 5,500 rpm, the engine provides a nice surge of power as it gains rpm, but it's also torquey with good power right off idle. This engine makes 184 lb-ft of torque, which is significantly more than you get in a Miata, and the difference can be felt from behind the wheel.
Stomp on it from a stop and the Fiat is quick, chirping its tires off the line and running from 0-60 mph in about 6.5 seconds. The Miata does keep up, but the V6-powered Nissan 370Z will smoke them both, hitting 60 mph more than a full second quicker. Fiat fits the 124 Spider with a precise six-speed manual supplied by Mazda, and it's a good match for the smooth engine, with tightly spaced gears. Also, the clutch action is light and the shifter is accurate with short throws.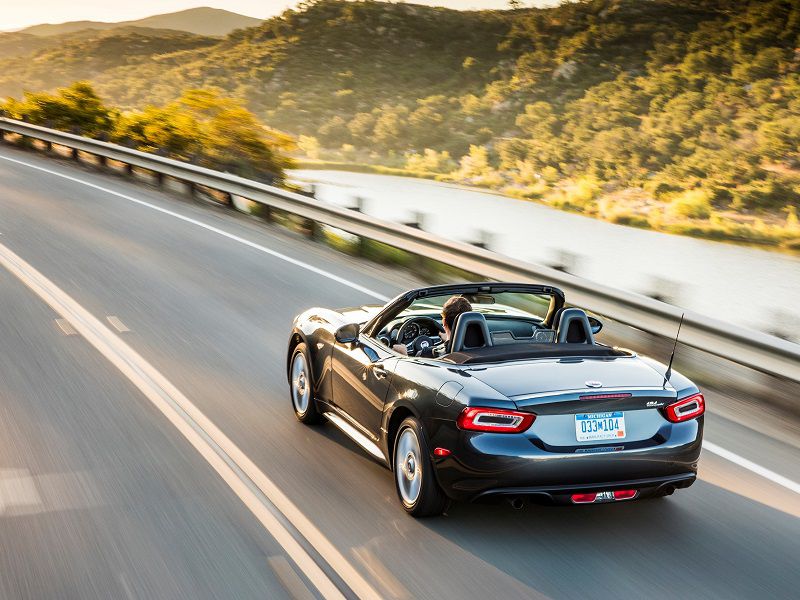 Photo by FIAT
Fun and Fuel Efficient
Cars like this prove you do not need to drive some dorky pod on wheels to enjoy fuel efficiency. With either the six-speed manual or six-speed automatic transmission, the 2018 FIAT 124 Spider is rated 26 mpg in the city and 35 mpg on the highway. Interestingly, the less powerful Mazda Miata betters the Fiat's mpg in the city but lags the Italian on the highway. I averaged 29 mpg in mixed driving.
That's impressive fuel economy considering the Fiat's acceleration and fun factor. Unfortunately the Fiat's fuel tank is small, holding only 11.9 gallons. So its fuel range isn't great. Even on the highway, in hypermiler-mode, its practical range is under 400 miles before you need to stop and fill up.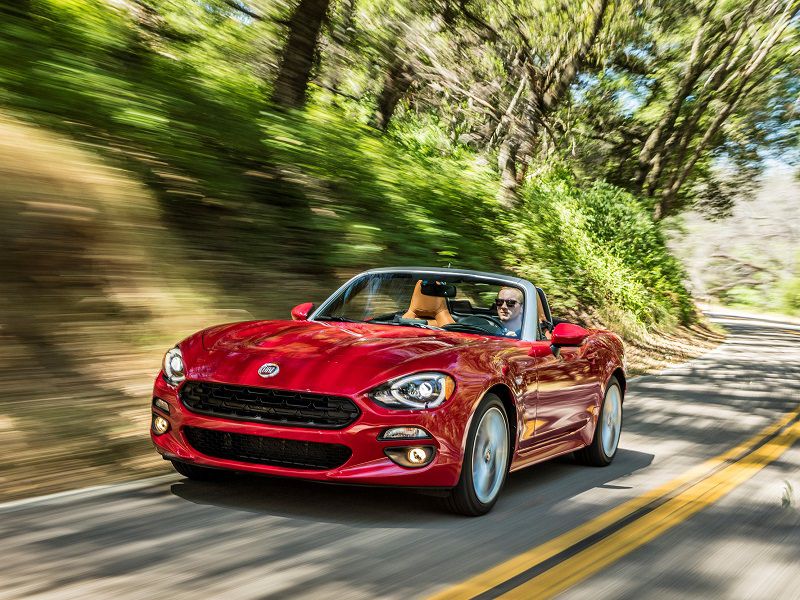 Photo by Fiat Chrysler Automobiles
Advanced safety systems are optional.
Neither the 2018 FIAT 124 Spider or the Mazda MX-5 Miata has been crash-tested or given safety ratings by the Insurance Institute for Highway Safety or the National Institute for Highway Safety. The Fiat is fitted with front and side airbags, as well as seat belt pretensioners and electronic stability control.
High-tech safety systems are extra-cost options on the 124 Spider. A backup camera is optional on the base model and standard on the other trims. Fiat also offers rear parking sensors, blind-spot monitoring, and a rear cross-traffic alert on all models. A lane-keep assist system and active cruise control are not available. I was also disappointed by the Fiat's tire pressure monitoring system, which is no more than a warning light. A sports car of this caliber should have a tire pressure readout for all four corners.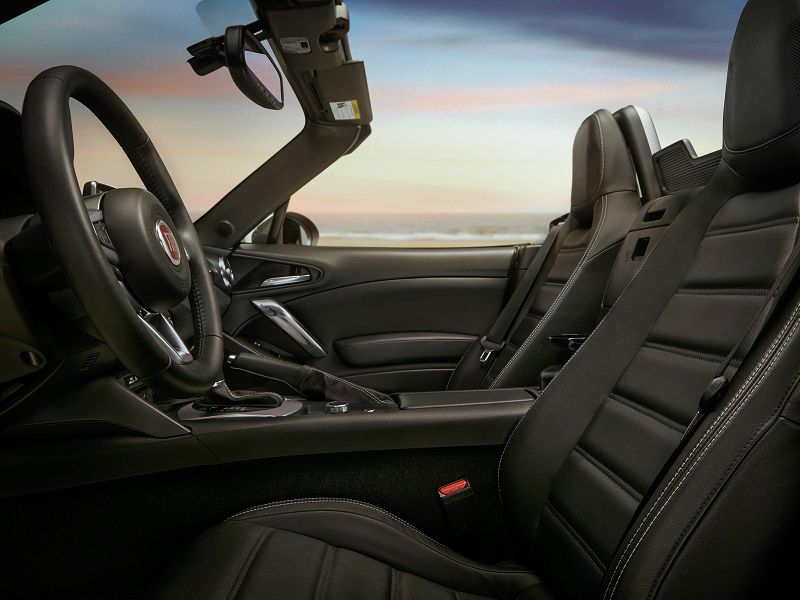 Photo by FIAT
Well-Built Interior
Unlike its exterior, which is uniquely Fiat, most of the 124 Spider's interior, including its dash, console, controls, and seats, are shared with the MX-5 Miata. Fiat has changed some of the materials, which give the cabin a touch of European flair, and the panel fitment is precise. Like in the Miata, the analog gauges are clear and concise, with the tachometer mounted front and center, just as it is in a Porsche 911.
Visibility is good, even with the top erected, and the outside mirrors are well-sized. The heated leather-trimmed front seats in our test vehicle were comfortable and the driver's seat is height-adjustable. Although the steering wheel isn't telescopic, it does tilt. A large 7-inch screen occupies the center of the dash on the upper trim levels. Its infotainment functions are controlled by a knob on the console, much like BMW's iDrive. It isn't a seamless operation, but you can learn its idiosyncrasies quickly. Other standard features on our Lusso model included Bluetooth, a leather-wrapped steering wheel with audio controls, and rain-sensing wipers. Navigation and a nine-speaker sound system are available, but onboard Wi-Fi is not offered.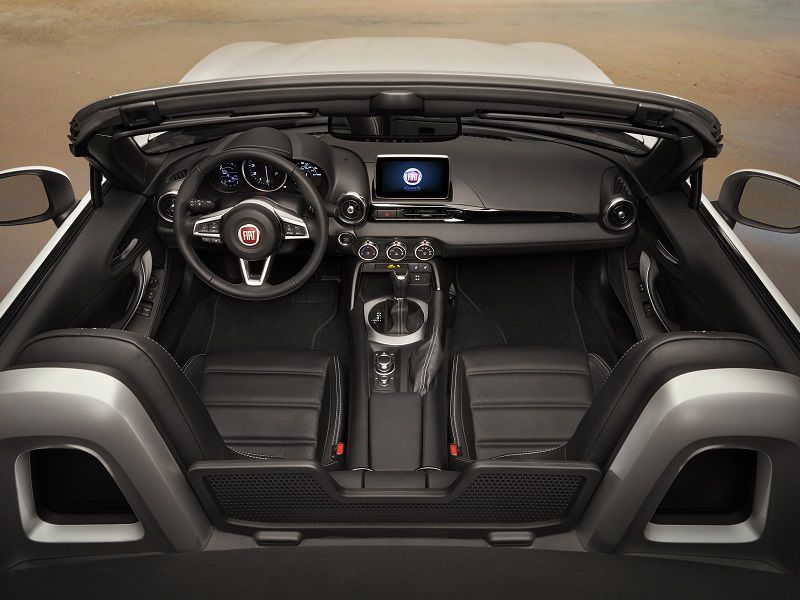 Photo by FIAT
Questionable Cupholders
This is not the car for Starbucks addicts. The Fiat's cupholders are questionable at best. There are three, which are removable to save space in the Spider's intimate interior: two that plug in between the seats behind the driver's right elbow, and one that installs near the passenger's left knee. Storage inside the Fiat's interior is also tight. The center console bin is shallow and there are no door pockets.
With about 5 cubic feet of space, the Fiat's trunk is also small, but there's enough cargo capacity for a load of groceries or a weekend road trip for two. It's also deep enough to swallow most carry on bags. To save space and weight, Fiat does not equip the 124 Spider with a spare tire and a jack. Instead, there's a can of tire sealant and an air pump.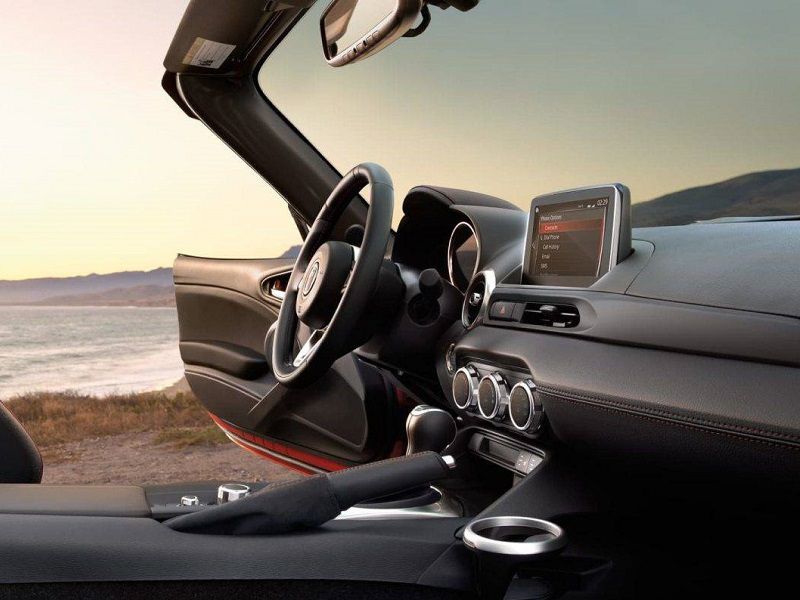 Photo by FIAT
Final Thoughts
Everyone should own a sexy two-seat convertible at least once in their life. Consider it a rite of passage. A personal reward for a life well led. It's at first something to look forward to. Then, something to be enjoyed. And then, eventually, something to look back upon fondly. If you missed it in your youth, do it later in life. No regrets.
The 2018 FIAT 124 Spider offers a unique Italian design, a smooth ride, strong performance, and impressive build quality at a very reasonable price. Plus, it's really fun to drive. If you're looking for an affordable two-seat convertible with style, it's a desirable choice.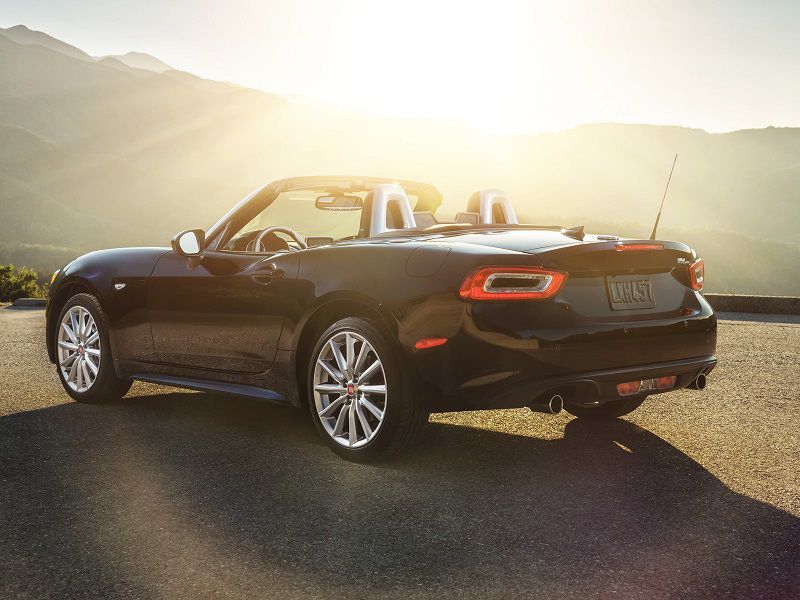 Photo by FIAT