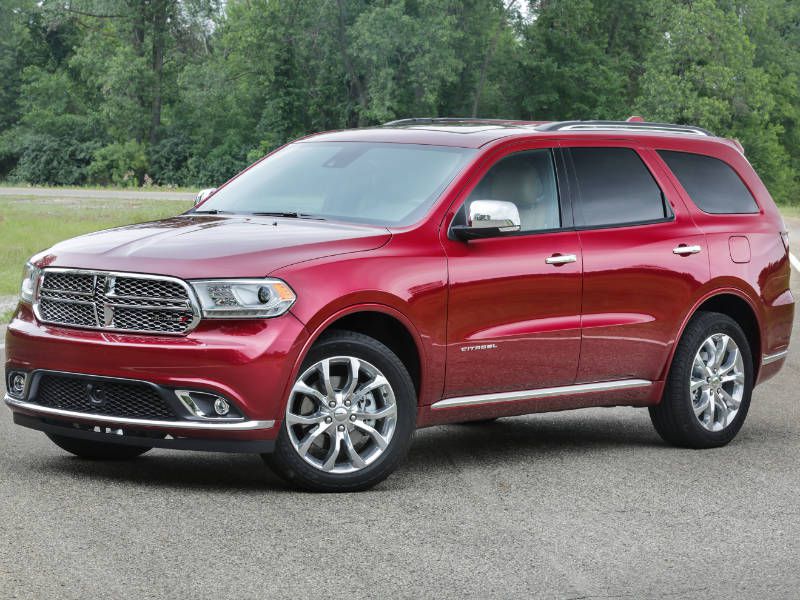 2018 Dodge Durango Citadel front quarter hero ・ Photo by Dodge
After spending a few years building its Charger sedan and Challenger muscle car into high-performance legends with over 700 hp, Dodge has decided to sprinkle its magic dust of attitude and performance on the 2018 Dodge Durango SUV. For 2018, the Durango gets a revised look, an improved interior, and more safety features. And for enthusiast moms and dads, there's also a new high-performance SRT model packing a 475 hp 6.4-liter Hemi V8, which Dodge says is the world's most powerful three-row SUV.
With a starting price right around $30,000, the vastly improved 2018 Durango competes in the ever-expanding seven-passenger crossover/SUV segment. Its main competition includes various popular models like the Chevrolet Traverse, Ford Explorer, Honda Pilot, Mazda CX-9 and Toyota Highlander.
Five trim levels to choose from.
Built alongside the Jeep Grand Cherokee in Detroit, the 2018 Durango is offered in five trim levels powered by strong V6 and "Hemi" V8 engines, which it shares with the Jeep.  
The SXT, GT and Citadel models are powered by a 3.6-liter V6 cranking out 293 hp (or 295 hp with the dual exhaust option). The R/T starts around $42,000 and gets a lowered suspension for improved handling and a 360-hp 5.7-liter Hemi V8, which is also optional on the Citadel. With both engines, rear-wheel drive is standard — which is unique in a class filled with front-wheel drive SUVs — but all-wheel drive is available for an additional $2,600. There's also a new high-performance SRT version. 
A very smooth eight-speed automatic transmission is standard on all models, and the base SXT trim comes well-equipped with a large 7-inch touchscreen, three-zone automatic climate control, rear parking sensors, a new leather-wrapped sport steering wheel, keyless entry and 18-inch wheels. Our all-wheel-drive V6 Citadel test vehicle, with standard leather, navigation and heated front and rear seats, cost about $45,000.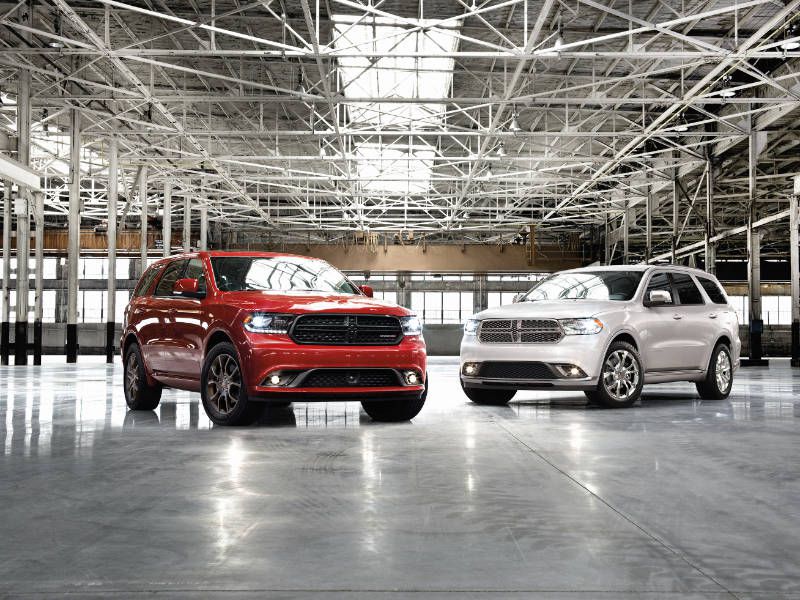 Photo by Dodge
A muscle car with three rows of seats.
SRT is Dodge's in-house tuner or hot rod shop, like AMG at Mercedes-Benz or BMW's M division. The engineers at SRT have created their own impressive machines, including the Dodge Viper and Dodge Challenger Hellcat, and now they've crafted the 2018 Durango SRT. It's powered by the same 6.4-liter Hemi V8 used in the Dodge Charger Daytona 392 and the Ram Power Wagon, and in the Durango it makes 475 hp. That gives this SUV more horsepower than a Chevy Camaro SS, Ford Mustang GT or BMW M3, and Dodge says it will scoot from 0-60 mph in just 4.4 seconds, which makes it America's quickest three-row SUV. If you want more speed, Jeep will sell you the new 707 hp Grand Cherokee Trackhawk, but it only seats five.
All-wheel drive, 20-inch wheels, and Brembo performance brakes are standard on this model and Dodge says it can tow up to 8,600 lbs. Prices start at $64,090 including a $1,095 destination fee. So it isn't cheap, but it undercuts other high-performance SUVs like the BMW X5 M and Mercedes GLE 63 AMG by about $35,000, and a full-day session at the Bob Bondurant School of High Performance Driving is included.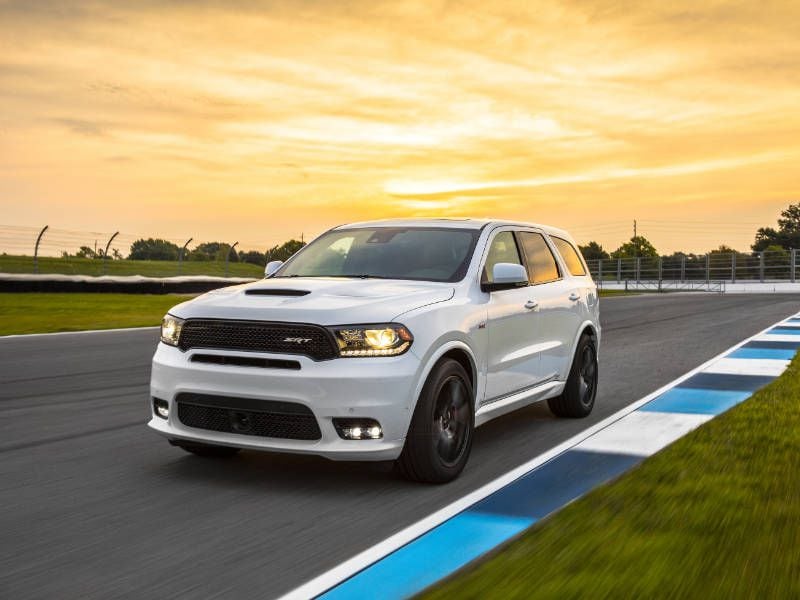 Photo by Dodge
Aggressive Styling
No one is going to mistake this SUV for a minivan. With its short front overhang and wide stance, the Durango is more aggressively styled than many of its competitors. It has an attitude.
Although the Durango shares many components with the Jeep Grand Cherokee, the Dodge is longer and more curvaceous. This year the R/T model gets the same flared wheel wells as the new SRT model, and both get a functional hood scoop and head extractors to better feed and cool their big V8s. Dodge also offers that hood on GT models with the Blacktop and Brass Monkey Appearance Packages.
Overall the Durango's design is simple, clean and attractive. With its understated badging it isn't overly ornate, even with our test vehicle's chrome crosshatch grille, and its sculpted sides and long roofline give it an upscale presence. One of my neighbors even confused it for a Mercedes.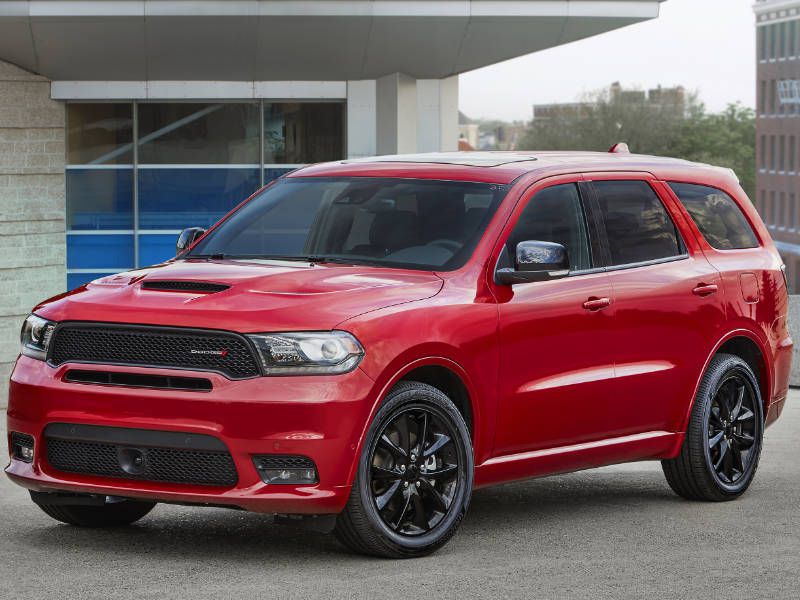 Photo by Dodge
Comfortable Interior
Overall the Durango's interior is comfortable, well-constructed and spacious. All the controls are well-placed, and its 8.4-inch touchscreen — which is standard on the Citadel, R/T and SRT — is one of the largest in the class. The UConnect infotainment system is quick to respond to your inputs and the touchscreen offers swipe and pinch-to-zoom just like your smartphone. Our test vehicle did offer Apple CarPlay and Android Auto connectivity, but unfortunately, onboard WiFi is not available.
The Durango's analog gauges are also attractive and easy to read, and there's a customizable 7-inch screen that displays a digital speedometer and other relevant information. The audio and climate controls have large knobs and buttons, and I like the abundance of chrome trim around the air-conditioning vents, center stack and door handles. For 2018, Dodge has ditched the Durango's rotary gear selector for the same T-handle shifter it uses in the Charger. It's a huge improvement. Meanwhile, visibility is excellent and the Durango's front seats are firm and well-shaped — they're comfortable, even for big guys.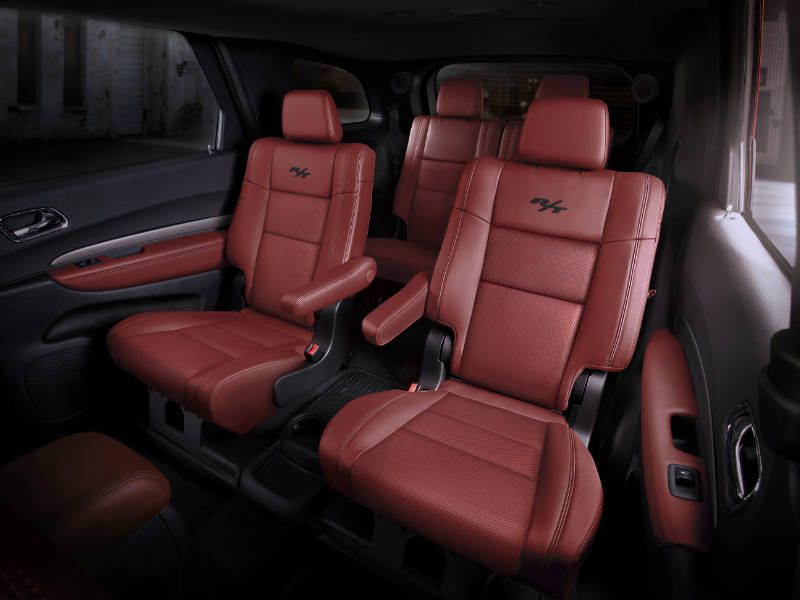 Photo by Dodge
Family-Friendly Features
The Durango's interior storage is also well-thought-out and generous. There's a large console bin, big door pockets that have slots for water bottles and two big well-placed cupholders. Although the SXT is missing a third-row seat, seven-passenger seating is standard on the GT, R/T and Citadel trim levels. Second-row captain's chairs, which drop the seating capacity to six, are standard on the SRT and they're available on all the other models. They're not only more comfortable but also improve access to the third row.
Cargo space is another of the Durango's selling points. It offers 17.2 cubic feet of space behind the third row, which is split 50/50 and folds flat very easily. With it folded the space opens up to 47.7 cubic feet. With the second and third rows folded flat, there are 84.5 cubic feet. These numbers are strong for the class.
Our Durango Citadel test vehicle was also equipped with the optional Technology Package, which is a good value at $2,295. It adds a long list of comfort and safety features, including adaptive cruise control with the ability to brake and stop the car for you, forward collision warning, blind-spot detection and lane-departure warning.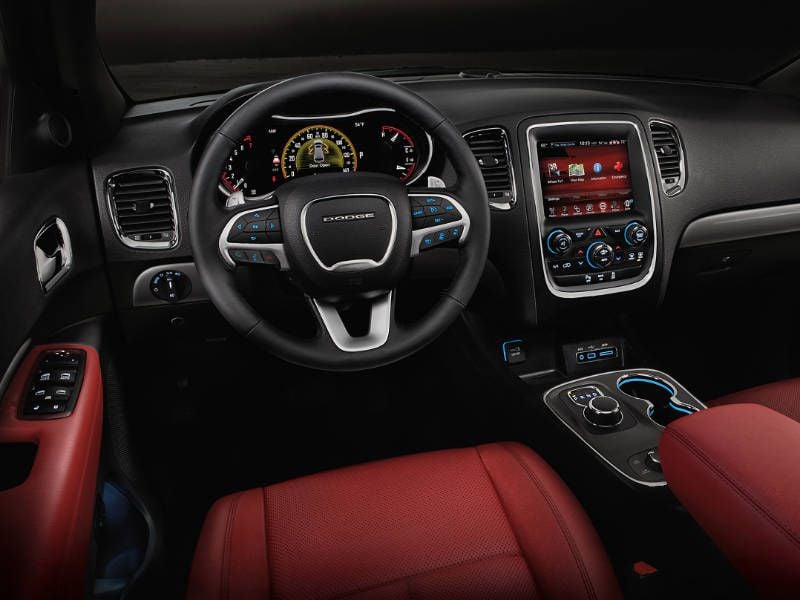 Photo by Dodge
Powerful and Easy to Park
Like you, we desire the Durango's available V8 power, but even the 3.6-liter V6 in our all-wheel-drive Citadel test vehicle gave this SUV strong off-the-line acceleration. Its 295 hp doesn't make for a muscle truck, but in the age of turbocharged four-cylinders powering many SUVs, the Dodge's big torquey V6 is plenty potent.
The responsive eight-speed automatic is geared entirely for the V6, and the Durango's suspension hits the sweet spot between comfort and handling. This SUV rides well, even with our test vehicle's massive 20-inch wheels, but the Dodge's suspension also keeps body roll to a minimum. Around town, the big Durango manages to feel smaller than it is. It's easily maneuvered, and despite is sizable 201.2-inch length, it's easy to park thanks to its short front overhang.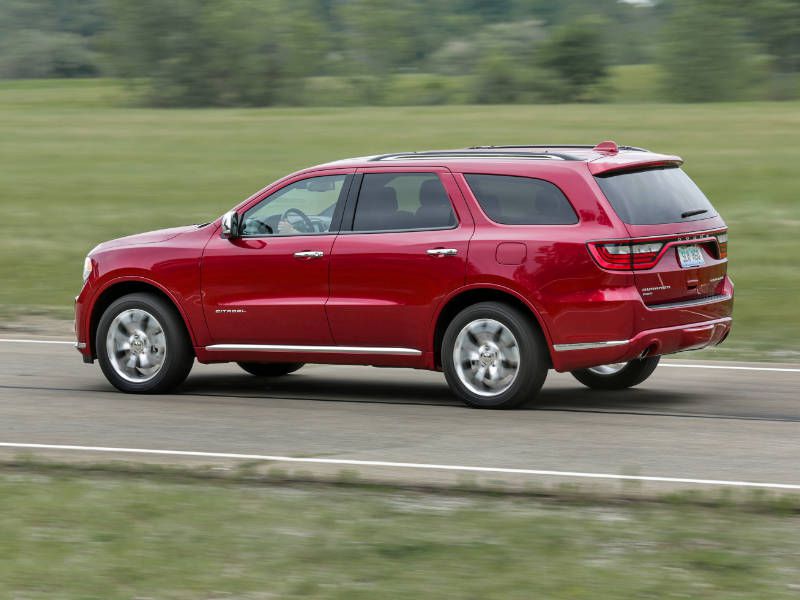 Photo by Dodge
Surprising Fuel Economy
The 2018 Durango is also surprisingly fuel-efficient considering its high horsepower. Models with the V6 are rated by the EPA at 19 mpg city and 26 mpg highway on regular fuel with rear-wheel drive, while all-wheel drive drops those figures by 1 mpg. Not bad, considering that the most economical version of the less-powerful Honda Pilot is rated at 20 mpg city and 27 mpg highway. I averaged 20 mpg in mixed driving around Los Angeles.
Durangos with the 5.7-liter V8 are rated at 14 mpg city and 22 mpg highway on mid-grade fuel, and the SRT model with the 6.4-liter V8 is rated at 13 mpg city and 19 mpg highway using premium.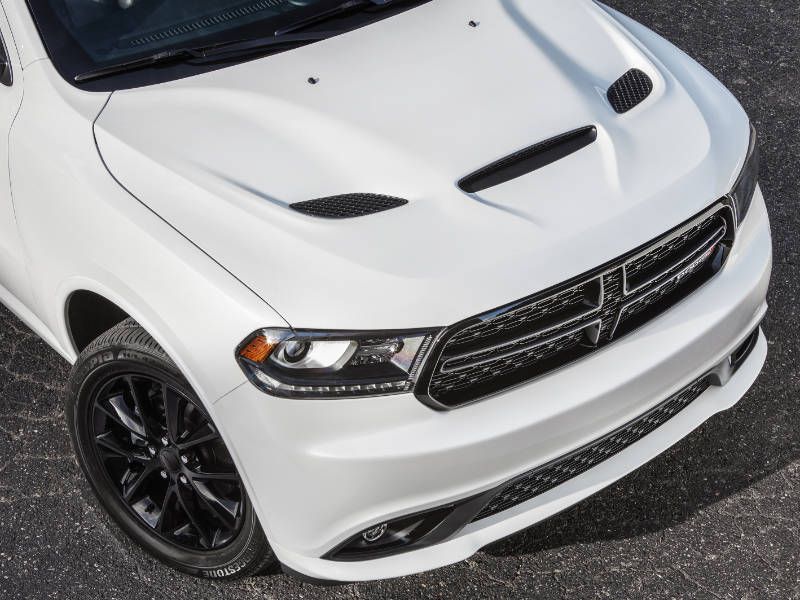 Photo by Dodge
Not Really for Off-Road Enthusiasts
As capable and fun to drive as the Durango is on paved roads, it's not really equipped to handle serious off-roading. If you plan to tackle anything more extreme than a basic dirt road or gravel parking lot, there are other SUVs out there that you should consider, like the Jeep Grand Cherokee, Chevrolet Tahoe Z71, and Land Rover Discovery.
Yes, the Durango is available with all-wheel drive, but only the system paired with the 5.7-liter V8 in the Citadel and R/T models has a low range. And other important off-road gear like locking differential and skid plates to protect the Durango's undercarriage is not available. Ground clearance is also a problem. The Durango's deep chin spoiler improves aerodynamics and fuel economy, but it's sure to get torn off the truck at the first big rock or steep incline.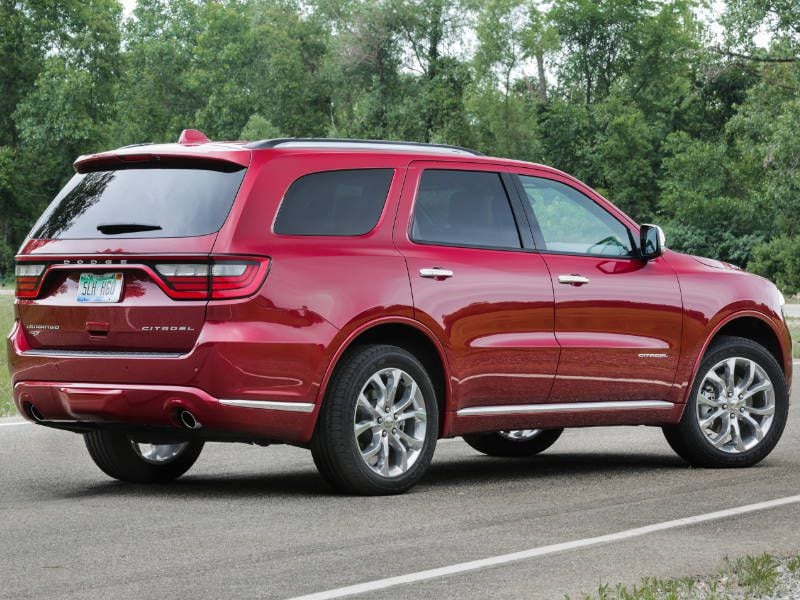 Photo by Dodge
Desirable Overall Choice
If you're looking for an SUV with three-row seating that doesn't look or feel like a minivan, then the 2018 Dodge Durango is a desirable overall choice. The Durango is stylish, comfortable and powerful, and it's the only model in its class to offer V8 engines.
That said, although the power and the rumble of those Hemi V8s are hard to resist, and the new Durango SRT is sure to be a sellout, the Durango's big V6 should be the choice for most families. It's more than powerful enough, its fuel economy is good for the class, and it runs on less expensive regular gasoline.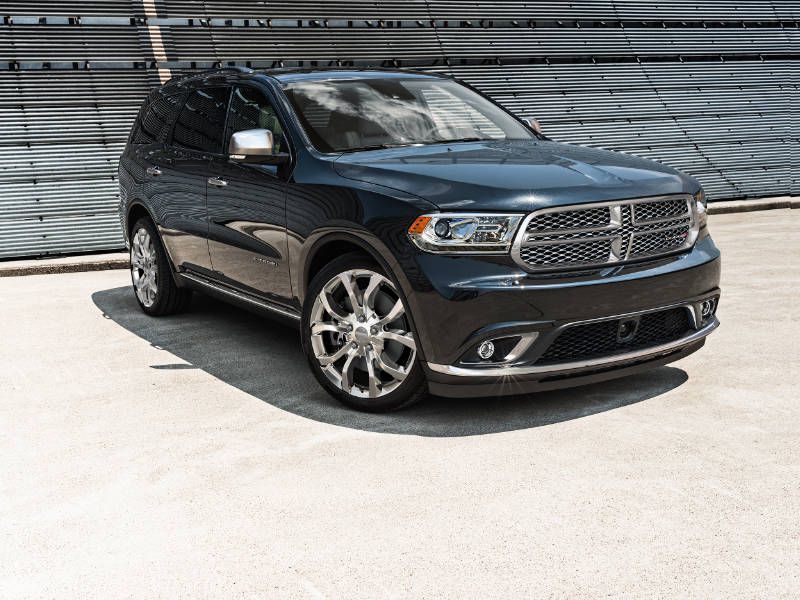 Photo by Dodge