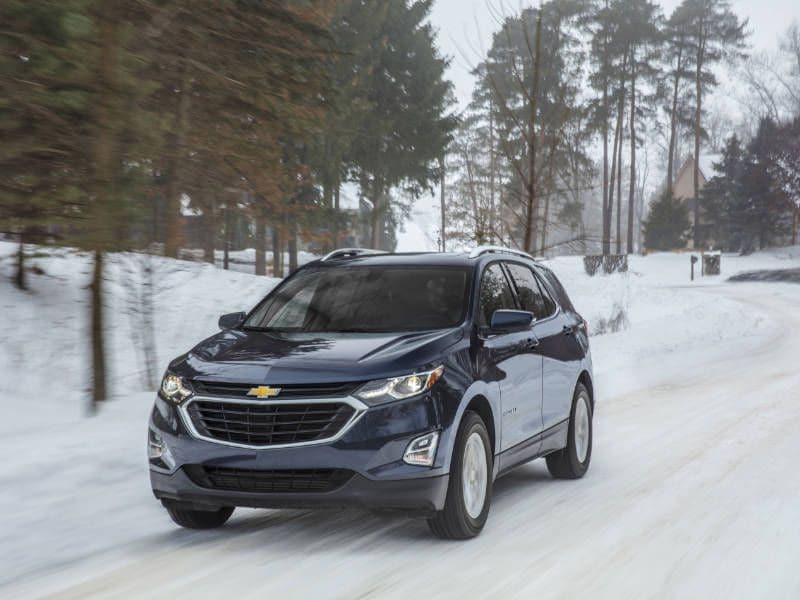 2018 Chevrolet Equinox front three quarter hero ・ Photo by General Motors
The Chevy Equinox has quietly become very popular. It now outsells all Chevy cars and SUVs and is second-best in the lineup behind the full-size Silverado pickup truck. Surprised? Maybe you shouldn't be. The 2018 Chevrolet Equinox marks the beginning of the third generation for the model, following the first generation (2005 – 2009) and second generation (2010 – 2017). Equinox and GM stablemate GMC Terrain (and defunct Saturn Vue, Pontiac Torrent, and Buick Rendezvous) set out to compete with the popular Honda CR-V, Nissan Rogue and Toyota RAV4 in the compact crossover market with a package that was a little bigger than the leaders. For 2018, Equinox has been trimmed down, and now offers a powertrain that the top dogs don't make available in the United States - diesel. We spent a week with the new Chevrolet Equinox Diesel and have returned with this review.
All-New Exterior Design
Equinox is now riding on a new platform, with a shorter wheelbase than previously (107.3 inches vs. 112.5 inches.) Total vehicle length is also down (183.1 inches vs. 187.8 inches,) while width (72.6 inches) and height (65.4 inches) are close to the old measurements. These changes bring Equinox into the middle of the pack – a little bigger than CR-V, a little smaller than RAV4 and Rogue. Equinox's front end now wears a fascia that's closer to the Chevy norm, matching Cruze and Malibu with a horizontally split grille wearing the Chevy bowtie on a body-colored bar at center. Sculpted body sides hint at motion, and a tidy tailgate has good-sized fixed glass. Overall, a big improvement on the outgoing vehicle, and a design that fits right in with the class.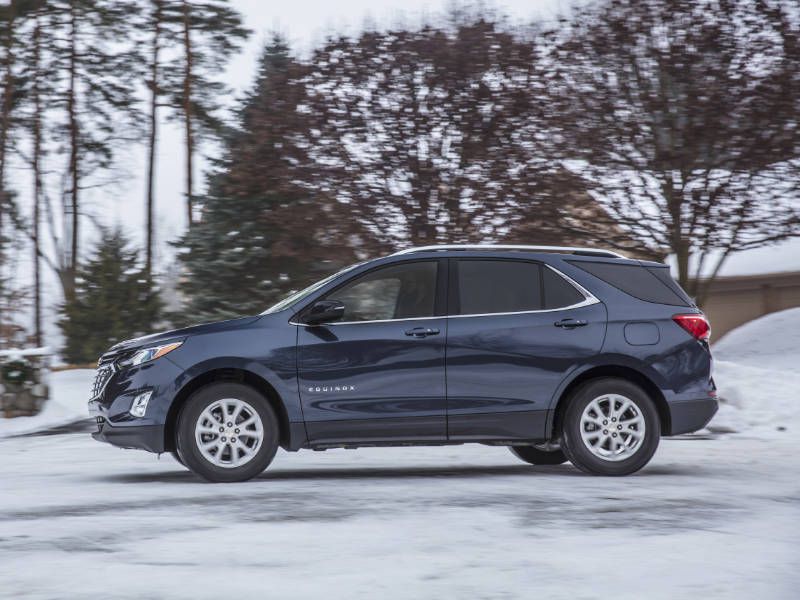 Photo by General Motors
Revised Interior Design
Every effort has been made to retain Equinox's roomy cabin feel despite smaller exterior dimensions in this generation. The dash has been lowered and moved a little farther forward from the front row, and controls have been elevated into a tighter cluster in the center stack. The eight-inch color touchscreen interface is at the top where it belongs, close to the driver's line of sight, and an attractive mix of tones and materials have been used to put it all together. The gear selector is a traditional lever mounted in the center console, and there's plenty of storage all around. In the second row, Equinox retains the useful sliding 60/40-split bench seat that makes balancing cargo space and leg room possible.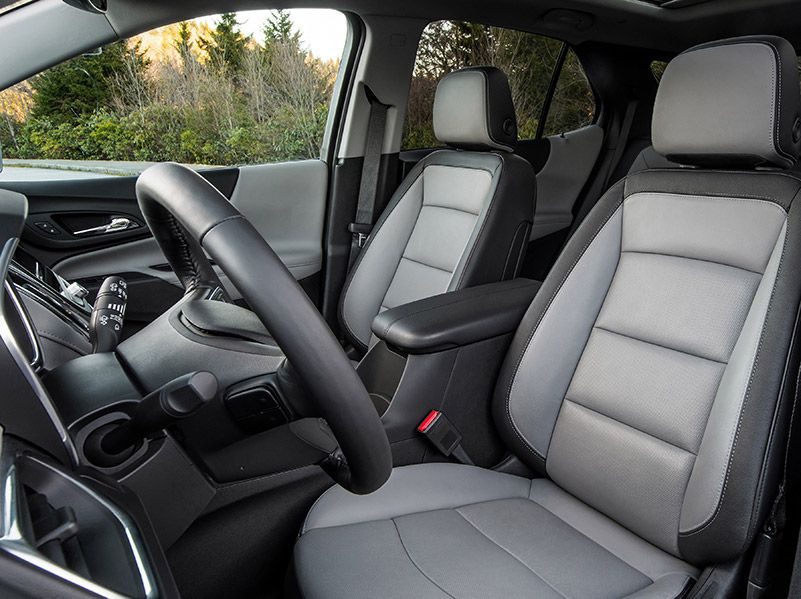 Photo by General Motors
Cargo and Storage
Speaking of cargo, some kind of alchemy has been done here. There are 29.9 cubic feet of luggage space behind the second row, down from 31.5 cubic feet in the outgoing vehicle. When the second row is folded flat (a very easy task,) the new vehicle can swallow 63.5 cubic feet of cargo, down just 0.2 cubic feet from the previous generation. That's quite a feat in cubic feet, considering that Equinox is 4.7 inches shorter in length this year. There's also a bit of storage beneath the load floor around the compact spare.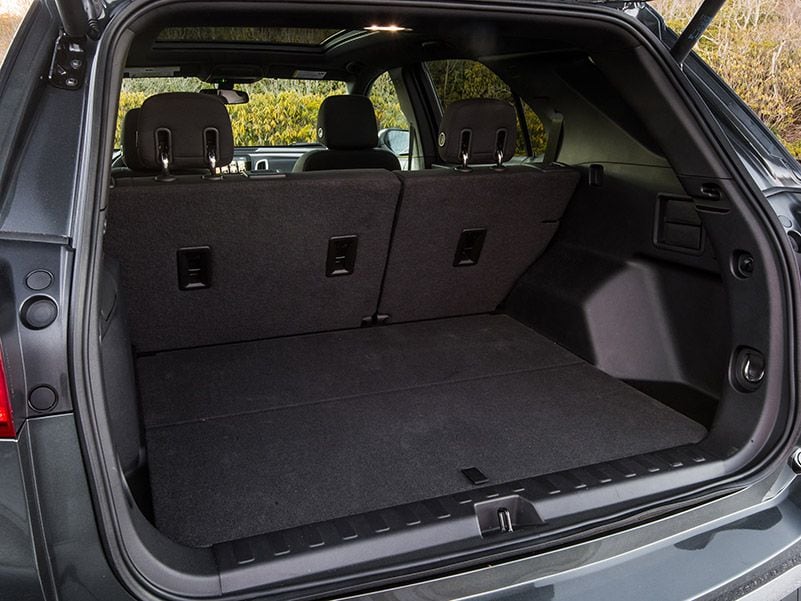 Photo by General Motors
Diesel Powertrain
Chevy has made a case for its small displacement diesel engine, which you can find in the 2018 Equinox Diesel (as well as the 2018 Chevrolet Cruze Diesel.) While the Volkswagen diesel scandal cast a pall over diesel's benefits, Chevy plowed ahead with its diesel applications, and the engine is now available at a premium over the gasoline engine offerings. The 1.6-liter turbo diesel 4-cylinder engine produces 137 horsepower and 240 lb-ft of torque and is rated by the EPA to achieve 32 mpg city/40 mpg highway – a much better achievement than the 1.5-liter and 2.0-liter gasoline powerplants you can also select for Equinox can muster. The diesel engine connects with a six-speed automatic transmission with either front-wheel drive or all-wheel drive.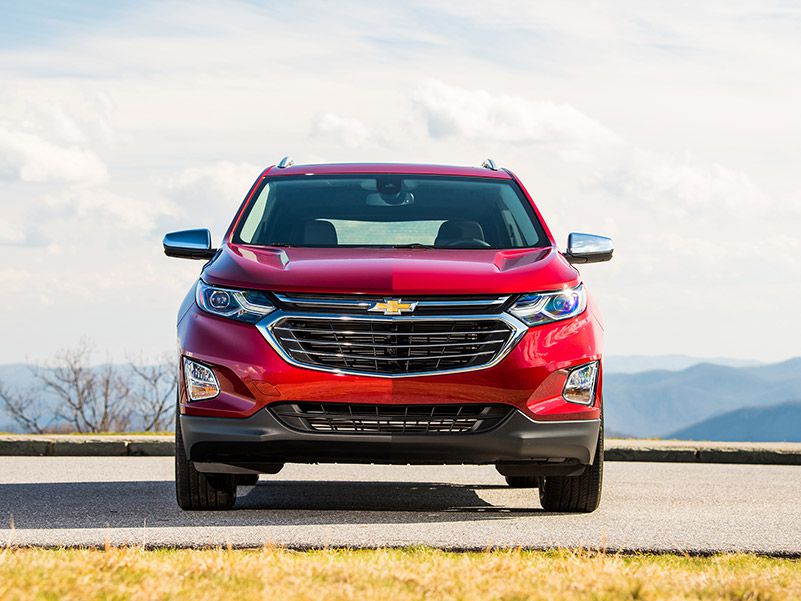 Photo by General Motors
Suspension and Braking
The 2018 Chevrolet Equinox Diesel comes with a four-wheel independent suspension, using proven MacPherson struts in front and a four-link setup at the rear. The front suspension gets a direct-acting stabilizer bar, an upgrade over the outgoing vehicle. Braking is disc all around, controlled by ABS (anti-lock braking system) and ESC (electronic stability control,) and equipped with Duralife rotors with low-drag calipers.
Photo by General Motors
Steering and Wheels
Electric power-assisted rack-and-pinion is standard across the Equinox range this year, replacing hydraulic power rack-and-pinion that was used in some models last year. Electric power-assisted steering reduces complexity and weight in a steering system, and because it doesn't use a pump or belts like a hydraulic system, it drags less power from the engine so it contributes to improved fuel economy. Tuning is crucial to maintaining direct feeling in an electric steering system, and Chevy's done a good job retaining natural, direct steering feel.
Our test vehicle came with stock LT-level 18-inch aluminum alloy wheels (17-inch wheels are standard on some trim levels, and 19-inch wheels are standard on top trim levels, available on others.)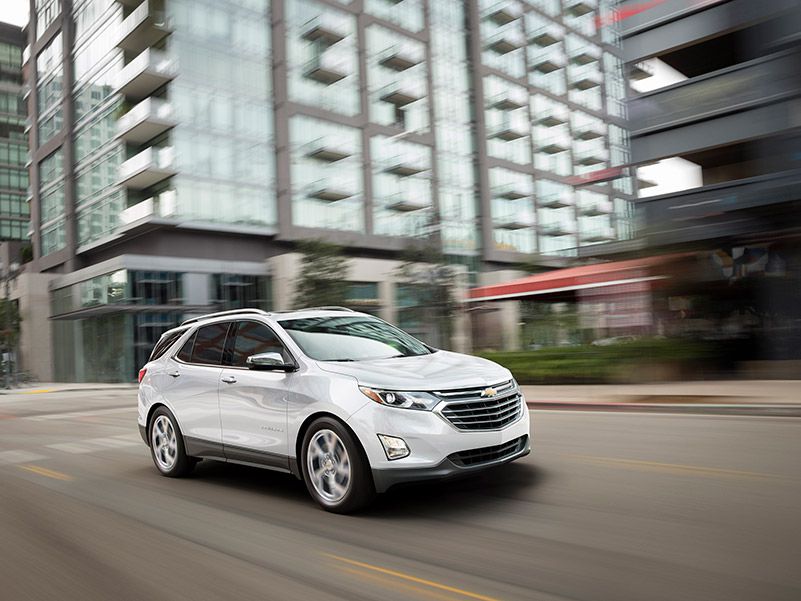 Photo by Chevrolet
Infotainment
It's easy to forget that GM vehicles come equipped with OnStar, as ubiquitous as the technology has become. But even as voice recognition spreads throughout the automotive world, OnStar's near-instant access to a real live person is still tough to beat. The 2018 Chevrolet Equinox Diesel comes wired with OnStar and a five-year basic plan included, with a trial of the Guidance Plan. Signing up for the Guidance Plan is something we recommend as it's worth the $34.99 per month (or $349.90 per year,) especially since you can change your destination on the fly, without having to pull off the road and stop. Additionally, you can subscribe to a 4G LTE Wi-Fi Hotspot plan for your Equinox, and you get a trial period with a new vehicle purchase to see if this is for you. Drivers don't benefit so much, but passengers really appreciate it.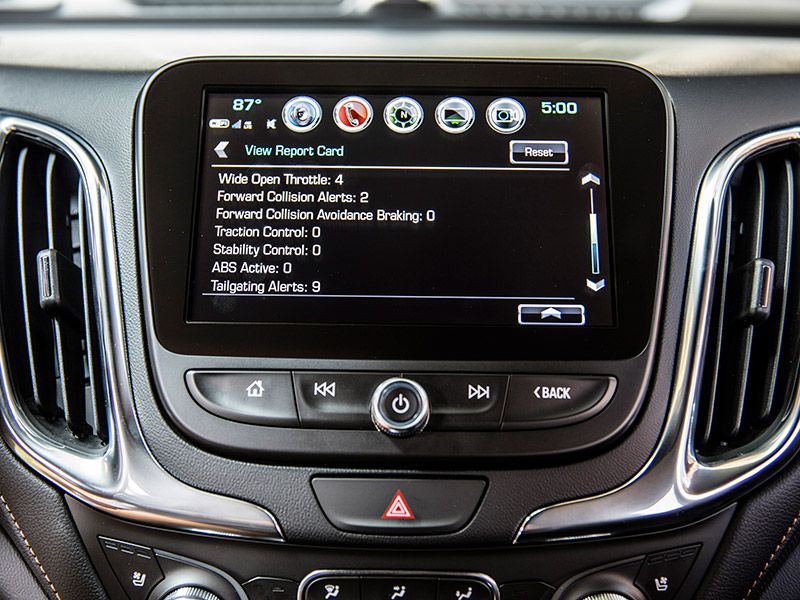 Photo by General Motors
Driving Experience
While historically a big proponent of diesel, but the more experience our team gets with small displacement turbocharged diesel engines, the more we like them. In day-to-day operation, you barely notice that you're driving a diesel beyond needing to select a different pump at the fueling station. Gone are the days of languid acceleration, noisy rattling and smelly exhaust. The 2018 Chevrolet Equinox Diesel's healthy torque rating (240 lb-ft) comes in early at 2,000 rpm and sticks around as you press the throttle. You won't be leading traffic, but you won't be left behind, either. And the engine doesn't sound like it's being tortured or scream like a truck, it just works.
The new Equinox feels more planted on the road than before, with a suspension that was not troubled by the potholed and rutted roads in the Detroit area when we did our road test. Our front-wheel-drive test vehicle handled snowy main roads and slushy side streets with no problem (thanks in part to being shod with winter tires.) Equinox Diesel isn't the most exciting crossover ever driven, but it is very competent and commuting-ready.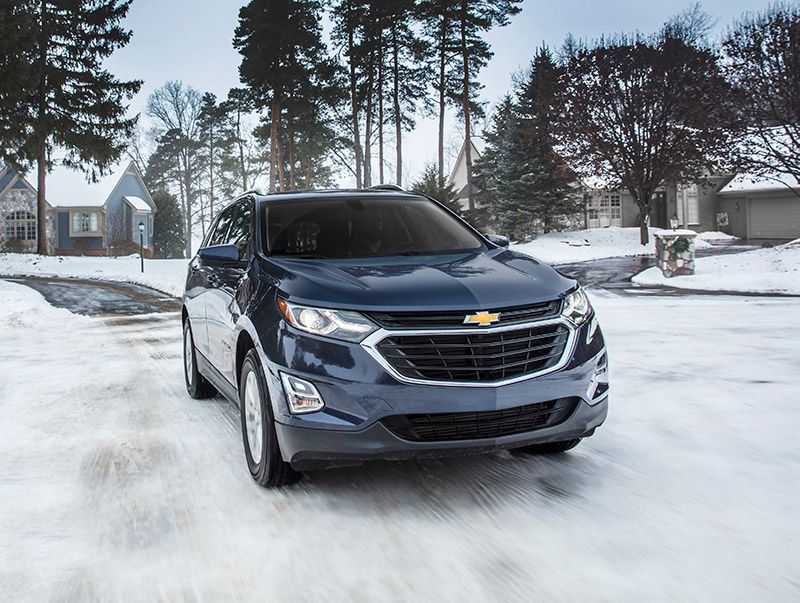 Photo by General Motors
The Competition
The Chevrolet Equinox has improved for 2018, and so has the competition. The Japanese trio of Nissan Rogue, Honda CR-V, and Toyota RAV4 remain the target as sales leaders, and each has its defenders. Don't overlook the Mazda CX-5, Ford Escape, Jeep Cherokee, Subaru Forester, Hyundai Santa Fe Sport, and Kia Sportage while you're shopping. The one thing that all of these vehicles have in common for 2018 is that they don't offer a diesel engine option for the United States. If you're dead set on diesel for your compact crossover vehicle, Equinox is the only choice right now.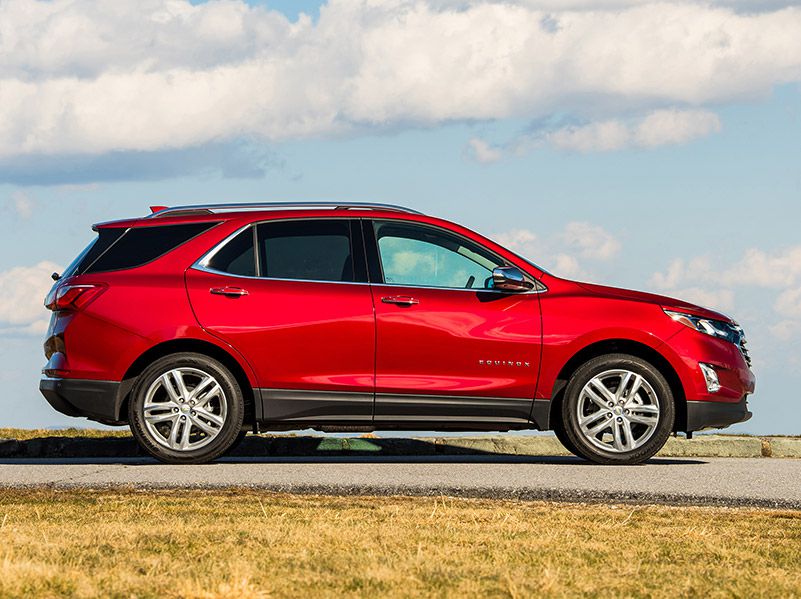 Photo by General Motors
The Bottom Line
Buying a 2018 Chevrolet Equinox Diesel comes at a price, and that price is higher than that of a comparably equipped gasoline model. An LT 1.6-liter Turbo Diesel with front-wheel drive starts at $31,695, and a Premier trim level Equinox Diesel with front-wheel drive starts at $33,995 (our test vehicle stickered at $34,325.) Add an additional $1,800 for all-wheel drive on each. Compared to a base model L gasoline-powered Equinox (starting at $24,575,) that can feel like a healthy chunk. Diesel fuel prices are slightly higher than Premium gas right now, so it will take a lot of miles to recoup the difference in fuel costs alone. So, you'll have to decide if Equinox is for you, and then decide if Equinox Diesel is worth the additional cost.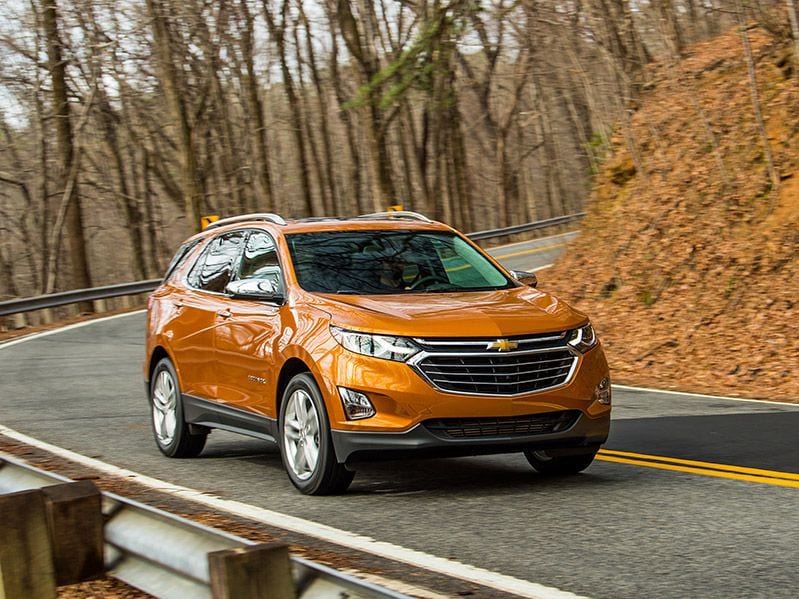 Photo by General Motors